"Onegin"
Bolshoi Ballet
Bolshoi Theatre
Moscow, Russia
March 11, 2017
by Ilona Landgraf
Copyright © 2017 by Ilona Landgraf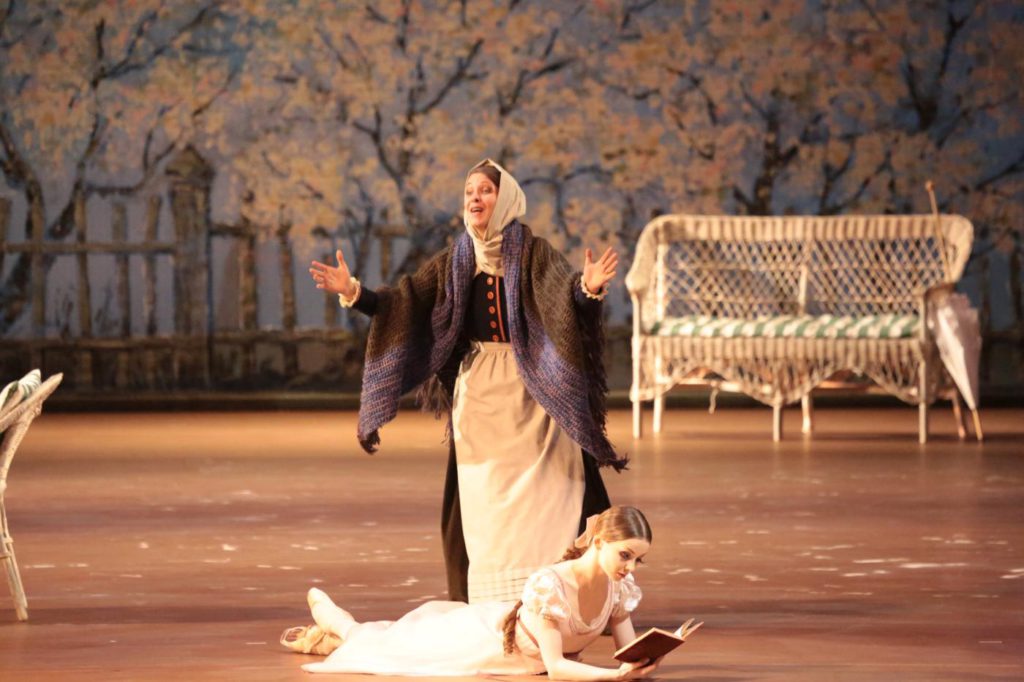 Conditions were the same overall on the second of the three evening performances of "Onegin" at the Bolshoi. The sky above the garden of the Larina family's country house was bright blue, domestic bliss was as yet unclouded, the village folk were in an expansively jolly mood. The Bolshoi Orchestra under Pavel Sorokin, reliable as always, ensured a fine rendition of Tchaikovsky's music. Yet unlike the evening before the story didn't gain momentum.
"Onegin" needs four dancers of equal or complementary strength in the leading roles. The role of Olga is smaller than the other three, but her part is pivotal for the dramatic turn the story takes. Saturday's cast had only one consistently strong dancer, Evgenia Obraztsova as Tatiana.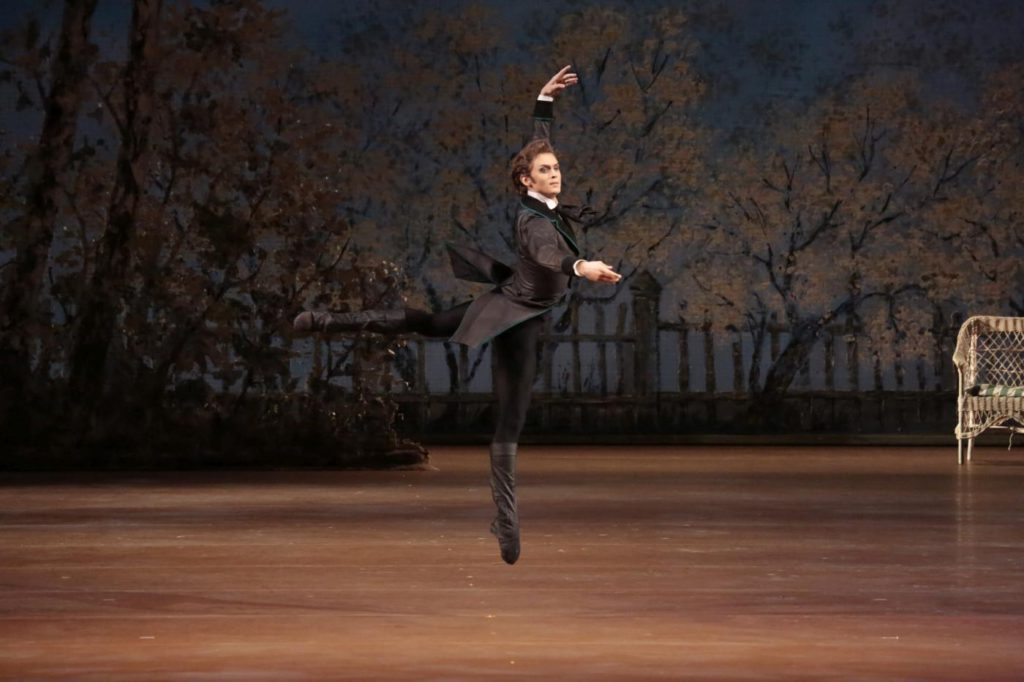 As her Onegin, Denis Rodkin let many opportunities that would have lent substance to his character just slip by. His glance into Tatiana's book was so brief that he could hardly have read its title. He let his sudden change of mood with Tatiana in the garden, which prompts him to continue the pas de deux with her, flatten into an incidental matter. I couldn't discern what he wanted to convey in his solo and wasn't sure whether he himself was clear about it either. In the mirror-pas de deux, also, Rodkin didn't give us much insight in Onegin's psyche. Emotionally rather indifferent, he was nevertheless the foil onto which Tatiana projected her infatuation and desires. Why this girl was so madly in love with such an Onegin could be explained only by a profound delusion.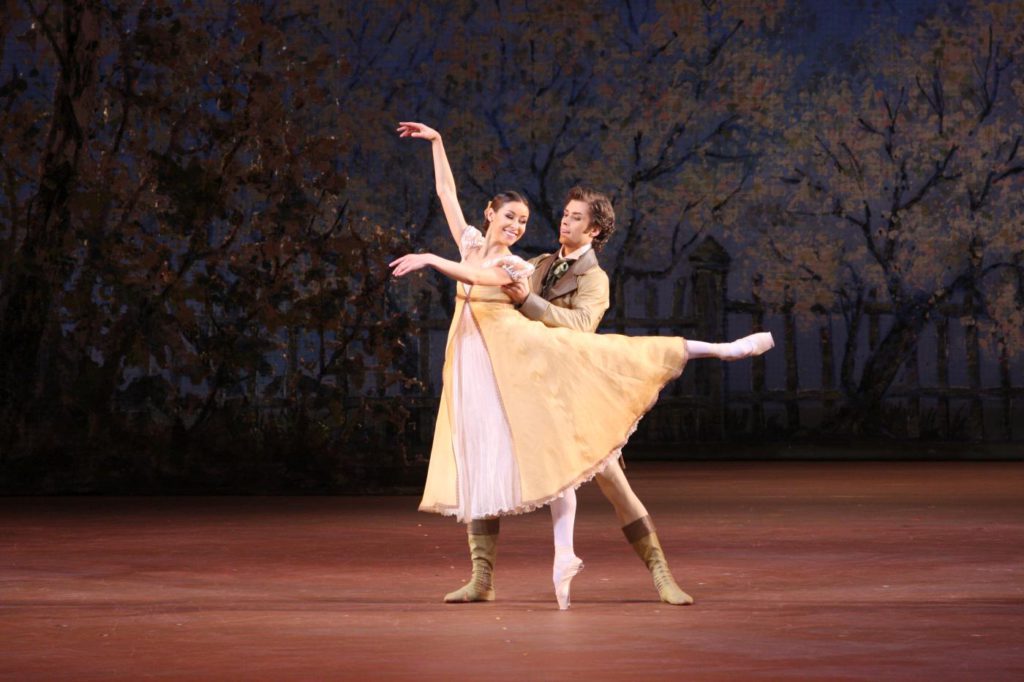 Even so, Rodkin made an effective entrance at Tatiana's birthday party. His slight cough when joining the party suited Onegin's arrogant demeanor. His flash of anger concerning Tatiana's continuing entreaties that he warm to her, was startlingly abrupt and intense. However his attempts to reconcile with Lensky shortly before the duel could have been more emphatic. After having shot his friend dead, however, his face revealed no haunting feeling. The way he raised his hands to heaven was reminiscent of an priest's empty gesture. In the third act, the last pas de deux of Onegin with Tatiana, Rodkin at last poured himself into the part more and more. He finally seemed to have found depth within Onegin. Perhaps this rendition will serve Rodkin as a sound springboard for his next performance.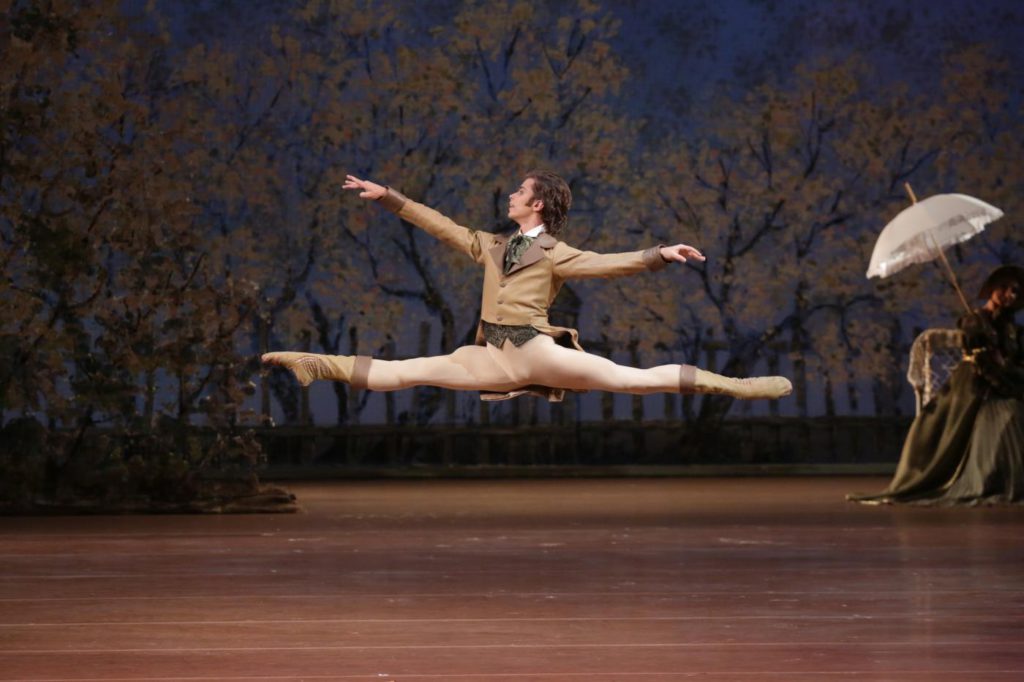 From the start, Artem Ovcharenko's Lensky was a fake poet and fake lover. Ovcharenko had put the part on like a costume, but hadn't become the character. Watching Lensky in the garden during the first act, one thought of a good son-to-be aiming to please. I missed genuine emotional involvement, which should have been essential for why Lensky was ready to duel with Onegin. Also, Lensky's final solo was vague. What kind of meaning did he wish to convey? Ovcharenko's dancing, especially the jumps, lacked expansive stretch. In the first act some of his lifts were labored, but later he warmed up and danced cheerfully at Tatiana's birthday party until Onegin instigated trouble.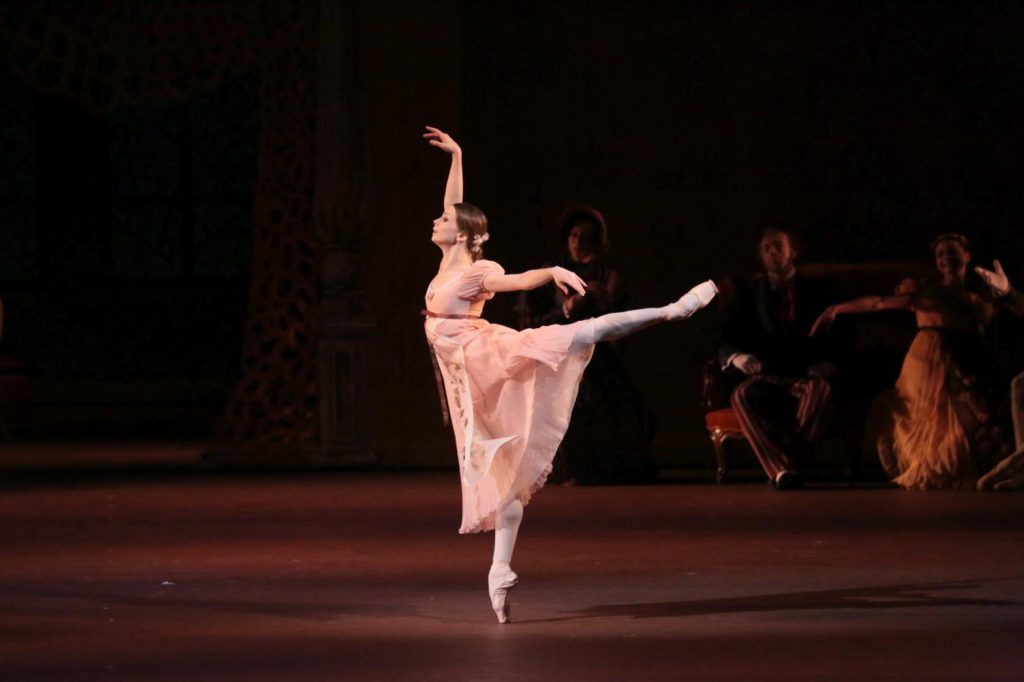 Kristina Kretova made Olga a simple girl, kind, but rather ordinary. Especially in her first solo, she moved heavily, more like an earthy country girl and not like a young lady of fine fabric. At the birthday party, as she amused herself with Onegin, her flat, unflirtatious rejection of Lensky's reproaches surprised me. She simply shrugged her shoulders as if to say "I don't give a damn" and turned away. That was it. What about her was so charming and adorable that she attracted both, Lensky and Onegin?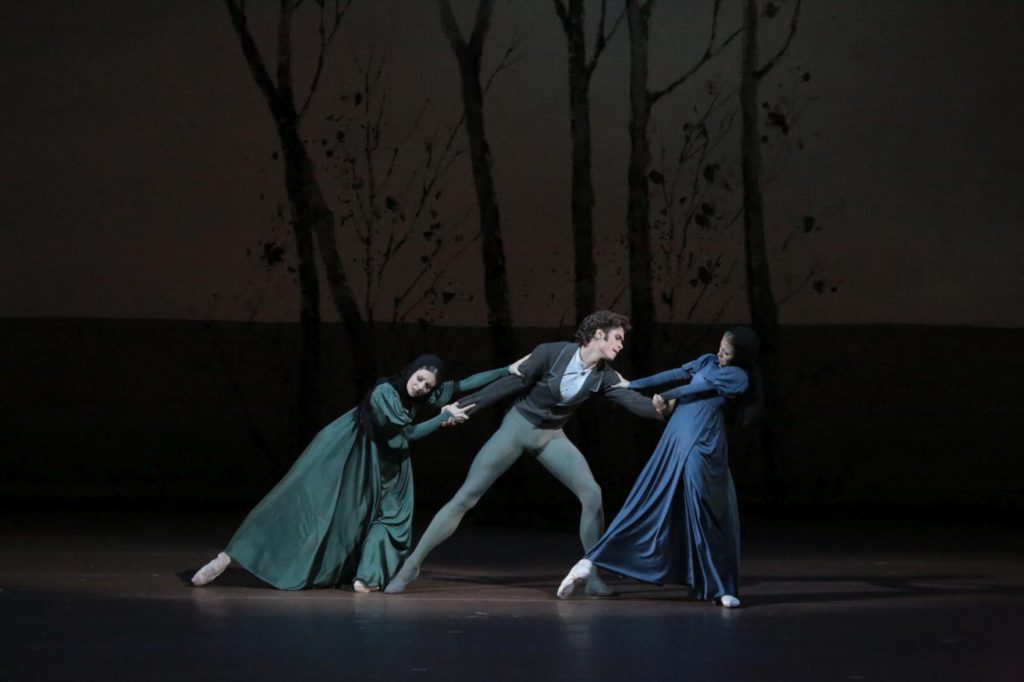 So, finding little emotional support from the other leading dancers, it was up to Obraztsova to spin the magic thread of drama. She exuded energy, especially from the moment on when she writes the last lines of her love letter to Onegin. Obraztsova is blessed with natural, intense acting ability and total dancing. She utilized both for the role.
When Tatiana dances with Prince Gremin just after being rebuffed by Onegin, she was close to tears. Again and again, her eyes searched for Onegin. "I want you. Why don't you want me?", her solo seemed to ask. Though she seemed devastated, her struggle was touchingly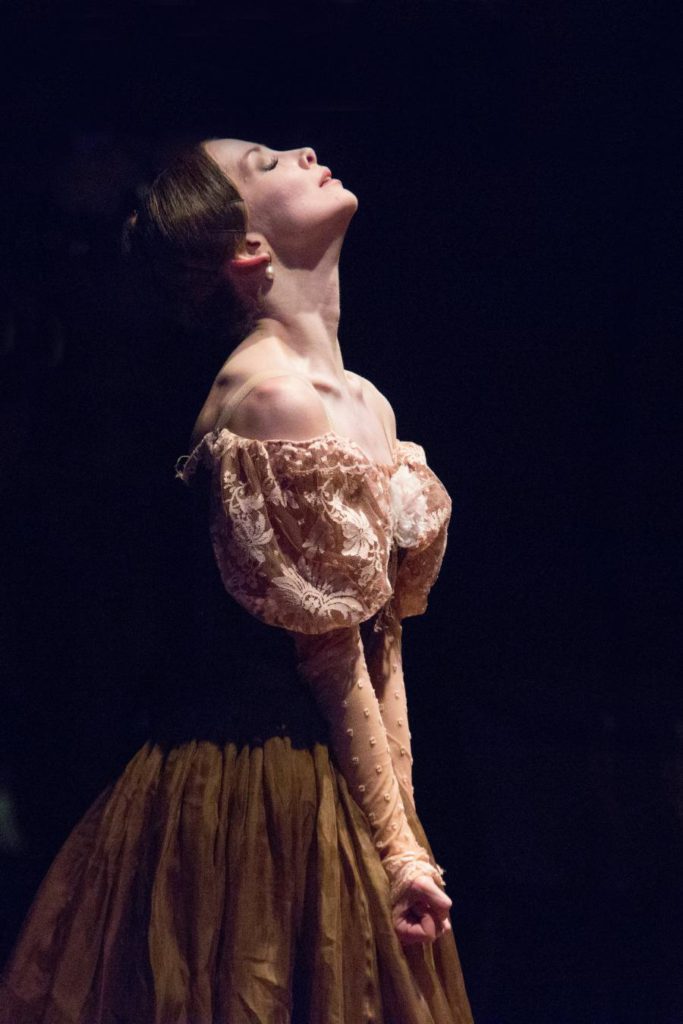 courageous! How vigorously she tried to prevent Lensky from engaging in the duel, both at her birthday and later at the spot where the shooting would take place!
Later, as the wife of Prince Gremin (Alexander Vodopetov), nothing in Tatiana hinted at the scars left by her first, painfully unrealized love for Onegin. She and Prince Gremin radiated true happiness and harmony, as if they had always been meant for each other. Their marital bliss was not a facade. But deep inside Tatiana, probably unconsciously, a passion and desire for Onegin lay dormant. He unleashed these feelings yet again as he now, at last, confessed his love to her. Obraztsova's Tatiana dragged herself forward, tried to elude the turmoil of passions, wanted to escape Onegin's clasp, but succumbed, fell into his arms, stood up again, her arm and hand stretching upward as if hoping for strength from  heaven. Then her whole body trembled, as if with new resolve. Freeing herself from Onegin, she dismissed him. Her determination was unassailable.
Obraztsova is petite and she poured her all into this role. Her abilities made watching her particularly poignant.
Sunday's cast, which I wasn't able to see, included Ruslan Skvortsov (Onegin), Vladislav Kozlov (Lensky), Ekaterina Krysanova (Tatiana) and Maria Vinogradova (Olga). I hope to catch them on a later return to Moscow.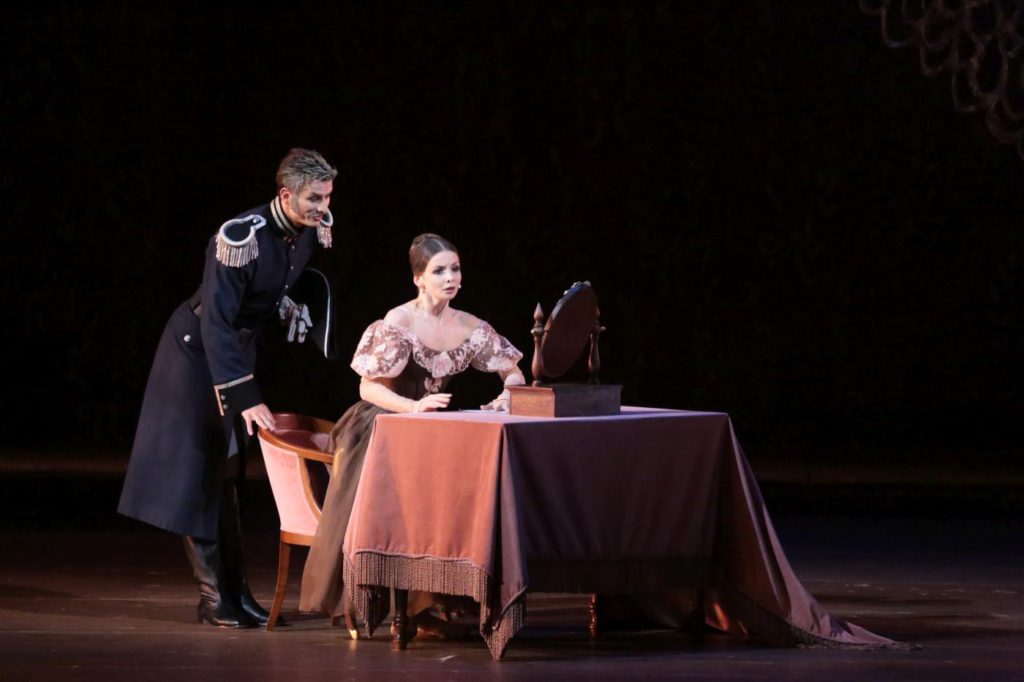 | | | |
| --- | --- | --- |
| Links: | | Website of the Bolshoi Theatre  |
| Photos: | | (The photos number 1) and 6) show a slightly different cast.) |
| |  1. | Evgenia Obraztsova (Tatiana) and Nina Semizorova (The Nurse; on Saturday 11th, Irina Semirechenskaya danced the role), "Onegin" by John Cranko, Bolshoi Ballet © Bolshoi Theatre / Damir Yusupov |
| |  2. | Denis Rodkin (Onegin), "Onegin" by John Cranko, Bolshoi Ballet © Bolshoi Theatre / Damir Yusupov |
| |  3. | Kristina Kretova (Olga) and Artem Ovcharenko (Lensky), "Onegin" by John Cranko, Bolshoi Ballet © Bolshoi Theatre / Elena Fetisova |
| |  4. | Artem Ovcharenko (Lensky), "Onegin" by John Cranko, Bolshoi Ballet © Bolshoi Theatre / Damir Yusupov |
| |  5. | Evgenia Obraztsova (Tatiana), "Onegin" by John Cranko, Bolshoi Ballet © Bolshoi Theatre / Damir Yusupov |
| |  6. | Evgenia Obraztsova (Tatiana), Artem Ovcharenko (Lensky) and Anastasia Stashkevich (Olga), "Onegin" by John Cranko, Bolshoi Ballet © Bolshoi Theatre / Damir Yusupov |
| |  7. | Evgenia Obraztsova (Tatiana), "Onegin" by John Cranko, Bolshoi Ballet © Bolshoi Theatre / Mikhail Logvinov |
| |  8. | Alexander Vodopetov (Prince Gremin) and Evgenia Obraztsova (Tatiana), "Onegin" by John Cranko, Bolshoi Ballet © Bolshoi Theatre / Damir Yusupov |
|  Editing: | |  Laurence Smelser, George Jackson |