"Onegin"
Bolshoi Ballet
Bolshoi Theatre
Moscow, Russia
March 10, 2017
by Ilona Landgraf
Copyright © 2017 by Ilona Landgraf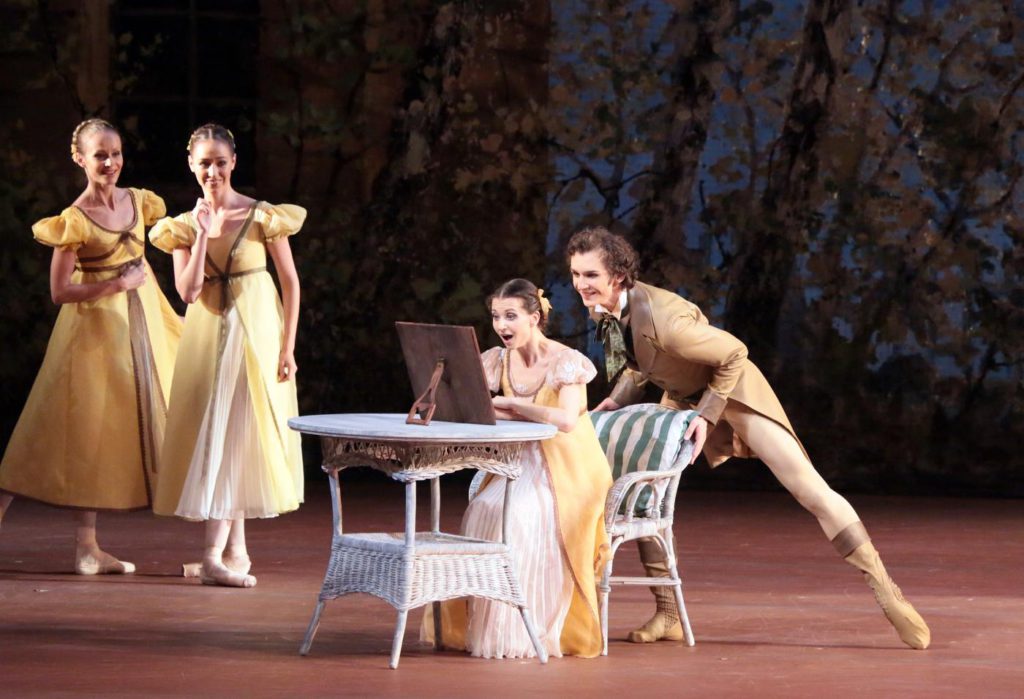 "John is here" is a well-known saying within the walls of Stuttgart Ballet. People know what they are talking about. Ever since his untimely death more than forty years ago John Cranko's spirit has energized his Stuttgart company.
Yet last weekend his presence was strongly palpable elsewhere. The Bolshoi performed his "Onegin" on three consecutive evenings at home in Moscow. On first night not only Cranko seemed close but also Reid Anderson, who had supervised the production at the Bolshoi in 2013, and Jürgen Rose, whose costumes and set design are unvaryingly matchless. The Bolshoi Theatre and Stuttgart State Opera merged into one house on this Friday evening uniting their powers in a performance of overwhelming intensity.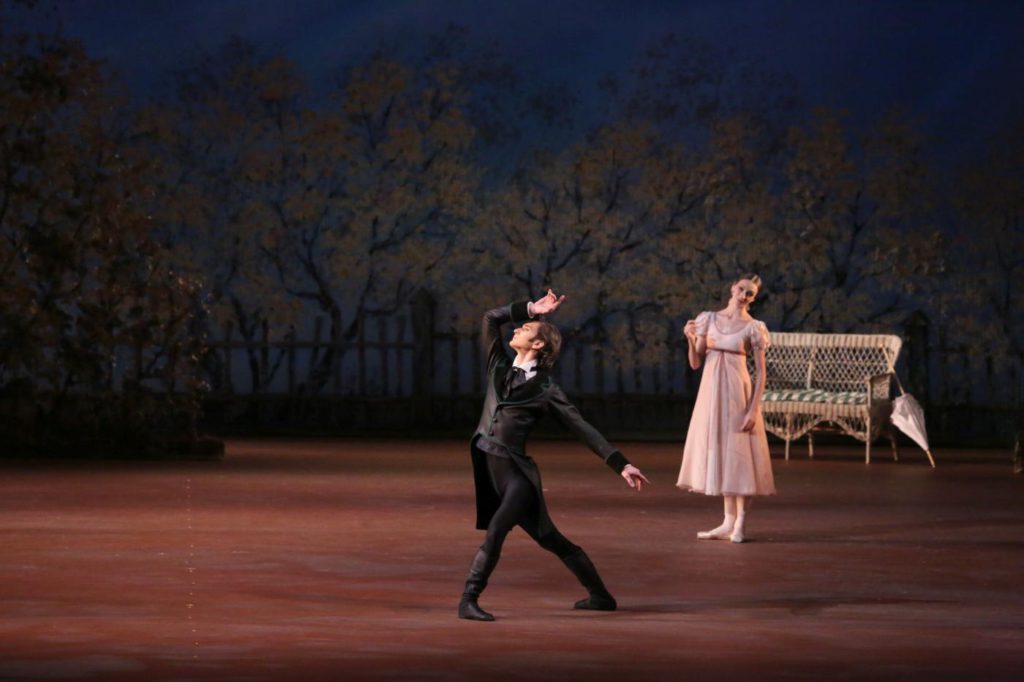 Four leading dancers bear the tragic story of "Onegin", whose written foundation is Alexander Pushkin's novel "Eugene Onegin". Rejected love, hurt honor, a broken friendship, fatal revenge and late understanding lie at the heart of the story, which Cranko condensed into three dramatic acts dense with emotions. The first evening's stellar cast included Vladislav Lantratov as the arrogant, world-weary Onegin; Semyon Chudin as his sensitive romantic poet friend Lensky and Olga Smirnova as the introverted but passionate Tatiana, whose love Onegin spurns. Anastasia Stashkevich danced Olga, Lensky's feisty but reckless fiancée. (Some photos are from an earlier performance and show Anna Tikhomirova as Olga.) Her dalliance with Onegin triggers the fatal duel of the two men. Years later Onegin finds by accident that Tatiana has become the wife of Prince Gremin, is a well-respected lady of society, and actually is the woman he once rebuffed but now loves. Though still attracted to him, she rejects his advances. For both the love of their life is lost.
All four leading dancers were experienced with the roles from earlier performances; Lantratov, Chudin and Smirnova had already been the premiere's cast in 2013.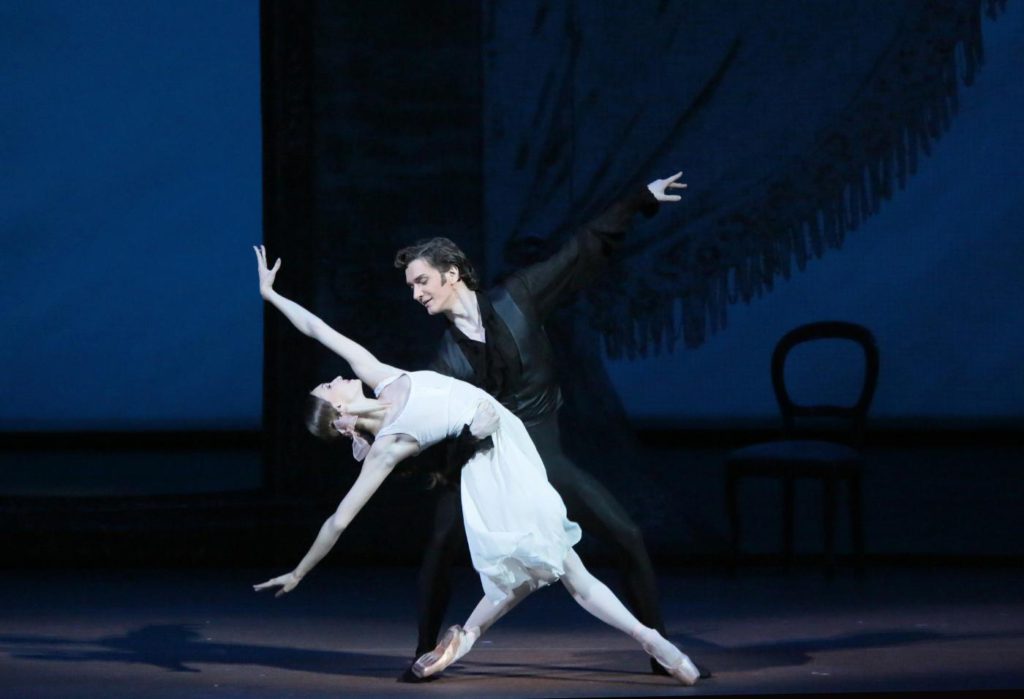 Onegin's personality is complicated. Lantratov subtly revealed nuances of it and thus deepened his characterization. For example, the way he looked into Tatiana's book before snapping it shut and giving it back to her had exactly the right timing. During a walk in the park, already taken by indifference, he suddenly lifted Tatiana with a swift grip as if prompted by a mood swing: "Why not enjoy myself with this girl for the moment? She's beautiful, after all." Similarly abrupt he later abandoned his good manners at Tatiana's birthday party. Angrily, he jumped to his feet, enraged by her ongoing efforts to regain his attention. He had just snubbed her declaration of love in a letter by tearing it to shreds. Dealing with emotions was not Onegin's metier.
The mirror- pas de deux that preceded this not only reflected Tatiana's dream of a passionate love affair with Onegin but at the same time revealed his self-deception. We didn't just witness how she fancied him to be. Her dream was his, deeply hidden inside of him. The moment the dream ended, just before disappearing from her mind, he forced himself to tear off the passion and put on the facade of haughty detachment, callous pride and fancied boredom. The inability to confess to his own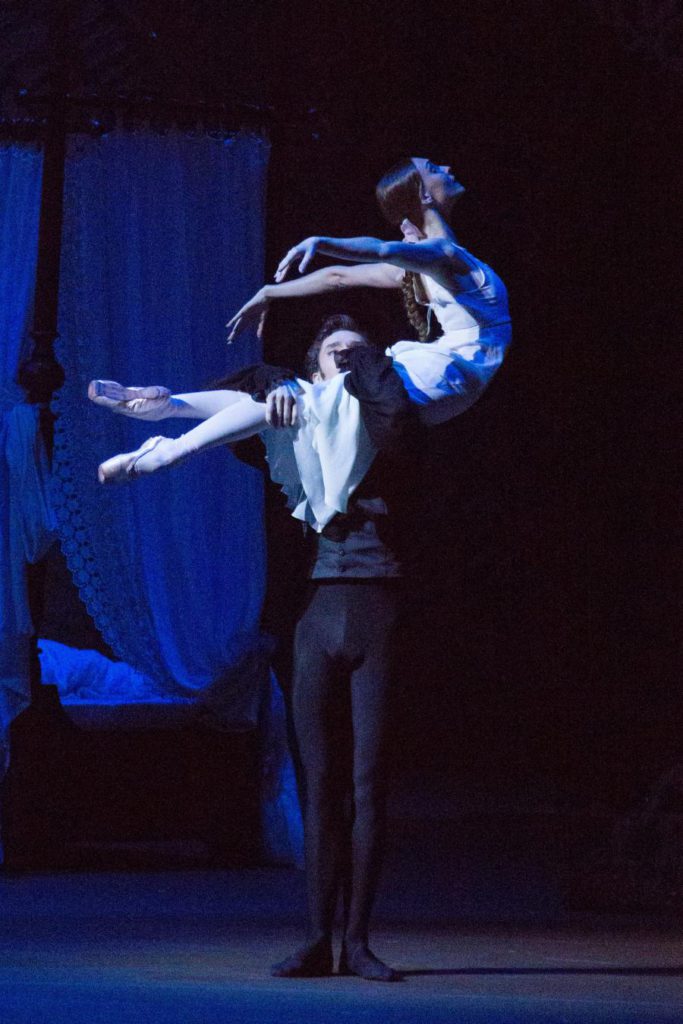 feelings made Onegin a weak man, but, as Lantratov made sure of in every moment, a man one felt empathy with. Facing the duel with Lensky, Onegin's facade began to crumble. Three times he urged his friend to make peace – in vain. Having shot Lensky to death, his soul lay open, exposed to Tatiana's judgmental look.
I haven't seen Lantratov often onstage but had the feeling he surpassed himself in the third act when Onegin tries to regain Tatiana. Where he had only raised an eyebrow or smiled a thin smile in the first act, every fiber of his body now expressed desperate pleading. Long stifled emotions erupted. He gestured soothingly with his hands, touched her tenderly, grasped her with passion, tried to hold her. Those two people had been destined for each other. Tragically, Onegin noticed too late. Lantratov took his curtain calls visibly touched.
Smirnova's Tatiana was a very shy girl at the beginning. Her pale skin and huge, dark eyes made her look vulnerable, almost ethereal. The large knitted gray scarf she had wrapped herself in before going to bed highlighted her fragile tenderness. Had one expected that such unreserved sensuality, such abandon, was hidden in this girl who had just been teasing her old good-hearted nurse (Anastasia Vinokur)? Onegin was her first love and in her dream he unleashed the nascent young woman in her. At first she beat her legs demurely when he held her, then she added flourishes to her port de bras until finally soaring high in extended lifts, lightweight and full of pleasure. Both Tatiana and Onegin felt inescapably attracted by each other as if pulled by some biochemical force.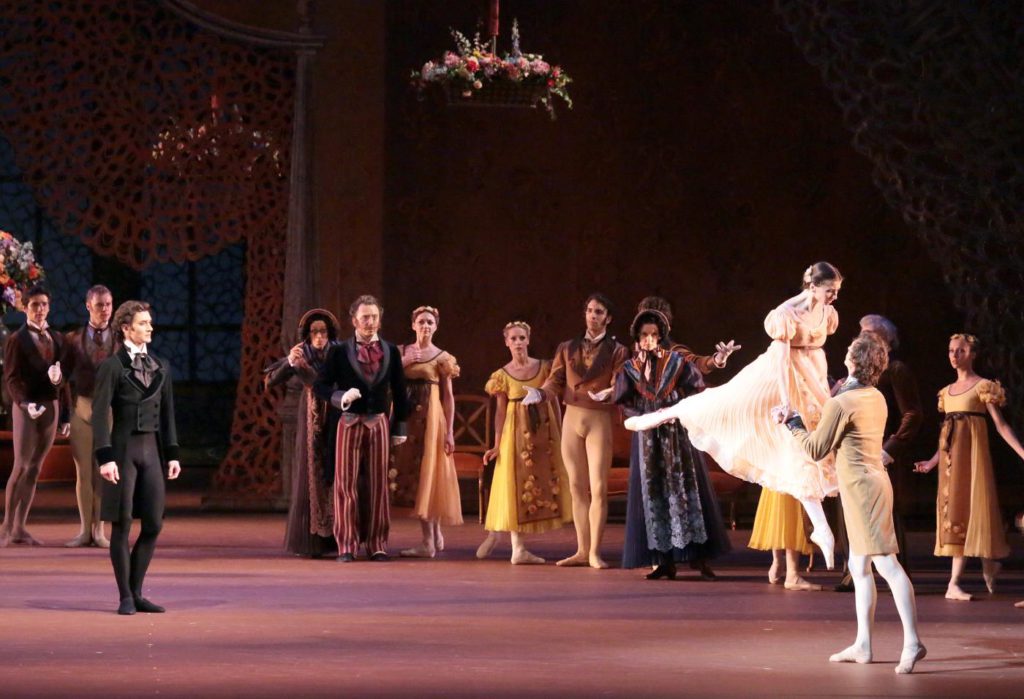 I liked Tatiana's concerns when she witnessed Olga's hurtful behavior towards Lensky during the birthday party and how she pulled herself together after having been rejected by Onegin. "Just you wait, I'll show you!" seemed to be the message her solo flung down at Onegin's feet.
Years later, now married to Prince Gremin, Tatiana was still delicate as porcelain. She was affectionate with her husband, but how much of it was devotion? Etiquette? Acceptance of the rules? She had gained a highly reputable and safe position in society, but hadn't she sacrificed her sensuality?
In the final encounter with Onegin, the latter broke through intensely. Strong desire and rekindled passion collided with her principles of how to live her life, with the respect for her husband and the duties her social position entailed. The fierce inner fight Tatiana fought hung on her, heavy like a cement bag. She was close to surrender when memories of the mirror-pas de deux awakened. Just at this moment, as if flipping the switch and suddenly sobered, Tatiana found the strength to halt her returning ecstasy. Instead she threw Onegin out. Apparently fragile, she had become strong like a bear and capable of enduring suffering.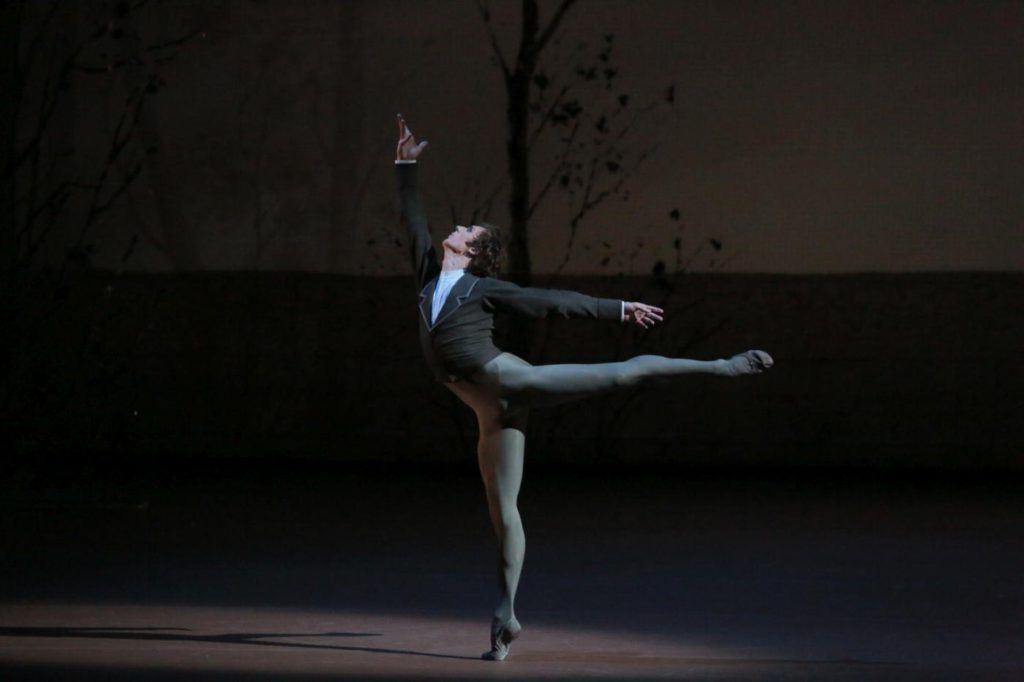 Chudin's Lensky rushed onstage like a fresh, warm breeze of spring, gracing the garden of the Larinas, Olga's and Tatiana's home, with his natural elegance. Everything he did was genuine and complete. His Lensky fully displayed positive feelings (his tender love for Olga, the bliss of being with her, his love for life) as well as negative ones (the mix of desperation and rage about Olga's unfaithfulness, his unforgiveness towards Onegin).
Chudin never makes compromises on stage, he doesn't pretend but lives the characters he is dancing. His acting derives from the heart, not from the brain. As Lensky, Olga had irretrievably poisoned his love. It was not just a question of hurt honor. Instead he could never again feel for her as before. This sense of finality suffused his solo shortly before the duel. Kneeling on the ground, his arms stretched towards heaven, Lensky seemed to ask "Why? Why did it happen?". Chudin poured out all emotions onstage in this solo. Lensky's deep sadness spread into the audience and hung heavily in the auditorium. For a moment I wished for the clog dance of "La Fille" to lift the mood during the break!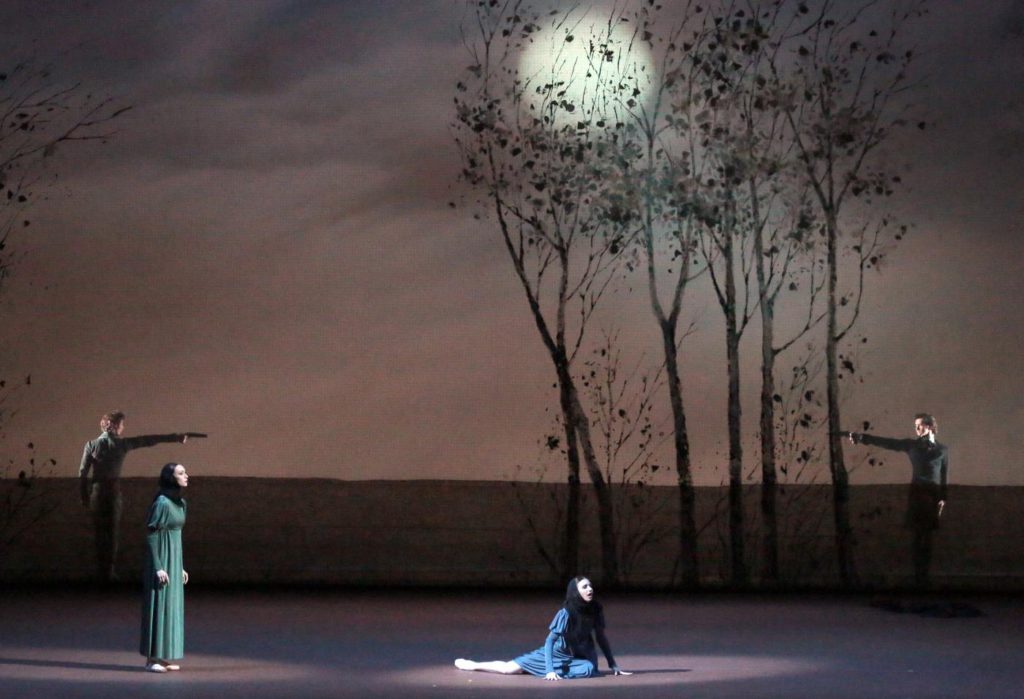 Stashkevich portrayed Olga as a fun-loving girl of affectionate generosity. She carelessly responded to Onegin's advances, shrugged her shoulders at Lensky's reproaches, laughed in his face and carried on dancing, but not because she was heartless. Rather because she was too immature to understand the magnitude of Lensky's feelings and how much she was hurting him.
Vitary Biktimirov made Gremin a staid reliable Prince and respectfully caring spouse. He was the isle of calm in the third act's emotional turmoil. As Madam Larina, Tatiana's and Olga's mother, Anna Antropova ran a cordially welcoming household.
In the garden of the Larinas in the countryside the dance of the corps had the lightness of a fresh green spring. Again, the dynamic diagonals of jeté splits were a highlight as were the elegant mirror-imaged lifts at the ball at Prince Gremin's palace, where high society enjoyed themselves. The vortex of dancing couples of all ages at Tatiana's birthday party, the amusing incidents – jostles, a lumbago, the flirtations of the young – were amusing. I especially liked the elderly men's pants striped lengthways in bold colors (Cheers to Rose!) and how the country ladies carefully measured the worth of each and everyone, above all the townsman Onegin.
Whether Cranko would still like the music of "Onegin" today is open to debate. The score is a potpourri arranged by Kurt-Heinz Stolze from lesser known music of Tchaikovsky. In any case Pavel Sorokin and the Bolshoi Orchestra made it heard with verve.
A report on the Saturday cast will follow.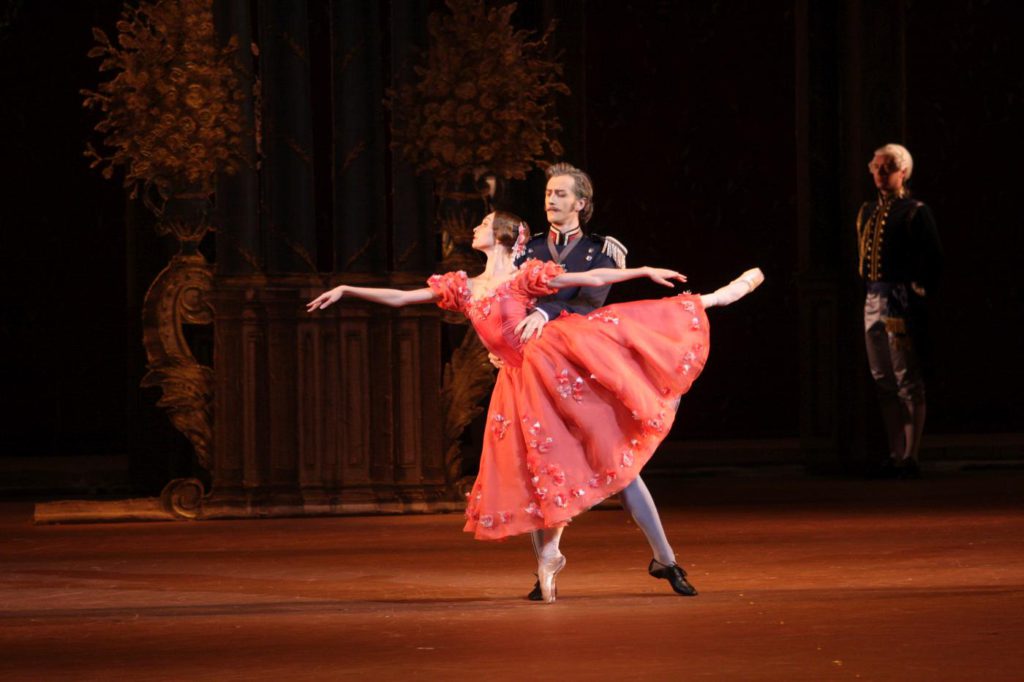 | | | |
| --- | --- | --- |
| Links: | | Website of the Bolshoi Theatre |
| Photos: | | (Some photos are from an earlier performance and show Anna Tikhomirova as Olga.) |
| |  1. | Anna Tikhomirova (Olga), Semyon Chudin (Lensky) and ensemble, "Onegin" by John Cranko, Bolshoi Ballet © Bolshoi Theatre / Damir Yusupov |
| |  2. | Vladislav Lantratov (Onegin) and Olga Smirnova (Tatiana), "Onegin" by John Cranko, Bolshoi Ballet © Bolshoi Theatre / Damir Yusupov |
| |  3. | Olga Smirnova (Tatiana) and Vladislav Lantratov (Onegin) , "Onegin" by John Cranko, Bolshoi Ballet © Bolshoi Theatre / Damir Yusupov |
| |  4. | Vladislav Lantratov (Onegin) and Olga Smirnova (Tatiana), "Onegin" by John Cranko, Bolshoi Ballet © Bolshoi Theatre / Mikhail Logvinov |
| |  5. | Vladislav Lantratov (Onegin), Anna Tikhomirova (Olga), Semyon Chudin (Lensky) and ensemble, "Onegin" by John Cranko, Bolshoi Ballet © Bolshoi Theatre / Damir Yusupov |
| |  6 | Semyon Chudin (Lensky), "Onegin" by John Cranko, Bolshoi Ballet © Bolshoi Theatre / Damir Yusupov |
| |  7. | Semyon Chudin (Lensky), Olga Smirnova (Tatiana), Anna Tikhomirova (Olga) and Vladislav Lantratov (Onegin), "Onegin" by John Cranko, Bolshoi Ballet © Bolshoi Theatre / Damir Yusupov |
| |  8. | Olga Smirnova (Tatiana), Vitary Biktimirov (Prince Gremin) and ensemble, "Onegin" by John Cranko, Bolshoi Ballet © Bolshoi Theatre / Elena Fetisova |
| Editing: | | Laurence Smelser |