"Ondine"
Bolshoi Ballet
Bolshoi Theatre
Moscow, Russia
March 04, 2017
by Ilona Landgraf
Copyright © 2017 by Ilona Landgraf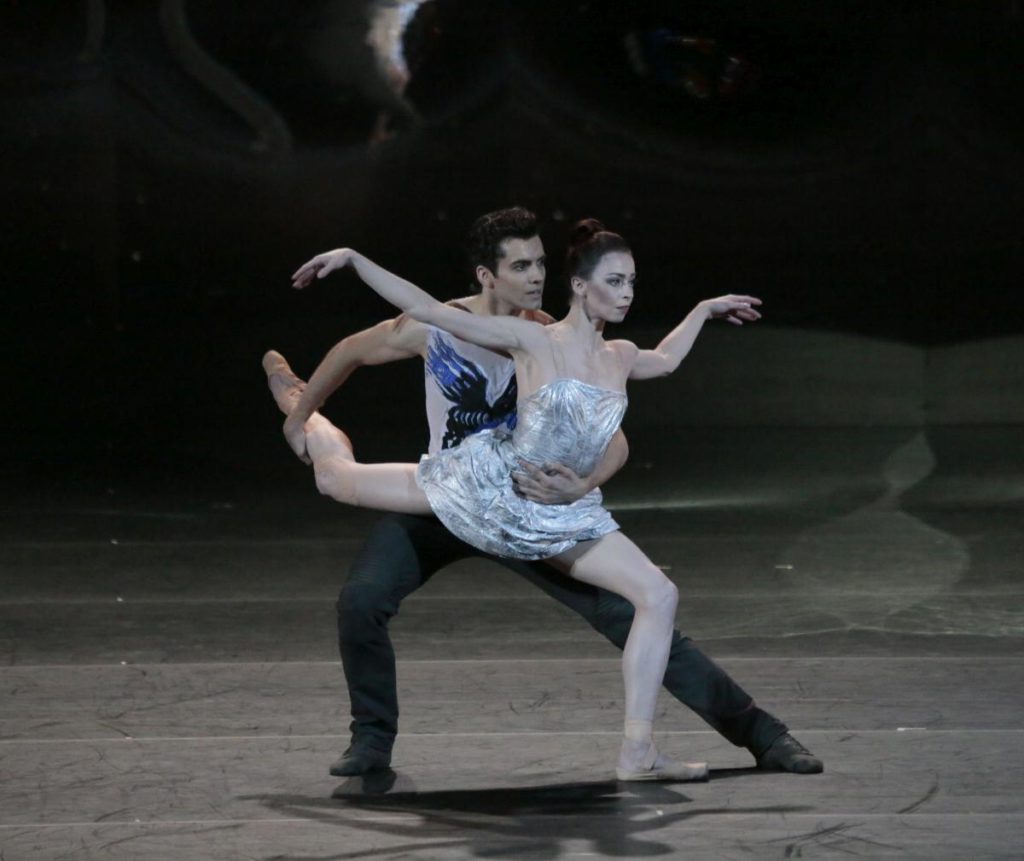 In 1958 Frederick Ashton choreographed the story of "Ondine" for The Royal Ballet in London. This three-act work is about the water nymph Ondine – a role Ashton made specially for Margot Fonteyn – who becomes the object of a worldly prince's desire. Upon finding the prince unfaithful, Ondine kills him with a kiss. German composer Hans Werner Henze was commissioned with the "Undine" music. Other choreographers subsequently used Henze's score for their own productions, the most recent dating from the summer of 2016 by Vyacheslav Samodurov for the Bolshoi Ballet.
Samodurov, who had been a principal dancer of the Maryinsky Ballet, the Dutch National Ballet and The Royal Ballet, was encouraged to choreograph by Alexei Ratmansky and also Monica Mason. Since his first attempt in 2006, his repertoire has grown steadily. Most of his pieces were mounted on the Yekaterinburg Ballet Company / Urals, which Samodurov has directed artistically since 2011.
Unlike Ashton's, Samodurov's "Ondine" is not a typical narrative, but instead is an abstract excursion into mental states, dream worlds with just hints of a story, although he kept the plot's general outline. There is still a man of this world, a Fugitive (Igor Tsvirko), and there is, too, Ondine (Ekaterina Krysanova) – the eternally feminine he yearns for. Is the Fugitive about to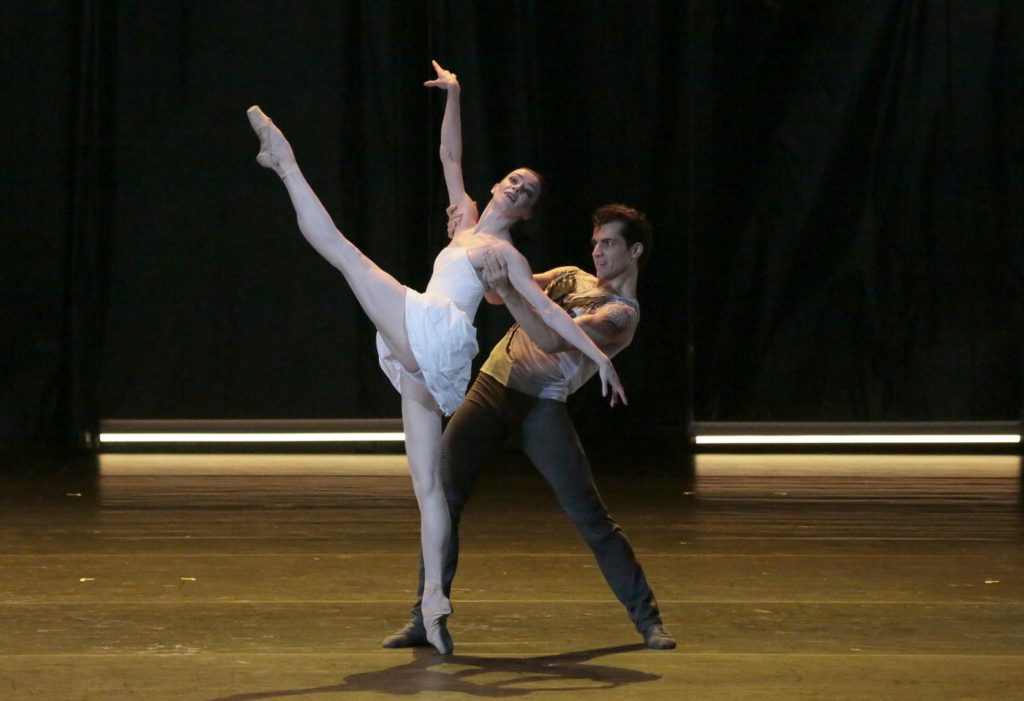 flee into a parallel world, where he might live up to the dreams and aspirations he failed to realize in reality? Or is he a dying man transitioning to fulfill his soul's destiny? In either case, he has to decide whether to follow Ondine, the symbol of his dreams, or to retreat. The story's balance of power is clearly shifted towards the feminine sex. The man's overt desire for the feminine seems a sign of weakness on first sight, but strength lies in admitting to this longing, in struggling with it.
Samodurov's libretto is heavy with vague psychology. Its translation into dance is often incomprehensible. Yet what is certain is that the Fugitive, the forlorn hero, has pulled himself together at the end. His kissing Ondine seals his decision to follow her. Because of its simplicity, this sign of mutual commitment was the emotionally strongest moment of the entire evening.
Haunting and teasing reflections of himself – sixteen men all together – surround the Fugitive. All the men wore similar dark pants and white t-shirts with the print of a winged creature (costumes by Elena Zaytseva). It was hard to tell the men apart. If Krysanova hadn't taken Tsvirko by the hand from time to time, one would easily have lost sight of him amidst these clones. All the males fell when confronted with female allure – a corps of sixteen additional Ondines, Krysanova's comrades. The nymphs' dresses were short, strapless and silvery white, but changed later into silvery gray ones.
| | |
| --- | --- |
| | Water nymphs are creatures of fantasy realms. Set designer Anthony Macilwain separated their world from the Fugitive's reality with a wall of plexiglass. Depending on the Fugitive's thoughts, the wall appeared and disappeared. Horizontal light bars in blue and yellow symbolized the waterline and the horizon. Other spaces that the Fugitive's mind wandered through were a beach-like place with a gently billowing blue curtain as backdrop. Later on, a metallically iridescent surface became the backdrop. It was in the remnants of a ship's hulk that the fugitive males had an intimidating encounter with the nymphs. |
On one occasion, Tsvirko sat in front of a mirror that filled the entire rear wall of the stage, his head hanging down like a depressed Narcissus. On another occasion, he hurried anxiously through a forest of rectangular concrete pillars (his "labyrinth of nightmares") in a gloomy hall, behind which he tried to hide from his own reflections and also from the Ondines.
During the course of the second act and especially through the third act's succession of solos, pas de deux and other group dances, the connection between what was written in the libretto and what was happening onstage got lost. "All hope is broken,…", "… to go beyond the horizon, where there are no roads, no stops and no habits", "The ground will save the skies from crashing into the ocean" – that sounds substantial but when and how was it depicted?
Samodurov did anchor his basic idea with some telling scenes, but filled the time in between with dance that was rather unspecific. Set changes, entries and exits of dancers and music which burst the atmosphere, kept the stage lively, but superficially so. One felt as if one was watching a mind pretending to be actively thinking but instead only treading water.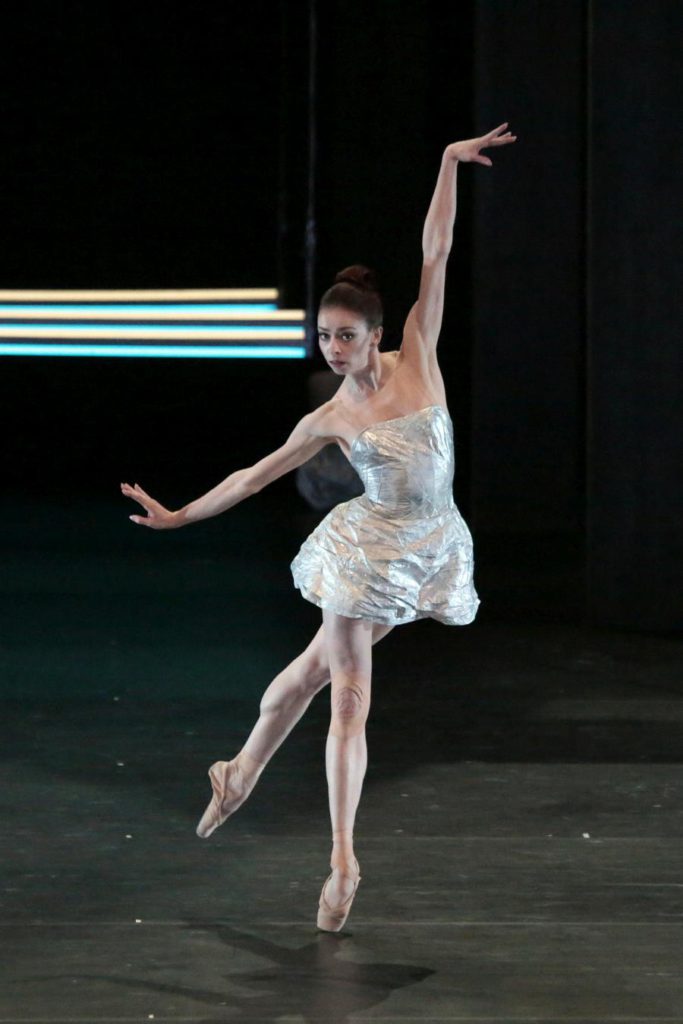 Effective, by contrast, were the scenes in which a row of men ran across the stage followed by the nymphs chasing them. Or the moments when a single man dared to approach the semicircle of Ondines, safely held by a group of his friends who were ready to pull him back out of harm's way, even though they were themselves intimidated. Since the females were dangerously unpredictable, most males retreated for good, as if they had burnt their fingers. Sometimes the men managed to briefly grasp the Ondines, but again and again the nymphs escaped their hands like slippery fish. At one point Tsvirko hung onto Krysanova like a dead weight and it seemed that he had almost captured her. Yet one nudge to his chin made him release her. From then on he was compliant.
I liked how the line of Ondines pulsed like the surf, how they bewitched and provoked the men, only at the end to vanish like the ocean tides. How lovely were their soft nimble jumps! But then, suddenly, a leg unfolded out and back, like a snapping pincer. Kicking their legs happened decisively and often.
The men's overall arousal over the females expressed itself in exhaustive dance. They ran, jumped, leapt and spared no physical effort, but also from time to time sat gloomily and listlessly. In one short sequence, watching them do pushups, they reminded me of a fitness class, whereas their many bravura jumps made me think of "Spartacus". Being dragged along some unknown path by the women made the men look submissive, less heroic. But isn't it often true that one desires and fears simultaneously?
Henze's score combines teasing and threatening moments. It has romantic passages yet is frequently effervescent. It lends itself well to dance. That was my first impression of "Undine". But as its abrupt mood swings kept going, as the percussion mounted to deafening rolling thunder interspersed with fanfares, and as the kissing scene increasingly drowned in such triumphant noise that my seat's upholstery started to vibrate, the score became obtrusive and pretentious. It had already stirred criticism at its London premiere and been hard to enjoy.
Pavel Klinichev was the Bolshoi Orchestra's safe guide through this musical roller coaster ride.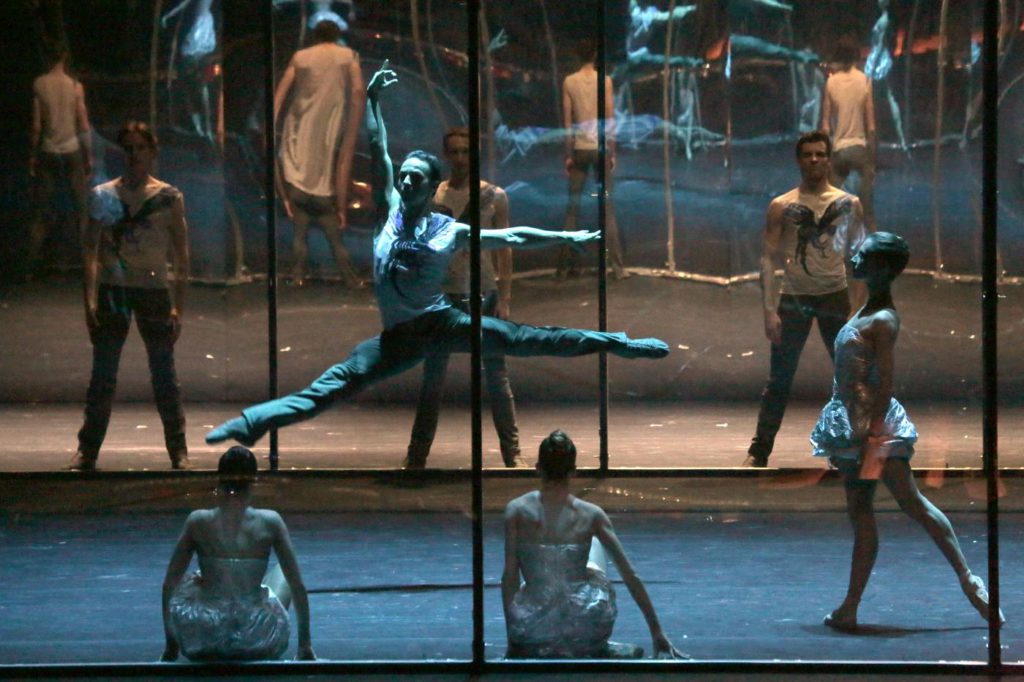 | | | |
| --- | --- | --- |
| Links: | | Website of the Bolshoi Theatre |
| | | video of the dress rehearsal of "Ondine" with slightly different costumes and set design |
| Photos: |  1. | Igor Tsvirko (The Fugitive) and Ekaterina Krysanova (Ondine), "Ondine" by Vyacheslav Samodurov, Bolshoi Ballet 2017 |
| |  2. | Ekaterina Krysanova (Ondine) and Igor Tsvirko (The Fugitive), "Ondine" by Vyacheslav Samodurov, Bolshoi Ballet 2017 |
| |  3. | Ekaterina Krysanova (Ondine), "Ondine" by Vyacheslav Samodurov, Bolshoi Ballet 2017 |
| |  4. | Ensemble, "Ondine" by Vyacheslav Samodurov, Bolshoi Ballet 2017 |
| | | all photos © Bolshoi Theatre / Damir Yusupov |
| Editing: | | Laurence Smelser, George Jackson |