"Don Quixote"
Stuttgart Ballet
Stuttgart State Opera
Stuttgart, Germany
June 03, 2017
by Ilona Landgraf
Copyright © 2017 by Ilona Landgraf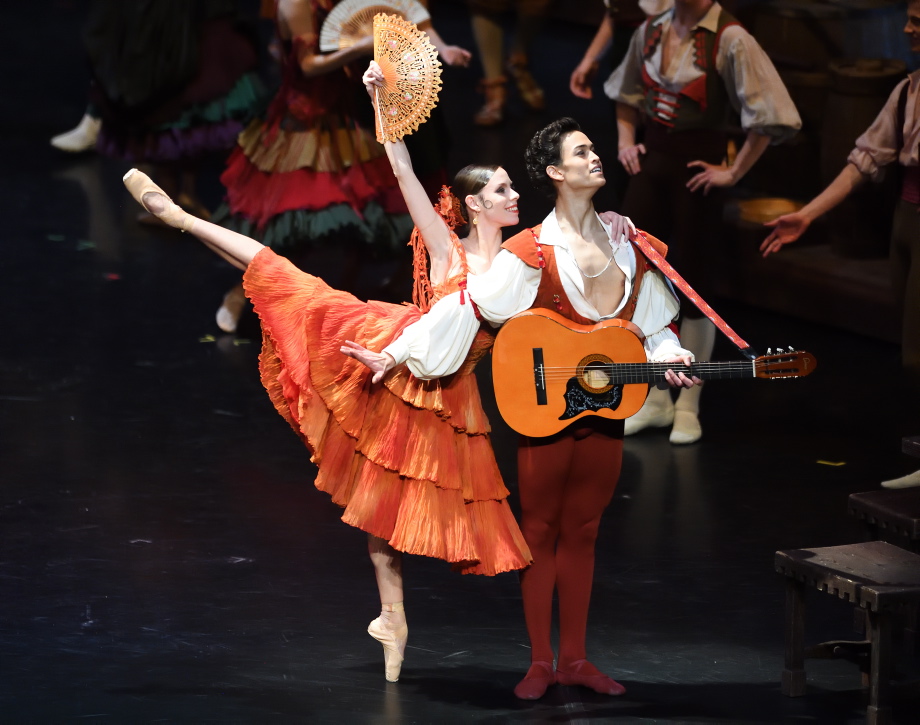 Stuttgart Ballet is facing a time of great change. Just recently, artistic director Reid Anderson announced that the company will part at the end of this season with Demis Volpi, who had been its resident choreographer since 2013. Whether the contract of Marco Goecke, the company's second in-house-choreographer, will be extended beyond summer 2018 (after which Tamas Detrich will take the reins from Anderson) is still the subject of rumors. What is certain, though, is that this season will be the last for an icon of Stuttgart Ballet. After more than seventy years as dancer, choreologist, coach, ballet master and linchpin for the company, 89-year-old Georgette Tsinguirides will retire in July.
Other upcoming transitions are structural in nature; for example, in fall of 2018, the new, eagerly awaited building of the John Cranko School will finally be inaugurated. However, the company must move into temporary quarters in 2021, since the State Opera must undergo radical redevelopment measures.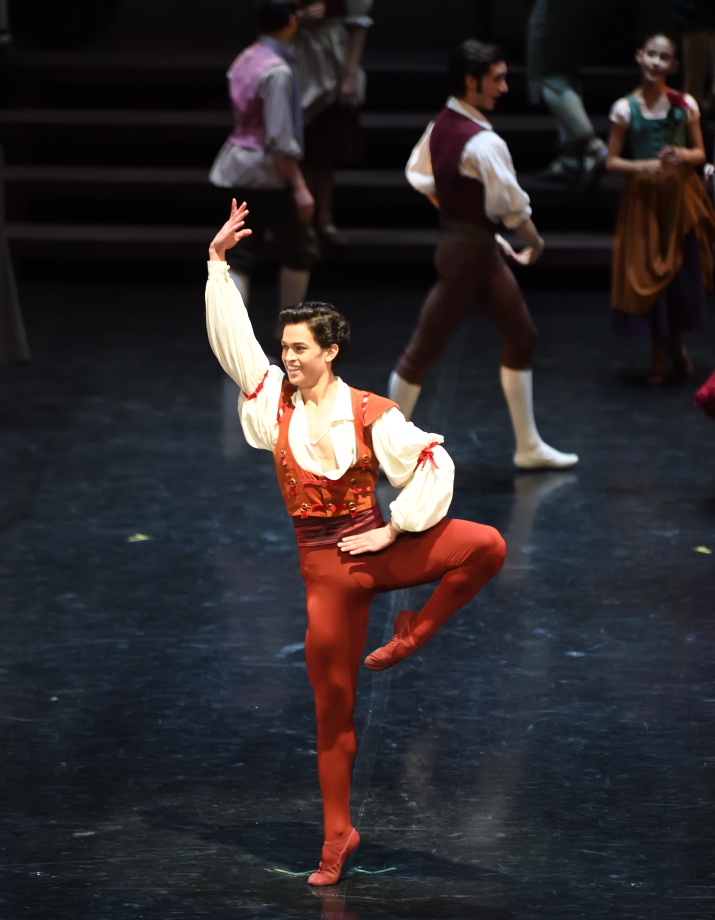 Slowly but steadily the ranks of the ensemble have altered as well. In the last few years, Roman Novitzky, David Moore and Constantine Allen have reinforced the roster of male principals, led by the familiar faces of Jason Reilly and Friedemann Vogel. Principal Daniel Camargo's decision to leave for Dutch National Ballet last summer was a huge loss for Stuttgart Ballet. Typically, Anderson fills such gaps from within the ranks. His choice was Brazilian Adhonay Soares da Silva, a Cranko School graduate from 2015. Soares da Silva, winner of the Prix de Lausanne in 2013, was promoted from the corps de ballet directly to soloist rank in January of this year. Anderson entrusted main parts to him right away. While still in the corps, Soares da Silva danced Lucentio in Cranko's "Shrew" and Basilio in "Don Quixote".
Two weeks ago, "Don Quixote" returned to the schedule – and Soares da Silva once again portrayed the young Spanish barber, who is fervently in love with the innkeeper's daughter, Kitri. I saw him perform alongside Elisa Badenes last Whit weekend.
Stuttgart Ballet's "Don Quixote" dates back to 2012: it is the revised version of Maximiliano Guerra's first choreographic attempt at the subject in 2000. Guerra largely kept in line with traditional adaptions (tracing back to Marius Petipa), but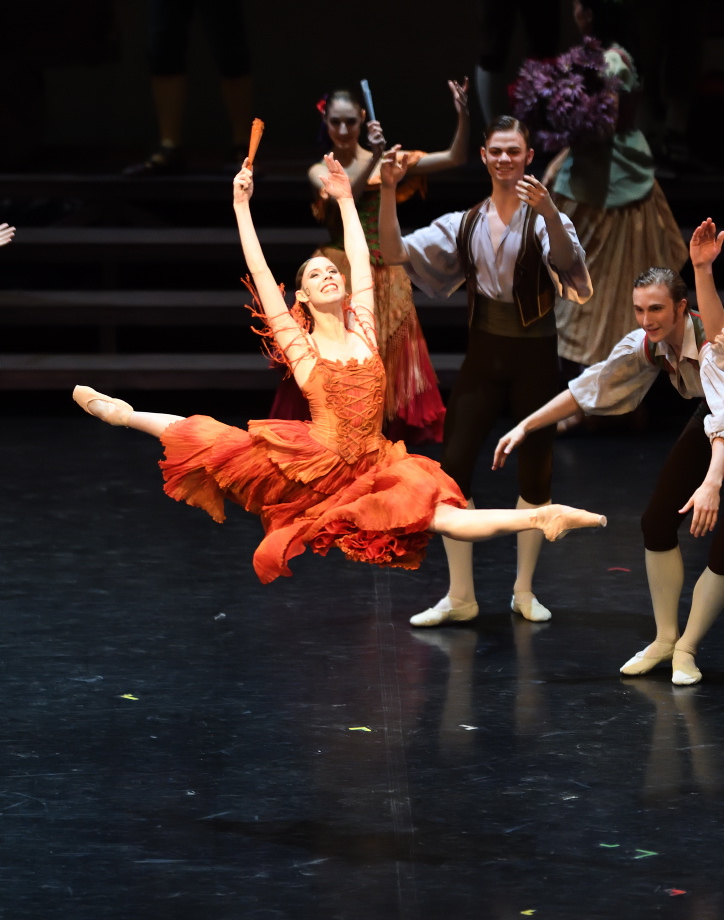 integrated the figure of Miguel de Cervantes, the author of the novel "Don Quixote". In a frame story created by Guerra, Cervantes dreams of becoming his novel's hero, the knight-errant Don Quixote. Sancho Panza, Cervantes's neighbor and friend, turns into Don Quixote's squire. Their adventures are completely outshined by the stir the boisterous romance between Basilio and Kitri causes. Why Don Quixote fights against a windmill in the course of events isn't entirely conclusive, but who cares?
The turning windmill sail is a video projection and an inferior invention of set designer Ramon B. Ivars that looks like an old screen-saver. Other scenic elements include an unremarkable sandstone-colored backdrop with a sketchy architectural relief; interior elements of Cervantes's private library; wooden tables and benches representing a Spanish village square and tavern; and movable wooden frames decorated with emblematic phrases from the "Don Quixote"-novel in huge letters. Those wooden frames eventually enclose the characters of Cervantes's chivalric tale like a fence. Brightly colored and embellished costumes, also credited to B.Ivars, create Spanish flair.
Ludwig Minkus's original score was supplemented with additional music by Riccardo Drigo and others. James Tuggle and the State Orchestra Stuttgart performed vividly, also providing the claps of castanets to accompany some dances by the young village women.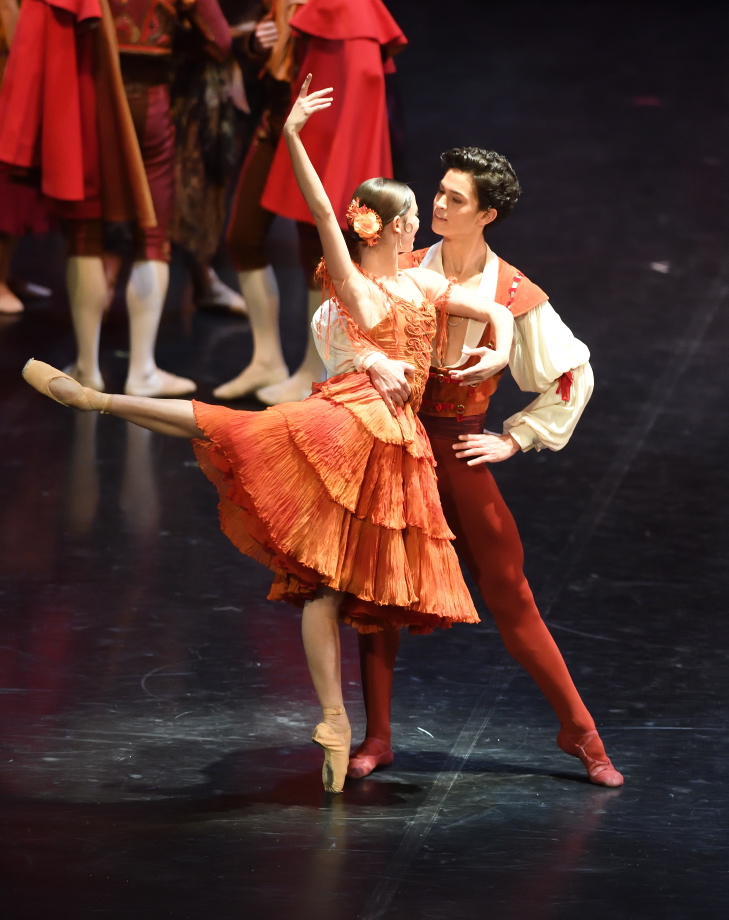 Soares da Silva is of medium size, dynamic and nimble. His leaps and turns are impressively clean and showy. He twists himself into the air and turns and turns and – as if pausing gravity – continues to turn until finally deciding to land. One of his side leaps reminded me of a hare hanging in the air. One-hand lifts were held extra long and partnering went generally smoothly except for two minor gaffes.
Soares da Silva portrayed Basilio as a showoff, proudly boasting his dancing talent, but despite his polished presentation, it was hard to credibly believe that Kitri only had eyes for him. It was obvious that Badenes was the older, more experienced dancer. Why should her Kitri fall for a cocky stripling? Where was Basilio's charm? Where was the sizzling eroticism between the two lovers? Does twenty-year-old Soares da Silva merely need time to deepen his characterization? Does he have the potential to become a charismatic artist?
For Badenes, a Spaniard, the role of Kitri is remarkably suited to her temperament. She professionally delivered a firework of jaunty jumps and turns, crisply skimming the stage like a bird in a spring mood. How she played with her fan! Darting glances, Badenes was as cheerful and vivid as Prosecco. It was no wonder that Kitri's father (Dimitri Magitov) couldn't put a tight rein on his daughter, and that the foppish, self-important Camacho (Alexander McGowan) didn't appeal to her, regardless of how much he swayed his fine handkerchief.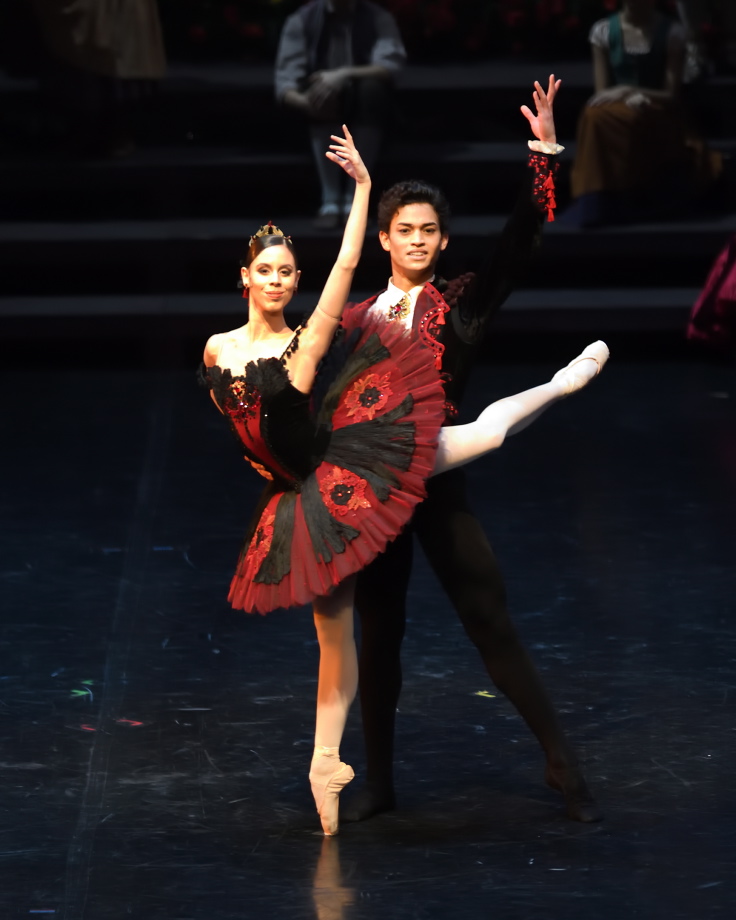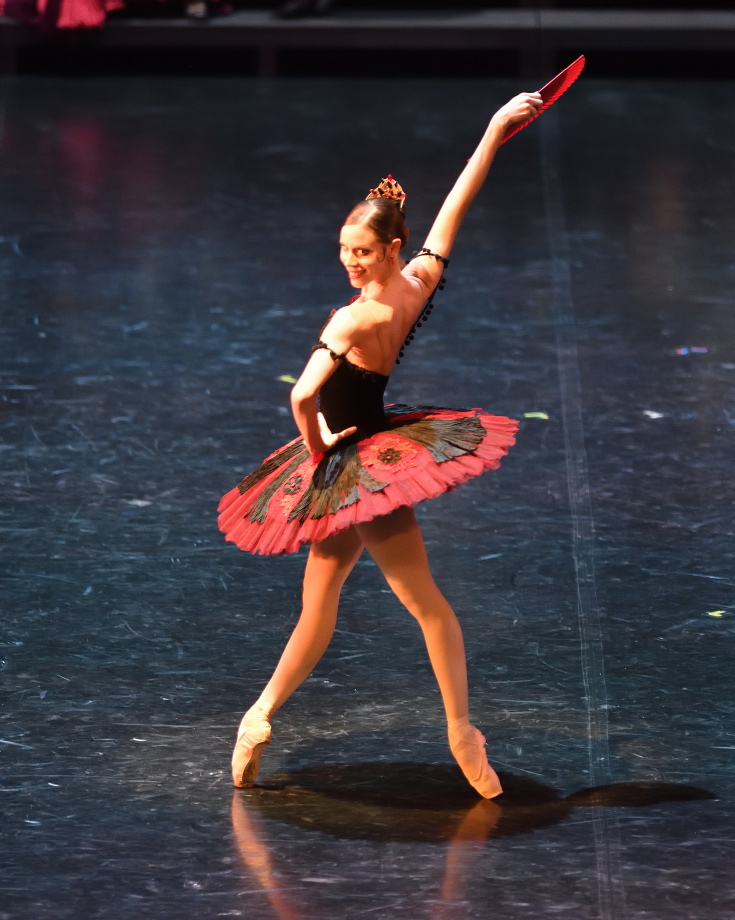 As José Antonio, leader of the toreadors, David Moore was aptly macho. He landed each jump with bullseye precision. Agnes Su, playing his girlfriend Mercedes, knew how to perfectly dose out her seduction to keep him on fire.
Matteo Crockard-Villa doubled as Cervantes and Don Quixote, strutting around with a puffed-up chest from the moment he put on his knight's armor. Cédric Rupp portrayed the awkward but surprisingly light-footed and likeable Sancho Panza. His gluttonous attempts to snatch a tattered hen from Kitri's father were in vain; later, he staved off his hunger with a chain of sausages.
Alicia Garcia Torronteras depicted Dulcinea, the muse of both Cervantes and Don Quixote, as a patient, gentle, and slightly motherly companion throughout all their adventures. The dryads of Cervantes's dream-world, led by Agnes Su as their Queen, danced as perfectly as one might expect from a nice dream. As villagers, toraderos, gypsies, and guests of Kitri's and Basilio's wedding, the corps generated a spirited atmosphere.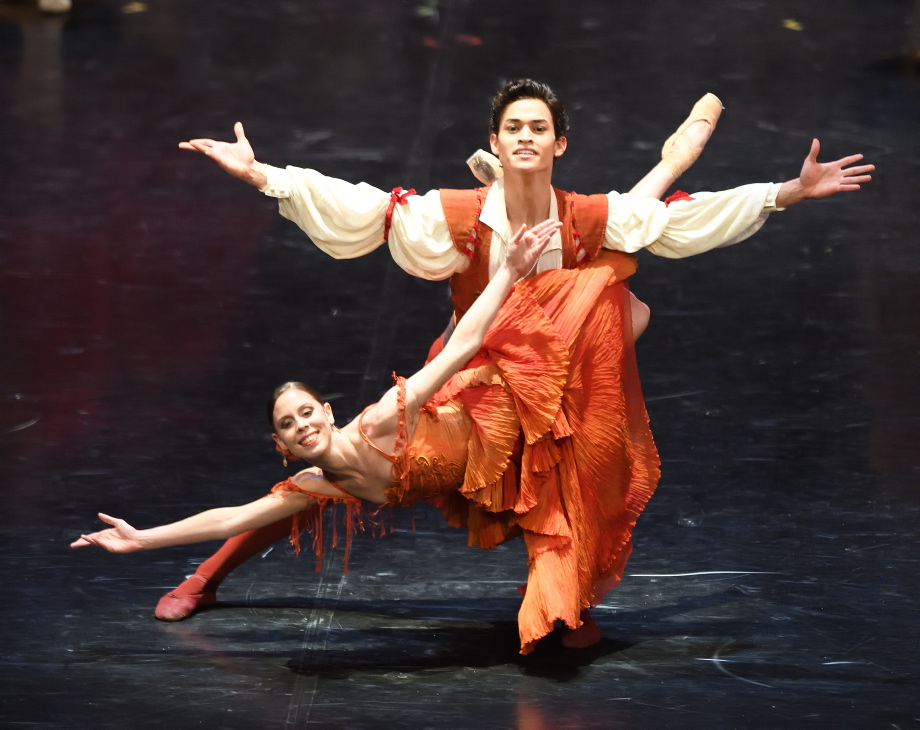 | | | |
| --- | --- | --- |
| Links: | | Website of Stuttgart Ballet |
| Photos: | 1. | Elisa Badenes (Kitri), Adhonay Soares da Silva (Basilio) and ensemble, "Don Quixote" by Maximiliano Guerra, Stuttgart Ballet 2017 |
| | 2. | Adhonay Soares da Silva (Basilio) and ensemble, "Don Quixote" by Maximiliano Guerra, Stuttgart Ballet 2017 |
| | 3. | Elisa Badenes (Kitri) and ensemble, "Don Quixote" by Maximiliano Guerra, Stuttgart Ballet 2017 |
| | 4. | Elisa Badenes (Kitri) and Adhonay Soares da Silva (Basilio), "Don Quixote" by Maximiliano Guerra, Stuttgart Ballet 2017 |
| | 5. | Elisa Badenes (Kitri) and Adhonay Soares da Silva (Basilio), "Don Quixote" by Maximiliano Guerra, Stuttgart Ballet 2017 |
| | 6. | Elisa Badenes (Kitri), "Don Quixote" by Maximiliano Guerra, Stuttgart Ballet 2017 |
| | 7. | Elisa Badenes (Kitri) and Adhonay Soares da Silva (Basilio), "Don Quixote" by Maximiliano Guerra, Stuttgart Ballet 2017 |
| | | all photos © Stuttgart Ballet |
| Editing: | | Jake Stepansky |