"A Midsummer Night's Dream"
Bavarian State Ballet
National Theater
Munich, Germany
May 26, 2017
by Ilona Landgraf
Copyright © 2017 by Ilona Landgraf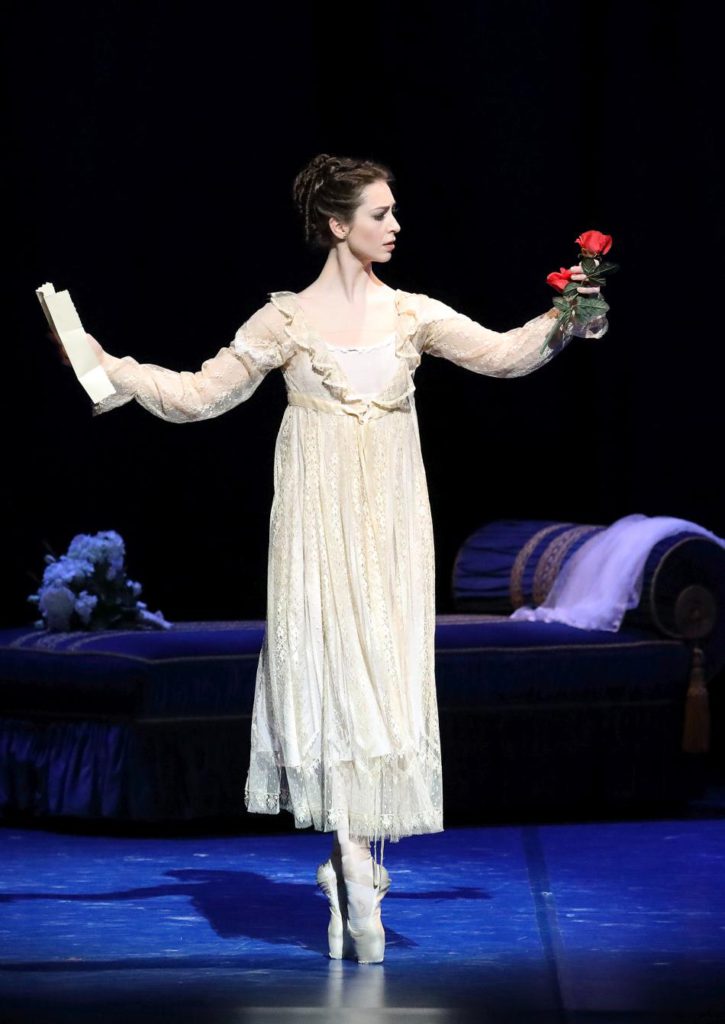 Balmy nights that follow days of 86°F are ideal to get one in a dreamy midsummer night's mood. It was just the right time for reviving John Neumeier's interpretation of Shakespeare's iconic comedy, as danced by the Bavarian State Ballet this May. The amorous entanglements Shakespeare invented in "A Midsummer Night's Dream" are confusingly intricate and very juicy. Theseus, the duke of Athens, is about to marry Hippolyta, the former queen of the Amazons. Oberon, king of the fairies, and Titania, his queen, have come to the forests surrounding Athens to attend the wedding. A bit short of domestic bliss, their quarrels cause great trouble among the four lovers of the human world, Lysander & Hermia and Demetrius & Helena. Chaos intensifies because of Puck, Oberon's shrewd and knavish sprite. A group of incompetent, amateur actors, preparing to entertain the royal wedding with "Pyramus and Thisbe" adds to the overall confusion.
Neumeier streamlined the knotty story by dropping side characters and subplots and allocating distinct music to the three lifeworlds. Felix Mendelssohn's compositions for "A Midsummer Night's Dream" (and other pieces by him) accompany the events at court. The mechanicals rehearse and perform to barrel organ music. Oberon, Titania and their fairies live inside György Ligeti's electronic soundscapes. The Mendelssohn was played live by the Bavarian State Orchestra under the baton of Michael Schmidtsdorff; of Ligeti, we heard a recorded version. James Lyttle, one of the mechanicals, played the barrel organ.
Set and costume designer Jürgen Rose chose blue-golden Biedermeier style for Theseus's household. Three movable, silvery-glinted olive bushes spanned by a starlit night sky was the fairies' playing field. The fairies wore white, skin-tight leotards and white caps. Oberon and Titania had shiny white latex leotards and silver caps. The mechanicals' outfits were higgledy-piggledy.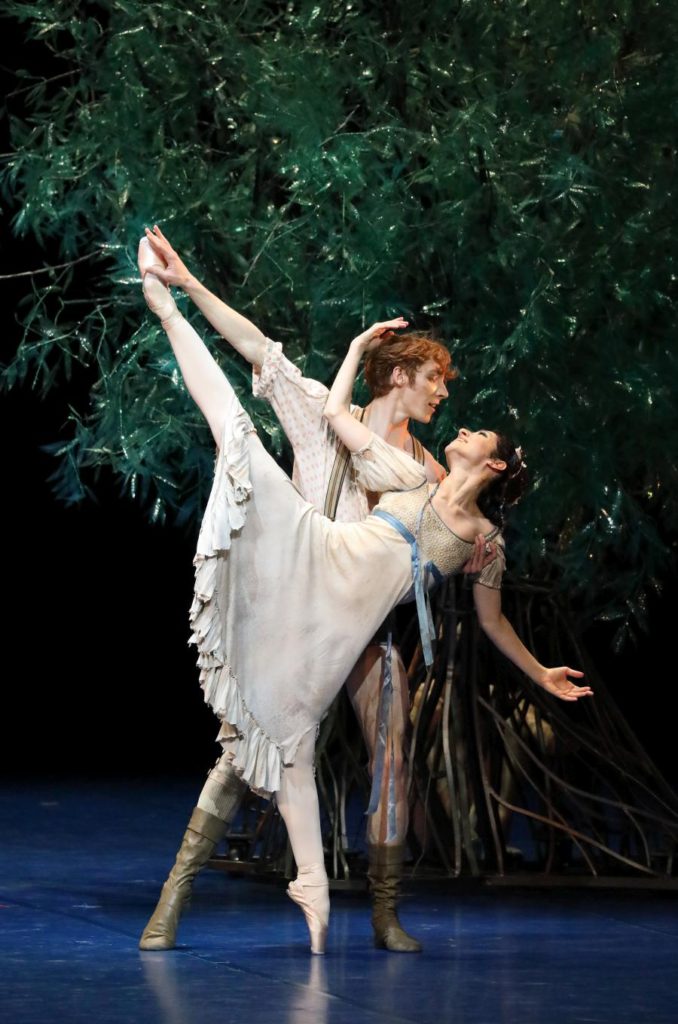 Though he simplifies aspects of the original, Neumeier adds another level of meaning to the story by merging the lifeworlds. The magic forest stretches right behind the splendid curtain of Hippolyta's chamber. Falling asleep on her chaise lounge, she easily slips into the woods in her dream. There, she becomes Titania. Her Oberon is Theseus. Philostrate, master of revels at court, turns into Puck. The red flower that Theseus presented Hippolyta at court represents the fairy world's love-in-idleness. With its love potion Puck soon upsets the balance of love among the couples. In addition, he makes Titania fall for Bottom, the mechanical whom Puck beautified with a donkey head.
Dream and reality stay mingled at the end. Philostrate, having just seen the wedding guests off, suddenly pulls the love-in-idleness from behind his back, slips through the stately curtain of the court room into the forest and becomes Puck once again. Oberon and Titania, appearing amidst the wafts of mist in the forest, have restored nuptial peace. But haven't they just left the wedding ball as Theseus and Hippolyta?
Poor Hippolyta (Ksenia Ryzhkova) had to witness her husband-to-be blithely flirting with the court ladies on the eve of their wedding. She looked sad and seemed to turn white but ultimately kept her composure. Later, after Theseus had fallen in love with her, Hippolyta's bliss of love was as perfect as in a storybook. Ryzhkova's performance had warmth and her dancing was generous. As Titania, her personality was as strong as Oberon's. Tenaciously, she struggled for power with him, but the struggles were more mental than physical – well calculated tug o' wars of forces. If she won, Oberon lifted her high, from where she looked around with a winner's pose.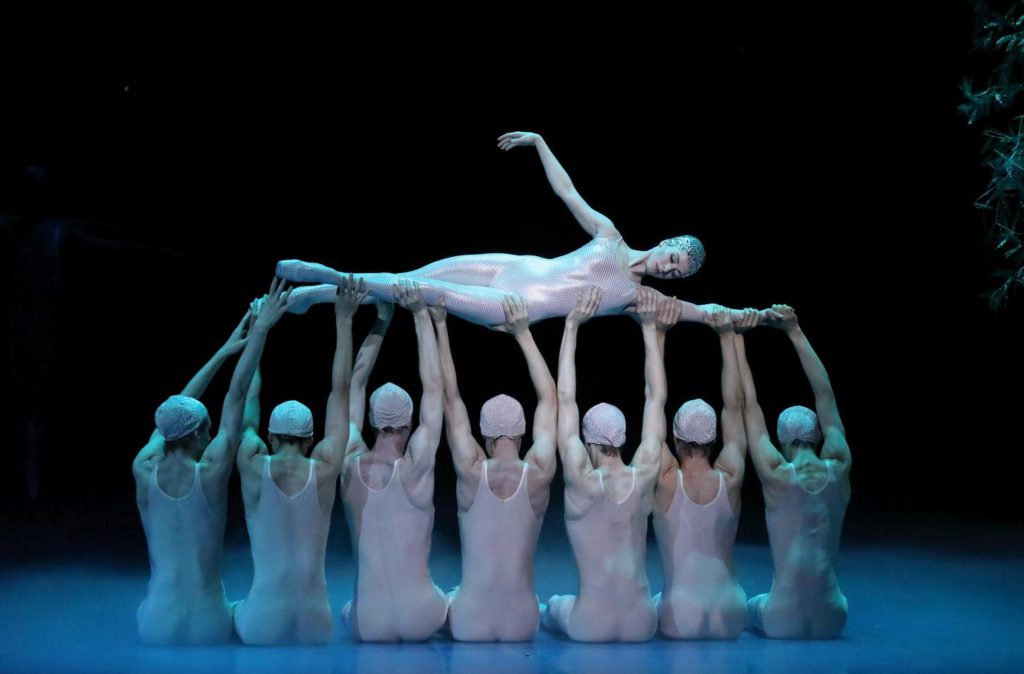 In the double role of Theseus / Oberon, Matêj Urban replaced Erik Murzagaliyev on short notice. Urban leaves the Bavarian State Ballet at the end of this season to join Les Ballets de Monte Carlo. He is a fine dancer and a charismatic actor, and I was happy to catch one of his last performances in Munich.
Urban's Theseus transformed credibly from the smart philanderer to the sweetly enamored young aristocrat, who had an affectionate eye for his future wife. What a nice couple they were! Theseus moved nobly and unpretentiously, filling the frame given by etiquette with emotions. Despite little time for rehearsals, partnering went smoothly.
Though Oberon posed like a resolute ruler – his palms touching the sides of his hips, fingers stretched apart, elbows markedly bent – he wasn't truly effective. His wife more than once towered over him and Puck (Nicholas Losada), reckless as youth is, did what came to his mind – namely mischief. All innocence, curly haired Puck scampered and prowled across the stage like a young dog exploring the world. Not even being commanded under Theseus's thumb did give him an air of guilt. Losada's Philostrate puffed himself so much up that everyone understood he was the boss of ceremonies. But weren't there tiny hints of another – impish – nature?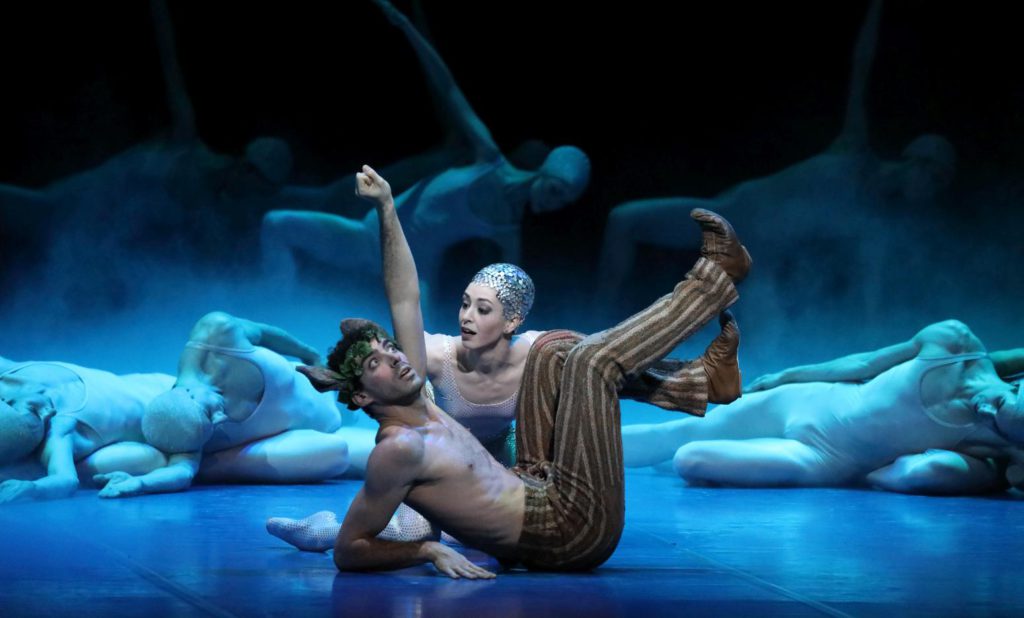 Maria Shirinkina was the bespectacled Helena. Since 1977 (the year Neuemeier created the piece), wearing glasses has become trendy, so exploiting the cliché of the clumsy four-eyes cuts no ice anymore. But Shirinkina, pouring all her charm into the role, made one sympathize with Helena. One pitied her for being rejected by Demetrius and chased by Lysander. Eventually, seeing her legs pedal happily after having been kissed by Demetrius, a wave of relieved laughter swept through the audience. As Demetrius, the starched officer always in salute, Javier Amo cut a snappy figure. But with this role as well, Neumeier is at the brink of overdoing a stereotype.
Hermia and Lysander, the other couple who finally tied the know was portrayed by Ivy Amista and Jonah Cook. When one is sweetly in love, everything becomes easy, playful and enjoyable. This is exactly what their pas de deux radiated. Cook especially attracted attention. His technique was flawless and his presence filled the stage.
Bottom (Robin Strona), a weaver by trade, cuddled Titania's belly cheekily with his ass's ears. Dustin Klein, playing the bellows-mender Francis Flute, bravely squeezed himself in red pointe shoes for his performance as Thisbe. In the roles of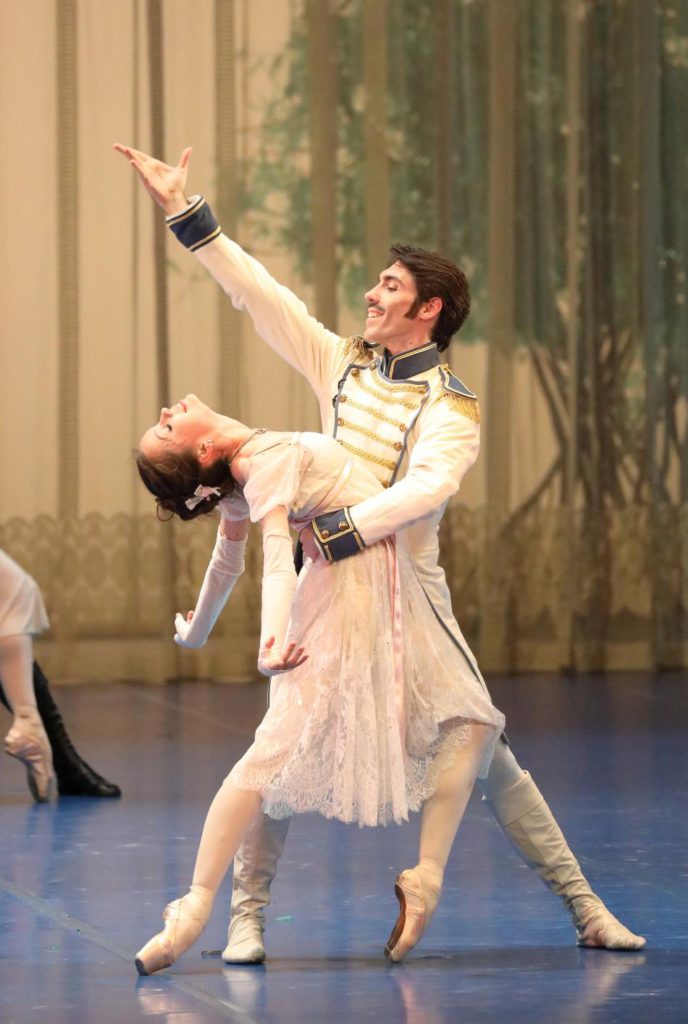 the other mechanicals were Alexander Bennett as the carpenter Peter Quince; Luca Giaccio as Robin Starveling, a tailor; Matteo Dilaghi as the tinker Tom Snout; and Zoltan Mano Beke as Snug, a joiner. The corps danced admirably either as court society or fairies.
The program booklet praises Neuemeier's "A Midsummer Night's Dream" as a masterpiece. But is it truly?
The arrangements of scenes – pas de deux for each couple in the woods intermitted by Puck's pranks, later a succession of wedding pas de deux – follows a predictable pattern. Neumeier introduces the mechanicals in the prologue on the eve of the wedding. They finally perform their play as part of the wedding ceremonies. But why did he have them reappear onstage in between? To remind us of their existence, or to fill time? In any case, the scenes were disruptive. The way Neumeier makes the mechanicals clown around seems more put-on than actually funny. John Cranko's "Shrew" is eight years older than Neumeier's "Dream". Still, people are mightily amused by "Shrew", whereas the humor Neumeier applied forty years ago has become outdated. Also, some of his ideas are worn out. How often have we seen two dancers step backwards onstage and – what a coincidence! – bump into each other, back to back?
The fairies' world doesn't come to life very effectively because their hopping and posing are unrelated to Ligeti's monotonous tones. It appears that the fairies are mainly dancing for decoration. At court, by comparison, every part portrayed by a corps member has meaning, an attribute for which Neumeier's choreographies are usually known.
The choreography has beautiful and witty moments, yet several significant visual effects were effected by Jürgen Rose. His style and taste are timeless indeed.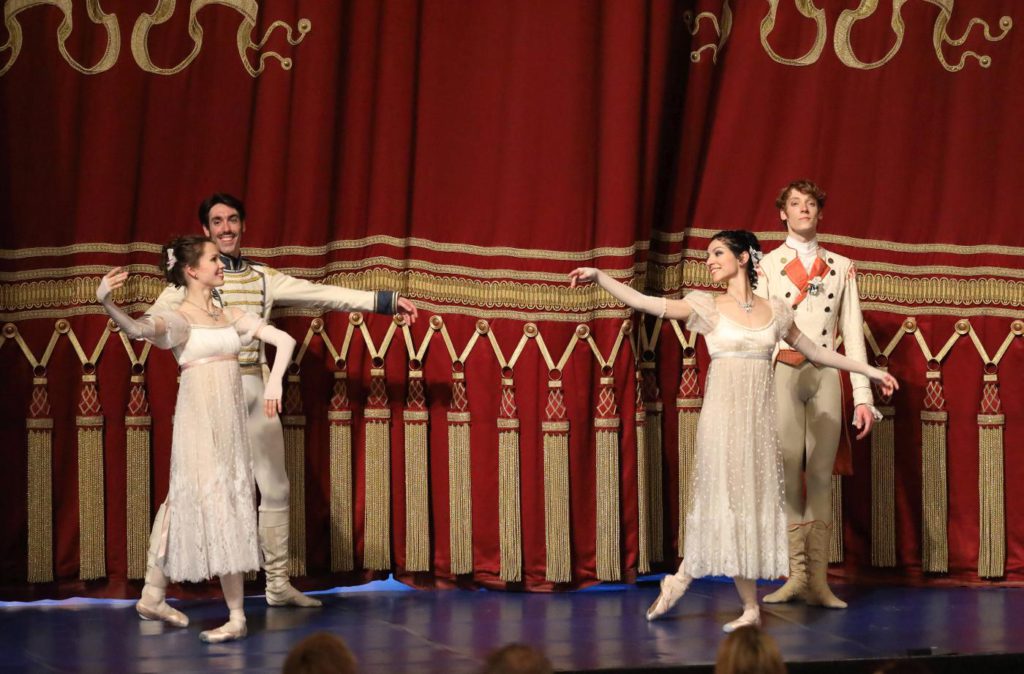 | | | |
| --- | --- | --- |
| Links: | | Website of the Bavarian State Ballet |
| Photos: |  1. | Ksenia Ryshkova (Hippolyta), "A Midsummer Night's Dream" by John Neumeier, Bavarian State Ballet 2017 |
| |  2. | Jonah Cook (Lysander) and Ivy Amista (Hermia), "A Midsummer Night's Dream" by John Neumeier, Bavarian State Ballet 2017 |
| |  3. | Ksenia Ryshkova (Titania) and ensemble, "A Midsummer Night's Dream" by John Neumeier, Bavarian State Ballet 2017 |
| |  4. | Ksenia Ryshkova (Titania) and Robin Strona (Bottom), "A Midsummer Night's Dream" by John Neumeier, Bavarian State Ballet 2017 |
| |  5. | Maria Shirinkina (Helena) and Javier Amo (Demetrius), "A Midsummer Night's Dream" by John Neumeier, Bavarian State Ballet 2017 |
| |  6. | Maria Shirinkina (Helena), Javier Amo (Demetrius), Ivy Amista (Hermia) and Jonah Cook (Lysander), "A Midsummer Night's Dream" by John Neumeier, Bavarian State Ballet 2017 |
| | |  all photos © Wilfried Hösl |
| Editing: | | Therese Condit |