"Corpus" ("disTANZ" / "Lady with a Fan")
Ballet Zurich
Opernhaus Zurich
Zurich, Switzerland
June 10, 2017
by Ilona Landgraf
Copyright © 2017 by Ilona Landgraf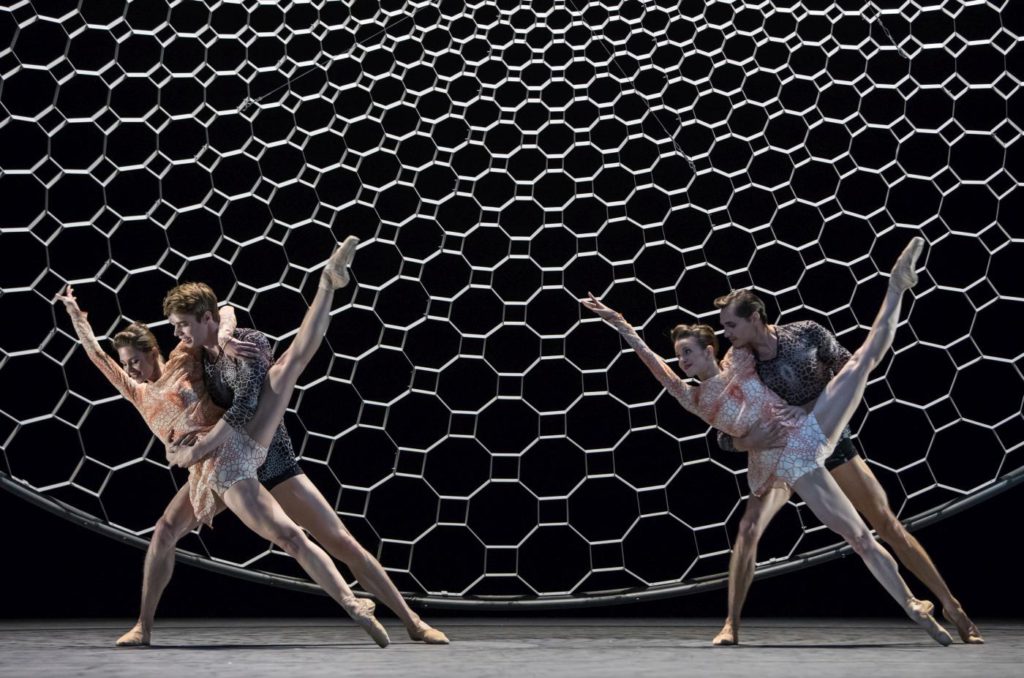 How does the soul get into the dance? What relationship does the soul have to the body? Such were the questions, Filipe Portugal and Douglas Lee, the two choreographers of "Corpus" tried to explore in their new works. The double bill premiered at the end of May. Portugal, principal of the company, has been choreographing several years now for his Zurich colleagues as well as for Zurich's Junior Ballet. "disTANZ", his most recent creation, was the first on the program. Like Portugal, Lee, a Berlin-based choreographer with British roots, is familiar with the company as well. "Lady with a Fan" is his third creation for Ballet Zurich. Both Portugal and Lee choreographed group pieces.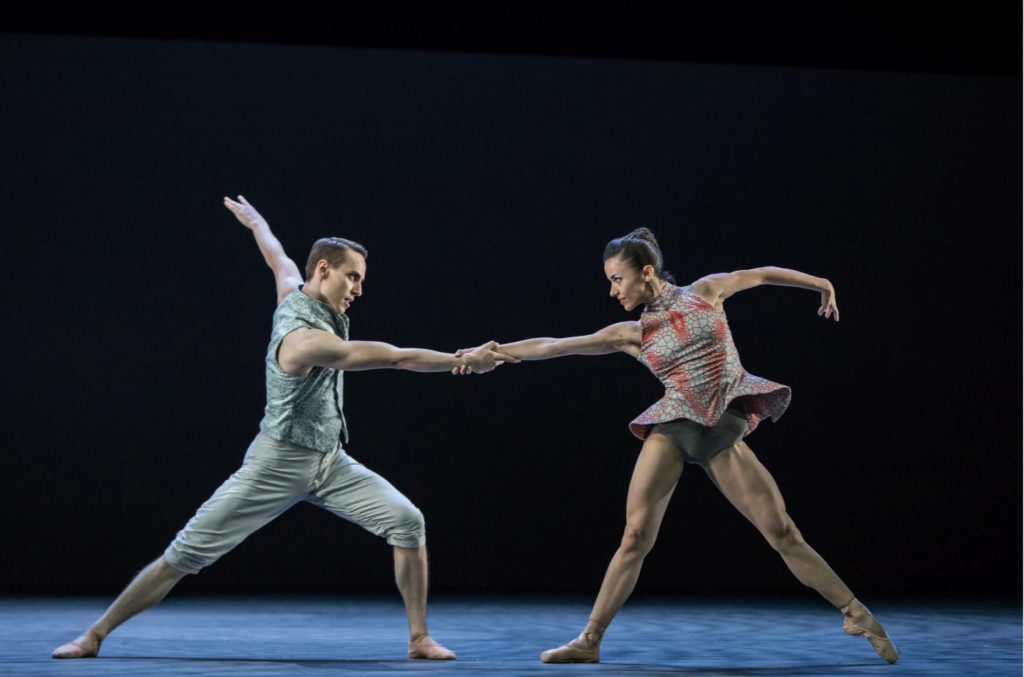 Portugal took his inspiration from the music, which is, except for sound collages by Christophe Barwinek, all-Bach: one violin sonata from Johann Sebastian Bach, harpsichord concerts and other compositions from Bach's sons, Wilhelm Friedemann (1710 – 1784) and Carl Philipp Emanuel (1714 – 1788). Christopher Moulds and the Orchestra La Scintilla, a special ensemble drawn from musicians of Zurich Opera's orchestra, which plays on historical instruments, gave a fine rendition of the score.
Music representing the passage from Baroque to the Early Classical Era led his choreography in a classical direction,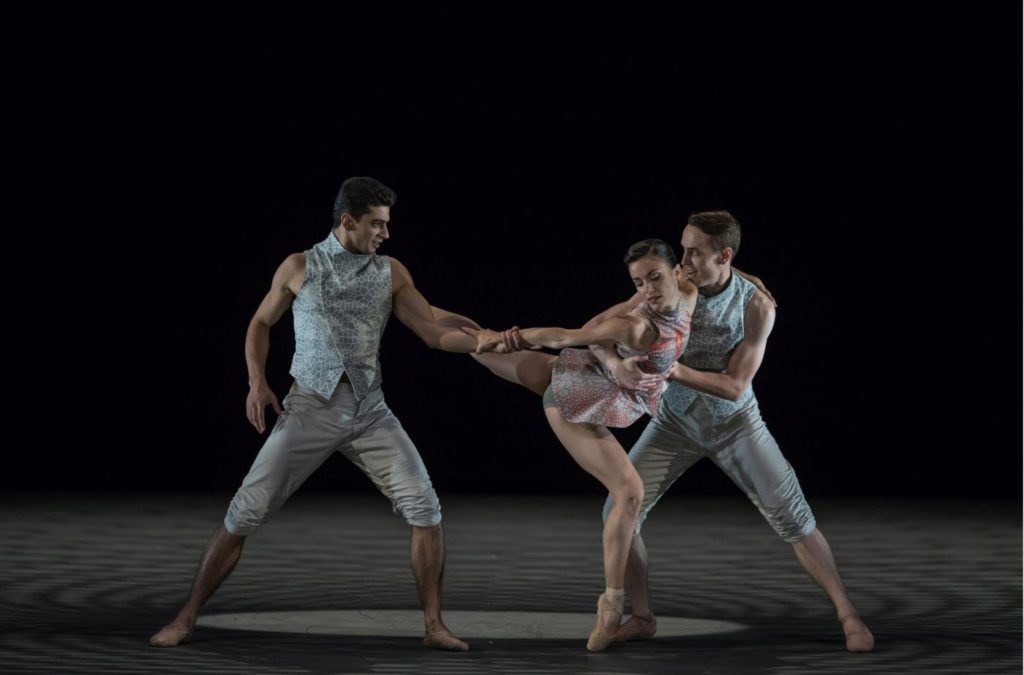 Portugal revealed in the program booklet. He also admitted, and I give him great credit for his honesty, that he hasn't found his own choreographic signature yet. Exactly. That is the weak point of "disTANZ". Apart from a few exceptions Portugal deploys the same movement mix already tiresomely over-used in other contemporary pieces. We saw snappy splits, staccato leg moves, aggressive kicks, slow motion moves, women being swung in circles barely above the ground or throwing themselves hazardously towards the grip of one or two male partners. In some scenes Portugal set the movements ostentatiously on top of the music's beats and made the women arrogantly strut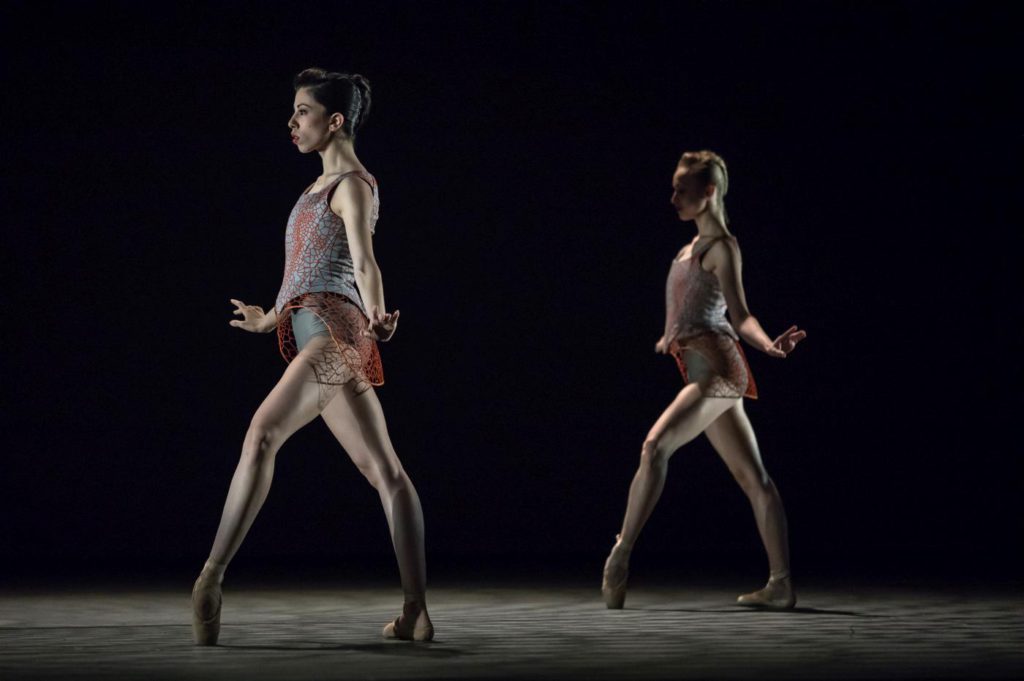 and act in a mannered way, which didn't enhance their attractiveness.
Having followed the recent debate about gender stereotypes in dance in the leading US press I wondered how the pas de deux and pas de trois Portugal invented would be received there. Cristian Alex Assis, for example, dragged Mélissa Ligurgo over the floor like a heavy sack before finally treating her gently. Should that exemplify a way to attain female devotion? Galina Mihaylova and Tars Vandebeek's relationship had another texture. She clung to him like a leech. The moment Vandebeek walked away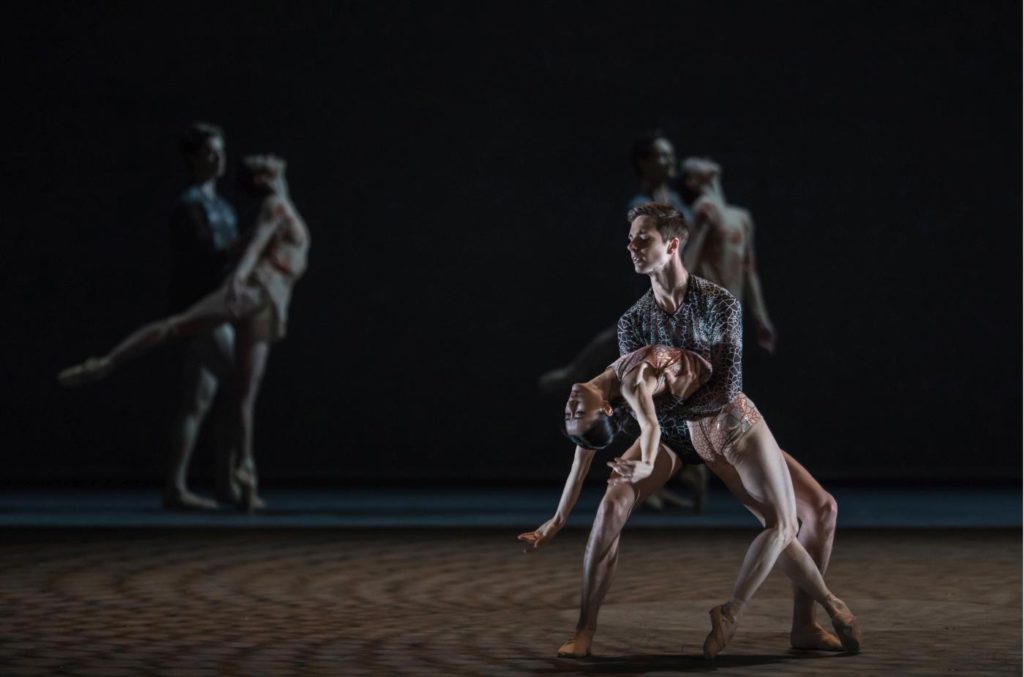 Mihaylova ran after him and hopped onto his back. A weak, dependent woman to the core, she needed mothering throughout, was carried around, supported, held – and endured. In a pas de trois, Giulia Tonelli was manipulated by Matthew Knight and Daniel Mulligan who arranged her legs and twisted and lifted her acrobatically.
Adagios were generally stronger than the remaining choreography, but the highlight was the pas de deux of petite Yen Han and William Moore. Not because of the steps they had been given, which weren't exceptional, but because of the energy both radiated. Here it was: body and soul had become one.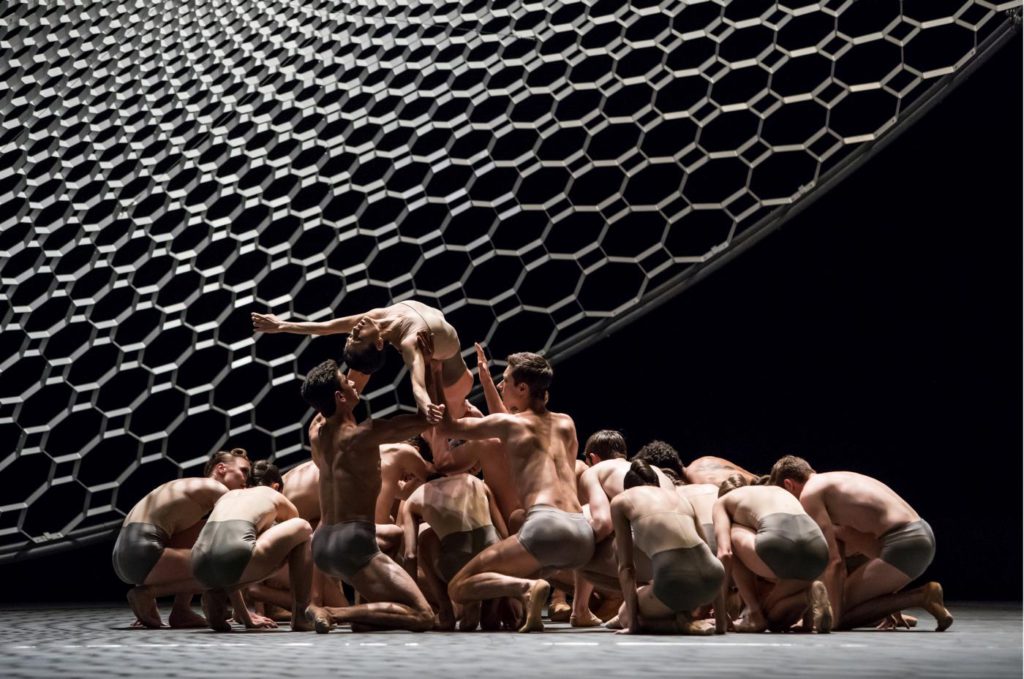 If the dance didn't always catch one's attention, the main set element repeatedly did. Marko Japelj's huge parabolic disc made of a weblike structure with a black middle hung over the center of the stage. I thought of an eye of an omnipotent observer reduced to pupil and iris. Every time the disc was tilted its mechanical system creaked suspiciously. At one point, when the group had just gathered beneath the disc to single out Hen like the Chosen One in "Sacre", I expected the disc to crash down onto the dancers every second. But it only encased them and Hen managed to free herself just in time. She looked fragile and scared as if anticipating some frightening destiny and, although Moore embraced her protectively, one knew that she wouldn't be spared.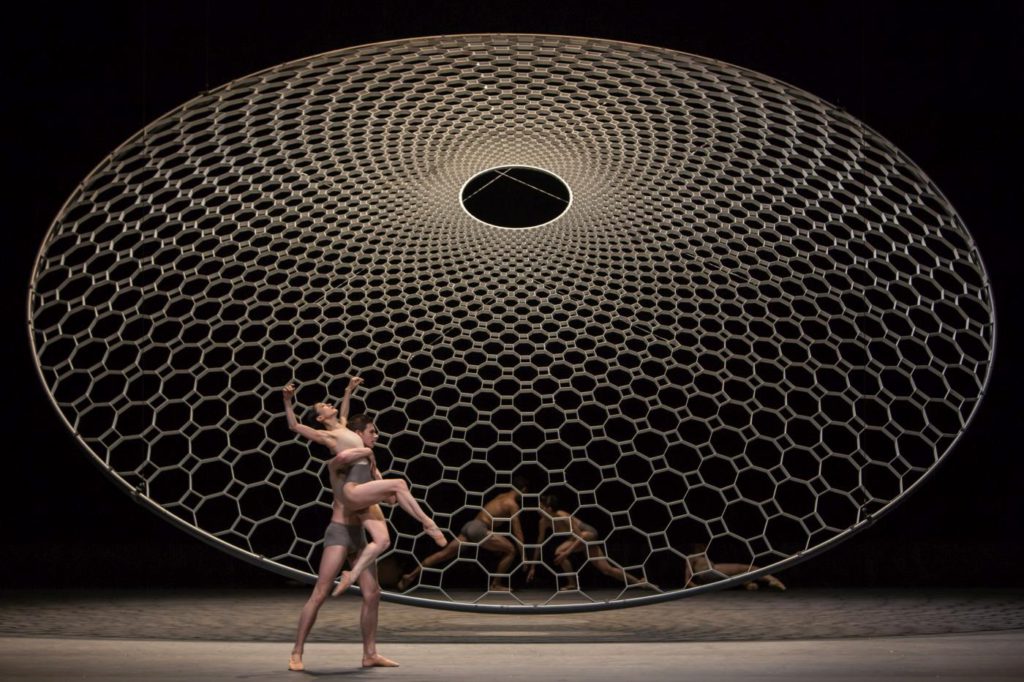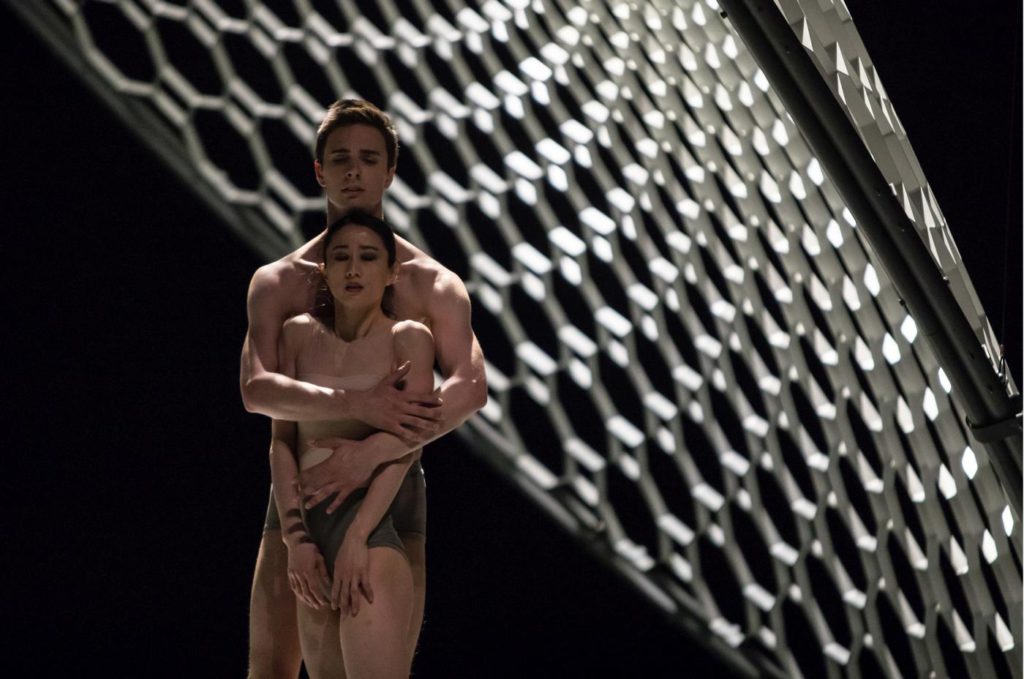 Costume changes accompanied musical and scenic changes. Some details of Claudia Binder's costume designs such as short flared peplums attached to tops or knee breeches hinted at the Baroque period, although fabrics like latex and stiff fishnet cloth didn't. Other costumes were simple, gray and skin-colored leotards for the women and gray shorts for the men.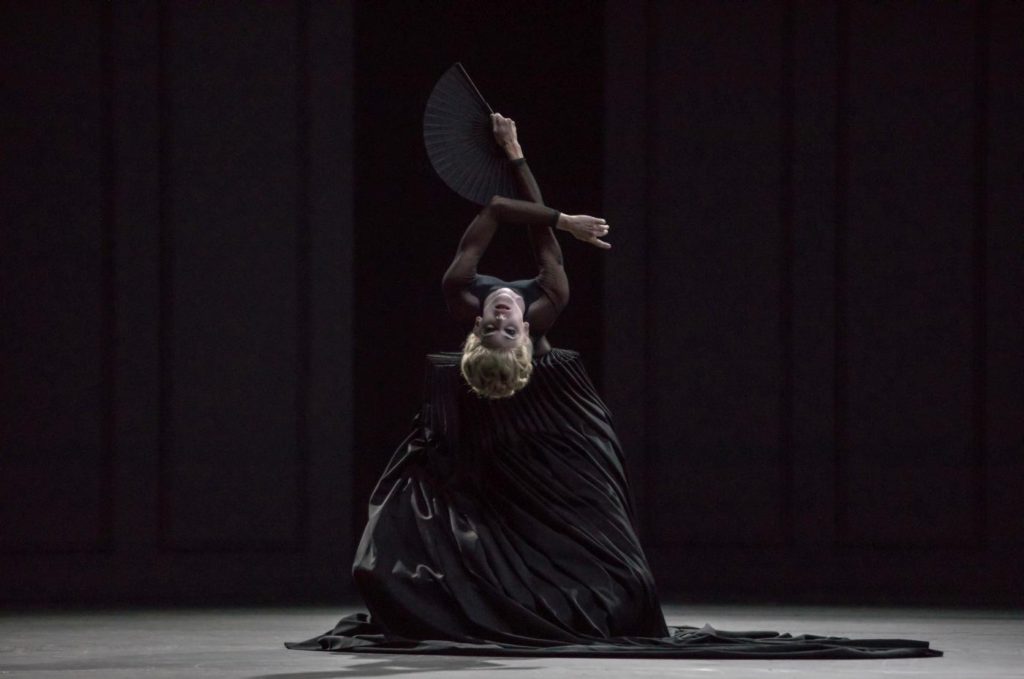 The inspiration for "Lady with a Fan" was Diego Velázquez's painting of the same title dating from 1638/39. The identity of the lady is the subject of speculation but presumably she is the French Marie de Rohan, Duchess of Chevreuse, who lived in exile at the Spanish court. Bewigged and busy with her fan this lady (danced by Katja Wünsche) was the ballet's golden thread. A court society of six women and eight men, some of them her suitors, shared the stage with her.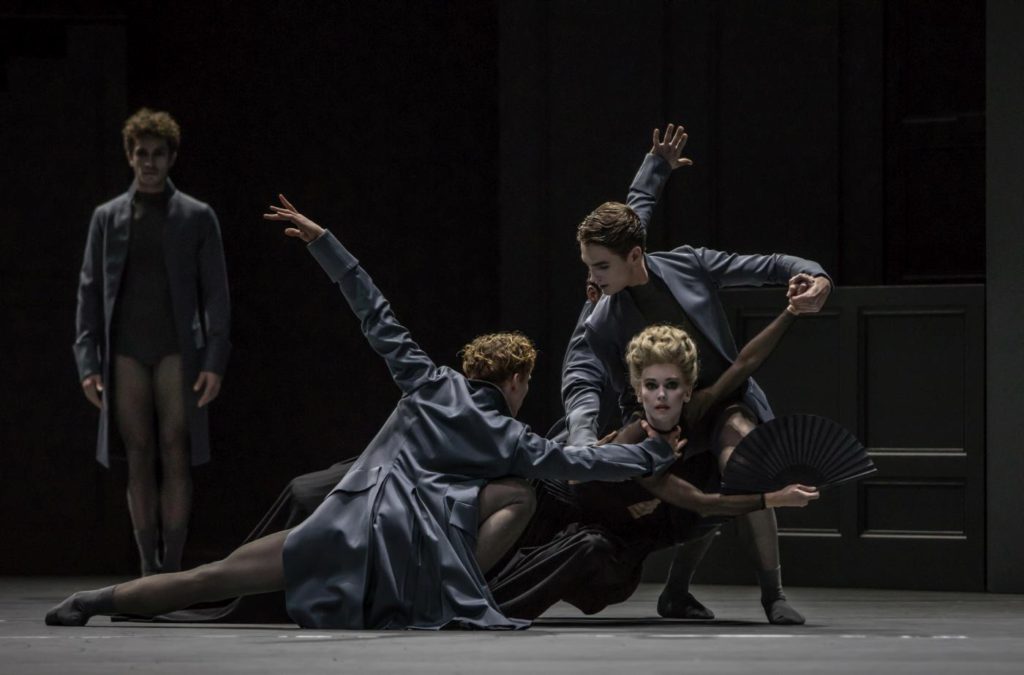 Lee didn't stick to historical and biographical details, but condensed De Rohan's portrayal down into an obscure, scheming woman courted by men. Wünsche either wore a blonde wig and a black crinoline dress with a transparent top and a long train or a simple black leotard, the latter outfit being a reference to the fact that De Rohan often had put on her brother's clothes. When she was swirled through the air in a lift, the train raised a fine cloud of dust what caused some laughs among the audience. Those were the only moments of amusement in an otherwise bleak piece of work.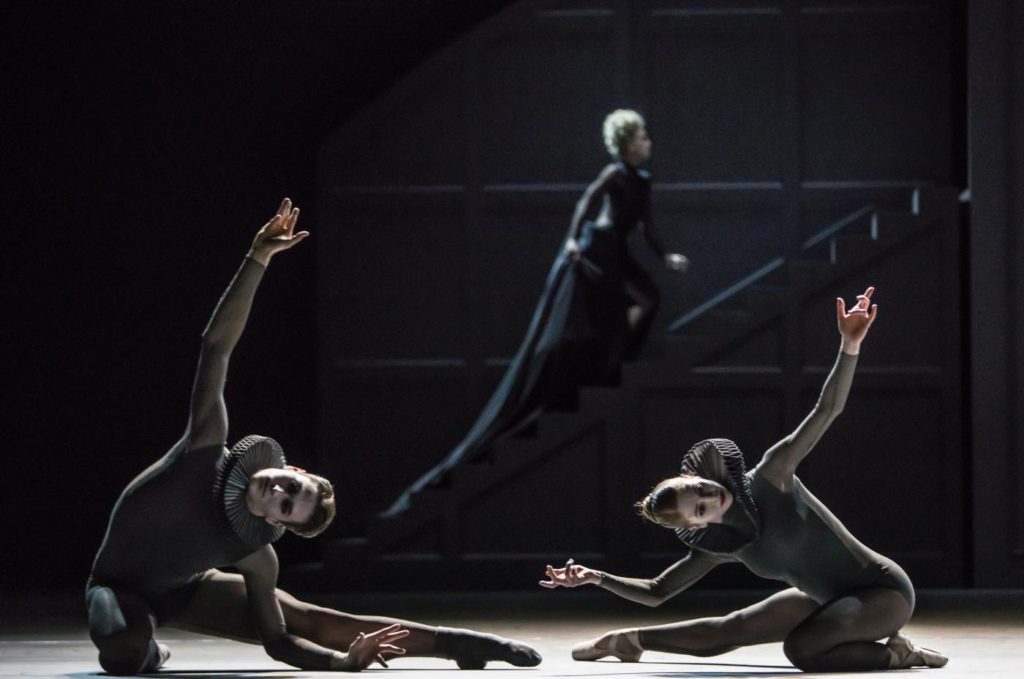 Lee, who took charge of set and costume design himself, chose gray and black as the main colors. Only in the first scene were the elements of a Baroque wooden paneling lined at the rear of the stage white. Except for a chandelier made of modern spotlights all other decorations (a wall of a room, staircases, a vaulted niche with a platform, for example) and the costumes (leotards, tights, tutus, ruffs and, for some men, coats) were gray.
As in former pieces, Lee had the group dancers move like computer-animated robots inevitably looking awkward. They could have been Coppélia's ugly siblings equipped with updated operating software. A movement began with the head, for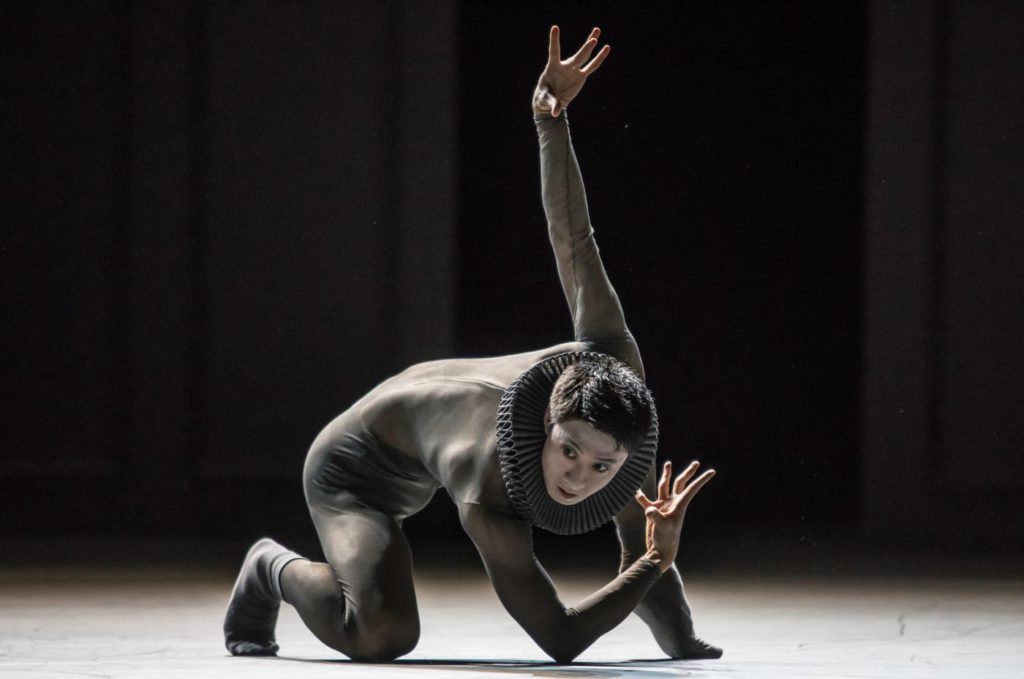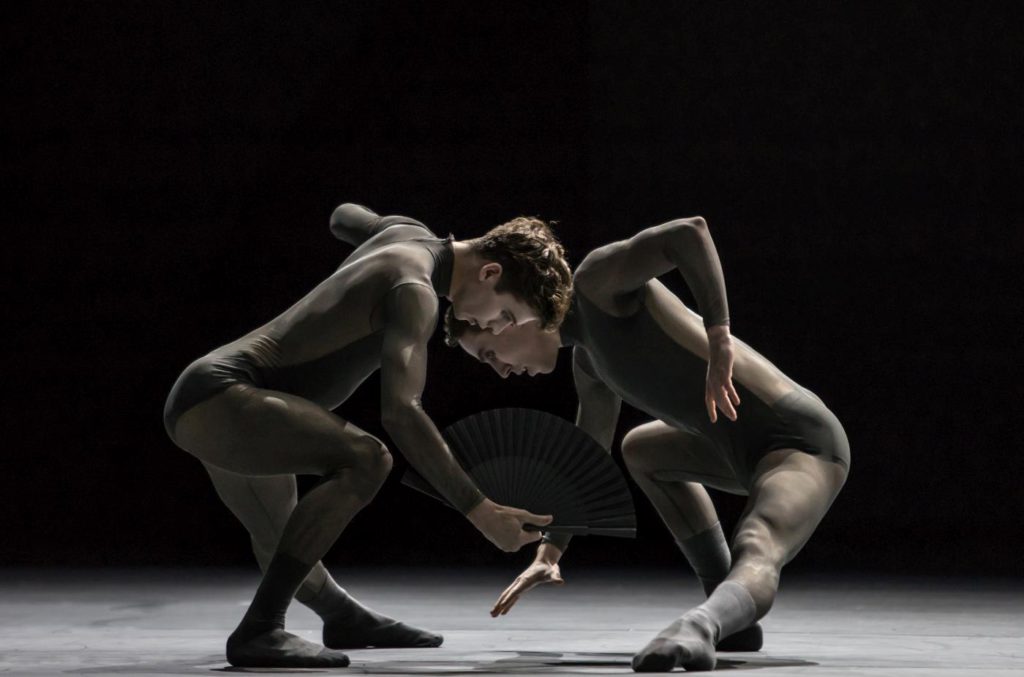 example, and ran, sequence by sequence, through the parts of the body. Frozen poses highlighted twisted arms, which ended in contorted wrists and spread fingers. Hips often stuck out; legs cut through the air like knives. Sometimes, dancers jiggled themselves artificially into an erect position. A few times the dancers walked in rows, swung their arms energetically while wave-like undulations rippled through their upper bodies.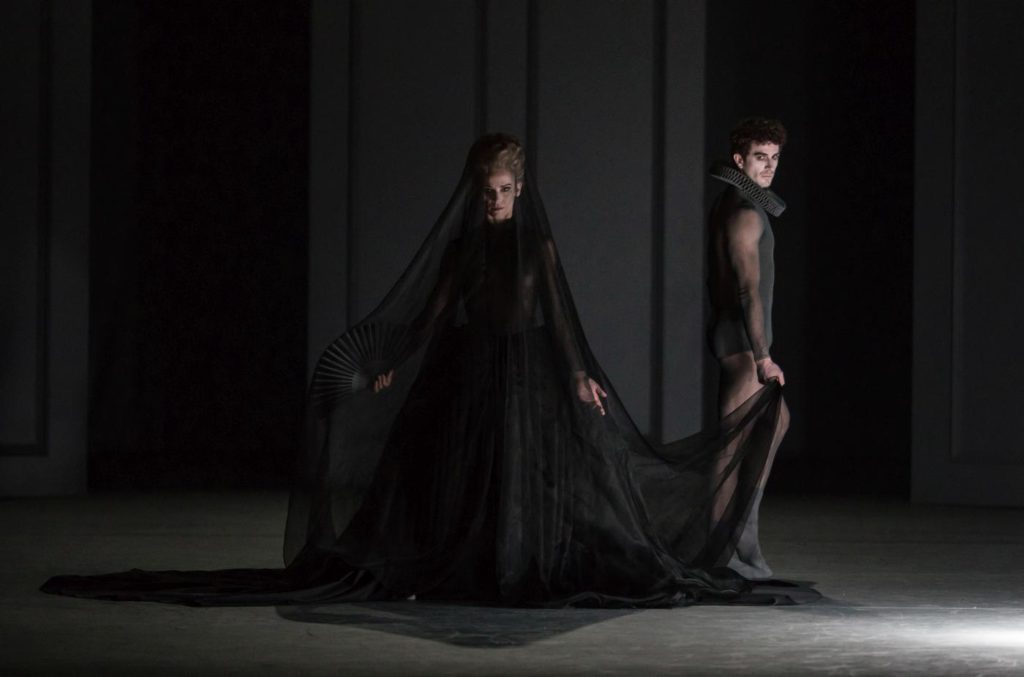 Partnering had an aggressive touch and included pushes against the forehead or the belly or a guiding grip on the other one's neck. Whether the four men dancing with the lady really were her lovers or she their mere puppet wasn't clear. Yet the way she was tossed from one to another indicated the latter.
Towards the end, Lee seemed to have filled the time with random ideas. One dancer walked down the staircase; a women carried around by a man braced her feet against the wall; fuss was made with additional fans, which had been distributed to other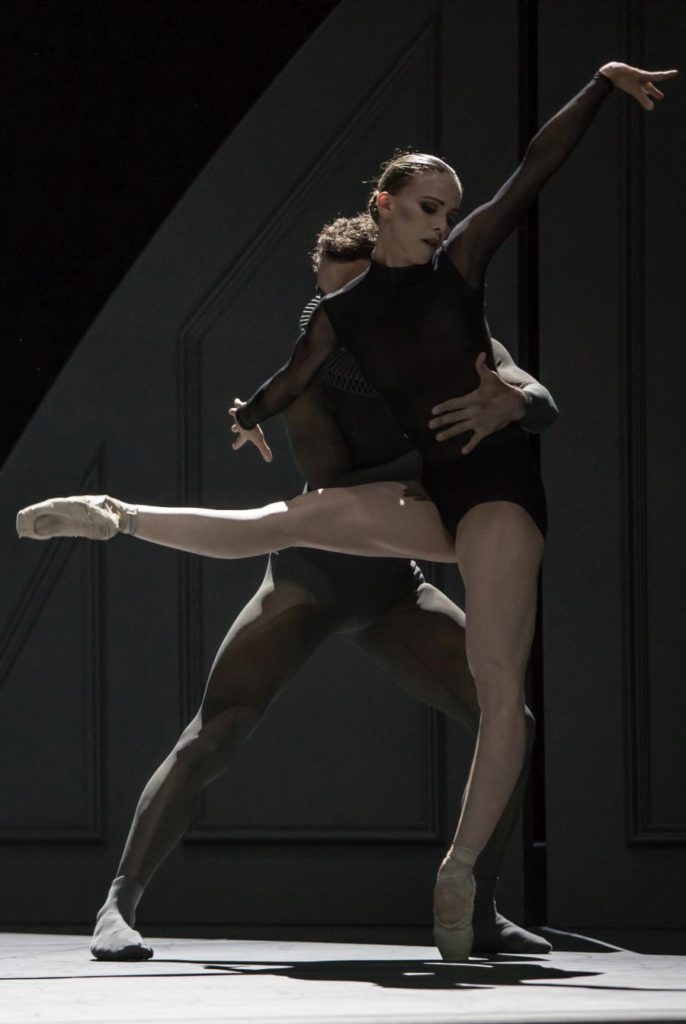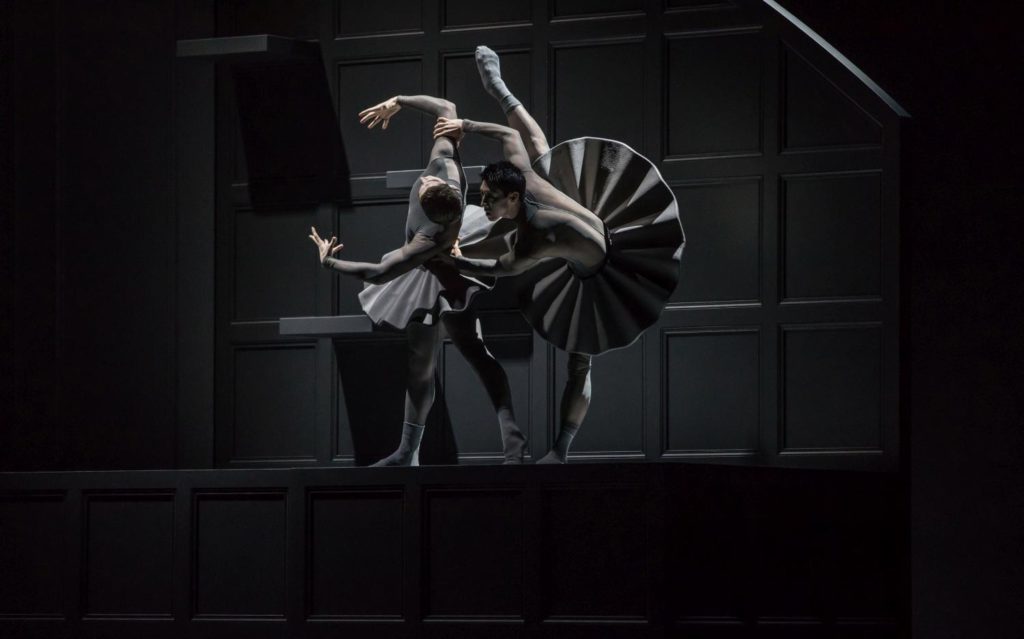 dancers. A pulsing sound collage by Michael Gordon glossed over the slack onstage. Lee combined Gordon's music with parts of Antonio Vivaldi's cycle of violin concerts "La Cetra". Both were played by the Orchestra La Scintilla. But alas! Not even the Baroque music helped to breathe some spirit into the piece.
"Lady with a Fan" had no climax, no arc of suspense and no soul. Correspondingly, it ended by simply switching off the light.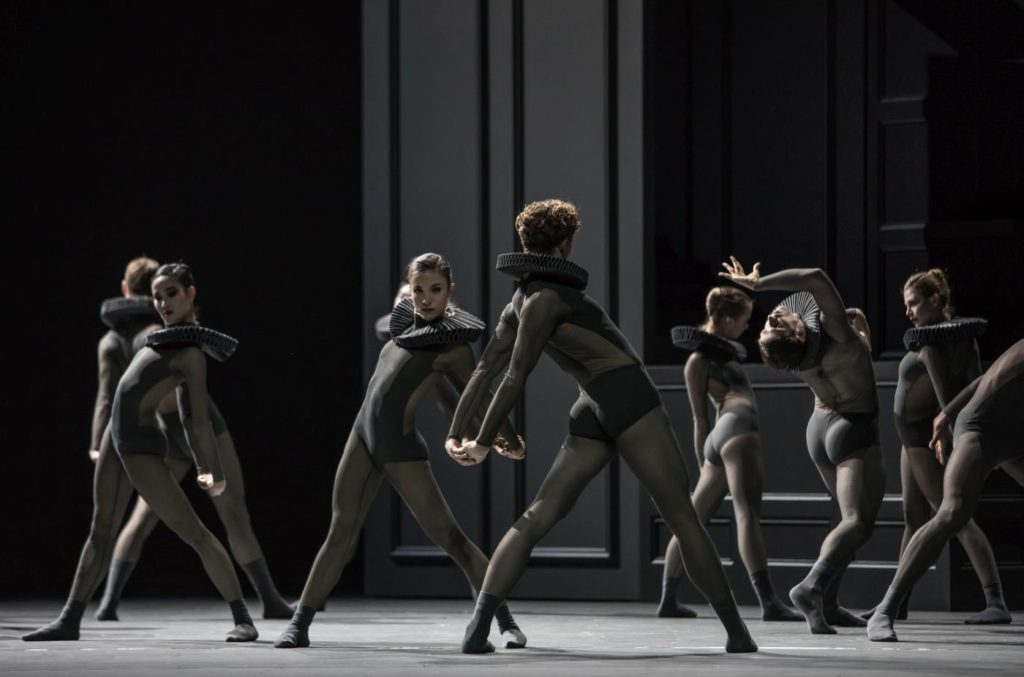 | | | |
| --- | --- | --- |
| Links: | | Website of Ballet Zurich  |
| | | Trailer "Corpus" |
| | | Rehearsal "Lady wit a Fan" (video) |
| Photos: | | (The photos show a partially different cast from an earlier performance.) |
| | | "disTANZ" (Filipe Portugal) |
| |  1. | Francesca Dell'Aria, Jesse Fraser, Elizabeth Wisenberg and Dominik Slavkovský, "disTANZ" by Filipe Portugal, Ballet Zurich 2017 |
| |  2. | Daniel Mulligan and Guilia Tonelli, "disTANZ" by Filipe Portugal, Ballet Zurich 2017 |
| |  3. | Tigran Mkrtchyan, Giulia Tonelli and Daniel Mulligan, "disTANZ" by Filipe Portugal, Ballet Zurich 2017 |
| |  4. | Constanza Perotta Altube and Irmina Kopaczynska, "disTANZ" by Filipe Portugal, Ballet Zurich 2017 |
| |  5. | Yen Han, Jan Casier and ensemble, "disTANZ" by Filipe Portugal, Ballet Zurich 2017 |
| |  6. | Ensemble, "disTANZ" by Filipe Portugal, Ballet Zurich 2017 |
| |  7. | Yen Han, Jan Casier and ensemble, "disTANZ" by Filipe Portugal, Ballet Zurich 2017 |
| |  8. | Yen Han and Jan Casier, "disTANZ" by Filipe Portugal, Ballet Zurich 2017 |
| | | "Lady with a Fan" (Douglas Lee) |
| |  9. | Katja Wünsche, "Lady with a Fan" by Douglas Lee, Ballet Zurich 2017 |
| | 10. | William Moore, Tars Vandebeek, Katja Wünsche, Cohen Aitchison-Dugas and ensemble, "Lady with a Fan" by Douglas Lee, Ballet Zurich 2017 |
| | 11. | Cohen Aitchison-Dugas, Francesca Dell'Aria and Katja Wünsche, "Lady with a Fan" by Douglas Lee, Ballet Zurich 2017 |
| | 12. | Wei Chen, "Lady with a Fan" by Douglas Lee, Ballet Zurich 2017 |
| | 13. | Mark Geilings and Daniel Mulligan, "Lady with a Fan" by Douglas Lee, Ballet Zurich 2017 |
| | 14. | Katja Wünsche and William Moore, "Lady with a Fan" by Douglas Lee, Ballet Zurich 2017 |
| | 15. | Katja Wünsche and Cristian Alex Assis, "Lady with a Fan" by Douglas Lee, Ballet Zurich 2017 |
| | 16. | Matthew Knight and Wei Chen, "Lady with a Fan" by Douglas Lee, Ballet Zurich 2017 |
| | 17. | Ensemble, "Lady with a Fan" by Douglas Lee, Ballet Zurich 2017 |
| | | all photos © Gregory Batardon |
| Editing: | | Laurence Smelser |