"Ballet Matinée"
John Cranko School
Stuttgart State Opera
Stuttgart, Germany
July 16, 2017
by Ilona Landgraf
Copyright © 2017 by Ilona Landgraf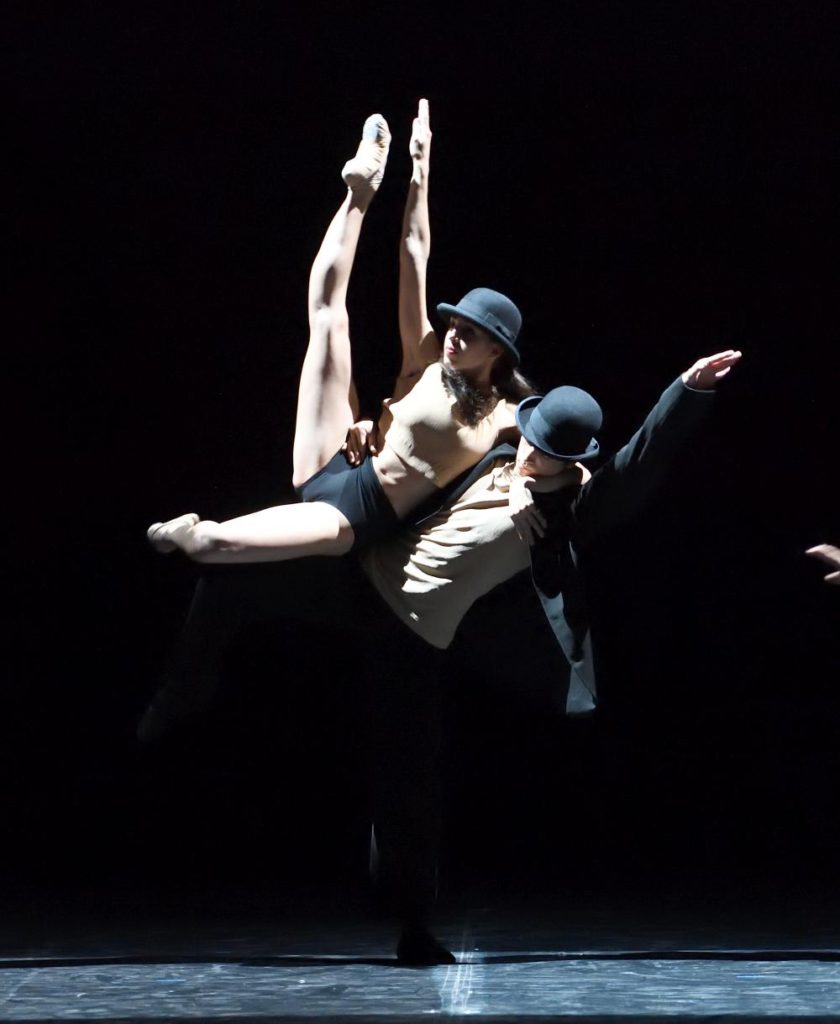 Stuttgart's John Cranko School has an excellent reputation in the ballet world. In a recent interview, Dutch National Ballet's Marijn Rademaker talked about the excellent teachers in Stuttgart. I saw quite a few end of the year school performances, but this year's matinée made me shake my head in disbelief. What outstanding talents has Tadeusz Matacz been training under his roof!
The students' performance of Leonid Lavrovsky's "Classical Symphony" could have vied with proper companies. The boys jumped spick and span, landed from tour en l'airs nicely in sync and partnered smoothly. Short Motomi Kiyota of the 6th class was especially intriguing. He soared through the air as if it were his natural space of being. The girls dabbed the choreography onstage, defying weight and gravity and confidently tossed out fouettes. "Classical Symphony" left one with an elevated feeling.
They proved they can also excel in contemporary pieces in "Alrededor No Hay Nada", new choreography by Goyo Montero, artistic director of the company of the State Theater Nuremberg. It is set to Spanish lyrics by Joaquin Sabina and Vinicius de Moreas and some bars of jazzy music towards the end. The stage was gloomy with single spotlights, and the single scenes, danced by five girls and five boys (all from the Academy Classes A and B) were likewise dark and mysterious. Did they portray some dangerous dark deeds? Shady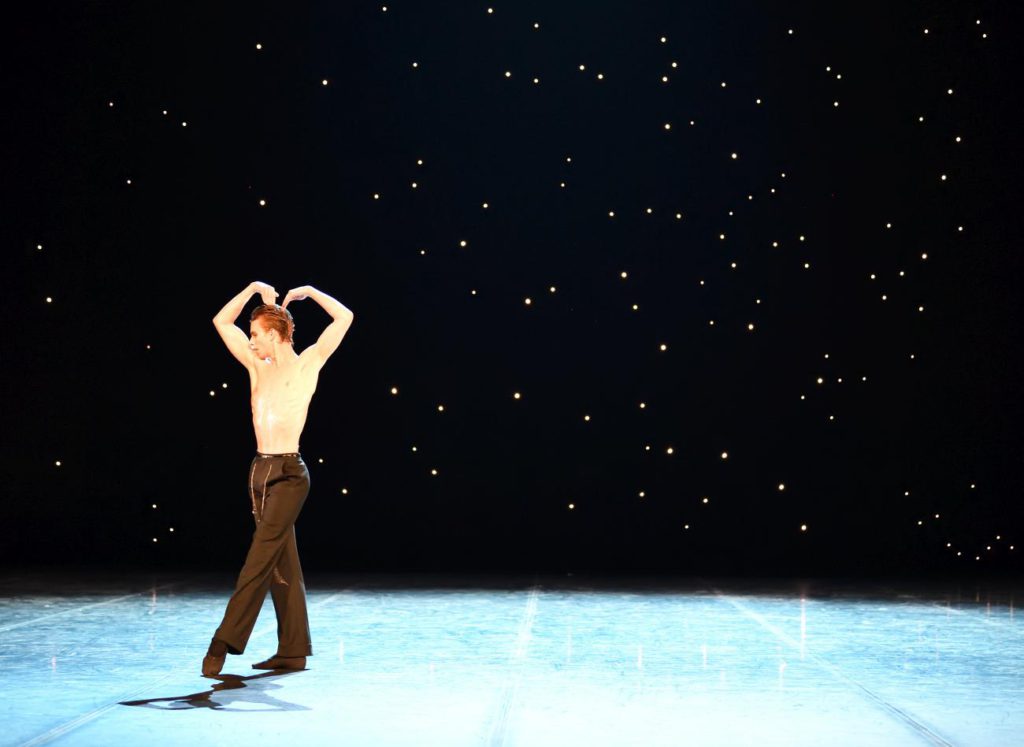 political dealings maybe? Or gender clashes? The costumes – black bowler hats, beige shirts, black suits for the boys and black shorts to black suit jackets for the girls – didn't specify the characters. Spanish-speaking audience members might have understood better what was behind the scenes. The choreography was fast-paced, acrobatically-tinged, rich with tricky lifts and very well performed. I need to watch "Alrededor No Hay Nada" again, not only to get behind its secret but because it is a gripping piece.
Marco Goecke's "A Spell On You", last year danced by eleven students, was shown this time in a reworked version for three boys (Riccardo Ferlito / 6th class; Riku Ota / Academy Class A; Navarin Turnbull / Academy Class B) and one girl (Amber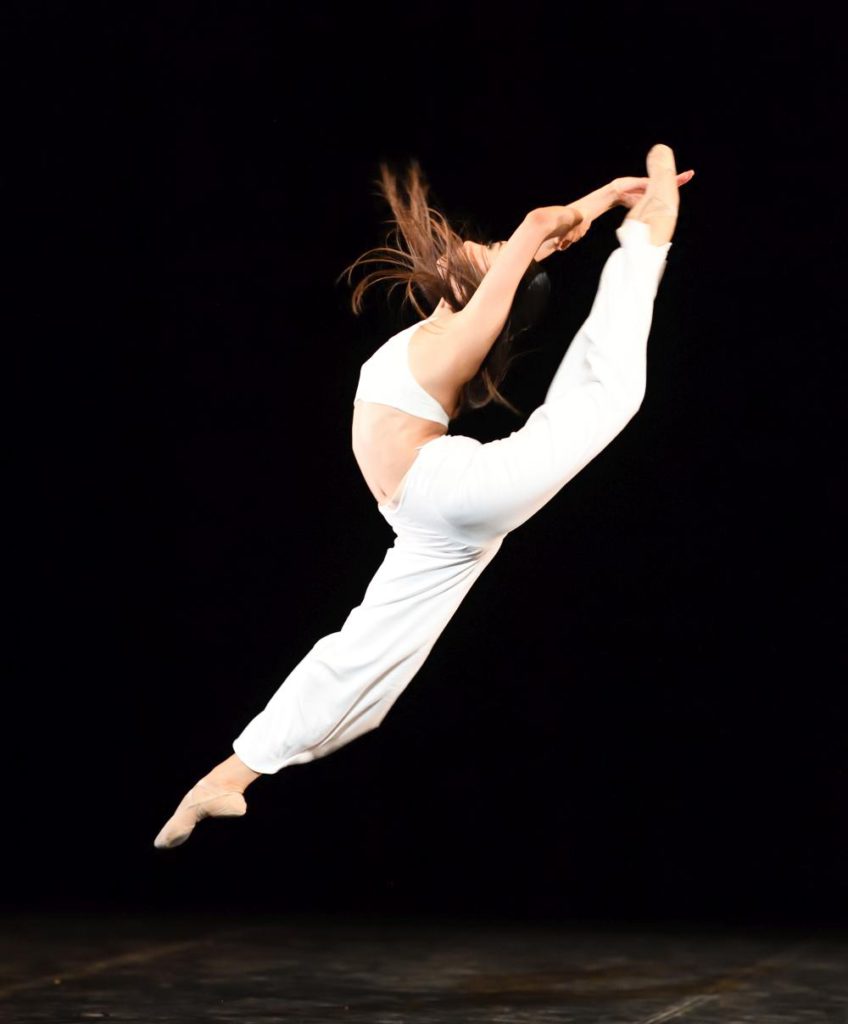 Ray / Academy Class A). Goecke's style demands snappy, fluttering moves at breakneck speed, fleet footwork and the ability to swiftly switch between rigid muscle tension and controlled softness. It is an eccentric movement language, unique in the dance world, and it is challenging. The four students performed it at a stupendously professional level. Interestingly, Turnbulls's solo suddenly felt distant as if he bustled around like an ant under a cheese dome while calm, peaceful vibes started to cover him. They made his fidgeting and strain look less dramatic.
As a side note, after months of rumors it is now official that Goecke's contract as Stuttgart Ballet's resident choreographer will expire at the end of next season. Tamas Detrich, who will take over the reins from Reid Anderson in fall 2018, decided to start without in-house choreographers, saying he needs to free up space for new impulses and new choreographers. The contract of Demis Volpi, the company's other resident choreographer, won't be extended either.
On first sight, "Lamento Della Ninfa" by Stephen Shropshire is a pas de trois similar to the ones frequently seen in contemporary choreography: two men partner one woman. One expects the usual series of cold, manipulative acrobatics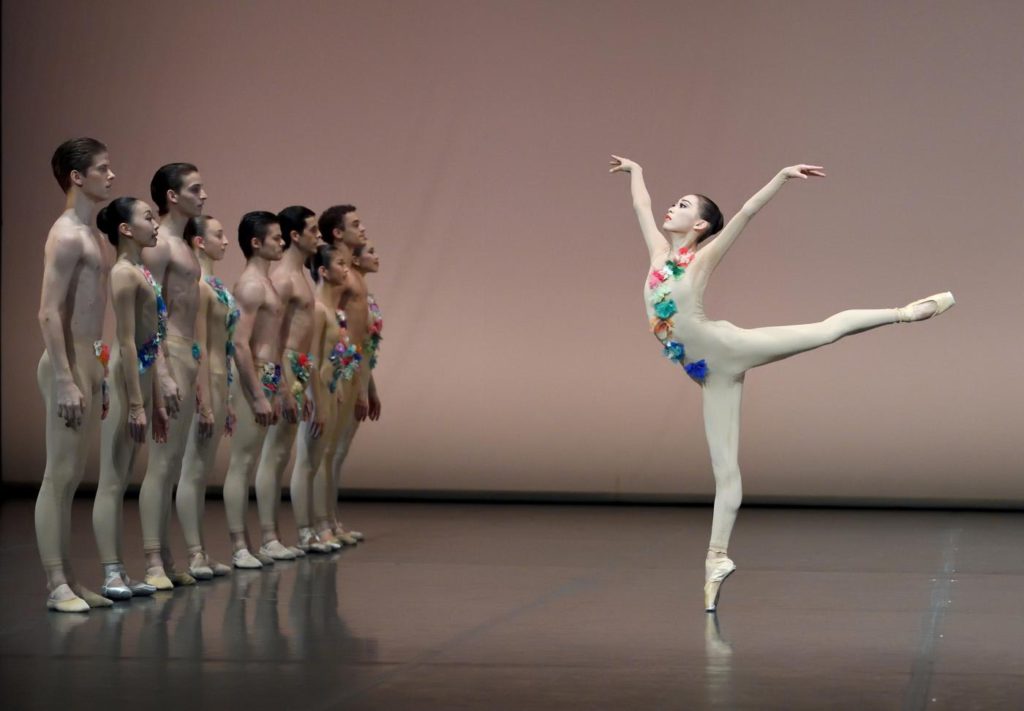 and the woman being handled like an object. Shropshire's little piece is different though. It was danced by students of the Academy Classes A and B. Mizuki Amemiya portrayed an afflicted girl, who dragged herself forward with deep lunges. Henrik Erikson and Christopher Kunzelmann supported her. The following sequence was acrobatic indeed and showcased Amemiya's pliability. I wondered whether her feet ever touched the floor. Yet she never seemed manipulated but was a woman with dignity.
Pliability is also a feature of Madeline Woo (Academy Class B) who danced the solo "Porto Que Sinto" by Catarina Antunes Moreira, choreography originally made on a boy. After Woo's first sweeping développé one knew that she took to the part like a duck to water. Woo danced without any reserve. She jumped like Kitri,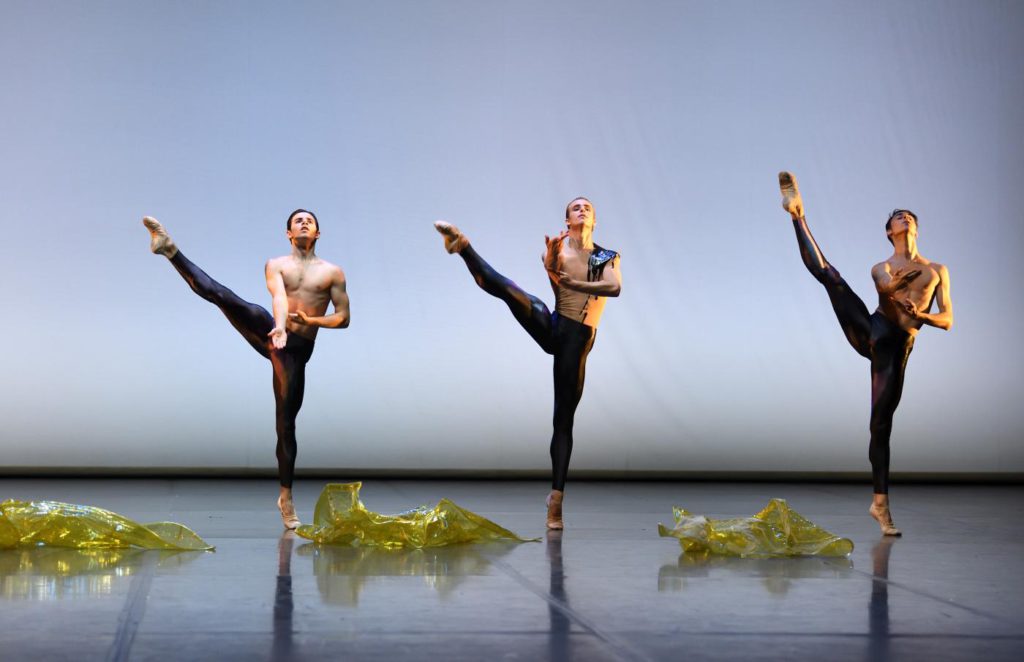 almost touching her foot with the back of her head, then slowly slid into a split on the floor before pouring her energy into another sequence. The stage belonged to her.
Pieces involving students from all classes framed the program. "The Four Seasons" to Antonio Vivaldi's music of the same title was the opener. It is a co-production of four choreographers. Except for "Winter", a pas de deux by Demis Volpi, all other seasons were danced by the group. Katarzyna Kozielska's "Spring" wittily turned the dancers into popping up buds; Louis Stiens's "Summer" included some hunched moths; in Fabio Adorisio's "Autumn" a girl fell fearlessly into the arms of the boys. Transparent golden yellow raincoats served as protective covers for some dancers. In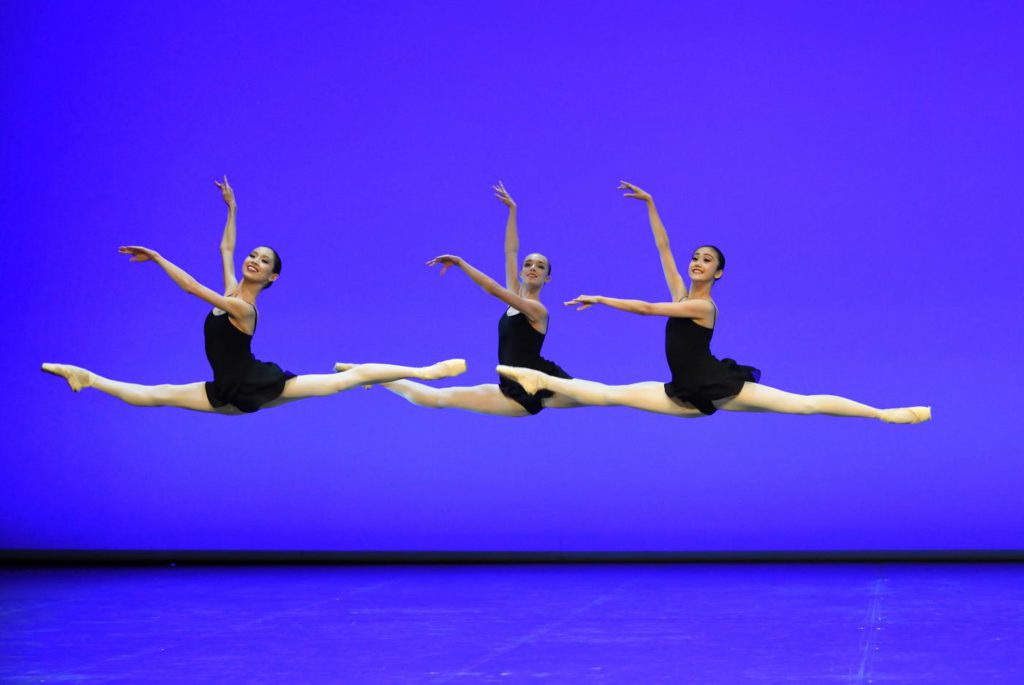 "Winter", the arms of Ji Soo Park and Henrik Erikson (both Academy Class A) shivered from cold and Park's hand looked spiky like an icicle. Later their dance became mellow like soft snowfall.
The last piece, "Excerpts from Études" by Barbara and Tadeusz Matacz is modeled on Harald Lander's original "Études", but starts with the young students doing simple floor work. With every age group of students the dance gets more complex. Seeing the dynamic of the older students' jumps I thought of the village youth's diagonals of jeté splits from "Onegin". With such young dancers this scene will surely gain applause in the future too.
Of this year's thirteen graduates, twelve have engagements. Four will join Stuttgart Ballet, others have contracts in Eisenach /Germany, Bordeaux, Strasbourg, Stockholm, Prague and Bydgoszcz / Poland.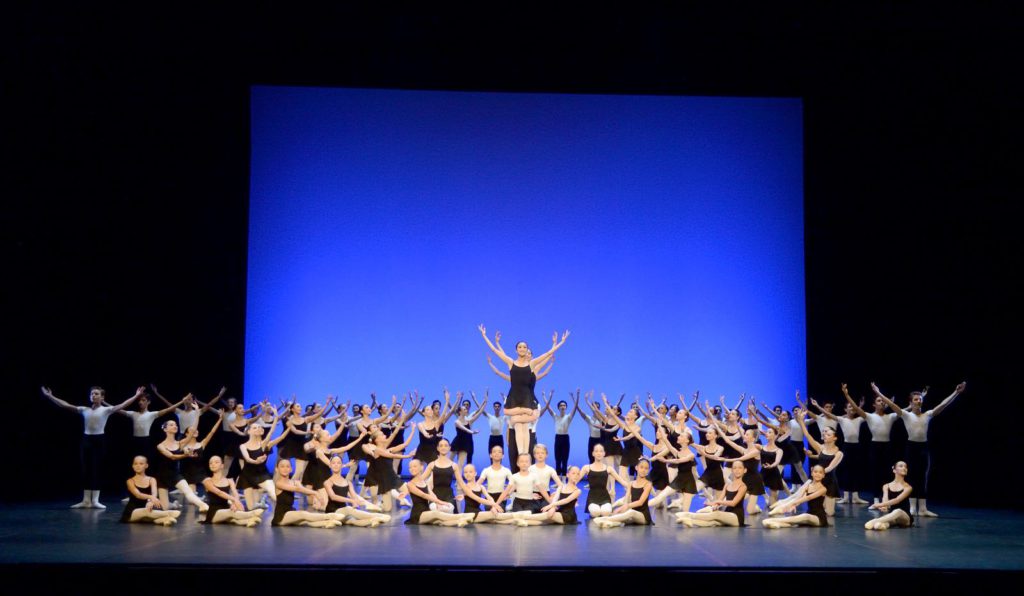 Links:
Homepage of the John Cranko School

Photos:

 1.

Alice Pernão (Academy Class A) and Simone Pompignoli (Academy Class B), "Alrededor No Hay Nada" by Goyo Montero, John Cranko School

 2.

Navrin Turnbull (Academy Class B), "A Spell On You" by Marco Goecke, John Cranko School

 3.

Madeline Woo (Academy Class A), "Porto Que Sinto" by Catarina Antunes Moreíra, John Cranko School

 4.

Students of the John Cranko School, "The Four Seasons": "Spring" by Katarzyna Kozielska, John Cranko School

 5.

Paolo Terranova (6

th

Class), Navrin Turnbull (Academy Class B) and Marco Piraino (6

th

Class), "The Four Seasons": "Autumn" by Fabio Adorisio, John Cranko School

 6.

Amber Ray (Academy Class A), Chandler Hammond (Academy Class B) and Mizuki Amemiya (Academy Class A), "Excerpts from Études" by Barbara and Tadeusz Matacz, John Cranko School

 7.

Students of the John Cranko School, "Excerpts from Études" by Barbara and Tadeusz Matacz, John Cranko School

all photos © Stuttgart Ballet

 Editing:
Tiffany Lau