"Anna Karenina"
Hamburg Ballet – John Neumeier
Hamburg State Opera
Hamburg, Germany
July 14, 2017
by Ilona Landgraf
Copyright © 2017 by Ilona Landgraf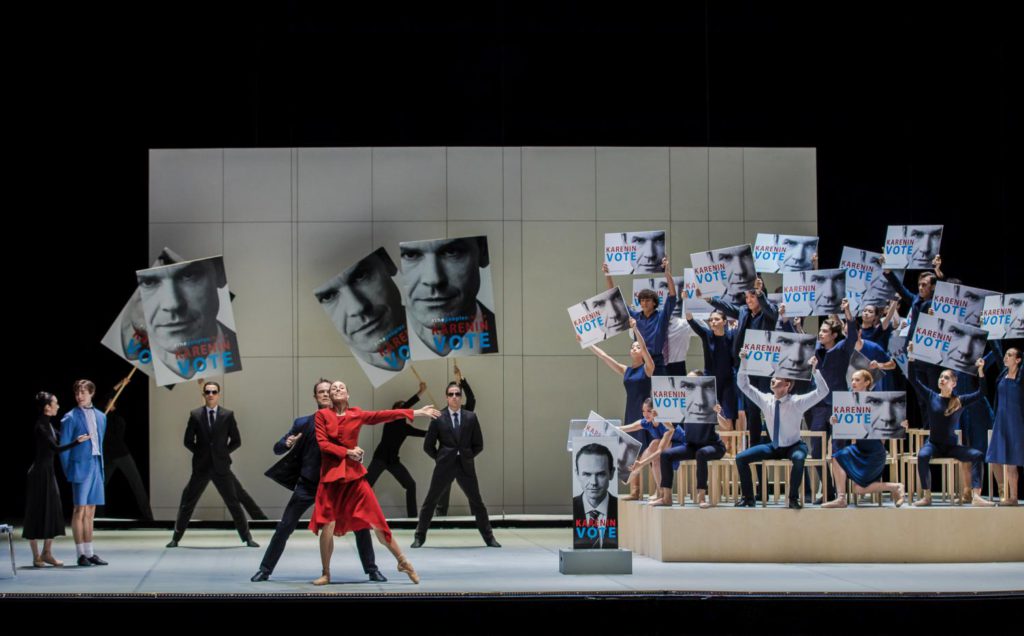 Several choreographers have adapted Leo Tolstoy's epic novel "Anna Karenina" for the dance stage. Maya Plisetskaya choreographed the piece for the Bolshoi in 1972 and danced the title role; Alexei Ratmansky created several versions, his latest for the Maryinsky in 2010; Christian Spuck, artistic director of Ballet Zurich, premiered his version in 2014. Now John Neumeier has tackled the subject with Hamburg Ballet. It is a co-production with the Bolshoi Ballet and The National Ballet of Canada, but has been solely produced in Hamburg.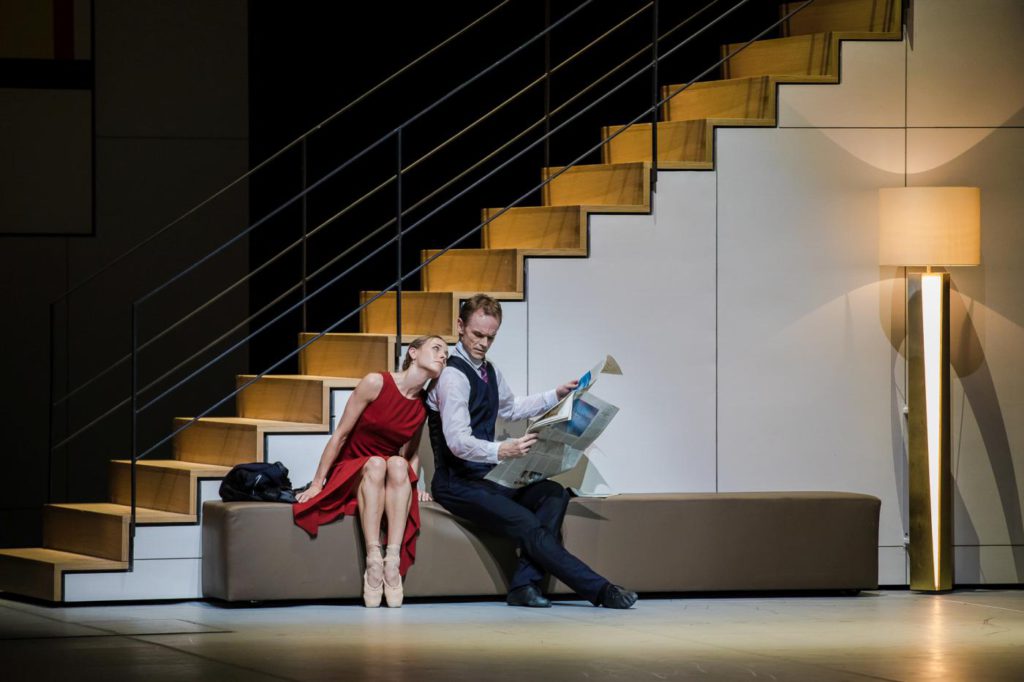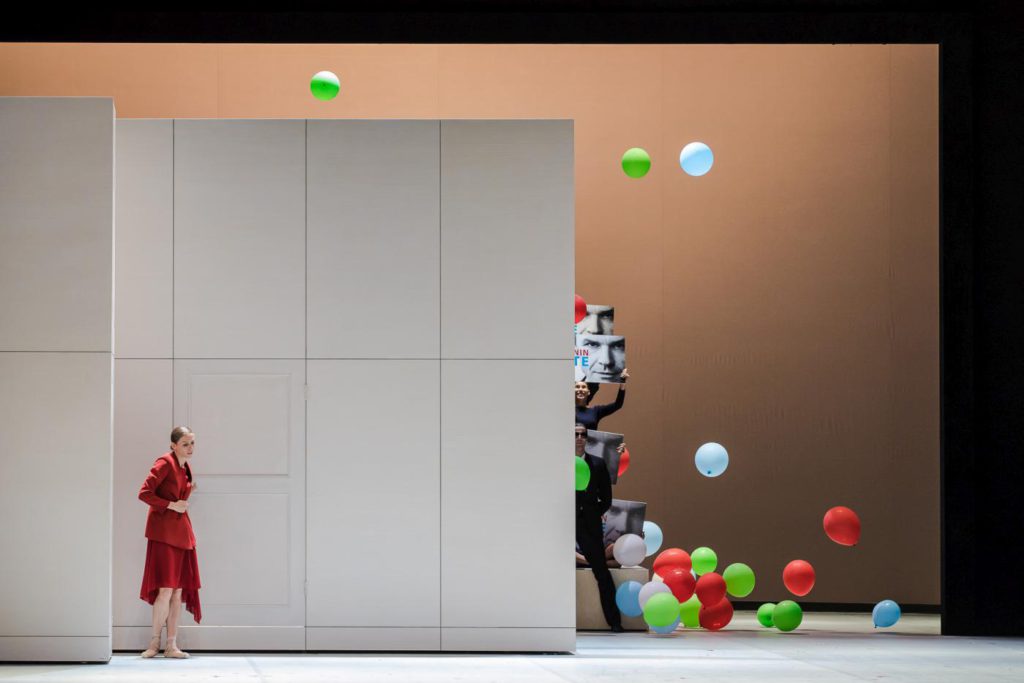 Why, of all things, "Anna Karenina"? In an interview in the program booklet, Neumeier shared that the Bolshoi's Svetlana Zakharova had approached him during rehearsals for "Lady of the Camellias", saying she would like to dance Tatiana. Neumeier spontaneously replied that he thought she would be much better suited dancing Anna Karenina. Soon after, Karen Kain suggested "Anna Karenina" for Neumeier's new creation for Toronto. What an amazing coincidence!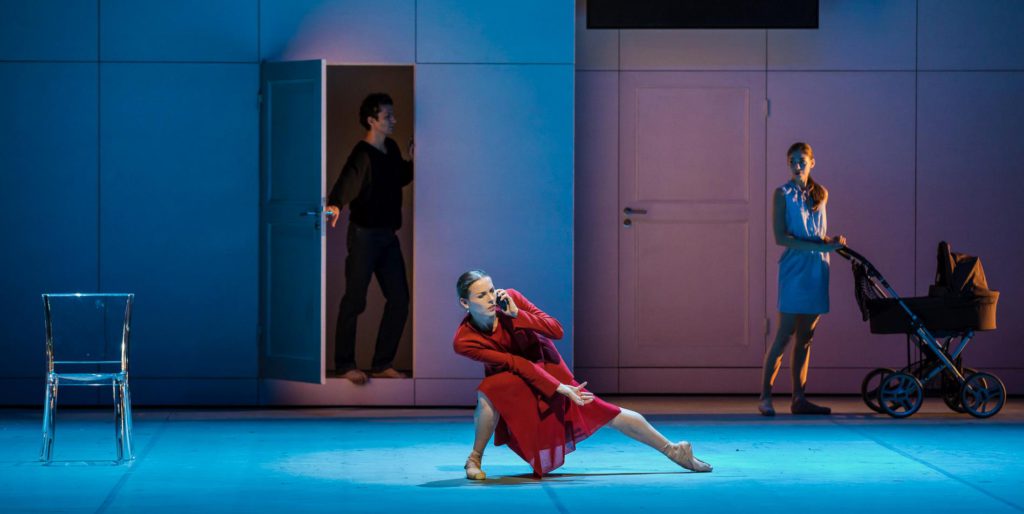 "Anna Karenina" is a complex novel. It follows the ups and downs of the lives of three families – the Karenins (Anna & Alexei), the Oblonskys (Dolly & Stiva), and the Levins (Kitty & Konstantin) – in late 19th century Russia. At the story's heart is Anna Karenina's illegitimate love affair with Alexei Vronsky, which eventually leads to her suicide.
Neumeier subtitled his ballet "inspired by Leo Tolstoy", giving himself a great deal of creative freedom. He chose first to take the liberty of placing the story in the present day: his Alexei Karenin is no aristocratic senior statesman, but rather a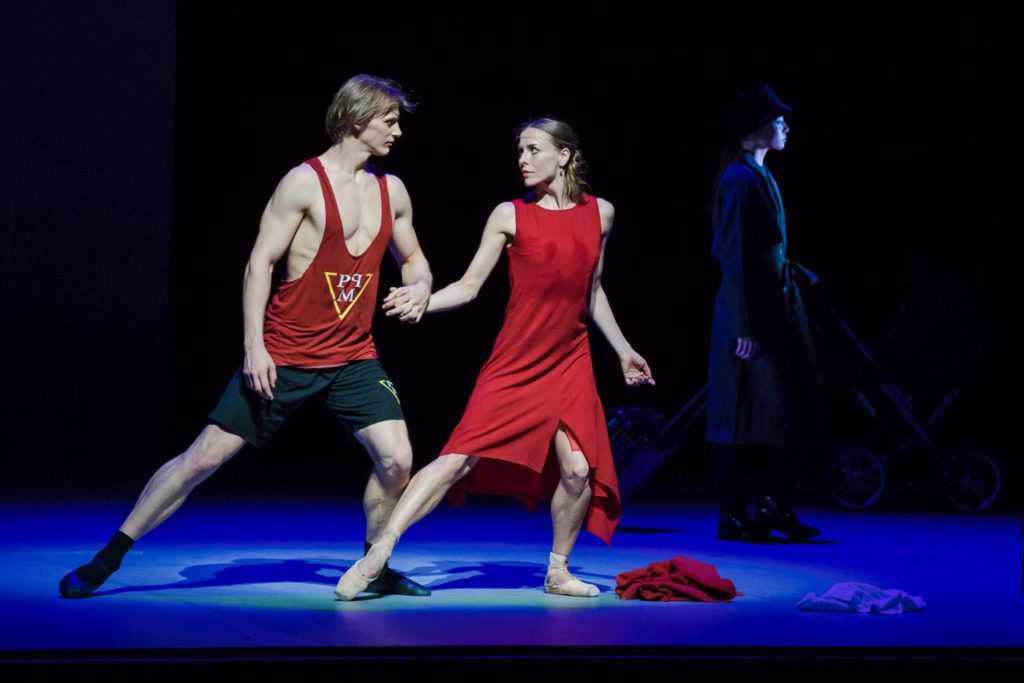 successful Russian politician of our time. Music by Peter Tchaikovsky accompanies external events, serving as an acoustic connection to Tolstoy and to the 19th century. Emotional, internal moments and conflicts are set to music by Alfred Schnittke. Songs by Cat Stevens / Yusuf Islam characterize the life and world of the landowner, Levin.
Choreography, set design, lighting and costume design are by Neumeier, except for the costumes for the heroine. "Anna Karenina wears AKRIS," announces the program leaflet. Anna Karenina was a rich and fashionable woman, Neumeier explains in the program, making it a no-brainer to have Albert Kriemler – the creative director of the famous fashion label – outfit the character. This is his and Kriemler's fourth collaboration. An AKRIS advertisement on the program book's back cover shows a model in one of Karenina's dresses, but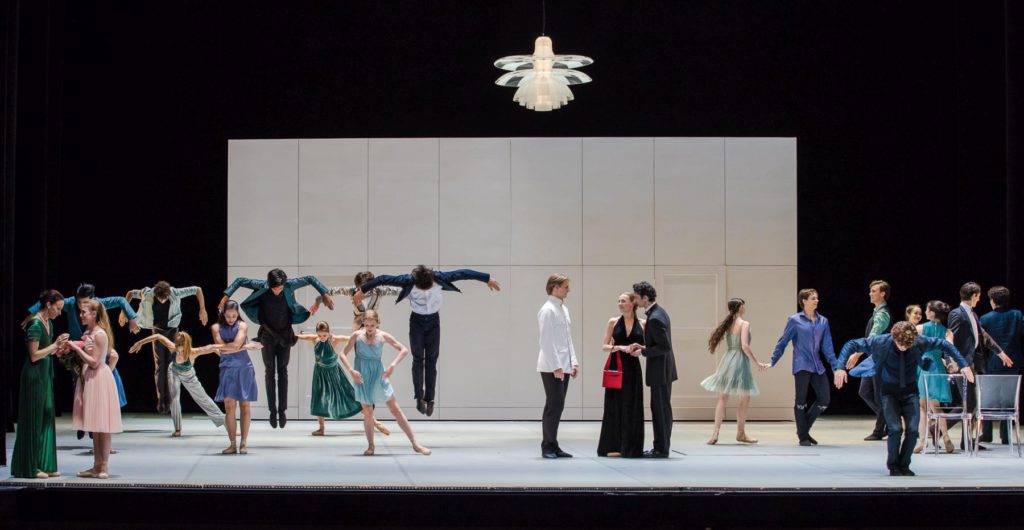 according to a shop assistant for AKRIS in Hamburg, the designs are exclusively for Hamburg Ballet and are not for sale.
Adapting "Anna Karenina" for the stage requires courageous cuts and a focused method of storytelling. Neumeier struggled with both, saying in the same interview that, over the course of the creative process, he played with the idea of extending the ballet to two evenings. Luckily, he restrained himself in the end to 3h 15min (which includes one break). Twenty-two scene changes occur within this time span, beginning with Karenin's election campaign in St. Petersburg, hopping from Vronsky's life in Moscow to the Karenins' home, from the domestic quarrel of the Oblonskys to the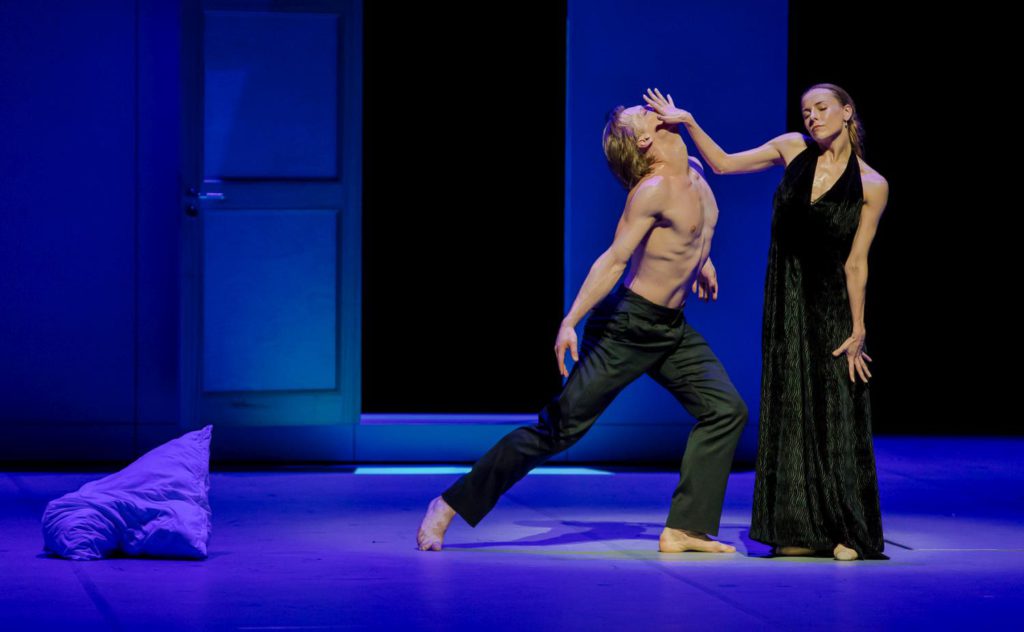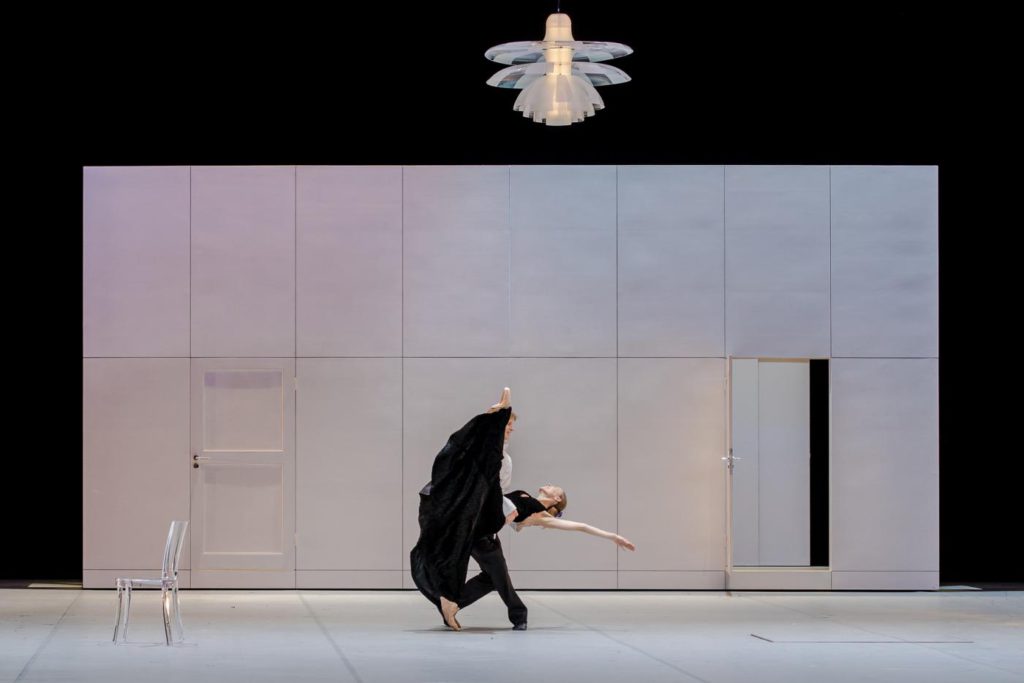 railroad station and Levin's field, until finally ending at the grave of Karenina. These multiple set changes are reminiscent of an onstage marshaling yard.
But are all these scenes vital? The group dance of scything agricultural workers certainly isn't – and, by the way, it is contradictory to employ scythes for farming when presenting the story in our time. Stevens' "Morning Has Broken" moreover adds a corny touch to the land work. Why did Neumeier invent a scene in which Stiva flirts with ballerinas of the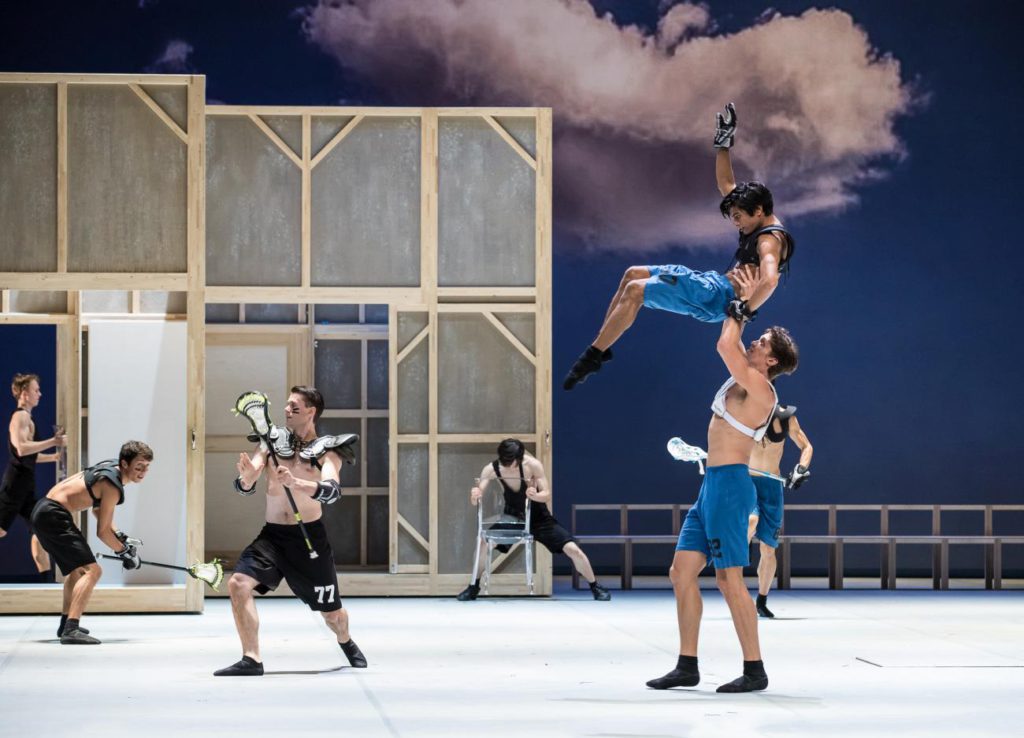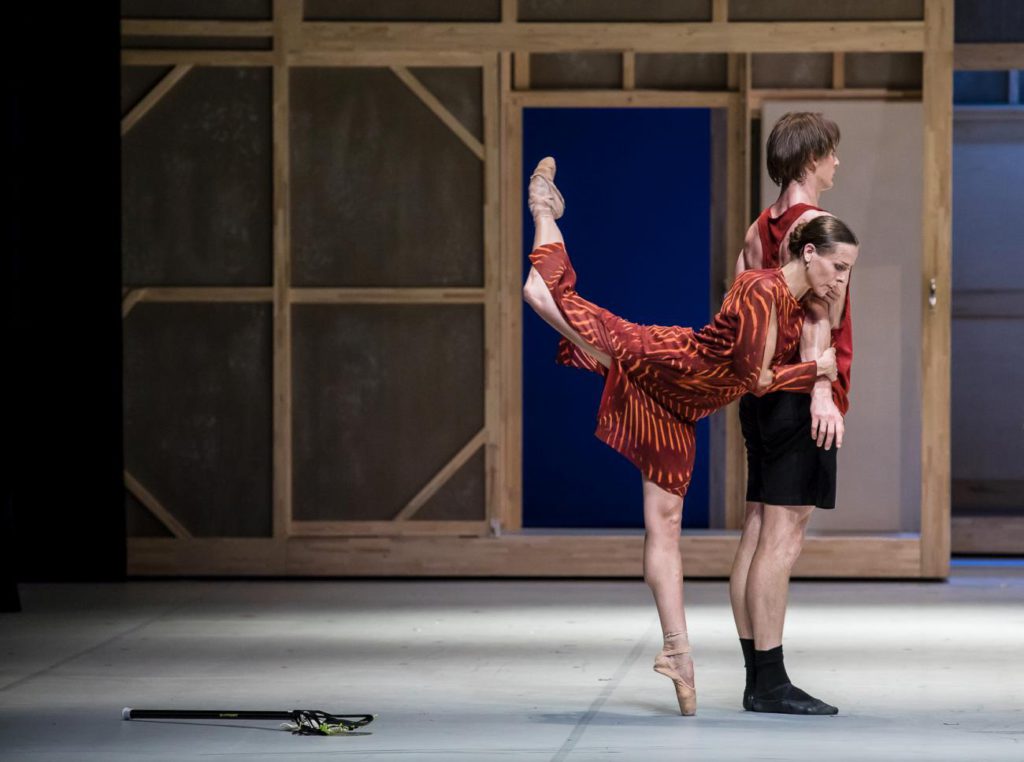 Bolshoi? Dolly had caught her husband and the nanny in the act, making it already unmistakable that he is a womanizer.
Karenin's election campaign is blown up to a hurly-burly that includes supporters brandishing campaign posters, balloons, a speech, reports by correspondents, Anna parading her dress, and bodyguards. Why did Neumeier complicate matters? In the book, Vronsky, a keen horseman, has an accident during a steeplechase. Spuck realized this passage efficiently in a scene of maybe half a minute or less. Neumeier made Vronsky a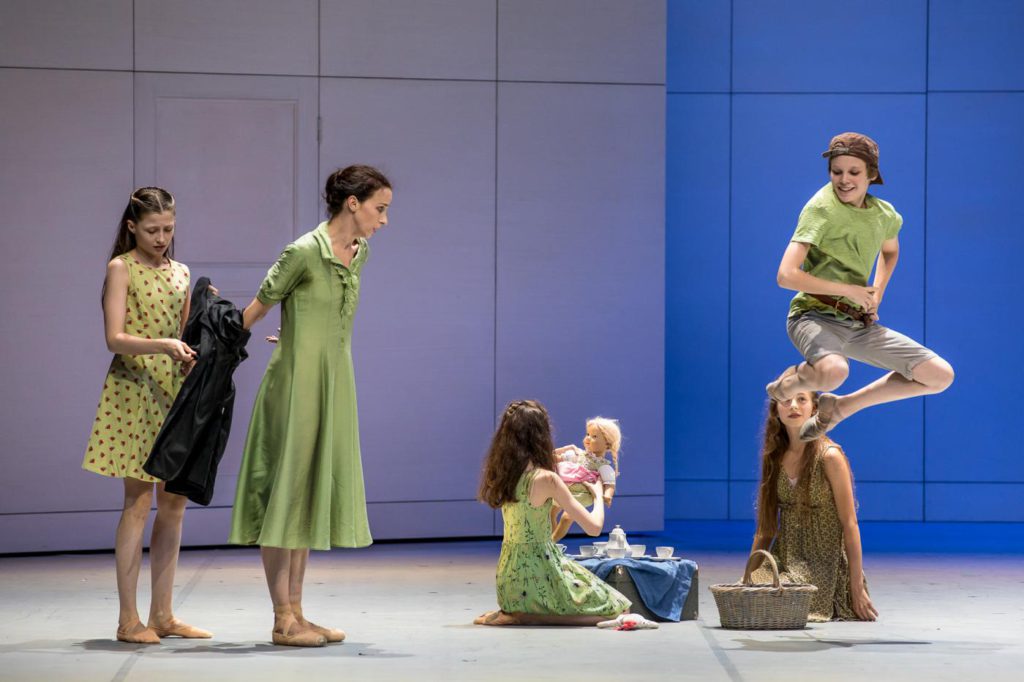 lacrosse-player instead, wasting time with a depiction of his training at the gym. Later, Vronsky warms up for a team competition that eventually leads to the decisive accident. And besides, the lacrosse equipment – plastic helmets, plastic sticks and shoulder pads – looks cheap.
Neumeier has a tendency to be overly didactic when he tells a story, making scenes far too lengthy and testing our patience. After having refused Levin's advances, for example, Kitty is engulfed by desperation and spends some time in a sanatorium. We see her tearing at her hair, gesturing wildly, throwing herself across the floor, and putting a cardboard chair over her head and banging on it. She wears a simple nightgown, is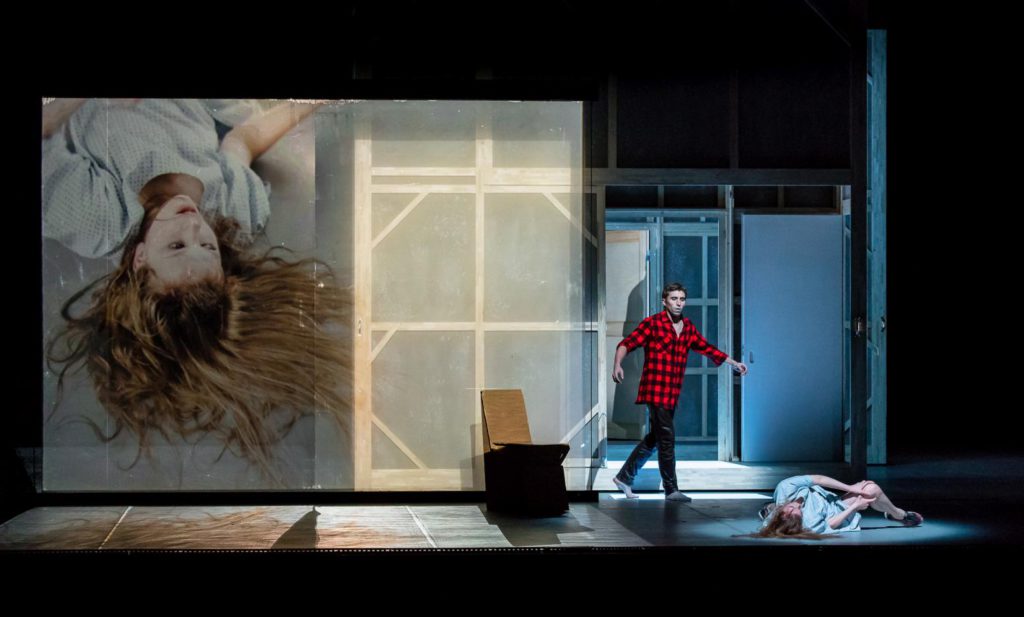 unkempt, and looks wrecked. A video screen next to her shows a close-up of her hysterical fit. Then, Levin appears and embraces her tightly. Evidently, both have reunited. But Neumeier doesn't leave it alone, instead adding a slow pas de deux in which Levin indecisively runs out (we've seen this from several protagonists already in moments of psychological strain), pauses to think, returns, and then carries Kitty around at snail's pace and admires her feet. Additionally, the depiction of Anna and Alexei's dysfunctional marriage is long-winded. The emotional cold and distance between the pair comes across shortly after they have entered their living room. Why show it again and again? Hardly any scene goes by without persistently highlighting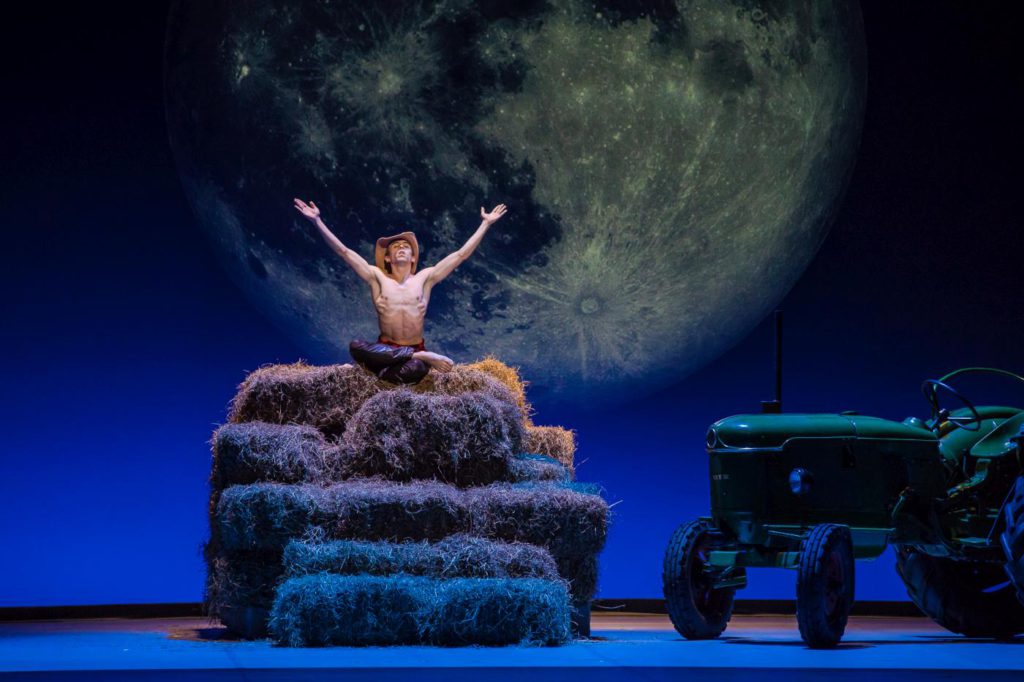 its emotional message. How much intellectual grasp does Neumeier suppose his audience has?
Is it necessary, for example, to ridicule Levin by making him stumble over his own gumboot-shod feet every time things become serious? Sitting on a heap of straw next to an old farm tractor, wearing stretchable leather pants and a cowboy hat, and raising his arms enthusiastically towards heaven to Stevens' "Moonshadow" has already made him a figure of fun.
Utilizing a mujik – a Russian peasant who turns up at decisive moments of the story – was a good idea. In his torn, bright orange road-worker's suit, he is unmissable. Is he a figure of fate? A silent admonisher? Or does he represent the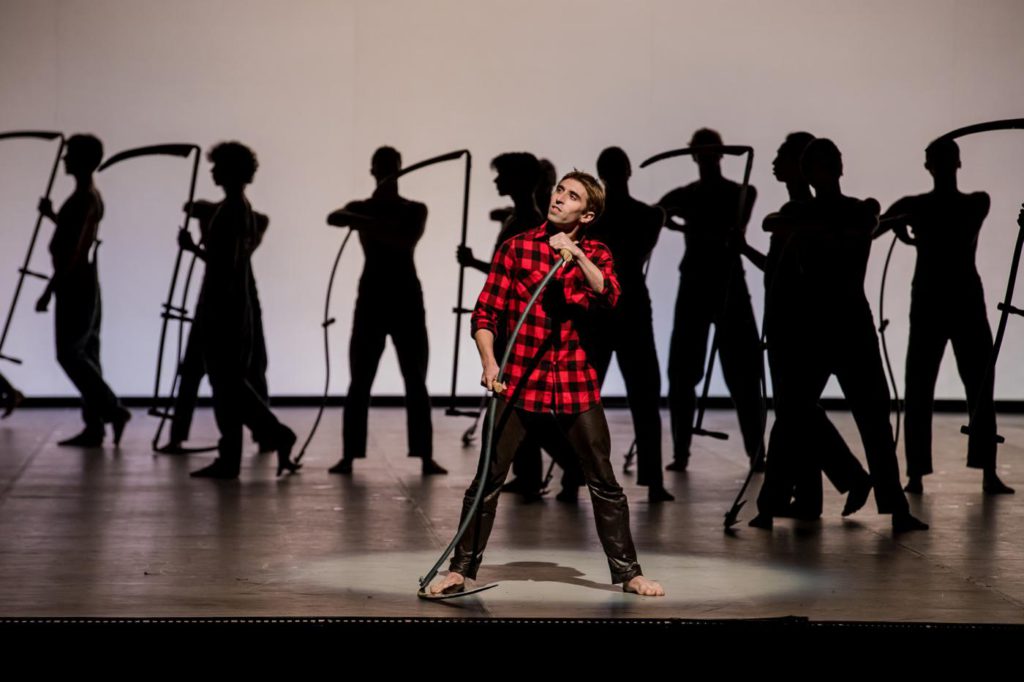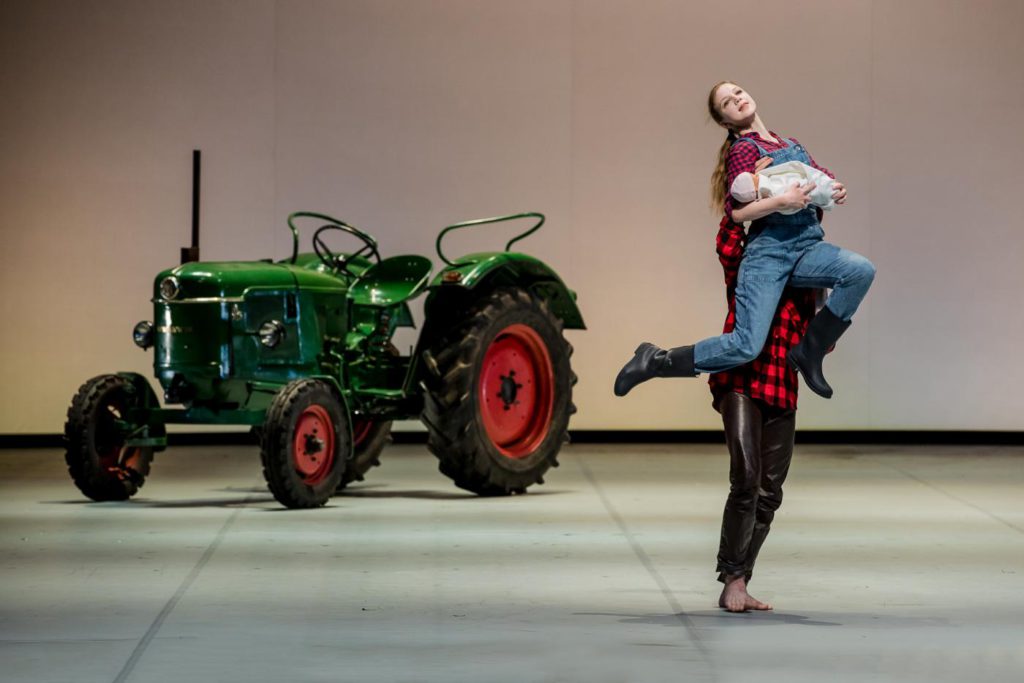 consciousness of individual protagonists? Of all the characters this mujik has the most integrity. But the decision to have both Karenin and Vronsky appear in this same attire at the end ruins the significance of the mujik. Moreover, it is an all-too-blatant demonstration of Karenin's and Vronsky's inner transformation.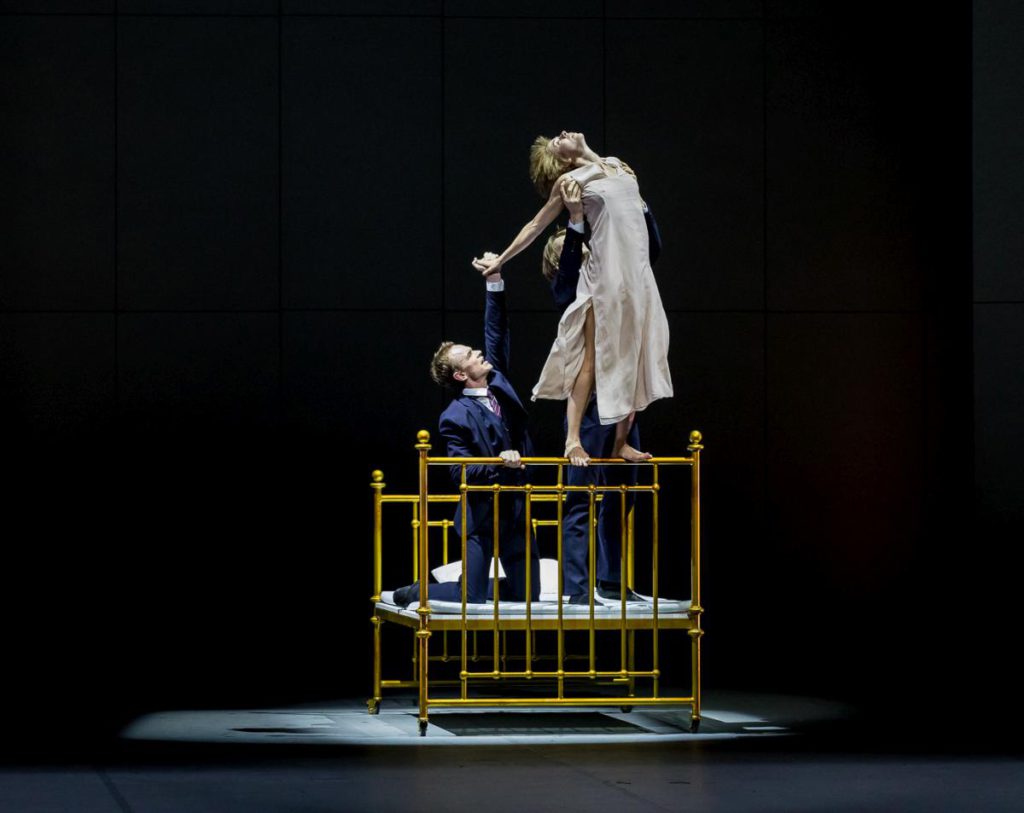 The scene in which Dolly tries to abandon her five children would be deeply moving if it was less sentimental and put-on. Maybe fits of sentimental nostalgia also lead to other inconsistencies? Wooden swords, for example, were a nice toy for boys in the Kaiser Wilhelm period, but would cause today's children to roll their eyes. Anna's son Seryozha (danced by twenty-one-year old Marià Huguet) sleeps with a teddy bear in his arms. Huguet plays a nine-year-old at that point – no baby. As in many other previous pieces, dancers depicting travelers carry old-fashioned suitcases across the stage. We are in a modern ballet. People phone each other on their mobiles onstage. Trolley cars would match this lifestyle better.
Glorification of the past seems to also be the motivation behind Levin's vintage tractor, which was retrofitted with an electric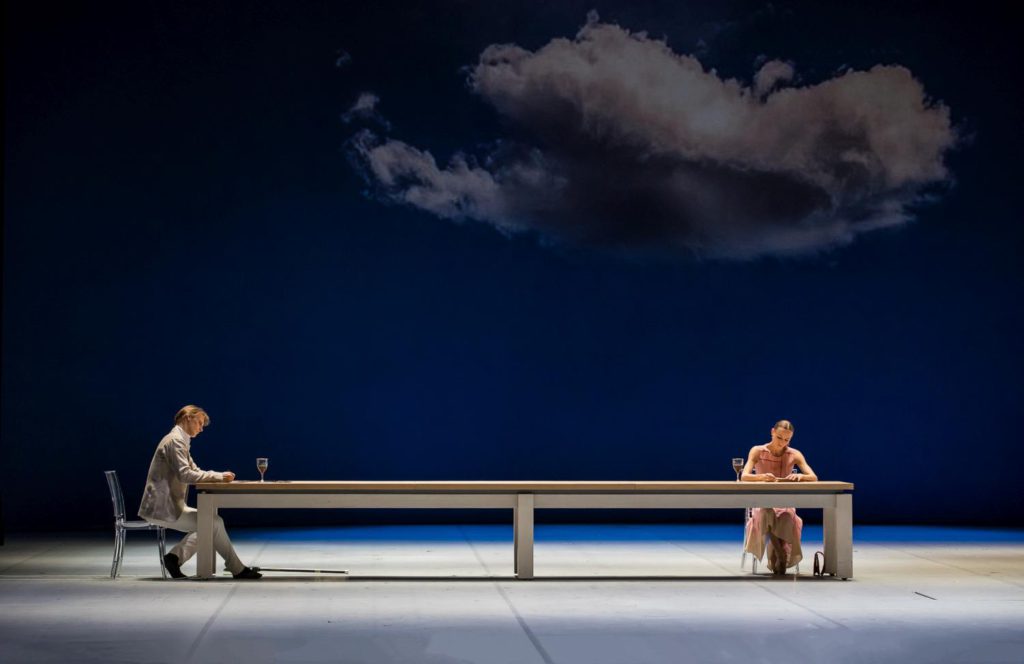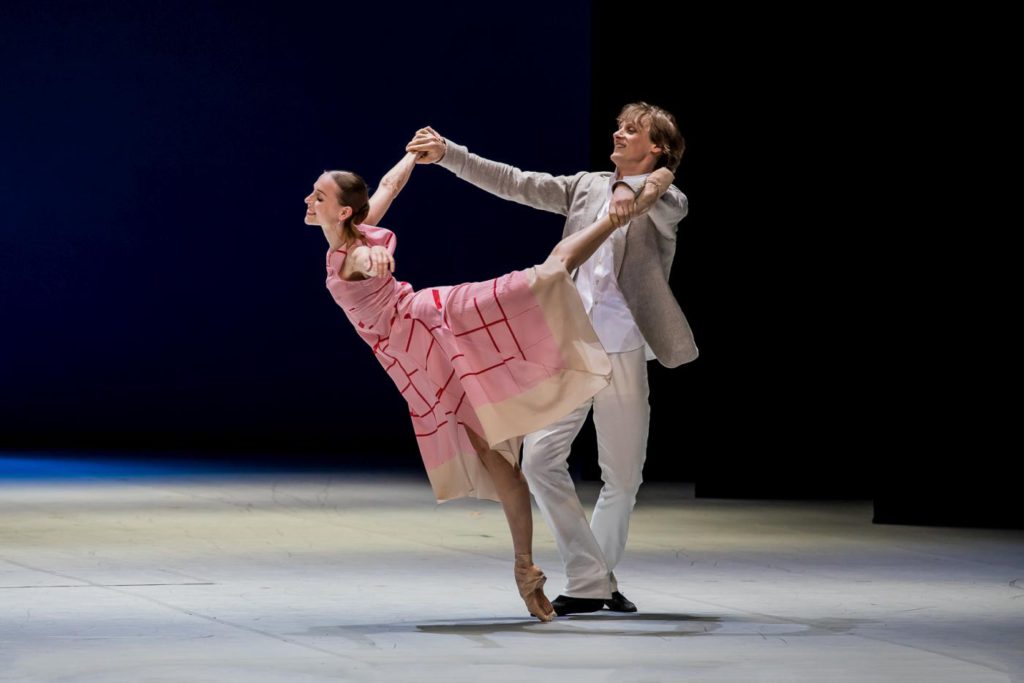 engine. Even for a postcard, this scene's rural idyll is too mawkish. At least let the tractor be rusty and filthy and not glossy and polished! Kitty, wearing a jeans jumpsuit, a plaid shirt, and gumboots, proudly rides it onstage, her newborn baby on her knees. She represents Neumeier's idea of an "aristocrat in the sense of Tolstoy".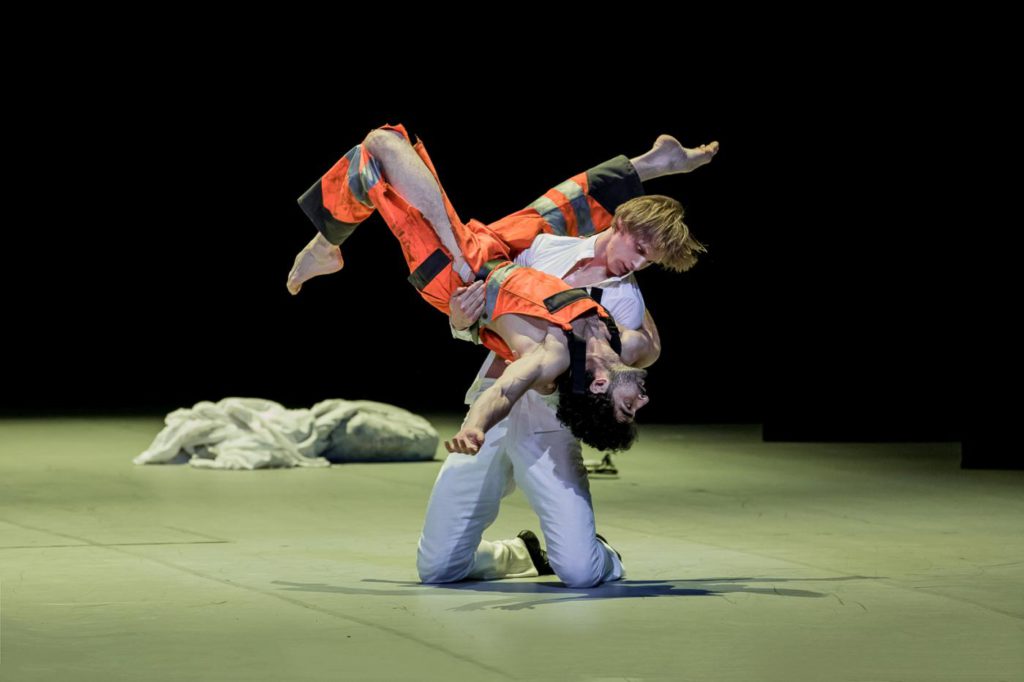 Anna and Vronsky's first night of love is kinky, whereas subsequent pas de deux have flow and more elegant lifts. Karenin is characterized by a limited variety of stiff, sharp, and abrupt moves. Dolly's main solo expresses her blazing anger about her husband's adultery. Stiva's part has more acting than dancing, and when he dances with a girl, then to flirt with her. Levin's movement language is jerky (sometimes awkward) and interspersed with sentimental gestures, such as taking a handful of soil and pressing it to his chest. He vacillates between childlike tenderness and sudden impulsive raptures. Before her desperate outburst mentioned above, Kitty was a spoiled little miss, dreaming of being a lady. After marrying Levin, she mainly rocks her baby.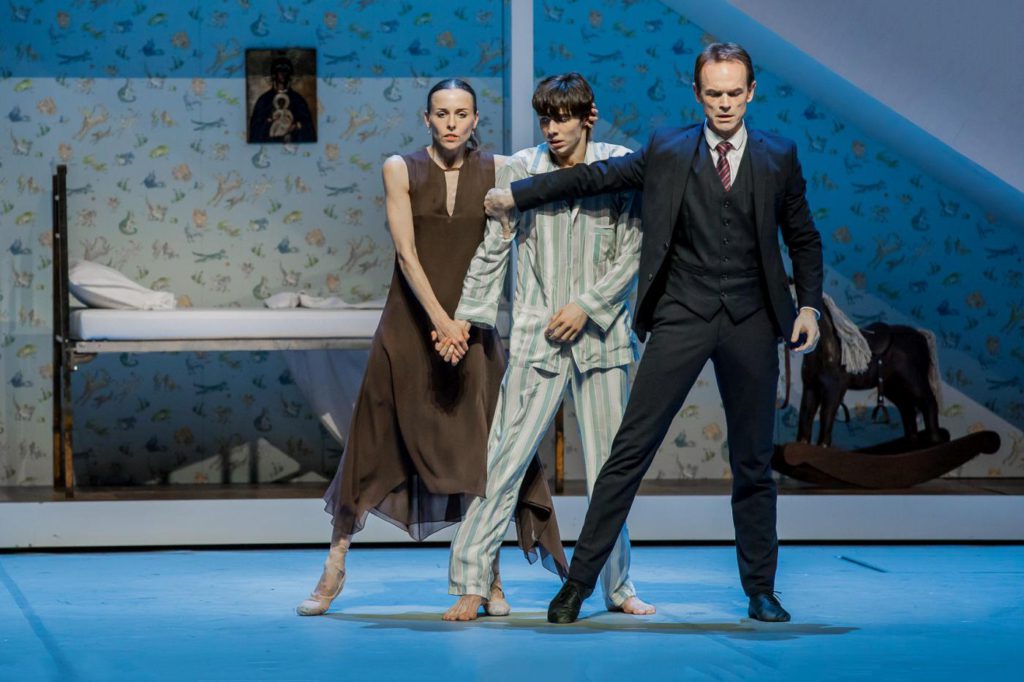 At times, the piece resembles a play with dance rather than a ballet. Fluent dance is rare; the choreography often looks fragmented and charged with symbolic value.
The entire cast performed with total commitment. Anna Laudere danced the title part. Her portrayal of this emotionally dried-out woman, whose sexuality is rekindled and who almost loses her senses when giving birth to her and Vronsky's daughter, was convincing. Upon finding herself the only woman left amongst couples, she slips into her addiction to tablets, which becomes lethal. Ivan Urban, who replaced the injured Carsten Jung, was a fabulously unfeeling Karenin. Edvin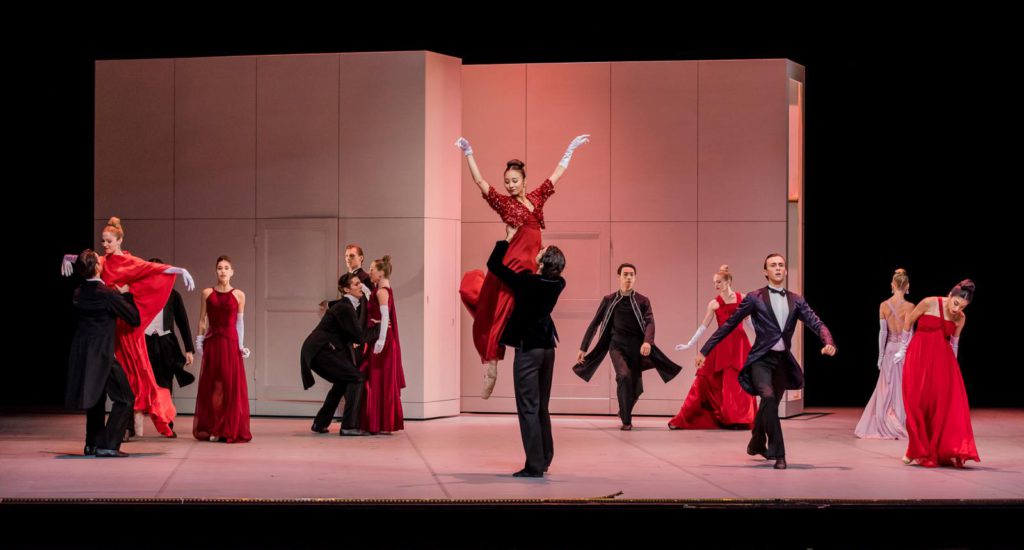 Revazov's Vronsky had the right touch of heaviness needed to make him a credible lacrosse player. His boyish smile reminded me of his Tadzio in "Death in Venice".
The role of Stiva fit the black haired Argentine Dario Franconi like a glove. One simply couldn't take lasting offense at his infidelity. As Dolly, Patricia Friza couldn't either. Emilie Mazoń depicted Kitty.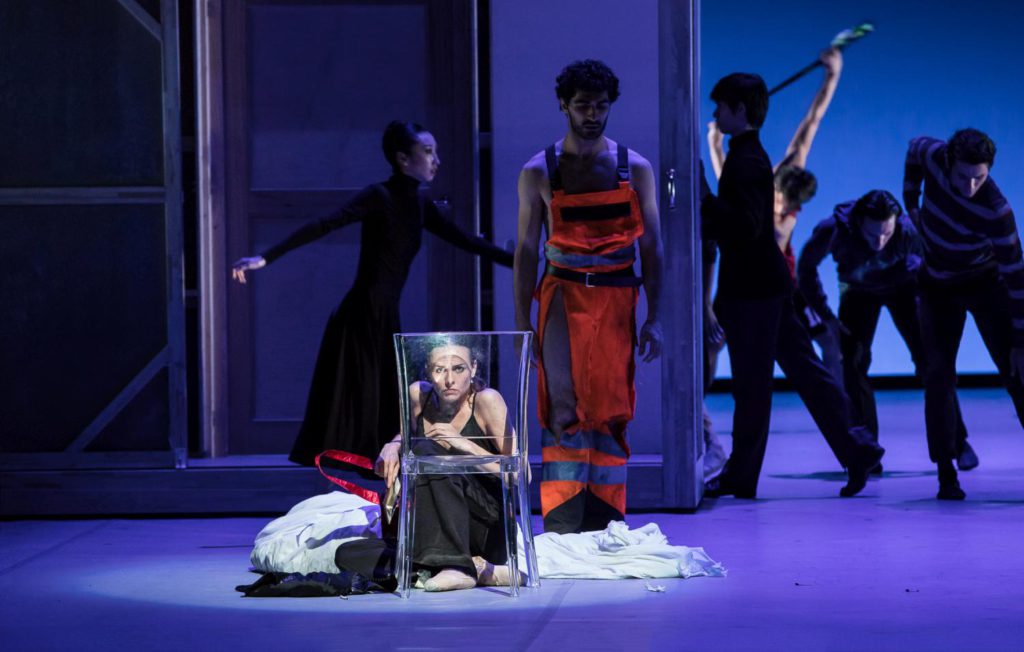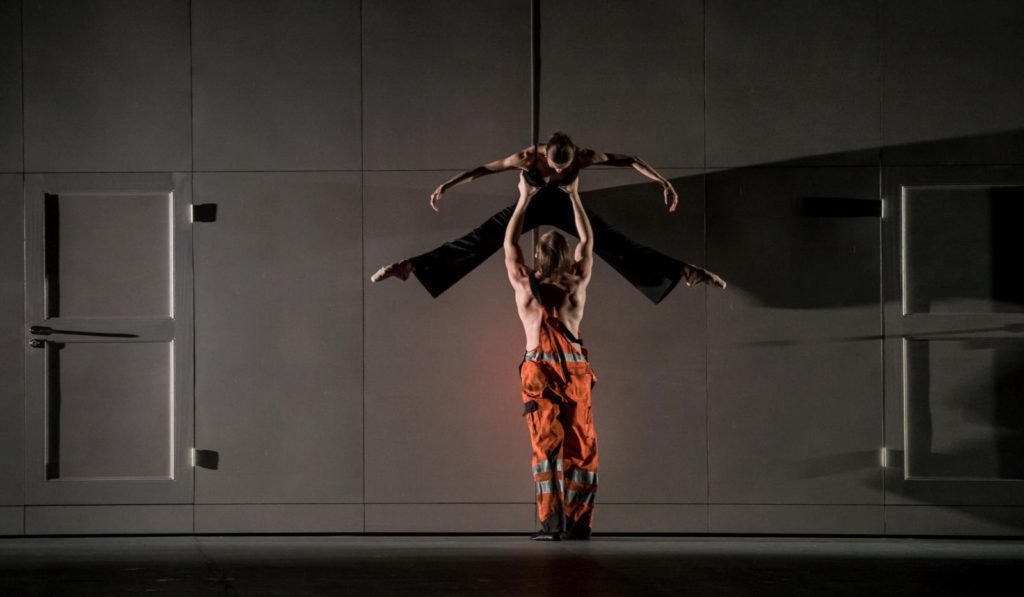 She was best as a girlish young woman in a pink tulle dress, but it was tough to buy her portrayal of a responsible mother. Aleix Martínez maneuvered excellently through the role of Levin. Karen Azatyan was a haunting mujik. He didn't revert to symbolic gestures, but instead drew strength from within. Azatyan had a small part, but an intense stage presence.
The Philharmonic State Orchestra Hamburg played under the baton of Simon Hewett.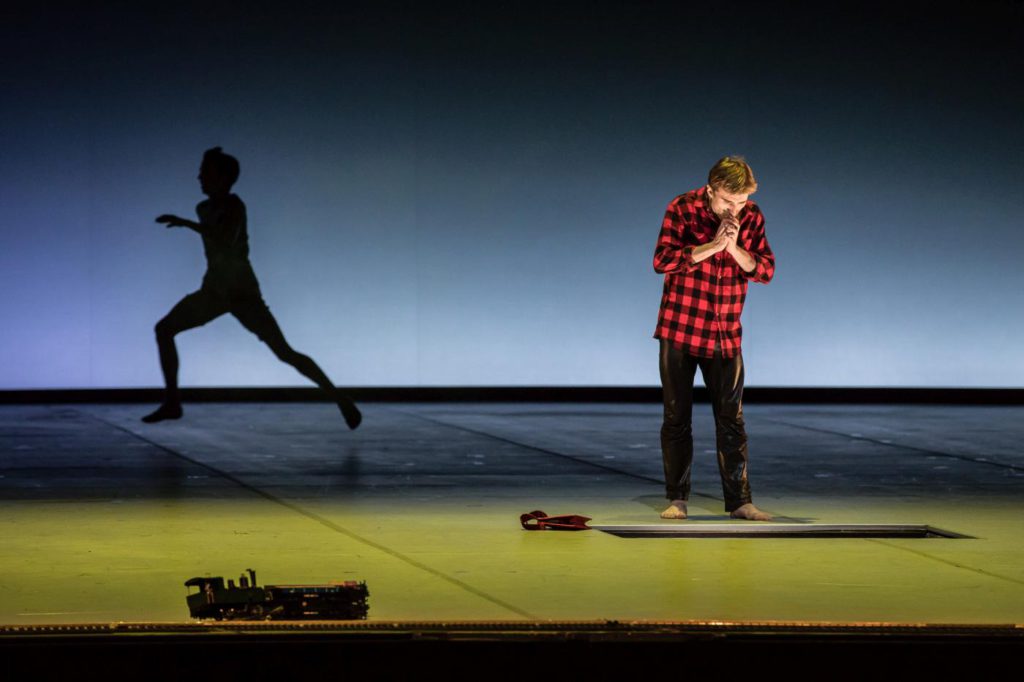 Links:
Website of Hamburg Ballet – John Neumeier
Trailer "Anna Karenina" (German)
"Anna Karenina" (video excerpt)
Website of Silvano Ballone / Photographer 
Ph

otos:

  1.

Mayo Arii (Countess Lydia Ivanovna), Marià Huguet (Sergei "Seryozha" Karenin), Ivan Urban (Alexei Alexandrovich Karenin), Anna Laudere (Anna Arkadyevna Karenina), Lizhong Wang / Graeme Fuhrman (Bodyguards) and ensemble, "Anna Karenina" by John Neumeier, Hamburg Ballet

  2.

Anna Laudere (Anna Arkadyevna Karenina) and ensemble, "Anna Karenina" by John Neumeier, Hamburg Ballet

  3.

Anna Laudere (Anna Arkadyevna Karenina) and Ivan Urban (Alexei Alexandrovich Karenin), "Anna Karenina" by John Neumeier, Hamburg Ballet

  4.

Anna Laudere (Anna Arkadyevna Karenina), Dario Franconi (

Prince Stepan "Stiva" Arkadyevich Oblonsky)

and Georgina Hills (Miss Hull), "Anna Karenina" by John Neumeier, Hamburg Ballet

  5.

Edvin Revazov (Count Alexei Kirillovich Vronsky), Anna Laudere (Anna Arkadyevna Karenina) and ensemble, "Anna Karenina" by John Neumeier, Hamburg Ballet

  6.

Pa

tricia Friza (Darya "Dolly" Alexandrovna Oblonskaya), Emilie Mazo

ń

(Princess Ekaterina "Kitty" Alexandrovna Shcherbatskaya), Edvin Revazov (Count Alexei Kirillovich Vronsky), Anna Laudere (Anna Arkadyevna Karenina), Dario Franconi (Prince Stepan "Stiva" Arkadyevich Oblonsky) and ensemble, "Anna Karenina" by John Neumeier, Hamburg Ballet

  7.

Anna Laudere (Anna Arkadyevna Karenina) and Edvin Revazov (Count Alexei Kirillovich Vronsky), "Anna Karenina" by John Neumeier, Hamburg Ballet

  8.

Edvin Revazov (Count Alexei Kirillovich Vronsky) and Anna Laudere (Anna Arkadyevna Karenina), "Anna Karenina" by John Neumeier, Hamburg Ballet

  9.

Ensemble, "Anna Karenina" by John Neumeier, Hamburg Ballet

 10.

Anna Laudere (Anna Arkadyevna Karenina) and Edvin Revazov (Count Alexei Kirillovich Vronsky), "Anna Karenina" by John Neumeier, Hamburg Ballet

 11.

Patricia Friza (Darya "Dolly" Alexandrovna Oblonskaya) and Students of the School of the Hamburg Ballet (Dolly's and Stiva's Children), "Anna Karenina" by John Neumeier, Hamburg Ballet

 12.

Aleix Martínez (Konstantin "Kostya" Dmitrievich Levin) and Emilie Mazo

ń

(Princess Ekaterina "Kitty" Alexandrovna Shcherbatskaya), "Anna Karenina" by John Neumeier, Hamburg Ballet

 13.

Aleix Martínez (Konstantin "Kostya" Dmitrievich Levin), "Anna Karenina" by John Neumeier, Hamburg Ballet

 14.

Aleix Martínez (Konstantin "Kostya" Dmitrievich Levin) and ensemble, "Anna Karenina" by John Neumeier, Hamburg Ballet

 15.

Aleix Martínez (Konstantin "Kostya" Dmitrievich Levin) and Emilie Mazo

ń

(Princess Ekaterina "Kitty" Alexandrovna Shcherbatskaya), "Anna Karenina" by John Neumeier, Hamburg Ballet

 16.

Ivan Urban (Alexei Alexandrovich Karenin), Anna Laudere (Anna Arkadyevna Karenina) and Edvin Revazov (Count Alexei Kirillovich Vronsky), "Anna Karenina" by John Neumeier, Hamburg Ballet

 17.

Edvin Revazov (Count Alexei Kirillovich Vronsky) and Anna Laudere (Anna Arkadyevna Karenina), "Anna Karenina" by John Neumeier, Hamburg Ballet

 18

Anna Laudere (Anna Arkadyevna Karenina) and Edvin Revazov (Count Alexei Kirillovich Vronsky), "Anna Karenina" by John Neumeier, Hamburg Ballet

 19.

Edvin Revazov (Count Alexei Kirillovich Vronsky) and Karen Azatyan (A Mujik), "Anna Karenina" by John Neumeier, Hamburg Ballet

 20.

Anna Laudere (Anna Arkadyevna Karenina), Marià Huguet (Sergei "Seryozha" Karenin) and Ivan Urban (Alexei Alexandrovich Karenin), "Anna Karenina" by John Neumeier, Hamburg Ballet

 21.

Dario Franconi (Prince Stepan "Stiva" Arkadyevich Oblonsky), Greta Jörgens (Princess Sorokina) and ensemble, "Anna Karenina" by John Neumeier, Hamburg Ballet

 22.

Anna Laudere (Anna Arkadyevna Karenina), Karen Azatyan (A Mujik) and ensemble, "Anna Karenina" by John Neumeier, Hamburg Ballet

 23.

Anna Laudere (Anna Arkadyevna Karenina) and Edvin Revazov (Count Alexei Kirillovich Vronsky), "Anna Karenina" by John Neumeier, Hamburg Ballet

 24.

Aleix Martínez (Konstantin "Kostya" Dmitrievich Levin) and Marià Huguet (Sergei "Seryozha" Karenin), "Anna Karenina" by John Neumeier, Hamburg Ballet

all photos © Silvano Ballone

 Editing:
 Jake Stepansky