"Darkness"
Polish National Ballet
Teatr Wielki – Opera Narodowa
Warsaw, Poland
October 07, 2017
by Ilona Landgraf
Copyright © 2017 by Ilona Landgraf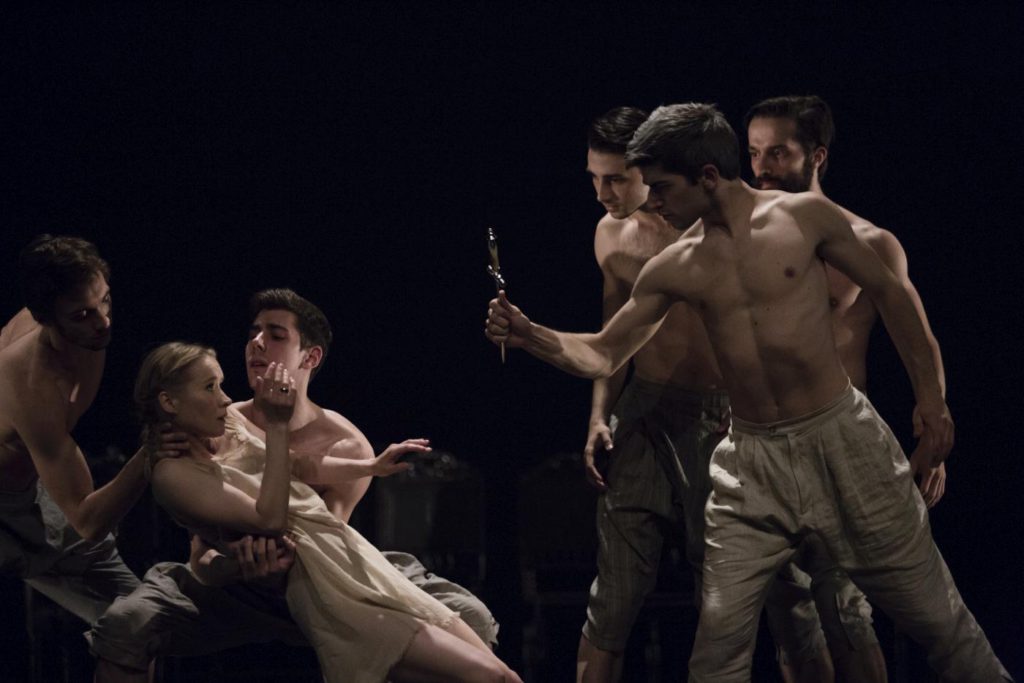 Dance critic Graham Watts called Izadora Weiss "a tempest on the Baltic shore." Weiss has been creating a stir in the Polish dance scene from her home base of Gdansk ever since Jiří Kylián spotted her choreographic talent in 1989 during his tenure as artistic director of the Nederlands Dans Theater. She became his protégé, and would later use Kylián's company as a model on which to base the Baltic Dance Theatr (BDT), a troupe she founded in 2010 in Gdansk that she continues to direct today. Formerly affiliated with the Baltic Opera, the BDT became an independent company in 2006 and was renamed Biały Teatr Tańca (White Dance Theatr) – BTT for short. Weiss still leads the company, serving as its main choreographer. Pieces by Kylián complement BTT's repertoire.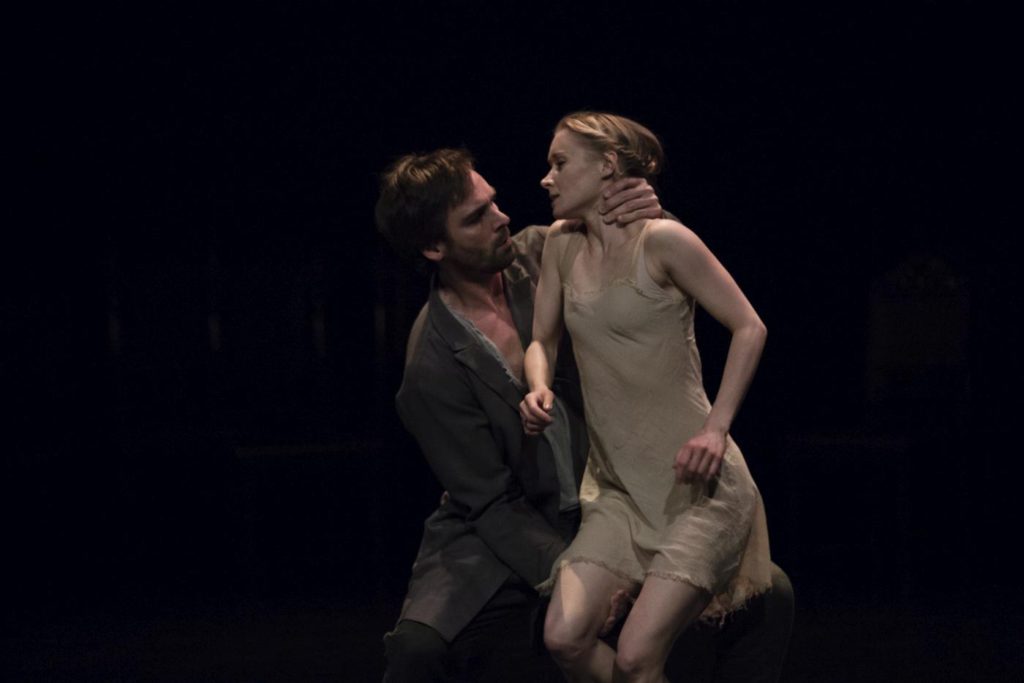 Last season Weiss choreographed for the Polish National Ballet for the first time. "Darkness", which premiered in June, was nominated for best choreography in the 2016/17 season at the Polish Dance Awards. Watts, who has been following Weiss's work for years and saw "Darkness" last season, wrote in his review in DanceTabs: "it seemed that [the dancers of the Polish National Ballet] needed more time to assimilate the peculiarities of Weiss' special style." Since this was my first time in Poland and my first experience of Weiss's work, I can't make a judgement about this. I, however, witnessed a powerful performance of haunting immediacy. Weiss's contemporary language doesn't aim toward decorative purposes. Every movement helped to tell the story. Acting and dance coalesced to a unity.
"Darkness" is a two-act piece dealing with the power imbalance between men and women, violence in relationships, and other moral quandaries. The subtle scent of incense that wafted into the front rows of the auditorium before the curtain went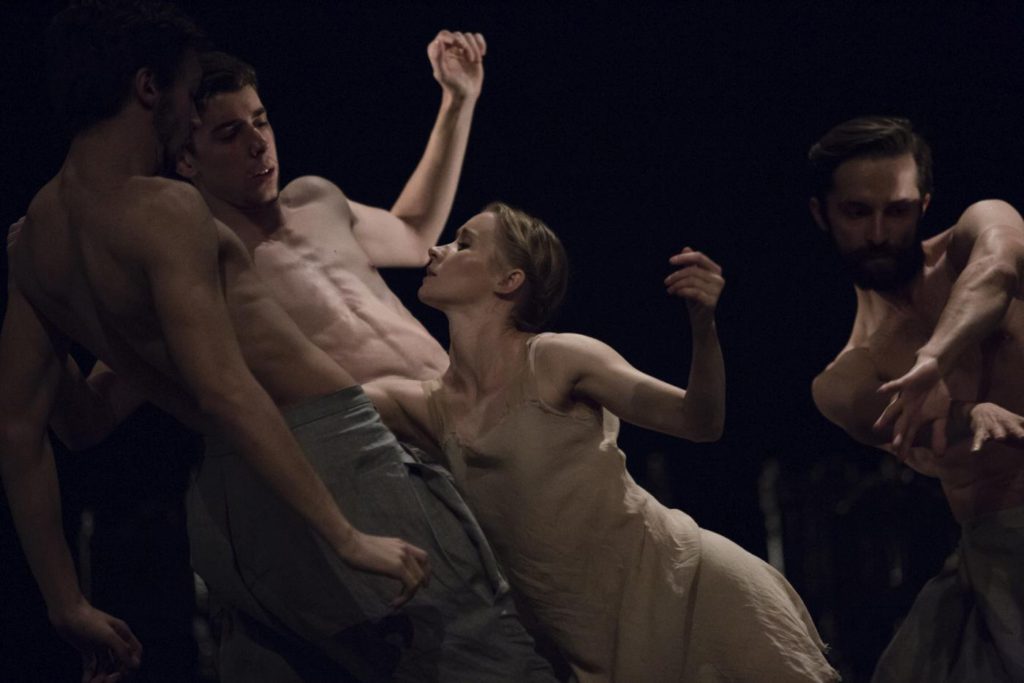 up foreshadowed the setting of the first scene – a marriage officiated by a bishop in a purple cassock (Tomasz Nerkowski). But the bridegroom (Lorenzo Alberti) to whom Lilli (Ewa Nowak) was to wed was not her true love's first choice. The relatives who gathered followed the couple's emerging dissonance with a mix of curiosity and increasing disapproval. As guardians of social norms, they knew how to make an insubordinate wife see reason. When the fledgling husband unbuttoned Lilli's wedding dress, was he about to consummate marriage by force? Or did stripping off the dress mean that she had fled from wedlock? Did the subsequent scene, in which a geisha in a red kimono (Yurika Kitano) committed seppuku, the ritual Japanese suicide, present a visual representation of Lilli's thoughts?
Indeed, Lilly was threatened with a dagger by her kinsfolks and her husband in an almost hypnotizing sequence that the men visibly enjoyed. But, despite being struck with fear, Lilli was able to ward them off. Like a little girl, she clung to her father (Adam Kozal), a bearded, stooped man with sagging shoulders. Emotionally ossified, though, and with a face as gray as his worn-out jacket, he proved not to be her salvation. As he watched his daughter's romance with another man (Adam Myśliński), his hands clenched to fists, and, upon the aggressive insistence of his kinsfolk, he finally pulled the lovers apart. Lilli's husband and the group of relatives returned, confronting, accusing, and attacking her. Given the vehemence of their arm movements and the aggression with which they stomped their feet, it seemed as if they were tossing buckets of blame, guilt, malice and condemnation towards her.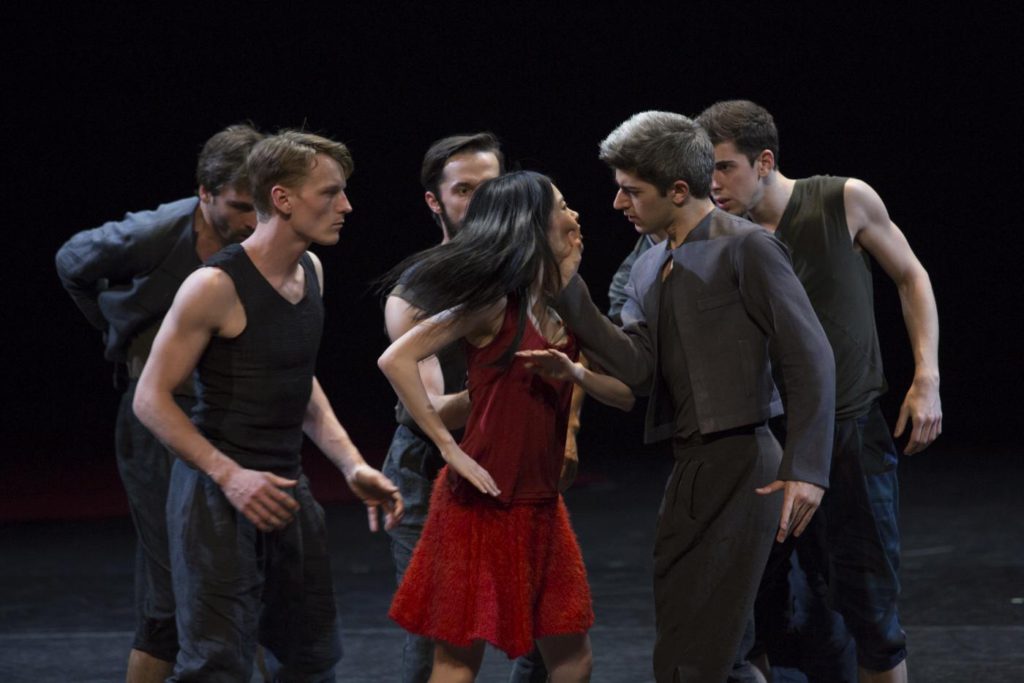 The small space harboring Lilli's and her lover's romance was abruptly destroyed the moment the group emerged, this time playing suggestively around with the dagger. As in the scene with the geisha, one heard the menacing sound of panpipes. The men held Lilli tightly and, in front of her eyes, slit the throat of her lover. She survived.
The second act centered around Jasmin, a black-haired woman in a red skirt and red top. She was danced by Yurika Kitano, who portrayed the geisha in the first act (although the roles didn't seem to be connected). In any case, Jasmin was an outsider. She persistently refused to fit into – let alone subordinate to – the norms and expectations that her parents and social environment forcibly tried to impose on her.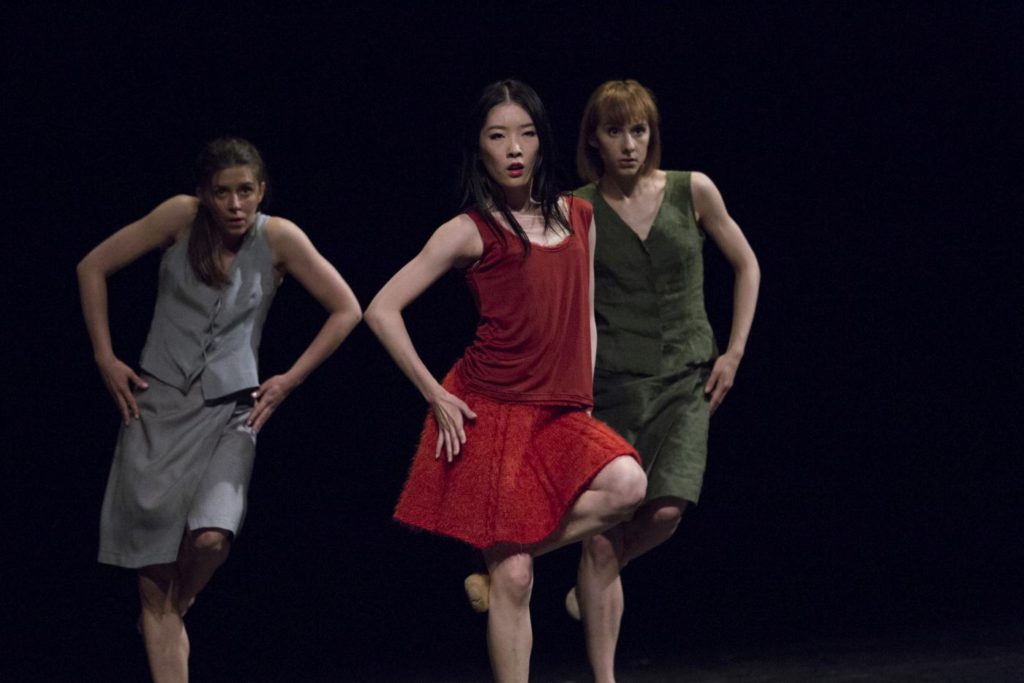 Jasmin wore red, while the others wore mainly gray and black. She had a strong personality – determined, yet also playful and coquettish. She was disgusted by the straitjacket of society, and soon, two other girls (Natalia Pasiut and Agnieszka Jankowska) joined her. But the trio's confidence faltered with the arrival of three men (Dan Ozeri, Vadzim Kezik and Gianni Melfi). Each man chose a girl and the three couples spread out – one pair heading to a red carpet in the back-left of the stage and becoming intimate. On a platform on the right side of the stage, the other girl – having already been stripped to her underwear – sat on the floor, her arms tightly clenched around her knees. Just a few moments later, the man had broken her reserve and she began to dance. Only Jasmin did not stop fighting back against her male opponent.
Interestingly, the pairs rotated, and at each place – red carpet, podium and front stage – the textures of their relationships' changed. Yet affection never arose. Instead, the men played on their physical power in varied forms. Jasmin was forced into a black dress while her red outfit was wrapped around another girl's head like a plastic bag. Later, this girl was put into black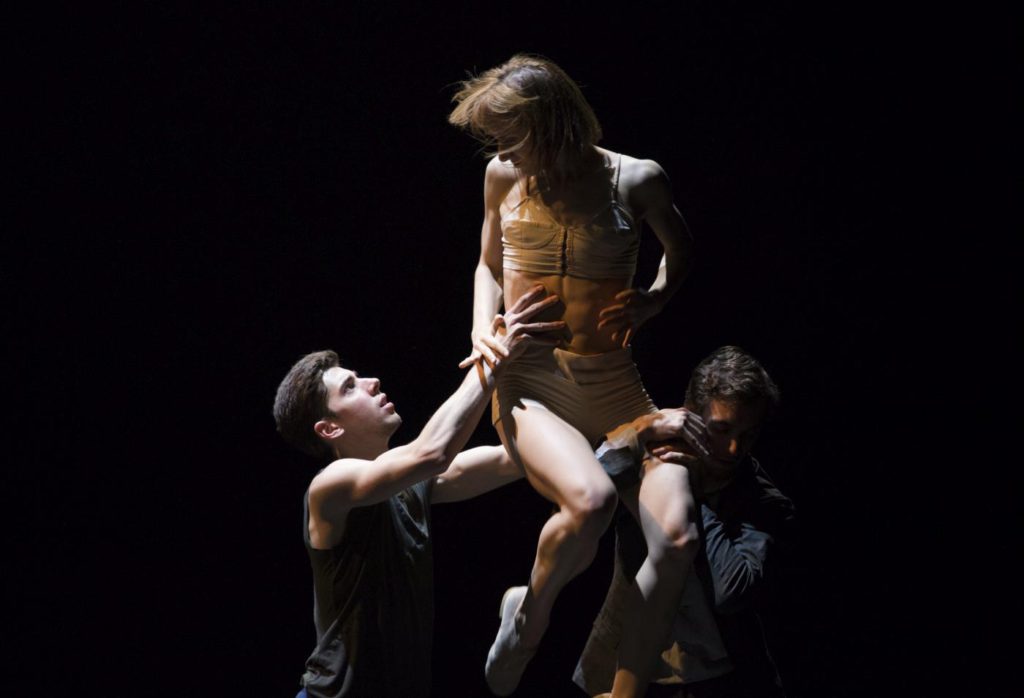 hold-up stockings and fitted with a red wig like a whore. In another scene, one of the girls lay on the floor after a mass rape. Scornfully, the men threw down a teddy bear next to her before leaving. Their aggression had reached an explosive level. Each moment another bit of abuse seemed possible. Eventually, the two girls surrendered and returned to the group. Jasmin remained the only pariah. Her mother (Rachael Vrbancic), who had previously towered over her like a Harpy with her index finger raised threateningly, now erupted into a poignant solo. Did its fury and insistence result from her own accumulated suffering? "One has to play along," seemed to be her message. Jasmin's attempt to approach a man was rejected, her dress was ripped off of her body, and she was collaboratively shot dead by the group.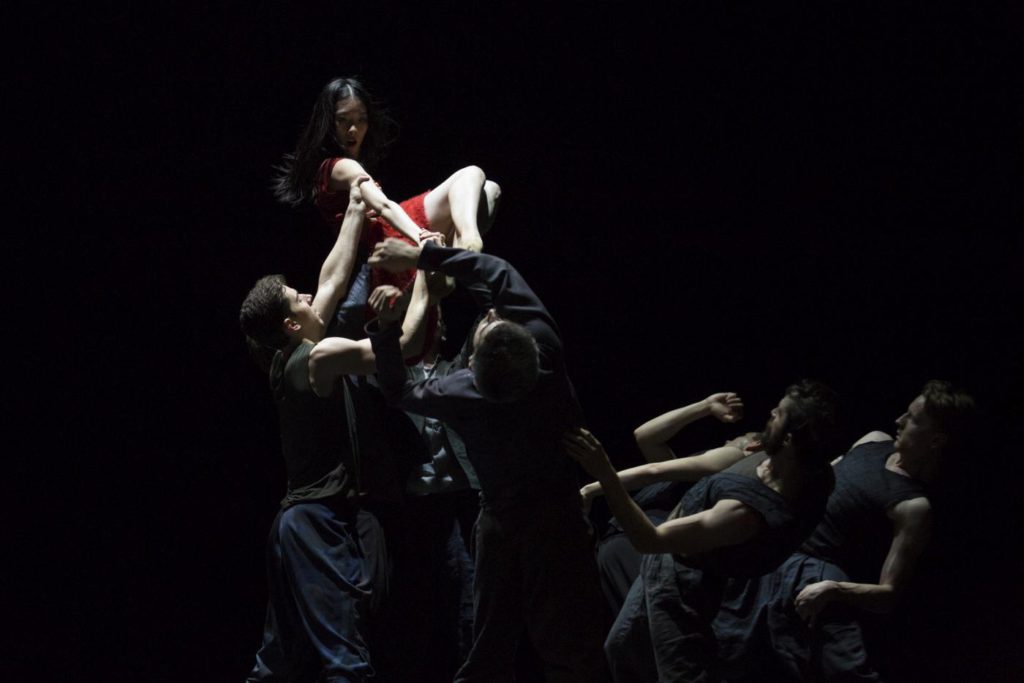 Throughout the piece, Weiss depicted social imbalances whose complex inner mechanics yielded horrible results. She didn't aim to merely arouse pity for the weaker sex. Both Lilli and Jasmin were victims, but they fought back; only the last scene was pathetic. It showed an angel (Ewa Nowak) on its way to Jasmin's corpse on the podium. Nowak carried a heap of black feathers in her arms that slowly rained down, marking the angel's path.
Stage design and costumes were by Weiss; a recorded assemblage of music by Johann Sebastian Bach, Antonio Vivaldi, Philip Glass, Armand Amar, and old French music accompanied the piece. The intensity of the performance was enhanced by the fact that it was performed in the Młynarski Hall on the small stage of the Teatre Wielki. With only around 250 seats, one couldn't mentally steal away.
Touching upon "Darkness" in an interview, Krzysztof Pastor, the artistic director of the Polish National Ballet, explained that the piece added a further facet to the company's repertoire. Pointing at the photo of Yurika Kitano as Jasmin on the cover of the program booklet, he expressed his pleasure about his dancers: "They have matured artistically."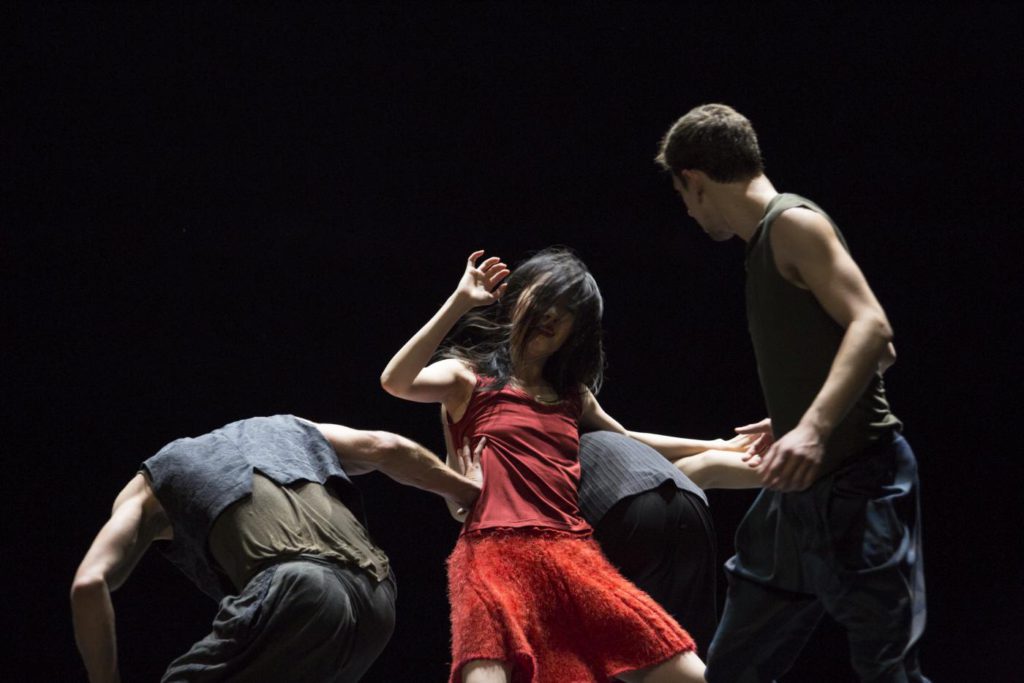 Links:
Website of the Polish National Ballet 
Website of the Biały Teatr Tańca (BTT) of Izadora Weiss
Trailer of "Darkness"
Photos:
 

"Lilli"

 1.
Ewa Nowak (Lilli), Marco Esposito and Gianni Melfi (Relatives), Lorenzo Alberti (Bridegroom), Dan Ozeri and Vadzim Kezik (Relatives), "Darkness" by Izadora Weiss, Polish National Ballet 2017
 2.
Ewa Nowak (Lilli) and Adam Kozal (Father), "Darkness" by Izadora Weiss, Polish National Ballet 2017
 3.
Ewa Nowak (Lilli), Marco Esposito, Gianni Melfi and Vadzim Kezik (Relatives), "Darkness" by Izadora Weiss, Polish National Ballet 2017

"Jasmin"

 4.
Yurika Kitano (Jasmin), Adam Myśliński and Adam Kozal (Men), Vadzim Kezik and Gianni Melfi (Boys), Lorenzo Alberti (Man), "Darkness" by Izadora Weiss, Polish National Ballet 2017
 5.
Agnieszka Jankowska (Girl), Yurika Kitano (Jasmin) and Natalia Pasiut (Girl), "Darkness" by Izadora Weiss, Polish National Ballet 2017
 6.
Natalia Pasiut (Girl), Gianni Melfi (Boy) and Marco Esposito (Man), "Darkness" by Izadora Weiss, Polish National Ballet 2017
 7.
Yurika Kitano (Jasmin) and ensemble, "Darkness" by Izadora Weiss, Polish National Ballet 2017
 8.
 Yurika Kitano (Jasmin) and ensemble, "Darkness" by Izadora Weiss, Polish National Ballet 2017
all photos © Polish National Ballet / Ewa Krasucka
 Editing:
Jake Stepansky