"Pure Cranko" ("L'Estro Armonico" / "Brouillards" / "Jeu de Cartes")
Stuttgart Ballet
Stuttgart State Opera
Stuttgart, Germany
October 03, 2017
by Ilona Landgraf
Copyright © 2017 by Ilona Landgraf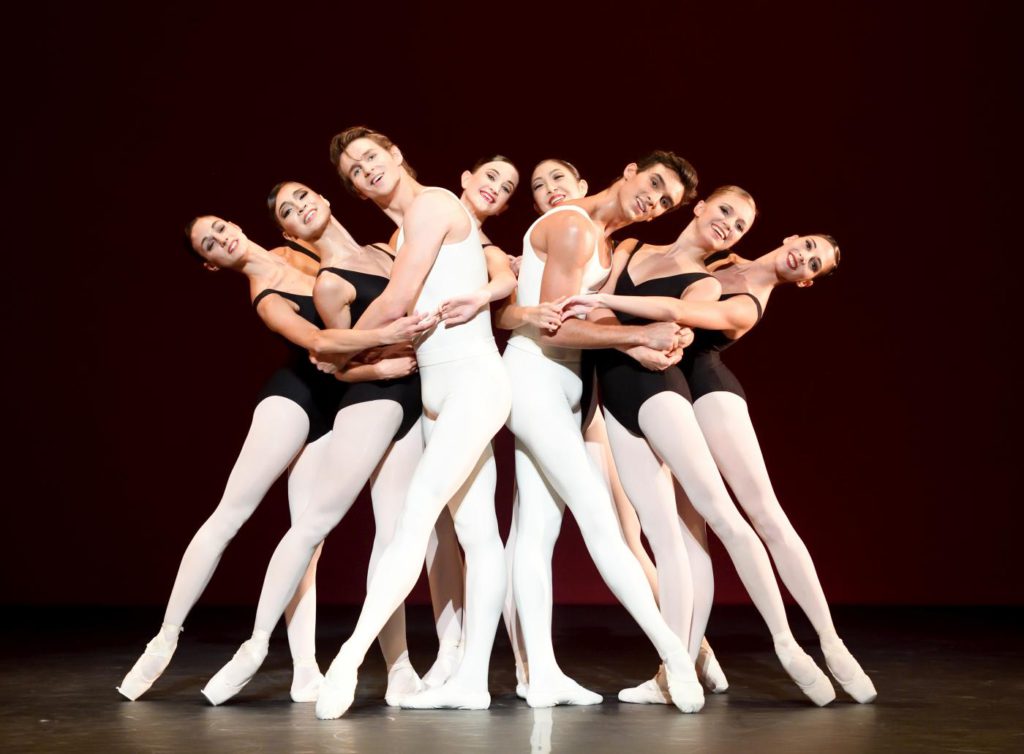 This season is an especially special one for Stuttgart Ballet. John Cranko, who took over the ballet company of the Wuerttemberg State Theater in 1961 and turned it into the "Stuttgart Ballet Miracle", would have celebrated his 90th birthday this August. In October, the premiere of his "Onegin" will have its 50th anniversary. Moreover, it's Reid Anderson's twenty-second – and last – season as artistic director. He'll pass the torch to Tamas Detrich next summer.
As a result, there are quite a number of events slated for the season – but, with everything being interconnected in Stuttgart, the first program already brought the company full circle. All three of the Cranko-ballets that "Pure Cranko" comprises not only demonstrate Cranko's choreographic versatility, but also represent three parts of Anderson's dancing career in Stuttgart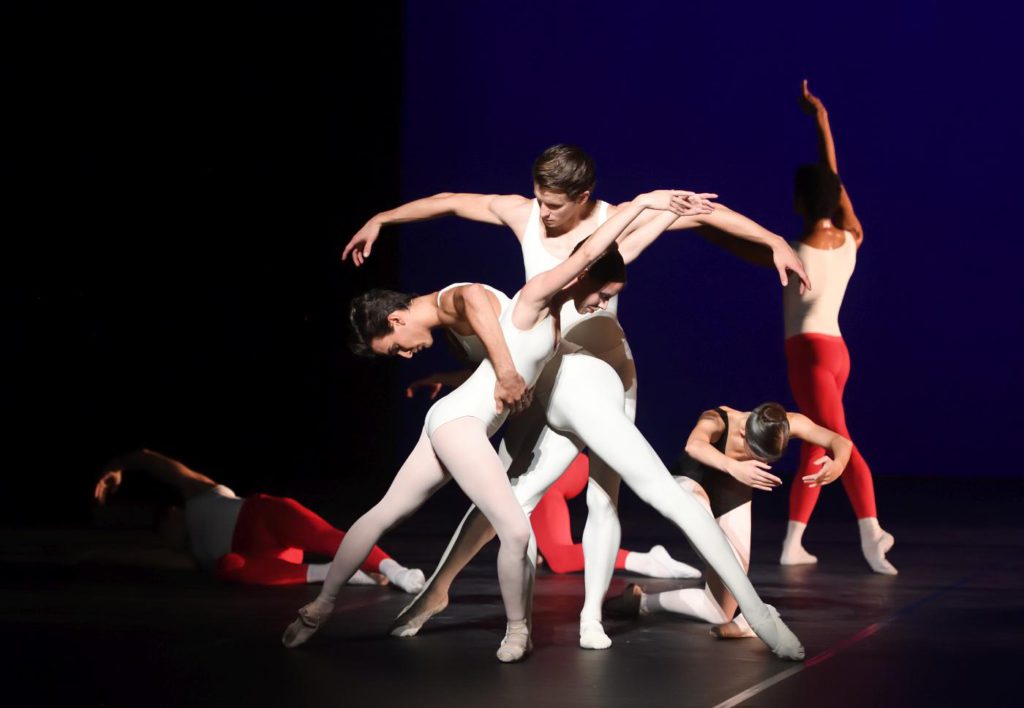 that have been present since his first days with the company in 1969: Anderson was a dancer in "L'Estro Armonico", Cranko created a role specifically for him in "Brouillards", and in "Jeu de Cartes", the program's closing piece, Anderson danced in the Heart Suite (where else?). As an aside, "L'Estro Armonico" was, indirectly, one reason that the Stuttgart Ballet was invited to New York for its legendary 1969 tour.
"L'Estro Armonico" was created fifty-four years ago. "Jeu de Cartes" is fifty-two years old. "Brouillards" emerged forty-seven years ago. Are they ancient history today? I was seated next to a four-year-old boy. The three-hour program was not light entertainment – but he sat through the performance with unfaltering enthusiasm and walked out smiling. Could there be stronger proof that these three ballets haven't aged?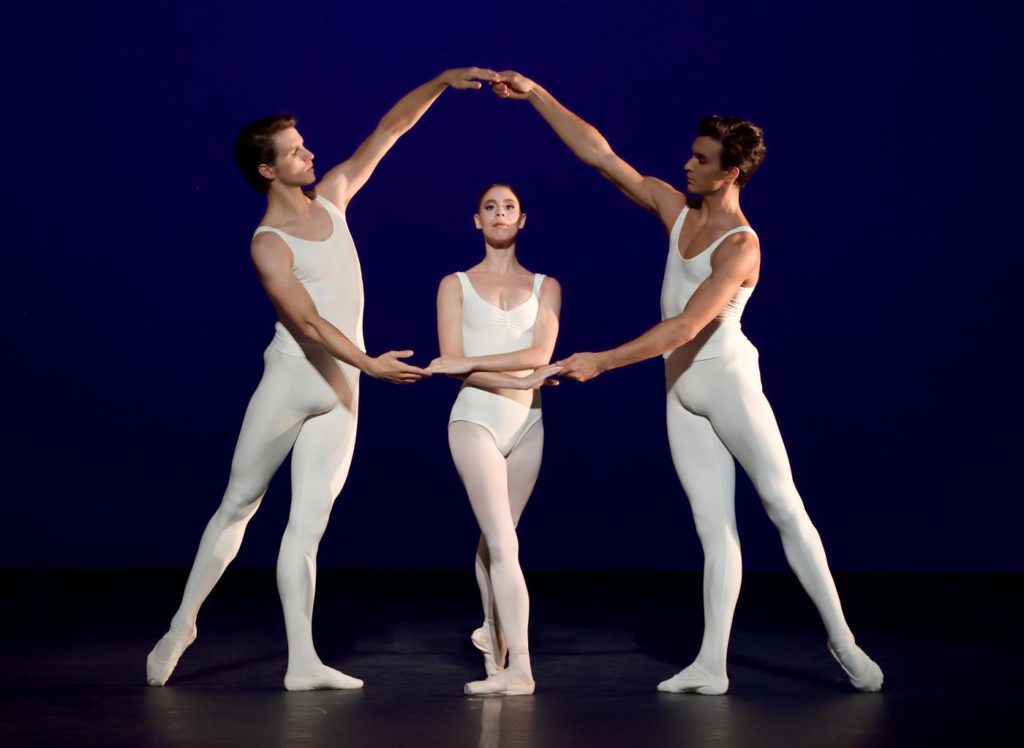 "L'Estro Armonico" ("The Harmonic Inspiration") is a three-part group piece set to three of Antonio Vivaldi's collection of twelve concertos for stringed instruments under the same title. Each part differs in its ratio of male-female dancers, its dynamic and its color distribution, and yet the sections are intertwined. Two men (David Moore and Martí Fernández Paixà) led the first part, both wearing white tights and white tops. They danced with a group of six women in black tricots in front of a cherry-red backdrop. This red returned later during the middle section on the pants of the six men. They built the group around one woman (Elisa Badenes), who wore a white tricot. This time the backdrop was black. For the final part, Moore and Paixà returned to partner with Badenes; both of the previous groups joined them.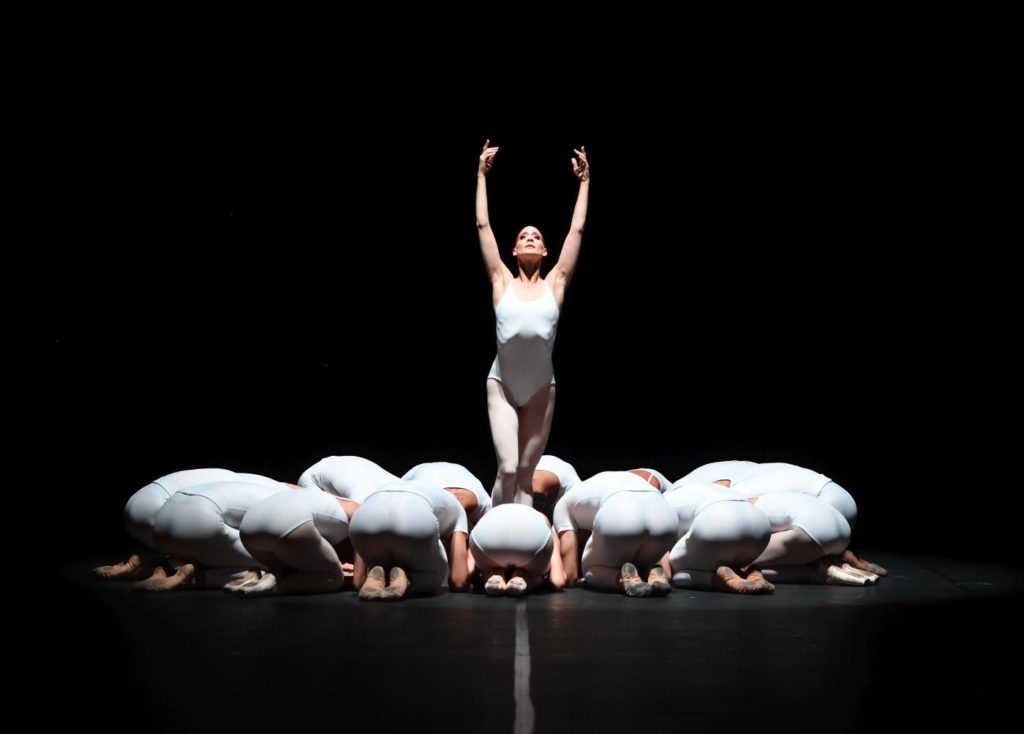 Each of the three parts radiated calmness – and nothing was done simply for effect. Instead, the beauty of the dance itself – of patterns, shapes and movement – helped the piece blossom. In the first section, dancers often built lines and danced in symmetrical, mirrored patterns. They flexed one foot, stuck out one hip, executed a grand battement, or stood with arms in fifth position – seemingly plain movements, but strung together gorgeously so as to present a fascinating relationship between the men and the women. Just as in the Rose Adagio in "The Sleeping Beauty", all six men lined up during the middle section to partner Badenes, one after the other. But they didn't stand – they knelt on the floor, supporting her and lifting her into the air. Later, the men carried Badenes horizontally above their heads. She gained undivided attention, but wasn't placed on a pedestal and idolized. Recurring movements in this part included quick changes of arm positions, flexed feet and supple curls of the upper body.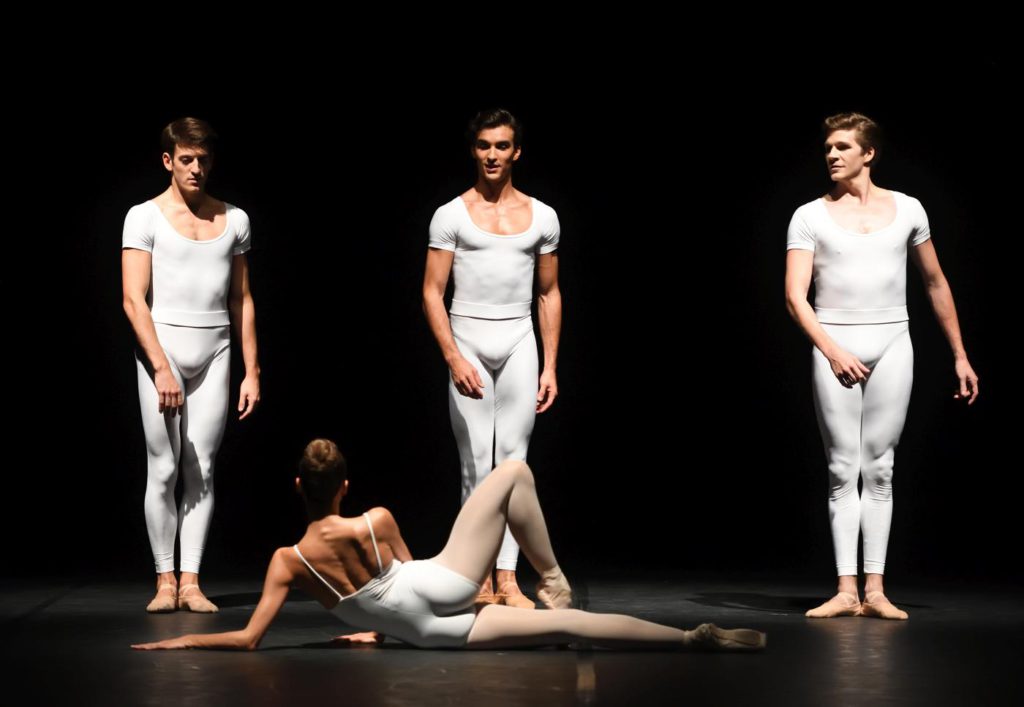 In the third section, fleet footwork was alternated with slowly executed turns and leaps. Individuals separated from and rejoined the group. Even though sequences were repeated and repeated, they never became tedious. Finally, Badenes was carried through the air once more. This time, she appeared to be an icon, parting the rows of dancers like a knife through bread.
While "L'Estro Armonico" is an abstract piece, "Brouillard" ("Fog") tells little stories that do not together present a narrative. It's really pure Cranko – pure dance, since the very tight budget at the premiere in 1970 allowed only plain white tricots, tights, and tops – and no set design (except for a bench in one scene). Cranko selected nine of Claude Debussy's piano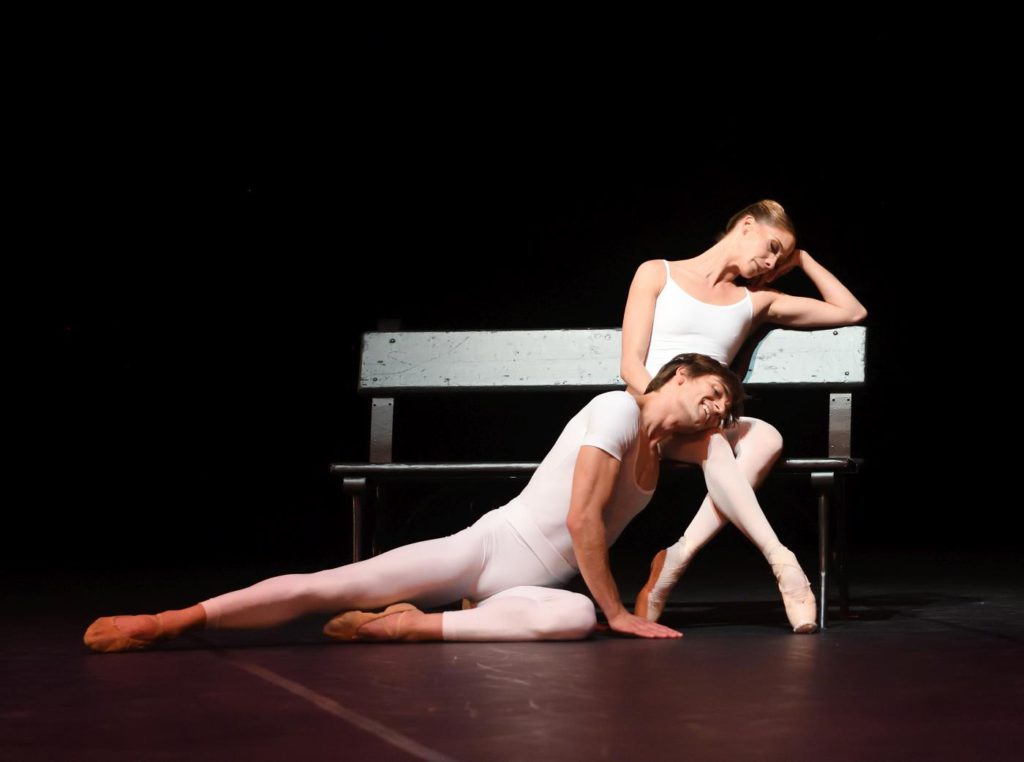 compositions from his "Préludes" to accompany the piece; their titles hint at the short stories and scenes that Cranko choreographed. In "La puerta del vino" ("Wine Door"), three men (Fabio Adorisio, Martí Fernández Paixà and Matteo Crockard-Villa) flirted with one woman (Rocio Aleman), who coquettishly demonstrated her physical charms. She must have had too much alcohol, given how she fell into the arms of one of the man. At the end, Aleman was left alone, standing with her head bowed. In creating this composition, Debussy had the Moorish Gate of the Wine of the Alhambra in Granada in mind; Cranko, it seems, might have had in mind a bar at a late hour.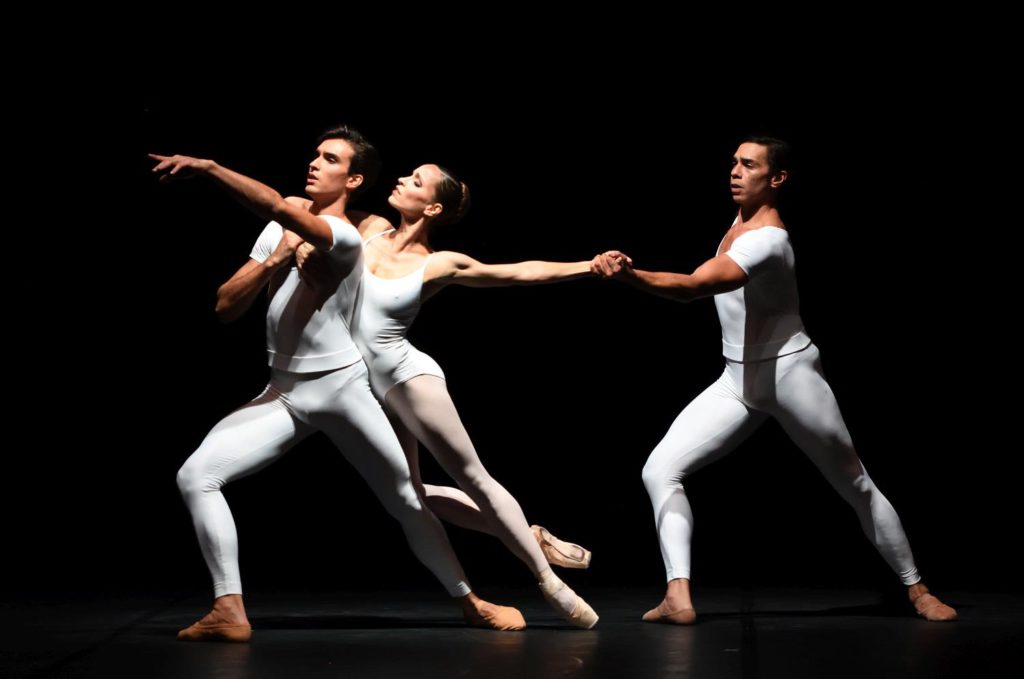 "Bruyéres" ("Heather"), too, is about a failing romance, yet this time a truly afflicted one. A young man (Friedemann Vogel), bursting with joy to find his beloved one (Alicia Amatriain) sleeping on a park bench, leaped and danced and, smitten by love's bliss, sat on the floor, withdrawn into himself. Through vigorous shaking he finally woke her. And what did Amatriain do? She made a dismissive gesture – and then she left!
Vogel often guests abroad. It was nice to see him on his home stage in this program.
"Des pas sur la neige" ("Footsteps in the Snow") is about a love triangle. Miriam Kacerova walked arm in arm with Paixà, but simultaneously stretched her arm yearningly backwards towards Jason Reilly, who followed the couple. Reilly and Kacerova spent time together, but ultimately Kacerova opted for the other man.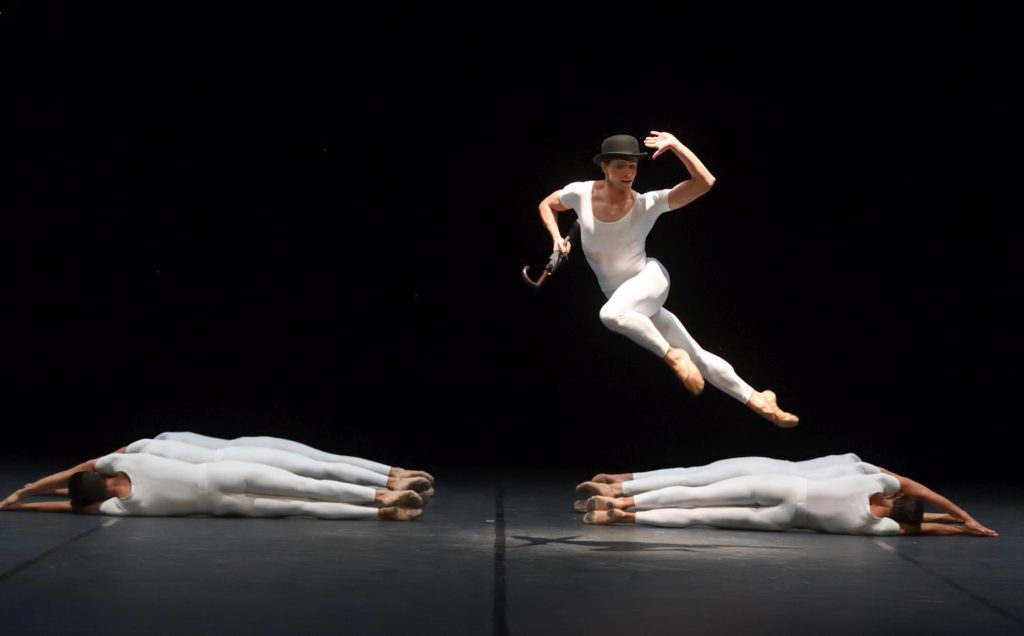 Two other scenes were quite funny. In "Général Lavine Eccentric", three men (Alessandro Giaquinto, Matteo Miccini, and Cédric Rupp), stiff as puppets, sashayed through a slapstick cakewalk with their arms held close to their bodies, hands stretched away and feet flexed. Were they buddies of Bianca's three suitors in "The Taming of the Shrew"? In the middle of their show, two of the trio collapsed to the ground like beetles struck by rigor mortis. The last man standing smirked, enjoyed his triumph – and then collapsed as well.
Louis Stiens, too, collapsed at the end of "Hommage à S.Pickwick Esq." He had been a Charlie Chaplin-like figure, complete with bowler hat and umbrella, who wasn't exactly treated kindly by the six other men. Stiens found himself lying flat as a pancake on the floor, waving good-bye with his hat. This was his last vital sign.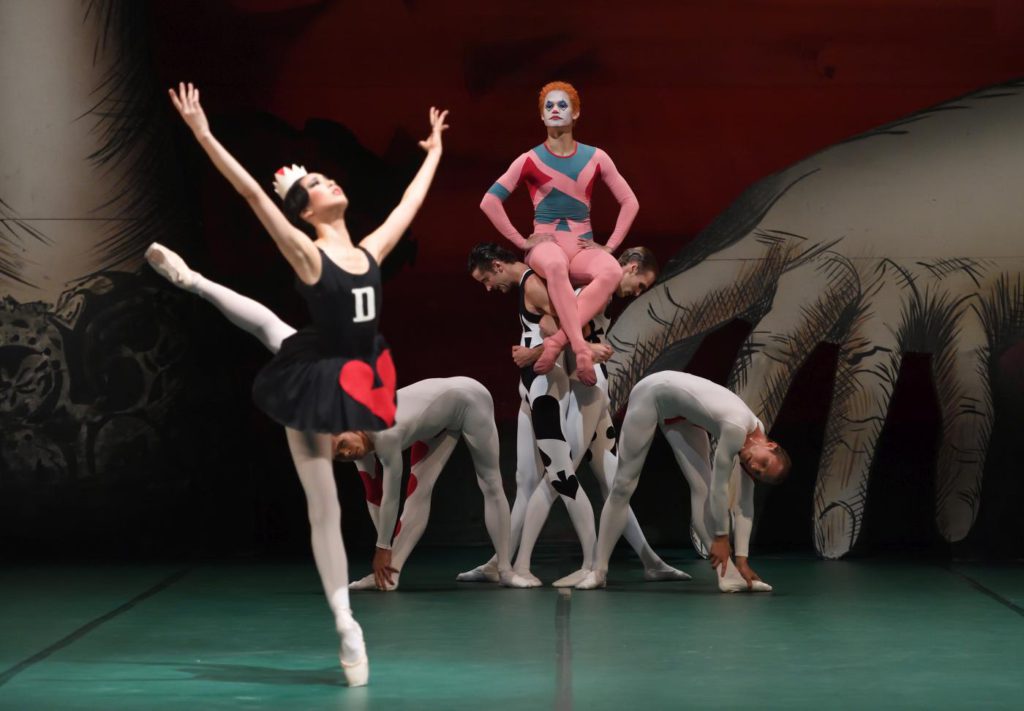 Angelina Zuccarini and Agnes Su portrayed the two fairies of "Les Fées sont d'exquises danseuses" ("Fairies are exquisite dancers"), outdoing each other to dance nicely. They were so immersed in their poeticism that they collided.
In the pas de deux "Voiles" ("Veils" or "Sails"), Moore seemed to be the pole that enabled Badenes to unfold her body in the air, while in "Feuilles mortes" ("Dead Leaves"), Amatriain and Roman Novitzky lay in the shape of a cross on the floor. They remained there for most of the time rolling over and onto each other in an embrace. Their encounter had a melancholic note. Both pas de deux were rich with interesting partnerings, some of which was reminiscent of Cranko's larger narratives. Did he revert to older ideas in order to interpret them anew? Would material of "Brouillards" have found its way into any of his future ballets?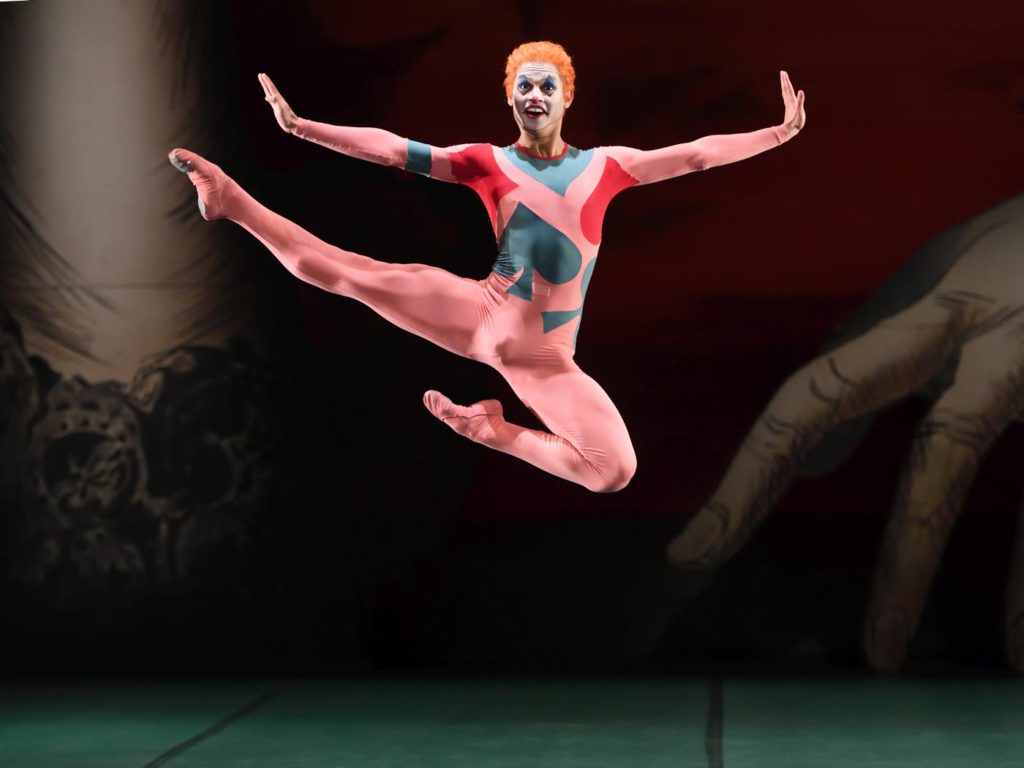 The opening scene of "Brouillards" gave it its title. In this scene, the dancers walked onstage in a line, hand in hand. Some dancers turned somersaults in the air, then all gathered into a clump and rolled their heads. Later, they stepped from one foot to the other with arms stretched up, looking like huge swaying letters X's. At the end, Amatriain lay on the floor like a dead woman and was carried away by two men. Surprisingly, Cranko repeated this entire scene at the end of the ballet – the piece doesn't hurry, but rather takes its time. Apparently, Cranko demanded the patience of his audience and trusted people's ability to enjoy fine dance. Who of today's young choreographers would dare the same? How many create choreography that one might wish to see twice in the same piece?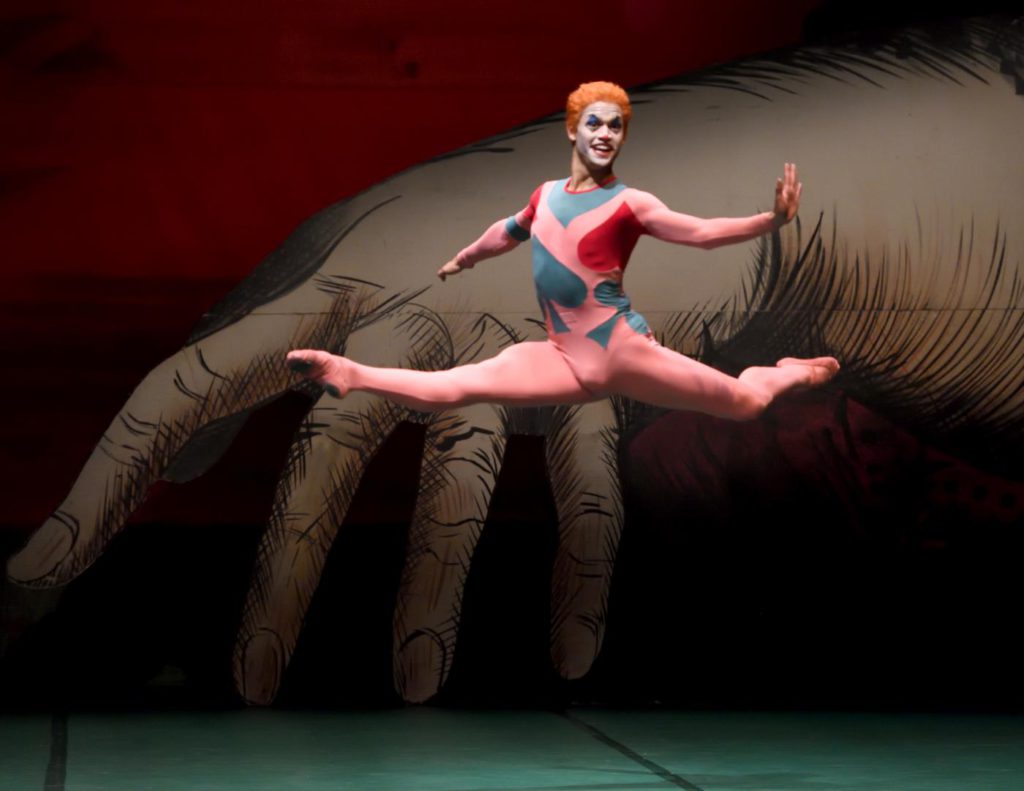 "Jeu de Cartes", a witty treat, closed the program. Those unfamiliar with the subtleties of a poker game (what is a "full house"? A "royal flush"?) probably missed some punchlines, but that didn't diminish the appeal. As the Joker, Adhonay Soares da Silva had devilish fun hijacking the game as often as possible. He leaped through almost every hand or sat enthroned on the shoulders of two men – one spades, one clovers – surveilling the game and making the Queen of Hearts (Ami Morita) falter and blubber. The five Jacks of Hearts were confident and slightly cocky. One was a boaster, another jumped about on fleet feet, a third's showing-off ended with a cramped calf. Did number four aim to thumb his nose at the others? The solo of the fifth Jack was delayed because the Joker intervened – but the Jacks of the Hearts gave him the low-down and kicked him out of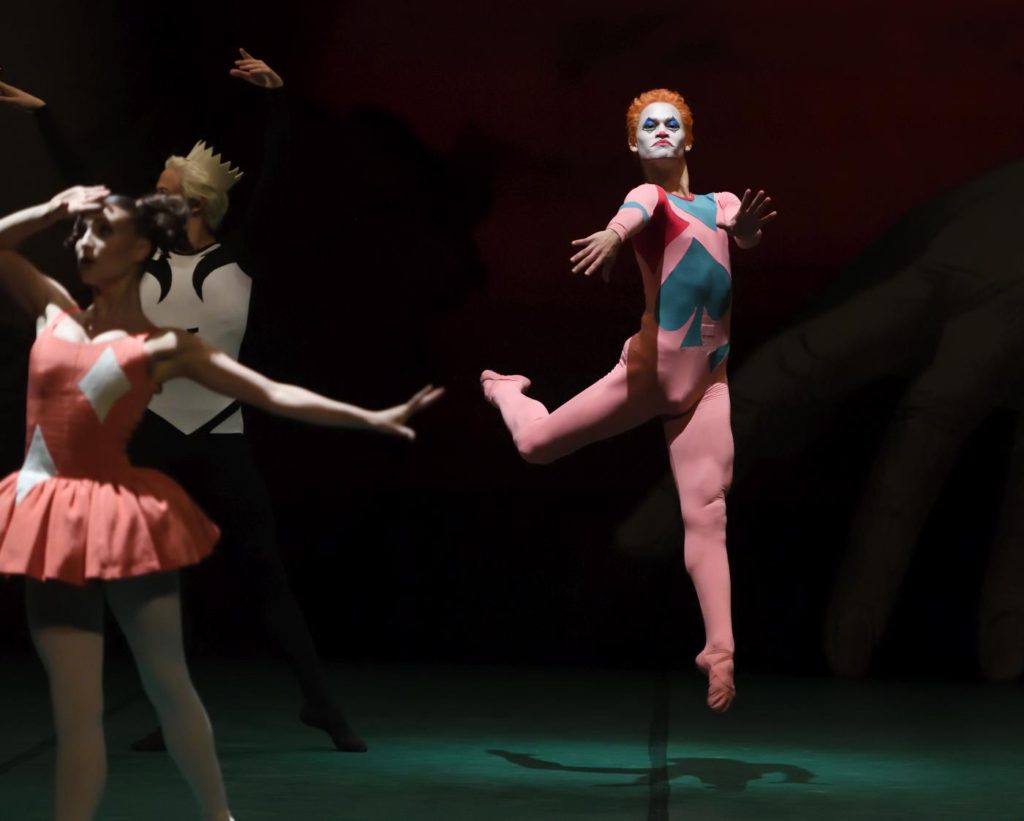 the game. Dressed up with a tutu the Joker was later taken as the Queen of Spades and gained the victory.
At the curtain call, Reid Anderson urged Egon Madsen onstage, thrusting a bouquet of flowers into his hands. Cranko had created the role of the Joker for Madsen, who now had coached young Soares da Silva. Both took their bows together. It was a moment that reinforced the Stuttgart Ballet's family feeling.
"Jeu de Cartes" is set to Igor Stravinsky's composition from 1936 of the same title. It was played by the State Orchestra Stuttgart conducted by Aivo Välja. The soloist musicians accompanying "L'Estro Armonico" were Elena Graf (viola), Andreas Noack (flute), and Ivan Danko (oboe). Alexander Reitenbach played the piano for "Brouillards."
The company was in good shape and radiated the team spirit and warmth crucial to Cranko's pieces.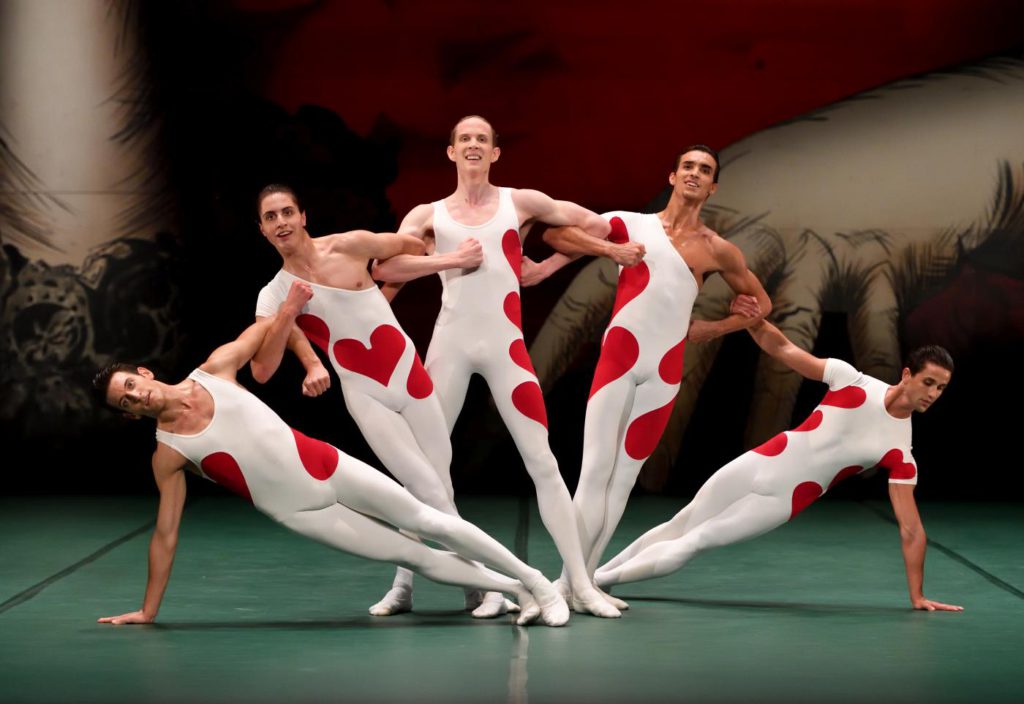 Links:
Website of Stuttgart Ballet

Photos:

"L'Estro Armonico"

1.

David Moore, Martí Fernández Paixà and ensemble, "L'Estro Armonico" by John Cranko, Stuttgart Ballet

2017

2.

Elisa Badenes,

David Moore, Martí Fernández Paixà and ensemble, "L'Estro Armonico" by John Cranko, Stuttgart Ballet

2017

3.

David Moore, Elisa Badenes and Martí Fernández Paixà, "L'Estro Armonico" by John Cranko, Stuttgart Ballet

2017

"Brouillards"

4.

Alicia Amatriain and ensemble,

"

Brouillards

" by John Cranko, Stuttgart Ballet

2017

5.

Rocio Aleman, Fabio Adorisio,

Martí Fernández Paixà and Matteo Crockard-Villa, "

Brouillards

" by John Cranko, Stuttgart Ballet

2017

6.

Friedemann Vogel and Alicia Amatriain, "Brouillards" by John Cranko, Stuttgart Ballet 2017

7.

Martí Fernández Paixà, Miriam Kacerova and Jason Reilly, "Brouillards" by John Cranko, Stuttgart Ballet 2017

8.
Louis Stiens and ensemble, "Brouillards" by John Cranko, Stuttgart Ballet 2017


"Jeu de Cartes"

9.

Ami Morita (Queen of the Hearts), Adhonay Soares da Silva (Joker) and ensemble, "Jeu de Cartes" by John Cranko, Stuttgart Ballet

2017

10.

Adhonay Soares da Silva (Joker), "Jeu de Cartes" by John Cranko, Stuttgart Ballet 2017

11.

Adhonay Soares da Silva (Joker), "Jeu de Cartes" by John Cranko, Stuttgart Ballet 2017

12.

Jessica Fyfe (Two of Diamonds), Adhonay Soares da Silva (Joker) and ensemble, "Jeu de Cartes" by John Cranko, Stuttgart Ballet 2017

13.

Fabio Adorisio, Timor Afshar, Alexander Mc Gowan, Martí Fernández Paixà and Moacir de Oliveira, "Jeu de Cartes" by John Cranko, Stuttgart Ballet 2017

all photos © Stuttgart Ballet

Editing:
Jake Stepansky