"The Last Supper"
DEKKADANCERS
The New Stage
Prague, Czech Republic
January 28, 2018
by Ilona Landgraf
Copyright © 2018 by Ilona Landgraf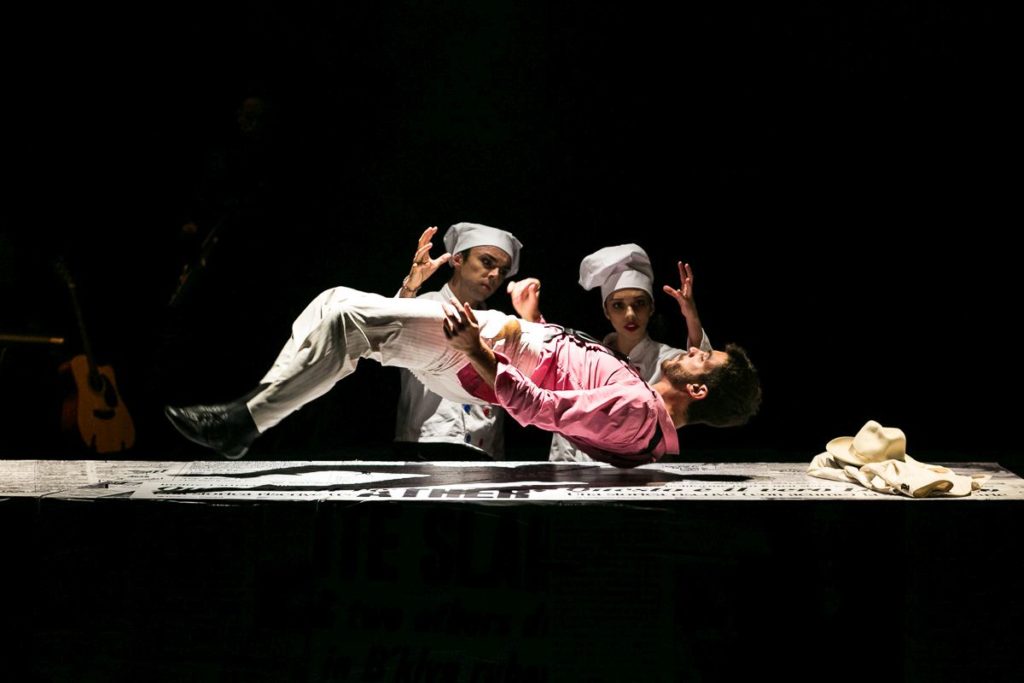 Two French chefs (Morgane Lanoue and Mathias Deneux) were already preparing "The Last Supper" onstage when the audience took its seats. Wearing pristine white chef's hats and red and blue shoes respectively, they were on the hunt for a bluebottle that hummed obtrusively around the blocky table and marred the cozy bar music played by a little band in the back. But using a kitchen trowel as swatter wasn't productive. While the guests arrived and gathered around the huge table center stage, the fly buzzed towards a safe place. The table, made of several smaller blocks, was plastered with pages of the international press, which later, when the parts were separated, revealed huge red blood stains splashed across the newspaper. This was certainly not a Christian meal…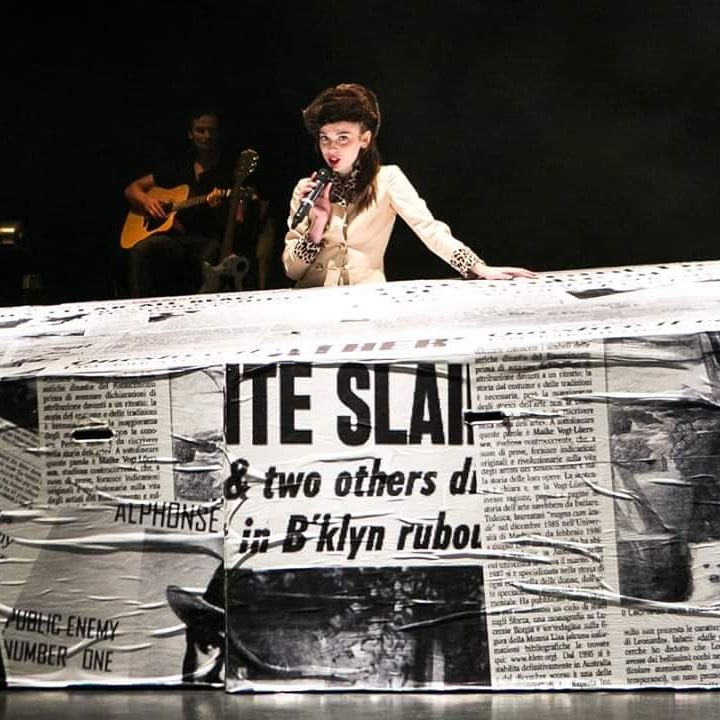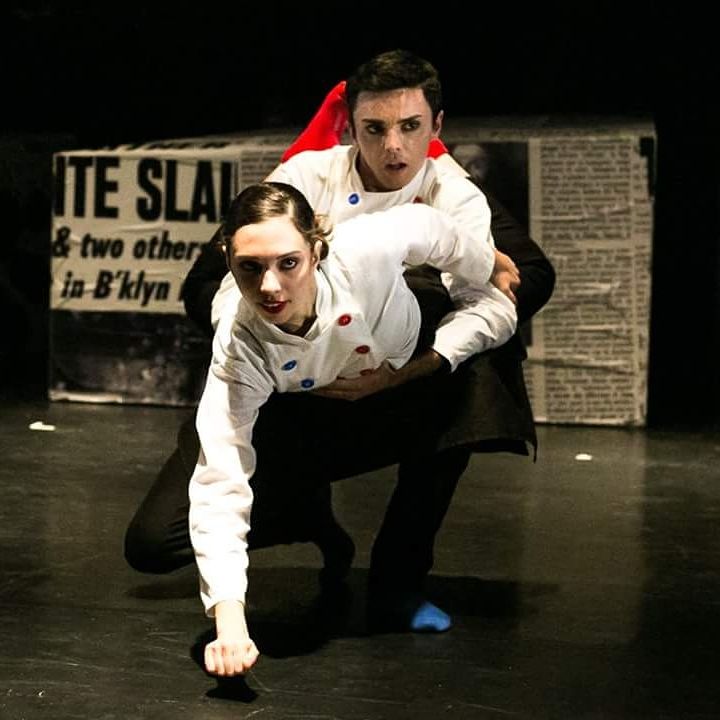 "The Last Supper" is a production by DEKKADANCERS, a team of artists, choreographers, and dancers launched in 2009 in Prague that performs its own projects on national and international stages. Of the thirteen dancers involved in "The Last Supper", some are members of the Czech National Ballet, some dance with Laterna magika (a multimedia theater founded at the EXPO in 1958 and reintegrated into Prague's National Theatre in 2010), and others are members of the National Theatre's ballet choir. Along with hunting flies, they danced, acted, sang, spoke, and played music; but first of all, they did each other in. "The Last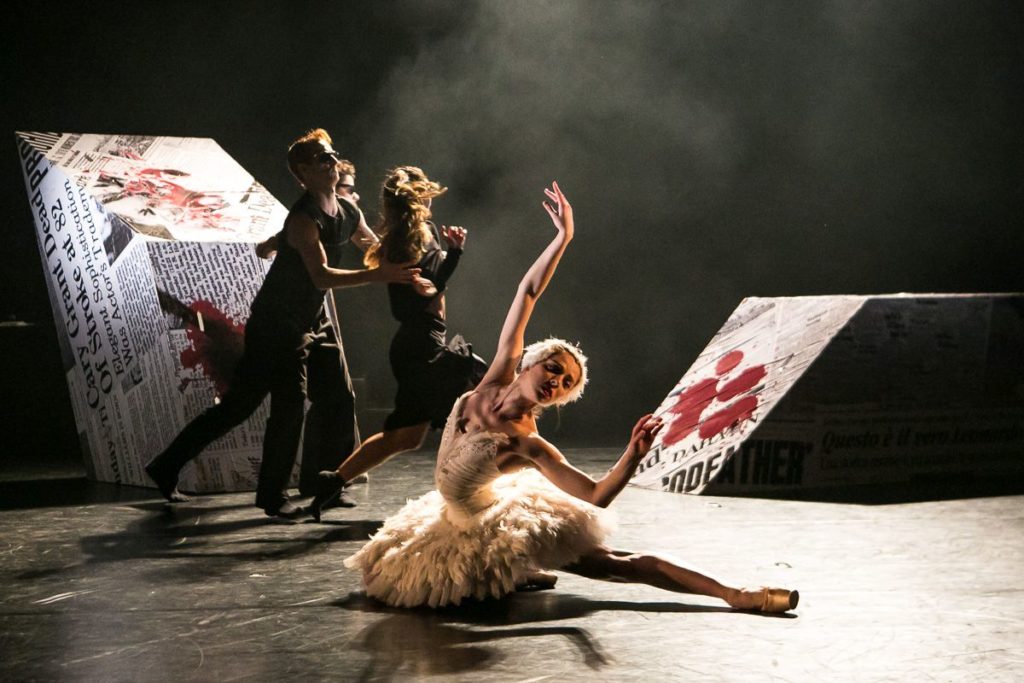 Supper" is about mafia bosses, gangsters, murderers, the intelligence service, and Russian ballerinas, but basically, it's all about sex and money.
To unravel the milieu's shady practices, one needed investigative skills, polyglot talent, a steadfast disposition, and a diaphragm trained for laughter. If I had understood the stories the characters introduced themselves with I would have more easily seen through the intrigues, conspiracies and manipulations. But my knowledge of French and Italian is marginal; my Czech and Spanish skills are non-existent. That exacerbated matters.
What strategy, for example, did the two clever chefs pursue? Their arms cut through the air as if sharpening knives or mincing meat. An intrepid team, they pushed the prime mafiosi (Štěpán Pechar) down fearlessly, stabbed him on the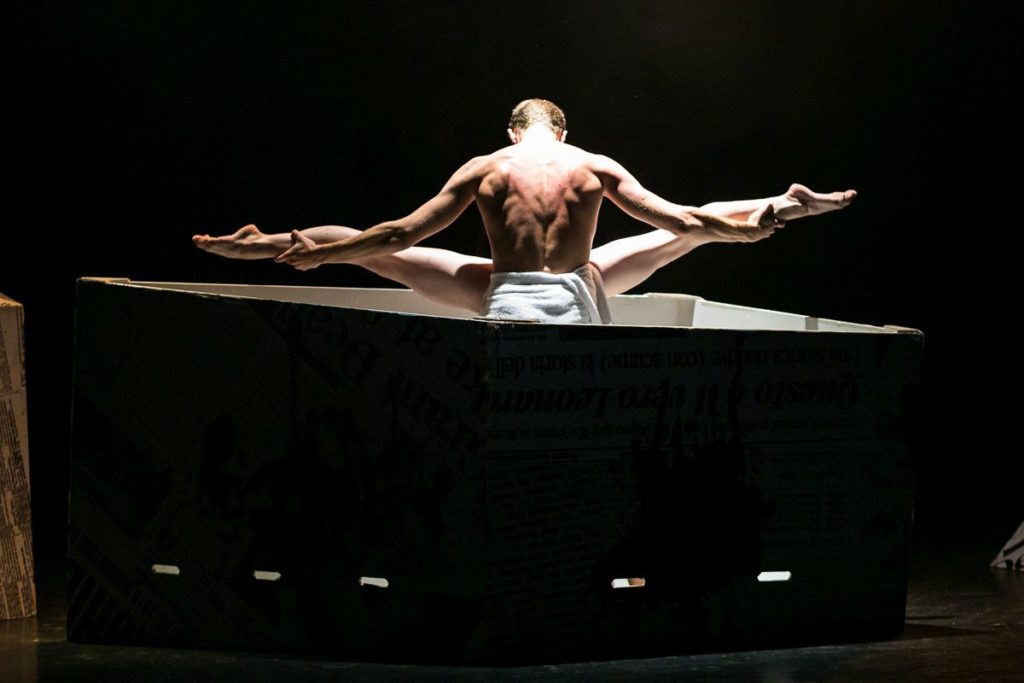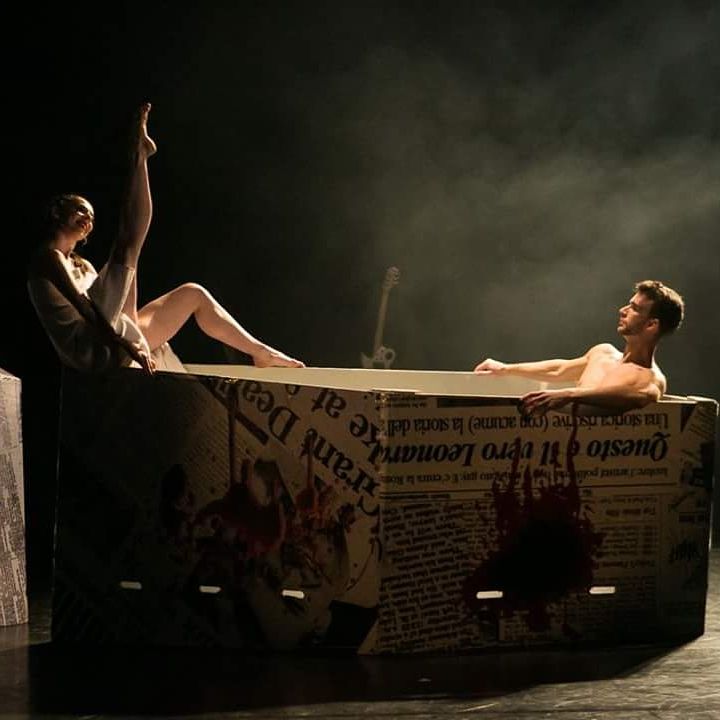 slaughter table, broke each bone in his arm as if it were a chicken wing, and made him tremble from electric shocks, but to no avail. The mafia boss, ever the Italian dandy, threw his white jacket over his shoulder and walked nonchalantly off. Also, adding dashes of arsenic to the menu proved an unreliable means to put some figures away. Pechar's mafiosi was the cunning puppeteer in a murky network. He stopped at nothing to execute bothersome opponents. His repertoire included shooting, strangling, clobbering, mowing down with a machine gun, or scaring someone to death.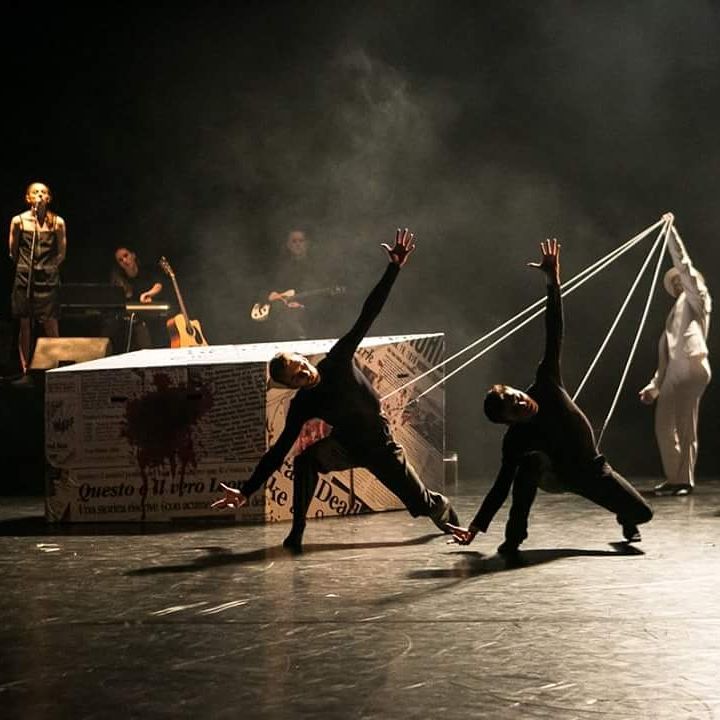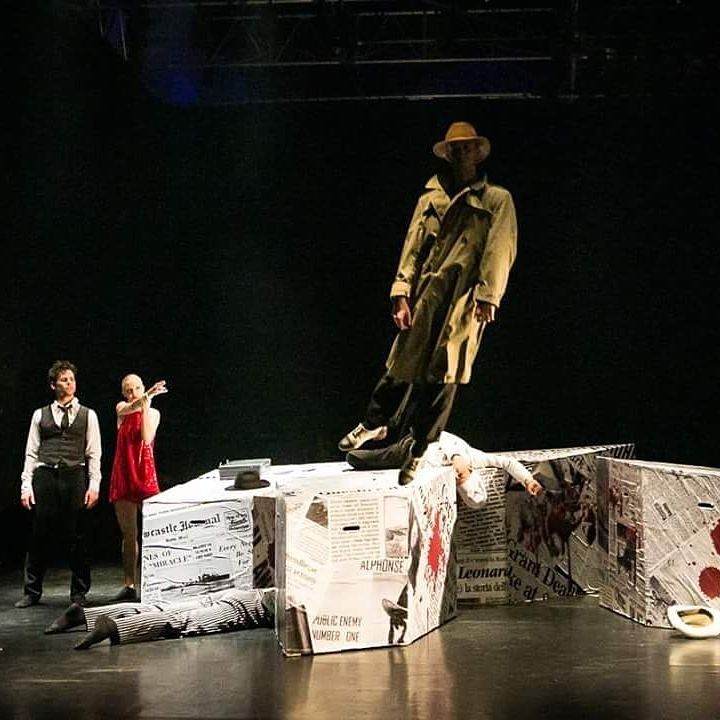 Where did the pretty Russian ballerina (Alina Nanu) learn so effectively to silence competitors en passant while continuing her performance of the dying swan? Admittedly, one could pick out the sound of the chainsaw she used to cut up an intrusive photographer in the wings before boureeing back onstage. But stabbing the conductor during the last bars added a fitting tragic end to the music. Her bodyguards weren't idle either. They pushed one disturber down the cliff, and another was given a bath in bubbling acid. The ballerina's sleek Russian lover (Alexandr Sadirov) and his sidekicks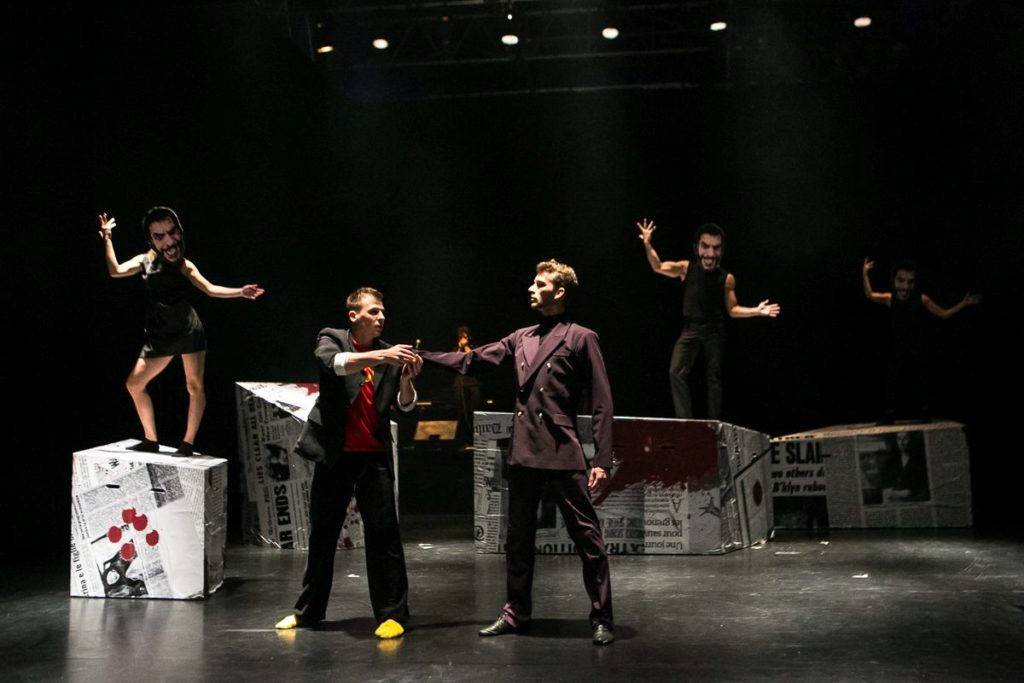 outdid each other in a Cossacks' folk dance – and the more vodka they had the more dashing their performance became. Whether the love affair was deeply felt or a game of cat-and-mouse wasn't clear though. While having a romantic bath together one could almost think they wanted to drown each other.
Could one trust in the sexy blonde singer in a tomato-red, sequin mini-dress (Kristina Kornová)? No! She turned out to be a German Interpol agent with savvy investigation tactics. First, she made time with a double agent (Ondřej Vinklát), then busted and interrogated the poor guy, before sweeping her boss (the tapping Matěj Šust) out of the way and absconding with the money suitcase – and the double agent! How wily the couple was became obvious when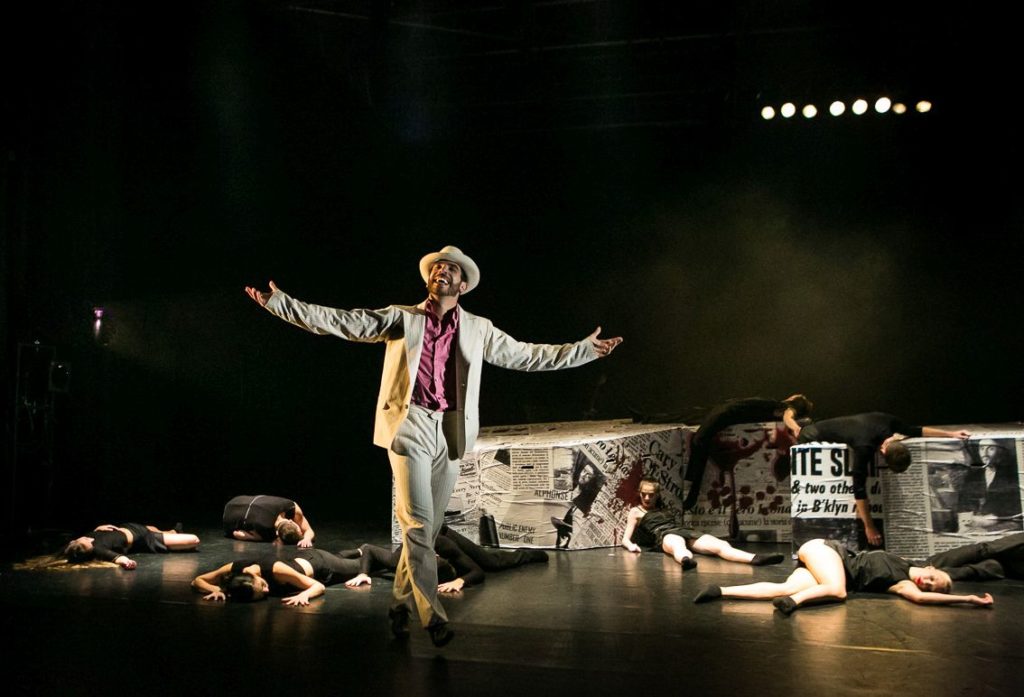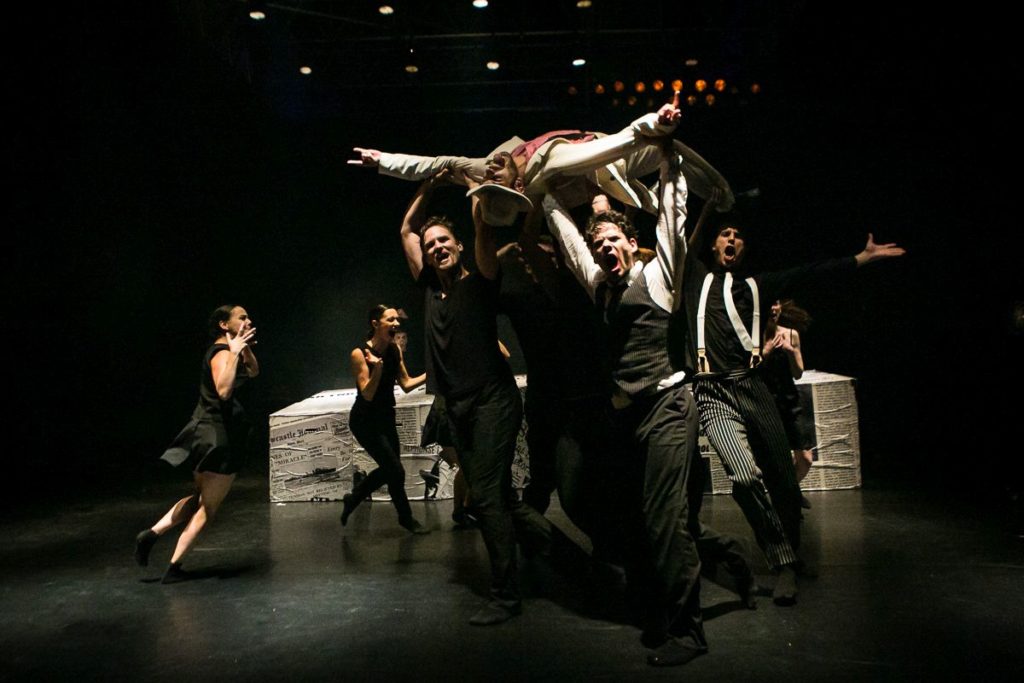 Vinklát's agent casually swat the nasty bluebottle.
"The Last Supper" has a screenplay and set design by DEKKADANCERS and Stepan Benyovszký. Štěpán Pechar, Ondřej Vinklát and Marek Svobodník were in charge of the choreography. The show was heavy on blood and thunder, but it was an exciting spoof cheered on by the audience.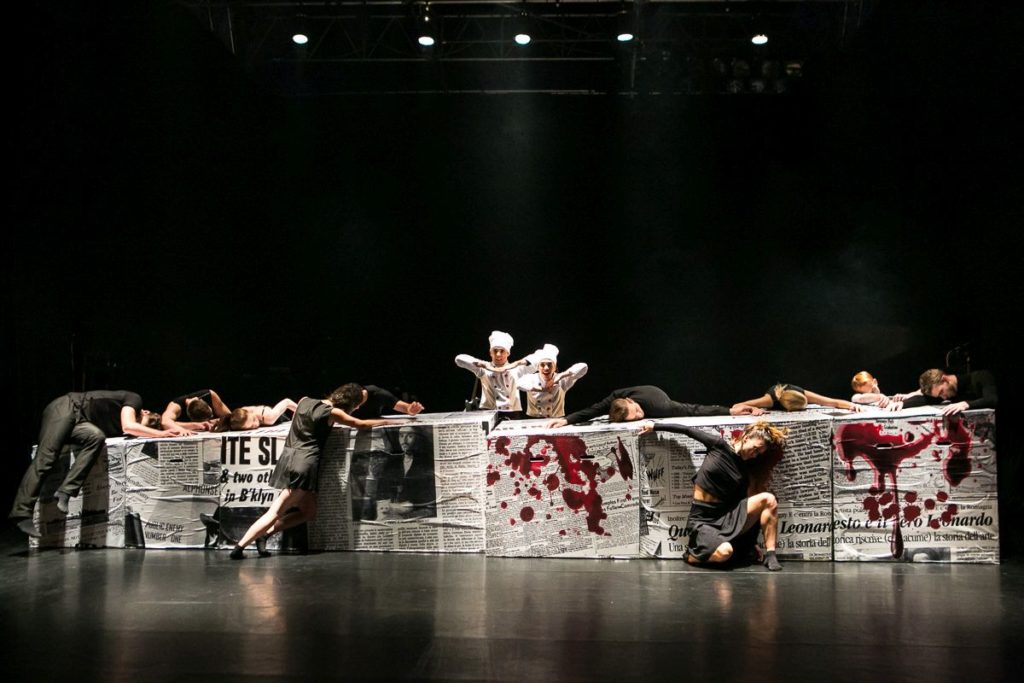 Links:
Website Czech Dance Info: DEKKADANCERS

Photos:

 1.

Štěpán Pechar, Mathias Deneux and Morgane Lanoue, "The Last Supper" by

Štěpán Pechar, Ondřej Vinklát and Marek Svobodník, DEKKADANCERS

 2.

Morgane Lanoue and Mathias Deneux, "The Last Supper" by

Štěpán Pechar, Ondřej Vinklát and Marek Svobodník, DEKKADANCERS

 3.

Alina Nanu,

"The Last Supper" by

Štěpán Pechar, Ondřej Vinklát and Marek Svobodník, DEKKADANCERS

 4.

Alina Nanu, Matěj Šust, Ondřej Vinklát and Tereza Kučerová,

"The Last Supper" by

Štěpán Pechar, Ondřej Vinklát and Marek Svobodník, DEKKADANCERS

 5.

Alina Nanu and

Alexandr Sadirov

,

"The Last Supper" by

Štěpán Pechar, Ondřej Vinklát and Marek Svobodník, DEKKADANCERS

 6.

Alina Nanu and

Alexandr Sadirov

,

"The Last Supper" by

Štěpán Pechar, Ondřej Vinklát and Marek Svobodník, DEKKADANCERS

 7.

Štěpán Pechar and ensemble, "The Last Supper" by

Štěpán Pechar, Ondřej Vinklát and Marek Svobodník, DEKKADANCERS

 8.
Ondřej Vinklát, Kristina Kornová and Matěj Šust, "The Last Supper" by Štěpán Pechar, Ondřej Vinklát and Marek Svobodník, DEKKADANCERS

 9.
Adam Sojka, Alexandr Sadirov and ensemble, "The Last Supper" by Štěpán Pechar, Ondřej Vinklát and Marek Svobodník, DEKKADANCERS

10.
Štěpán Pechar and ensemble, "The Last Supper" by Štěpán Pechar, Ondřej Vinklát and Marek Svobodník, DEKKADANCERS

11.
Ivana Mikešová, Morgane Lanoue, Tomáš Kopecký, Ondřej Vinklát, Marek Svobodník and Štěpán Pechar, "The Last Supper" by Štěpán Pechar, Ondřej Vinklát and Marek Svobodník, DEKKADANCERS

12.
 

Mathias Deneux and Morgane Lanoue, "The Last Supper" by

Štěpán Pechar, Ondřej Vinklát and Marek Svobodník, DEKKADANCERS

all photos

©

Michal Hančovský

 Editing:
Tiffany Lau