Marina Grut:
"My Dancing Life: Spanish and Ballet Across Three Continents"
317 pages, colored and b/w photos
The Book Guild Publishing, August 2017
ISBN: 978-1912083541
February 2018
by Ilona Landgraf
Copyright © 2018 by Ilona Landgraf
Marina Grut – a South Africa-born dancer, dance mistress,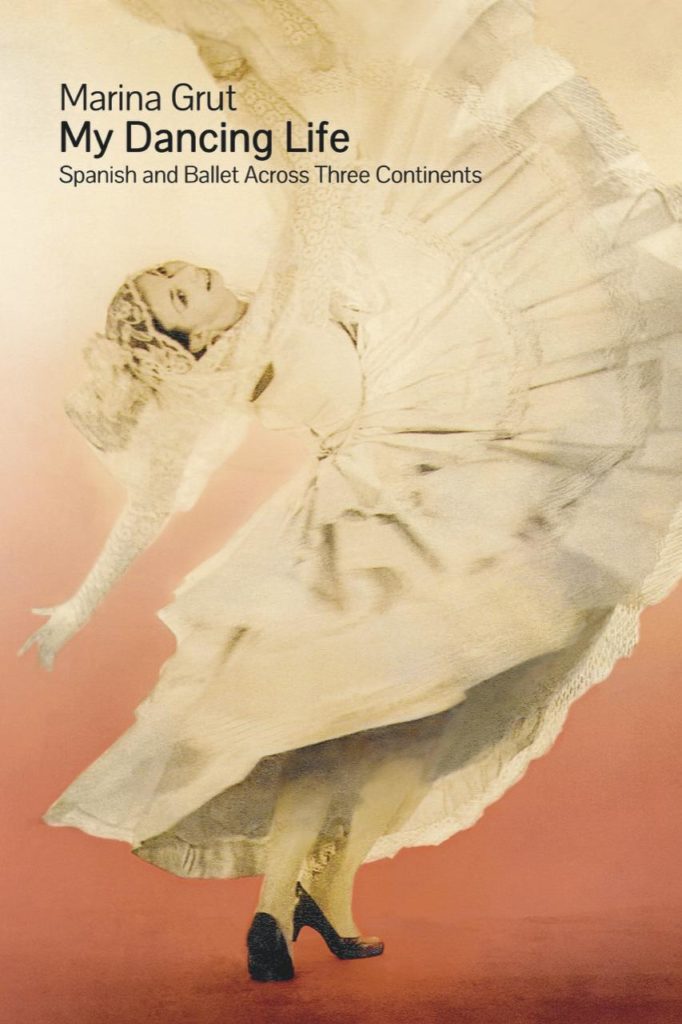 and choreographer – has already written three historical books: one on the history of ballet in South Africa, one on the history of the Bolero, and a third on the history of the Royal Swedish Ballet. Her fourth book deals with another important history: her own.
Grut (née Keet) was born in 1934 and received her first ballet training in Cape Town. At the young age of sixteen, she took over a local dance studio in Stellenbosch, her family's hometown, commuting daily to Cape Town to continue her studies at the University Ballet School under Dulcie Howes. In 1956, Grut quit ballet to instead focus on teaching Spanish dance. Three years later, she married a doctor of forestry from Denmark, traveling with him from Sweden to South Africa, Rome, Washington D.C., and London. Wherever she went, Grut indefatigably promoted Spanish dance. She taught, lectured, excavated regional dances, and organized performances. One of her main achievements was the development of the Spanish Dance Syllabus for the Spanish Dance Society in 1965. It became the standard for the training and evaluation of students of Spanish dance.
Grut has long been well-connected within the dance scene, earning great success and many honors for her work. And yet for several reasons her book fails to present her achievements in a proper light.
First, Grut's narrative style is unstructured. She often gets carried away and rambles, showering us with anecdotes and minor quibbles rather than highlighting the essential. When a name is mentioned, Grut begins to describe that person in detail; these digressions break the book's flow. Most of the people in her book are either characterized as "beautiful" or "charming". Chapter thirty-four feels like a sudden dive into freezing water; eschewing introductions and dates, it recalls performances in New York. The following chapter mentions a mysterious "certain European country", where Grut was appointed to be a judge in a choreography competition, but it seemed to be more important that Grut was on friendly terms with Olga Lepeshinskaya, a Bolshoi prima ballerina who was also part of the jury.
The book's forty-four chapters seem to follow a chronological order overall, but within these chapters Grut meanders back and forth. Having already introduced her husband Mikael in the third chapter, she treats him as if an unknown friend of a friend in chapter nine. In chapter sixteen, captioned with the year 1964, Grut provides a brief summary of her three children's histories and expresses her pleasure about her grandchildren – yet in the following chapters it turns out that her youngest son had been born years later. A few chapters, such as "Christmas with Karen in Hanover, 1955", seem dispensable at only one or two pages long.
The best structured and most informative paragraphs are those quoted from reviews of Grut's earlier books by the dance critics Clement Crisp and Jack Anderson.
The second issue is that Grut presents herself as an unselfish advocate for Spanish dance, but hardly misses a chance to mention the praise heaped on her by others. We learn that the book "The Bolero School" was considered "a real jewel," that the book on the Royal Swedish Ballet was called "wonderful" and "a masterpiece," and that "The History of Ballet in South Africa" was said to become "the Bible of South African dance for the future." Quotations from reviews affirm how successful performances were, and reprinted letters of appreciation are heavy with accolades. Right in the introduction, Grut recalls her surprise at being honored with the title of Dame of the Order of Queen Isabel of Spain for her preservation and presentation of Spanish dance a title her husband thinks she deserves. In the second to last chapter, Grut summarizes the history of the Carina Ari Foundation in Sweden, lists a remarkable array of dancers and choreographers who were awarded the Carina Ari Gold Medal – and notes that, to her surprise, the great honor was bestowed on her as well. The portrait on the book's back jacket shows her with this medal.
Usually, when drawing praise, Grut would almost faint or become weak in the knees, saying that it had never occurred to her how treasured her work was. Her modesty sounds hypocritical. Chronicling her life was a good idea – but it would have been an even better idea to leave the chronicling to someone else.