"La Fresque"
Ballet Preljocaj
Forum Ludwigsburg
Ludwigsburg, Germany
January 11, 2019
by Ilona Landgraf
Copyright © 2019 by Ilona Landgraf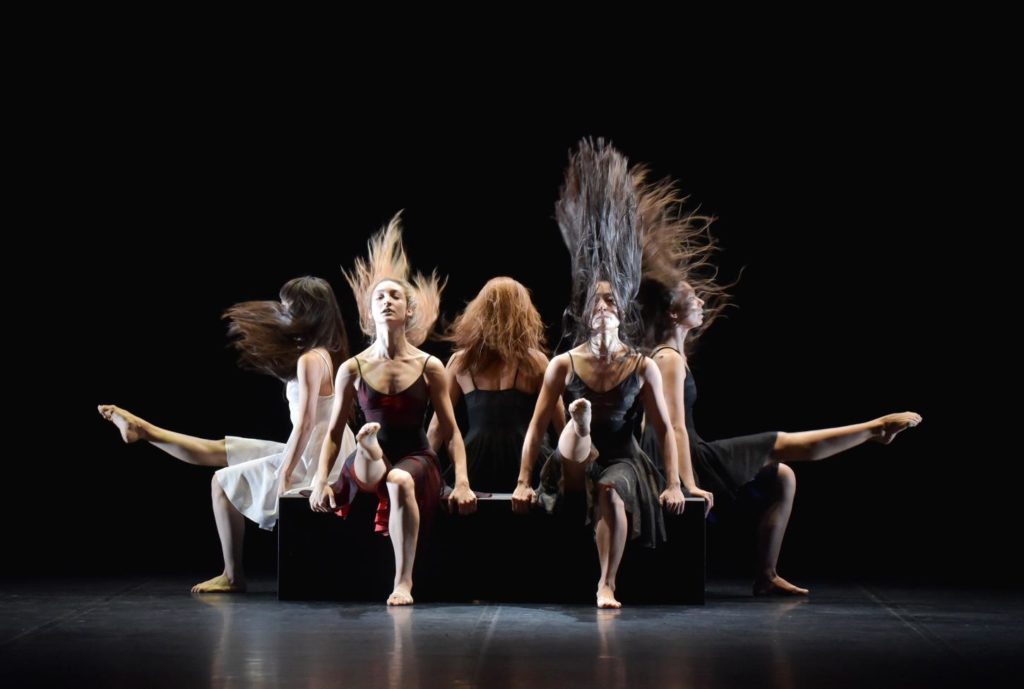 Ballet Preljocaj, Angelin Preljocaj's Aix-en-Provence-based company, toured Germany in early January with "Le Fresque". The piece, which features choreography by Preljocaj from 2016, depicts and interprets "The Mural", a narrative from the collection "Strange Tales From a Chinese Studio" by Chinese author Pu Songling (1640 – 1715). Two male wayfarers, Chu and Meng, are forced by inclement weather to stop at a dilapidated temple. There, a temple fresco showing a group of young women attracts Chu's attention. He falls in love with one of the women and, while watching her, suddenly finds himself inside the painting. The painting comes surreally to life, and a romance blossoms between Chu and the woman, climaxing in a consummation of the marriage. Shortly afterwards, a frightening man arrives, decked out in armor and searching for the mortal intruder who has entered the painting. At the moment that Chu attempts to hide himself, he is vaulted back into reality. When he looks back at the fresco, he noticed that the woman's hairdo had changed: instead of braids, she now wears a chignon – the symbol of a married woman.
It is strange and inspiring material. Sadly, it didn't seem to spark inspiration in Preljocaj.
Preljocaj employs a cast of ten – five women and five men – who perform multiple roles. Alongside Chu, Meng, and the young woman, the ensemble takes on a myriad of roles: three monks, who welcome the wayfarers; masked figures engaged in an apparent marriage ritual; three men in armor threatening the lovers; and four other women – who begin as part of the fresco and later ceremoniously roll the bride's long hair into a chignon.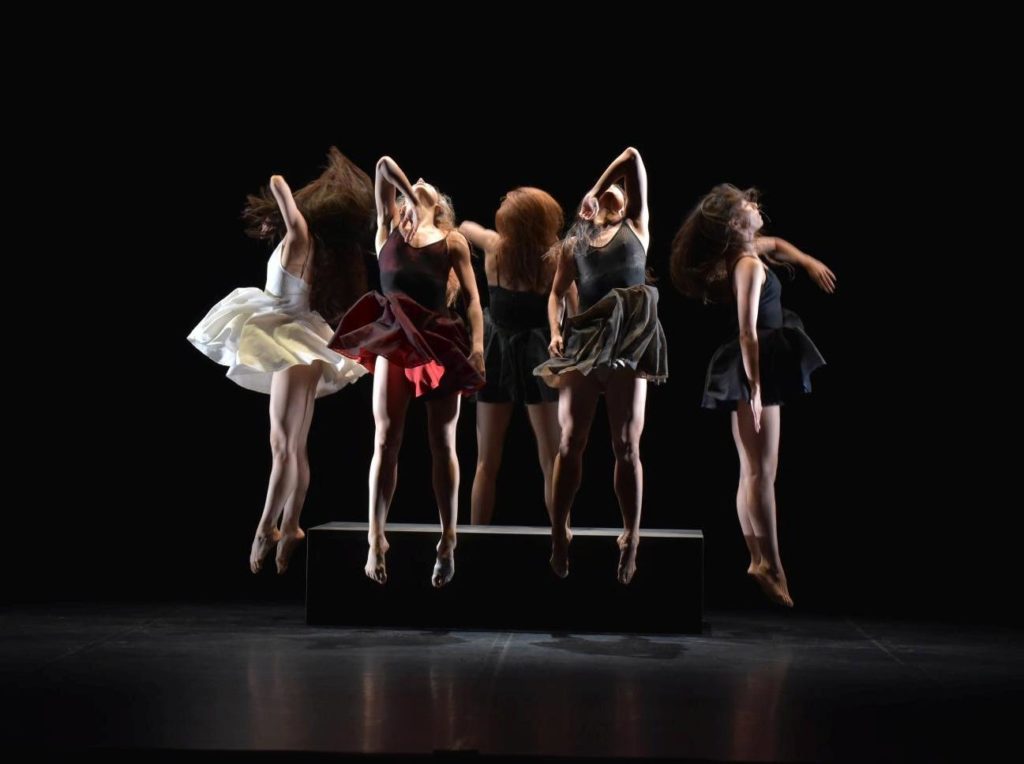 The costumes are by the late Azzedine Alaïa, a Tunisian fashion designer who was working in Paris. He dressed Chu and Meng in checkered shirts and corduroy pants held up by suspenders. The women wore various short dresses, while the monks were decked out in black fluttering robes and the armed men were snugly wrapped into full-body camouflage leotards with accompanying military helmets.
Constance Guisset's set design is sparse: a platform on which the women of the painting pose, and five ropes that hang down from the ceiling. The ropes are used by five male/female couples in a meditatively slow episode of half-erotic, half-acrobatic gymnastics. Guisset primarily deploys black drop curtains and video projections to evoke various environs; these include veils of haze, a shelter overgrown with greenery, and a sky strewn with stars among which white blotches pop up and fade. The result is a gloominess that stems as much from the set as it does from Éric Soyer's lighting, which swerves between semi-darkness and eyesore brightness.
| | |
| --- | --- |
| | The recorded music doesn't do much to evoke a dreamy, romantic mood either. Nicolas Godin treats us to simple repetitive rhythms, onto which he gradually layers similarly monotonous soundscapes. The final products, which are played on endless loops, are tiresomely trite: a saxophone solo, for example, is added to hodgepodge of sounds that includes a bubbling sound like that of a giant boiling cauldron. The sound of rattling is paired with panpipes and layered over a single-note warning signal that seems to herald the encounter between the wayfarers and the temple monks. Clattering Asiatic melodies are drowned out by clunky, uniform rock music, to which |
the dancers stride and turn in rhythm. The unvarying sound of artificial breathing accompanies thewayfarers as they rest at the temple. Saber-rattling and dramatic fanfare herald the appearance of the armed men. Thankfully, it's sometimes silent.
A considerable chunk of Preljocaj's choreography is as unexpressive as it is unimaginative. There are a few impactful scenes and movements – for example, the Swan-Lake-like undulations of the women's arms, the gladiatorial entrance of the armed men, or the crawling and rolling of the wayfarers, who wander the stage on all fours. Yet what looks limber or punchy in the piece's video trailer does not have the same effect live. Several sequences drag on for far too long, while others seem to have been assembled from random movements with an incomprehensible message. The first romantic pas de deux between Chu and the woman lacks any genuine emotionality. Later, the dancers stand in a tight triangle and hop up and down, moving the arms either up or to the side (an unsuccessful reference to Bronislava Nijinska's "Les Noces"?). As the music accelerates, they hop and flutter even more – but the end result looks ridiculous rather than "off".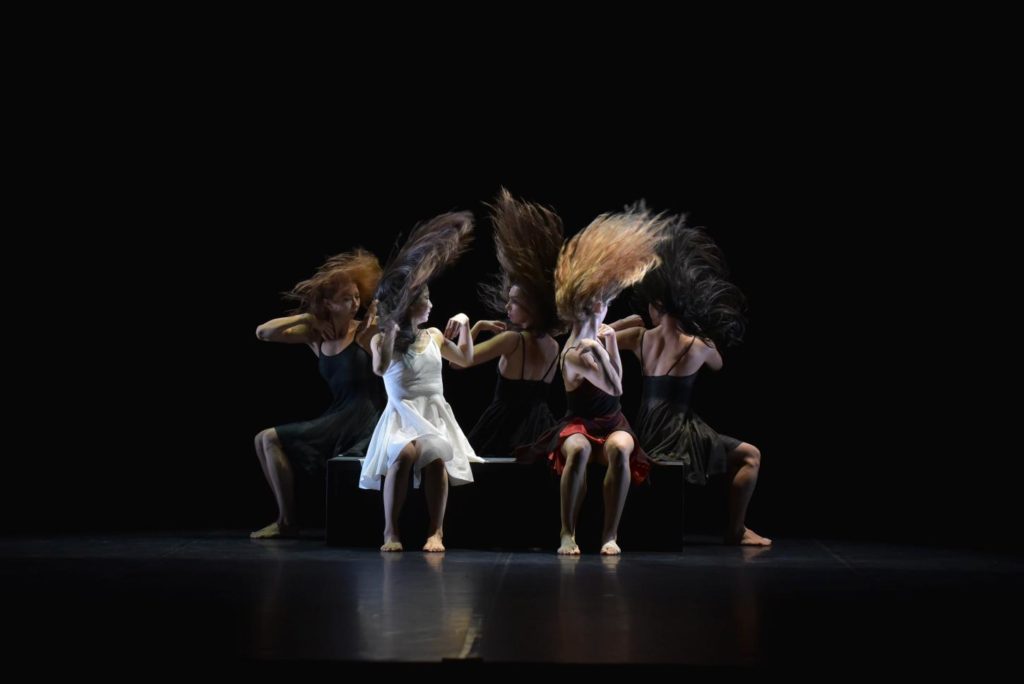 One final question regarding the five women representing the fresco: what kind of woman is it that – in Preljocaj's opinion – mesmerizes a man? The women are dressed in negligees and wear their hair down, posing in stilted tableaus and occasionally writhing suggestively. We are made to think that they are weak women who are in need of a man. Moments later, as the women begin to move, they sit on the edge of their pedestal, tossing their heads back and forth so that their manes of hair fly high. They stretch one leg and then the other, fall forward onto their hands, sit back, move one place further on the pedestal, and start the routine all over again. The scene reminded me of Ohad Naharin's "Minus 16" – except that Naharin's piece has power, while Preljocal's does not. His choreographic material seems to have been laundered with too much fabric softener.
The program leaflet mentions a slew of substantive topics that Preljocaj aims to address in "La Fresque": transcendence, Plato's allegory of the cave, life and lifelessness, and the power of imagination. If transcendental experiences turn out to be that drab and boring, it might just be a failing of the imagination.