"Cinderella"
Dutch National Ballet
Dutch National Opera & Ballet
Amsterdam, The Netherlands
December 29, 2018
by Ilona Landgraf
Copyright © 2019 by Ilona Landgraf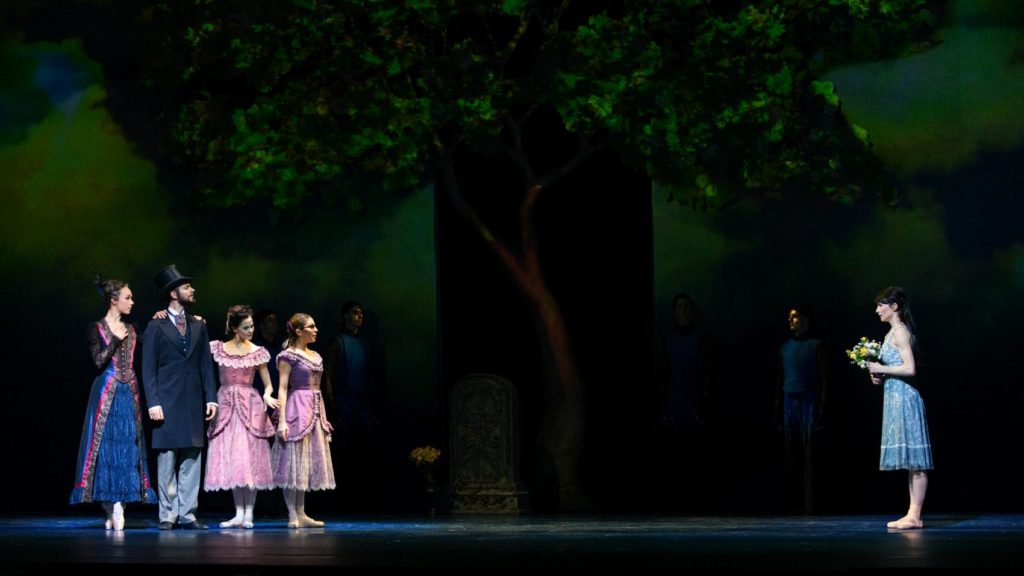 Gripping storytelling is a gift – and Christopher Wheeldon has it. His "Cinderella", revived by the Dutch National Ballet this Christmas season, warms the heart. It's the right ballet at the right time. As I strolled through the foyer during the breaks, I saw the enthusiastic faces of the many children who attended the matinee with their parents, including a few youngsters imitating dance steps and one girl turning cartwheels – which are not in Wheeldon's choreography – in the entrance hall.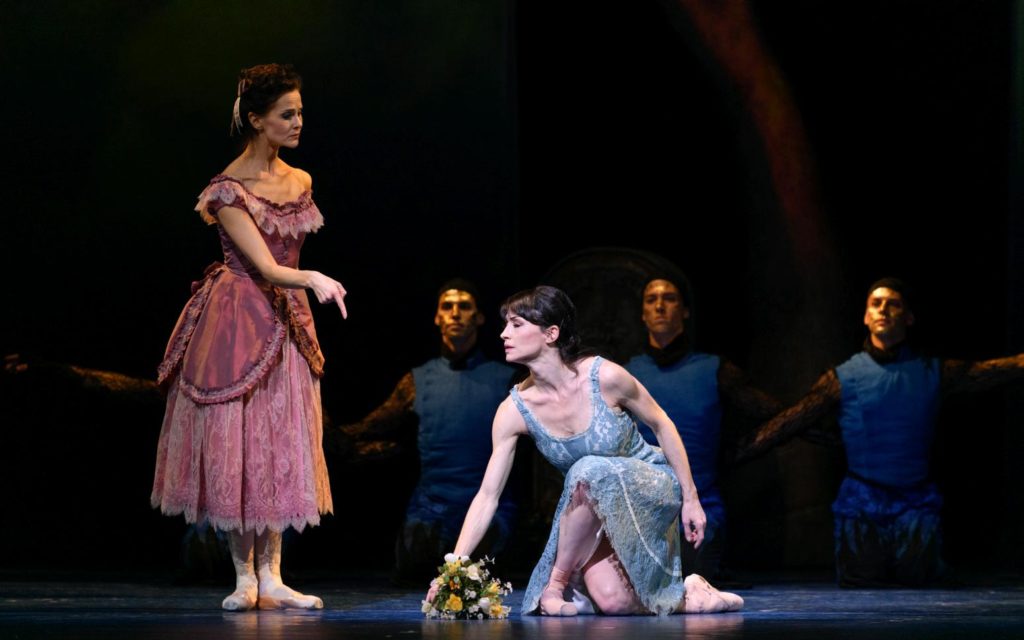 The choreography of "Cinderella" – a co-production of the Dutch National Ballet and the San Francisco Ballet – was created partly in San Francisco and partly in Amsterdam (the premiere in December 2012 was danced by the Dutch). Since then, the ballet has become a success which begs the question: what ingredients did Wheeldon and his team mix together to make it so?
Wheeldon based his adaption on several sources: the Brothers Grimm's "Cinderella" (early 19th century), Charles Perrault's "Cendrillon" (1697), and Rossini's opera "La Cenerentola" (1817). Wheeldon melds together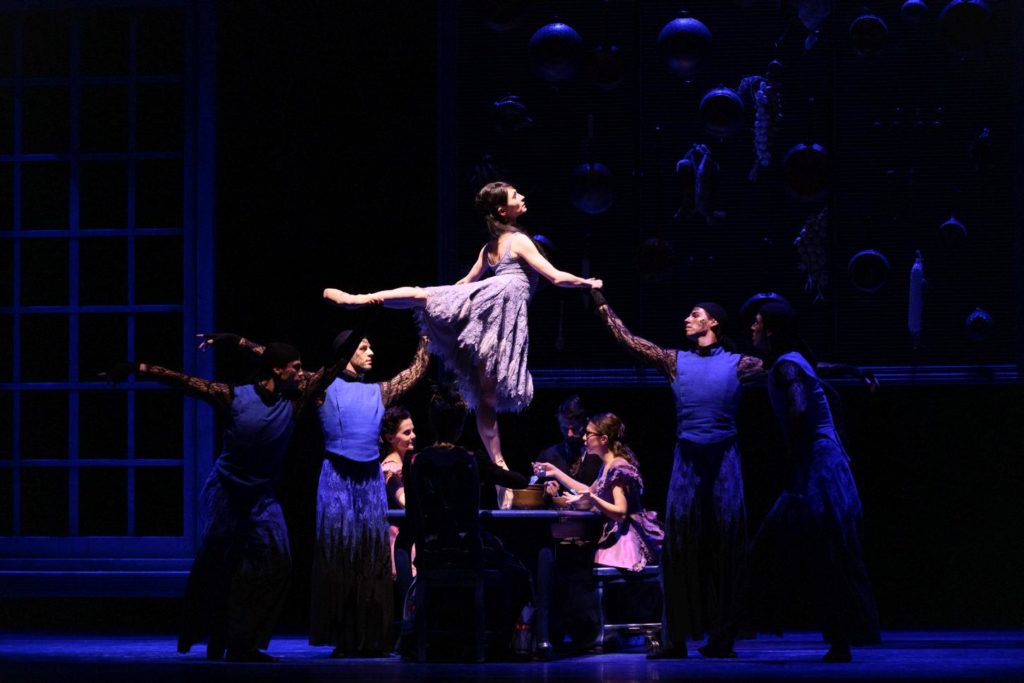 these three works (for example, bringing along the mix-up of character and clothing that amusingly drives the plot of "La Cenerentola") and the tweaks the story even further. His Cinderella is a strong young woman rather than a victim. He focuses equally on both Cinderella and Prince Guillaume, her groom-to-be, unrolling the thread of the story from their childhoods onwards. This history bolsters the production by giving the characters more depth.
The production weaves together episodes from the lovers' lives. It's almost as if fate has aligned their stars from the very beginning: we watch Cinderella as a girl, weeping at the grave of her mother, and moments later we witness young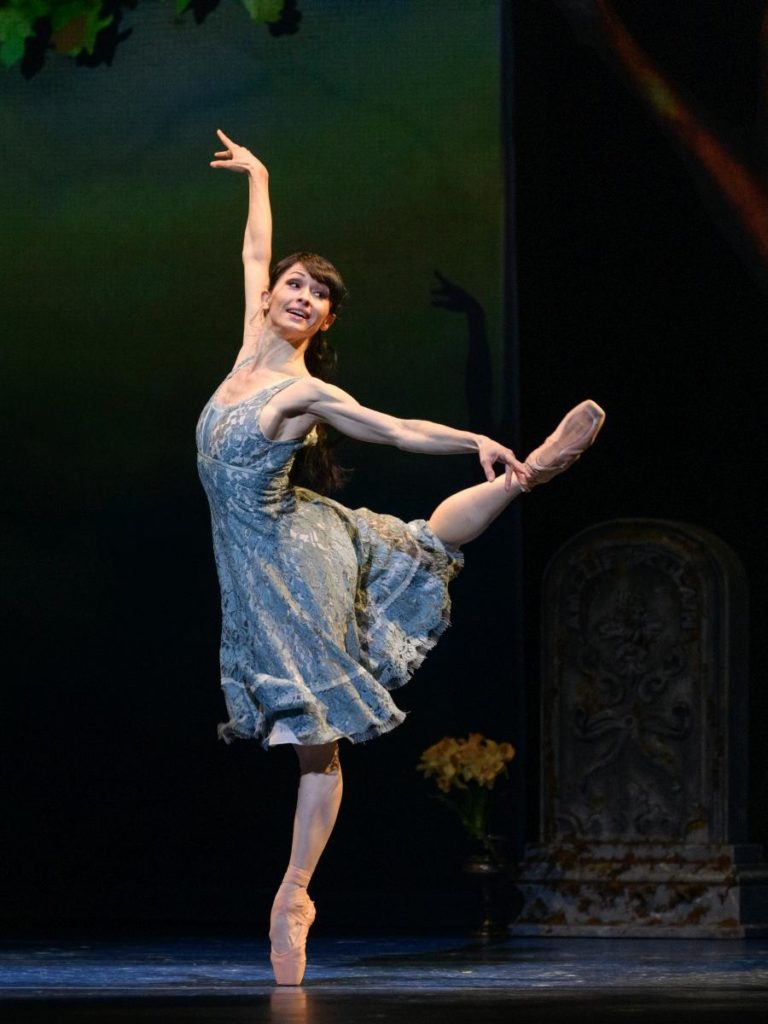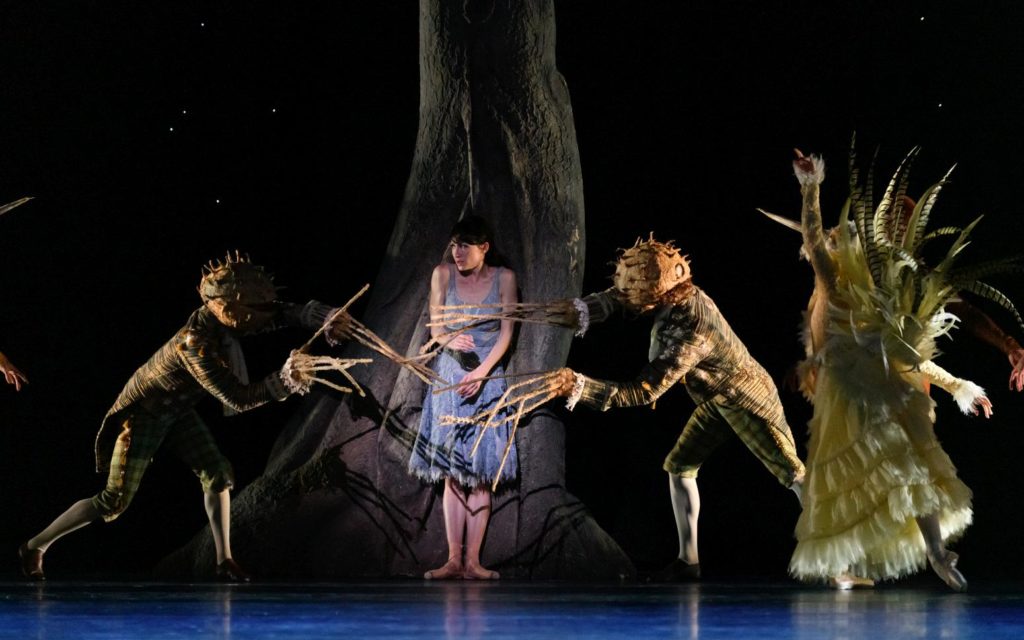 Guillaume and his friend Benjamin frolicking around the royal palace. Movable set elements by Julian Crouch allow fluid transitions from one scene to the other, never interrupting the arc of suspense. If a curtain is needed for set changes, then a curtain with semi-transparent sections is used; what is vaguely visible arouses the audience's curiosity as to what is going on behind. This and other clever lighting effects are by Natasha Katz.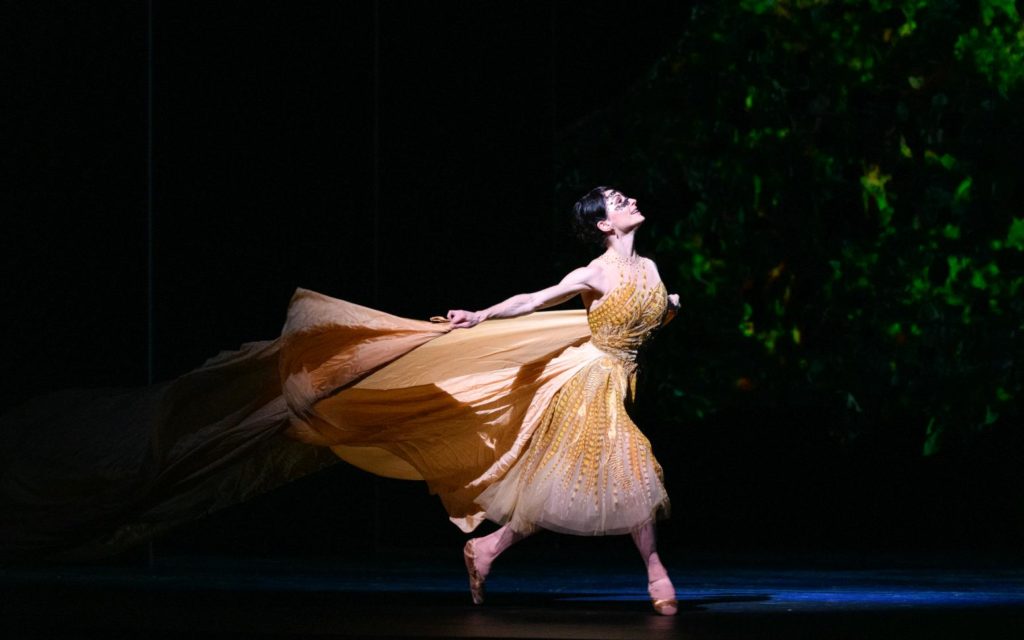 Crouch designed the costumes as well – and here, too, he did a brilliant job. At the royal ball, the gentlefolks' evening dresses whirl through the air, their blues, turquoises, and purples contrasting strongly with the ball-room's red interior. Hortensia, Cinderella's evil stepmother, wears a headdress of feathers at the ball that towers over her head like antlers. Her two daughters, Edwina and Clementine, are dolled up in feathers like circus horses on parade.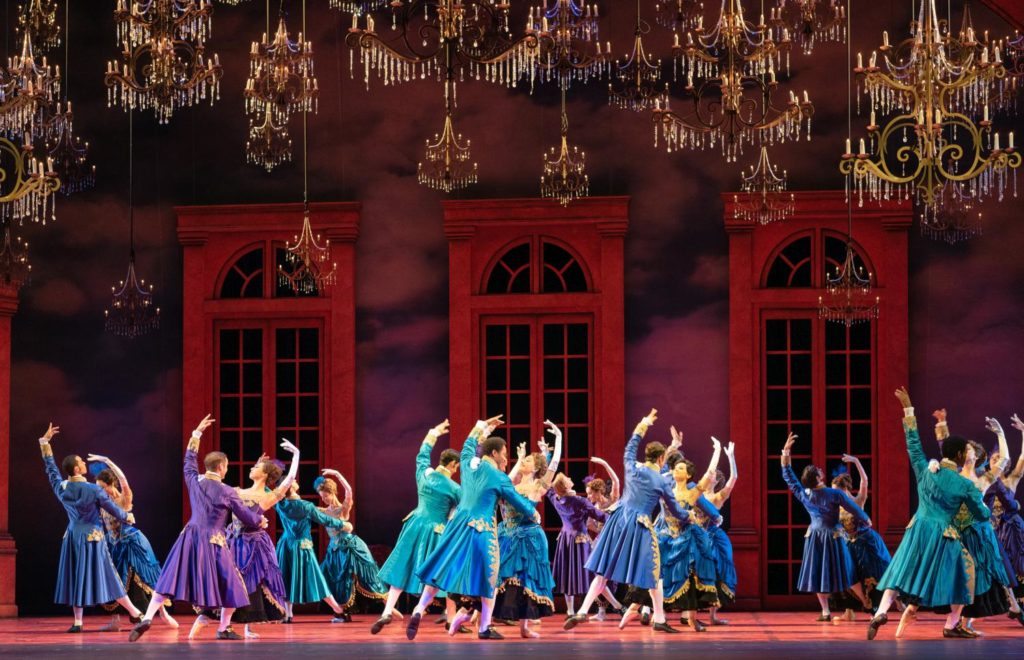 Fabulous costumes were provided to the good spirits and creatures of nature that support Cinderella: two dancing chestnuts, a pair of goblins with gigantic heads, and four birds with spiky beaks and fluffy feather tufts. These creatures reside in and around the magic tree that has sprouted from young Cinderella's graveside tears. Basil Twist, a New York-based puppeteer, created the tree using video projection that magically changes shape and color. Within the tree's broad trunk, Cinderella transforms from a ragged maid into a beauty in a marvelously delicate golden ball-gown. Tree branches morph into the wheels of the coach that carries her to the royal ball. She looks like a goddess in a celestial chariot.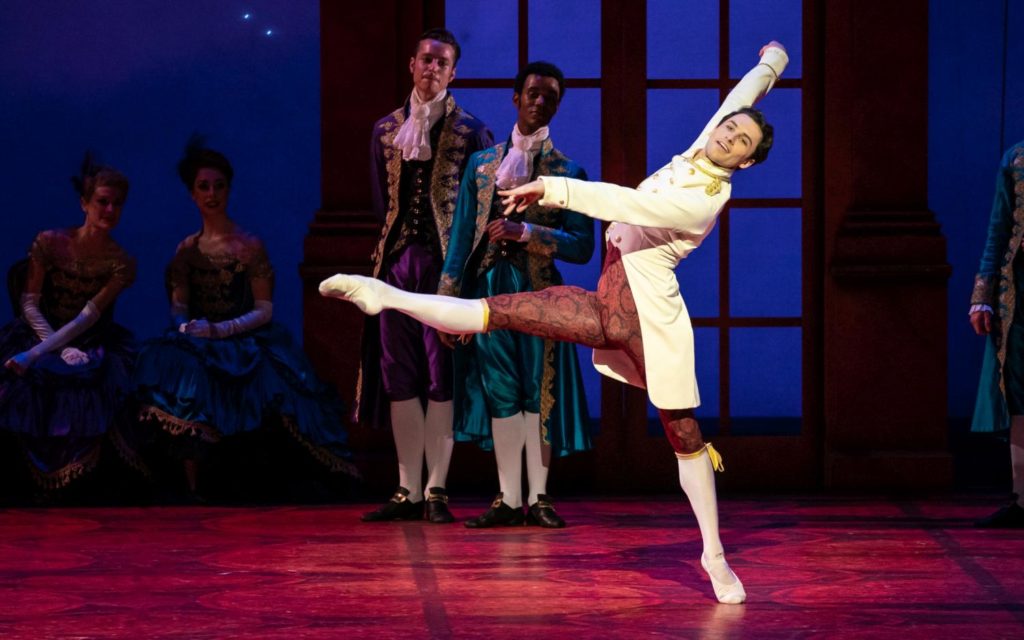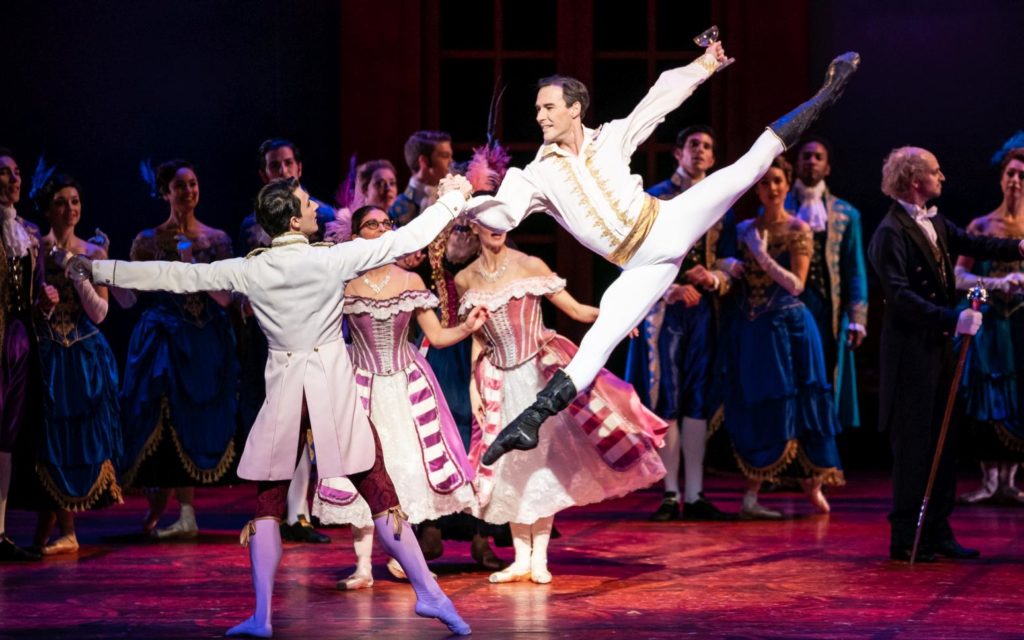 "Cinderella" has a happy ending, but until that point it is quite a sad story. Prokofiev's music simmers with dark and jarring undertones, covering a broad emotional spectrum that ranges from grief and loneliness to bliss and love. Navigating this expanse requires keen instincts, and Wheeldon wields his expertly – without sparing any humor. To mention just one example: in the final scene, when Cinderella and Guillaume get married under the magic tree, they separate themselves from the wedding guests and kiss each other at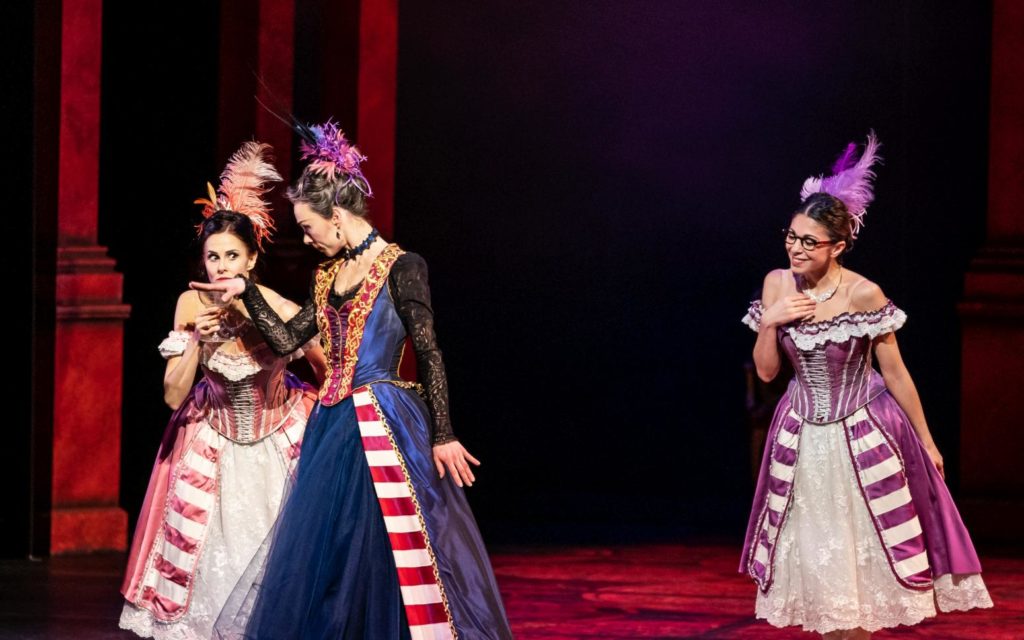 the forestage. Pathos lurks dangerously – but exactly at the moment of the kiss, Wheeldon has the wedding party open a bottle of champagne, deflating any lurking over-emotionalism.
Wheeldon's choreography is varied and rich with acting. As Cinderella matures from a lonely child to a charming princess, her style of movement gradually changes as well. Though sad and playful as a child, she becomes modest and shy as a young woman. Guillaume, disguised as a beggar, swiftly wins Cinderella's trust, though being touched by a young man is new for her. The night of the ball, spirits representing the seasons show Cinderella how to express herself through dance. The spring's green spirits teach her lightness; the sun-yellow summer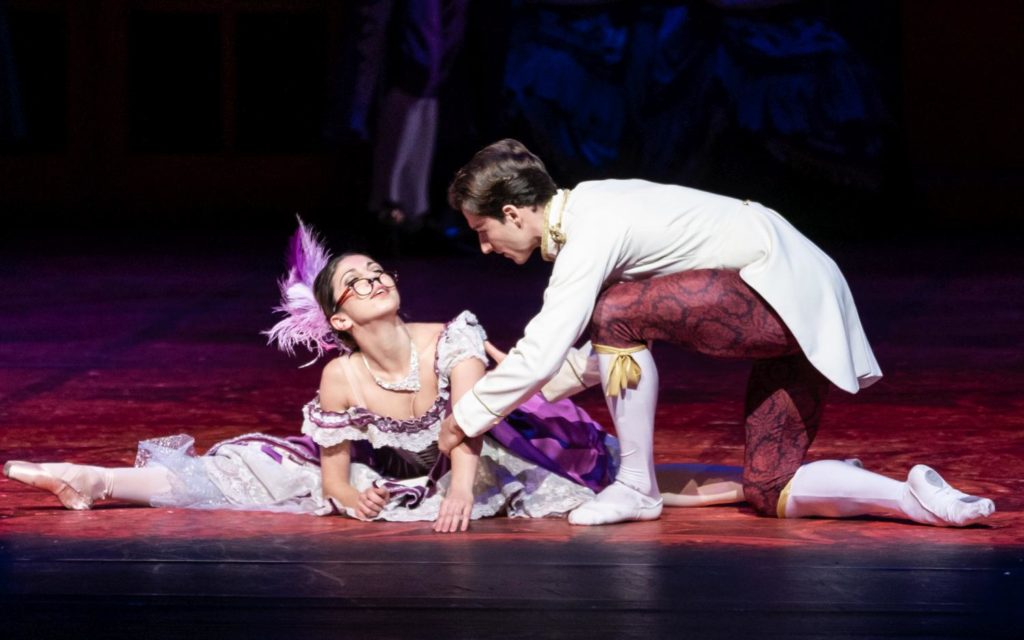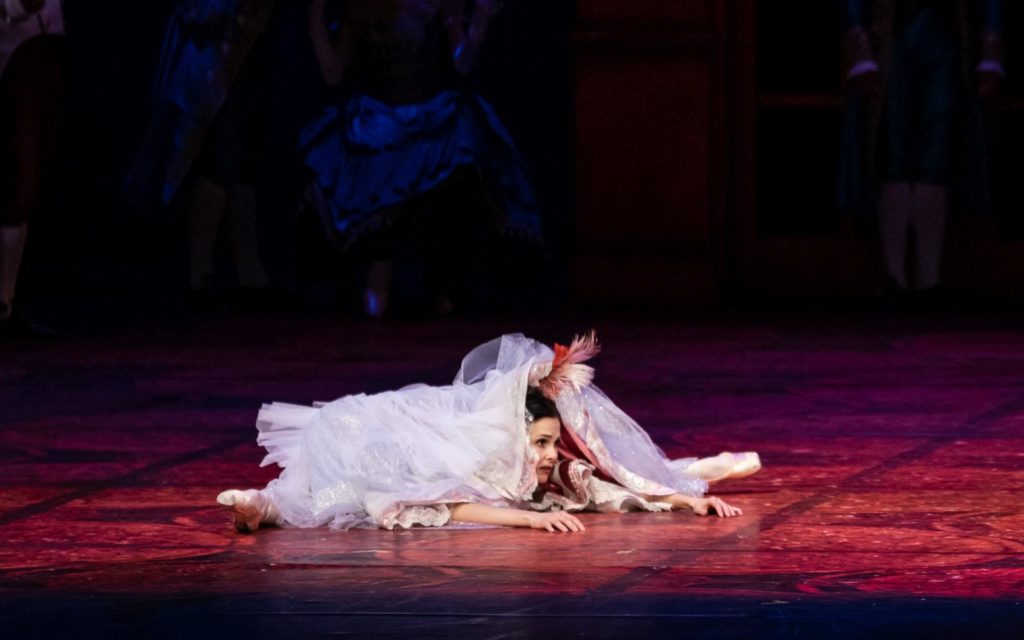 spirits imbue her dance with generosity; and from the grown autumn and blue winter spirits she learns mystery and fluidity. She's well equipped for the ball, and her pure, refined energy heralds her appearance before she even sets foot in the ball-room.
Young Guillaume, armed with his wooden sword, is a scallywag – but a kind one – and is regularly straightened out by his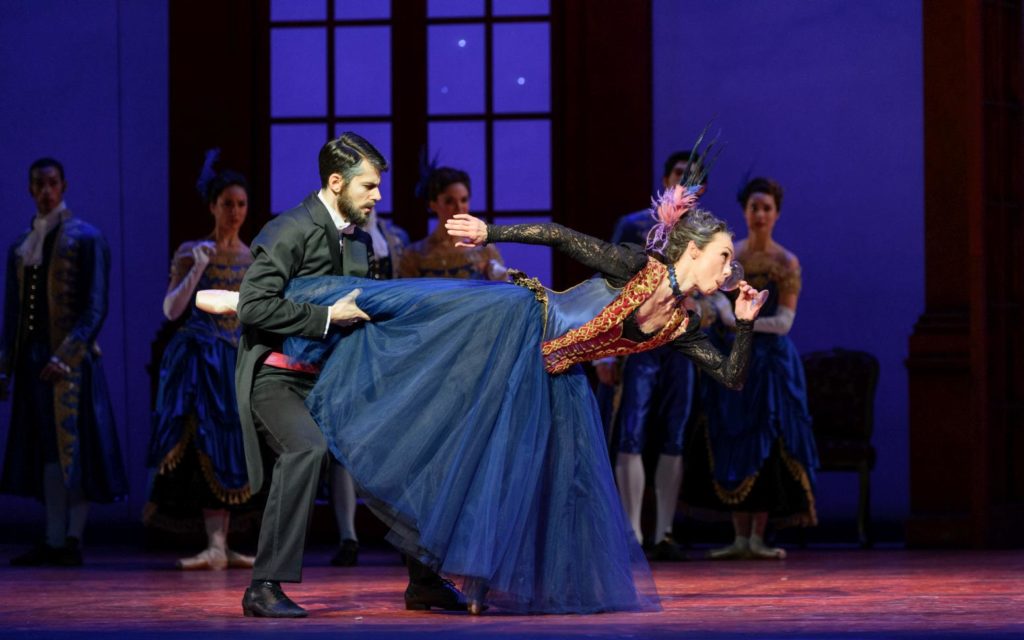 father, King Alfred. Benjamin, Guillaume's best friend, is of the same ilk. Although both have reached the age of marriage, the young men's heads are still filled with nonsense. When Guillaume's parent gives an order to find him a bride, it seems like a good opportunity for yet another prank… until Guillaume runs into Cinderella – and is suddenly propelled into adulthood. He turns out to have the attributes of a dream man: reliability, gentleness, a loving heart, humor, brio, and handsomeness – the type of man that only exists in fairy-tales.
Anna Tsygankova was the matinee's Cinderella; Jozef Varga danced her Prince Guillaume. Both are great actors and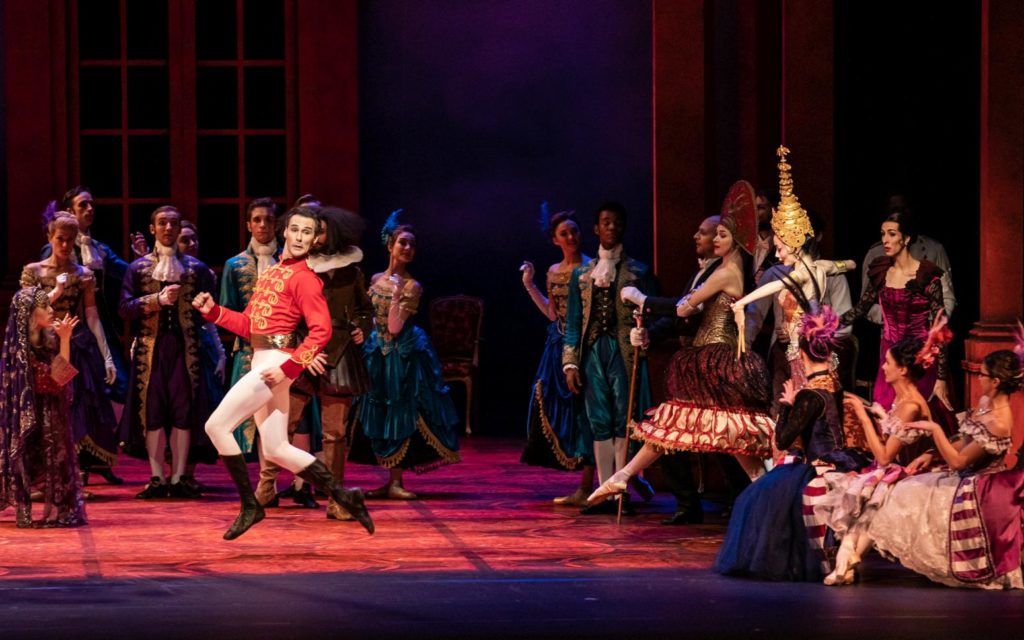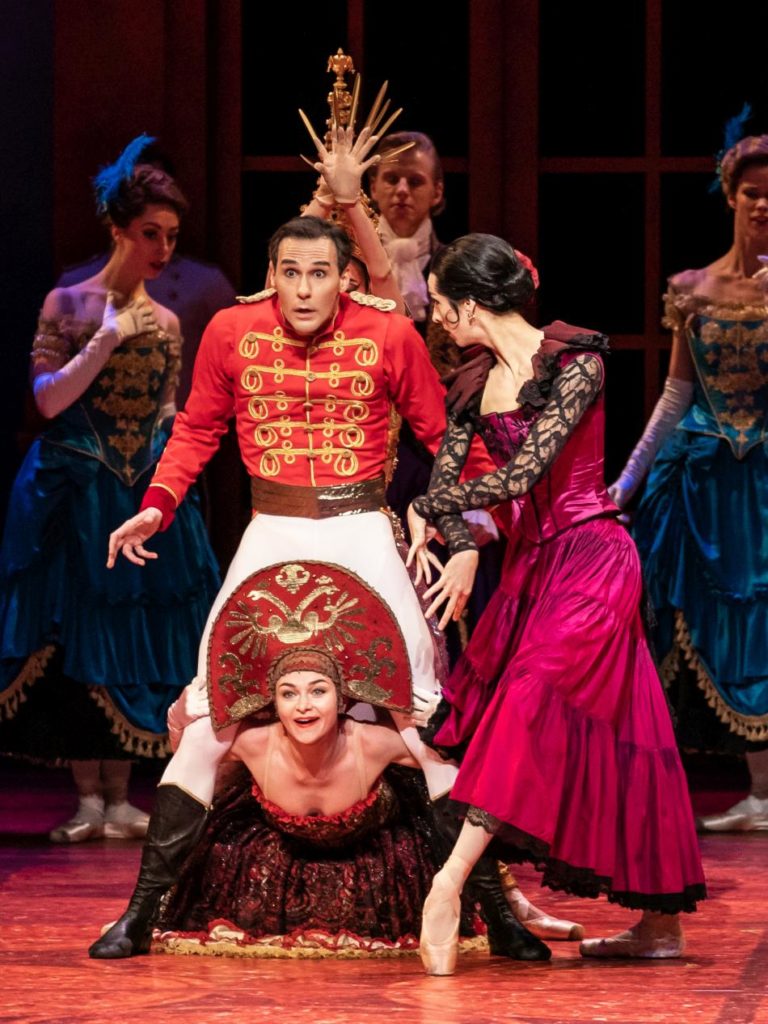 impeccable dancers, but what made their performance special was the chemistry between them. The air between them was filled with intimacy, fondness, and trust. It was so easy to identify with them. At the royal ball, when the clock struck midnight and Cinderella had to flee, she ran right through the auditorium and out into the foyer. For a second, we thought that she might be one of us. Or are we within a fairy-tale ourselves?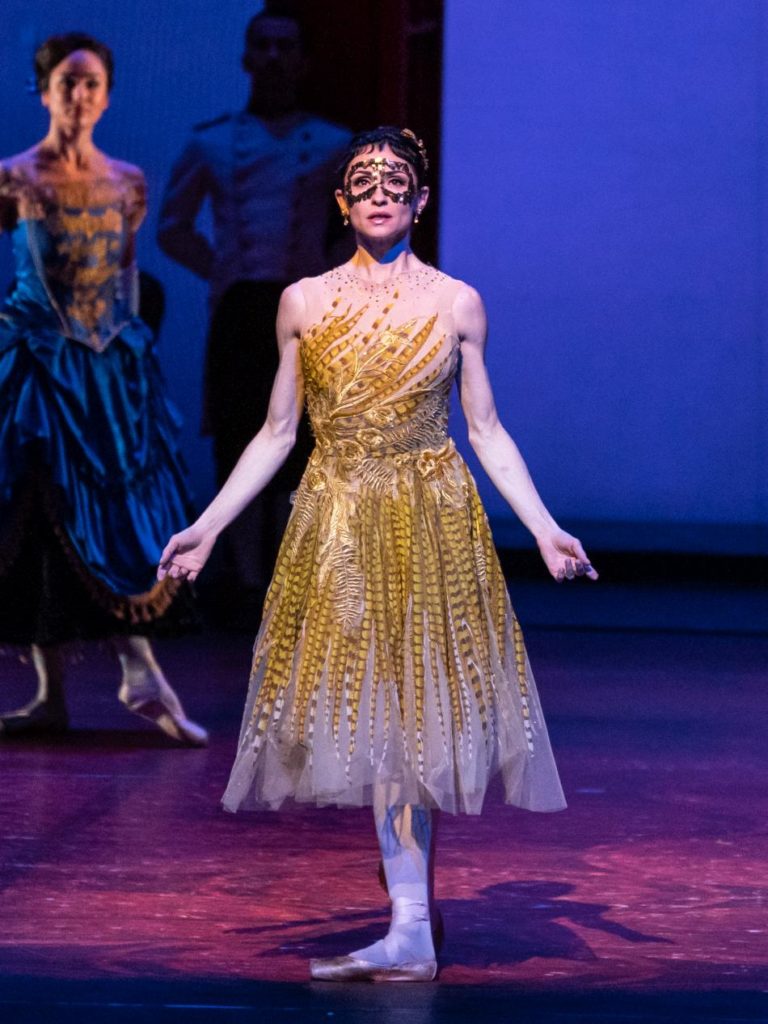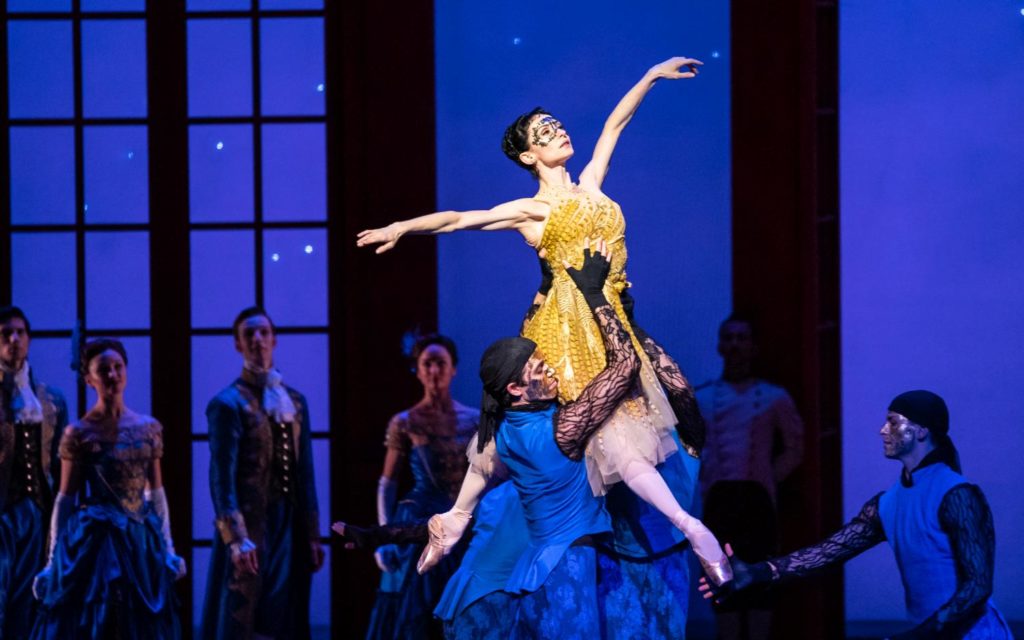 But away with the sweet reverie! Let's talk about those who make Cinderella's life miserable. Her two stepsisters, Edwina (Emanouela Merdjanova) and Clementine (Suzanna Kaic) and their mother (Vera Tsyganova) bully Cinderella day in and day out. They love to play women of the world, but – alas! – that always goes embarrassingly awry. Edwina is truly vicious, while bespectacled Clementine actually has a kind soul. She later finds her sweetheart in Benjamin (Semyon Velichko), a good-hearted, jaunty fellow. The most memorable moment featuring Tsyganova's stepmother is when she realizes that the golden shoe was worn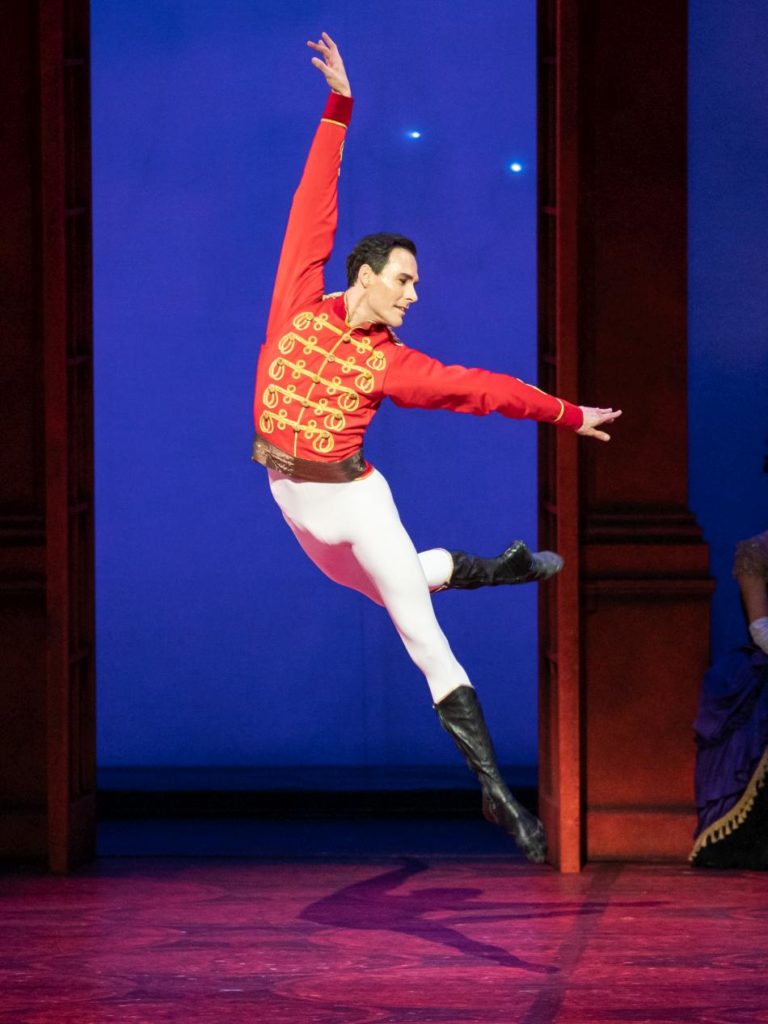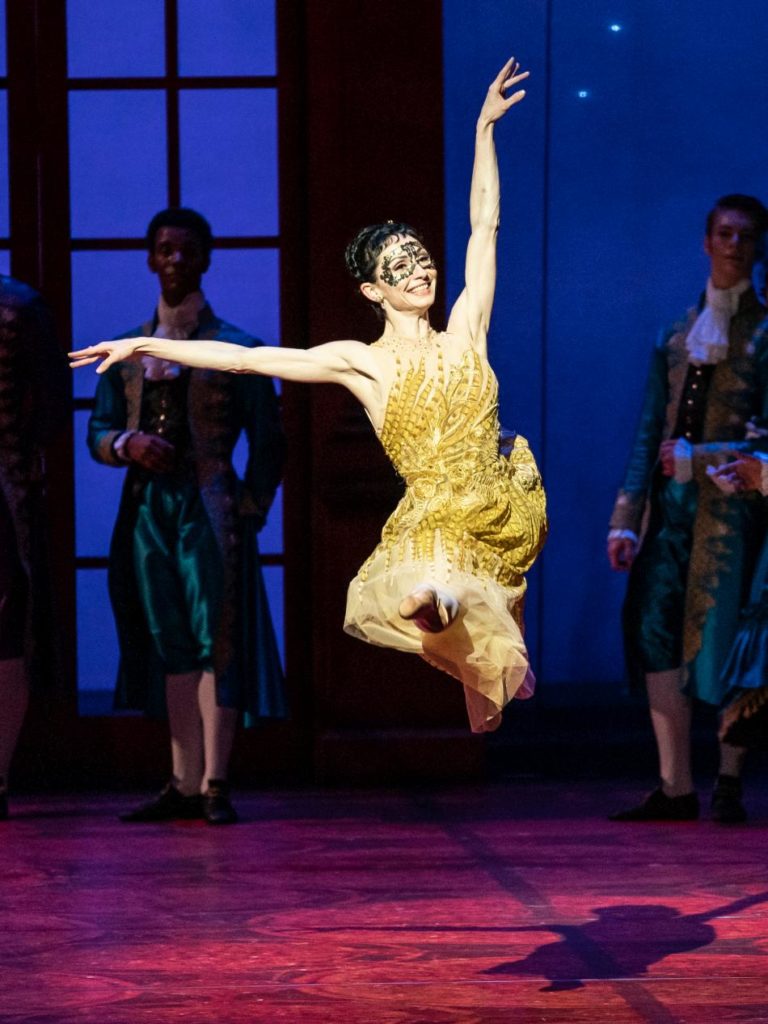 by Cinderella, the family's plain Jane – and her facial features disintegrate into a blank, stupefied mask.
Cinderella's father (Wolfgang Tietze) is a weak man whose wife's cringeworthy conduct makes him want to curl up and die – and yet he puts up with every impertinence. Guillaume's parents, King Albert (Roberto de Groot) and his Queen (Saskia Krol), radiate sheer charm and have unparalleled patience for their subjects' deficient manners. The brides competing for Guillaume at the ball were a predatory Russian (Tess Sturmann), a hot-blooded Spaniard (Nadine Drouin), and a keen Balinese (Saya Okubo), whose spiky, claw-like finger extensions almost slice Guillaume's throat open. All three drive him away with their intensity.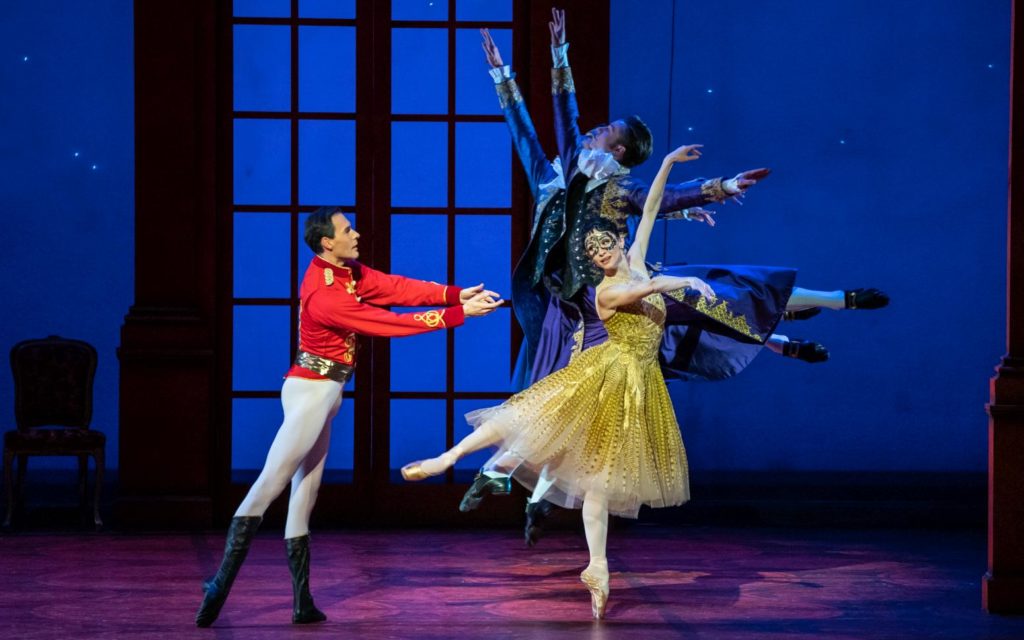 Cinderella as a child was danced by Evita Fijnhout; Stef van der Zanden was the young Prince Guillaume; Daniel van den Doel performed the young Benjamin. Jane Lord played Madame Mansard, the boys' bosomy dance teacher.
Cinderella's four guardian angels, protective beings who have accompanied Cinderella since her mother's death, were danced by Sem Sjouke, Martin ten Kortennar, Edo Wijnen, and Jared Wright. Their constant presence assured us that everything would turn out alright in the end.
Martin West and Het Balletorkest gave a sweeping rendition of Prokofiev's score, flitting between the weird and the grand with gusto.
The curtain had only just opened for the final curtain calls when the entire house leapt to its feet, cheering vigorously. The lines of dancers responded warmly – and that same warmth radiated from the Dutch National Ballet's Anna Ol, who had guested as Nikia in "La Bayadère" with the State Ballet Berlin on the previous evening. It seems cordiality is the nature of the company.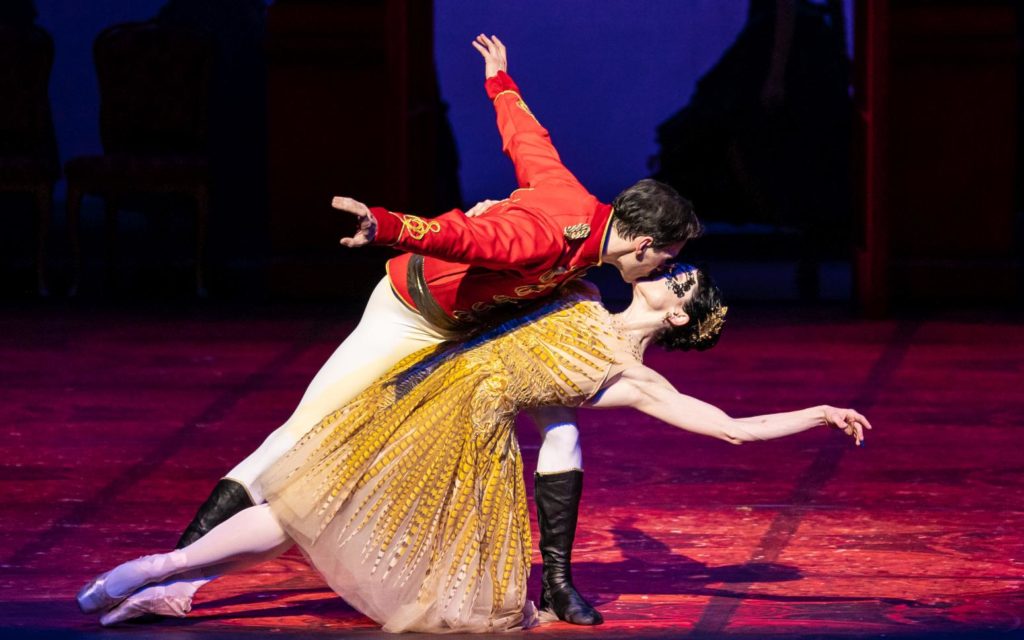 Links:
Website of Dutch National Ballet
Website of Basil Twist with trailer (cast: Anna Tsyganova, Matthew Golding)

Photos:

1.

Vera Tsyganova (Stepmother), Wolfgang Tietze (Cinderella's father), Suzanna Kaic (Stepsister Clementine), Emanouela Merdjanova (Stepsister Edwina) and Anna Tsygankova (Cinderella), "Cinderella" by Christopher Wheeldon,

Dutch National Ballet 2018

© Marc Haegeman

2.

Suzanna Kaic (Stepsister Clementine), Anna Tsygankova (Cinderella) and corps de ballet, "Cinderella" by Christopher Wheeldon, Dutch National Ballet 2018

© Marc Haegeman

3.

Anna Tsygankova (Cinderella), Sem Sjouke, Martin ten Kortenaar, Edo Wijnen and Jared Wright (Four Guardian Angels), "Cinderella" by Christopher Wheeldon, Dutch National Ballet 2018 © Marc Haegeman

4.

Anna Tsygankova (Cinderella), "Cinderella" by Christopher Wheeldon, Dutch National Ballet 2018 © Marc Haegeman

5.

Anna Tsygankova (Cinderella) and corps de ballet, "Cinderella" by Christopher Wheeldon, Dutch National Ballet 2018 © Marc Haegeman

6.

Anna Tsygankova (Cinderella), "Cinderella" by Christopher Wheeldon, Dutch National Ballet 2018 © Marc Haegeman

7.

Corps de ballet, "Cinderella" by Christopher Wheeldon, Dutch National Ballet 2018 © Marc Haegeman

8.

Semyon Velichko (Benjamin), Jozef Varga (Prince Guillaume), Suzanna Kaic (Stepsister Clementine), Emanouela Merdjanova (Stepsister Edwina) and corps de ballet, "Cinderella" by Christopher Wheeldon, Dutch National Ballet 2018 © Altin Kaftira

9.

Semyon Velichko (Benjamin), "Cinderella" by Christopher Wheeldon, Dutch National Ballet 2018 © Altin Kaftira

10.

Emanouela Merdjanova (Stepsister Edwina), Vera Tsyganova (Stepmother) and Suzanna Kaic (Stepsister Clementine), "Cinderella" by Christopher Wheeldon, Dutch National Ballet 2018 © Altin Kaftira

11.

Emanouela Merdjanova (Stepsister Edwina), "Cinderella" by Christopher Wheeldon, Dutch National Ballet 2018 © Altin Kaftira

12.

Suzanna Kaic (Stepsister Clementine) and Semyon Velichko (Benjamin), "Cinderella" by Christopher Wheeldon, Dutch National Ballet 2018 © Altin Kaftira

13.

Vera Tsyganova (Stepmother), Wolfgang Tietze (Cinderella's father) and corps de ballet, "Cinderella" by Christopher Wheeldon, Dutch National Ballet 2018 © Marc Haegeman

14.

Jozef Varga (Prince Guillaume), Tess Sturmann (Russian Princess), Nadine Drouin (Spanish Princess), Saya Okubo (Balinese Princess) and corps de ballet, "Cinderella" by Christopher Wheeldon, Dutch National Ballet 2018 © Altin Kaftira

15.

Jozef Varga (Prince Guillaume), Tess Sturmann (Russian Princess), Saya Okubo (Balinese Princess), Nadine Drouin (Spanish Princess) and ensemble, "Cinderella" by Christopher Wheeldon, Dutch National Ballet 2018 © Altin Kaftira

16.

Anna Tsygankova (Cinderella), "Cinderella" by Christopher Wheeldon, Dutch National Ballet 2018 © Altin Kaftira

17.

Anna Tsygankova (Cinderella) and corps de ballet, "Cinderella" by Christopher Wheeldon, Dutch National Ballet 2018 © Altin Kaftira

18.

Anna Tsygankova (Cinderella), "Cinderella" by Christopher Wheeldon, Dutch National Ballet 2018 © Altin Kaftira

19.

Jozef Varga (Prince Guillaume), "Cinderella" by Christopher Wheeldon, Dutch National Ballet 2018 © Altin Kaftira

20.

Jozef Varga (Prince Guillaume), Anna Tsygankova (Cinderella) and corps de ballet, "Cinderella" by Christopher Wheeldon, Dutch National Ballet 2018 © Altin Kaftira

21.

Jozef Varga (Prince Guillaume) and Anna Tsygankova (Cinderella), "Cinderella" by Christopher Wheeldon, Dutch National Ballet 2018 © Altin Kaftira

Editing:

Jake Stepansky