"La Esmeralda"
Ballet of the Stanislavsky and Nemirovich-Danchenko Moscow Music Theatre
Stanislavsky and Nemirovich-Danchenko Moscow Music Theatre
Moscow, Russia
March 07, 2019
by Ilona Landgraf
Copyright © 2019 by Ilona Landgraf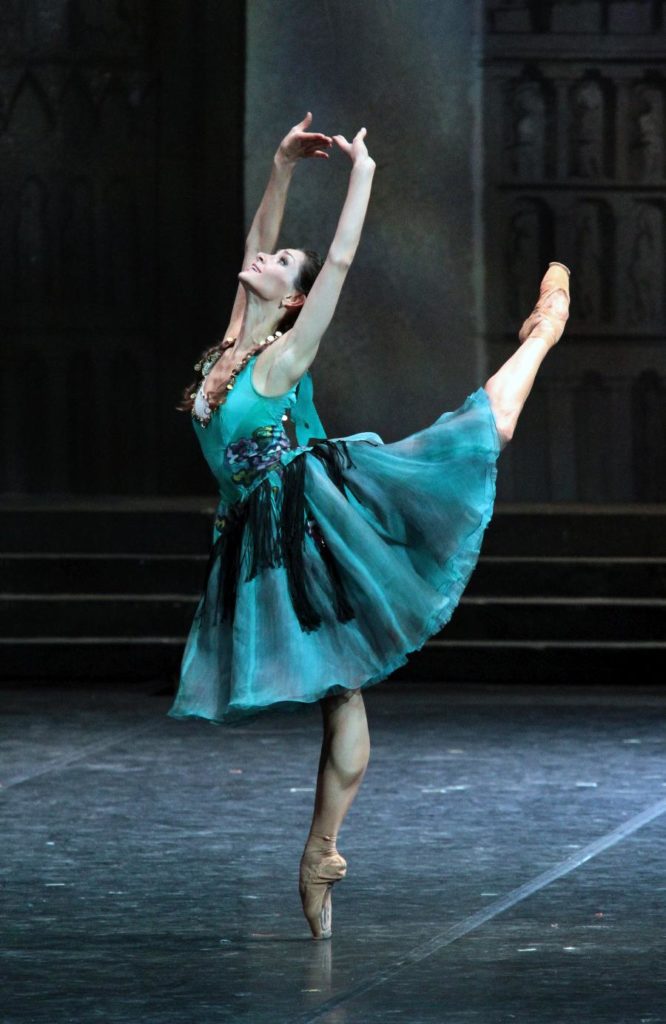 Victor Hugo's 1831 novel "The Hunchback of Notre-Dame" – which features Notre-Dame's deformed bellringer Quasimodo and the compassionate, kind Esmeralda – has long been popular material for stage and film adaptions. The first ballet adaption premiered in London in 1844, with choreography by Jules Perrot and music by Cesare Pugni. In 1950, Vasiliy Tikhomirov and Vladimir Burmeister produced a new libretto for their version with the Stanislavsky and Nemirovich-Danchenko Music Theatre. As in the novel, their production is set in the 15th century and has a frame narrative that explores Esmeralda's childhood background. For this iteration of the tale, Tikhomirov and Burmeister brought back Esmeralda's tragic death while eschewing several secondary characters. In addition, Pugni's score was newly orchestrated and supplemented with music by Reinhold Glière and Sergei Vasilenko. The three-acter is still in the company's repertory and – more than 500 years later it is (regrettably) still highly topical. "La Esmeralda" exposes the Catholic church's sickening hypocrisy and rotten ethics, which have made and continue to make international headlines to this day.
At the heart of the story is Esmeralda, who was picked up and raised by the Romani after they (wrongly) deemed her mother Gudule to be dead. Years later, Esmeralda has grown into a charming woman and fine dancer who attracts the eyes of many, including Notre-Dame's licentious archdeacon Claude Frollo. He commands his hunched bellringer Quasimodo to kidnap Esmeralda, but Quasimodo himself is rapt by her beauty and is caught red-handed by the night guard led by captain Phoebus. Phoebus and Esmeralda fall in love with one another at first glance – a perfect romance, apart from the fact that Phoebus is already engaged to uppish noblewoman Fleur-de-Lys. At the engagement celebrations, Esmeralda and Phoebus meet again and fall even harder in love. Unavoidably, the captain's double game is exposed, but he continues to run after Esmeralda. In the moment that they reconcile, Phoebus is stabbed by the jealous Frollo. Who is blamed for the assassination? Esmeralda! Frollo offers to save her from her death sentence if she complies to his overtures, but she fiercely rebukes him. Quasimodo discovers that his master is the real culprit behind the knife attack, and pushes Frollo to his death as he watches Esmeralda's execution from the balcony of Notre-Dame.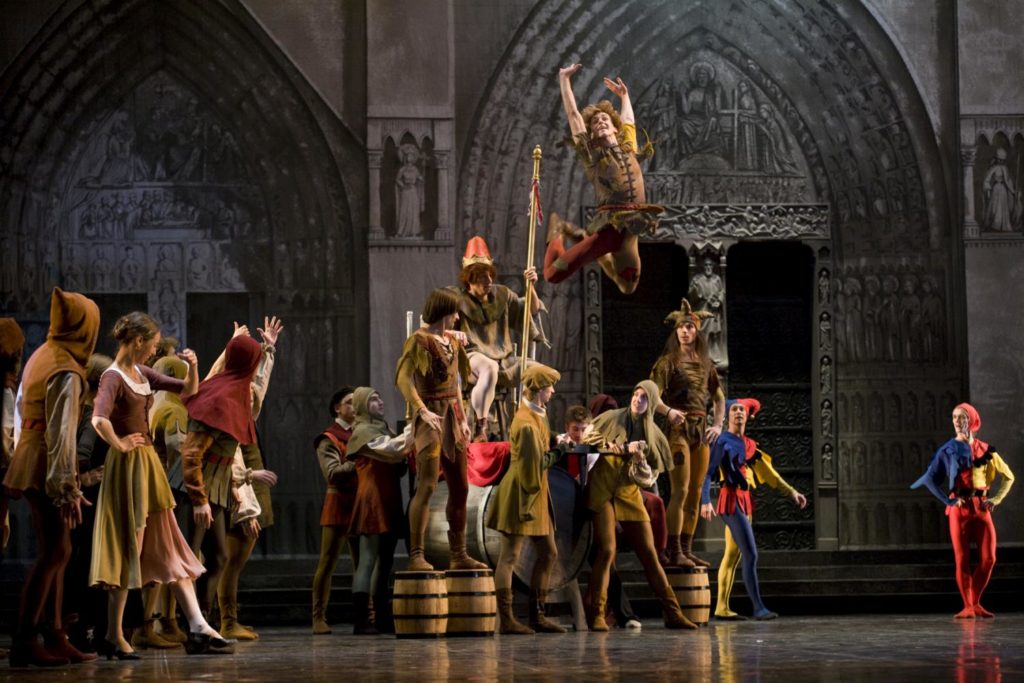 To heighten the drama, Gudule breaks out of the fog of mental illness brought on by the disappearance of her daughter and recognizes Esmeralda just moments before the execution. She begs Frollo for mercy, but fails – and, moments later, she dies of a heart attack in the middle of the church square. The newly recovered and newlywed Phoebus does not even deign to look at Esmeralda, strutting off with Fleur-de-Lys as the pair holds their heads high.
Notre-Dame and its Gothic architecture feature strongly in Hugo's novel and so do they in Alexander Lushin's beautiful set: in the prologue, Gudule falls asleep in front of a statue of the holy Mary with her child; one of the curtains that is lowered during set changes and breaks depicts two of the grotesques of Notre-Dame's "Galerie des Chimères" that look down on historic Paris. A second curtain shows a simplified replica of Notre-Dame's huge rose window. Stone angels, subtly lit by Ildar Bederdinov, line on either side of the stage, silent witnesses from above. In the first scene, beggars, jesters and Romani feast on the square in front of the cathedral. It seems as though the stabbing of Phoebus takes place on churchly ground, as Frollo escapes through a stained-glass church window. Other scenes play in the courtyard of the noble Hotel Gondelaurier (the home of Fleur-de-Lys), in a tavern, and in the dungeon.
The costumes, also by Lushin, recall the medieval fashion of the period.
Burmeister's choreography does an adequate job of characterizing the different social classes. The floor vibrates from the beggars' peppy, earthy folk dances and from the chummy bragging of the three beggar-kings (German Borsai, Alexey Koryagin, and Innokenty Yuldashev), while the three jesters (Dmitry Muravinets as the chief jester plus Maxim Sevagin and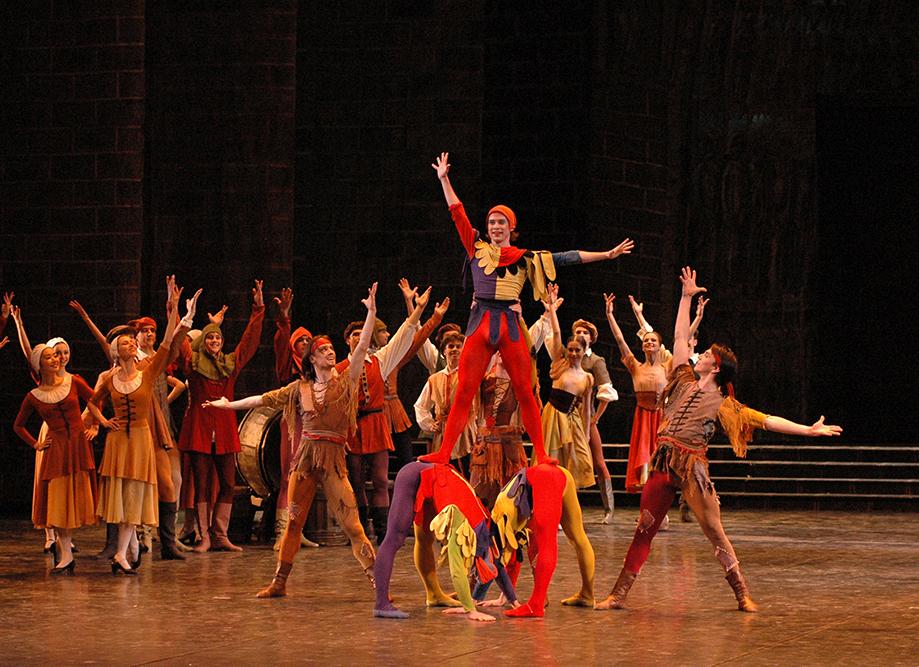 Georgi Smilevski Jr.) bounce through acrobatic frolics in high spirits. On the other end of the spectrum are the aristocrats, for whom every movement is refined, graceful, and at times ornate. They diligently tiptoe across the stage, demonstrating their self-confidence by holding balances, jumping (not out of joy, but as formality), and performing delicate solos. Yet compared with the passionate, supple, and genuinely powerful dance of the Romani women (Maria Beck's solo in the tavern, for example), these aristocrats look bloodless.
Each of the pas de deux invented by Burmeister is coherent and expressive. In the first encounter between Esmeralda (Oksana Kardash) and Phoebus (Georgi Smilevski), Esmeralda stands with her back towards the audience, leaving only Phoebus's face to reveal their growing mutual affection. At first shy and unable to look into his eyes, Esmeralda propels herself in a rush of infatuation. When the captain leaves without any indication of desiring a second tête-à-tête, Esmeralda's shoulders hang disappointedly down.
Kardash is an excellent dancer and a fearless, expressive actor. She melts away in Phoebus's arms, repels Frollo's dangerous advances with a slap, and – seeing herself finally hopeless – slips into an ethereal, transfigured state. Kardash's Esmeralda was grounded and strong, yet deeply feminine at the same time. No one could resist her natural charm. Smilevski's Phoebus was most likable when lost in his love for Esmeralda. Confronted by his fiancée, he merely shrugged his shoulders, doing little foreshadow how cruel and arrogant he would become towards Esmeralda at the end. His bride, Fleur-de-Lys, was danced flawlessly by Ksenia Shevtsova.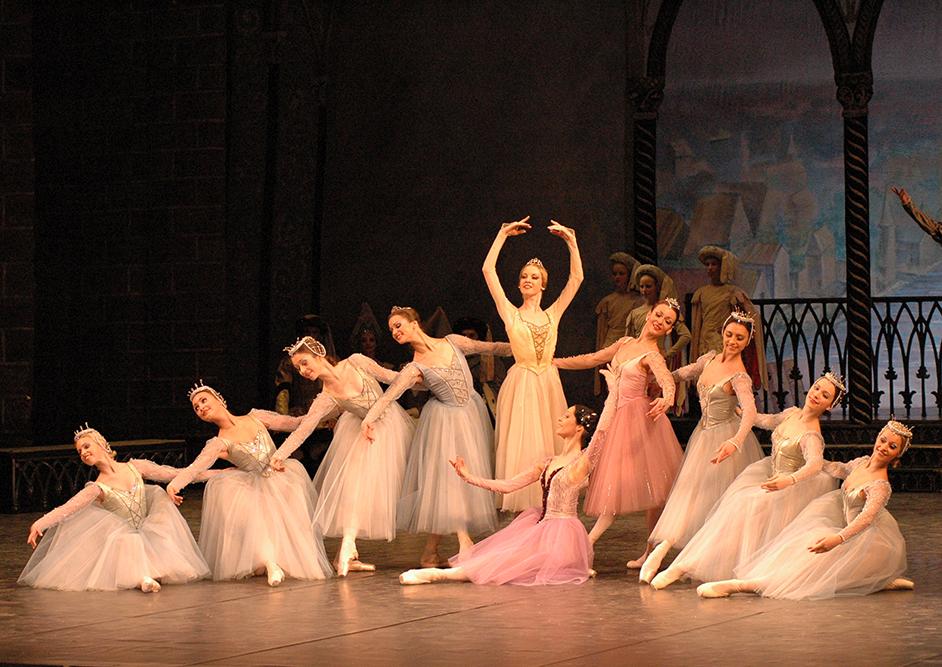 The hideous visage of Quasimodo (Roman Malenko) was complemented by his coarse manners: Quasimodo behaves at times like a Neanderthal, guzzling wine from a jug rather than a jar. But – when he stretches his arms yearningly towards Esmeralda, when he tentatively caresses the cloth of her skirt and then realizes that he is too off-putting and deformed to win her affection, our compassion is with him. All three acts close with Quasimodo: at the end of Act I, he crouches sadly on the floor, while in Act II, he kneels at the site of the crime, aghast to have discovered that his master was behind the knife attack. In the very last scene, he triumphs by plunging Frollo into death.
Frollo (Nikita Kirillov) displays a broad spectrum of negative traits. He bullies Quasimodo in the nastiest way, and jerks the beads of his rosary as if he wanted to tear out the bones of a small animal. He shakes off the desperate Gudule (Anastasia Pershenkova) with disgust, and publicly blesses Esmeralda whom he sardonically laughed at in the dungeon just shortly before. Frollo's hypocrisy is without parallel.
The score, performed by the orchestra of the Stanislavsky and Nemirovich-Danchenko Music Theatre under the baton of Roman Kaloshin, sounded colorful and vibrant.
To celebrate the theater's centennial, an extensive exhibition on the first floor shows sketches, paintings, and photos of artists who have collaborated with the house throughout history. According to press officer Konstantin Cherkasov, "it is difficult to find the name of a really distinguished Soviet or Russian set designer who hasn't worked here." Sketches by Viktor Simov for Konstantin Stanislavsky's productions of "La Boheme" and "The Tsar's Bride" are on display, as are Vladimir Dmitriev's paintings for the Moscow premiere of "Lady Macbeth of Mtsensk" by Shostakovich, and works by Boris Erdman, Martiros Saryan, Vadim Ryndin, Isaac Rabinovich, Valery Levental, David Borovsky, Sergei Barkhin, Josef Svoboda, and Andris Freibergs. Reading the image annotations requires proficiency in Russian.

Links:

Website of the

Stanislavsky and Nemirovich-Danchenko Moscow Music Theatre

Photos:

1.

Oksana Kardash (Esmeralda), "La Esmeralda" by Vladimir Burmeister,

Stanislavsky and Nemirovich-Danchenko Moscow Music Theatre 2019 © Anna Klyushkina

2.

Ensemble, "La Esmeralda" by Vladimir Burmeister, Stanislavsky and Nemirovich-Danchenko Moscow Music Theatre 2019 ©

Vadim Lapin

3.

Ensemble, "La Esmeralda" by Vladimir Burmeister, Stanislavsky and Nemirovich-Danchenko Moscow Music Theatre 2019 ©

Vadim Lapin

4.

Ensemble, "La Esmeralda" by Vladimir Burmeister, Stanislavsky and Nemirovich-Danchenko Moscow Music Theatre 2019 ©

Vadim Lapin

Editing:

Jake Stepansky