"The Order of the King"
Ural Opera Ballet
Ekaterinburg State Academic Opera and Ballet Theatre
Ekaterinburg, Russia
May 02, 2021 (online)
by Ilona Landgraf
Copyright © 2021 by Ilona Landgraf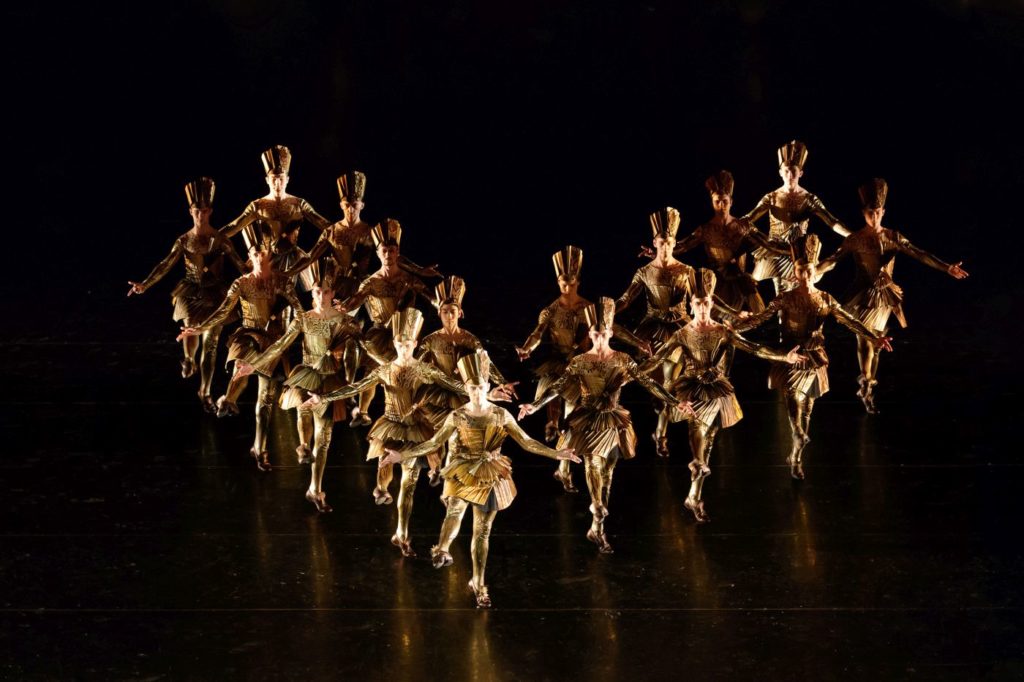 "The Order of the King" – choreographed in 2018 for the Ural Opera Ballet by its artistic director Vyacheslav Samodurov – won two Golden Mask awards last year. Samodurov was awarded the prize for Best Choreographer and set designer Aleksei Kondratiev the prize for Best Designer in Musical Theatre. The ambitious two-act production marked the bicentennial of Marius Petipa's birth and was staged according to his templates, augmented by additional historic analysis and scientific research.
At first glance, its title evokes a connection to Petipa's 1886 ballet "The King's Command" (or "The Pupils of Dupré"), a story about four marriages made possible despite obstacles. However, apart from a reference to the Sun King Louis XIV, "The Order of the King" is an entirely novel production with a new libretto (written by Samodurov and Bogdan Korolyok) about an expedition to the end of the world and the search for beauty. It features new music composed by Anatoly Korolev, a professor at the Saint Petersburg Conservatory.
I saw an online broadcast last Sunday and was surprised to find that this acclaimed piece is, in fact, a mess.
It begins with a parody of the story of the sun king (Maxim Klekovkin) at his court, framed by dancers in symmetrical formations and surrounded by sauntering aristocrats sporting garish red, orange and blue wigs (costumes by Anastasiya Nefedova). A group of pages, decked out in red stockings, peek out from behind the drawn backdrop, which creates the illusion of a huge palace hall. A young man in a modern suit (Alexei Selivyorstov) puts the final touches on the king's robe and instructs him on what to announce next. His modern outfit identifies him as a figure from today's time, but his role, titled "Captain Jérôme de Blois-Champagne," suggest that he might be a descendant of the House of Blois, a lineage linked to Frankish nobility and dissolved in 1305. The frightened young woman in the silver tutu who lies suddenly on the floor is Princess Izora (Miki Nishiguchi). Despite the Captain's intervention, she is marched off by a Carabosse-like Black Queen (Nadezhda Shamshurina), her black and red headdress resembling a rooster's comb, and by the Queen's thuggish page (Igor Bulytsyn). Moments later, the princess is alone, center stage, amplifying a silent scream with her hand. She appears in subsequent scenes, but these appearances do little to clarify her role.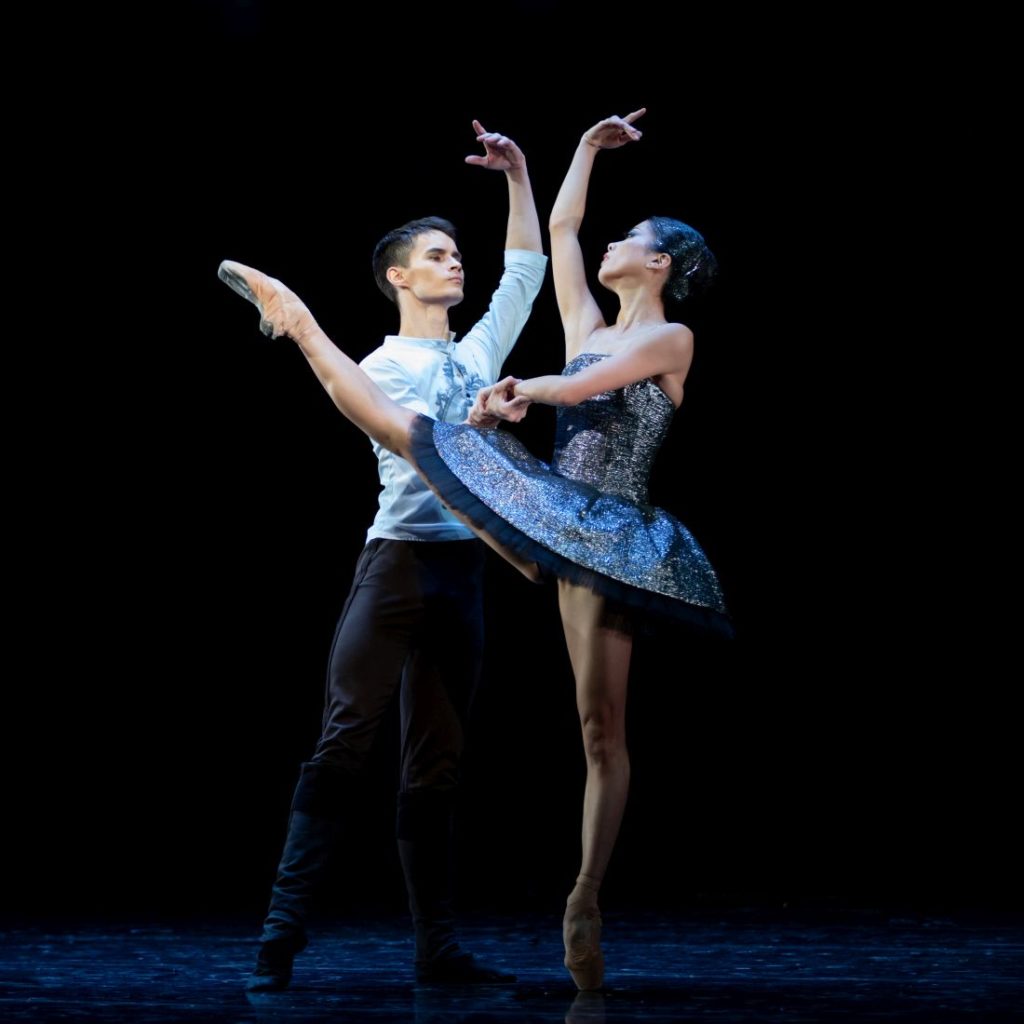 After a cartoon-ish processional dance back and forth, left and right, across the stage, the king issues his orders, emphasized with pithy gestures. Imperialistically, he places his finger onto a spinning globe – by which, presumably, he determines the destination of the expedition. Does the silver mini-Zeppelin that slowly floats past, maneuvered with ropes and rods, symbolize the travel vehicle? We don't know – the plot is as obscure as Konstantin Binkin's foggy blue-black lighting.
The journey takes us to a smoky, nondescript hall lit by slanting light. The back wall is lined with latticed red fans. Five male/female couples dance in various formations. Some repeat static sequences from the court dance; others weave in tango steps and still others dance in a revue-like style. One couple appears to embark on a romance, while another woman boldly manipulates her partner, acting as if slapping him into obedience. One man improvises movement to music playing in his head, but is distracted by a woman and lured away. The pairings change repeatedly, as does the style of the dance.
In the second act, a group of cheerful show-biz chums (Tomoha Terada, Andrey Veshkurtsev, Gleb Sageev, Mikhail Khushutin – the cast list calls them "The Captain's Team") impresses one another with feats of dance in front of a red curtain made from jingling plastic lace. Above their heads, a disco ball rotates slowly.
The Zeppelin returns briefly (perhaps indicating the continuation of the journey) before we reach the last stop, a space lit with pale light that is quickly populated by a crowd of women in silver tutus. Rows of shiny discs on the back wall create a veneer of chic modernity. The women move in geometric patterns that only seconds later collapse into chaotic huddles. Tiny teetering steps create the impression of a disorganized hustle and bustle; hunched upper bodies undulate as the women move forward, contrasting strongly with the bolt-upright postures seen just moments earlier. A processional dance morphs into a leg-kicking chorus line.
Harmony is briefly restored in a serene pas de deux between the captain and the princess – does it resemble the beauty that Samodurov was after? The serenity isn't long for this world, though, and is soon replaced by a bustling hurry-scurry as the king and his entourage return. The discs on the wall turn orange-golden and purple, competing with strobe light. A singer (Svetlana Yachmenyova in glittery golden pants, blue fake fur, red pumps, and a blonde curly wig) sweet-talks the Queen's page into joining her for a tête-à-tête in the wings – another incomprehensible extra detail.
To pompous drumbeats, the king leads his followers in a ceremonial dance that is surveilled by a drone hovering above their heads. Soon, the women take over with sassy leg kicks and outstretched butts. As the hodgepodge of dance styles becomes out of control, two men lift the king into the air, but moments later take to their heels. He falls down, thrusting his arm confidently upwards.
Korolev's score (played by the Orchestra of the Ural Opera Ballet under the baton of Pavel Klinichev, one of the Bolshoi Theatre's seasoned conductors), is a potpourri of baroque music, romantic violin melodies, music hall tunes, and repetitive percussion sounds. At times, the score rumbles along monotonously, reeling off the same beats without finding a coherent thread.
Samodurov's attempt at parody might be funny for a tiny circle of insiders, but doesn't work for the common audience. That it was awarded two Golden Masks makes one wonder about the criteria for prize-giving.
Let's be clear about one thing, though: Samodurov has excellent dancers at his disposal. Their talents shouldn't be wasted.
Links:
Website of the Ural Opera Ballet
Trailer of "The Order of the King"

Photos:

1.

Maxim Klekovkin (The King) and ensemble, "The Order of the King" by Vyacheslav Samodurov, Ural Opera Ballet 2021

2.

Alexei Selivyorstov (Captain Jérôme de Blois-Champagne) and Miki Nishiguchi (Princess Izora), "The Order of the King" by Vyacheslav Samodurov, Ural Opera Ballet 2021

all photos

©

Olga Kerelyuk / Ural Opera Ballet
Editing:
Jake Stepansky