"The Sleeping Beauty"
Czech National Ballet
The National Theatre
Prague, Czech Republic
April 29, 2021 (online)
by Ilona Landgraf
Copyright © 2021 by Ilona Landgraf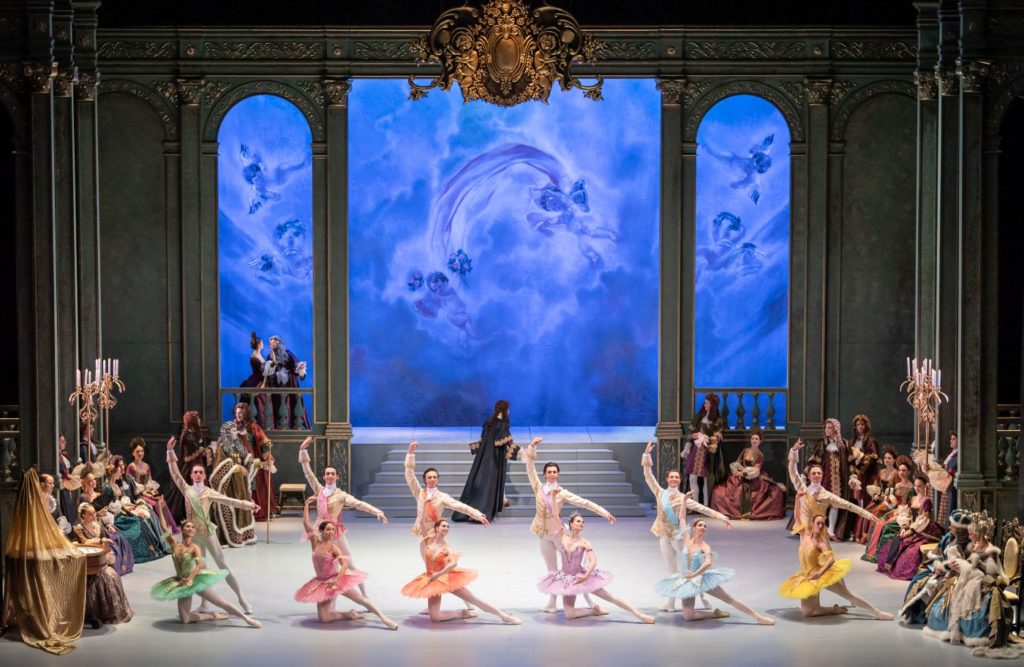 It is nearly impossible to mount a three-act full-ensemble classic in the midst of a pandemic – or at least it has been for many companies. That the Czech National Ballet accomplished this feat feels like a harbinger of better times to come. Last Thursday, on World Dance Day, they premiered "The Sleeping Beauty" on their YouTube channel. The video will be online until May 5th.
Filip Barankiewicz, the company's artistic director, is a former principal dancer of Stuttgart Ballet; naturally, he chose to stage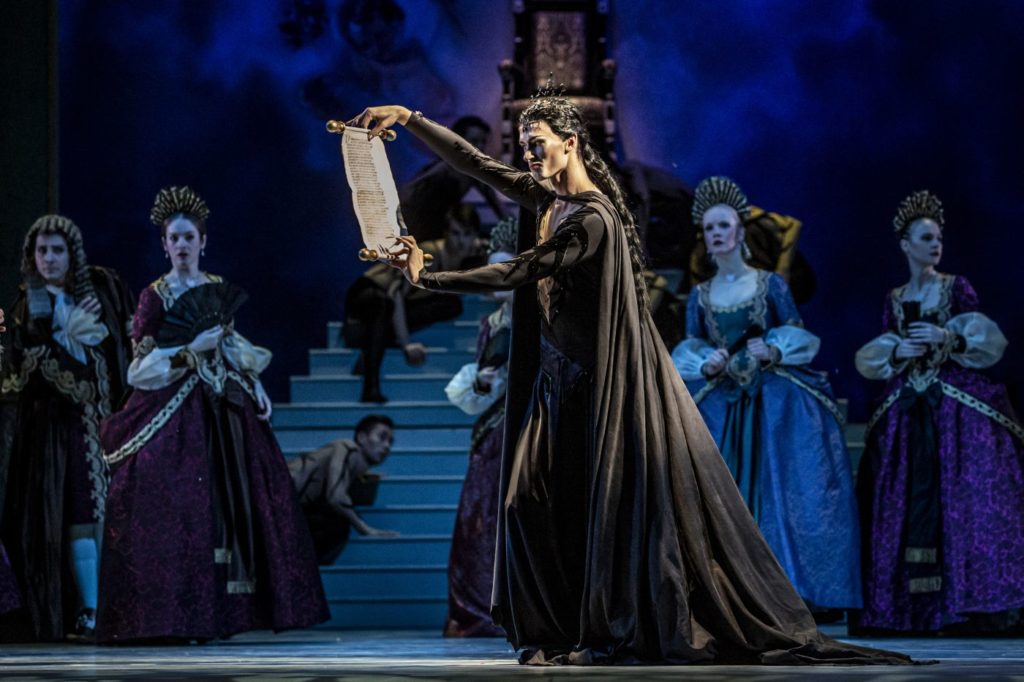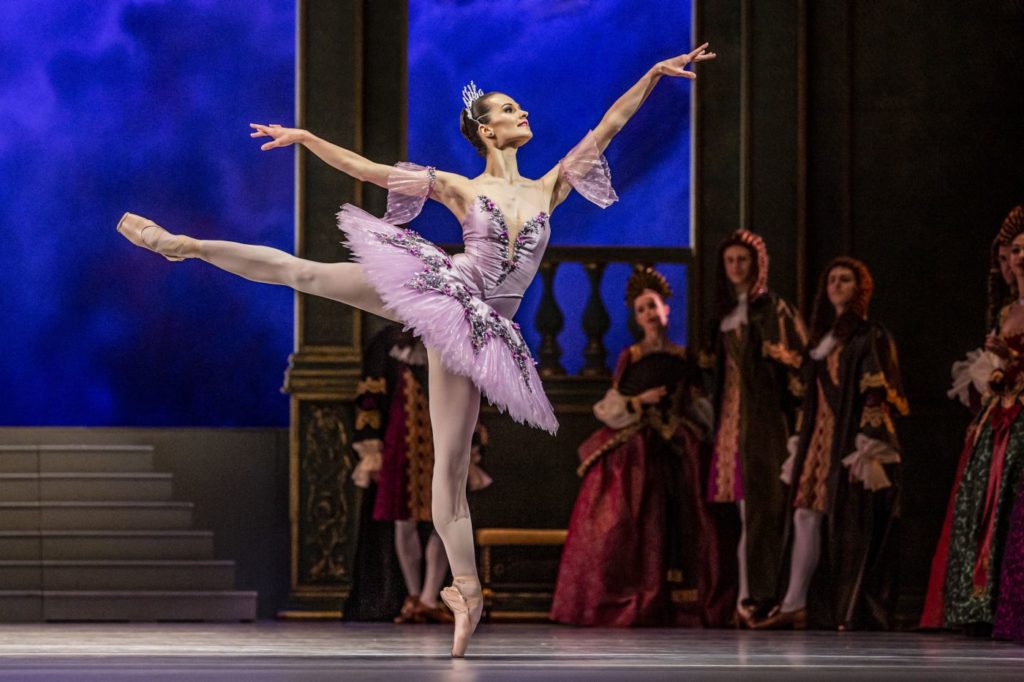 the Petipa-based version that Marcia Haydée created for Stuttgart in 1987 (the first new creation under her directorship). I was surprised to learn that, despite the difficulties of the current situation, eighty-four-year-old Haydée traveled to Prague to mount the production herself. Kudos!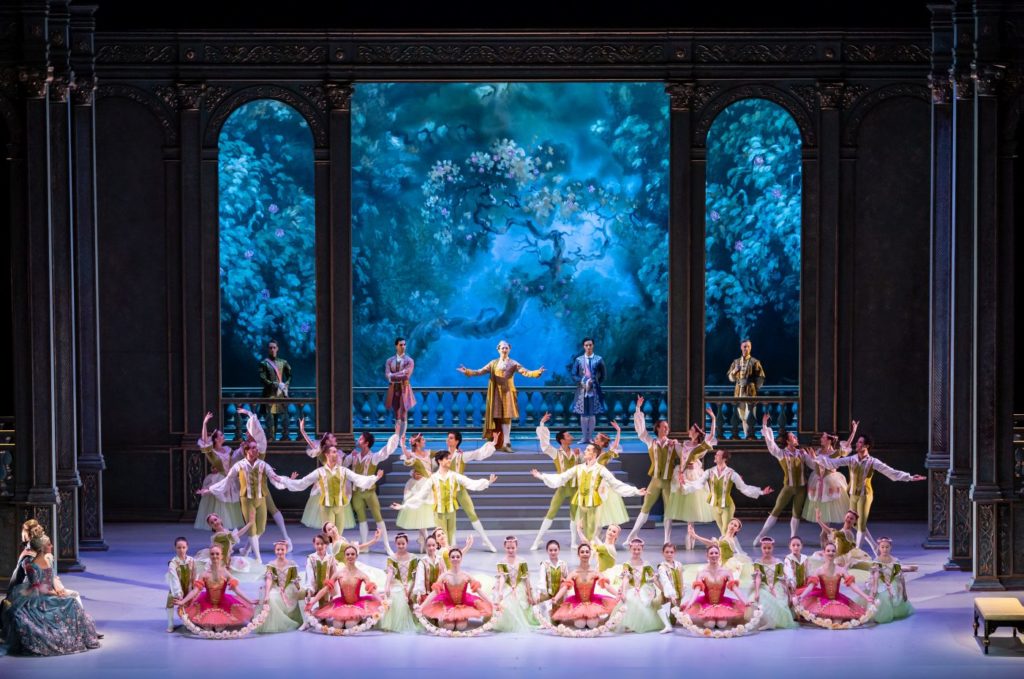 Since pandemic-related restrictions prevented the Prague State Opera Orchestra from playing, Haydée even brought along a recording of Tchaikovsky's music kindly provided by the Philharmonic Orchestra of her longstanding workplace and chosen home, Santiago de Chile. Instead of replicating the lavish set and costumes designed for the original production by Jürgen Rose, they ordered new designs by Pablo Núñez. Núñez, a Prague-born set designer, has worked for Haydée (and the Ópera Nacional de Chile) before. Presumably, commissioning new decor was easier on the budget and the nerves than finding the high-quality fabrics and the color shades used by Rose.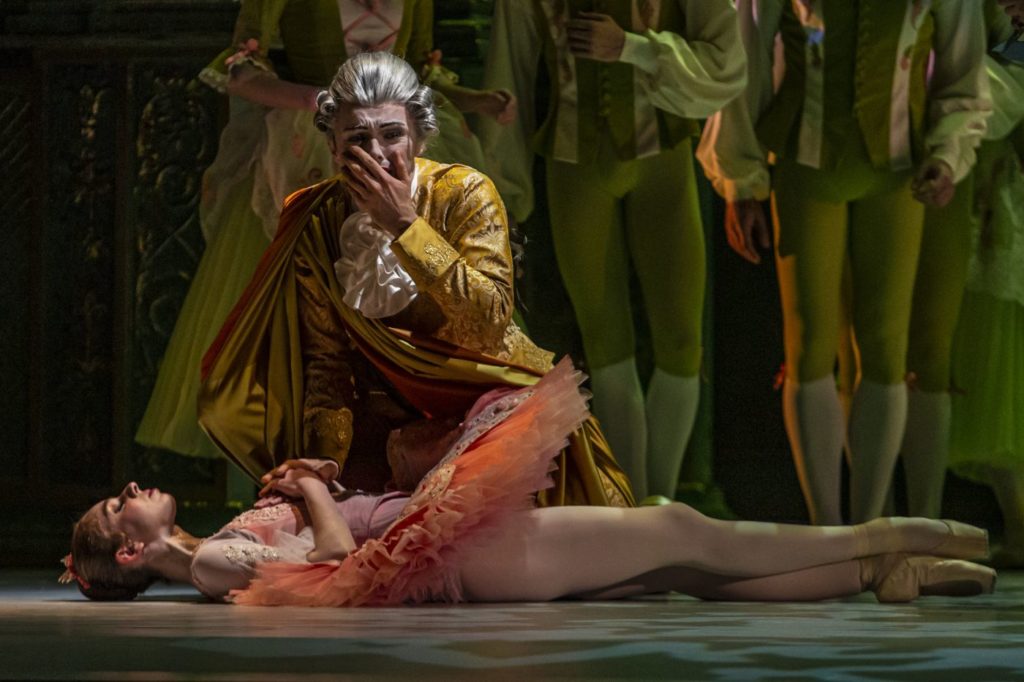 Núñez's color palette for the costumes ranged from pale candy-colors (primarily pink) for the celebration of Princess Aurora's birth to soft blue and lime green pastels and pristine white at her birthday party. Carabosse, the wicked fairy, was the only figure in black, wearing a billowing, silky, Kabuki-like outfit. Prince Desiré's hunting party sported auburn- and aubergine-colored velvet. As usual, Aurora's and Desiré's wedding resembled a colorful fairy-tale costume party.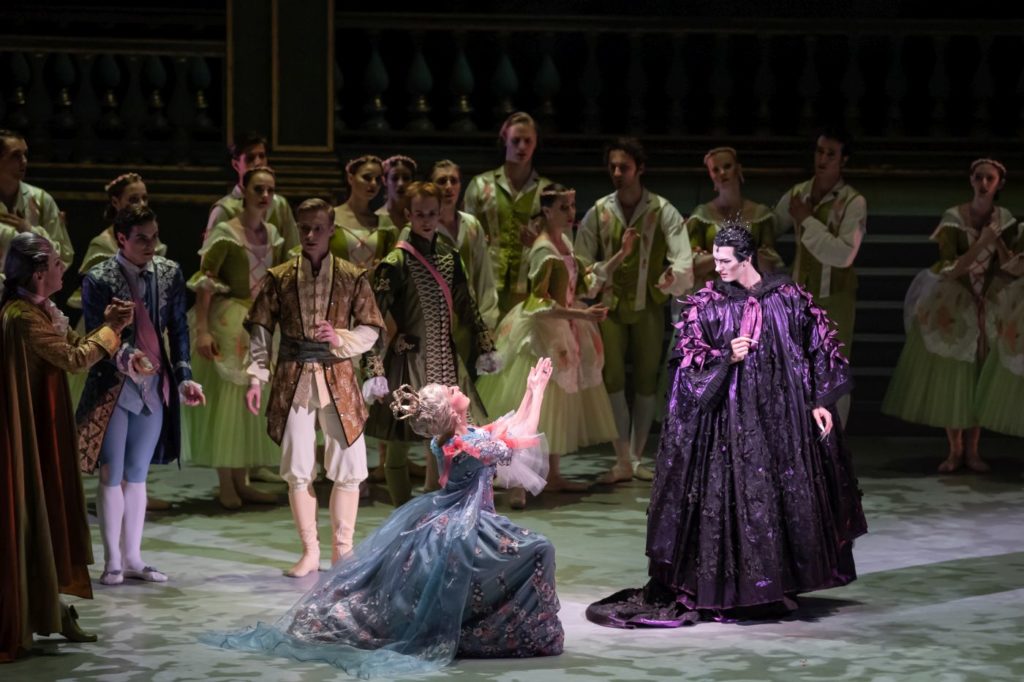 The company cleverly used the overture to send Carabosse (Patrik Holeček) and the effusive Catalabutte (Mathias Deneux) – master of ceremonies – on a short tour through the newly refurbished State Opera House, during which Catalabutte dusted the chairs' upholstery (with his handkerchief) and polished his ceremonial mice (with a strand of his wig) – without noticing that Carabosse's finger (with its long, piercing nail) was already pointed threateningly towards him. The richly-decorated curtain rose at Catalabutte's order to reveal a slightly flustered court assembling to honor Aurora's birth. Order is restored with the entry of the royal couple, King Florestan (Jiří Kodym) and his Queen (Tereza Podařilová). Six fairies bestow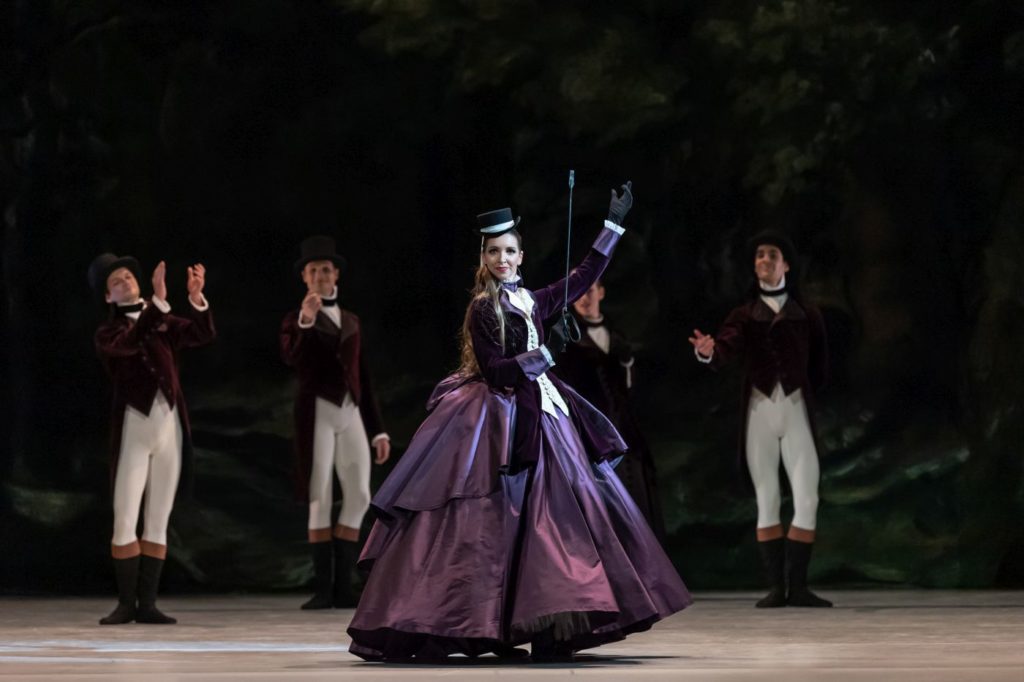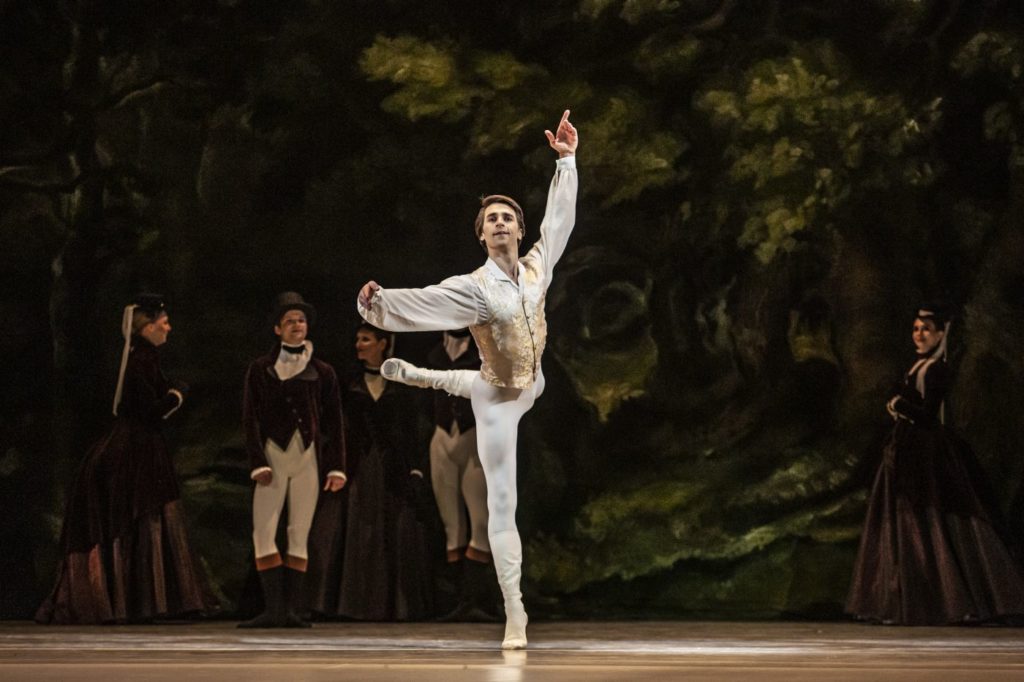 good wishes upon the newborn; of these, the Fairy of Beauty (Monika Hejduková) radiated warmth and calm and the Fairy of Wisdom (Ayaka Fujii) shone with spirit. The Fairy of Grace (Alexandra Pera) smiled as if she might give a beautiful gift at any moment. The feisty Fairy of Eloquence (Kristýna Němečková) bubbled with joy and exuberance, whereas the Fairy of Force (Evgeniya Victory Gonzales) expressed determination and vigor. The Lilac Fairy (Radka Zvonařová), the epitome of generosity and good, unwaveringly fended off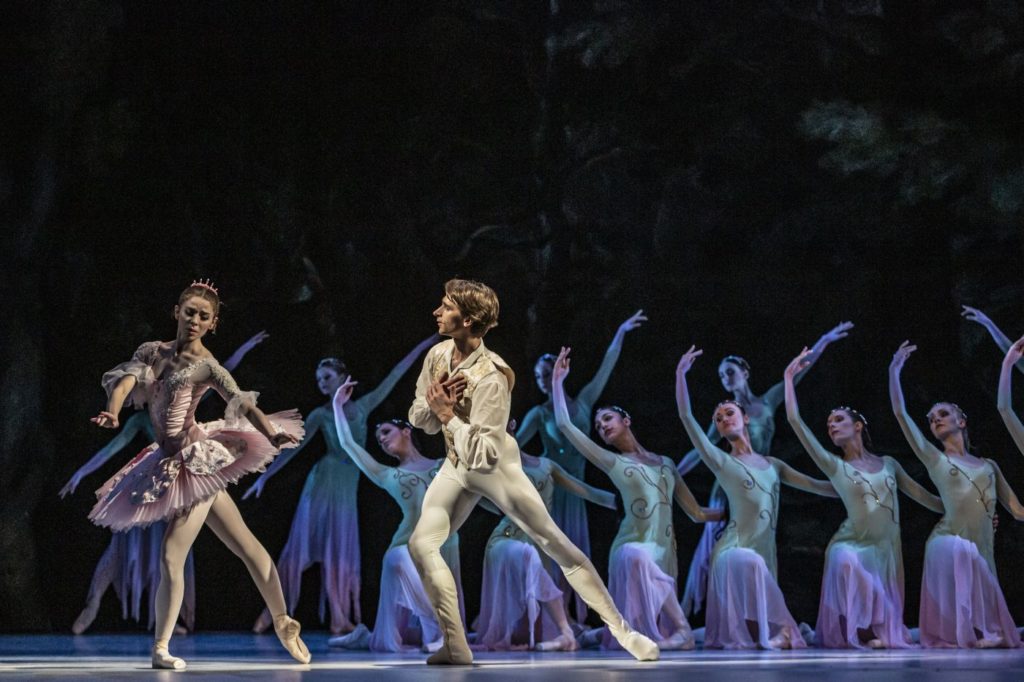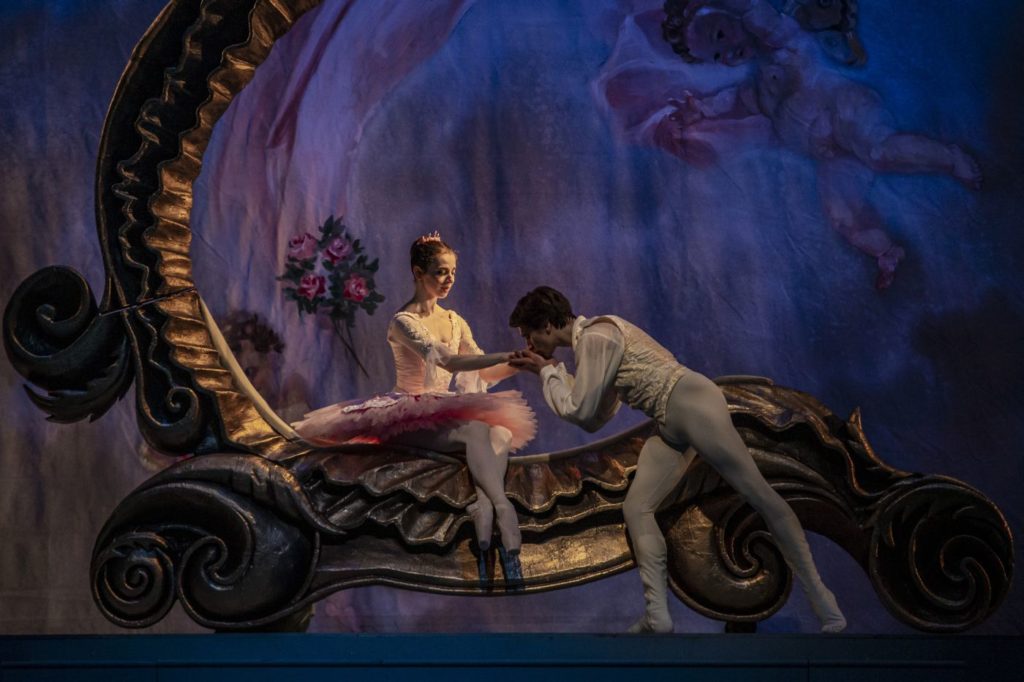 Carabosse's evil curse and his lust for power. She manages to convince his underlings to hold their master back from further attacking Prince Desiré (Dmytro Tenytskyy), who is moments away from finding the sleeping Aurora.
The never-ending battle between the good and the evil is one of the main themes of Haydée's interpretation. Her Carabosse, a role originally created for Richard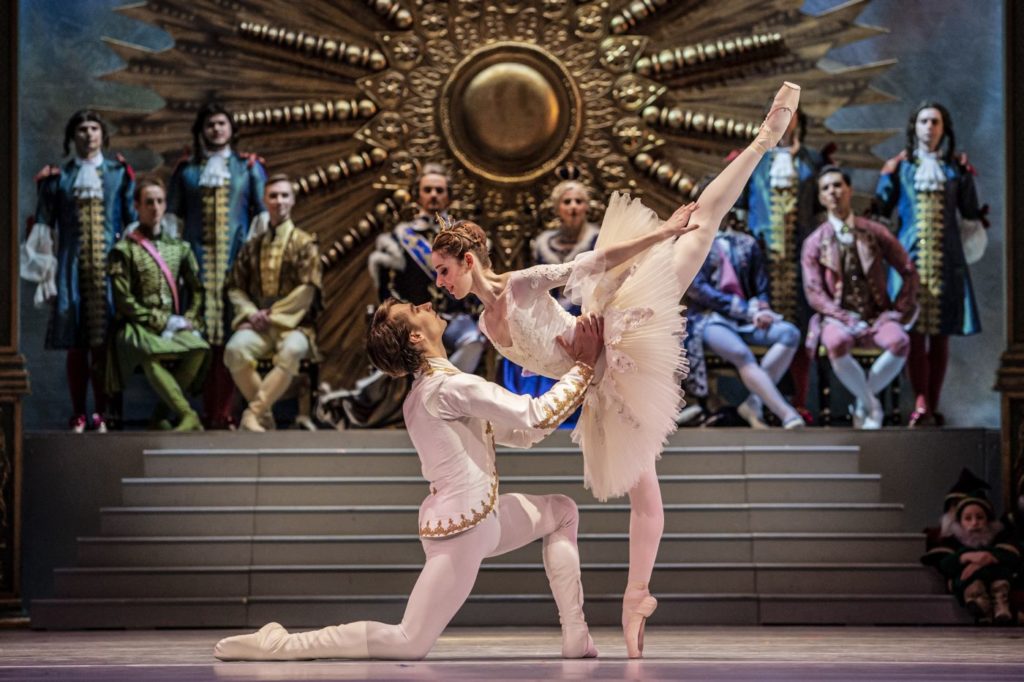 Cragun, is an androgynous figure that, even if defeated one day, returns reinvigorated the next. Evil and good are on opposite poles. Neither will disappear from this world – only the balance between them will shift. The lithe Holeček portrays Carabosse, jumping forcefully and turning like a dervish. Deep contempt and malice play around his mouth. His entrances are accompanied by Amanita-green light (and sometimes by thunder).
A perfidious spindle, hidden in a bouquet of red roses that Carabosse presents to Princess Aurora (Alina Nanu) at her birthday party, brings his curse to life. Aurora pricks herself and falls asleep for 100 years. She is carried out by her four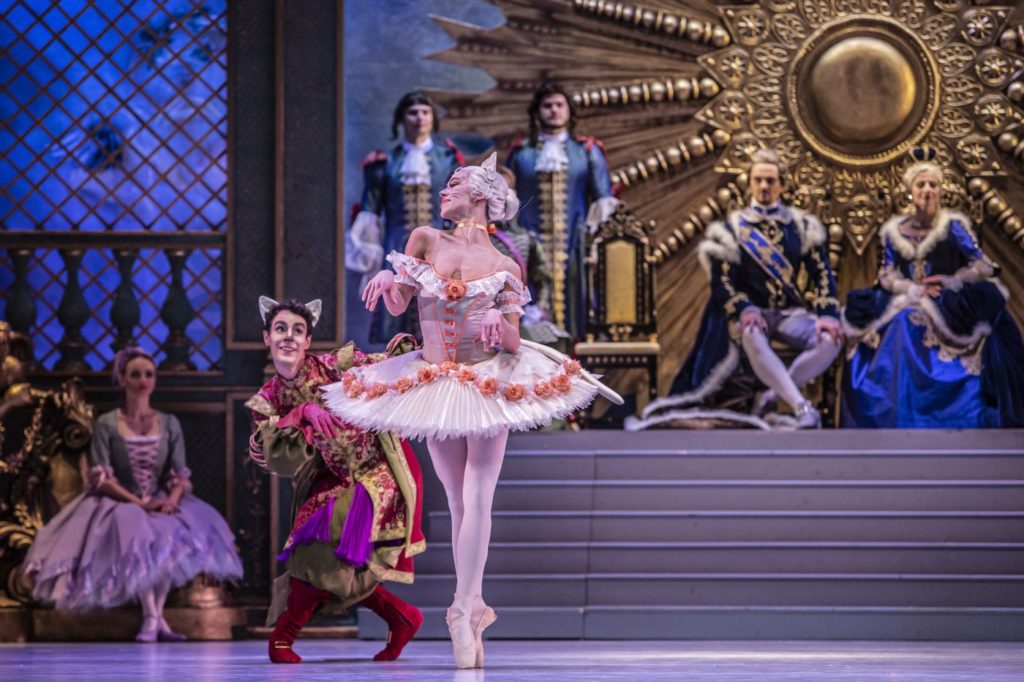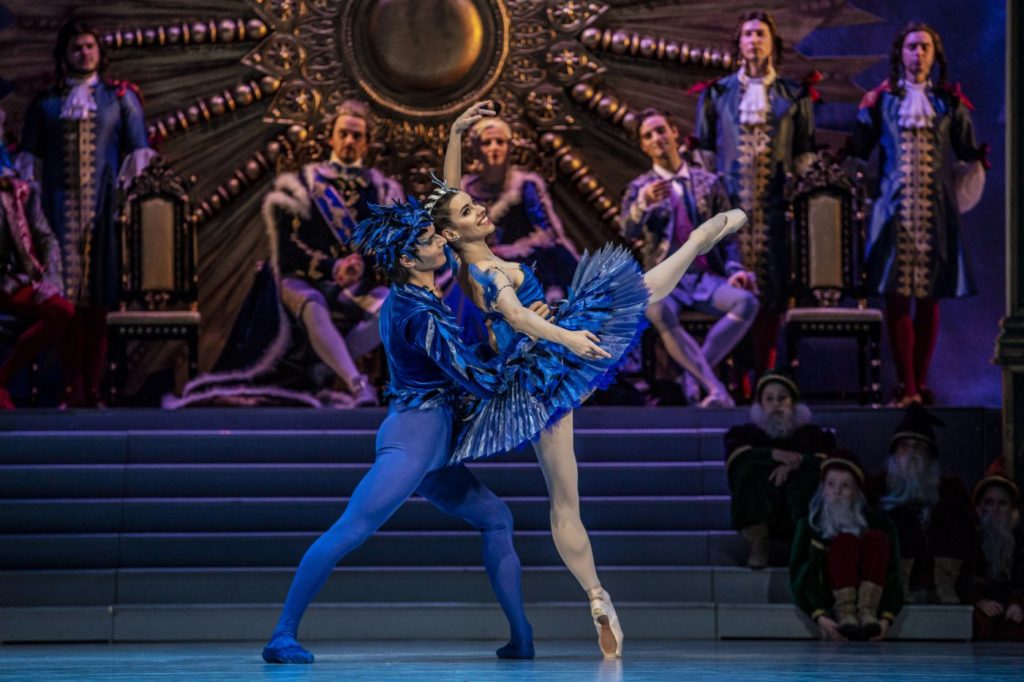 suitors: The Prince of the East (Jonáš Dolník), who seems to lay his heart at Aurora's feet with each bow; the Prince of the West (Federico Ievoli), who perhaps is too well-behaved for his own good; the Prince of the South (Paul Tudor Moldoveanu), who has melted away of soulful devotion, and the Prince of the North (Matěj Šust), whose warmth towards Aurora contrasts with his general aura of nearly arrogant reticence. All four men deserve credit for attending the final wedding even though none was chosen as the lucky groom. The groom – an introverted, downcast young Prince Desiré is more soft and cautious in nature than he is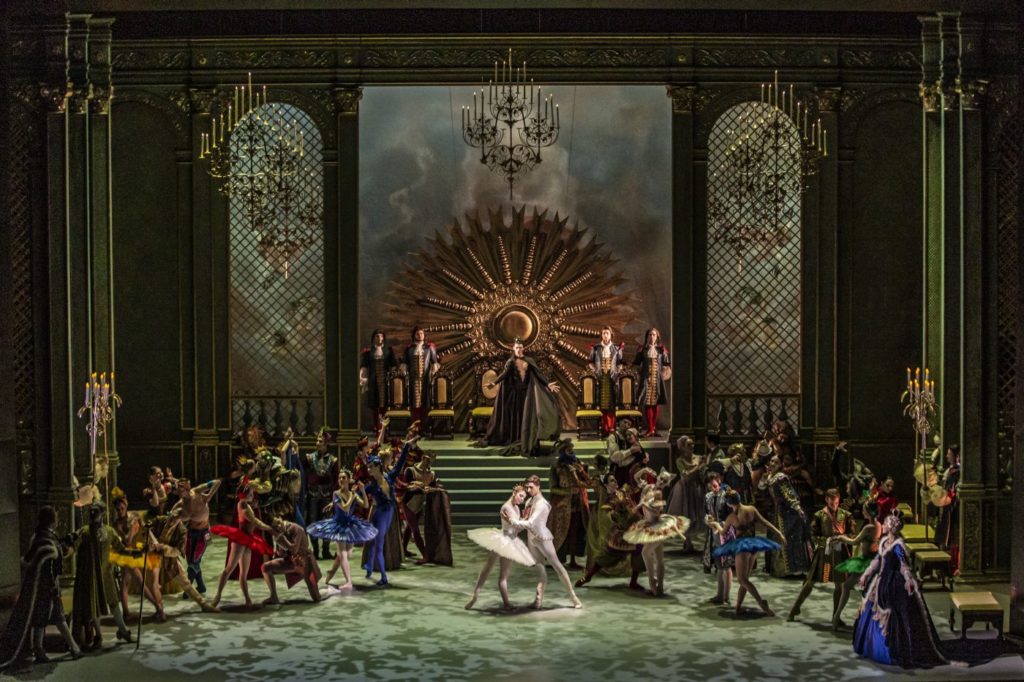 glamorous and royal. His flirty fiancée (Monika Hejduková) wouldn't have been the right match for him. Fortunately, the Lilac Fairy has predestined him to re-awaken Aurora. The young princess, affectionate and without airs and graces, is an ideal spouse for him. She imbues royal etiquette with warmth and cordiality.
The royal wedding is attended by numerous fairy-tale figures – among them Little Red Riding Hood (Morgane Lanoue), who vehemently tries to fight off the hungry wolf (Veaceslav Burlac), and the coquettish White Cat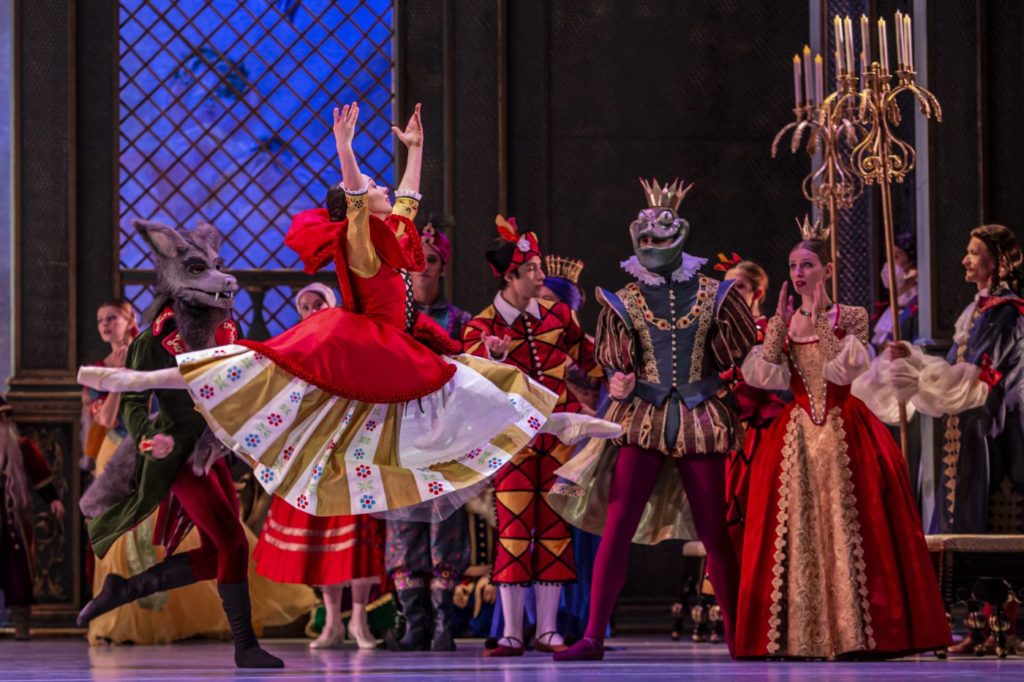 (Kristýna Němečková), who occasionally slaps Puss in Boots (Roger Cuadrado) on his head to keep him in his place. The fleet-footed Ali Baba (Jakub Rašek) shows off dashing jumps and turns while presenting his four diamonds: Ruby (Ayaka Fujii), Sapphire (Gaia Finetto), Emerald (Theodora Lehu), and Topaz (Alexandra Pera). Paul Irmatov was an elegant Blue Bird alongside the nimble Princess Florine (Olga Bogoliubskaia). I was especially happy that, after last December's Nutcracker performance, the children had another chance to be on stage either as attendants to the fairies or as the seven little dwarfs cared for genially by Snow White (Rebecca Mabin) – number seven being especially headstrong.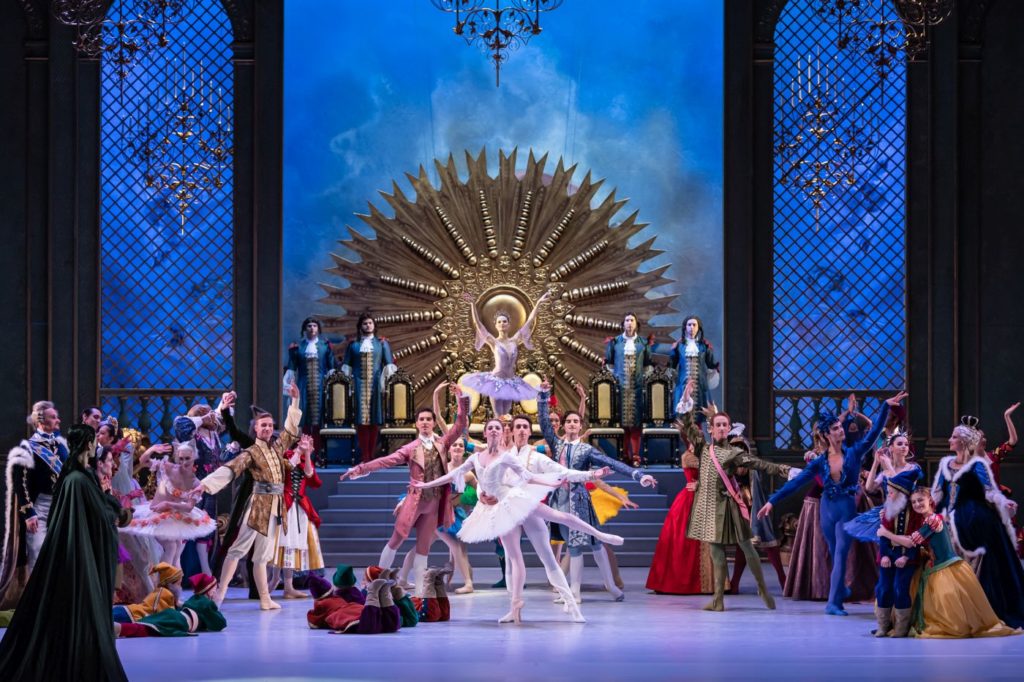 Links:
Website of the Czech National Theatre
YouTube channel of the Czech National Ballet

Trailer "The Sleeping Beauty"

Photos:

1.

Ayaka Fujii (Fairy of Wisdom), Alexandra Pera (Fairy of Grace), Evgeniya Victory Gonzales (Fairy of Force), Radka Zvonařová (Lilac Fairy), Monika Hejduková (Fairy of Beauty), Kristýna Němečková (Fairy of Eloquence), Patrik Holeček (Carabosse), and ensemble, "The Sleeping Beauty" by Marcia Haydée after Marius Petipa,

Czech National Ballet 2021

© Serghie Gherciu

2.

Radka Zvonařová (Lilac Fairy) and ensemble, "The Sleeping Beauty" by Marcia Haydée after Marius Petipa,

Czech National Ballet 2021

© Martin Divíšek

3.

Patrik Holeček (Carabosse) and ensemble, "The Sleeping Beauty" by Marcia Haydée after Marius Petipa,

Czech National Ballet 2021

© Martin Divíšek

4.

Ensemble,

"The Sleeping Beauty" by Marcia Haydée after Marius Petipa,

Czech National Ballet 2021

© Serghie Gherciu

5.

Mathias Deneux (Catalabutte), Jiří Kodym (King Florestan), Alina Nanu (Princess Aurora), Tereza Podařilová (Queen), and ensemble, "The Sleeping Beauty" by Marcia Haydée after Marius Petipa,

Czech National Ballet 2021

© Serghie Gherciu

6.

Alina Nanu (Princess Aurora) and Mathias Deneux (Catalabutte), "The Sleeping Beauty" by Marcia Haydée after Marius Petipa,

Czech National Ballet 2021

© Martin Divíšek

7.

Tereza Podařilová (Queen), Patrik Holeček (Carabosse), and ensemble, "The Sleeping Beauty" by Marcia Haydée after Marius Petipa,

Czech National Ballet 2021

© Serghie Gherciu

8.

Dmytro Tenytskyy (Prince Desiré) and ensemble, "The Sleeping Beauty" by Marcia Haydée after Marius Petipa,

Czech National Ballet 2021

© Martin Divíšek

9.

Monika Hejduková (Fiancée) and ensemble, "The Sleeping Beauty" by Marcia Haydée after Marius Petipa,

Czech National Ballet 2021

© Serghie Gherciu

10.

Alina Nanu (Princess Aurora), Dmytro Tenytskyy (Prince Desiré), and ensemble, "The Sleeping Beauty" by Marcia Haydée after Marius Petipa,

Czech National Ballet 2021

© Martin Divíšek

11.

Alina Nanu (Princess Aurora) and Dmytro Tenytskyy (Prince Desiré), "The Sleeping Beauty" by Marcia Haydée after Marius Petipa,

Czech National Ballet 2021

© Martin Divíšek

12.

Dmytro Tenytskyy (Prince Desiré), Alina Nanu (Princess Aurora), and ensemble, "The Sleeping Beauty" by Marcia Haydée after Marius Petipa,

Czech National Ballet 2021

© Martin Divíšek

13.

Roger Cuadrado (Puss in Boots), Kristýna Němečková (White Cat), and ensemble, "The Sleeping Beauty" by Marcia Haydée after Marius Petipa,

Czech National Ballet 2021

© Martin Divíšek

14.

Paul Irmatov (Blue Bird), Olga Bogoliubskaia (Princess Florine), and ensemble, "The Sleeping Beauty" by Marcia Haydée after Marius Petipa,

Czech National Ballet 2021

© Martin Divíšek

15.

Ensemble,

"The Sleeping Beauty" by Marcia Haydée after Marius Petipa,

Czech National Ballet 2021

© Martin Divíšek

16.

Veaceslav Burlac (Wolf), Morgane Lanoue (Little Red Riding Hood), and ensemble, "The Sleeping Beauty" by Marcia Haydée after Marius Petipa,

Czech National Ballet 2021

© Martin Divíšek

17.

Ensemble, "The Sleeping Beauty" by Marcia Haydée after Marius Petipa, Czech National Ballet 2021 © Serghie Gherciu

Editing:
Jake Stepansky