"Peer Gynt"
Maribor Slovene National Theatre
Forum Ludwigsburg
Ludwigsburg, Germany
November 11, 2022
by Ilona Landgraf
Copyright © 2022 by Ilona Landgraf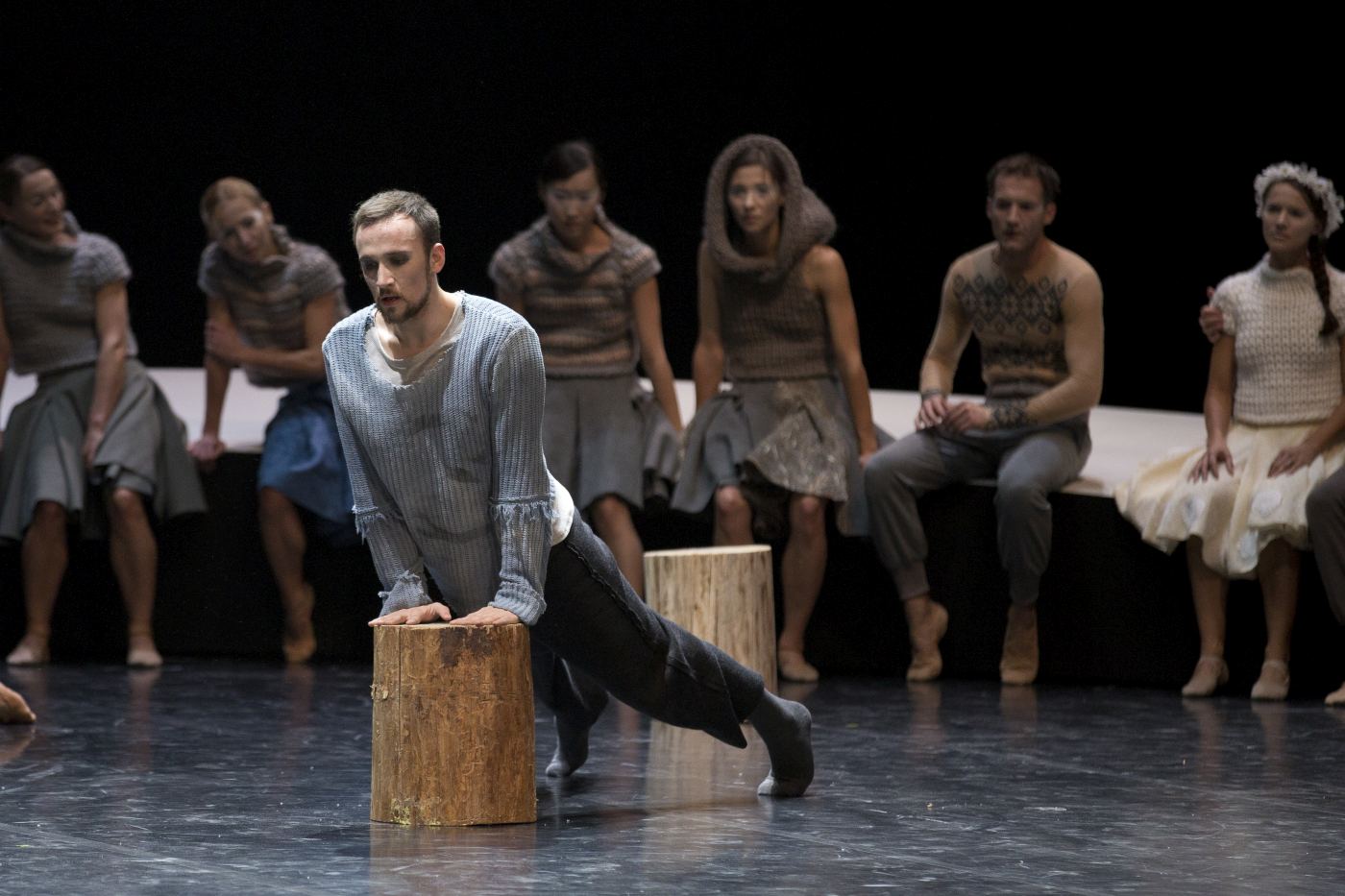 Edward Clug, the artistic director of the Slovene National Theatre's ballet company, is currently creating a new "Nutcracker" for the Stuttgart Ballet – but, in the meantime, his own Maribor company has joined him in nearby Ludwigsburg. This weekend, they toured the Ludwigsburg Forum with Clug's 2015 take on Henrik Ibsen's "Peer Gynt".
Ibsen's happy-go-lucky peasant's son Peer is quite the ambiguous figure. It's easy to dismiss him as a narcissistic slacker and gascon. He never misses a chance to womanize or to seek trouble as he gads about Norway's mountains. The splendid future that he imagines in his fantasy fails to become a reality. The wealth that he gains abroad does not make him lucky at home. His dream of becoming a crowned king (or emperor?) materializes, but only as an inmate in a Cairo madhouse. Old and feeble, he returns home in an effort to save his own soul. Only in the very last moment does he realize that he would have been much better off staying with his early love, Solveig. But why are we sympathetic to Peer rather than disliking him?
Is it because one hundred and fifty years after Ibsen invented the character, Peer's egocentricity and materialism (and his ability to twist reality and his refusal to come of age) are now familiar social traits? Or is it simply because Clug is a skilled narrator?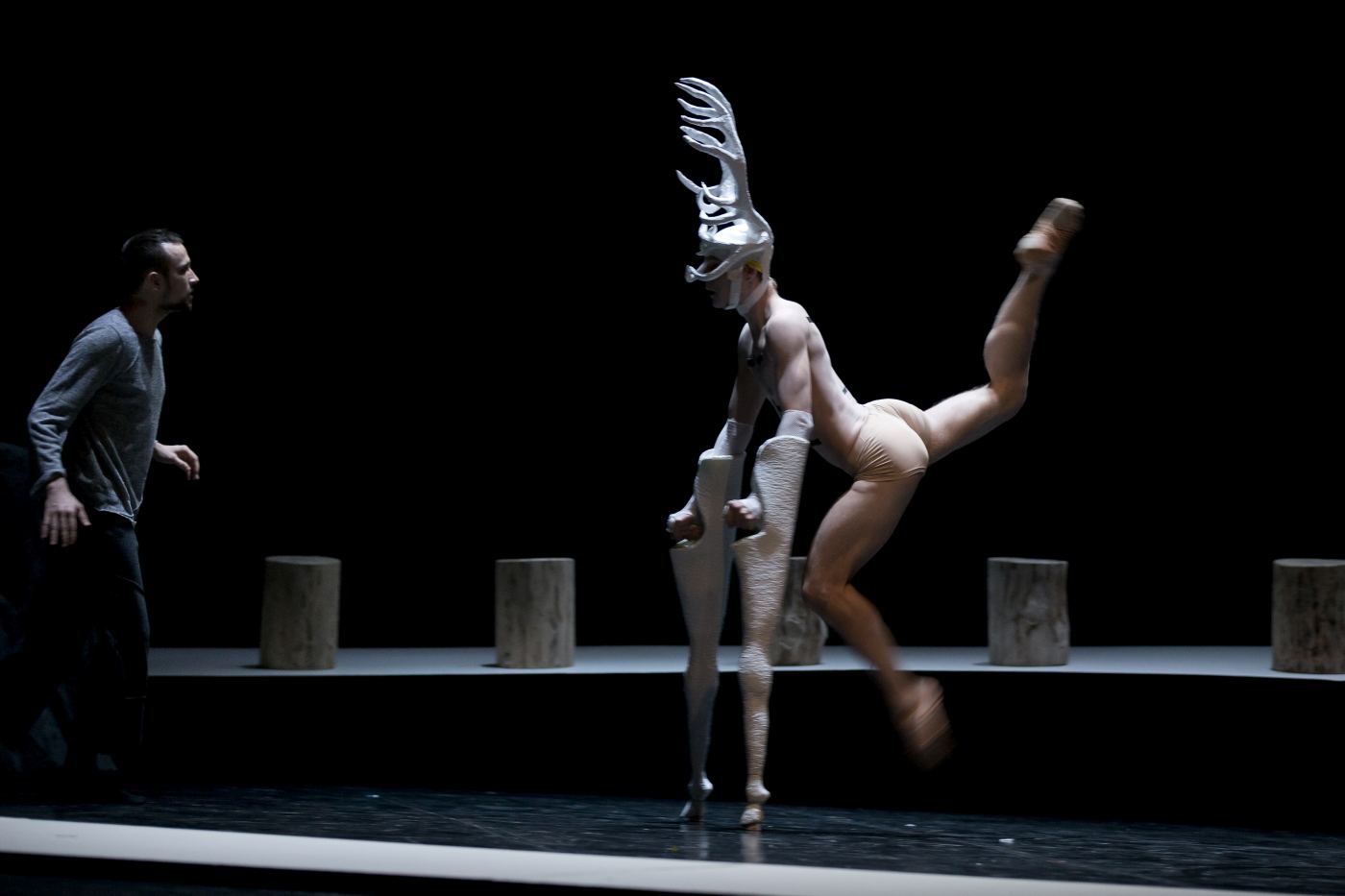 Let's focus on the latter. Clug dropped parts of the complex storyline (such as the Sphinx and the shipwreck), omitted minor characters, and – I chuckled – swapped out the means of transportation. Peer (Miloš Isailovic) is neither carried by ship nor horseback, but instead rides a cute children's playground propeller plane to exotic shores after dropping coins in its slot.
The White Deer (Sytze Jan Luske, wearing antlers and moving on crutches that resemble deer legs) is an addendum from Clug. It is the embodiment of Peer's lifelong fantasy of becoming king; it dies the moment that he and Solveig unite. Another new figure is Death (portrayed by the iridescent Daniel Mulligan), replacing three of Ibsen's figures: the Strange Passenger, the Button-molder, and the Devil alias Pastor. Death is sometimes Peer's savior and sometimes his buddy – but ultimately he wants to steal Peer's soul. Helga (Ema Peric), the little sister of Solveig (Evgenija Koškina) comes to Peer's rescue, too. That Peer is habitually in need of a white knight is unmissable. His insults towards the blacksmith Aslak (Sergiu Moga, who is very quick with an ax) almost lead to an execution.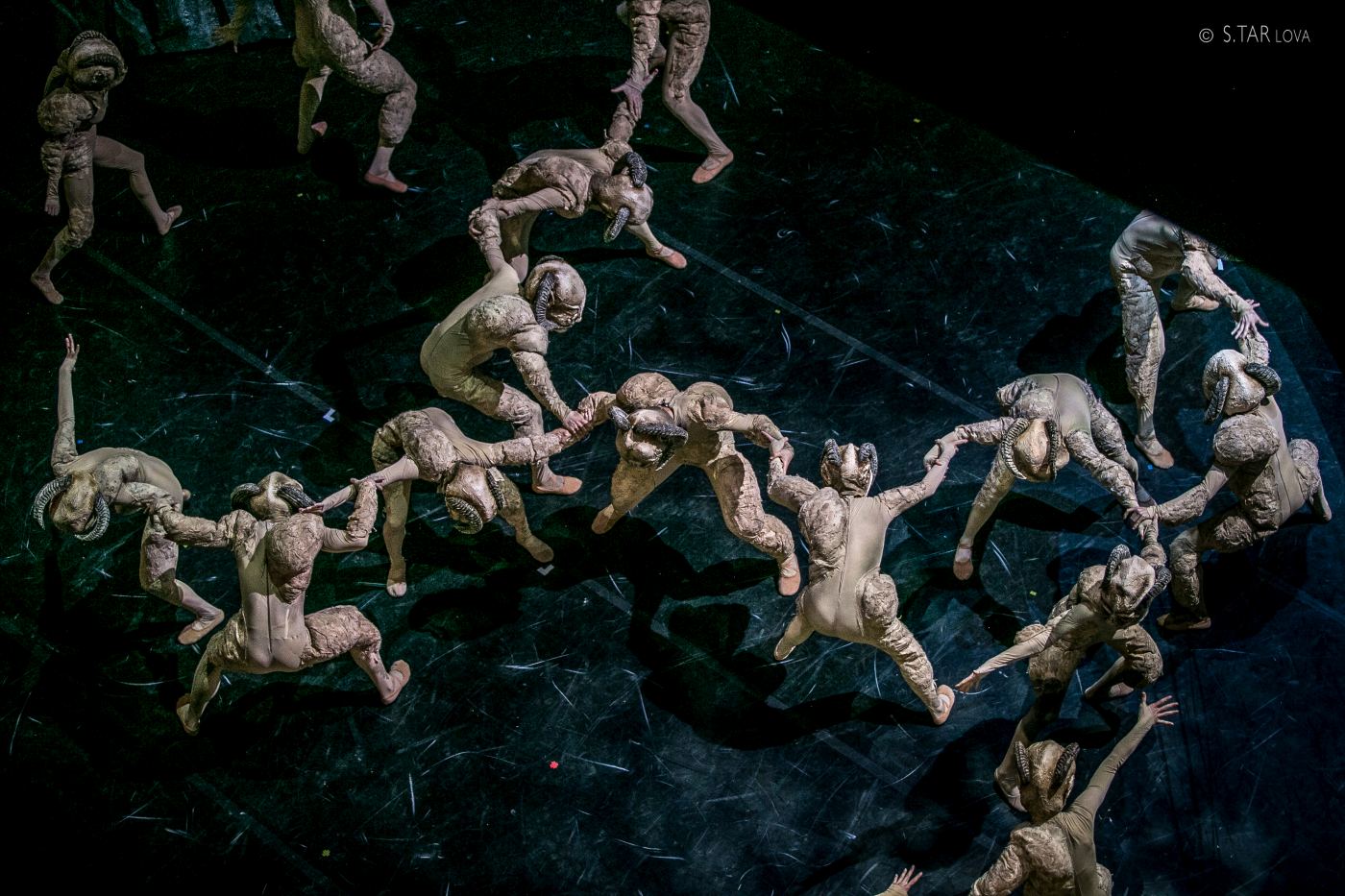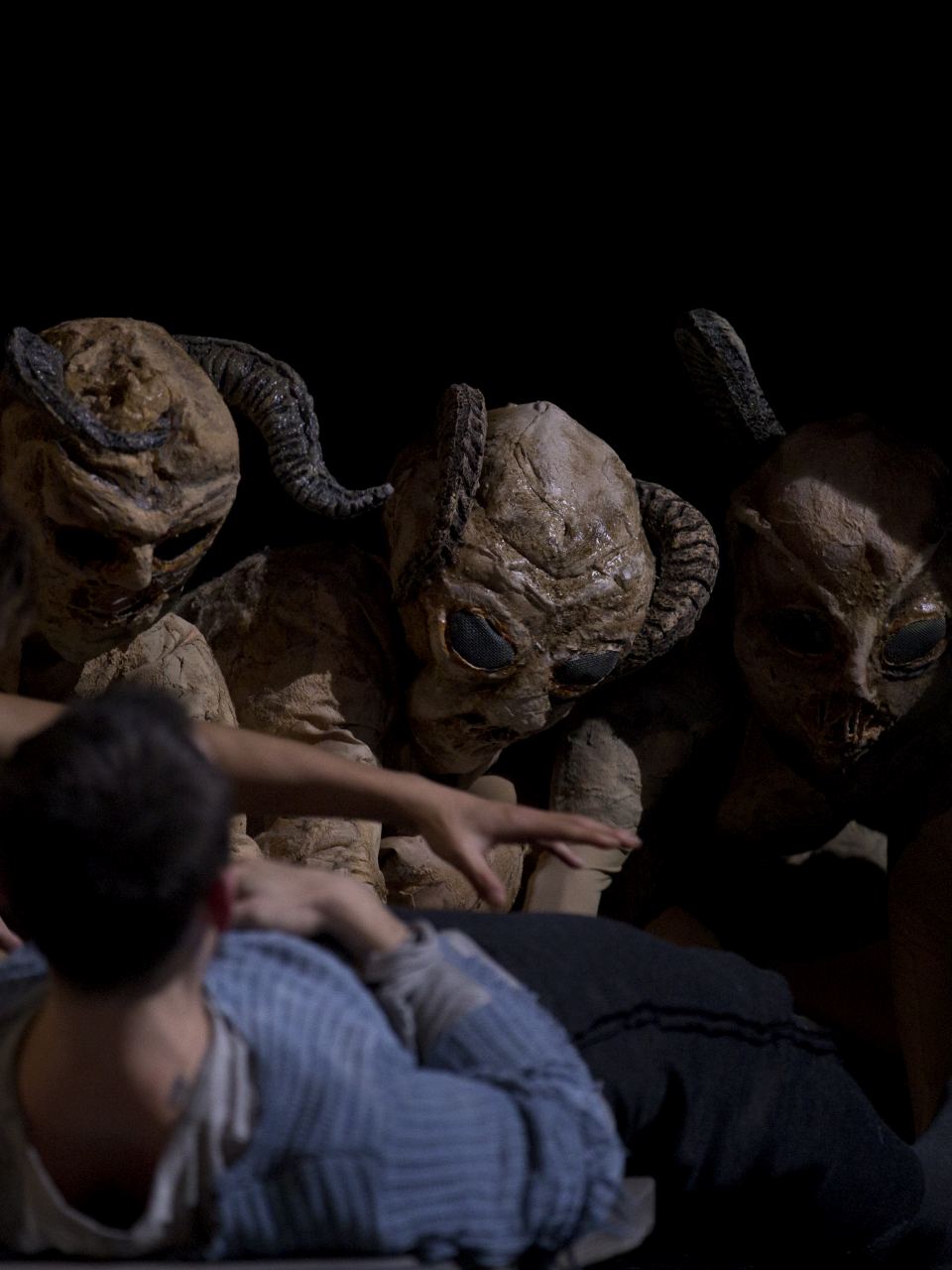 Clug kept Ingrid (Tijuana Križman Hudernik), the unhappy bride who laughs only after escaping from the wedding party together with Peer – her true love. Years later, she has found marital bliss with her first husband (Lucio Mautone). Peer also falls for three alluring dairymaids (Klavdija Stanišić, Olesja Hartmann Marin, Hristina Stoycheva), who entangle him in the long tresses of their green hair, a troika of Nordic femme fatales. Green hair seems to fascinate Peer – his carelessness leads him impregnate another green-haired creature: the troll princess (Tetiana Svetlicna) – a scary lady hiding a second face and breasts below her felt-like mane. The troll king (Andrea Schifano) and his aggressive kin go after the evasive Peer and attempt to castrate him. He escapes. (Creating the spooky outfits of the disfigured, horned trolls must have been a feast for costume designer Leo Kulaš!) Upon returning home, Peer's mother Åse (Tanja Baronik), an embittered and exhausted widow, gives him a trouncing that regresses him rather than straightening him out.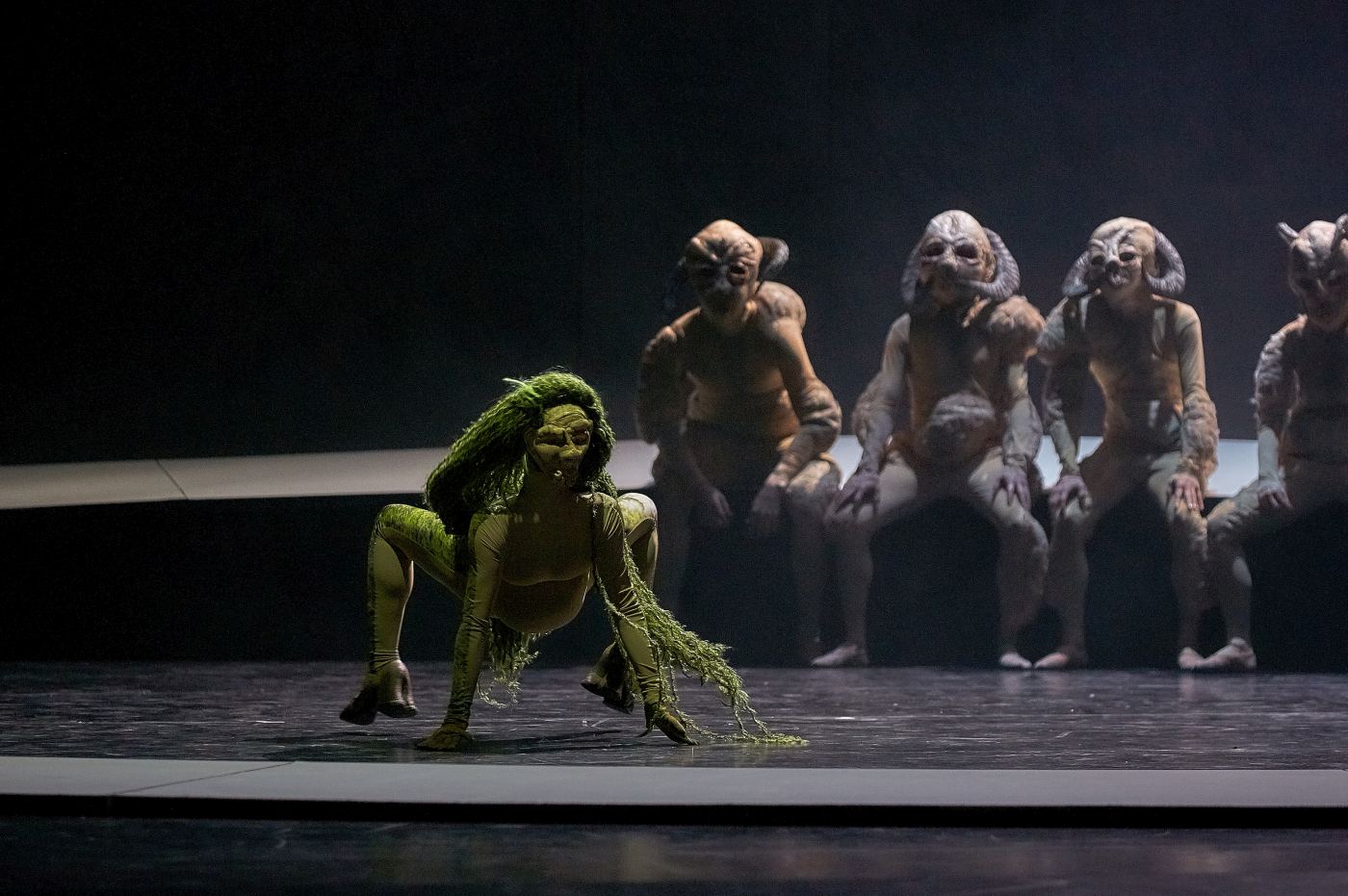 After Åse's death, Peer piles riches abroad, but his character does not change. In Morocco he gets high at the helm of a harem – but his temporary love interest, the Bedouin chief's daughter Anitra (Asami Nakashima), robs him and clears out. Matters worsen in Cairo, where Peer spends an enforced stay in the madhouse of Dr. Begriffenfeldt (Sergiu Moga) and is mauled by fellow patients. Aged and grayed, he returns home with Death at his heels. Still, Solveig waits for him. It's Peer's last chance.
Much happens in Ibsen's drama and Clug takes his time to tell it. Neither rushing nor dragging, his characters have ample space to unfold. I liked Clug's unpretentious and inventive translations into contemporary movement of the emotional lives of his characters and the social fabrics of his worlds. His wit and humor were a welcome softener of drama. Clug's handling of Ibsen's religiously tinged finale turned out especially well. Sitting behind a solitary wooden door, an aged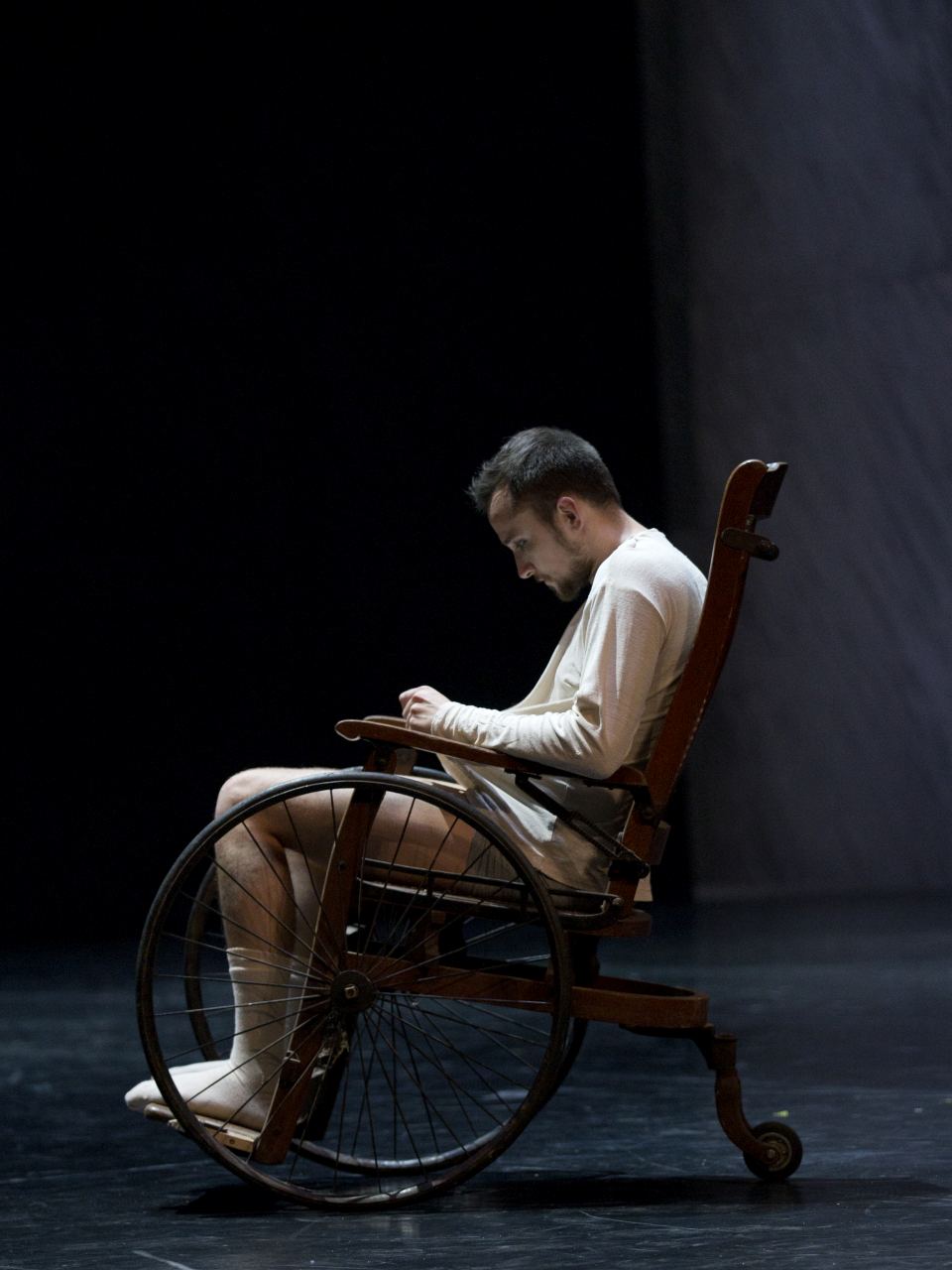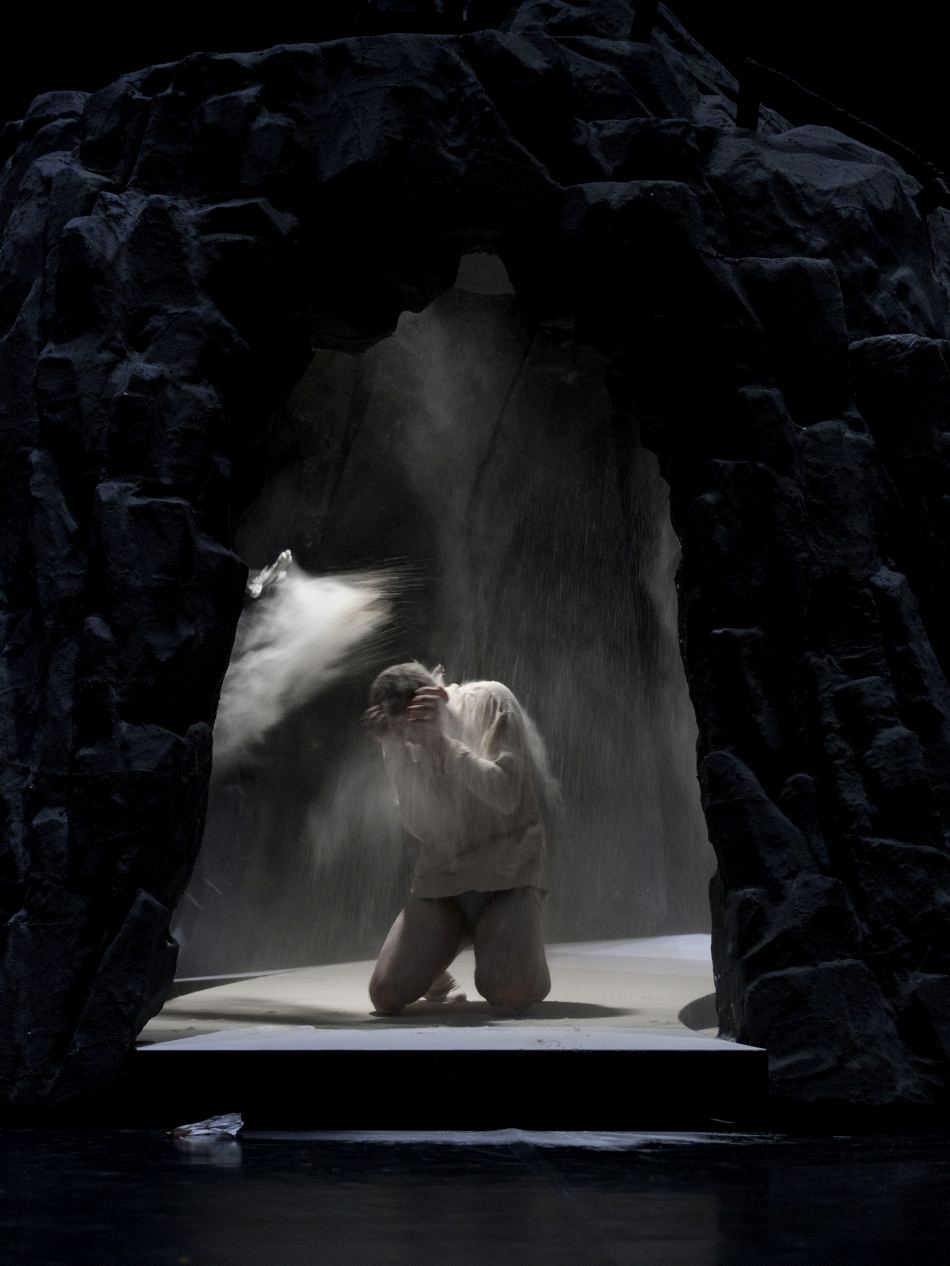 Solveig waits for Peer. He enters – but hasn't the heart to stay. Left alone again, Solveig shoulders the door like a cross and sadly retreats offstage. She's nearly gone when Peer runs to help her carry the burden. The realm that they enter together through the door looks bright.
Smart, too, is Marko Japelj's set design, which includes a circular white path (Peer's life cycle) running through a stone hill. The arena that it circumscribes serves as a dancing square for the village folk, a forest glade, and the kingdom of the trolls. The hill later stands in for Solveig's lonely cottage. Persian carpets, handled by white gloved hands, furnish the Moroccan harem. Tape and a wheelchair are sufficient to mark out the asylum.
As accompaniment, Clug choose a recording of Edvard Grieg's original score, which he augmented with the twittering of birds, the roaring of a stag, the burbling of water, and the wailing of a certainly frigid wind. The faint sound of a crackling Arabian melody accompanied Death when it joined Peer at the Beduins.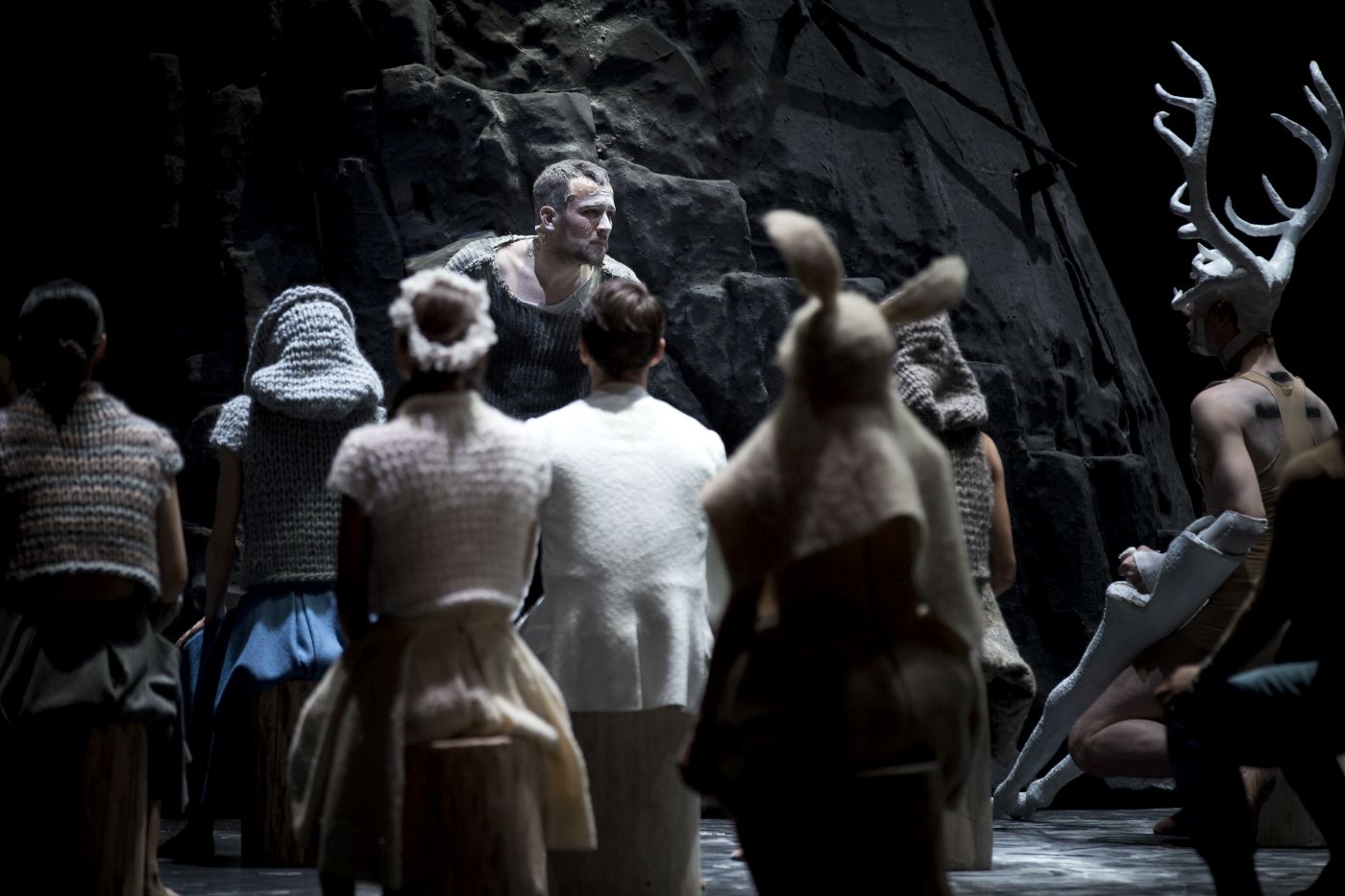 Links:
Website of the Maribor Slovene National Theatre
"Peer Gynt" – Trailer

Photos:

1.

Milo

š

Isailovic

(Peer Gynt) and ensemble, "Peer Gynt" by Edward Clug, Maribor Slovene National Theatre

2022

©

SNG

Maribor

2.

Milo

š

Isailovic

(Peer Gynt) and

Sytze Jan Luske

(White Deer), "Peer Gynt" by Edward Clug, Maribor Slovene National Theatre

2022

©

SNG

Maribor

3.

Ensemble (Trolls), "Peer Gynt" by Edward Clug, Maribor Slovene National Theatre

2022

© Tiberiu Marta

4.

Milo

š

Isailovic (Peer Gynt) and ensemble, "Peer Gynt" by Edward Clug, Maribor Slovene National Theatre

2022

©

SNG

Maribor

5.

Tetiana Svetlicna (Troll Princess) and ensemble,

"Peer Gynt" by Edward Clug, Maribor Slovene National Theatre

2022

© Tiberiu Marta

6.

Milo

š

Isailovic (Peer Gynt), "Peer Gynt" by Edward Clug, Maribor Slovene National Theatre

2022

©

SNG

Maribor

7.

Milo

š

Isailovic (Peer Gynt), "Peer Gynt" by Edward Clug, Maribor Slovene National Theatre

2022

©

SNG

Maribor

8.

Milo

š

Isailovic (Peer Gynt) and ensemble, "Peer Gynt" by Edward Clug, Maribor Slovene National Theatre

2022

©

SNG

Maribor

Editing:
Jake Stepansky