"Primavera" / "Breu"
Grupo Corpo
Forum Ludwigsburg
Ludwigsburg, Germany
March 18, 2023
by Ilona Landgraf
Copyright © 2023 by Ilona Landgraf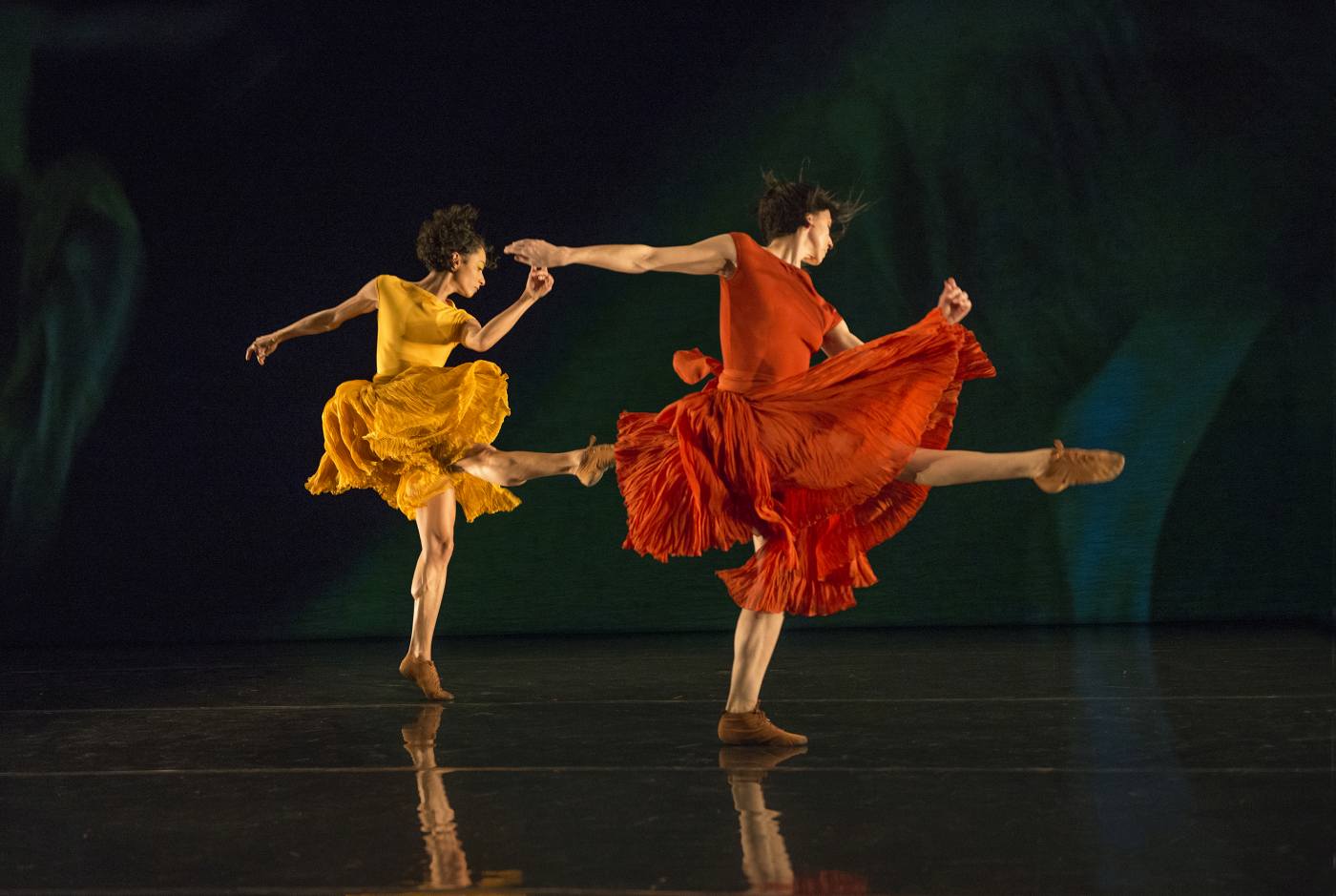 If there's one thing to be associated with Brazilian dancers, it's that dance and rhythm course through their blood. Grupo Corpo, one of the oldest contemporary Brazilian troupes, is currently touring Europe – and they offered a sample of their country's dance spirit last weekend in Ludwigsburg. The double bill presented at the Ludwigsburg Forum was comprised of two works by Rodrigo Pederneiras, the chief choreographer of the company and brother of its founder Paulo.
"Primavera" – which translates to "spring" in Portuguese – was Pederneira's 2021 antidote to the pain caused by the COVID-19 pandemic. Joie de vivre and the proverbial bright side – that's what he hoped to re-invigorate in his audiences, and that's what radiates from his twenty dancers – eleven women and nine men. They hop, bounce, and twirl through a seamless succession of solos, duets, and group dances, swerving from cool and casual to fiery and dynamic.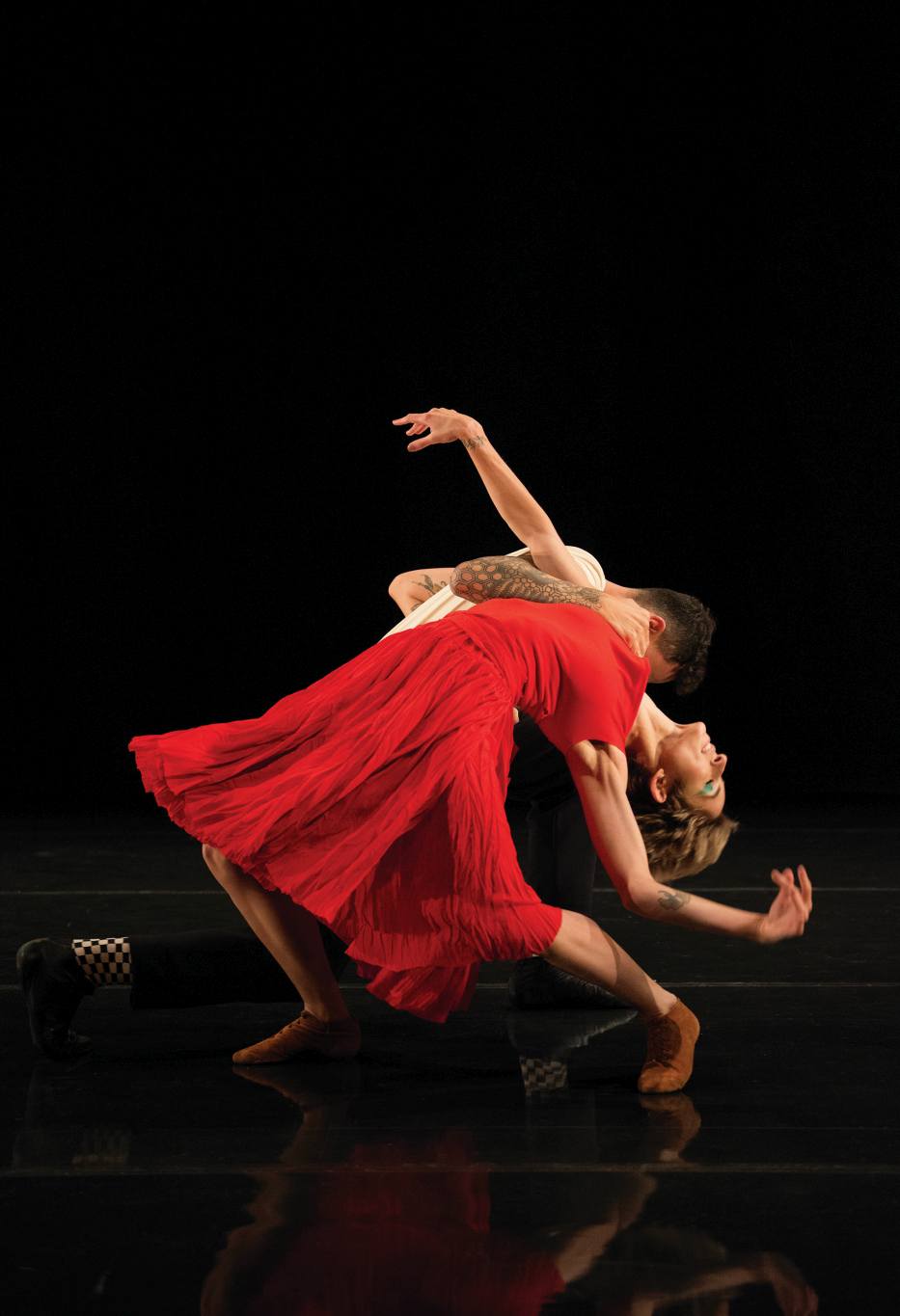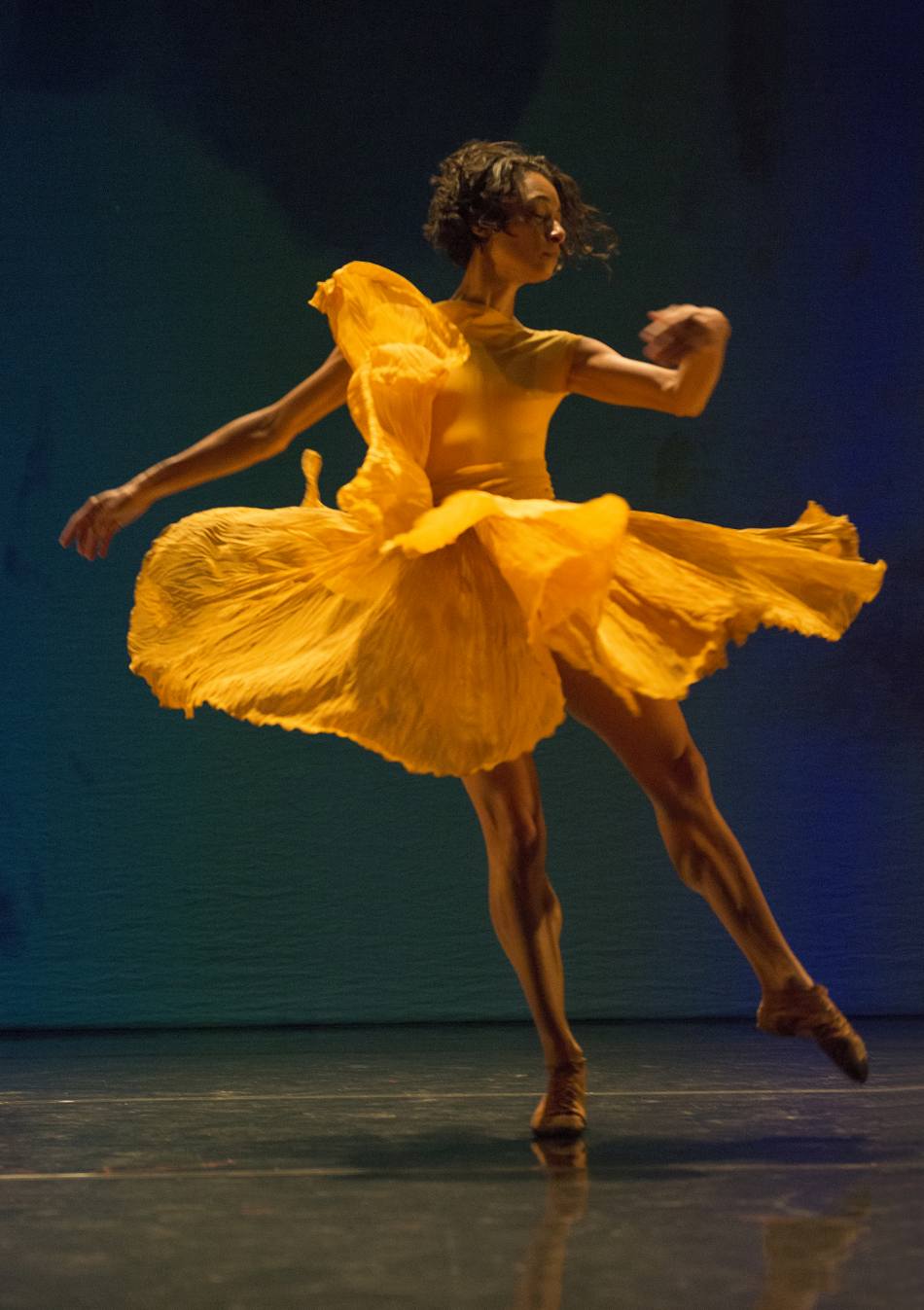 Soft and energetic movements are repeatedly merged – swift, nimble legs punch briskly through the air, and moments later their vigor is absorbed by pliant torsos with seemingly boneless arms. One couple's dance is peppered with a splash of tango, whereas a male duo (sans tap shoes) evoked Fred Astaire. Two cameras added a second level of perception, projecting close-ups and still images of the dance onto the backdrop. (It would be interesting to know how many eyes were glued to the real performance and how many to the digital version.)
The "Primavera" choreography is easygoing, as so too is Palavra Cantada's feel-good score. Palavra Cantada is an artist duo comprised of Sandra Peres and Paulo Tatit. Though their main occupation lies in composing music for children, the duo re-arranged a collection of jazzy, folksy, and percussion-rich songs for "Primavera".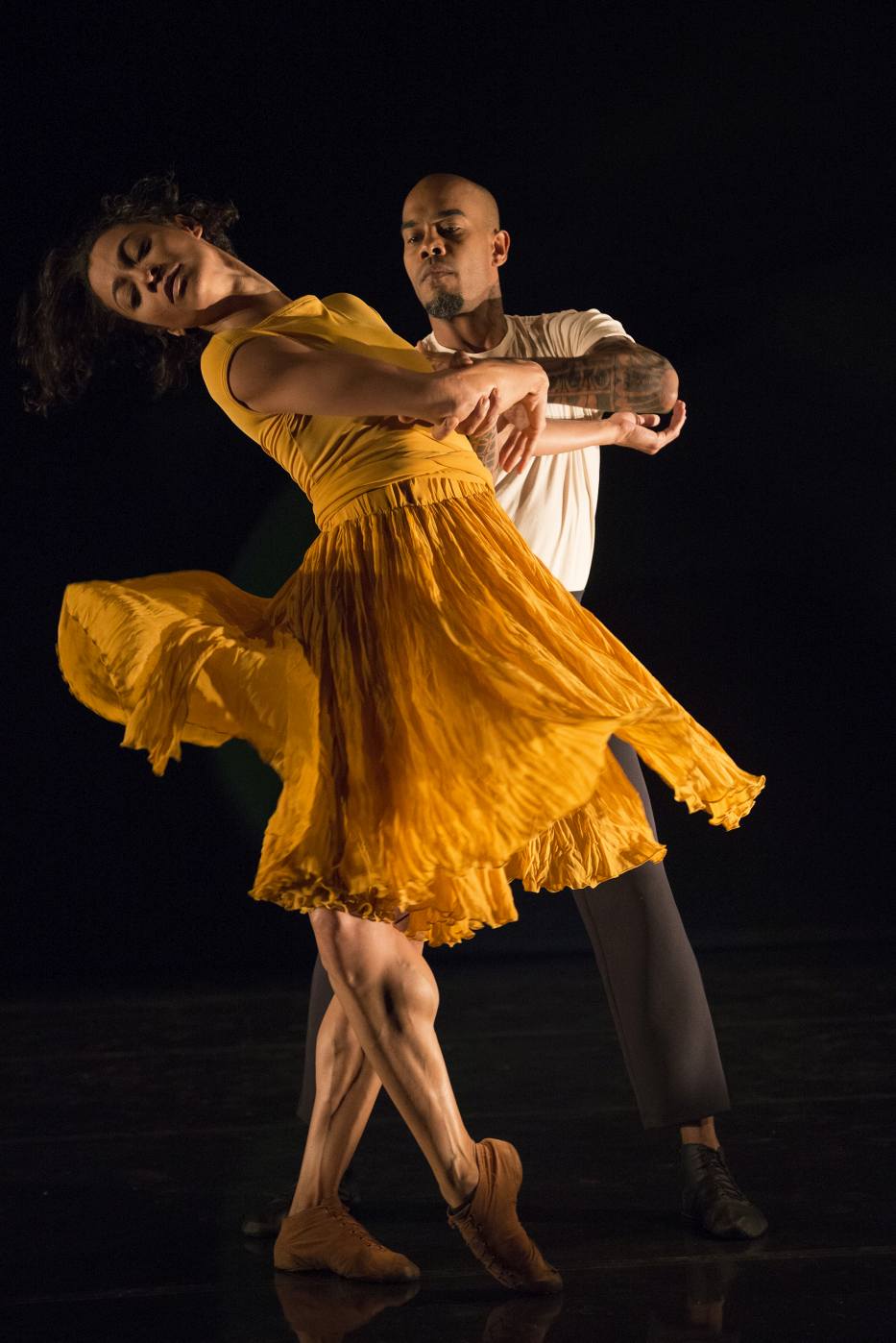 The vividly-colored, wide-swinging dresses designed for the women by Freusa Zechmeister reinforce the positive vibe. Warm spotlights make their reds, oranges, and yellows (and, to a lesser extent, greens) shine like gems in a casket against the black backdrop.
Grupo Corpo brings "all facets of Brazil (…) to being as art" (according to the company's website). Their 2007 work "Breu" (Portuguese for tar) deals with some of the darker of these facets – not merely of Brazil, but of life in general. Its twenty dancers (the same as in "Primavera") lie like felled tree trunks on semi-dark ground – and they'll do so several times later. Gusts of wind (or the sound of heavy breathing?) fill the air with an unfriendly chill. Hooting sounds and the clicking of clay balls rolling around an earthenware dish prompt the group to stand up and huddle together. Their skintight black-and-white striped and checkered leotards (costumes also by Freusa Zechmeister) make them appear zebra-like; closer examination reveals war paint (black lips and white-striped foreheads) and snazzy black-and-white sneakers.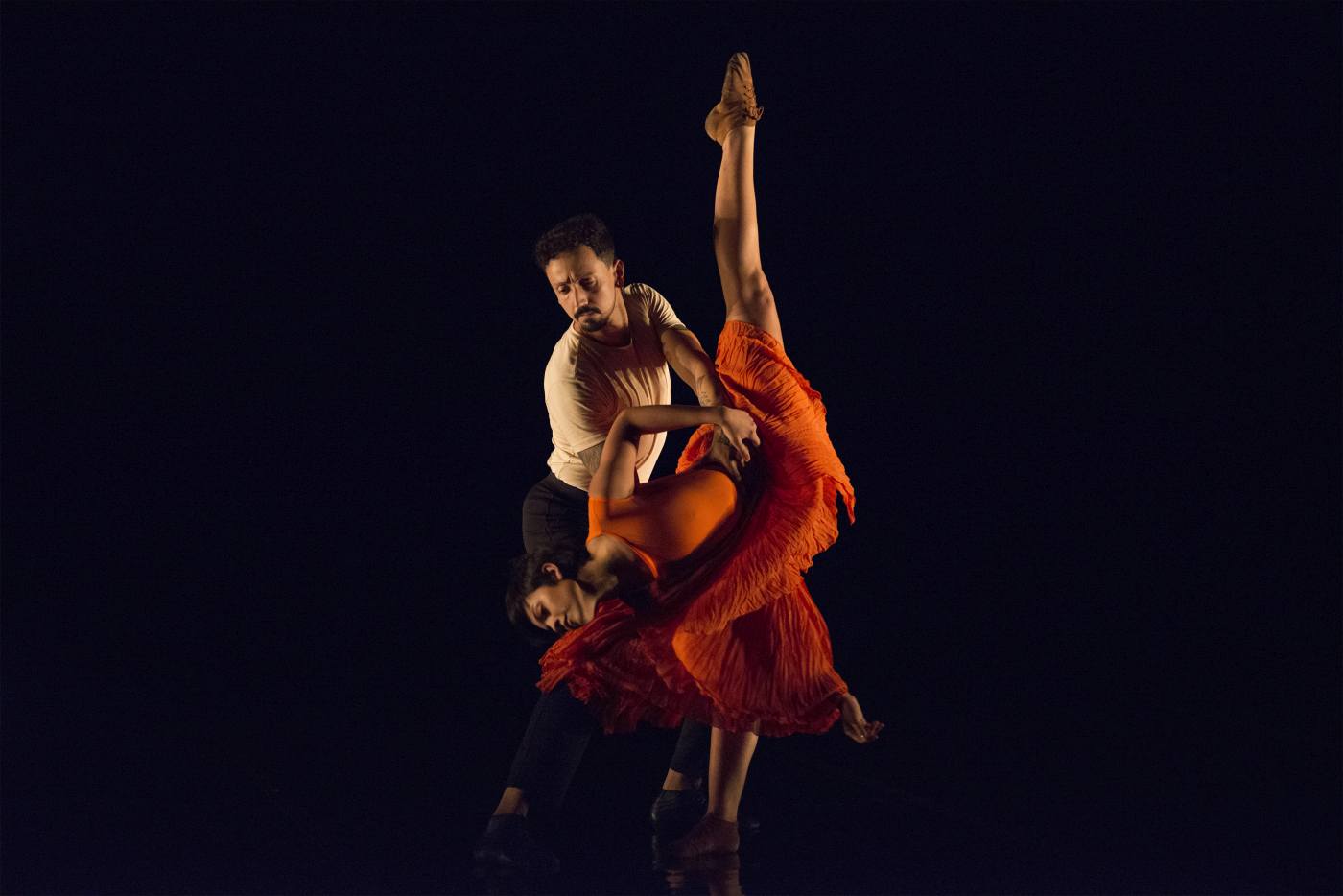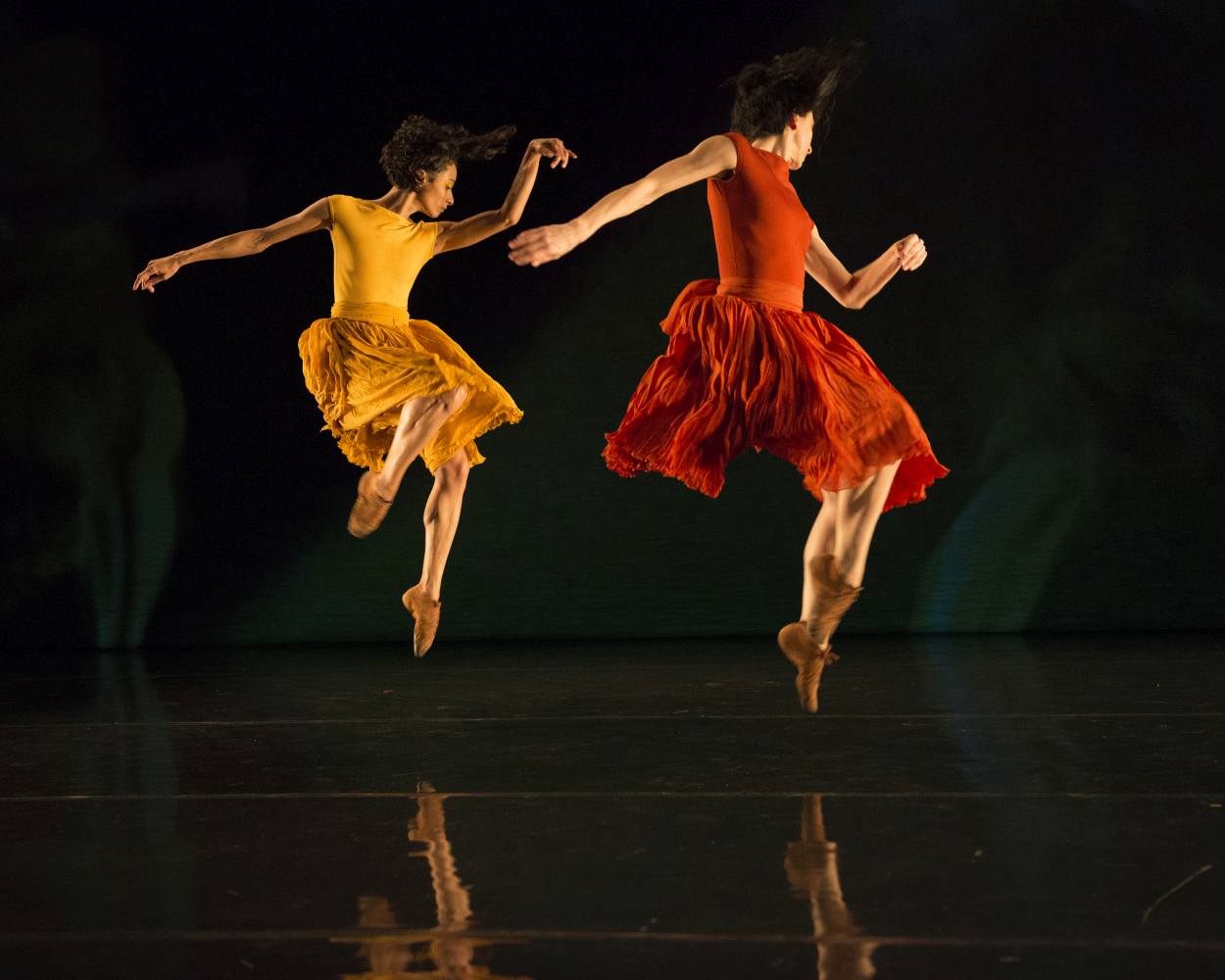 Might we be watching a troupe of modern warriors? Indeed, these dancers are on rough terms with one another. As some of them fall, the group mercilessly plods forward, kicking their bodies out of the way. Others collapse too, their efforts to rise again proving to be in vain.
It is almost as if the floor is lava, though – the ground is rarely used as a place to rest. Sometimes, tensed bodies are propelled back into the air upon touching the floor. At other times, those same bodies are magnetically drawn to the ground. The dancers jump into a plank, plop to the ground, roll to the side, and turn onto their back like meat flipped in a pan. Breu/tar is sticky – I guess that's why some couples stick together like glue (though not always peacefully). One pair desperately tries to tear their bodies apart but fails. Only sex seems to reconcile their forced symbiosis.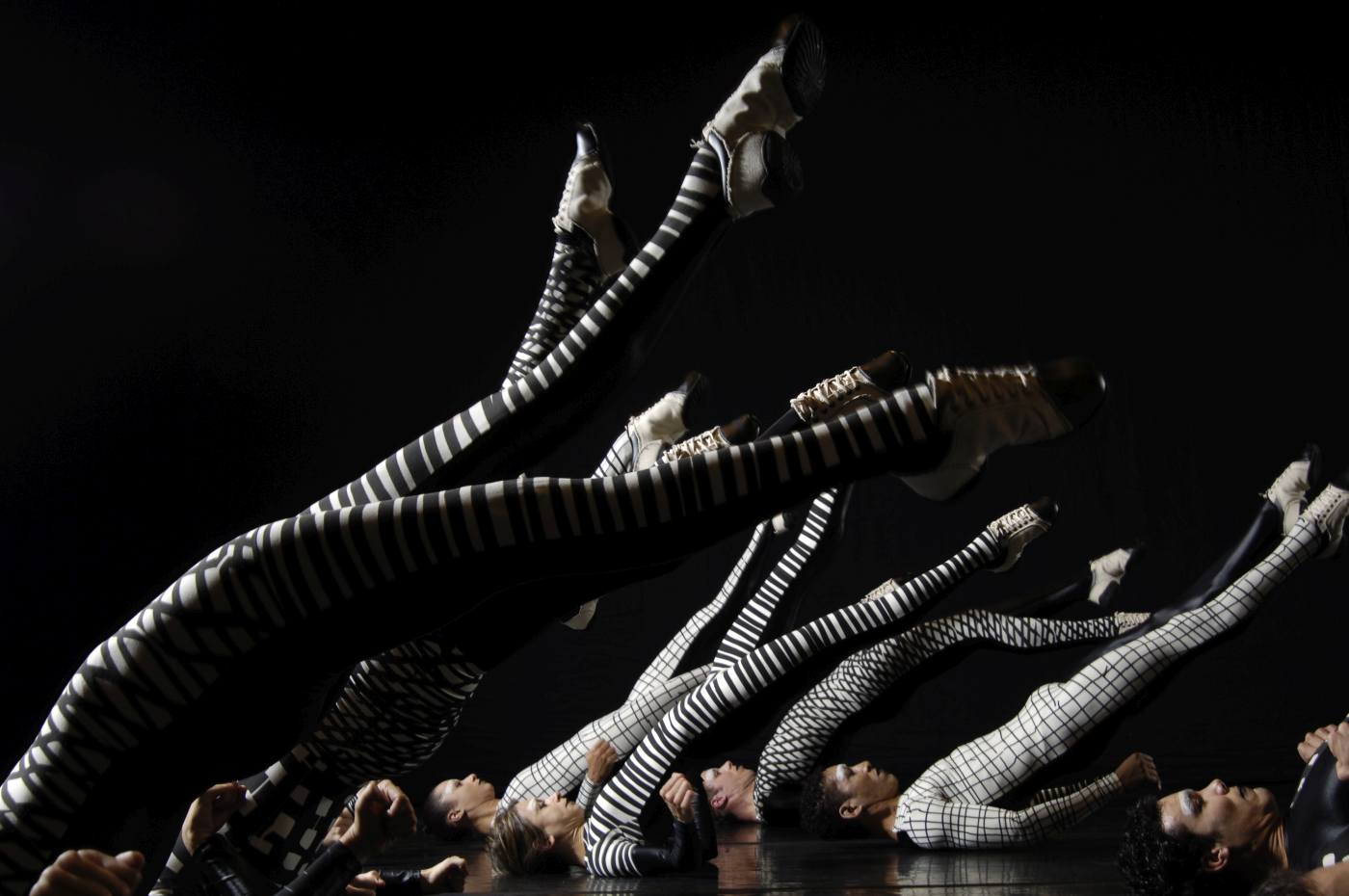 Biting tension and (almost martial) aggression alternate until all are thoroughly exhausted. In several instances, the group lies on the ground, either motionless or slowly crawling across the stage. None of their attempts to separate are long-lasting. The men offer support (by carrying the limp bodies of the women on their bent backs), but are also brutally dominating. At one point, they hold the women's necks between their thighs (a disgusting pose) before letting them fall like stones, eliciting an indignant murmur from the audience.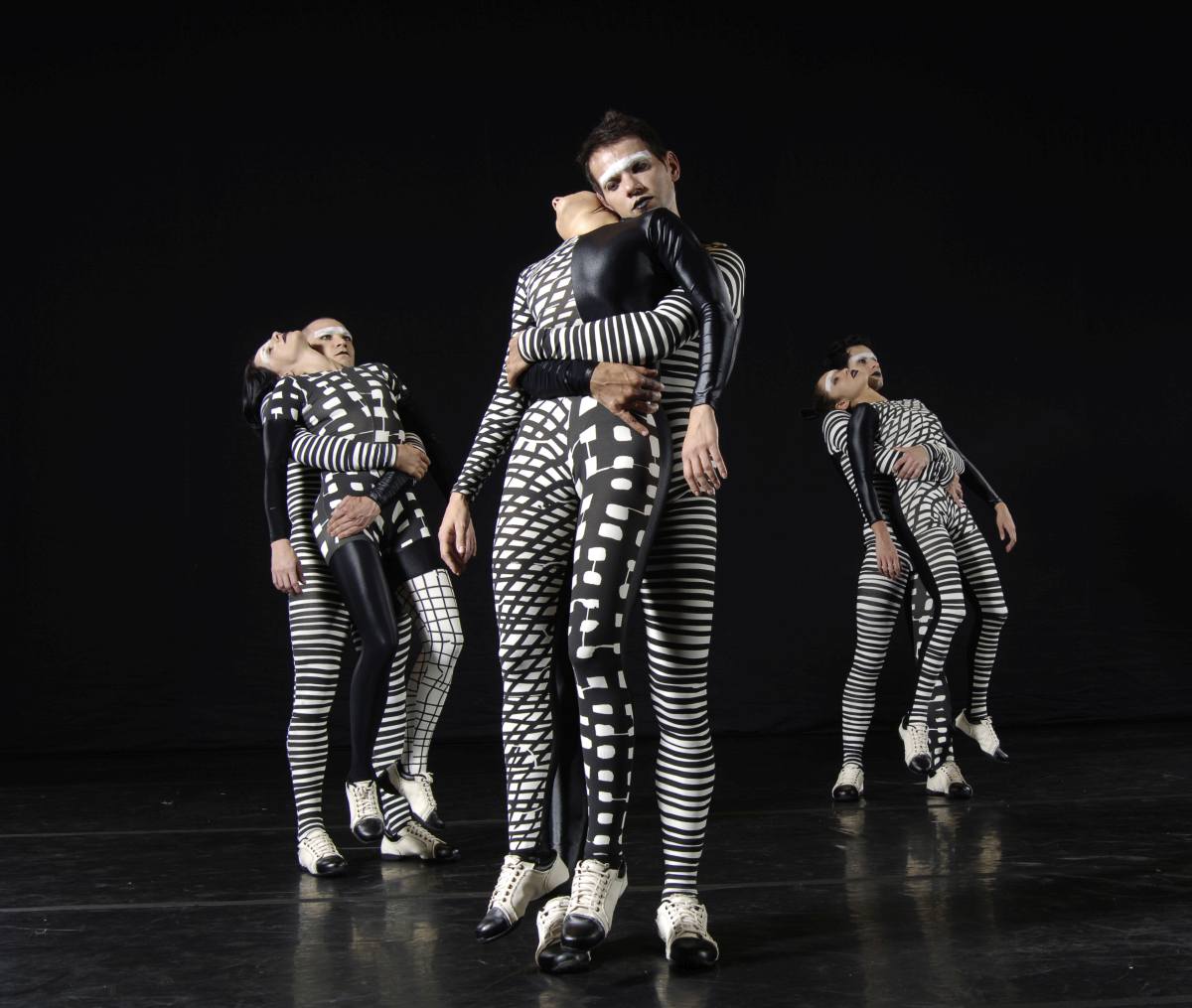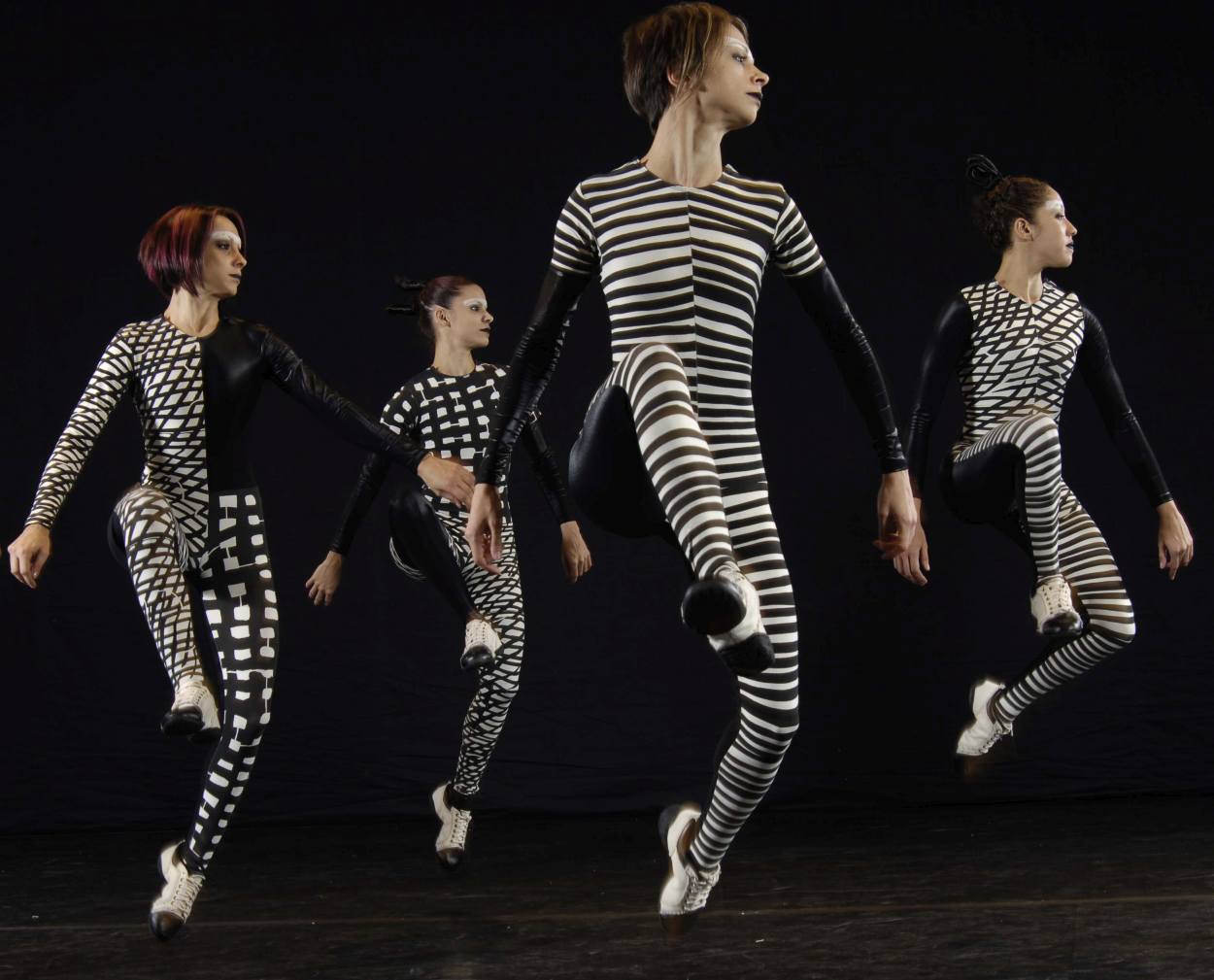 Pederneiras also used elements of hip-hop and acrobatic, driven by the rhythm of the Brazilian rock musician Lenine's score (which, in turn, featured repetitive-if-occasionally-jarring flute melodies, nervy rock, Arabian (?) songs, an English horn, noisy electronics, and lively guitar music).
Though "Breu" felt lengthy at times and was not particularly fun, the audience didn't let the Brazilians go, calling them to come in front of the curtain again and again. Witnessing two cultures connect was the greatest success of the evening.

Links:

Website of Grupo Corpo

Website of the Forum Ludwigsburg

"Primavera" backstage 1 (video)

"Primavera" backstage 2 (video)

"Breu" (video)


Photos:

1.

Mariana do Rosario

and

Janaina Castro, "

Primavera" by Rodrigo Pederneiras, Grupo Corpo 2023

2.

Mariana do Rosario, "Primavera" by Rodrigo Pederneiras, Grupo Corpo 2023

3.

Agata Faro and Lucas Sraiva,

"

Primavera" by Rodrigo Pederneiras, Grupo Corpo 2023

4.

Mariana do Rosario and Elias Bouza,

"

Primavera" by Rodrigo Pederneiras, Grupo Corpo 2023

5.

Mariana do Rosario,

"

Primavera" by Rodrigo Pederneiras, Grupo Corpo 2023

6.

Mariana do Rosario

and

Janaina Castro, "

Primavera" by Rodrigo Pederneiras, Grupo Corpo 2023



7.

Karen Rangel and Lucas Saraiva,

"

Primavera" by Rodrigo Pederneiras, Grupo Corpo 2023

8.

Ensemble, "Breu" by Rodrigo Pederneiras, Grupo Corpo 2023

9.

Ensemble, "Breu" by Rodrigo Pederneiras, Grupo Corpo 2023

10.

Ensemble, "Breu" by Rodrigo Pederneiras, Grupo Corpo 2023

11.

Ensemble, "Breu" by Rodrigo Pederneiras, Grupo Corpo 2023

12.

Ensemble, "Breu" by Rodrigo Pederneiras, Grupo Corpo 2023

a

ll photos

©

Jo

mar Braganca

Editing:
Jake Stepansky