"Don Quixote"
The Australian Ballet
Arts Centre Melbourne / State Theatre
Melbourne, Australia
March 24, 2023 (livestream)
by Ilona Landgraf
Copyright © 2023 by Ilona Landgraf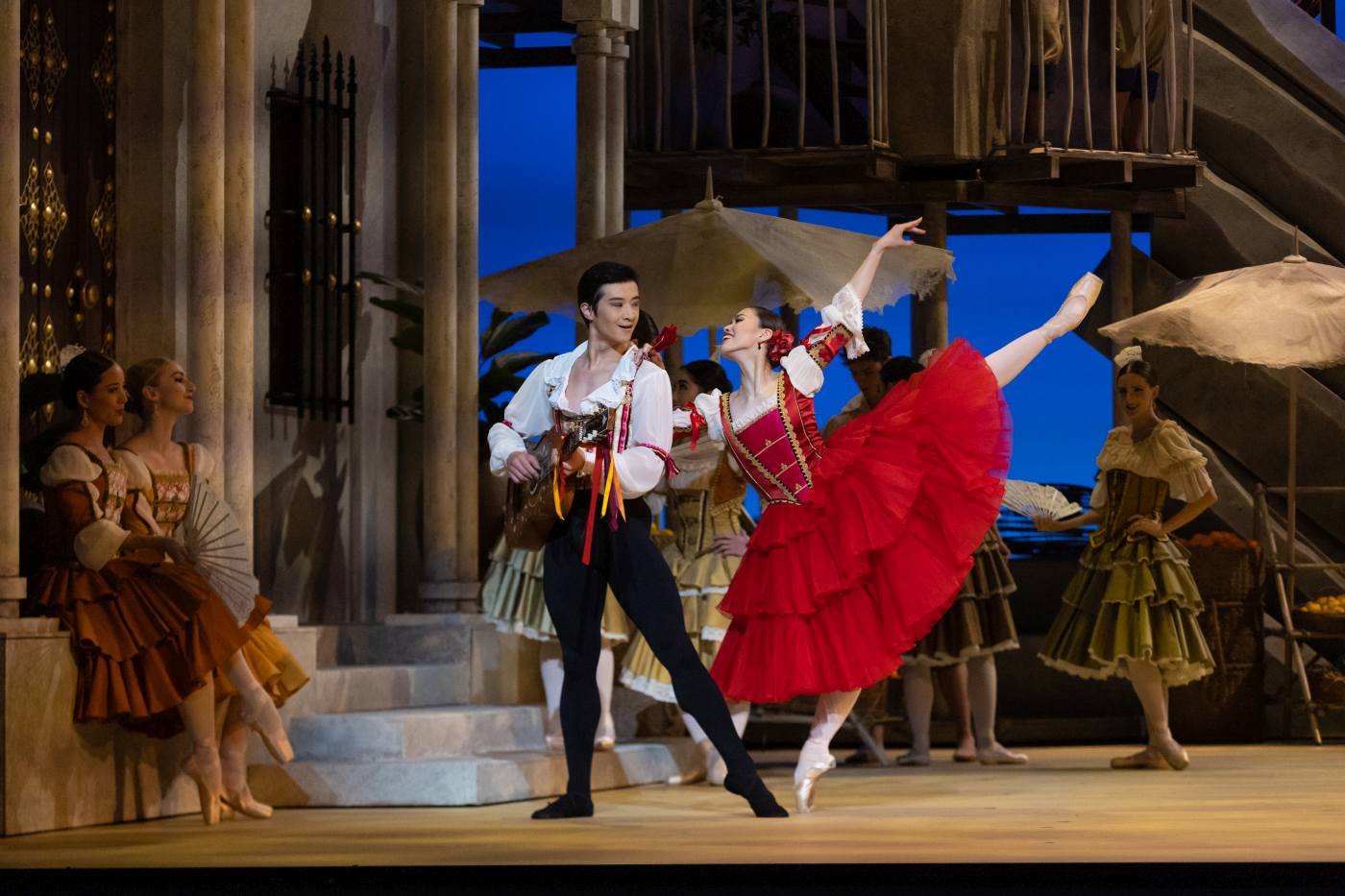 Good news from the Australian Ballet: livestreams of performances will be resumed! The first of these – Nureyev's version of Petipa's "Don Quixote" – was broadcast this weekend. The company celebrates its sixtieth anniversary this season, and perhaps that is why artistic director David Hallberg chose a special opener – special because this "Don Quixote" harks back to the one that Nureyev, together with Robert Helpmann (then artistic director of the Australian Ballet) adapted for the screen in 1973. It stars the Australian Ballet, with Helpmann in the title role and Nureyev as Basilio. Needless to say, the film became a hit. Hallberg decided to re-adapt the hit film for the theater stage with piercing exactitude, replicating its aesthetic as closely as possible. That's why Richard Roberts's set design (including Don Quixote's knightly home, the port of Barcelona, some windmills in Castilla-La Mancha, Dulcinea's garden, and a smoke-filled tavern) was based on Barry Kay's original film set and why Kay's gorgeous costumes were painstakingly reconstructed. I especially admired the traditional Spanish garb of the corps at the tavern.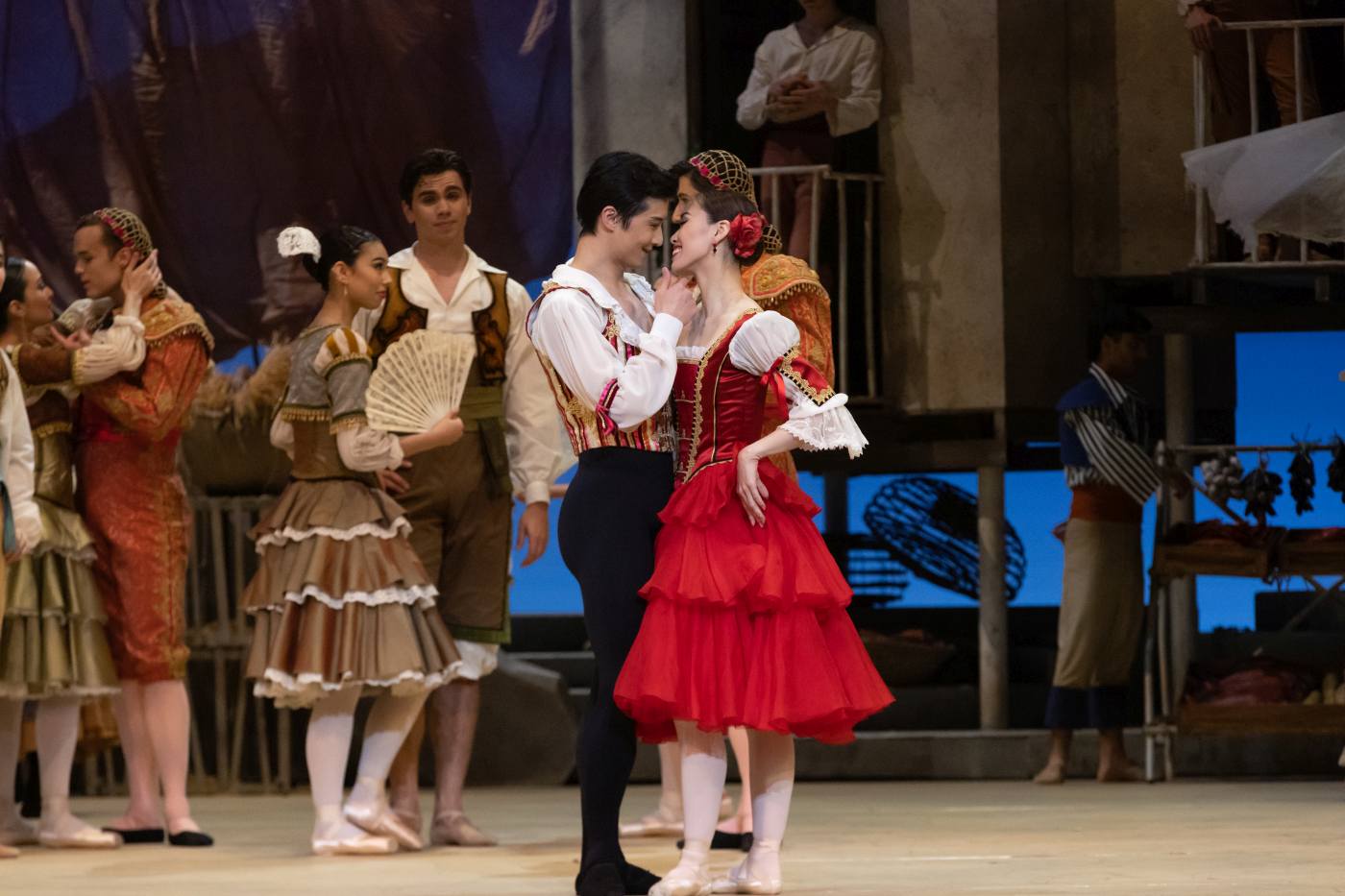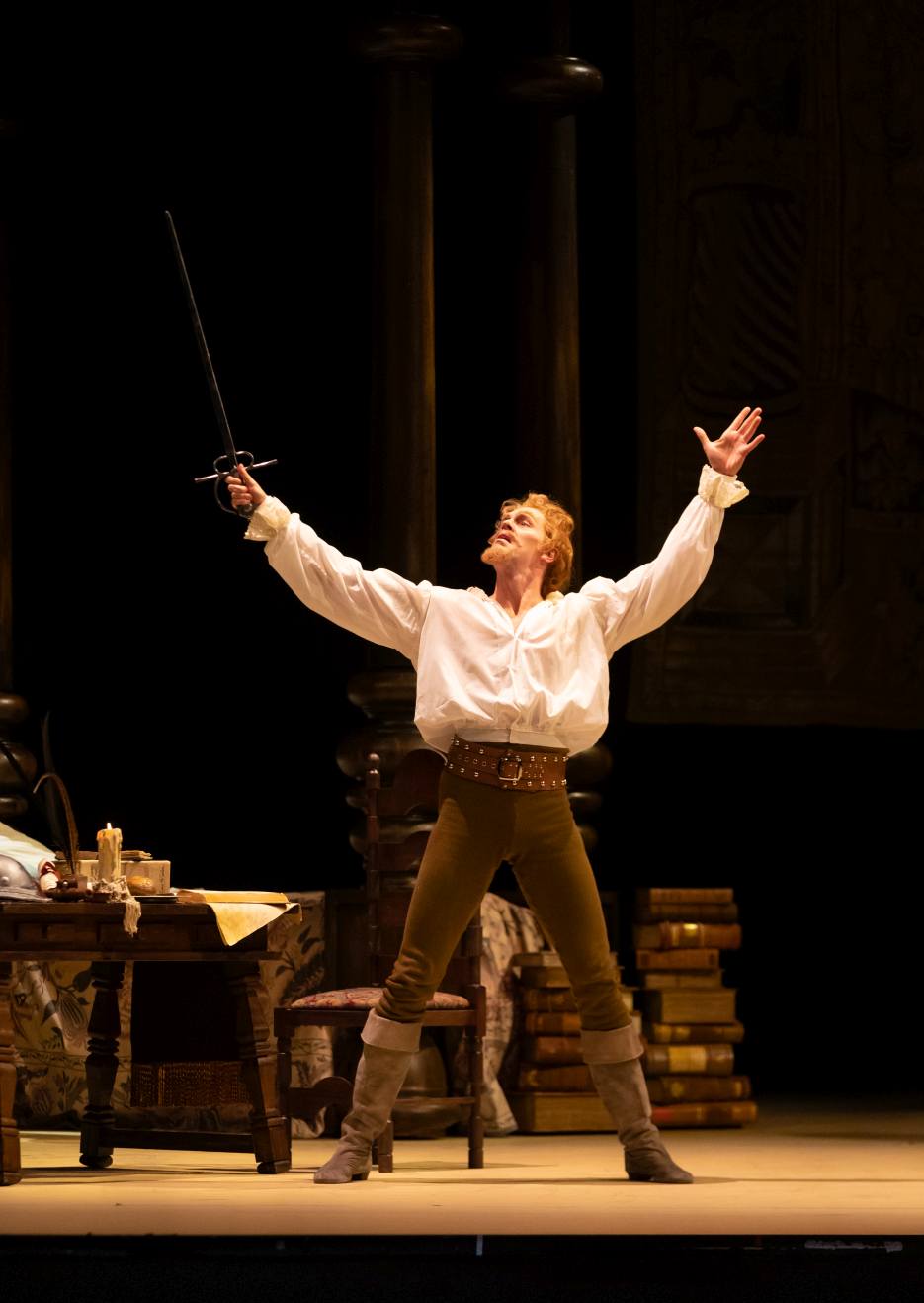 Hallberg, co-hosting the evening with Catherine Murphy, is a pro at showcasing his company. How often have I been bored by still images during online broadcasts! Hallberg, by contrast, makes the most of the time, offering a mixed bag of live interviews and backstage video clips during the breaks. We learn that Nureyev and Helpmann shot the film in an airport hangar near Melbourne in only twenty-five days, during which Nureyev notoriously drove the company towards the highest peaks of performance; that a sweltering heat wave rotted the food props used in the port scene – fresh fruit, eggs, and seafood; and that the stench of rotten fish was intense. (Two dancers from the cast of the film – Francis Croese and Marilyn Rowe (the street dancer) – remember it vividly.)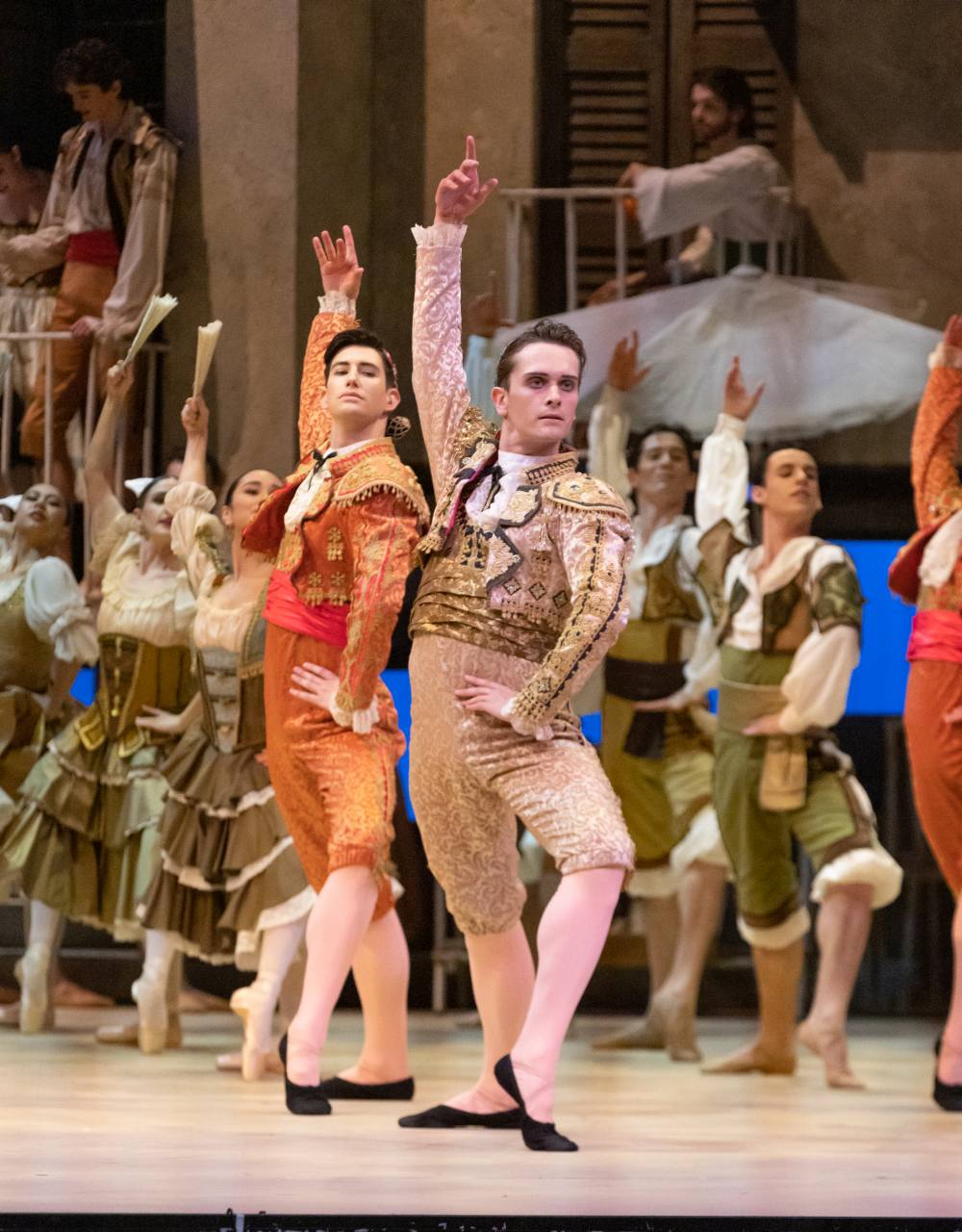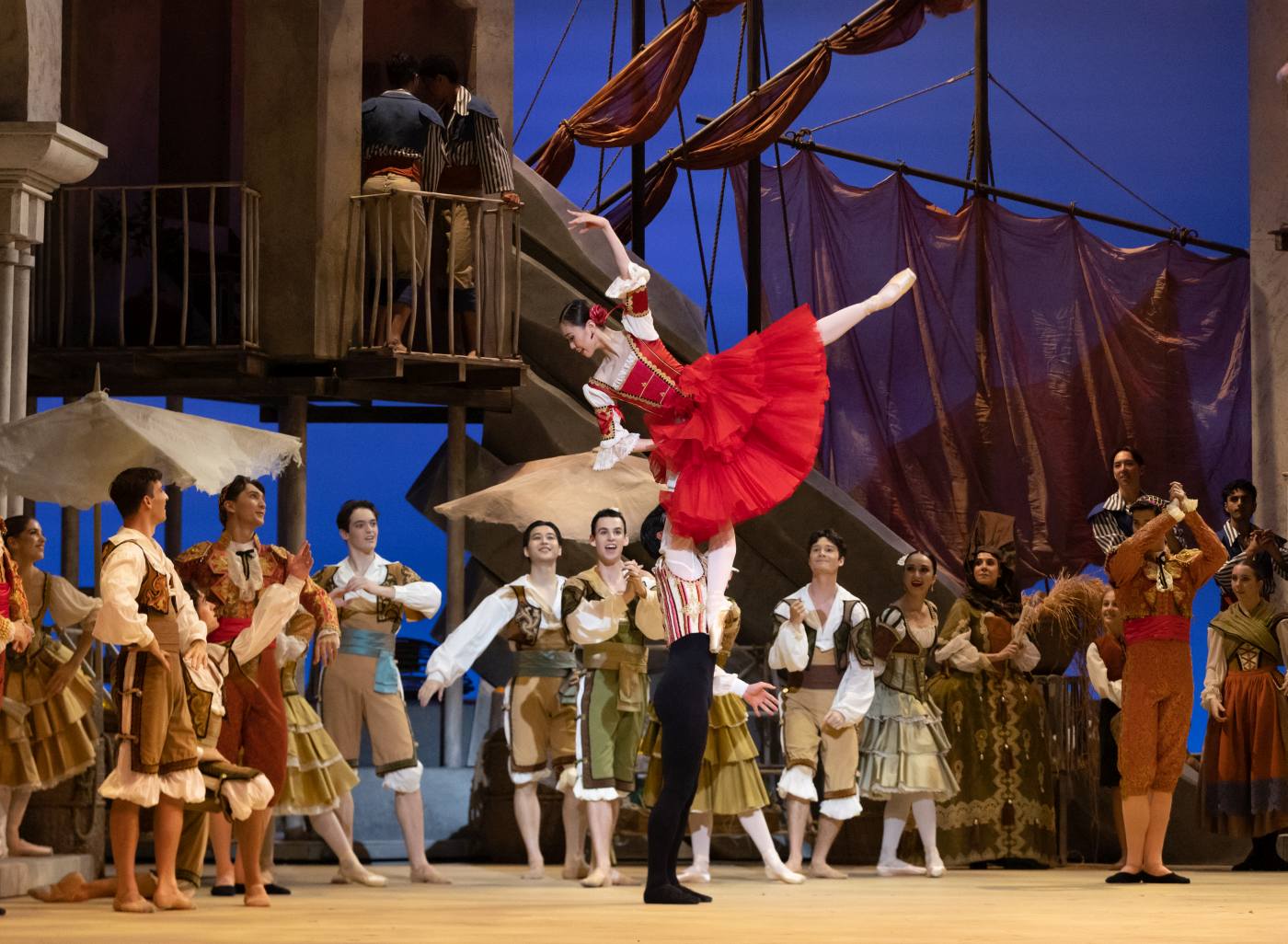 On stage, the team was led by Ako Kondo as Kitri and Chengwu Guo as the barber Basilio – a pair that, Hallberg revealed, is married in real life. Their performance gained steam when Don Quixote (Adam Bull in one of his last shows before retirement) courted Kitri after mistaking her for the lady of his dreams – Dulcinea. The vexed Basilio had no better idea than to flirt with one of Kitri's friends (Jill Ogai), adding fuel to the flames. Jealousies kept the romance high on adrenaline, and from then on Kondo's oomph made the air sizzle and Guo's high voltages gave his solos punch. The one-hand balances he'd initially described as the "ultimate challenge" seemed the easiest thing for him to do.
Bull's Don Quixote, a towering (and therefore imposing) figure, was made even more so when riding on his nag Rocinante (which faithfully plodded along with the help of four puppeteers). He was accompanied by his gluttonous squire, Sancho Panza (Timothy Coleman), who – more often than not – was tricked and pummeled. Thankfully, his understanding of the importance of the basics (fealty, a good meal, booze, and plenty of banter) kept him in good spirits.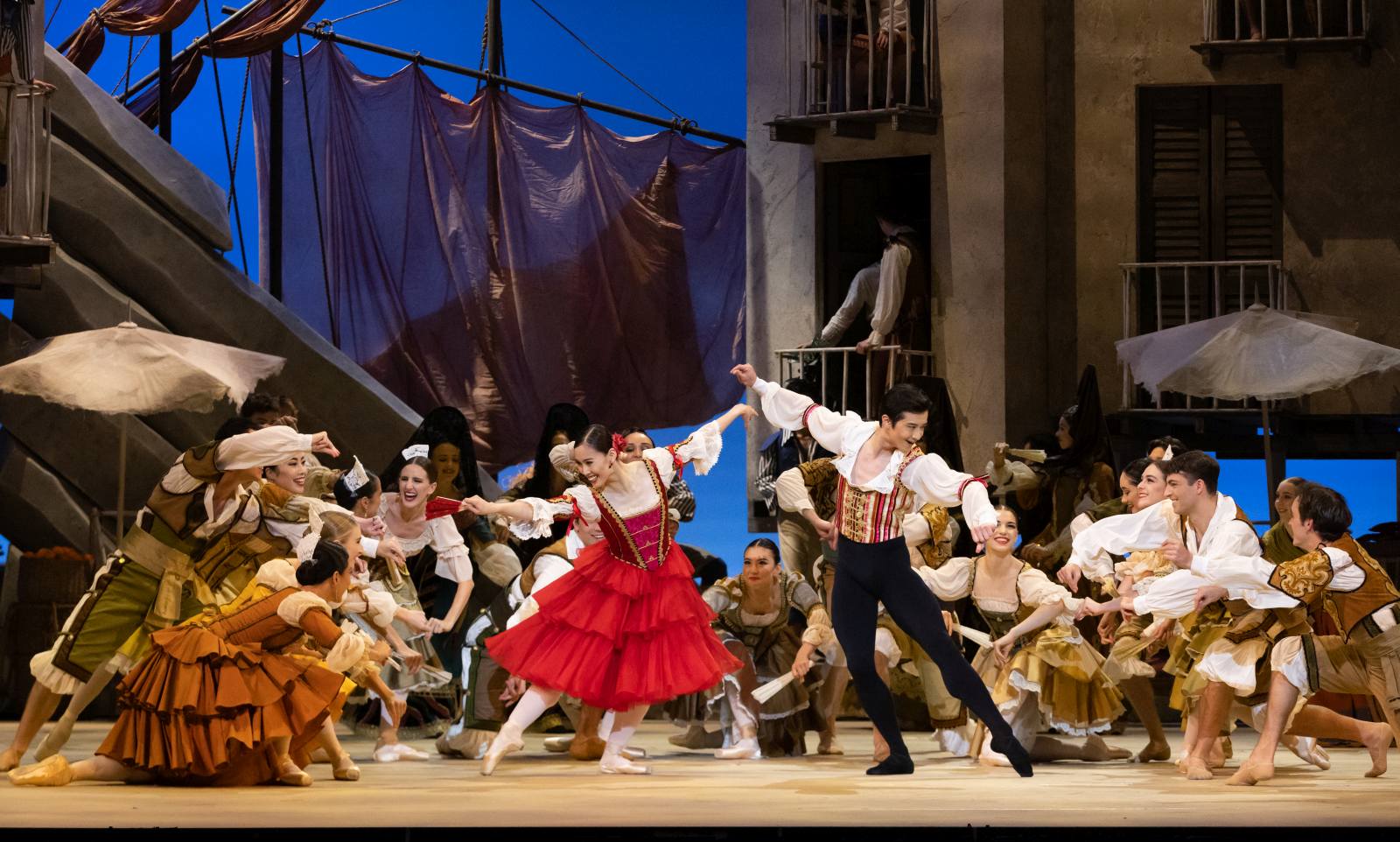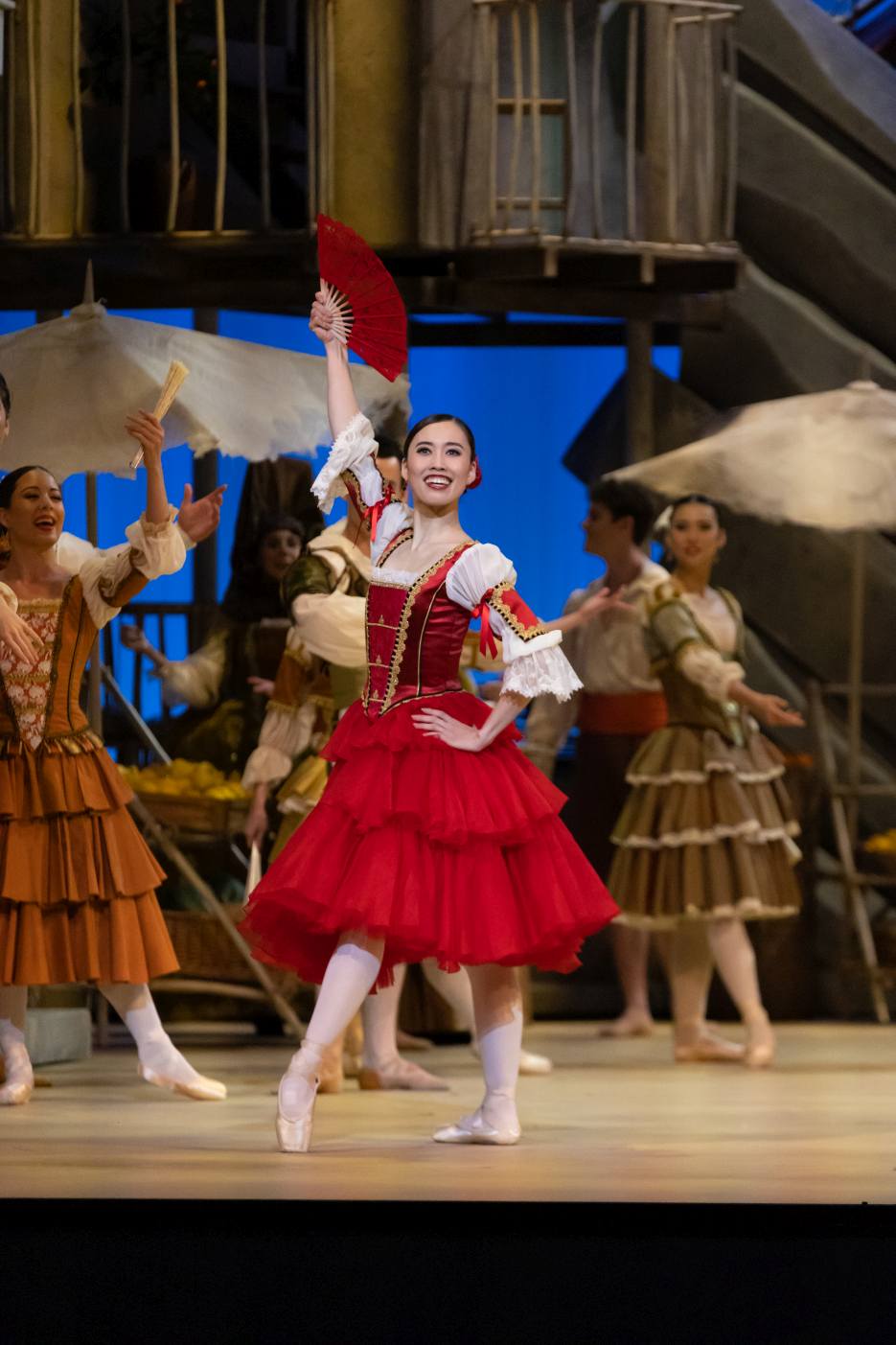 Another target of constant taunting was Gamache (Paul Knobloch), the effeminate nobleman that Kitri's father Lorenzo (Brett Simon) had chosen as his son-in-law. I couldn't help but think of a thickly decorated meringue when I caught sight of his opulent outfit (a feather hat, curly wig, brocade bolero, lace cloth, and so on).
Among Barcelona's townsfolk were a group of toreadors led by the dashing Espada (Callum Linnane) and a racy street dancer (Amy Harris). Marcus Morelli was the whip-flinging chief of the Romani, into whose camp Kitri and Basilio stumbled as they tried to escape Lorenzo and Gamache. Wrecked from his luckless fight with the windmills, Don Quixote enters a magic garden (in a dream) reigned over by the Queen of the Dryads (Sharni Spencer). There, an arrow shot by Cupid (the petite, nimble Yuumi Yamada) hits his heart, unlocking his admiration for the graceful Dulcinea (Ako Kondo).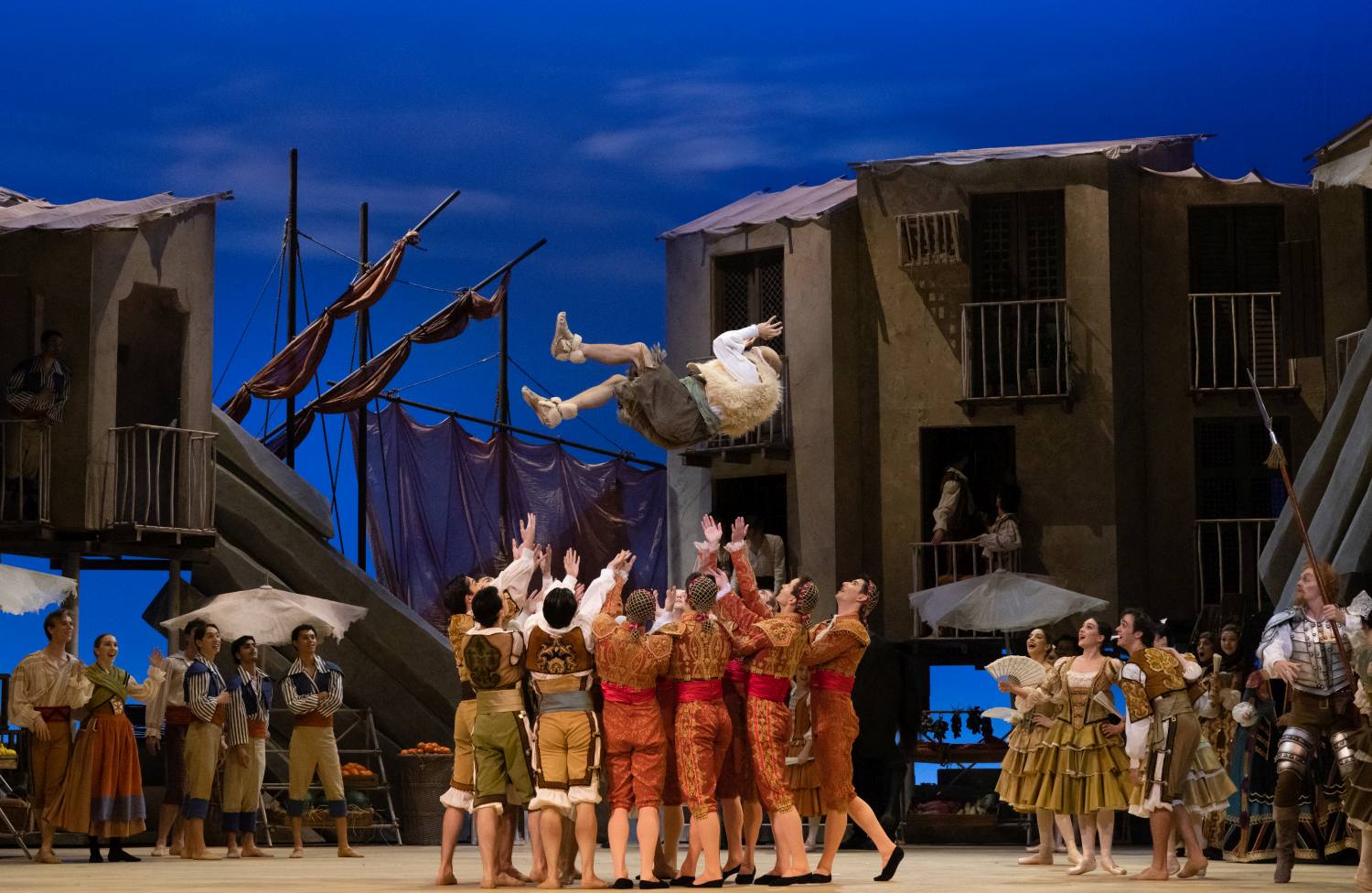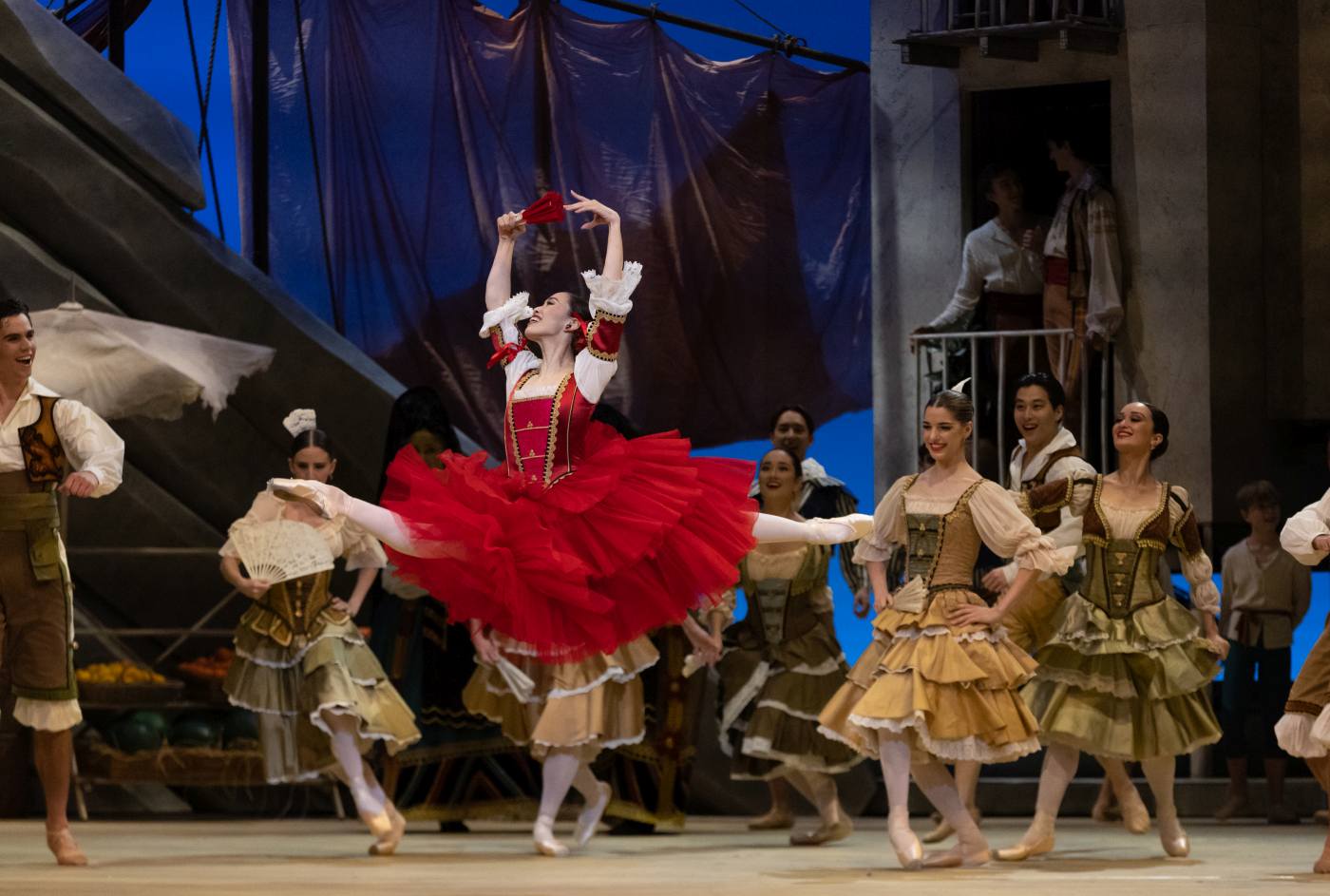 Jonathan Lo, Nicolette Fraillon's successor as music director, shared insights into Ludwig Minkus's score (which was guest-conducted by his colleague Charles Barker that evening) during the break. He emphasized that "Don Quixote" was a good vehicle for deepening the company's sense of camaraderie. I think the livestream added depth. Both Kondo and Guo had the chance to greet their family and friends during the break. Watching them speak in their first languages (Kondo is from Japan, Guo from China) was a prime example of how art has the power to connect cultures.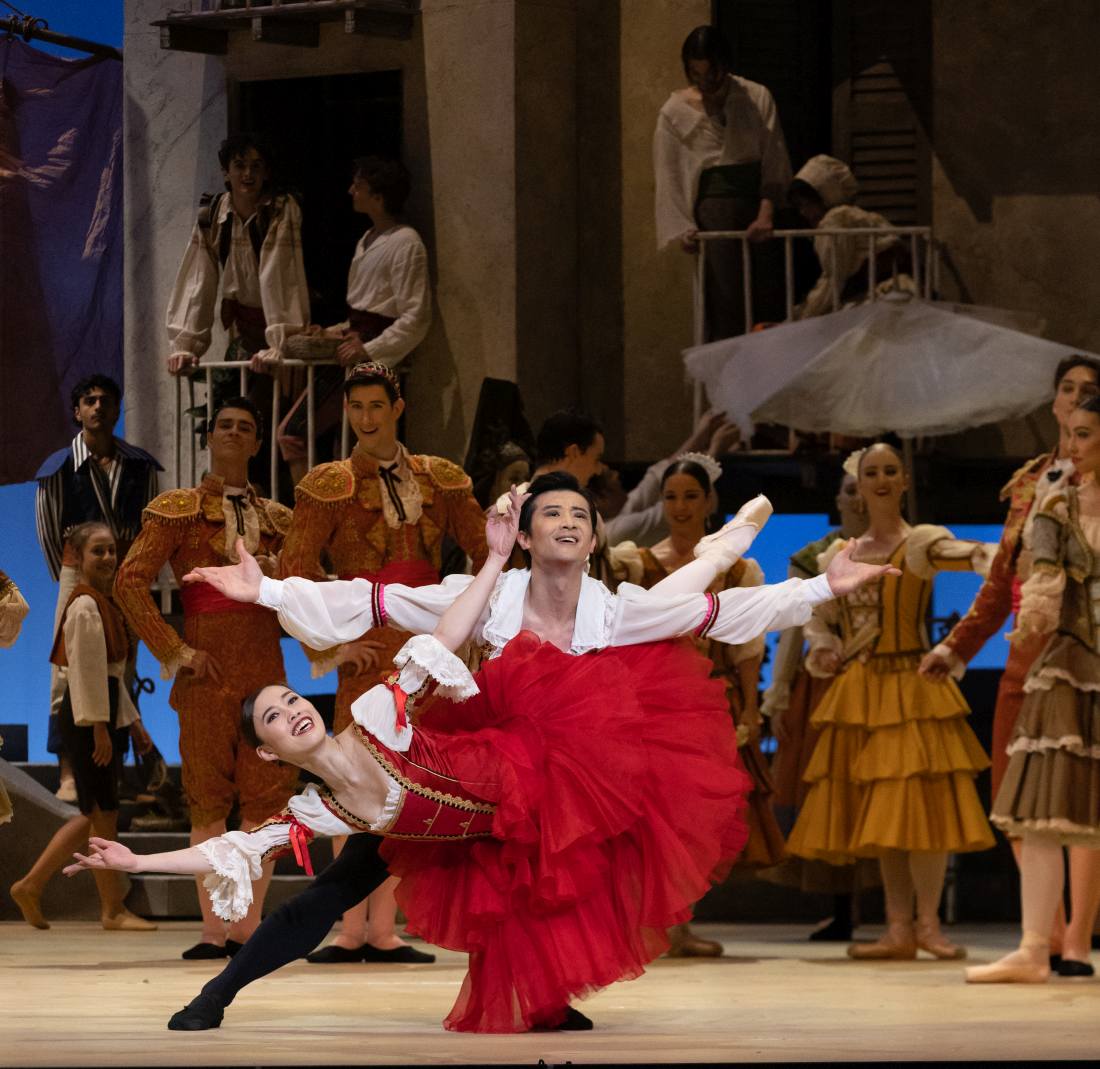 Links:
Website of the Australian Ballet
Designing sets from screen to stage – "Don Quixote" (video)
Why "Don Quixote" is such a hard ballet (video)
"Don Quixote" – Mastering Nureyev's solos (video)
"Don Quixote" – Now and Then (video)
"Don Quixote" – Act III Pas de Deux (video)

Photos:

1.

Chengwu Guo (Basilio), Ako Kondo (Kitri), and ensemble, "

Don Quixote" by Rudolf Nureyev after Marius Petipa, The Australian Ballet 2023

2.

Adam Bull (Don Quixote), "

Don Quixote" by Rudolf Nureyev after Marius Petipa, The Australian Ballet 2023

3.

Chengwu Guo (Basilio), Ako Kondo (Kitri), and ensemble, "

Don Quixote" by Rudolf Nureyev after Marius Petipa, The Australian Ballet 2023

4.

Callum Linnane (Espada),

Brodie James (Matador), and ensemble,

"

Don Quixote" by Rudolf Nureyev after Marius Petipa, The Australian Ballet 2023

5.

Ako Kondo (Kitri), Chengwu Guo (Basilio), and ensemble,

"

Don Quixote" by Rudolf Nureyev after Marius Petipa, The Australian Ballet 2023

6.

Ako Kondo (Kitri) and ensemble,

"

Don Quixote" by Rudolf Nureyev after Marius Petipa, The Australian Ballet 2023

7.

Ako Kondo (Kitri), Chengwu Guo (Basilio), and ensemble,

"

Don Quixote" by Rudolf Nureyev after Marius Petipa, The Australian Ballet 2023

8.

Timothy Coleman (Sancho Panza) and ensemble, "Don Quixote" by Rudolf Nureyev after Marius Petipa, The Australian Ballet 2023

9.

Ako Kondo (Kitri) and ensemble,

"

Don Quixote" by Rudolf Nureyev after Marius Petipa, The Australian Ballet 2023

10.

Ako Kondo (Kitri), Chengwu Guo (Basilio), and ensemble,

"

Don Quixote" by Rudolf Nureyev after Marius Petipa, The Australian Ballet 2023

all photos

©

Rainee Lantry

Editing:
Jake Stepansky