"Cipollino"
Armenian National Ballet
Armenian National Opera and Ballet Theatre
Yerevan, Armenia
June 03, 2023
by Ilona Landgraf
Copyright © 2023 by Ilona Landgraf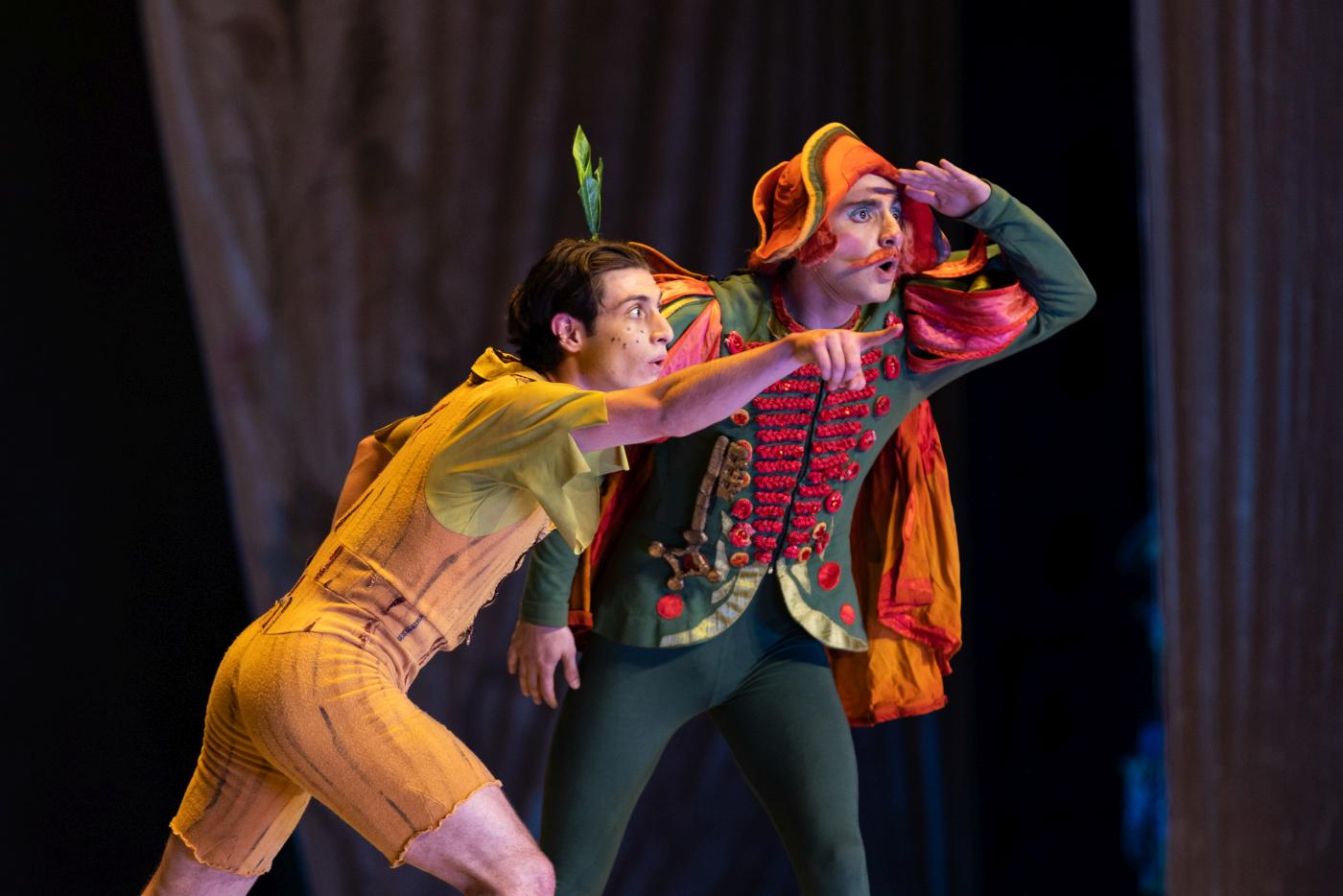 "Cipollino" (Little Onion) sounds like a ballet made in Italy. Though inspired by the Italian children's story "Il romanzo di Cipollino", by Gianni Rodani (1920 – 1980), the ballet came into life miles away in Kiev. Henrich Mayorov (1936 – 2022), a Russian-Ukranian choreographer, turned the fairy tale into a two-act ballet to which Karen Khachaturian contributed a catchy score. Since its premiere in 1974, "Cipollino" has become a fixture of many eastern companies. I watched it in Yerevan, the home base of the Armenian National Ballet which I visited for the first time.
Where there is a little onion, adult onions aren't far away. In fact, "Cipollino" employs an entire onion family – mother Cipolla (Mariam Aslanyan), father Cipollone (Artur Karchikyan), their daughter Cipolette (Marina Baghdasaryan), and their plucky son Cipollino (Gor Sargsyan) – plus a bountiful harvest of fruit and vegetables. Among them are the young, dauntless Little Radish (Tatevik Grigoryan), the lonely Count Cherry (Milton Kirakosyan), and the beguiling Magnolia (Nare Markosyan). The violin-playing Professor Pear (Vahe Babajanyan) belongs to the town's folk, as does the homeless Godfather Pumpkin (Davit Kghbelyan), who's busy assembling brick stones for constructing his own shelter.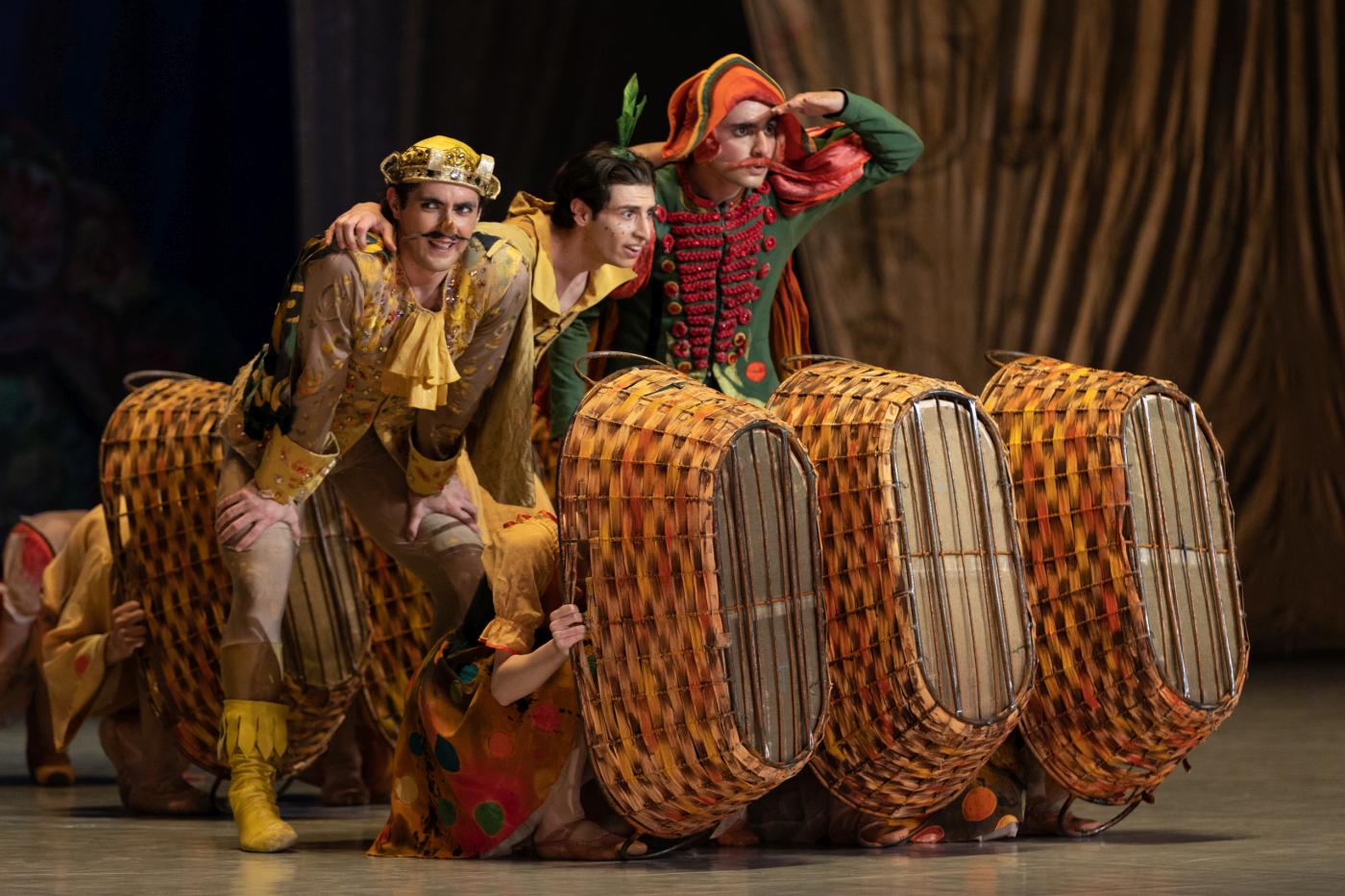 All could be fine, if life wasn't made miserable by the fruit "aristocracy" – the smug Prince Lemon (Razmik Marukyan) with his stern sentries and Signor Tomato (Armen Zakaryan), whose four-man brigade eagerly enforces the Prince's whims.
As a result of their fight for justice and freedom, first Cipollone, then Cipollino get arrested by Prince Lemon's henchmen. Cunning Little Radish and Count Cherry spare no risk to free their friends from a narrow dungeon inside the Prince's palace. In a wild chase, Cipollino outsmarts the portly Signor Tomato, who is later beaten up by Count Cherry and has his fair share of the Prince's wrath. To restore his top dog status (and vent his anger) Signor Tomato distributes clouts to his men.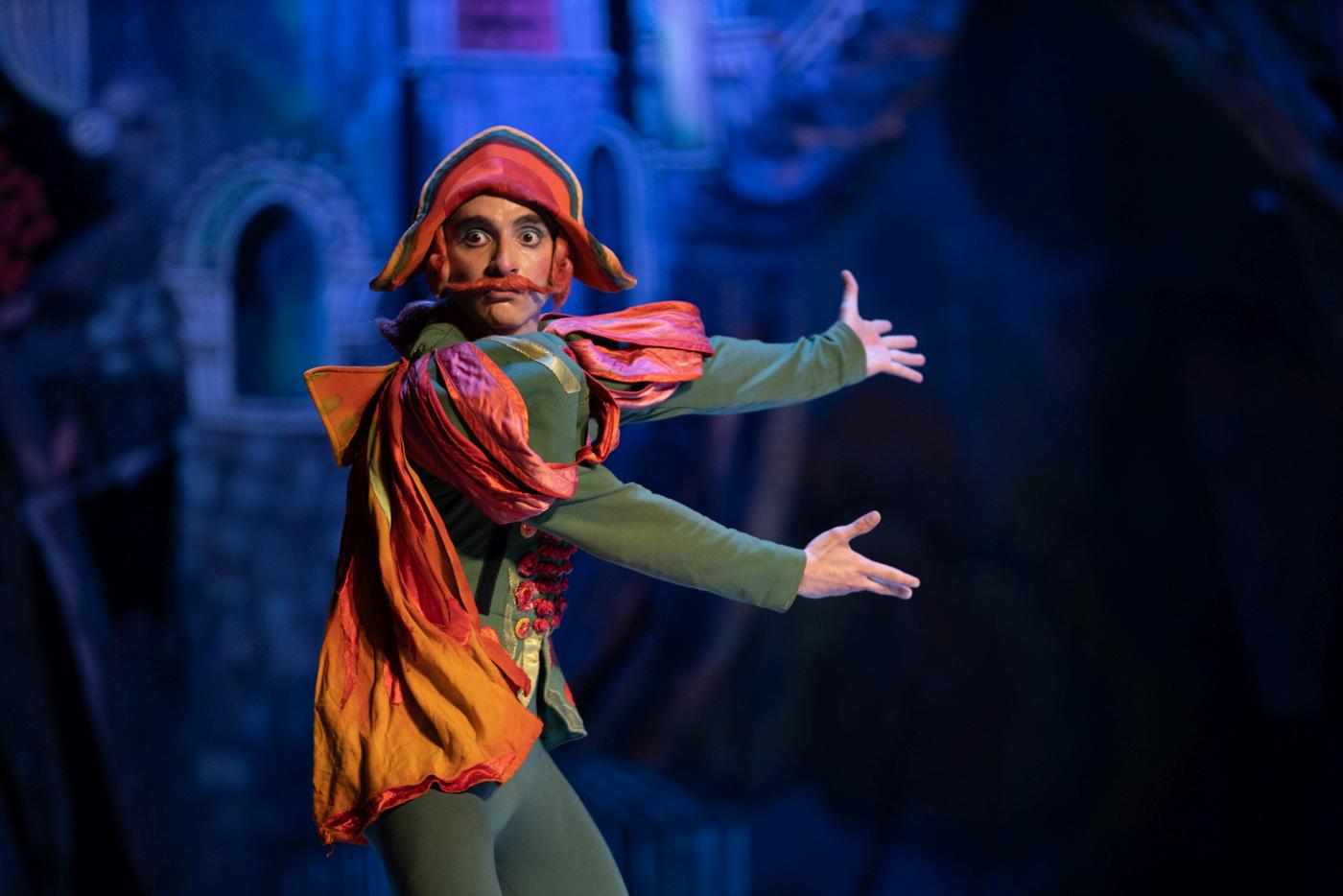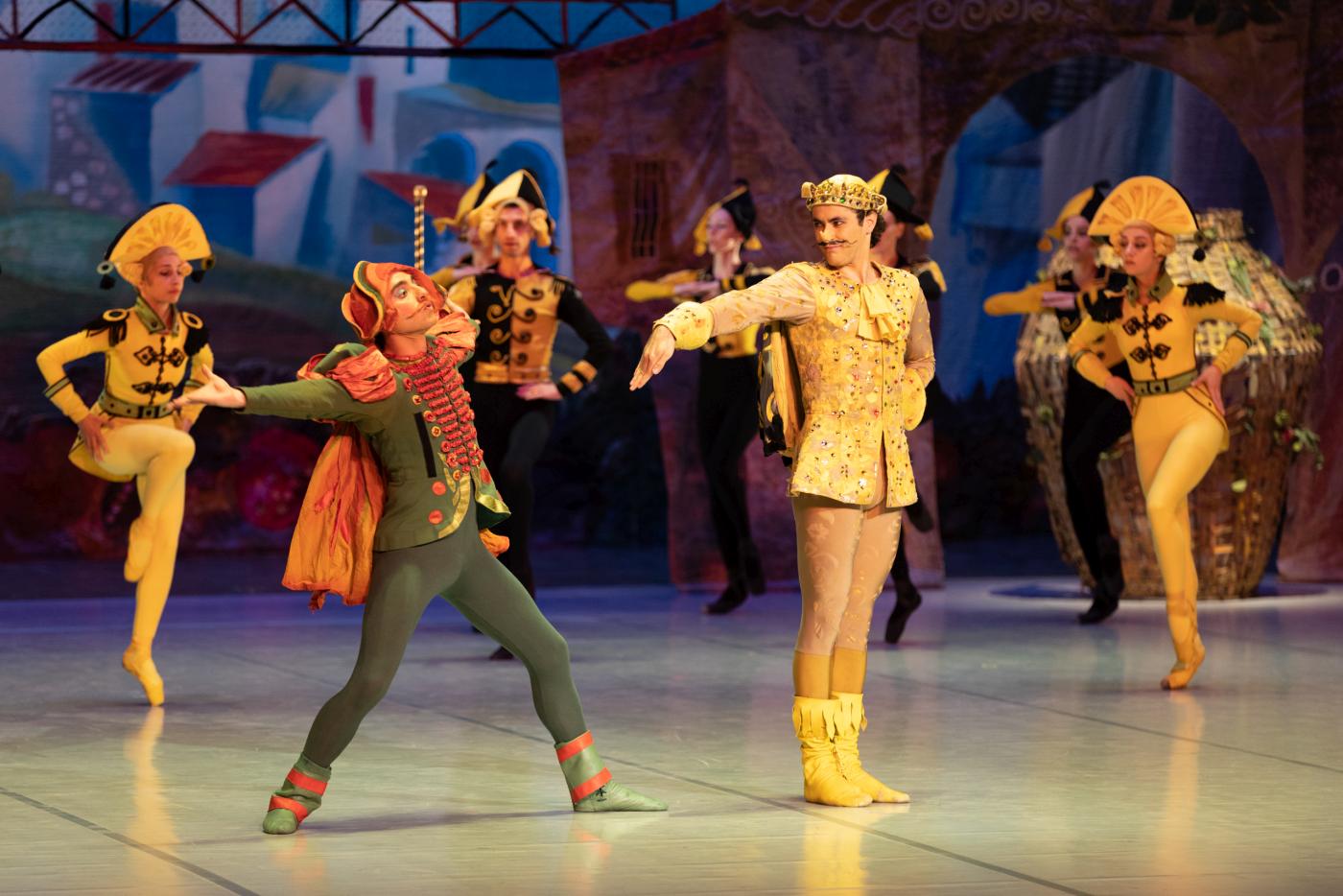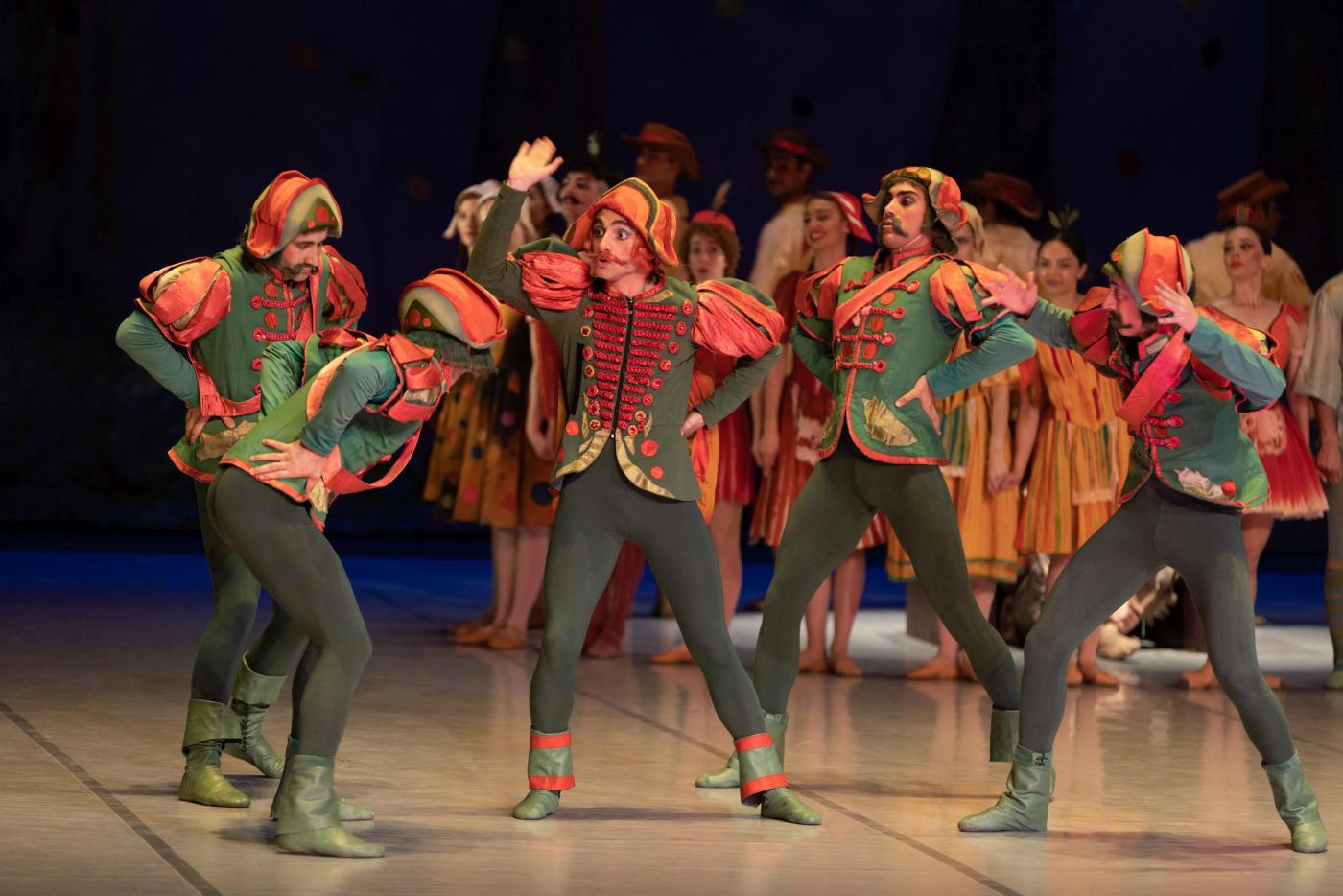 The alluring Magnolia's perfume, which Count Cherry distributes as diligently as Puck in Shakespeare's "Midsummer Night's Dream", helps to knock out three brawny wardens. The Count, wavering between yearning languor and manly determination, not only finds new drive thanks to the smart Cipollino, but also gains the friendship (or more?) of Magnolia. Through an ingenious coup, Cipollino, Little Radish, and Count Cherry rid the town's folk of the obnoxious Prince Lemon by stuffing him into a huge cannon's tube. Sadly, the Prince puffs out without a cathartic big bang, leaving behind a faint plume of smoke. After peace is restored and harmony regained, the old Godfather Pumpkin realizes that he's welcomed by the other vegetables and doesn't need a separate shelter anymore.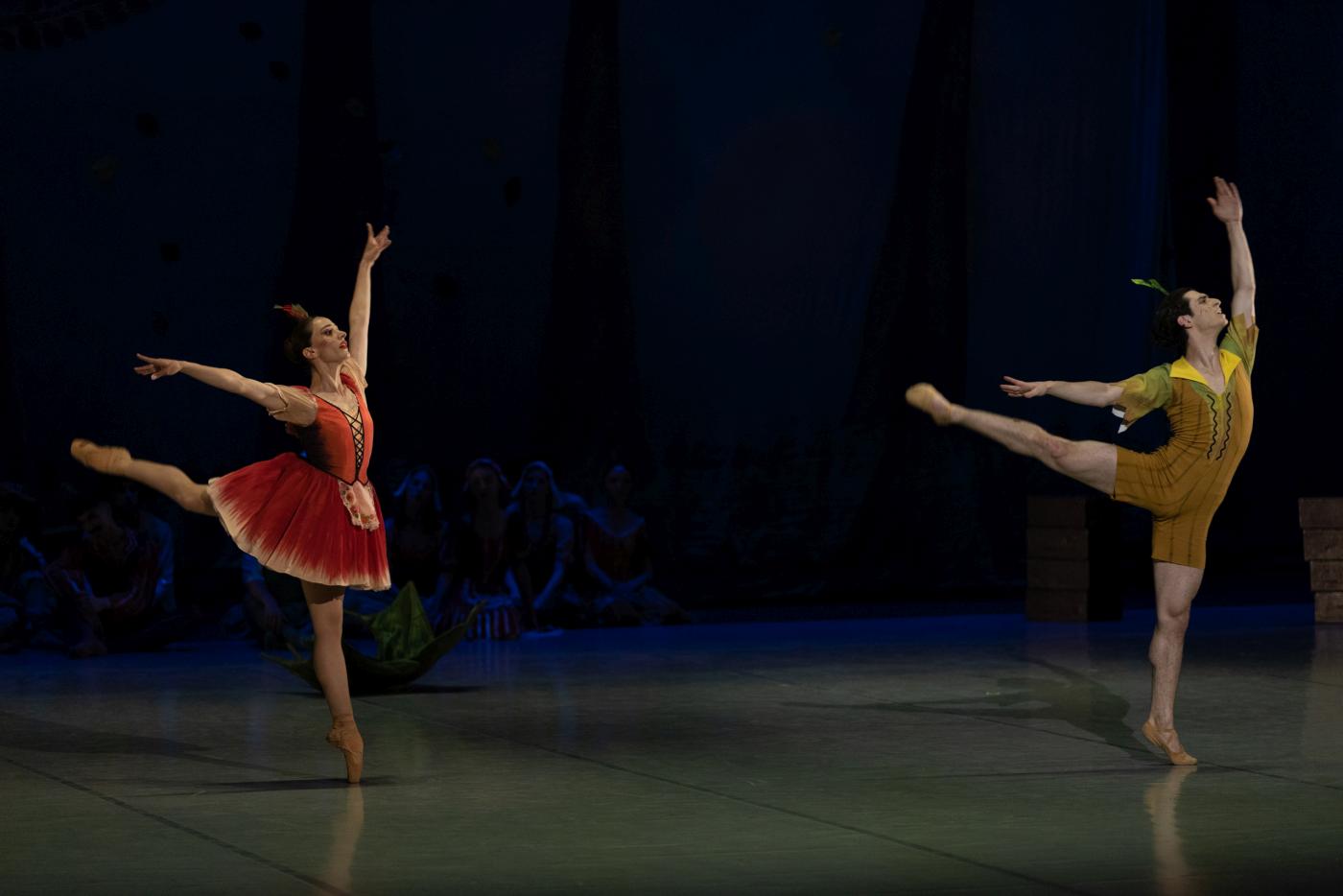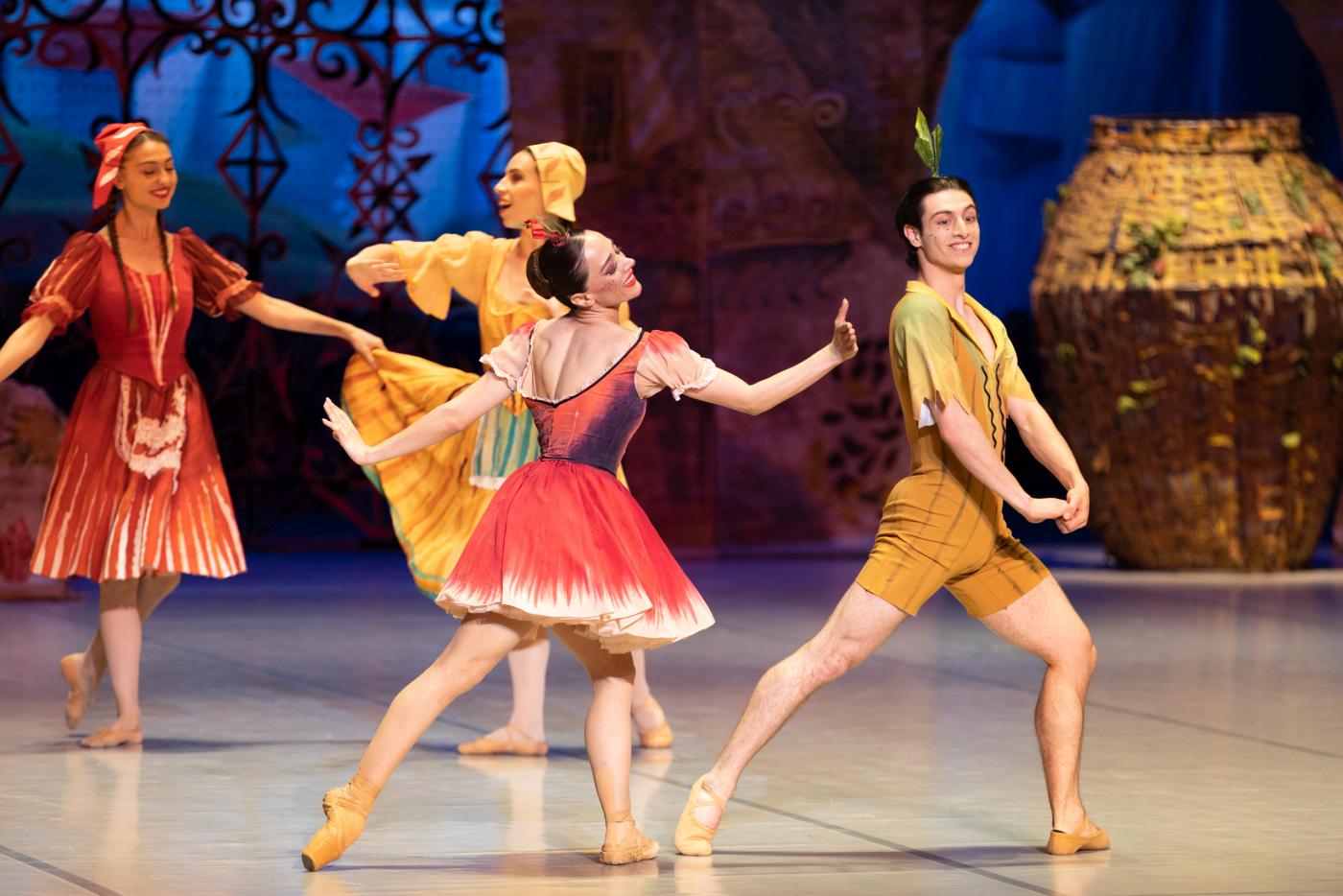 Sargsyan's Cipollino was a charismatic leader, whose energy invigorated his friends. Marukyan, by contrast, did his utmost to portray Prince Lemon as a goofy, foppish antihero. The tall Kirakosyan straightened up the moment his Count Cherry felt that life was meaningful.
Set and costume designer Valery Levental didn't stint on colors to make the garden of the fruits and vegetables (including a quaint town at a sunny coast and an enchanted forest) a bright spot. The Prince's castle was more subdued (and less fortified than intended), but at least looked out on the town's inviting cottages.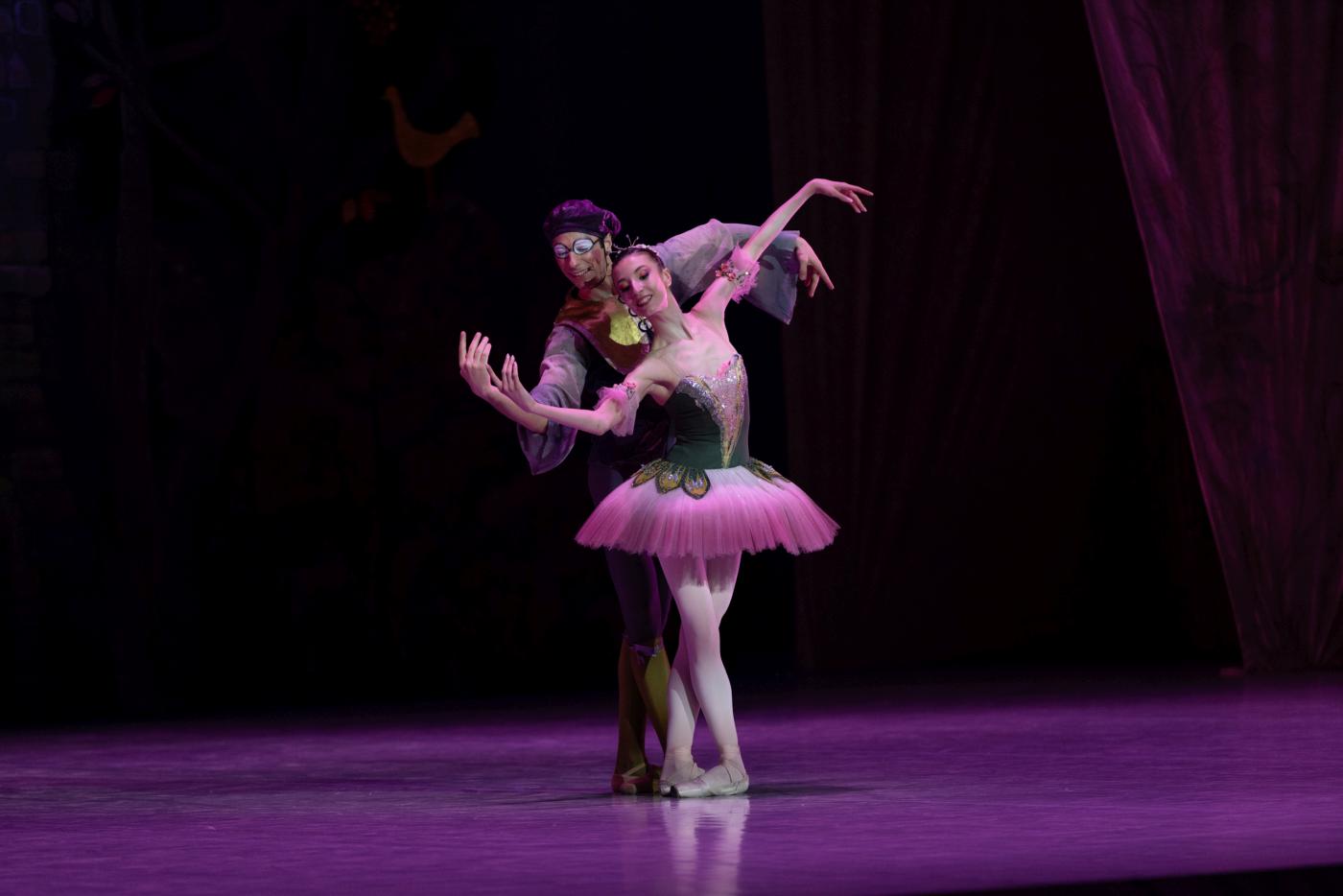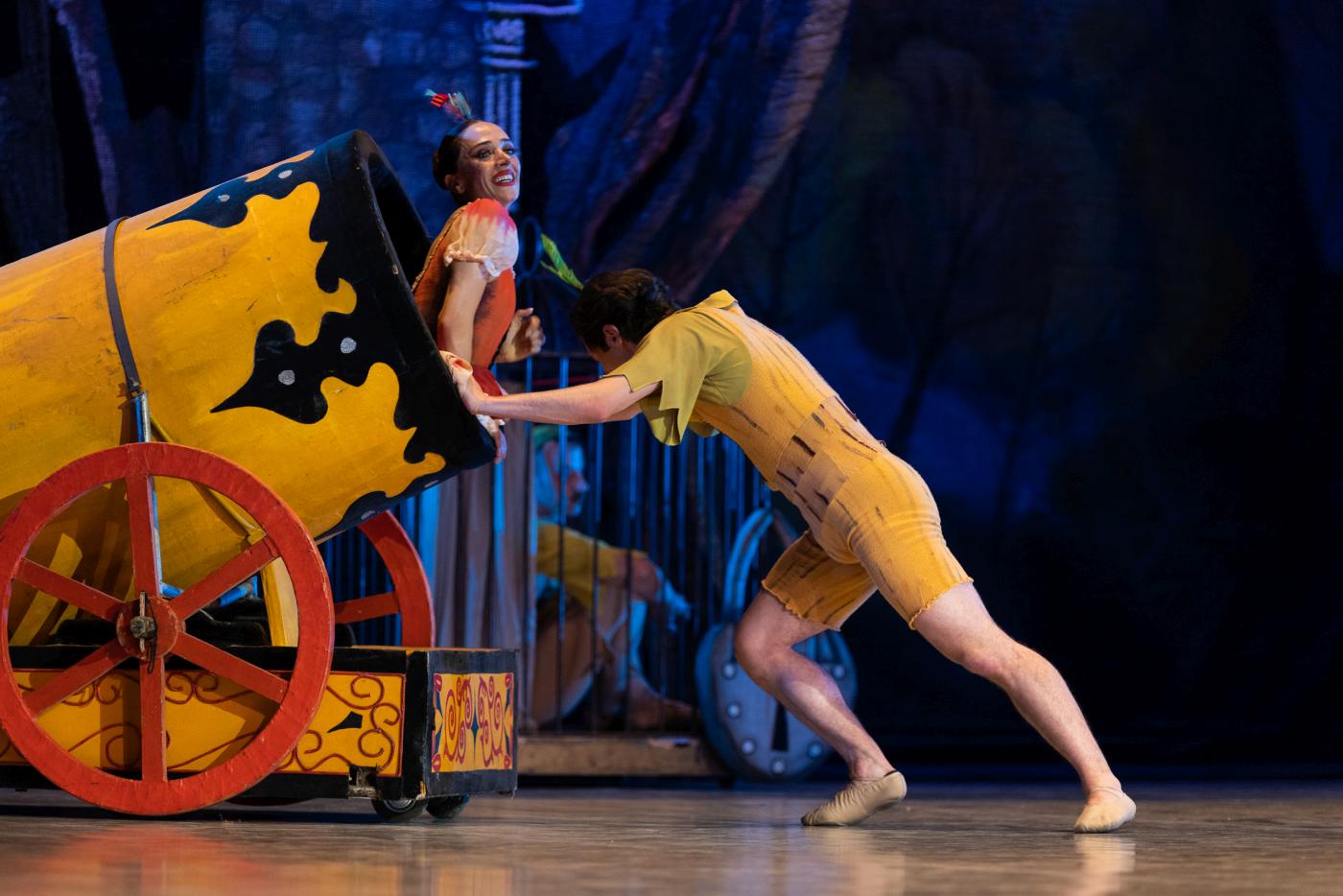 Though the green and orange of Signor Tomato's robe made me think of a poppy, and I initially mistook Count Cherry for a white-eyed butterfly, the sour yellow of Prince Lemon's garb summarized his character trenchantly. The lush flower dresses of Magnolia's entourage were especially beautiful, surpassing every bouquet.
"Cipollino" entertains the young and the old alike, though it mainly addresses children. Large groups of them populated the auditorium, gasping of excitement when the lights were dimmed.
Khachaturian's score was given a fine rendition by the Orchestra of the Armenian Opera playing under the baton of Harutyun Arzumanyan.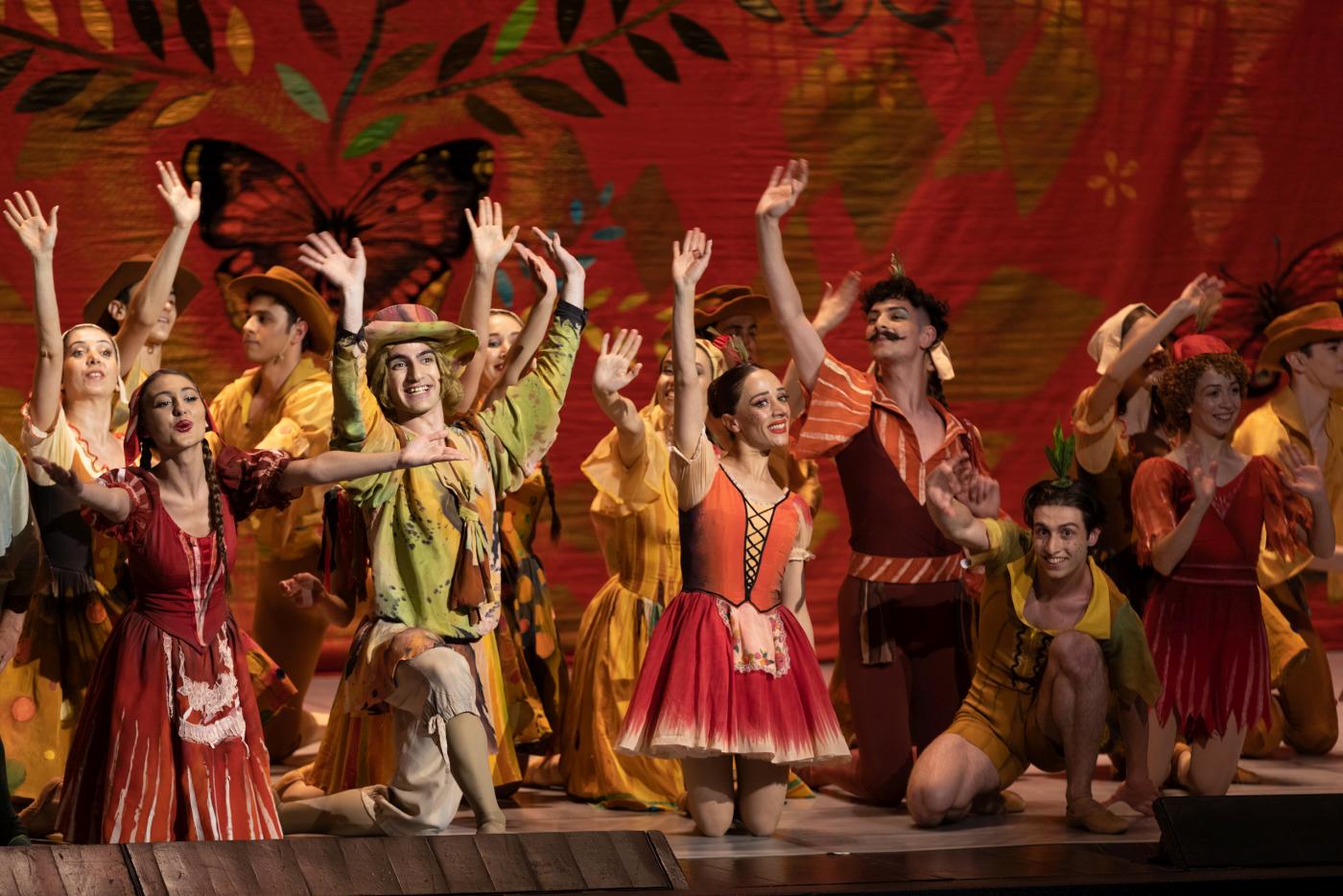 Links:
Website of the Armenian National Opera and Ballet Theatre
Trailer "Cipollino"

Photos:

1.

Gor Sargsyan (Cipollino) and Armen Zakaryan (Signor Tomato),

"

Cipollino" by Henry Mayorov, Armenian National Ballet

202

3

2.

Gor Sargsyan (Cipollino), Tatevik Grigoryan (Little Radish), and ensemble;

"

Cipollino" by Henry Mayorov, Armenian National Ballet

202

3

3.

Razmik Marukyan (Prince Lemon), Gor Sargsyan (Cipollino), and Armen Zakaryan (Signor Tomato); "Cipollino" by Henry Mayorov, Armenian National Ballet 202

3

4.

Armen Zakaryan (Signor Tomato), "Cipollino" by Henry Mayorov, Armenian National Ballet 202

3

5.

Armen Zakaryan (Signor Tomato), Razmik Marukyan (Prince Lemon), and ensemble; "Cipollino" by Henry Mayorov, Armenian National Ballet 202

3

6.

Armen Zakaryan (Signor Tomato) and ensemble, "Cipollino" by Henry Mayorov, Armenian National Ballet 202

3

7.

Tatevik Grigoryan (Little Radish), Gor Sargsyan (Cipollino), and ensemble;

"

Cipollino" by Henry Mayorov, Armenian National Ballet

202

3

8.

Tatevik Grigoryan (Little Radish) and Gor Sargsyan (Cipollino),

"

Cipollino" by Henry Mayorov, Armenian National Ballet

202

3

9.

Gor Sargsyan (Cipollino) and Milton Kirakosyan (Count Cherry),

"

Cipollino" by Henry Mayorov, Armenian National Ballet

202

3

10.

Nare Markosyan (Magnolia) and Milton Kirakosyan (Count Cherry),

"

Cipollino" by Henry Mayorov, Armenian National Ballet

202

3

11.

Tatevik Grigoryan (Little Radish) and Gor Sargsyan (Cipollino),

"

Cipollino" by Henry Mayorov, Armenian National Ballet

202

3

12.

Ensemble,

"

Cipollino" by Henry Mayorov, Armenian National Ballet

202

3

all photos

©

Armenian National Ballet

Editing:

Samuel Snodgrass