"Ildikó Pongor 70 Ballet Gala"
Hungarian National Ballet
Hungarian State Opera
Budapest, Hungary
June 24, 2023
by Ilona Landgraf
Copyright © 2023 by Ilona Landgraf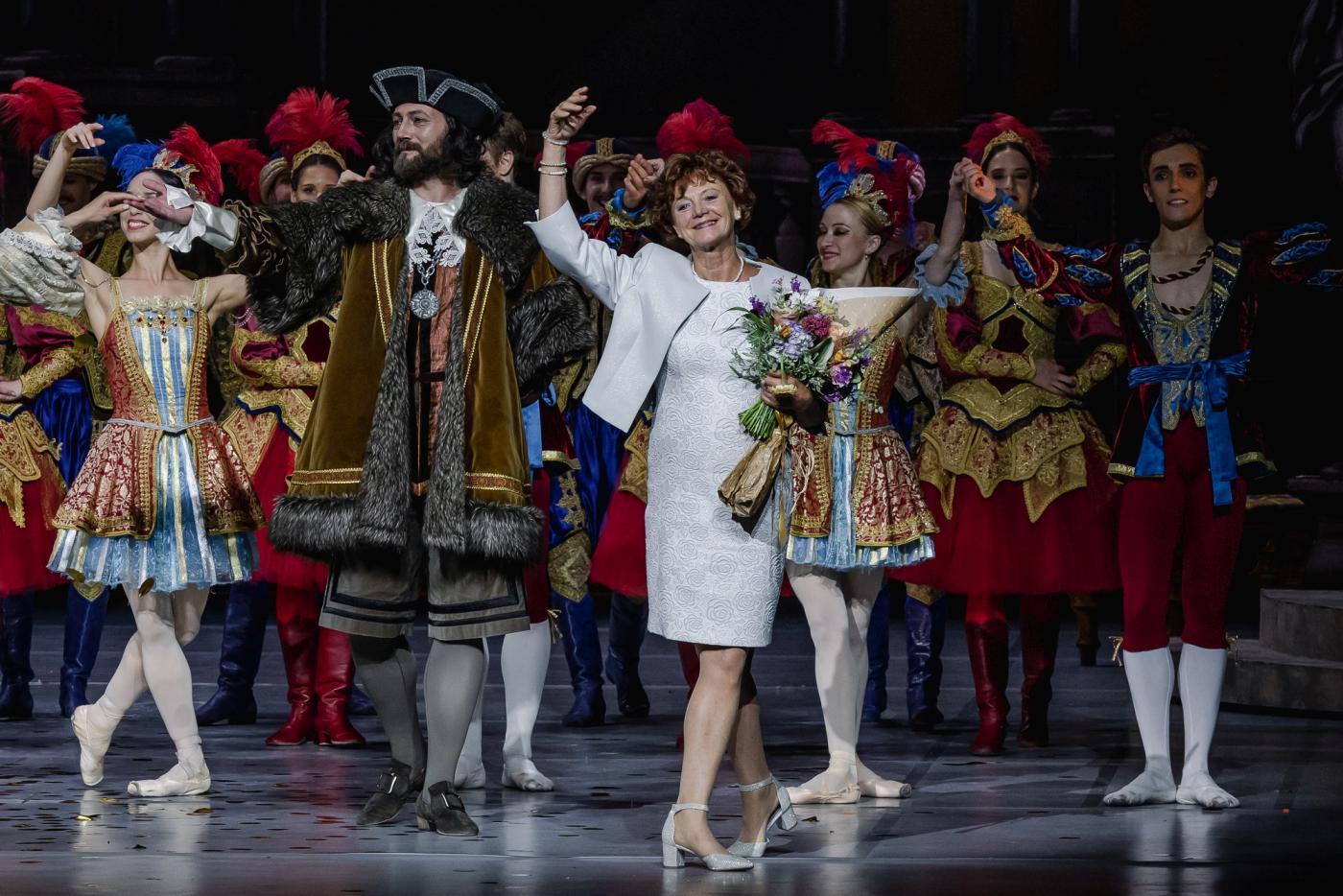 One month after the Iván Nagy Ballet Gala, the Hungarian State Opera hosted another festive ballet evening – a birthday gala in honor of Ildikó Pongor, veteran artist of the company, who turned seventy earlier this June. Pongor spent almost her entire professional life at the Hungarian National Ballet, first as a dancer, then as artistic director, ballet master, and co-choreographer. She also worked internationally in Vienna and Stockholm, among others.
The brief compilation of archival videos and photos that opened the gala made it clear within seconds: Pongor has an effervescent energy whose positivity is infectious, even on celluloid. Regrettably, I don't speak Hungarian and was unable to follow the round of talks. Her colleagues, Mária Aradi, Katalin Csarnóy, and Imre Dózsa, shared memories about Pongor's career; the humor that sparkled in Pongor's eyes while listening indicated that she was pleased.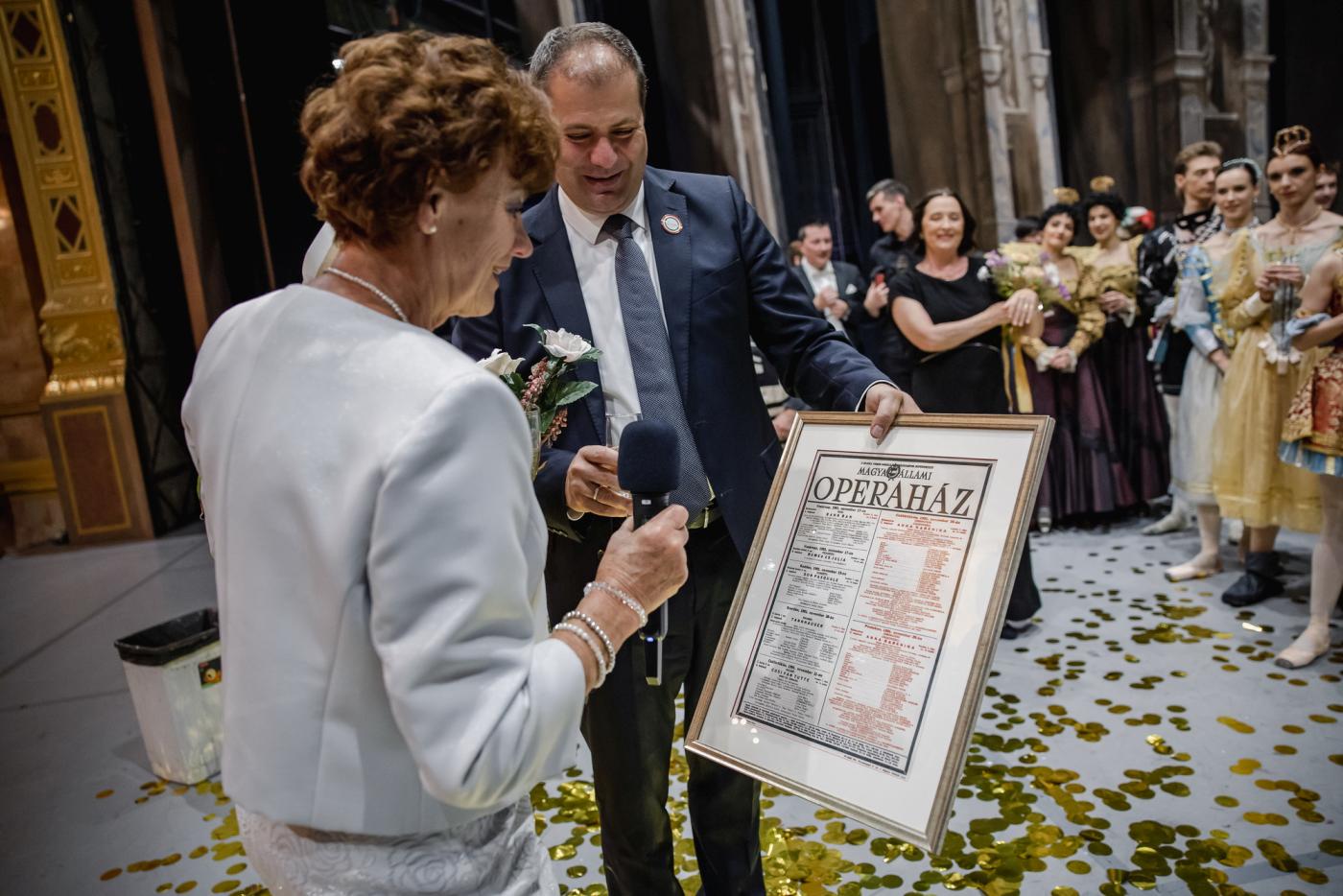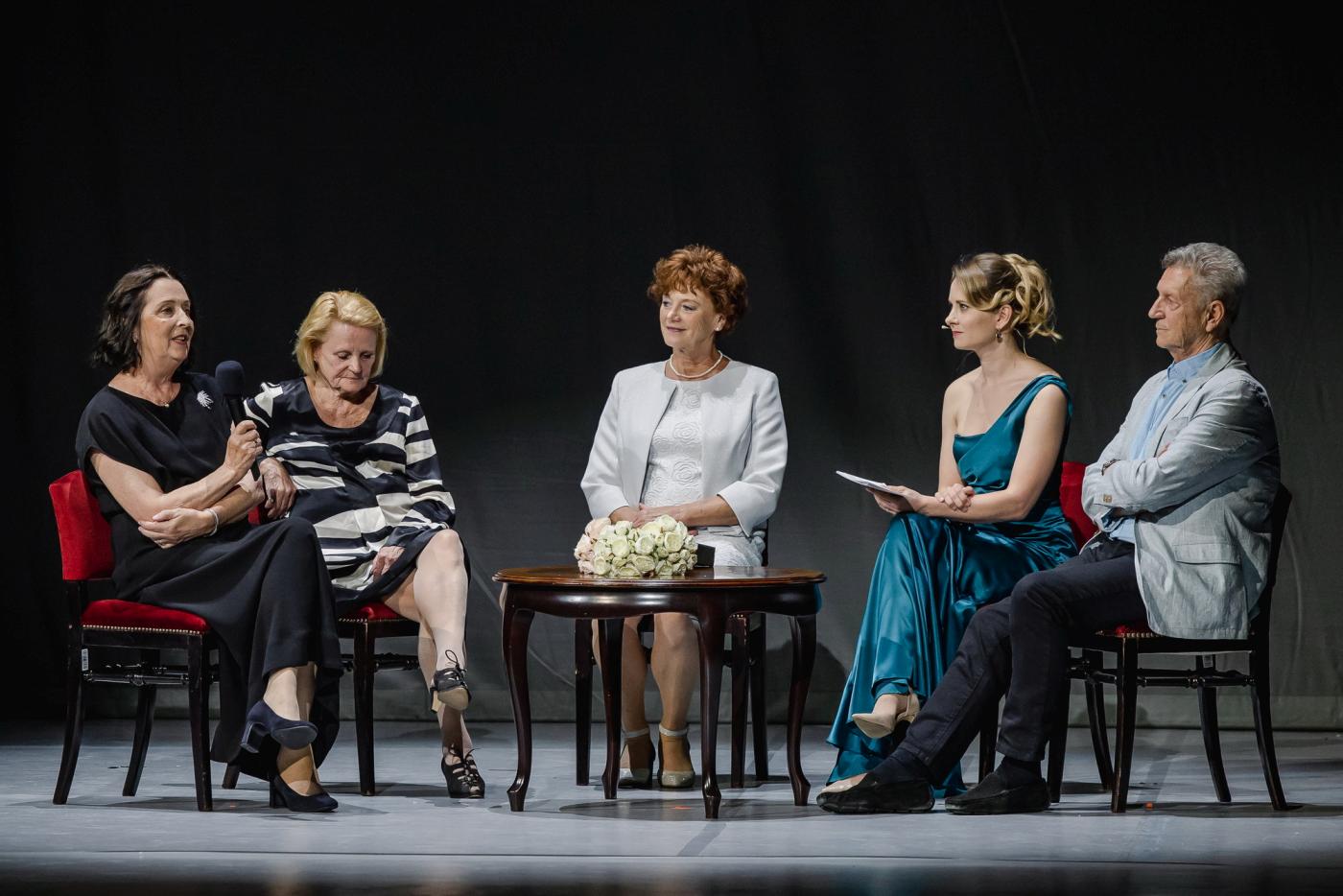 Interestingly, the two-part gala featured solely classics: three classical pas de deux in the first half and the second act of Rudi van Dantzig and Toer van Schayk's "Swan Lake" in part two. Perhaps this is an indicator of what critics from Russia and Europe recently told me – the classics have more substance than the majority of modern pieces. Being the jubilarian, Pongor hadn't been involved in rehearsals, but was meant to enjoy what her workmates – artistic director Tamás Solymosi, Albert Mirzoyan, Christina Balaban, and György Szirb – had prepared. Kudos! – it was impressive.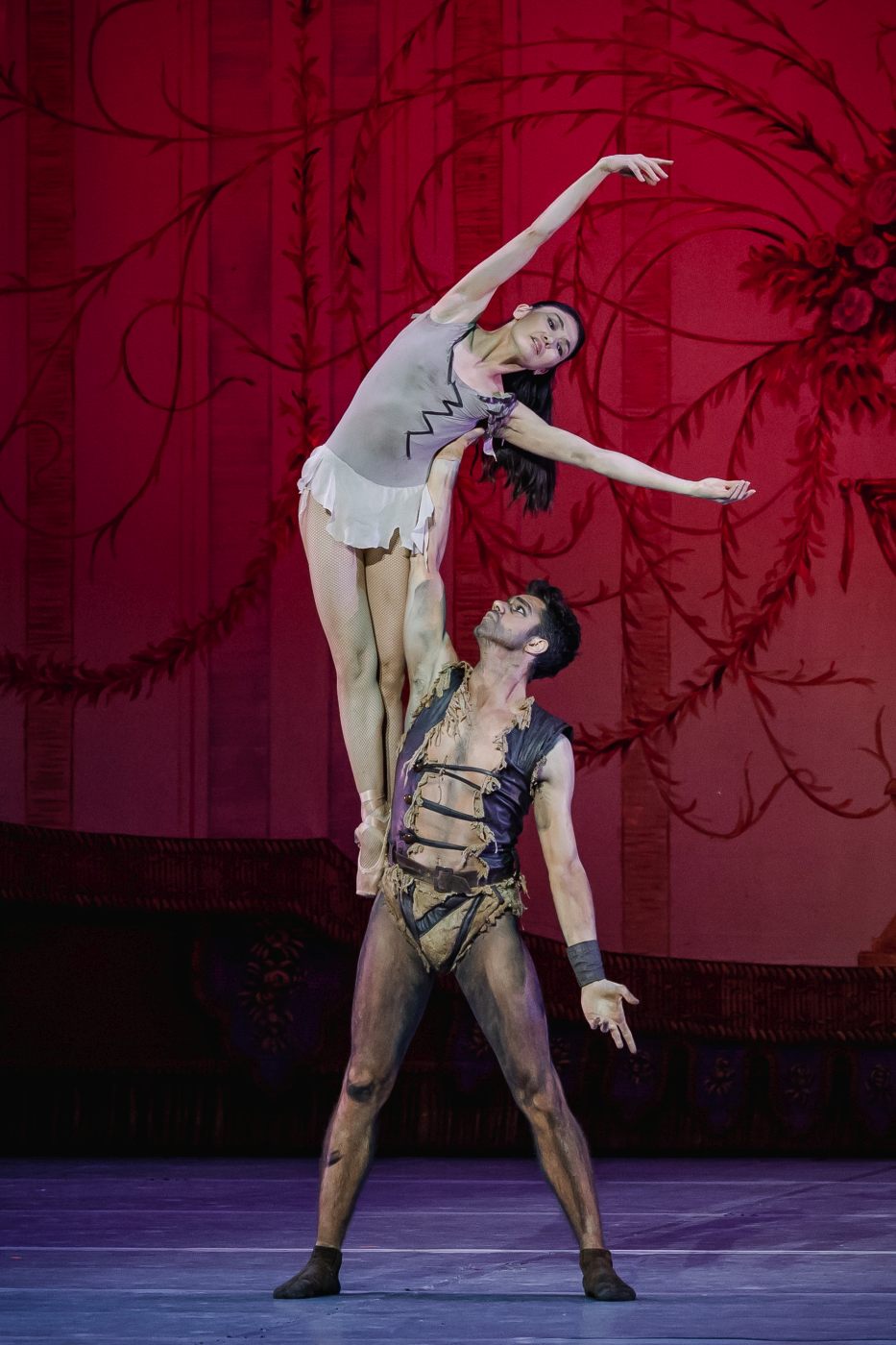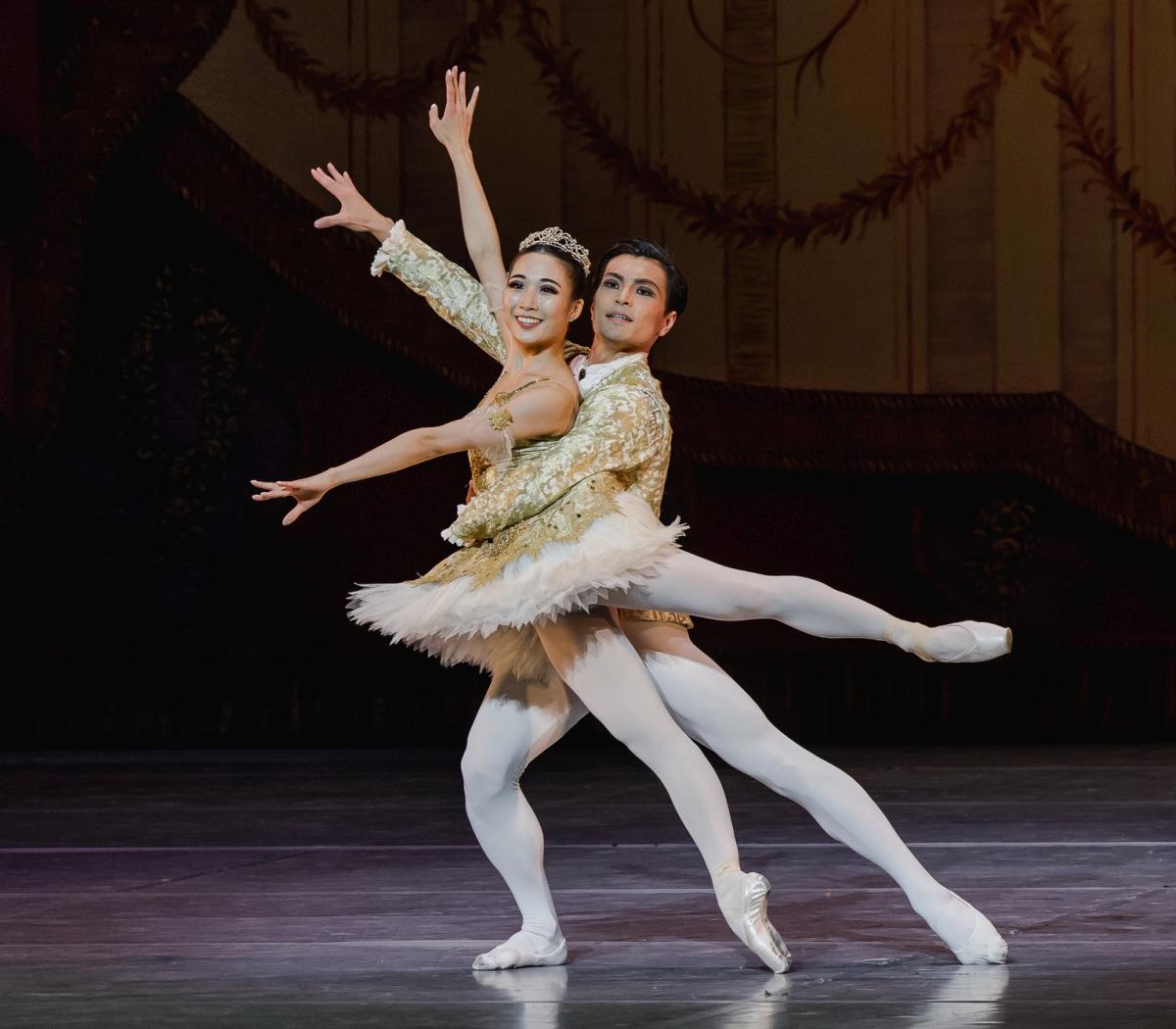 Aliya Tanykpayeva and Gergely Leblanc opened the program with the second act's adagio from Seregi Lászlo's "Spartacus" – an emotional drama in which Phrygia and Spartacus, having just escaped captivity, celebrate their reunion. Fueled by Aram Khachaturian's passionate score, the air was dense from the lovers' longing for a just and bright future.
That set the bar high for the grand pas de deux from "Nutcracker" (Wayne Eagling and Tamás Solymosi's version). Not the least intimidated, Miyu Takamori (Marie) and Ryosuke Morimoto (Prince) got on better, combining flawless technique with perfect timing. I was spellbound by their lightweight grace and ease of perfection. This is how such a grand pas de deux should look – fabulous!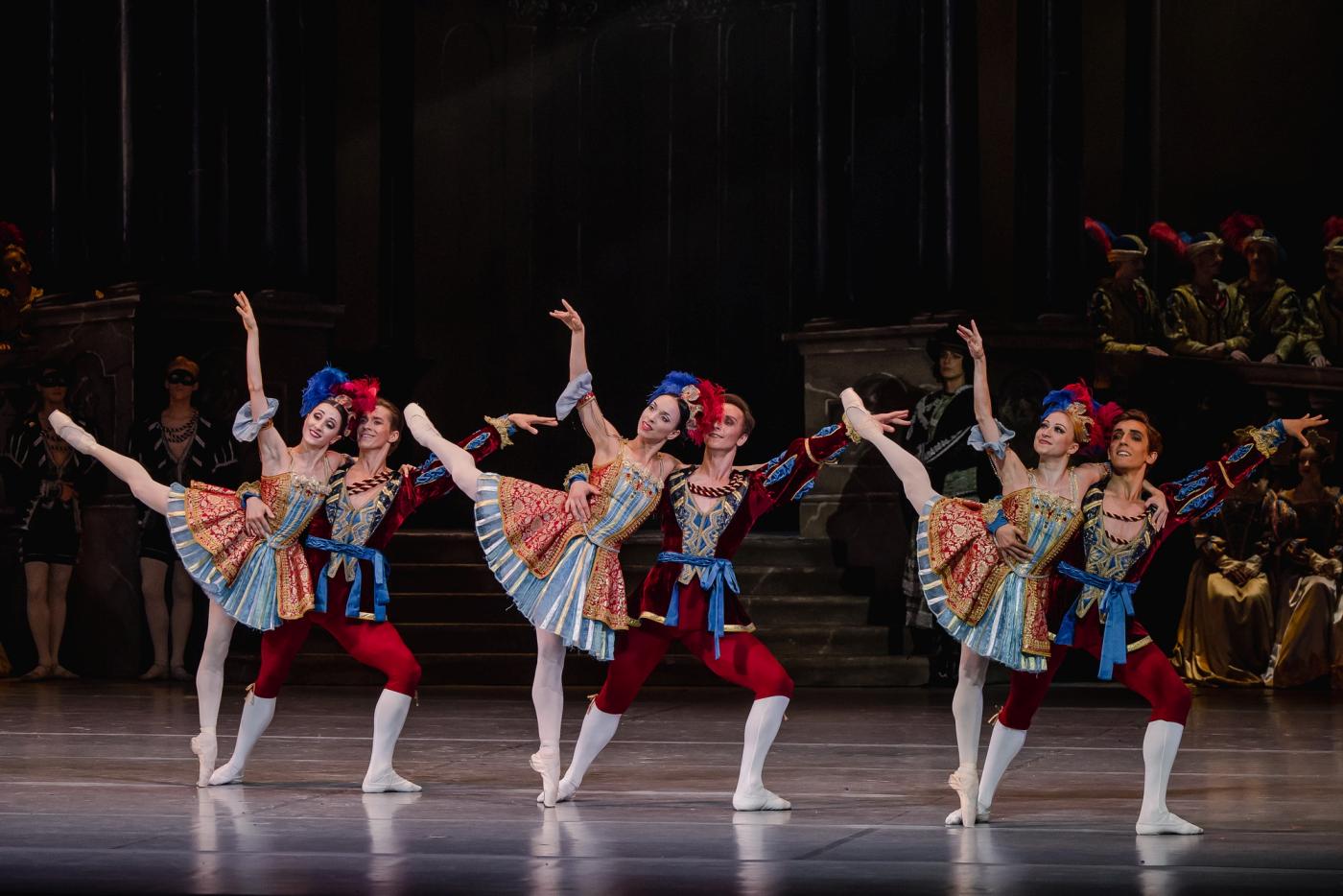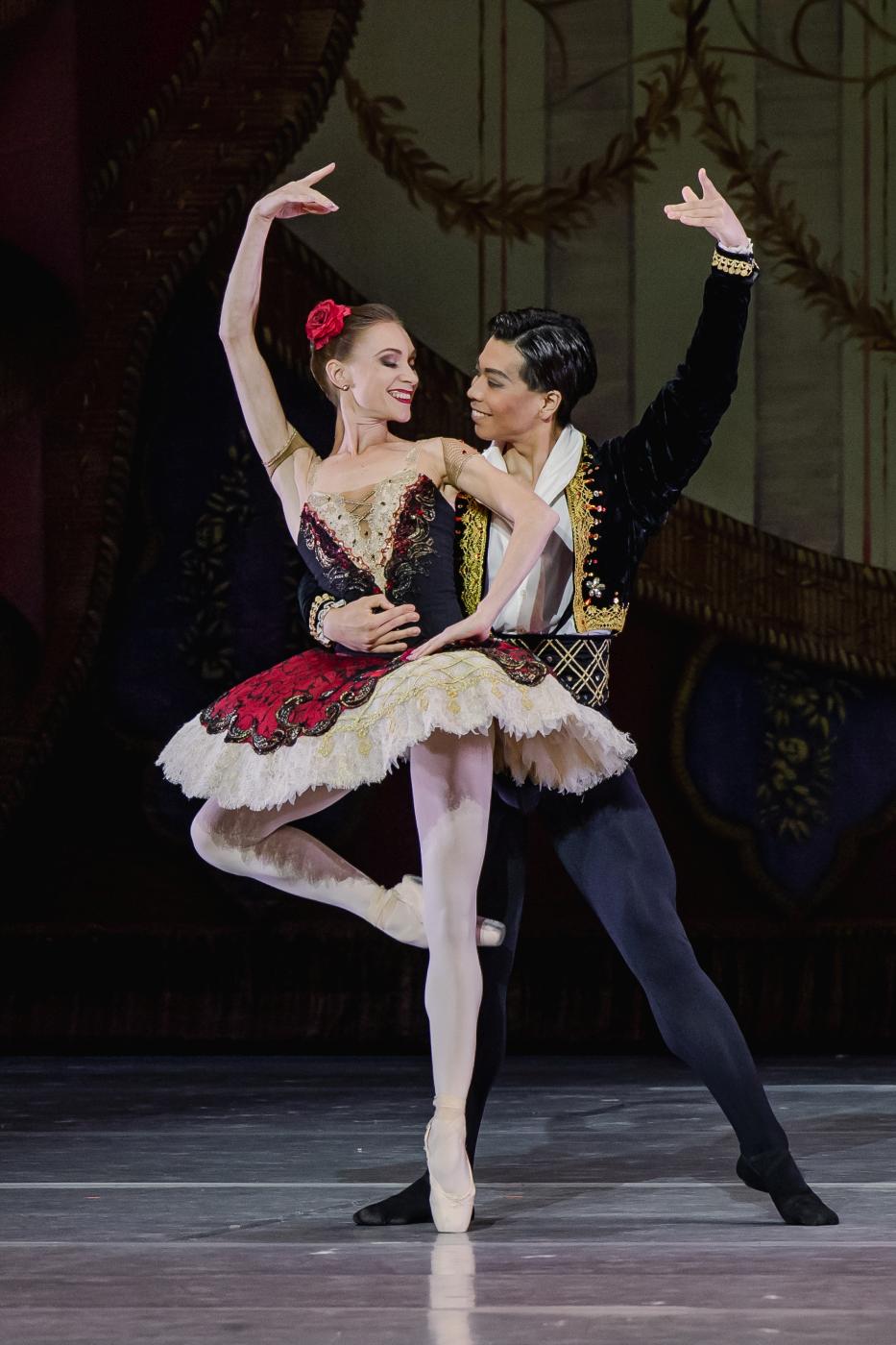 Tatyjana Melnik and Motomi Kiyota were tasked with Act III's pas de deux from "Don Quixote" (Michael Messerer and Kaszjan Golejzovskij's version based on Alexander Gorsky's adaption of Marius Petipa's original). I was surprised to find Kiyota listed as a member of the corps de ballet, given his Basilio's daredevil jumps (including air-slicing splits). As his Kitri, Melnik played with the tempo, extending her balance to sheer endless time. Having seen quite some Don Quixotes, I found the role not ideal for Melnik. She tried to be a fiery Spaniard, but was rather hard-edged.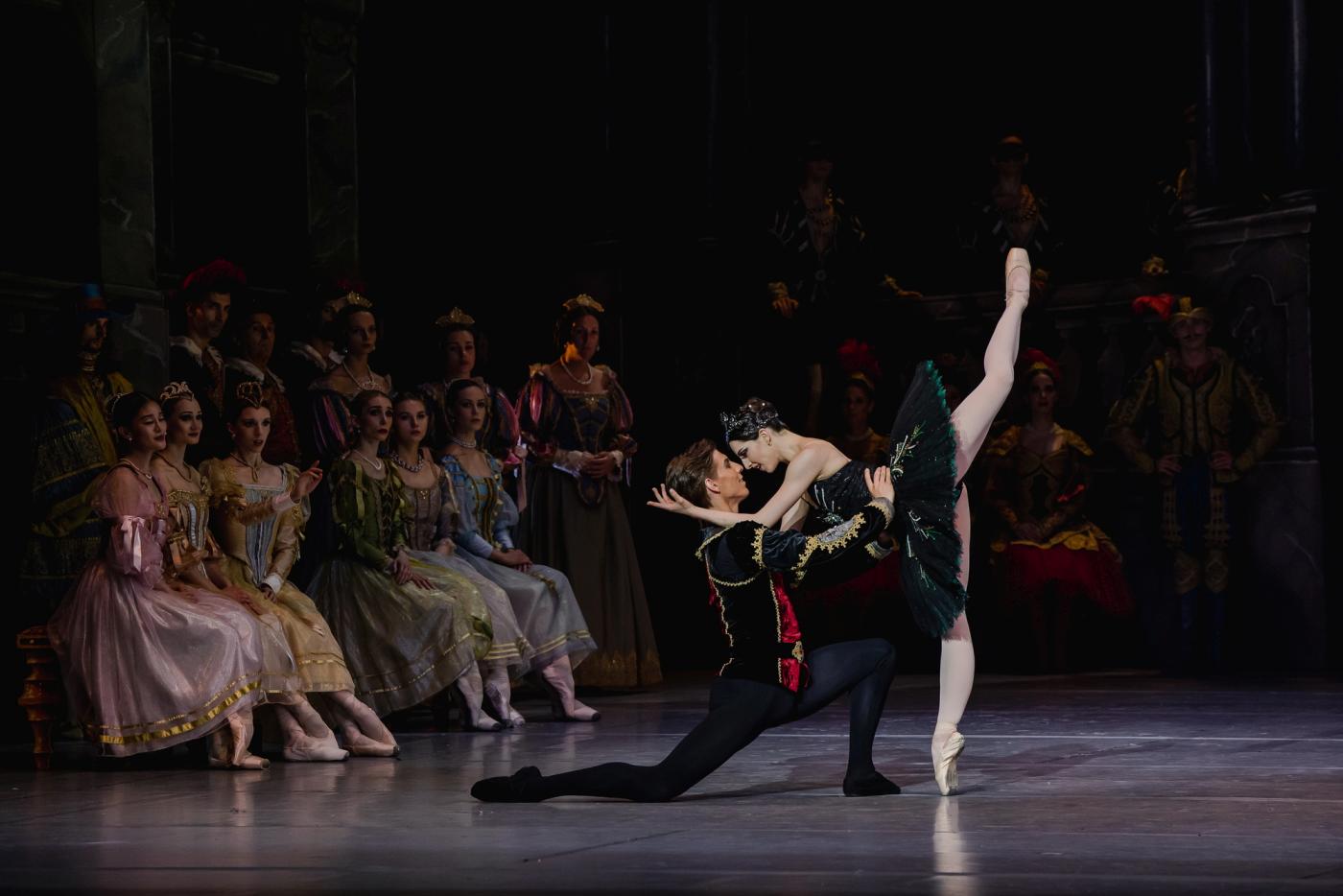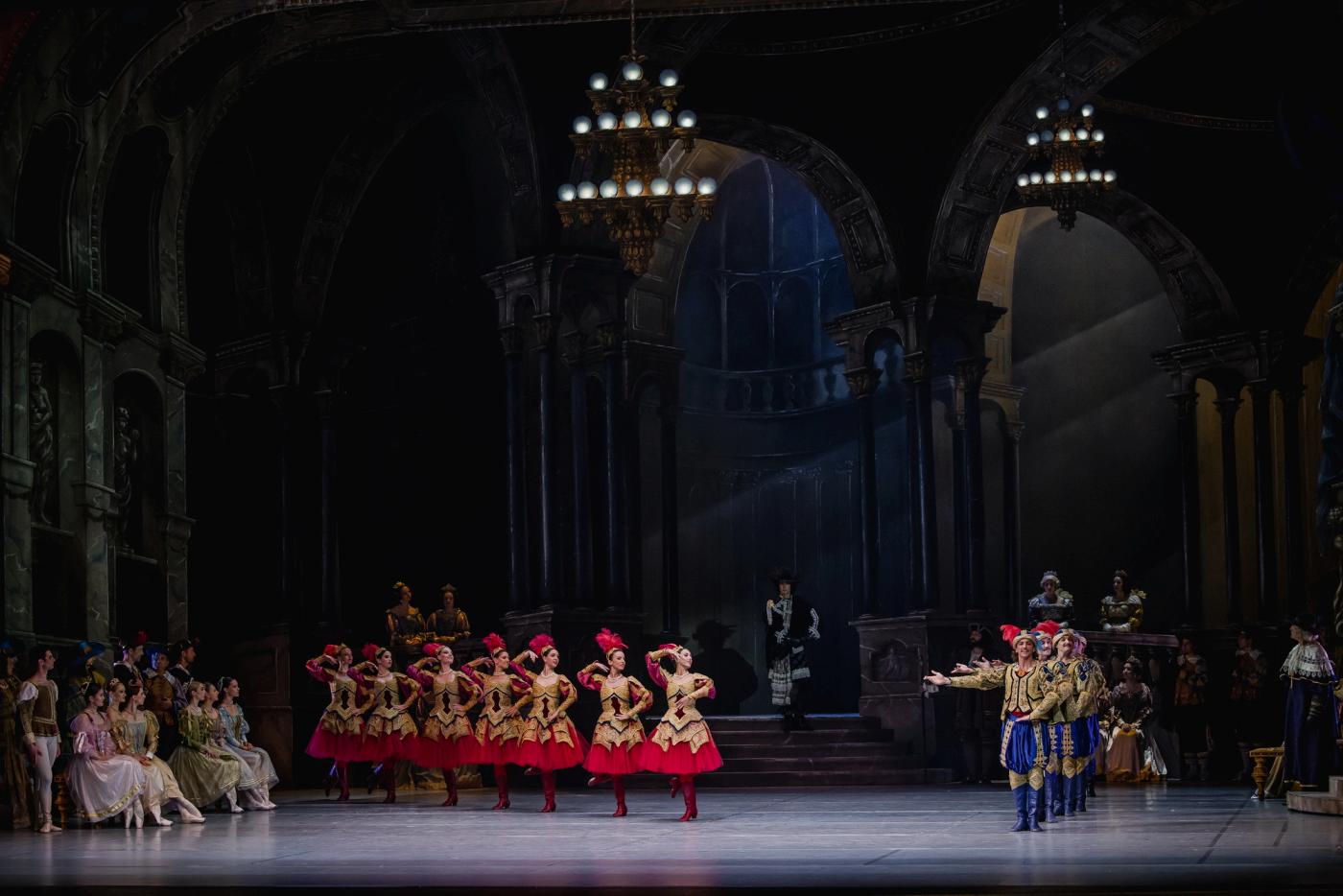 The Dutch National Ballet's troika of "van" – Rudi van Dantzig, Toer van Schayk, and Hans van Manen – stands for quality. Hence I was glad to watch an excerpt of the former two's "Swan Lake" (based on Petipa's original), which was previously unfamiliar to me. Its ball at the royal palace plays out in an elaborately columned hall whose adjacent apartment promises mystery. Splendid costumes by van Schayk attest his taste for colors and cuts. Of the modifications the choreographers made to the divertissements, some turned out well, some less so. While Motomi Kiyota, Alberto Ortega de Pablos, and especially Taran Dumitru had a chance to show off their prowess in the pas de six, the Neapolitan dance lacked dash. Additional texture gave several characters welcome individuality. One bride-to-be was so shy that she had to be dragged in front of the Prince (the elegant Ármin Balázsi Gergő), another (pushy) one found herself irresistible, but – alas – they as the other four candidates were rejected.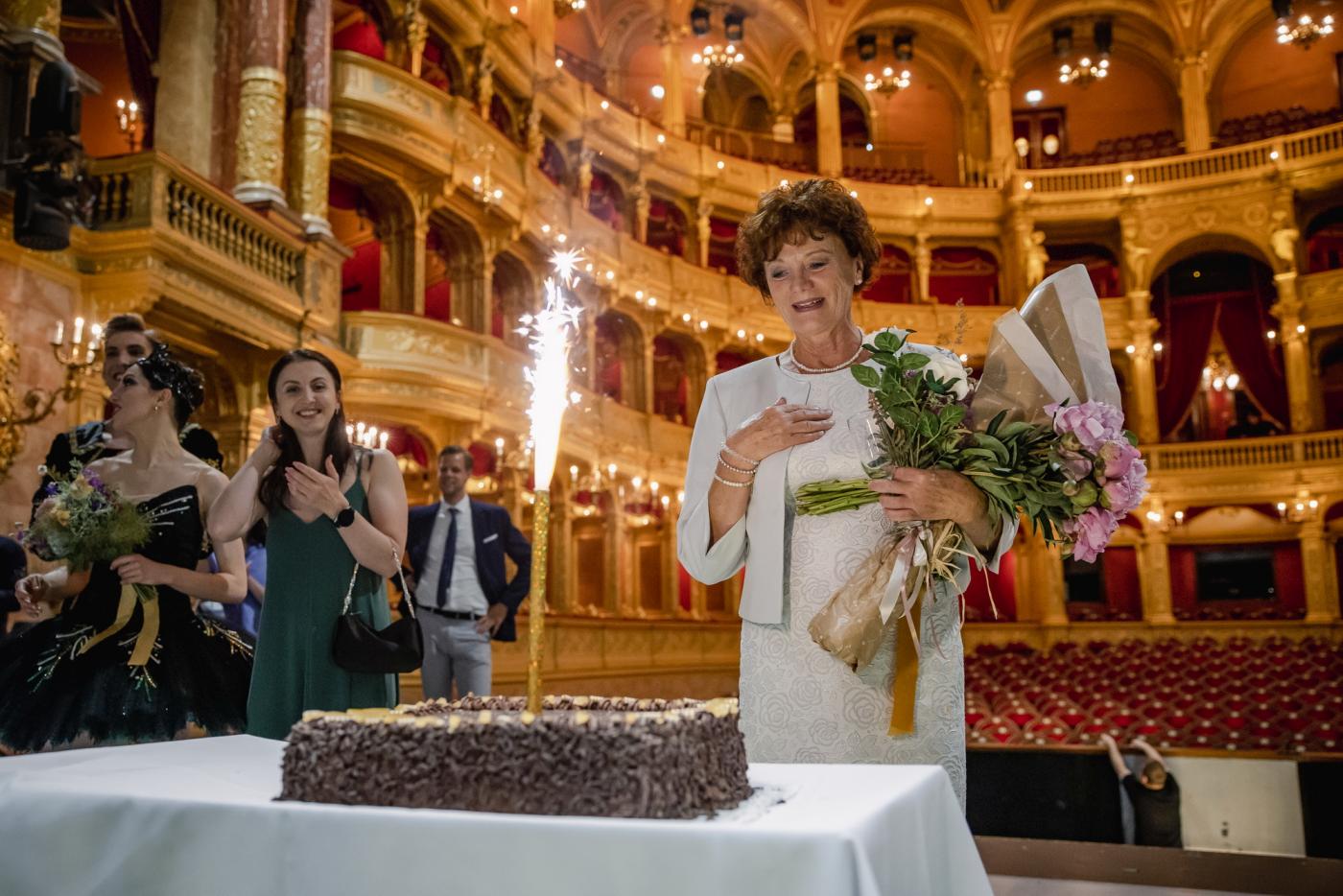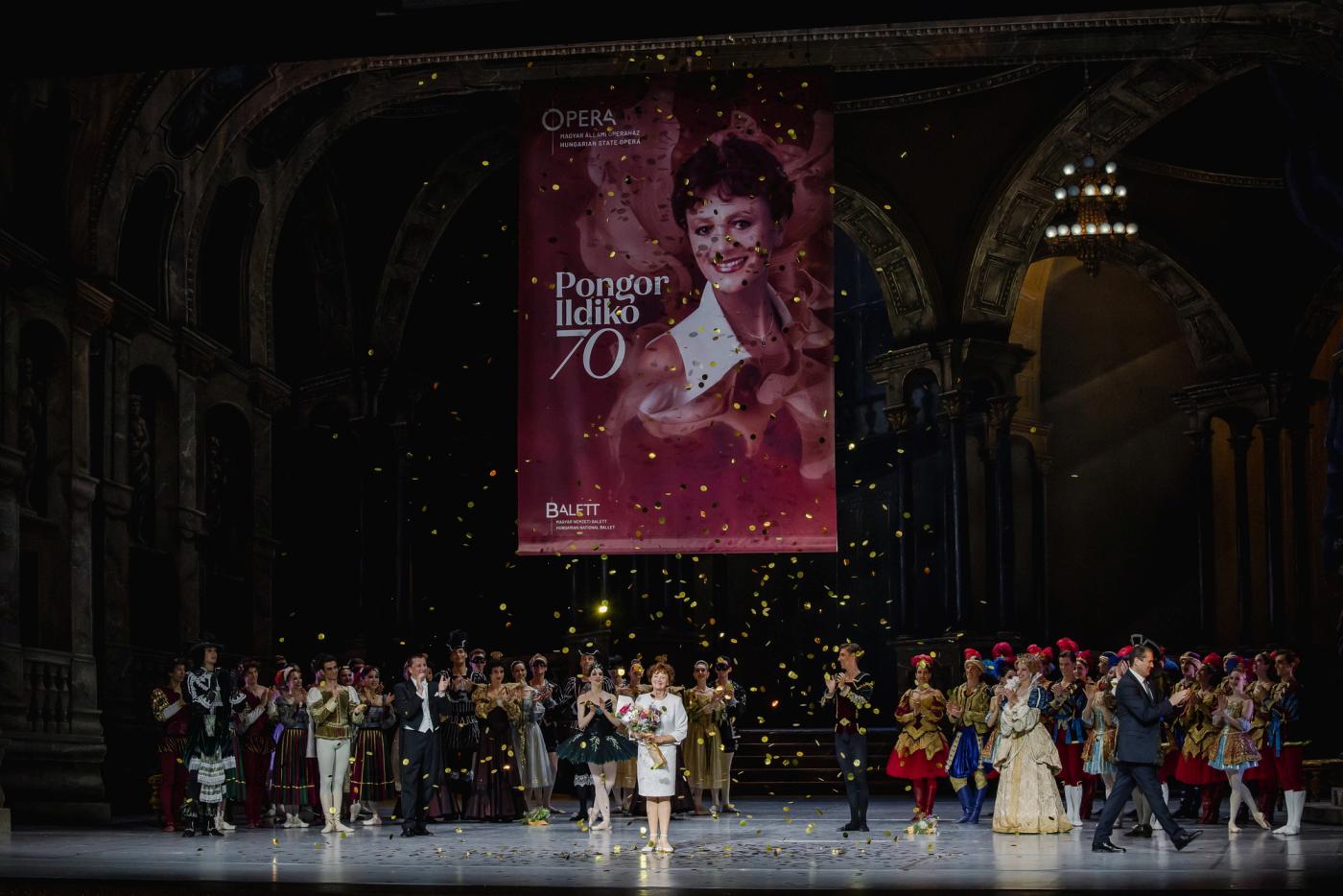 Rothbart (Iurii Kekalo) behaved surprisingly disrespectful towards the prince, pushing him aside and smooching one of the Spanish dancers as if he was the master of the house. Strangely, his decoy Odile (Maria Beck) returned for her final pas de deux only after the party had climaxed. Like a hawk, she hunted down her prey with scheming coldness. Everyone except the prince must have noticed that her mouth was set in a contemptuous line. It would be interesting to see Beck's Odette to assess the depth of her interpretation.
At the curtain call, Pongor was showered with golden confetti and heartfelt applause. Thomas Herzog and the Hungarian State Opera Orchestra's rousing accompaniment greatly intensified the elated atmosphere.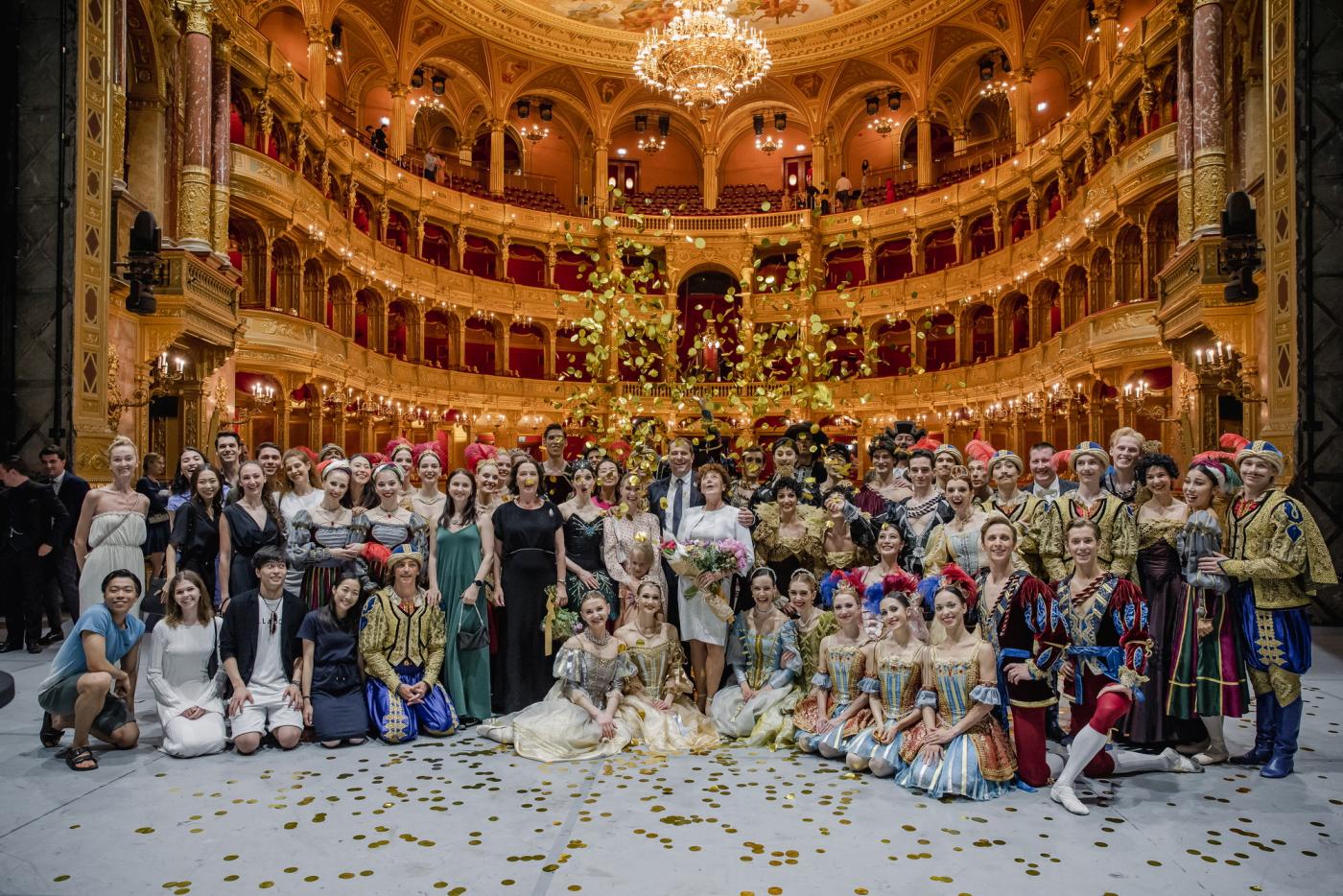 Links:
Website of the Hungarian State Opera
Ildikó Pongor – Opera Café (video)

Photos:

1.

Ildikó Pongor, "Ildikó Pongor 70 Ballet Gala",

Hungarian National Ballet 2023

2.

Katalin Csarnóy, M

ária Aradi, Ildikó Pongor,

Melitta Gyüdi (moderator), and

Imre Dózsa, "Ildikó Pongor 70 Ballet Gala",

Hungarian National Ballet 2023

3.

Ildikó Pongor and artistic director Tamás Solymosi, "Ildikó Pongor 70 Ballet Gala", Hungarian National Ballet 2023

4.

Aliya Tanykpayeva (Phrygia) and Gergely Leblanc (Spartacus), "Spartacus" by Seregi Lászlo, "Ildikó Pongor 70 Ballet Gala", Hungarian National Ballet 2023

5.

Miyu Takamori (Marie) and Ryosuke Morimoto (Prince), "The Nutcracker" by Wayne Eagling and Tamás Solymosi, "Ildikó Pongor 70 Ballet Gala", Hungarian National Ballet 2023

6.

Tatyjana Melnik (Kitri)

and Motomi Kiyota

(Basilio), "Don Quixote" by Michael Messerer, Kaszjan Golejzovskij and Alexander Gorsky after Marius Petipa, "Ildikó Pongor 70 Ballet Gala", Hungarian National Ballet 2023

7.

Ensemble, "Swan Lake" by Rudi van Dantzig and Toer van Schayk, "Ildikó Pongor 70 Ballet Gala", Hungarian National Ballet 2023

8.

Ármin Balázsi Gergő (Prince Siegfried), Maria Beck (Odile), and ensemble, "Swan Lake" by Rudi van Dantzig and Toer van Schayk, "Ildikó Pongor 70 Ballet Gala", Hungarian National Ballet 2023

9.

Ensemble, "Swan Lake" by Rudi van Dantzig and Toer van Schayk, "Ildikó Pongor 70 Ballet Gala", Hungarian National Ballet 2023

10.

Ildikó Pongor and ensemble, "Ildikó Pongor 70 Ballet Gala", Hungarian National Ballet 2023

11.
Ildikó Pongor, "Ildikó Pongor 70 Ballet Gala", Hungarian National Ballet 2023

12.

Ildikó Pongor, artistic director Tamás Solymosi, colleagues and dancers, "Ildikó Pongor 70 Ballet Gala", Hungarian National Ballet 2023

all photos

©

Attila Nagy

/

Hungarian State Opera

Editing:
Samuel Snodgrass