"Through the Looking-Glass"
Ballet of the Stanislavsky and Nemirovich-Danchenko Moscow Music Theatre
Stanislavsky and Nemirovich-Danchenko Moscow Music Theatre
Moscow, Russia
October 29, 2023
by Ilona Landgraf
Copyright © 2023 by Ilona Landgraf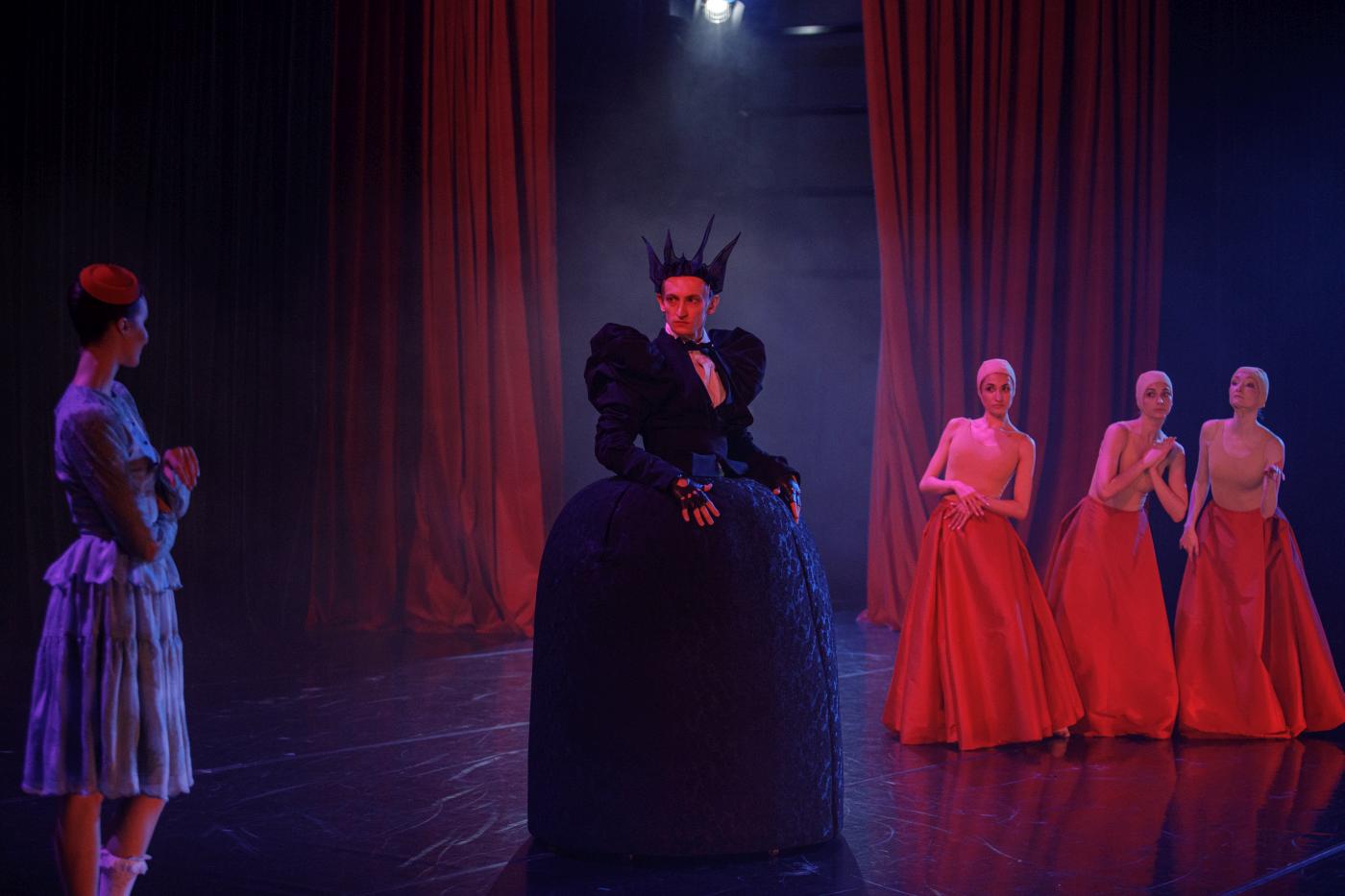 This April, the Stanislavsky Ballet premiered a new piece by one of Russia's up-and-coming choreographers – Konstantin Semenov, who happens to be a dancer from within their own ranks. Semenov, winner of the 2015 competition for young choreographers of the festival for contemporary dance Context. Diana Vishneva, so far mainly created dance miniatures. His recent work "Through the Looking-Glass" is his first full-fledged, seventy-minute one-acter. Still a small-scale production, it was shown on the theater's small stage, where the audience sits in intimate proximity to the dancers.
"Through the Looking-Glass" is based on Lewis Carroll's 1871 eponymous novel, the sequel of his "Alice's Adventures in Wonderland" (1865). Again, young Alice enters a rhyme-ridden fantasy world, but this time through a mirror rather than a rabbit hole. Everything in this world is reversed, including written text, the meaning of words, and time (which runs counter-clockwise).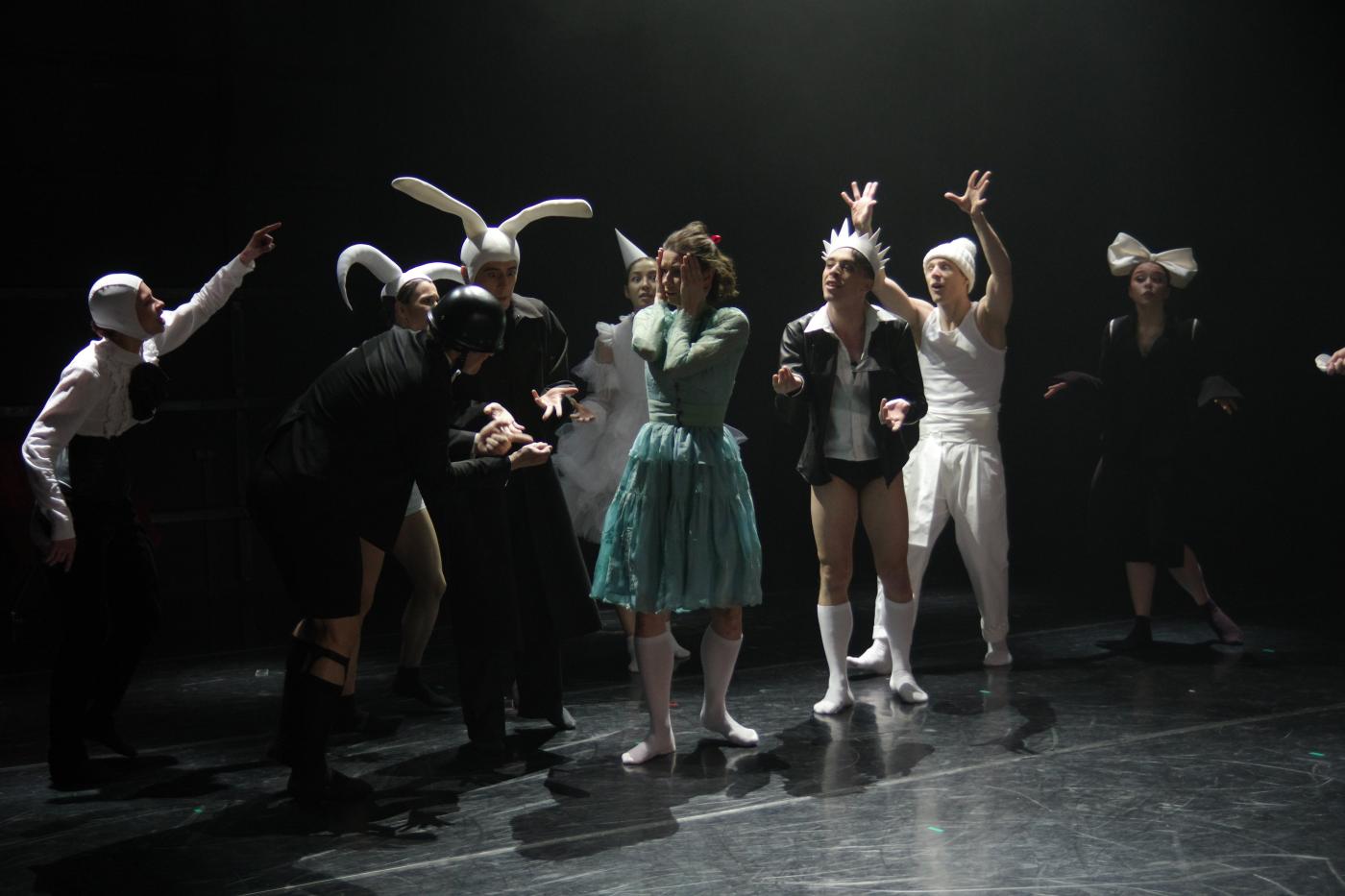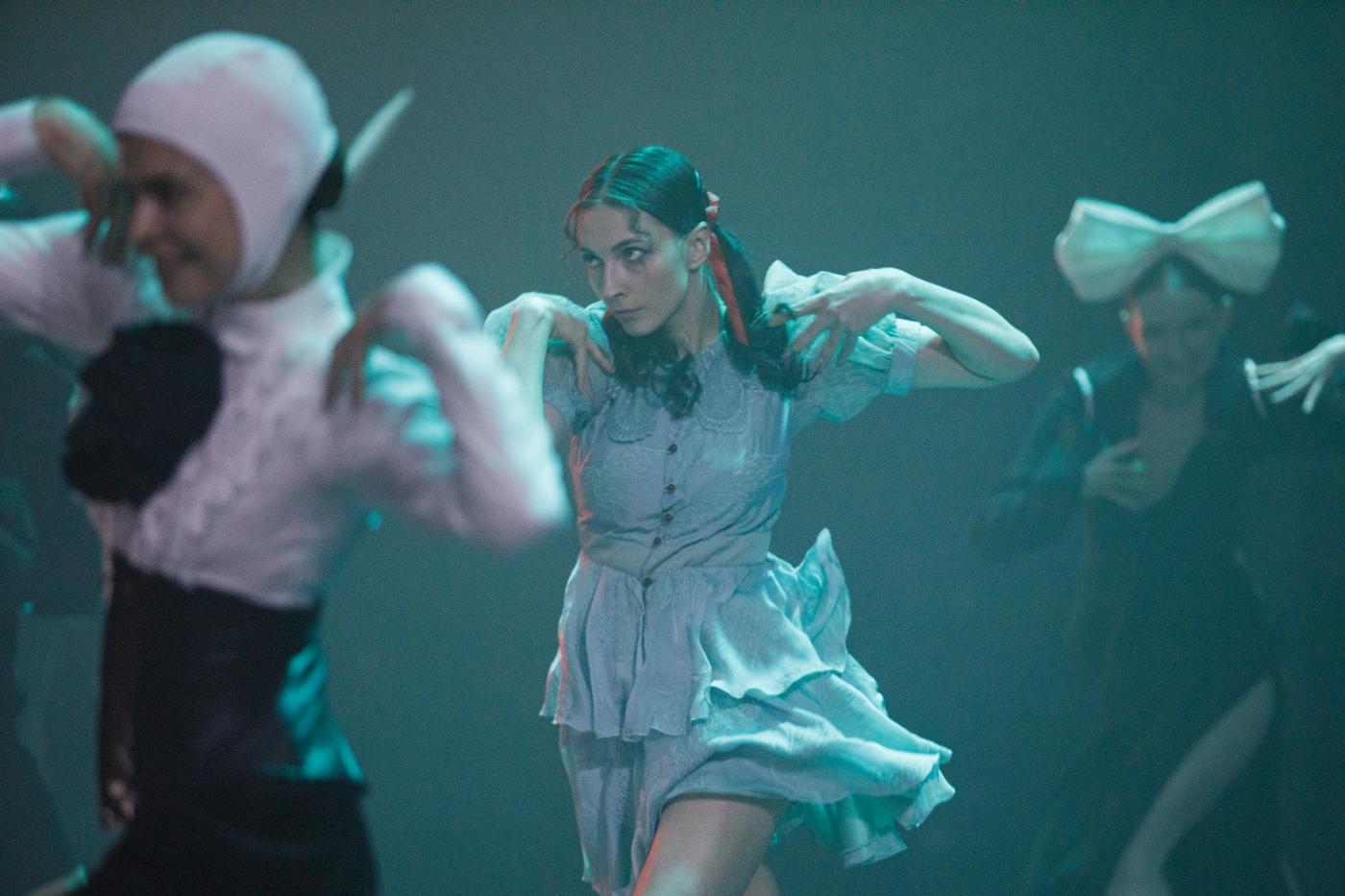 Alice encounters an array of odd creatures, among them a couple of royals, whose White Queen sends her off as a pawn on a chess-like journey. Upon successfully reaching her final square, Alice is promised a queen's crown. The coronation indeed takes place, albeit slightly off course. While attempting to re-establish order, Alice wakes up, realizing that her adventures had been nothing but a dream.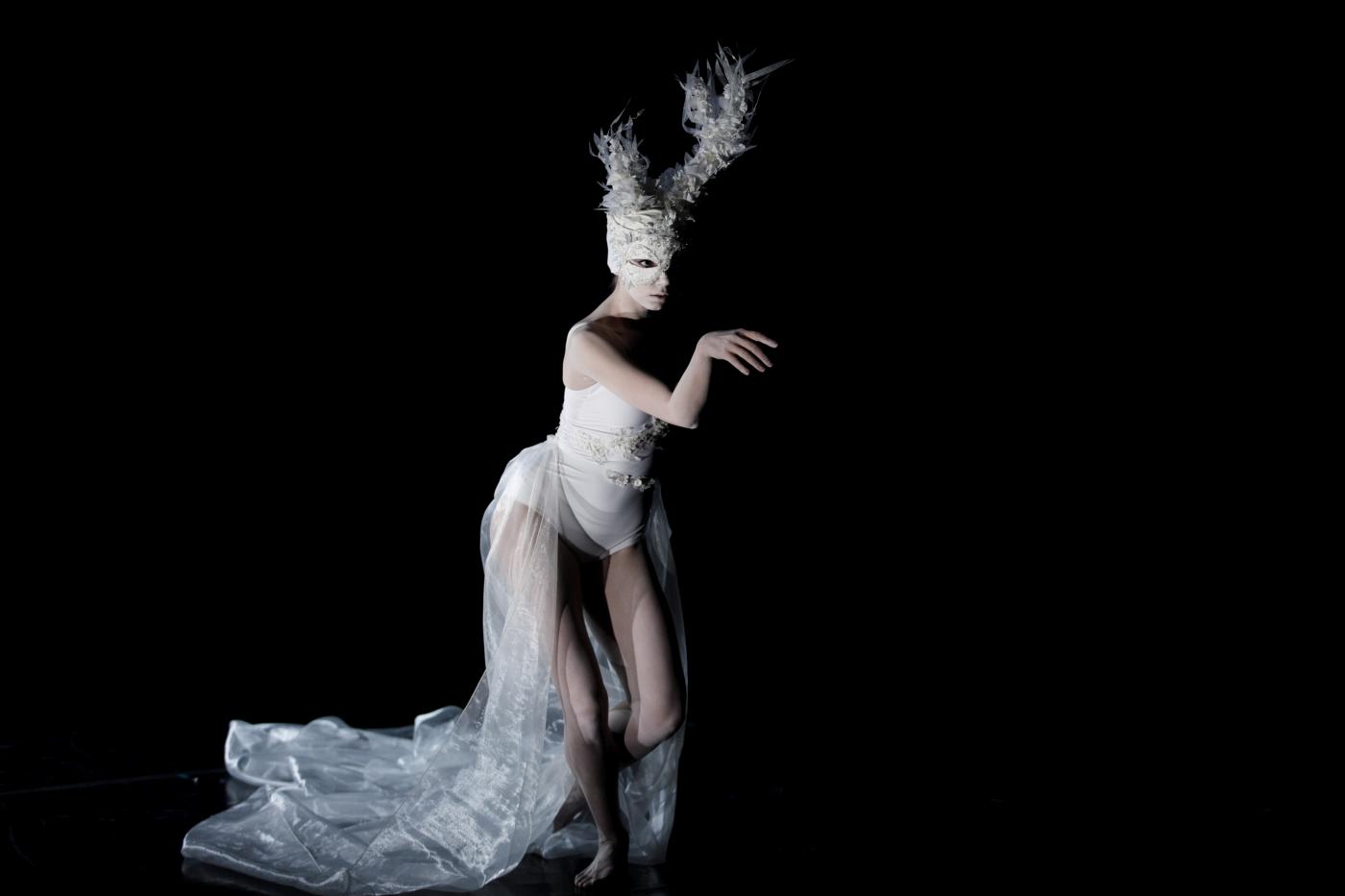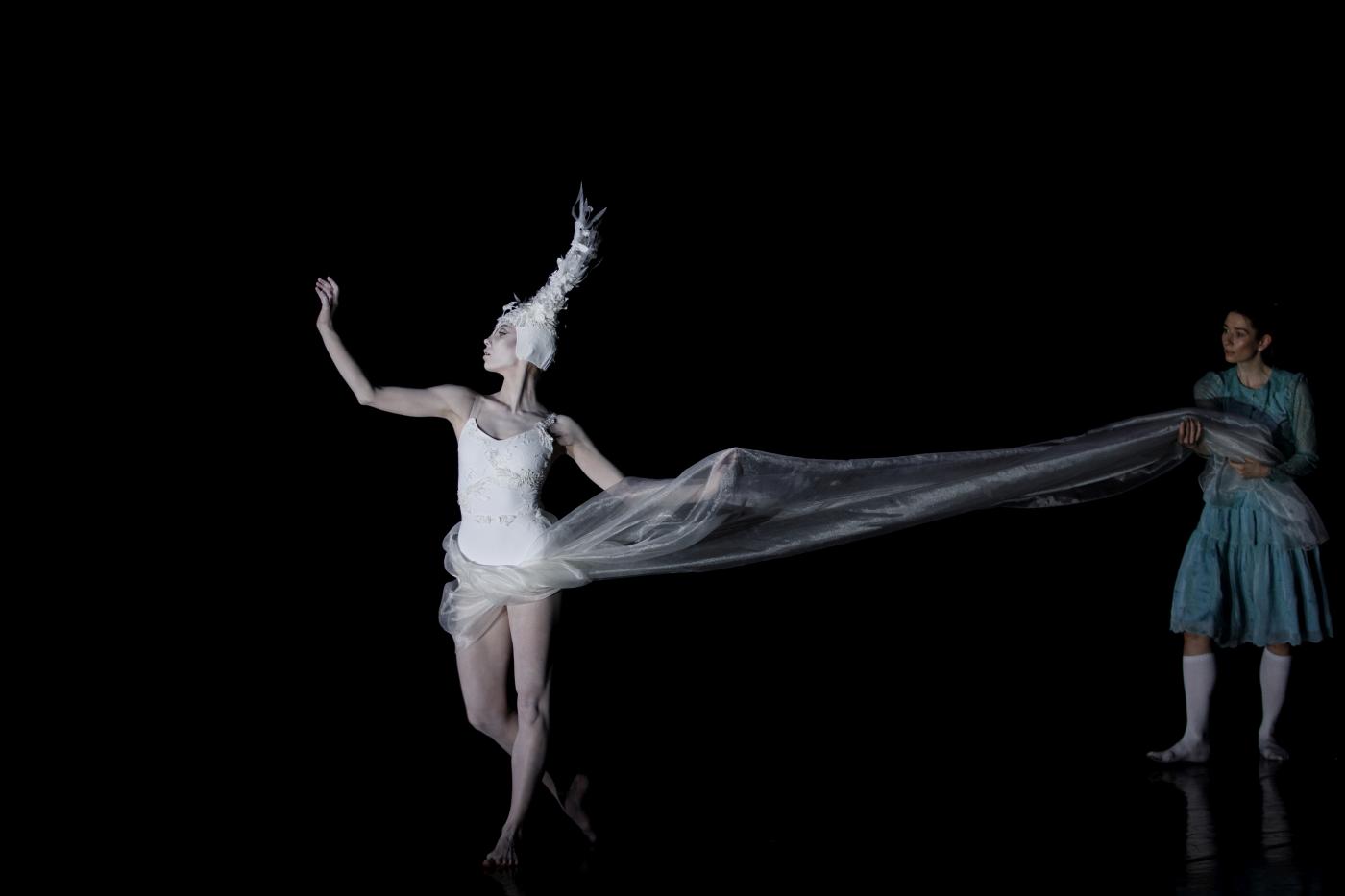 Semenov tweaked the storyline, omitting, for example, Alice's two kittens (who transform into queens in her dream) and the White Knight (who falls off his horse every so often). As a biologist by training, I was looking forward to the Red Queen who, Alice in tow, runs against time like a whirlwind only to stay at the same place. She gave the "Red-Queen-Hypothesis" in evolutionary biology its name. But – alas! – Semenov replaced her with an eccentric male Black Queen (German Bosai), whose casket-like skirt (though rollable) prevented any sprints (costumes – and set – by Maria Tregubova).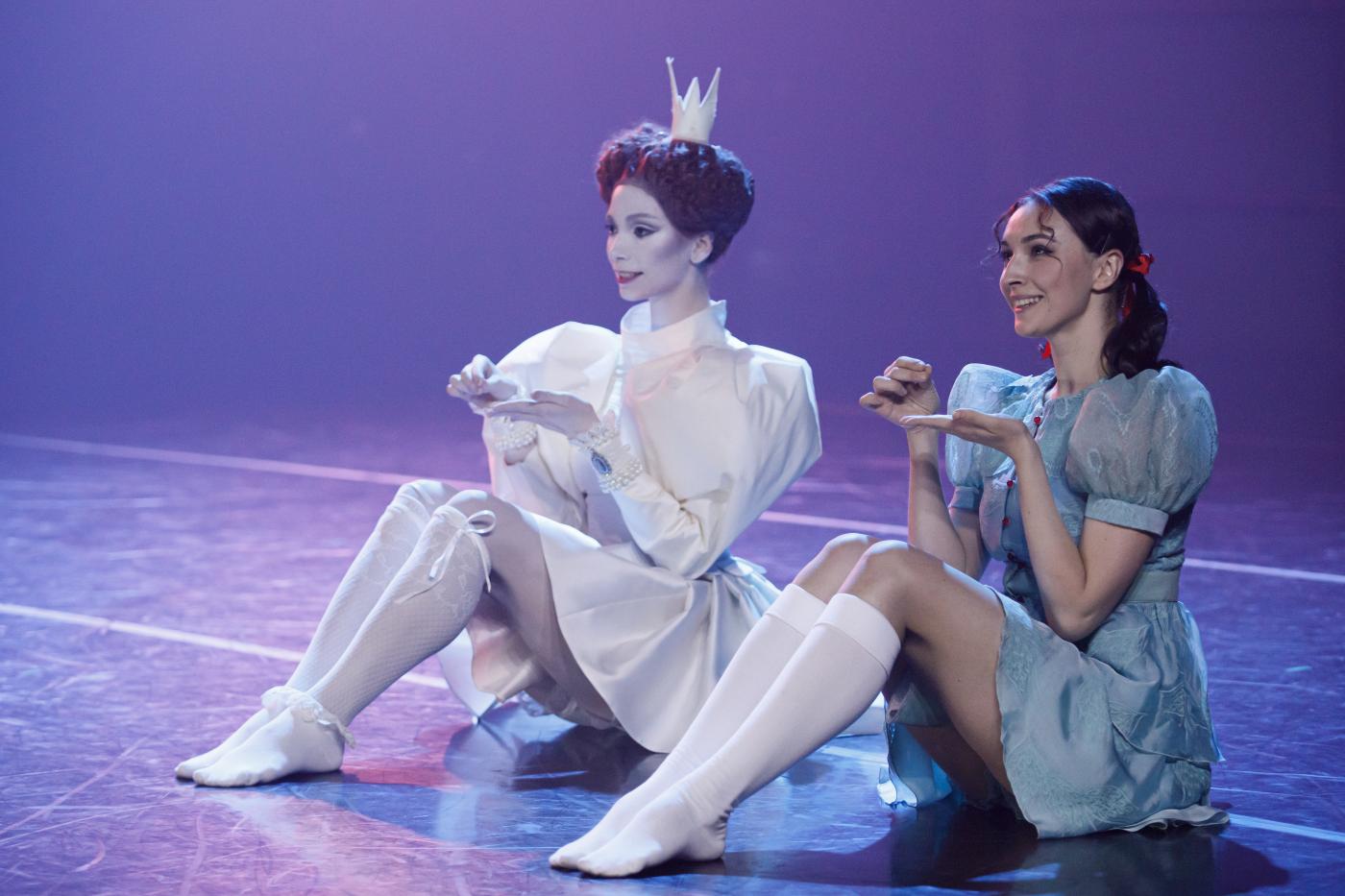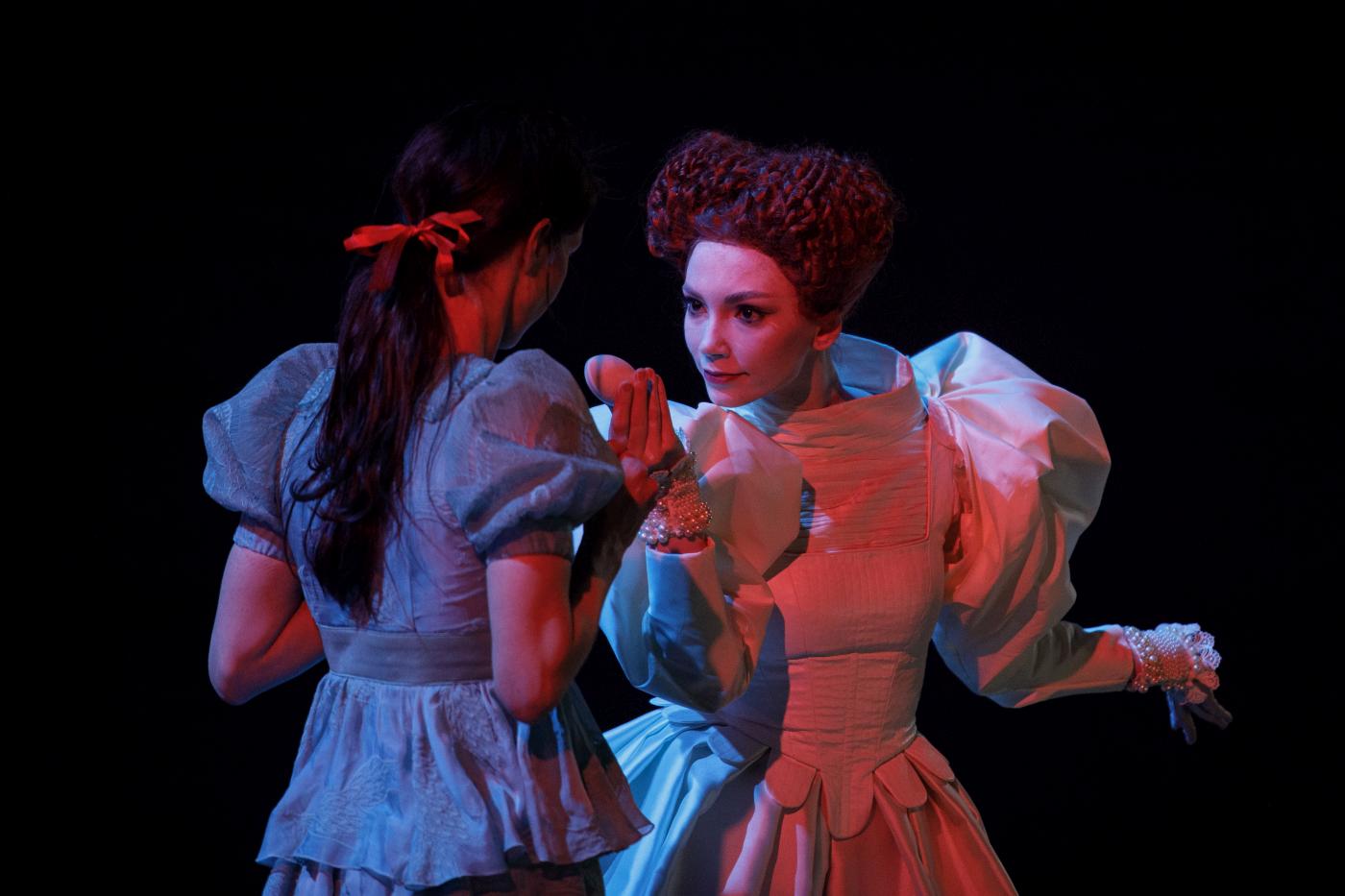 Bosai also depicted the Black King (a red one in the novel) in whose dream a huge (paper mâché) crow falls to pieces, and Lewis Carroll, whom Semenov added to the protagonists. Carroll, swinging his pocket watch like a pendulum, was a recurring reminder of the dreamtime's running out.
As time runs backward in the looking-glass world, Alice (Valeria Mukhanova) is turned into her younger self (Natalia Sazanova) but, dreams are inconsistent – and so both Alices sometimes interchange or appear as a pair. Spinning platforms and breathtakingly quick cushioned chairs transport Alice across the chessboard. She meets some cheeky poppies, a jolly swarm of insects, fighting (or flirting?) lions and unicorns, and a magic fawn (Elena Solomyanko), whose awkward beauty mesmerizes her.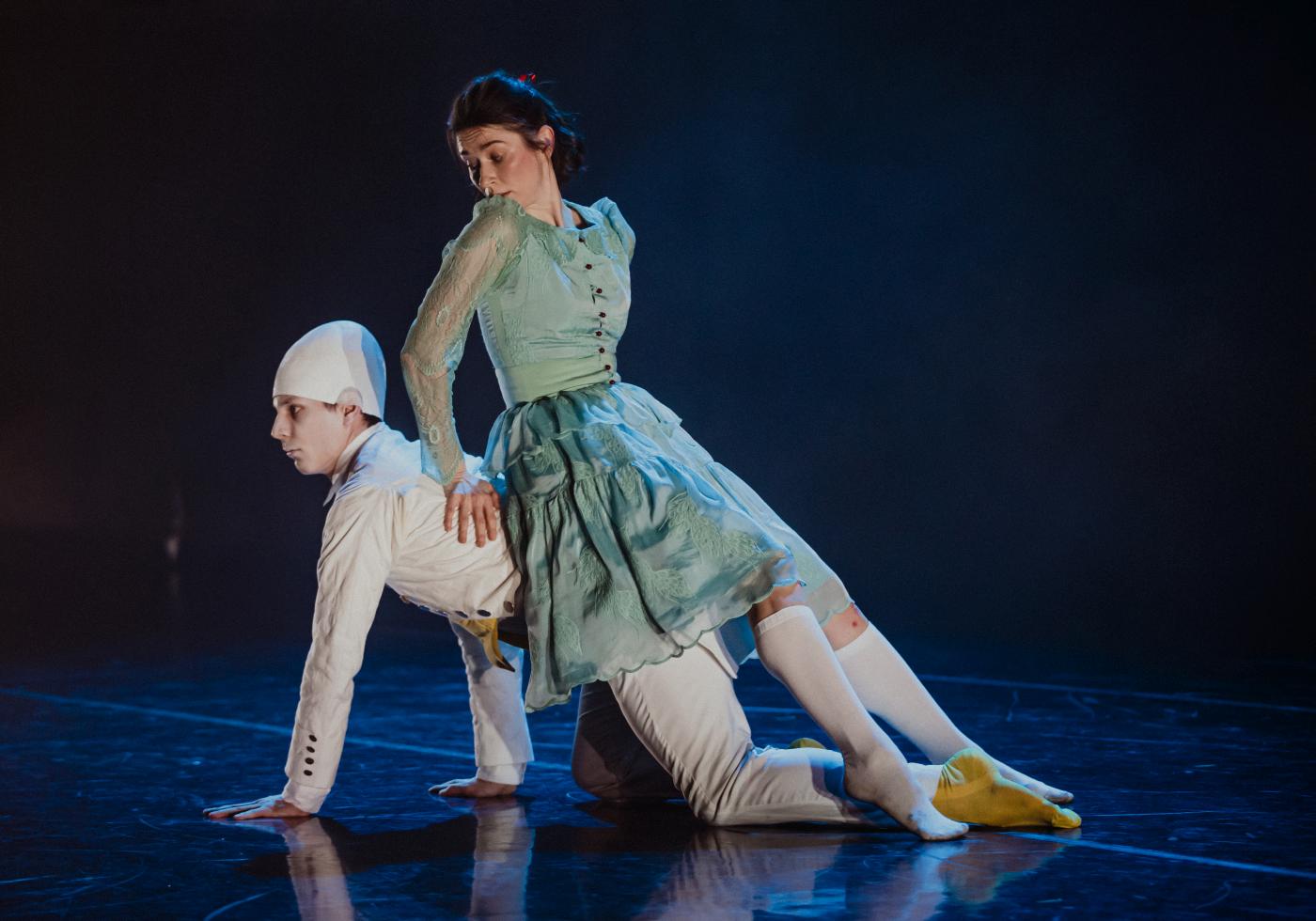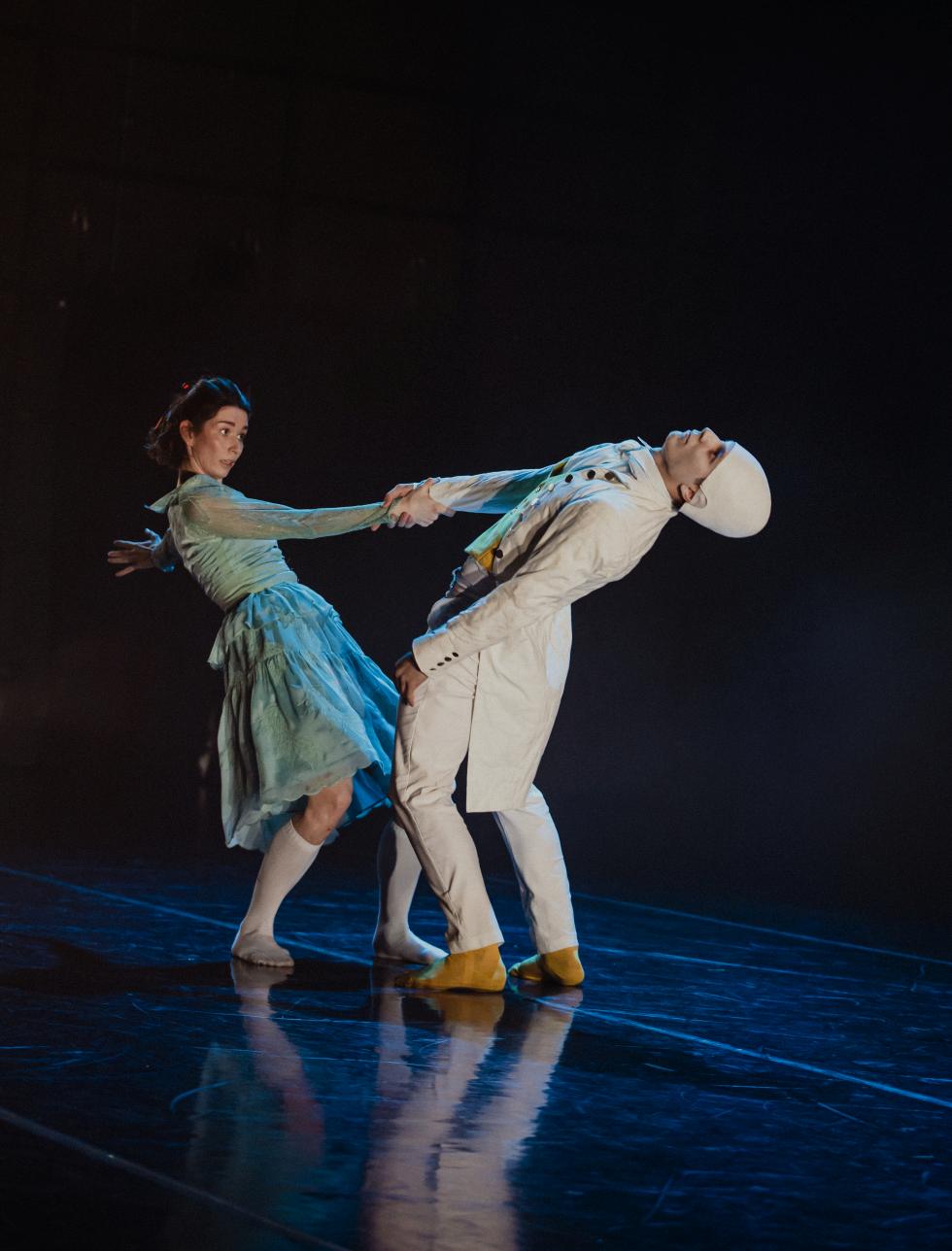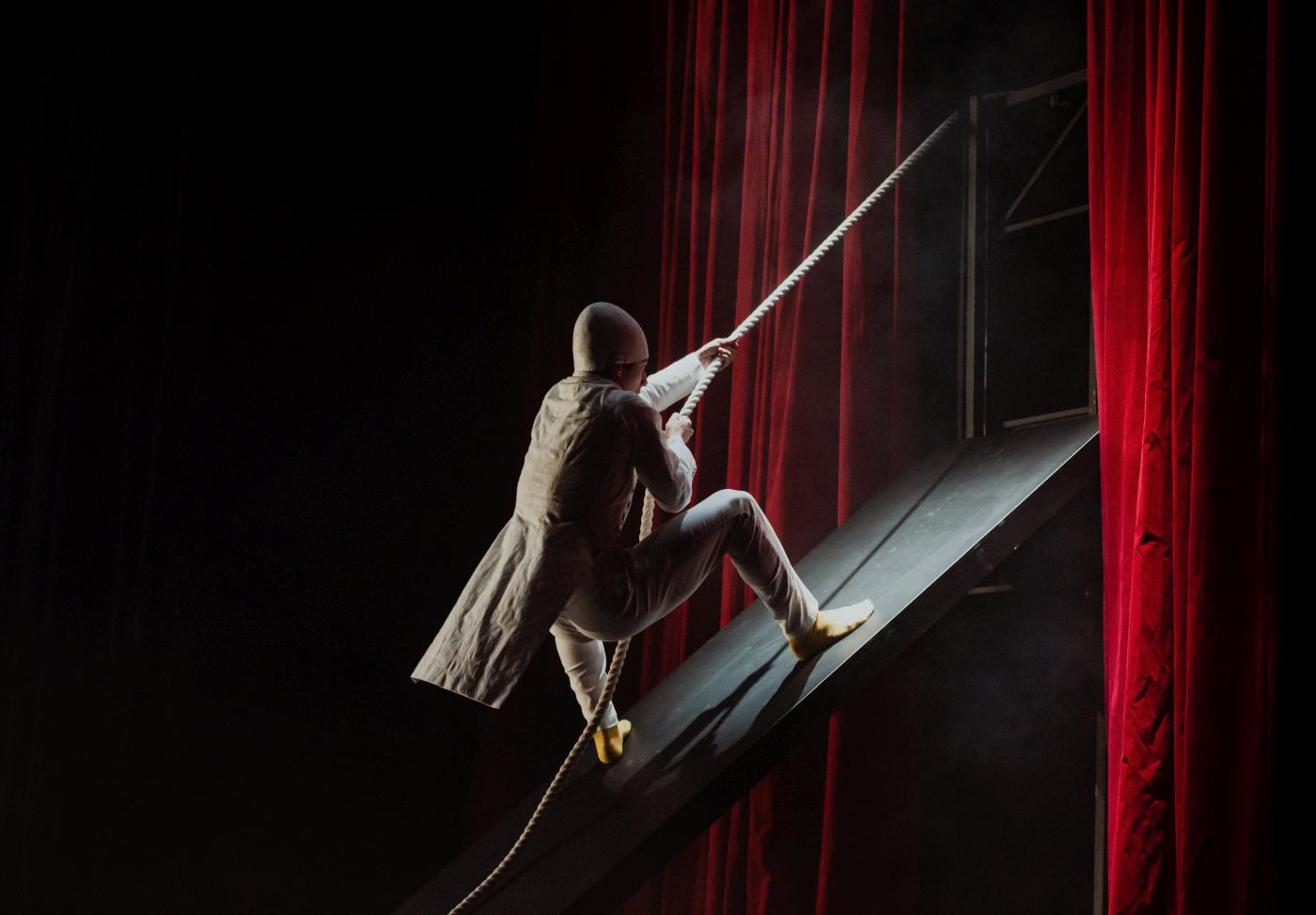 Solomyanko doubled as the amicable White Queen who – unlike in the novel – didn't lose her shawl, but her little crown. The Queen's ability to turn into a sheep was indicated by her wooly hairdo. The fun loving twins Tweedledum and Tweedledee (Yury Vybornov and Evgeny Dubrovsky) didn't mind that they were actually stumbling blocks to one another. Humpty Dumpty (Innokenty Yuldashev), the anthropomorphic egg, declaimed his rhymes while perching on a high wall. I couldn't figure out what his gestures tried to emphasize, but in any case he was agitated.
The score by Vasily Peshkov delivered evocative music, every now and again reminiscent of the ticking of a clock.
As "Through the Looking-Glass" is mainly aimed at a younger audience, Semenov's moderate pace of storytelling seemed appropriate. The Magic Forest scene was, however, tedious and Alice's coronation overly affected.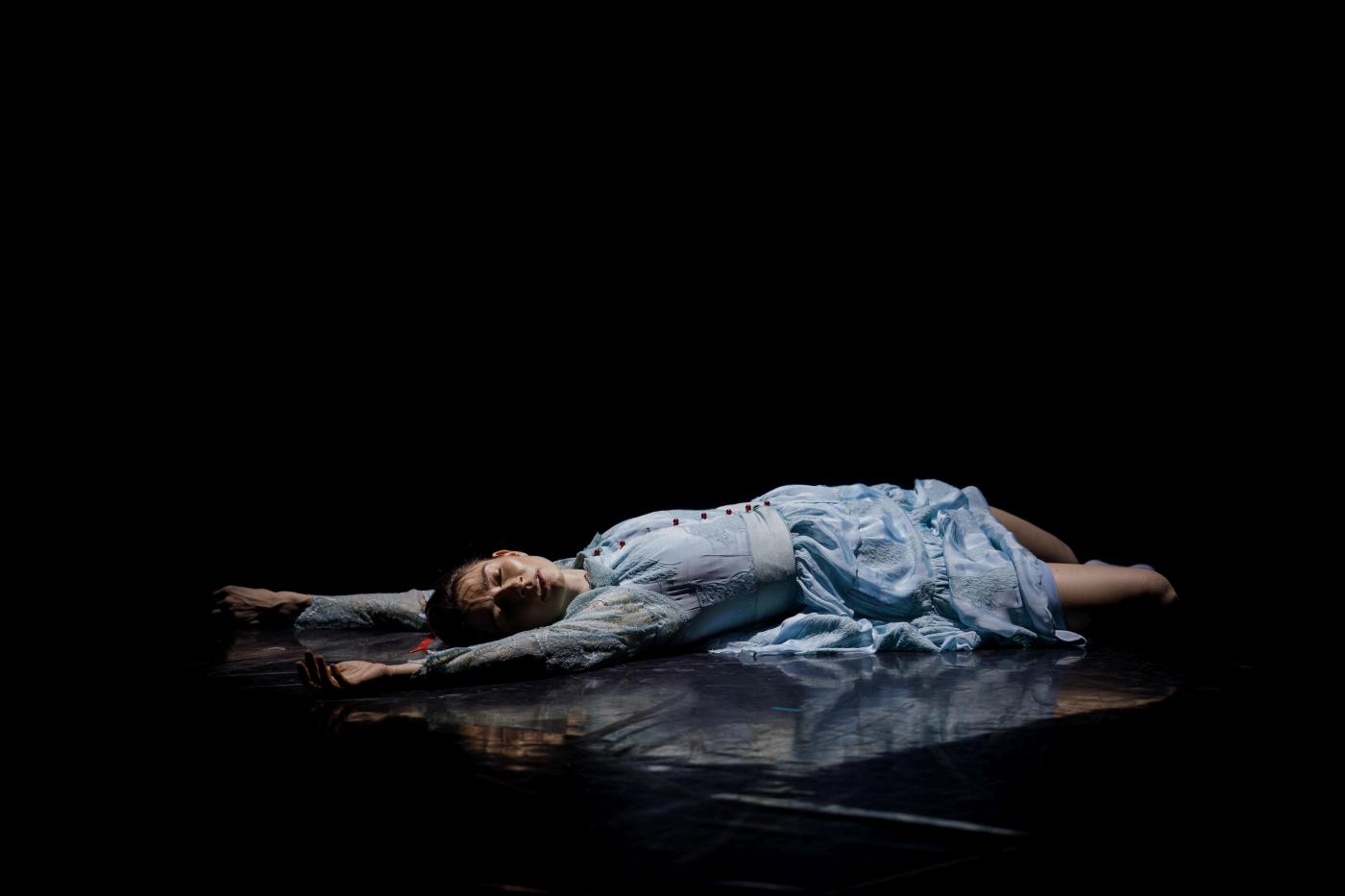 Links:
Website of the Stanislavsky and Nemirovich-Danchenko Moscow Music Theatre
"Through the Looking-Glass" – trailer

Photos:

1.

Valeria Mukhanova

(adult Alice), German Bosai (Black Queen), and ensemble;

"

Through the Looking-Glass" by Konstantin Semenov

, Stan

is

lavsky Ballet 202

3

2.

Natalia Sazanova

(young Alice) and ensemble,

"

Through the Looking-Glass" by Konstantin Semenov

, Stan

is

lavsky Ballet 202

3

3.

Valeria Mukhanova (adult Alice) and ensemble,

"

Through the Looking-Glass" by Konstantin Semenov

, Stan

is

lavsky Ballet 202

3

4.

Elena Solomyanko (Fawn),

"

Through the Looking-Glass" by Konstantin Semenov

, Stan

is

lavsky Ballet 202

3

5.

Elena Solomyanko (Fawn) and Valeria Mukhanova (adult Alice),

"

Through the Looking-Glass" by Konstantin Semenov

, Stan

is

lavsky Ballet 202

3

6.

Natalia Sazanova

(young Alice) and Elena Solomyanko (White Queen),

"

Through the Looking-Glass" by Konstantin Semenov

, Stan

is

lavsky Ballet 202

3

7.

Elena Solomyanko (White Queen) and

Natalia Sazanova

(young Alice),

"

Through the Looking-Glass" by Konstantin Semenov

, Stan

is

lavsky Ballet 202

3

8.

Innokenty Yuldashev (Humpty Dumpty) and Valeria Mukhanova (adult Alice),

"

Through the Looking-Glass" by Konstantin Semenov

, Stan

is

lavsky Ballet 202

3

9.

Valeria Mukhanova (adult Alice) and Innokenty Yuldashev (Humpty Dumpty),

"

Through the Looking-Glass" by Konstantin Semenov

, Stan

is

lavsky Ballet 202

3

10.

Innokenty Yuldashev (Humpty Dumpty),

"

Through the Looking-Glass" by Konstantin Semenov

, Stan

is

lavsky Ballet 202

3

11.

Valeria Mukhanova (adult Alice),

"

Through the Looking-Glass" by Konstantin Semenov

, Stan

is

lavsky Ballet 202

3

all photos

© The Moscow State Stanislavsky and Nemirovich-Danchenko Music Theatre

(MAMT)

Editing:
Samuel Snodgrass