"Masterpieces of Russian Stage Design 1880 – 1930" (Vol I)
"Encyclopedia of Russian Stage Design 1880 – 1930" (Vol II)
John E. Bowlt, Nina and Nikita D. Lobanov-Rostovsky and Olga Shaumyan:
Antique Collectors' Club, 2012/2013
by Ilona Landgraf
Copyright © 2013 by Ilona Landgraf
When it comes to Russian stage design, naturally one person has his finger in the pie: Sergei Diaghilev, impresario of the Ballets Russes. Even years after his death in 1929 he made great projects happen, aiming to preserve and promote Russian design. London's Diaghilev-exhibition in 1954 – how could it be different? – was the ignition spark for Nina and Nikita D. Lobanov-Rostovsky for what developed into an impressively vast collection of Russian stage design. Russian Nikita D. Lobanov-Rostovsky's enthusiasm about Diaghilev's Ballets Russes was so infectious that the cosmopolitan Nina, daughter of a French diplomat, not only became his fellow collector but also his wife.
UK's Antique Collectors' Club took on the task to publish two volumes about the collection. "Masterpieces of Russian Stage Design", released in 2012, recently was complemented by a catalog raisonnè.
Excellent quality, Diaghilev's mantra, was also the Lobanov-Rostovskys'. With Antique Collectors' Club they choose the ideal publisher to meet their high aspirations. Regarding the contents, both large-format volumes are substantial, highly informative and clearly presented – precious reference books for advanced research. But most importantly they are a feast for the eyes! Splendidly equipped with color illustrations, moreover full-page ones in Volume I, they will attract every connoisseur of ballet, opera and theater.
Initially the Lobanov-Rostovskys collected for their own personal pleasure, focusing on the twenty-one Russian designers (out of forty in total) that had worked with Diaghilev. Later they expanded their collection, which ultimately covers more than fifty years of stage design and includes items by 176 artists. From Neo-Nationalism and Symbolism, through Cubo-Futurism and Suprematism, to Constructivism and Socialist Realism, the entire history of modern Russian art is encompassed. Central is the period 1905 – 1925, when the avant-garde radically changed Russian culture. The collection's more than 1000 items are by internationally celebrated artists like Bakst, Benois, Goncharova,
Larionov, Malevich, Popova and Rodchenko. Lesser well-knowns such as Anisfeld or Sudeikin, being important in the evolution of modern stage design, are likewise represented. Most of the works are sets and costumes for ballets, operas, dramas, the circus, movies, cabarets and various theatrical events. Next to an extensive bibliographical register and several useful addenda (a list of operas and ballets produced or projected by Diaghilev, for example, and overviews on styles and movements in early 20th-century Russian and Western art) four chapters in Volume I provide general background information on the development of modern Russian theater: (1) Between East and West – the 19th century cultural legacy, (2) The Silver Age – the fin de siècle, (3) The Avant-Garde – experiments of ca. 1908-1920 and (4) Theater of Revolution – including the post-revolutionary period.
To pick out an interesting detail, Dimitrii Filosofov, one of the group around Diaghilev, which founded the journal Mir ikusstva (World of Art), once remarked that "The World of Art … was a cult of dilettantism in the good and true sense of the world." Unstudied as artists, but brilliant amateurs – especially Benois – they didn't stick to strict academic mentalities, being stylistically vital and free. In short: Too many studies corrode genuine creativity.
In addition the misconception that Russia's October Revolution (1917 – 1922) was a clear dividing-line between old and new culture is addressed. In fact, innovative artistic concepts had already been well elaborated before the Revolution. However, due to the lack of an extensive repertory of modern and socially didactical plays, ballets and operas, the old middle-class favorites like "Le Corsaire" were often restaged.
Also the Constructivists' claim turned out to be wrong that their art, emphasizing factory culture, engineering and mass entertainment, thus being in step with the working class, was the actual artistic counterpart to the 1917's socio-political revolution. Artists in the capitalist West already had developed the same machine esthetic and, as the "Exposition des Arts Décoratifs" in Paris (1925) showed, projects and patterns similar to those of the Soviet Constructivists were designed elsewhere as well. Thus revolutions do not always bring forth something unique and radically new.
The "Encyclopedia of Russian Stage Design" (Volume II) documents every artist and item from the collection as comprehensively as possible in terms of curatorial data, provenance and references to publications and exhibitions. Synopses of every stage production are given. Thus this catalog raisonné not only serves as archival backup copy but also as a most comprehensive and reliable source for research. Hence it is large and extensive in every way! For example, if one wants to compare Benois' different designs for Petrouchka – it was his favorite spectacle he returned many times to, reworked and modified set, stage details and costumes – with Sudeikin's of 1925 for the Metropolitan Opera Production, one will find sufficient material.
Highly interesting personal insights enliven the conversation between the Lobanov-Rostovskys and John E. Bowlt in Volume I. Bowlt, coauthor of both books, and as author and curator or co-curator of many exhibitions,
is perfectly familiar with modern Russian culture. Against the odds the Lobanov-Rostovskys were neither wealthy when starting to collect nor was monetary investment in art their intention. In the 1950s few really were interested in such art and it was of little pecuniary value – a costume by Goncharova was sold for $ 2 in the 1950s, for example. Their driving force instead was a passion for the sensually attractive Russian design of Diaghilev's era. Though money always was in short supply, the couple learned the backgrounds, unearthed information, and travelled extensively in search for additional objects, while others, who certainly had more money and knowledge, didn't bother to tackle collecting.
Led by intuition, they either liked a piece or they didn't. Both regretted missing many opportunities because of a lack of money, an example being Bakst's great Firebird figure or designs by Tchelichew. They accidentally discovered the latter's costume designs in a cafe when travelling through Athens in 1966, but could only afford to buy one using their last $100 traveler's check. It's similarly painful if one has to chose between Benois' design for the prologue curtain for Petrouchka and a small version of Bakst's stage design for "The Blue God" and, though the Bakst one was more beautiful, they bought the Benois curtain. A chance on a Petrouchka couldn't be neglected!
After exhibits at the Metropolitan Museum (1967) and more than fifty other museums in the US, plus museums in Japan, Europe, Canada and Russia, the majority of the collection – except the Petrouchka's, which are still in Ms. Lobanov-Rostovsky's estate – was sold to Russia, a sale which certainly was no easy decision for the Lobanov-Rostovskys. Originally destined for the Konstantin Palace outside St. Petersburg, the objects temporarily were housed in St. Petersburg's Theater Museum until the Konstantin Foundation could build an exhibition center to provide appropriate conditions for storing arts of paper. Recently, however, a press release reported that the Konstantin Foundation finally donated the collection to the Theater Museum instead. Up to now no exhibition center has been built and probably no plans exist to construct one in the future.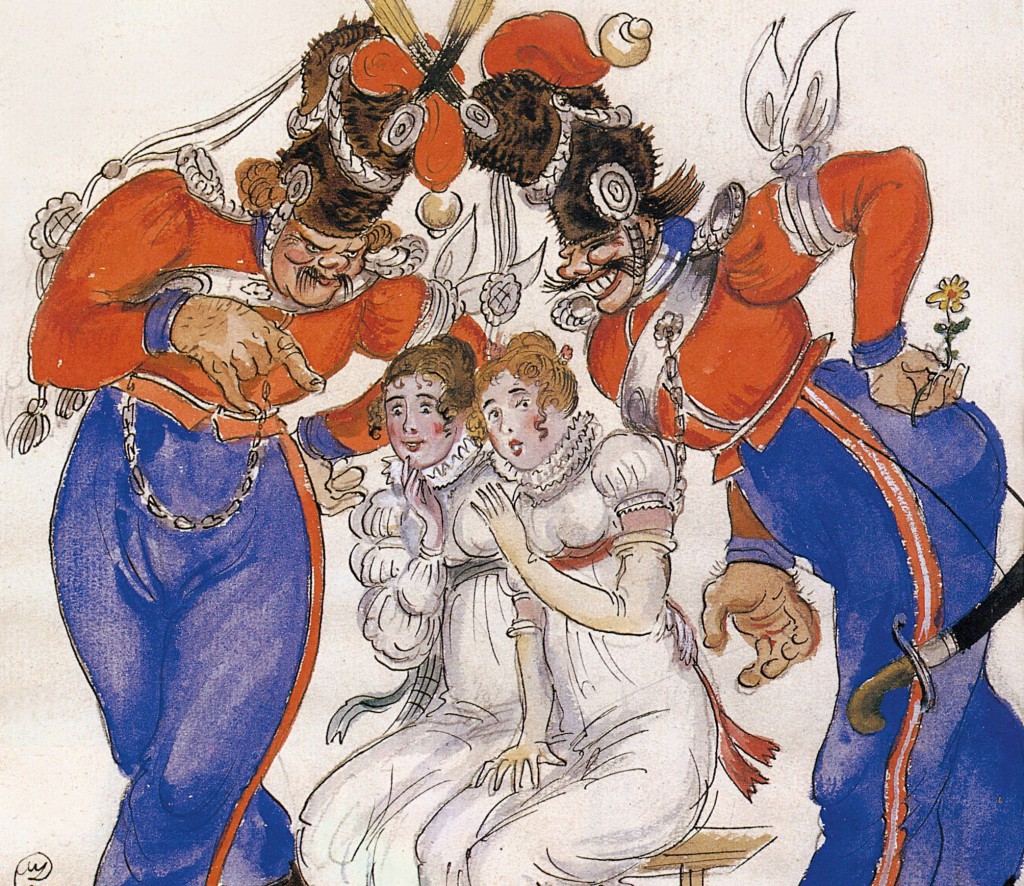 Books:
John E. Bowlt, Nina and Nikita D. Lobanov-Rostovsky and Olga Shaumyan:
"Masterpieces of Russian Stage Design 1880 – 1930"
424 pages, 243 color and 14 b/w illustrations
Antique Collectors' Club, 2012
ISBN: 9781851496884
John E. Bowlt, Nina and Nikita D. Lobanov-Rostovsky
"Encyclopedia of Russian Stage Design 1880 – 1930"
504 pages, 1200 color illustrations
Antique Collectors' Club, 2013
ISBN: 9781851497195
Links:
Homepage of Antique Collectors' Club
Photos:
1.
Front cover: Léon Bakst: Costume Design for the Péri, La Péri, 1911
2.
Serge Tchehonine: Costume Design for a Male Dancer Wearing a Turban, ca. 1929
3.
Léon Bakst: Hunting Costume Design for the Duchess, The Sleeping Princess, ca. 1921
4.
Front cover: Mikhail Rarionov: Stage design for Scene 1, Chout, 1921
5.
Alexander Vesnin: Costume Design for Romeo, Romeo and Juliet, 1922
6.
Alexandra Exter: Costume Design for a Barber, Hand on Hip, La Cueva de Salamanca, 1924
7.
Mstislav Dobujinsky: Costume Designs for Two Cossacks Flirting with Two Girls, Platov's Cossacks in Paris, 1926
Photos by courtesy of Antique Collectors' Club.
© Antique Collectors' Club 2012
Editing:
Laurence Smelser