"Ratmansky/Welch"
State Ballet Berlin
Schiller Theater
Berlin, Germany
April 04, 2014
by Ilona Landgraf
Copyright © 2014 by Ilona Landgraf
At the end of his era as head of State Ballet Berlin, Vladimir Malakhov mounted two German premieres: Stanton Welch's "Clear" and Alexei Ratmansky's "Namouna – a Grand Divertissement". Both works showed the company to be in good shape and its atmosphere confident.
"Clear" was Welch's reaction to the terror attack on the World Trade Center that took place September 11, 2001. It premiered with American Ballet Theatre the same year. However, a connection to 9/11 isn't obvious at first glance. Seven men and one woman indulge themselves in energetic duos, trios and group numbers. Foremost, these dances radiate verve. They are lively, in accord with the music – Johann Sebastian Bach's concertos (Concerto for Violin and Oboe in C-Minor and Concerto for Violin in G-Minor, excellently played by violinist Wolfram Brandl and oboist Fabian Schäfer).
Rich in jumps and, here and there, sparkling with a winking wit, Welch's floating choreography is a mixture of classical and neoclassical elements that also includes jazz technique. Only when the lively activities suddenly died down and the brown-orange backdrop darkened, did it become clear that a terrible disaster must have taken place. That is what then caused the dancers to assume suffering, downcast poses. From that point on, a melancholy undercurrent pervaded the movements: ample jumps that ended abruptly, hands held in front of faces as if to cover the eyes, and arms thrust forward to express grief and compassion.
Welch also pinpointed the sources of strength, support and consolation in chaotic, horrible times. For him love is refuge. He crystalizes the family circle into the image of a single woman. When the situation grew ever more dark and the space in which to move smaller and smaller, it was Iana Salenko, who became an island of peace for Dinu Tamazlacaru. Reaching heavenward as if connecting to higher powers, she comforted and calmed him with a final embrace.
"Clear" had, also, personal significance for Malakhov. It was the last premiere at State Ballet Berlin in which he participated actively. Already beyond his prime as principal soloist, he wisely abstained from virtuoso numbers, but danced a fitting adagio pas de deux with Mikhail Kaniskin. In addition, he lined up with the men's group. Kaniskin copied Malakhov's movements in a lagging way, and then led the action but likeably, never outshining his departing boss.
Michael Kors, designer of the couture label Céline, dressed the cast in simple, oatmeal colored pants (plus a top for Salenko), thus emphasizing Welch's unfussy, inherently consistent choreography.
Ratmansky's "Namouna" took up the latter, longer part of the evening. The original "Namouna", choreographed by Marius Petipa's brother Lucien in 1882, appears to have been a heap of cliches: a confusing story about the amorous adventures of the slave woman Namouna. It included kidnapping, pirates and a love triangle and was set to a pleasantly lightweight score by Èdouard Lalo. Ratmansky shortened the original ballet from about two hours to one hour and also didn't leave much of the structured story. In his adaptation, the naïve hero (Rainer Krenstetter) searches for his sweetheart (Iana Salenko), but is teased and ensnared by so many females along the way that he can hardly cope.

A bevy of women with Louise Brooks wigs parade themselves about; three seductive bathing beauties in short, jutting tutus and white bathing caps turn the protagonist's head; there are plenty of other bathing cap wearers dressed in blue; one of them (Elena Pris) flirts lasciviously by blowing smoke rings. Later, the smoker is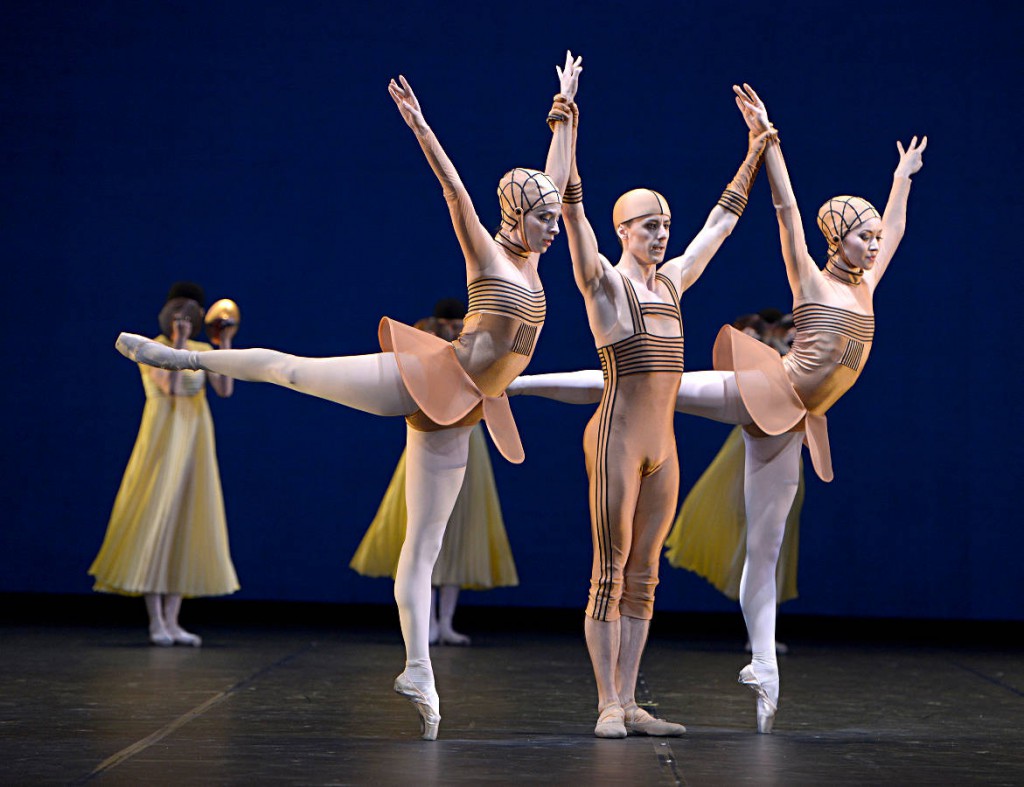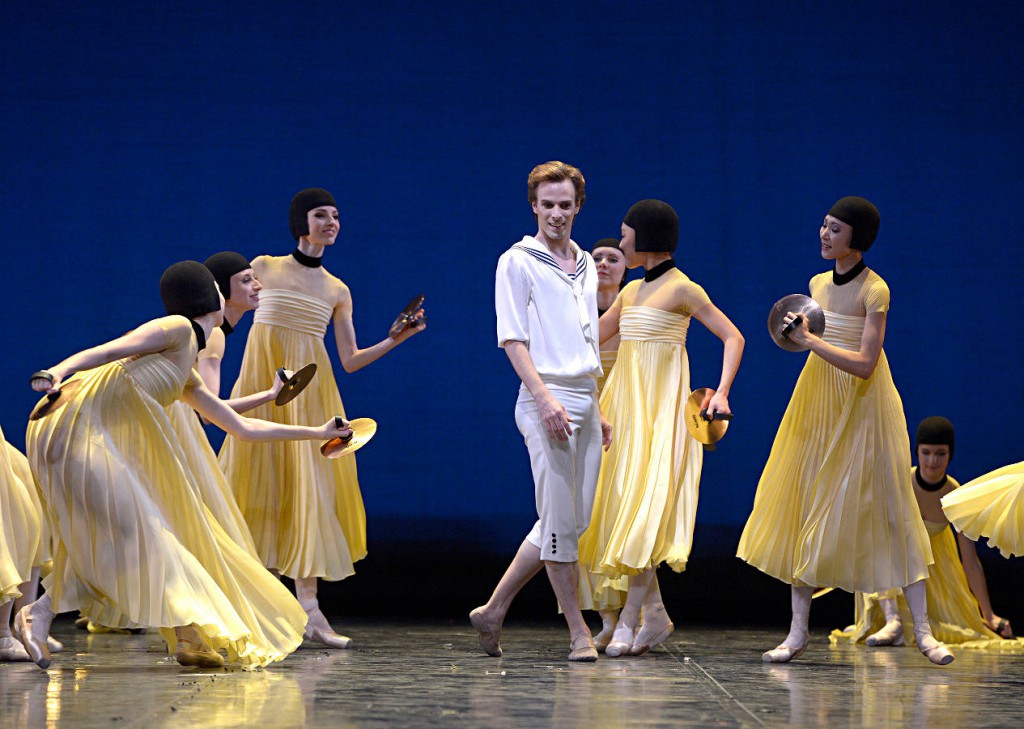 carried on stage as if she were the dead Juliet, but reawakens and – with the cigarette's stub in her mouth – shuffles around like a slob. No wonder that Krenstetter loses track of his beloved for quite some time. Naturally the hero gets into trouble with a bunch of other men, presumably the descendants of the former pirates, until he is finally reunited with his queen of hearts. Perhaps the plot might even have the potential to be amusing, but Ratmansky presents merely a parade of triviality and disorder. "Namouna" was repetitive, boring and lengthy. Ratmansky linked together snippets of other ballets – a bit "Swan Lake" here, some "Sleeping Beauty" there and so on – quoted Balanchine and jauntily borrowed corps tableaus from Marius Petipa. But, compared to Petipa's masterfully arranged corps de ballet, Ratmansky's ideas were less inventive and hardly captivating. Obviously the priority had been to make something happen on stage, to keep the dancers moving. The lined-up dancers had to crouch down one after the other or the women, standing in a semicircle, were employed in arm swings similar to a Mexican wave. A single smoking scene a la Lifar's "Suite en blanc" would have been funny, but the idea became stale when it was reiterated by three women in succession.

At one point Iana Balova and Stephanie Greenwald, both in brown tutus, hopped umpteen times around their cavalier, Ulian Topor, unable to decide on which side of him they wanted to dance. Nothing would have been missed if one had closed ones eyes! Several times it seemed as if Ratmansky actually had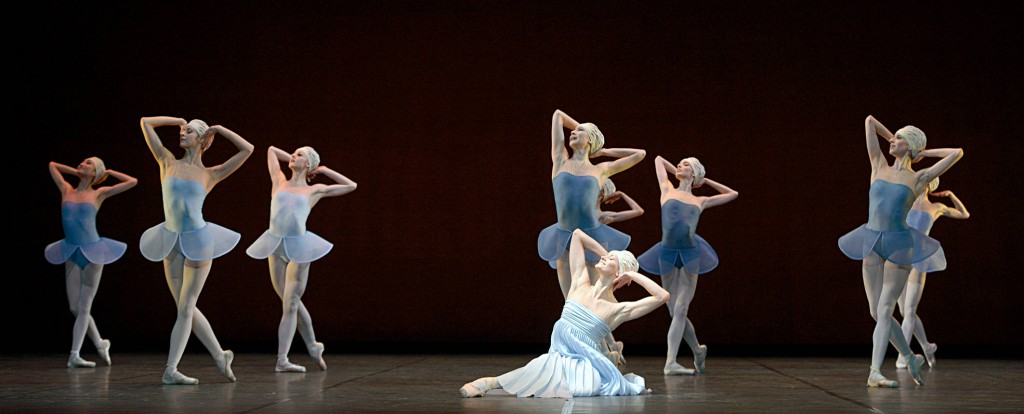 nothing to say, just whittling away the time. It looked as if he couldn't decide whether to mock the classics or celebrate them. Thus "Namouna" is neither a pastiche nor a parody. Though some scenes were playful, this ballet is too lame to be a parody and the dance vocabulary isn't inventive enough to pay homage to the past. Titled "A Grand Divertissement", one might try to justify "Namouna" as a display of the pleasure of dance for dance's own sake. But where is the brilliant, the distinctive and memorable dancing? The cast wasn't at all to blame. The dancers gave a flawless performance. Choreography and libretto were wanting. Unfortunately, too, Schiller Theater's acoustics are mediocre. Lalo's sounds, played by the Staatskapelle Berlin under the baton of Paul Connelly, hung over the pit like a cloud. Moreover, the brass sometimes rattled and was noisy.
Ratmansky is currently one of the world's most sought after choreographers. Apparently the thinking is that a company that wants to be considered up-to-date must have at least one Ratmansky in its repertory. In Germany he is making a piece to Richard Strauss music for Semperoper Ballet Dresden (to be premiered this June). Bavarian State Ballet has commissioned him to stage a new "Paquita" in December. This choreographer is praised for his fine, intelligent works and his effervescent fantasy for creating movement. "Namouna" proved none of it.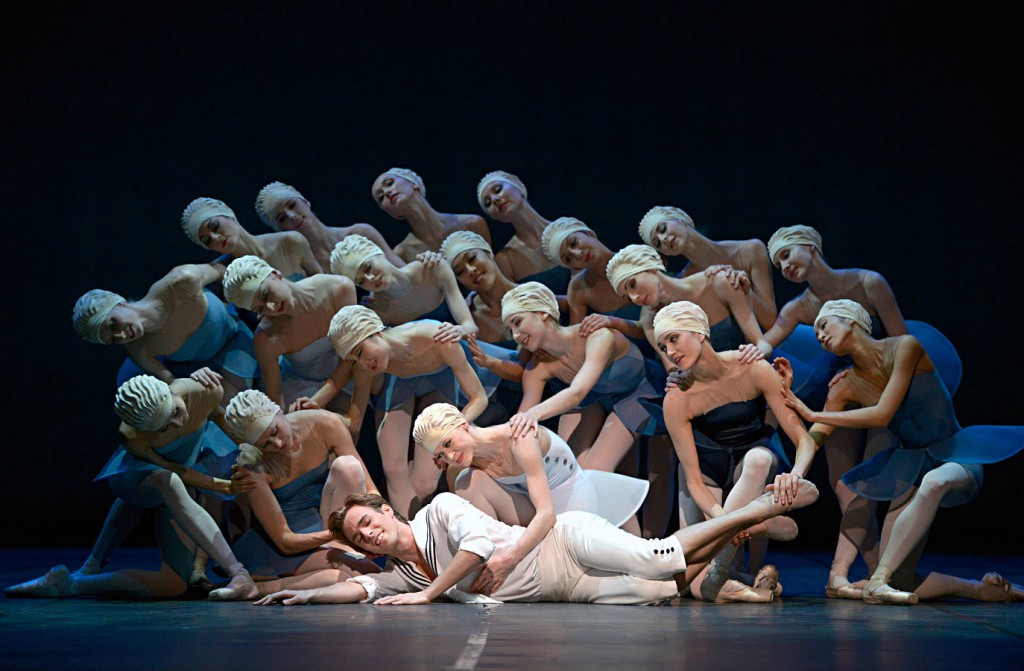 | | | |
| --- | --- | --- |
| | | |
| Links: | | State Ballet Berlin's Homepage |
| Photos: | | (all photos show the cast of the premiere) |
| | 1. | Ensemble, "Clear" by Stanton Welch, State Ballet Berlin 2014 |
| | 2. | Vladimir Malakhov and Mikhail Kaniskin, "Clear" by Stanton Welch, State Ballet Berlin 2014 |
| | 3. | Ensemble, "Clear" by Stanton Welch, State Ballet Berlin 2014 |
| | 4. | Ensemble, "Namouna" by Alexei Ratmansky, State Ballet Berlin 2014 |
| | 5. | Rainer Krenstetter and ensemble, "Namouna" by Alexei Ratmansky, State Ballet Berlin 2014 |
| | 6. | Stephanie Greenwald, Ulian Topor, Iana Balova and ensemble, "Namouna" by Alexei Ratmansky, State Ballet Berlin 2014 |
| | 7. | Sarah Mestrovic and ensemble, "Namouna" by Alexei Ratmansky, State Ballet Berlin 2014 |
| | 8. | Rainer Krenstetter and Elena Pris, "Namouna" by Alexei Ratmansky, State Ballet Berlin 2014 |
| | 9. | Elena Pris and ensemble, "Namouna" by Alexei Ratmansky, State Ballet Berlin 2014 |
| | 10. | Rainer Krenstetter and ensemble, "Namouna" by Alexei Ratmansky, State Ballet Berlin 2014 |
| | | all photos © Bettina Stöß 2014 |
| Editing: | | George Jackson, Laurence Smelser |