"Sleeping Beauty"
Ballet Zurich
Opernhaus Zurich
Zurich, Switzerland
April 13, 2014
by Ilona Landgraf
Copyright © 2014 by Ilona Landgraf
Having the Royal Ballet's gorgeous production of Marius Petipa's "The Sleeping Beauty" in mind (with Alina Cojocaru in the title role), I faced Mats Ek's modern version, currently performed by Ballet Zurich, with mixed feelings. A drug-addicted Aurora seemed to be an all too tasteless twist on the iconic fairy tale. The Zurich company, however, disabused me. Ek's "Sleeping Beauty" provided around two hours of fascination during which I kept my eyes glued to the stage to miss no single detail.
Ek's choreography dates back to 1996, when John Neumeier commissioned him to create a performance-filler for Hamburg Ballet. Set and costumes (by Peder Freiij) as well as the libretto underwent some minor alterations, but the core story remained untouched. Ek kept some of the structural basics of Petipa's 1890 original: the birth of Aurora, her 16th birthday as the decisive turning point, the fairy godmothers (four instead of the original's six) and three suitors (instead of four). The
wicked fairy, Carabosse, who had been the mother's, Queen Sylvia's, obstetrician, later becomes the daughter's lover. He drags Aurora into his drug addiction. Thus the needle-prick was no longer with a spindle but with shooting up, which made Aurora slip deeper and deeper into the drug scene. She sleeps her life away.
Just as in Petipa's version, rescue comes in the person of Prince Désiré, who gets Carabosse out of the way with targeted gunshots and marries the down-at-the-heels Aurora. Her life seems to return to common norms, she is pregnant and for the first time radiates feminine softness. Yet it is an illusionary idyll. The child she gives birth to (actually Ek made Aurora and her mother, Queen Sylvia, bear huge eggs) was a mailman's child. The egg's lilac color didn't allude to the upcoming Easter holidays (as some of the audience near me assumed) but revealed Carabosse as the child's father.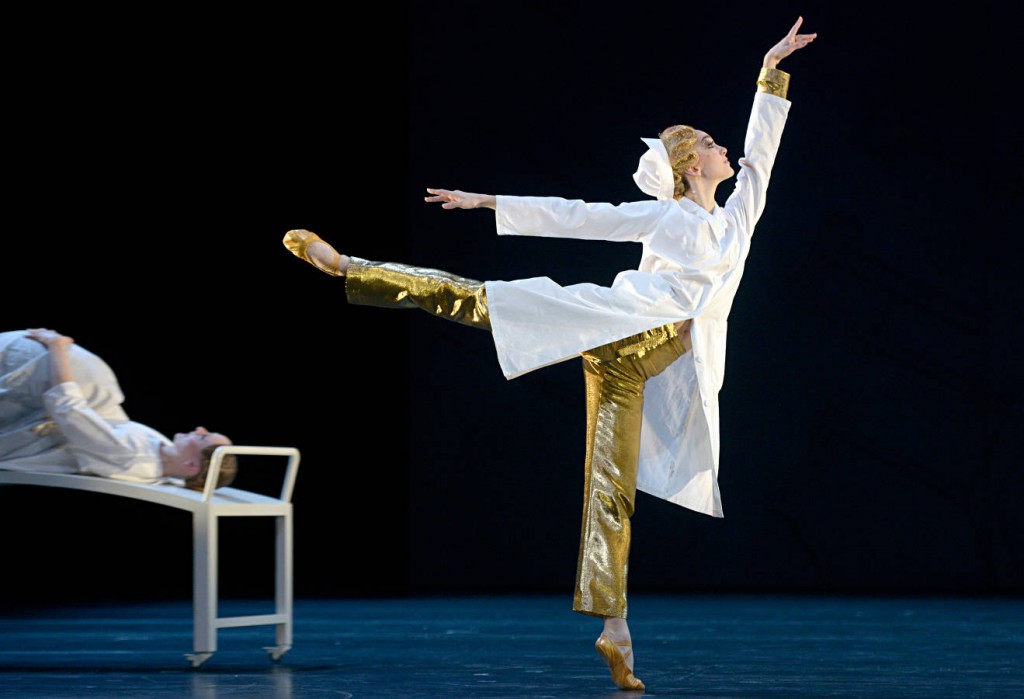 Unlike Petipa, Ek avoided painting characters strictly black or white. Rather, he portrayed the protagonists and the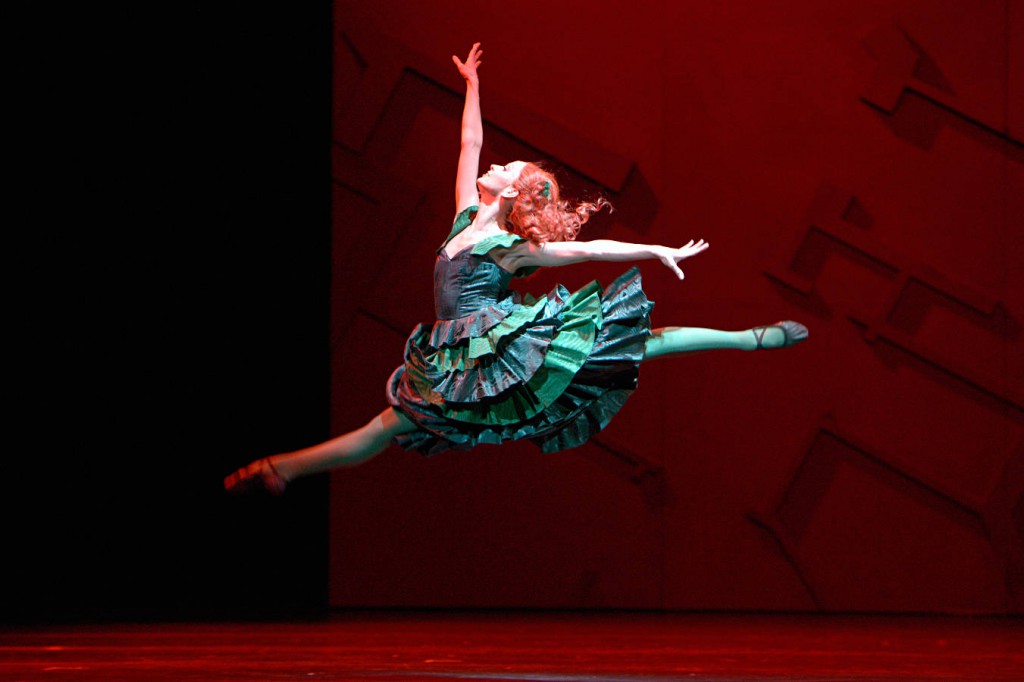 society they live in (consisting of multiple King Florestans, Auroras, Prince Désirés and grandmothers) realistically in various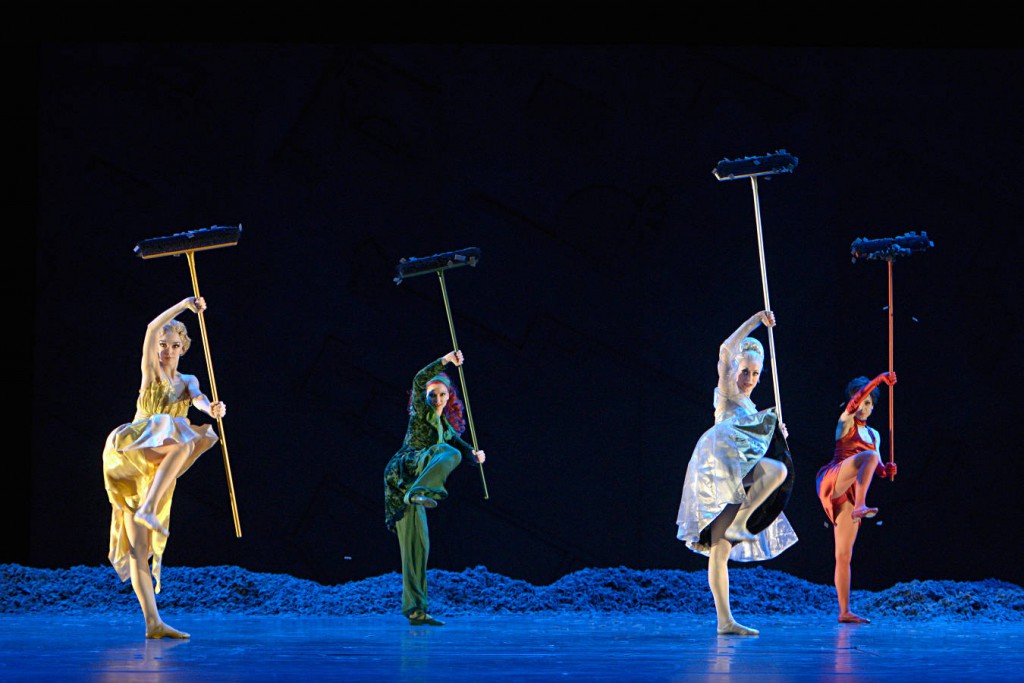 gradations of gray. Also gray and uncomfortably cold and damp were the heaps of snow Aurora trudged through. Her parents, King Florestan (Filipe Portugal) and Queen Sylvia (Mélanie Borel), lack any air of royalty. They are ordinary people like you and me, and wear gray. They aren't nasty at all but in fact are a likeable, easygoing couple. Obviously they kept their love relationship vivid enough across the years to enjoy their sexuality during a family trip into the countryside. When being confronted with their daughter going bad, their unconcern turned into helplessness. As if they had lost all their power, their arms flapped flaccidly. Maybe their world was gray in the eyes of their 16-year-old offspring?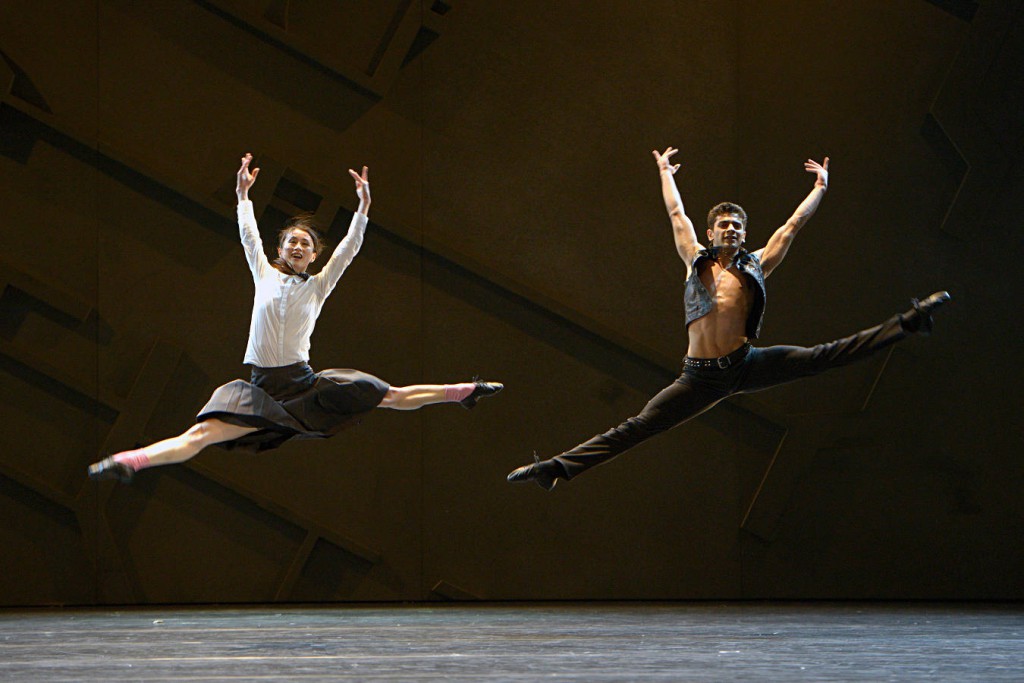 Aurora, danced by Yen Han, was anything but Princess-like or even girl-like. Aggressively obstinate and somehow with a personality disorder, she treated her parents with contempt. She holed up in the family car, which she finally used to elope. Outstanding how small Han, who meanwhile has aged into in her early 40s, stomped with explosive power and dogged defiance through her process of cutting the cord and finding herself. Edgy, unsociable and a born warrior, she scoffed at her name's implicit delicacy and beauty. Hats off to her! Han was the evening's energetic dynamo.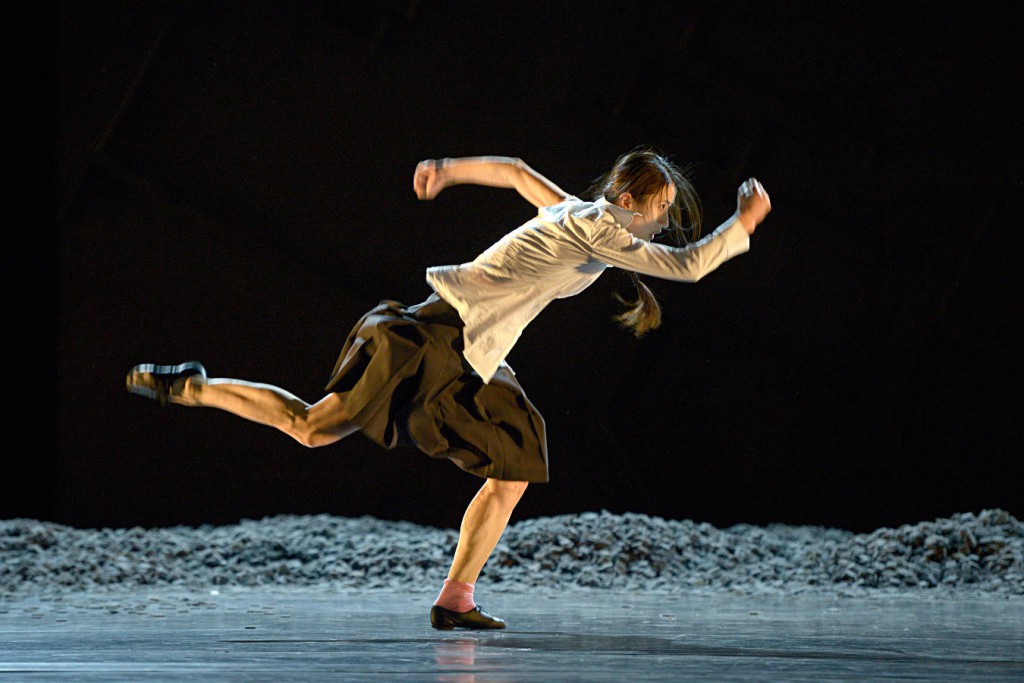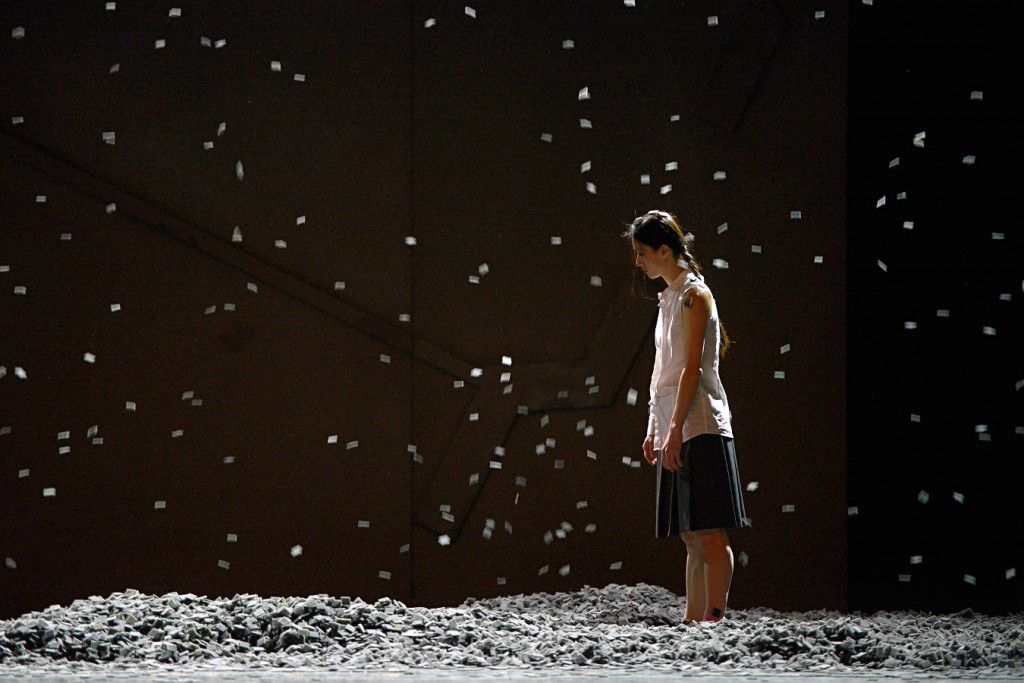 Witnessing her uncontrollable shivering after becoming aware that her newborn's father was the dead Carabosse (Arman Grigoryan) got to me. The more as Prince Désirè (Olaf Kollmannsperger) finally accepted the child but at the same time monopolized it, blind to Han's desperately reaching-out arms. Her yearning (for Carabosse? for her idea of happiness?) seemed never-ending.
Even Carabosse wasn't characterized as entirely wicked and the root of all evil. Soft featured Grigoryan interpreted his role's inconsistent facets – tense aggressiveness and harmony seeking care when drugged – convincingly. Han's and Grigoryan's relationship resembled either a battle zone or a common fate, in which both supported and depended on each other. Besides, who else would have consorted with that prickly hen of a princess? Her three suitors? Ty Gurfein as the good,
young man in a lumberjack shirt from next door? Or the cockily suave Matthew Knight, who was in fact just a flashy dude with shiny jacket and bow-tie? Most appropriate might have
been Tigran Mkrtchyan as a soft rocker with a heart tattoo on his upper arm. He even gave Han a cigarette (Alas, no rose!), which she dropped absent-mindedly. All three, however, eventually laughed at her and hopped off.
Compared to the muted colors on all sides and the nuanced psychologization of most lead roles, the four fairy godmothers displayed garish stereotypes of womanhood. Slightly reminiscent of Isodora Duncan was The Gold Fairy (Juliette Brunner), trying to take command with her whistle. The Silver Fairy (Irmina Kopaczynska) was Barbie-like. Guilia Tonelli as The Ruby Fairy resembled a pert cowgirl whereas The Emerald Fairy (Galina Mihaylova), fittingly red-haired, once was like a snotty girl and on another occasion a sexy secretary. No halfway intelligent man would have snagged anyone like these. They were neither helpful goddesses of destiny nor bringers of much order into Aurora's out of joint life. At least they bustled about the pregnant Queen Sylvia like wannabe midwives and later entertained and calmed Kollmannsperger's Prince Désiré. Quite
clueless at first ("What the hell is going on here?"), the latter finally pulled himself together and killed Carabosse. The reason for this murder was not completely evident to me. Carabosse had attacked the grandmother (Eva Dewaele), a supporting character, who waited and stood about a few times. Only heaven knows what she was waiting for! (Maybe for the fairy tale becoming real?)
Strange, but in a macabre way also amusing, was Kollmannsperger's dream about the black cook Manuel Renard's culinary studio. Renard, pontificating about ingredients, prepared a fish soup ('A fish rots from the head down' came to mind.). Gruesomely fascinating was how he chopped off the fish's head with fierce determination and callously pushed down the lid on the cooking pot when the fish, vigorously thrashing around, revived! This cabaret was set to Tchaikovsky's beautiful, soft music for the interlude of 100 years of sleep (Entr'acte symphonique "Le Sommeil"), which emphasized the scene's ludicrousness. Other changes to the music's order also worked well. Conducted by Rossen Milanov, Tchaikovsky's score, superbly played by the Philharmony Zurich, merged into a unity with what was happening on stage.
Except for a bit too much flapping of arms and legs, I liked Ek's consistent choreographic style and truly refreshing humor. He criticized our society's polished surfaces outright, indicating the supposedly unpresentable mess and rot. Never denouncing a figure, he always gave each its dignity. No love, peace nor harmony lay at the end of his "Sleeping Beauty", but another birth, which heralded a new dawn, a new aurora, and the chance to finally kiss the beauty awake.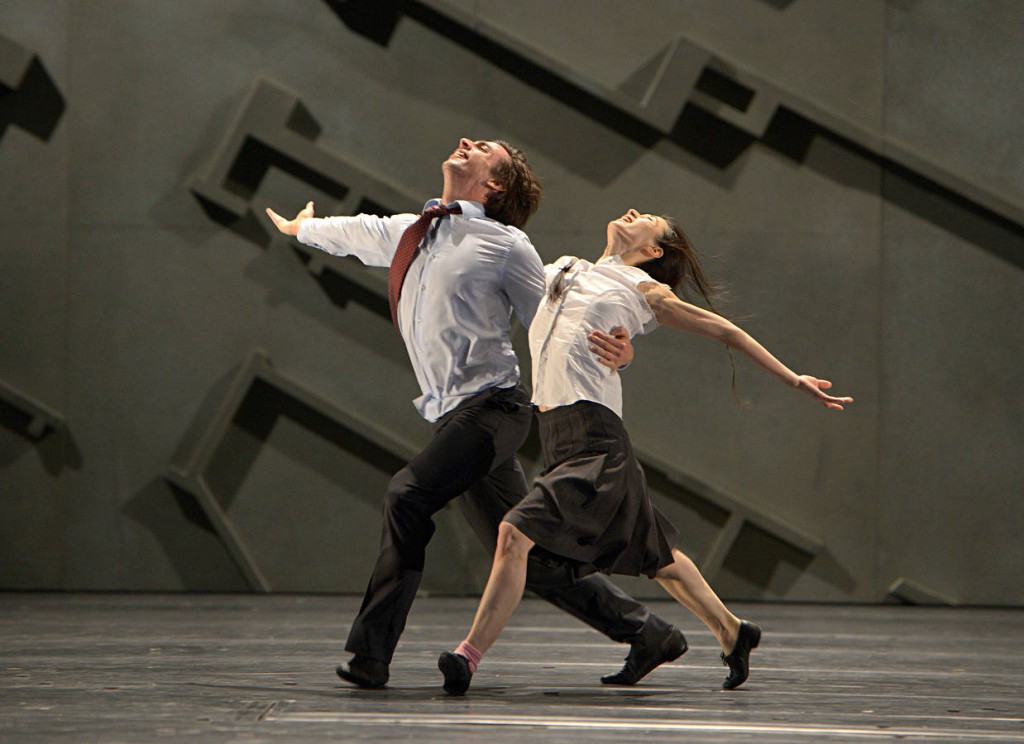 | | | |
| --- | --- | --- |
| | | |
| Links: | | Homepage of Ballet Zurich |
| Photos: | 1. | Yen Han (Princess Aurora) and Olaf Kollmannsperger (Prince Désiré), "Sleeping Beauty" by Mats Ek, Ballet Zurich 2014 |
| | 2. | Mélanie Borel (Queen Sylvia) and Filipe Portugal (King Florestan), "Sleeping Beauty" by Mats Ek, Ballet Zurich 2014 |
| | 3. | Irmina Kopaczynska (The Silver Fairy), "Sleeping Beauty" by Mats Ek, Ballet Zurich 2014 |
| | 4. | Mélanie Borel (Queen Sylvia) and Juliette Brunner (The Gold Fairy), "Sleeping Beauty" by Mats Ek, Ballet Zurich 2014 |
| | 5. | Galina Mihaylova (The Emerald Fairy), "Sleeping Beauty" by Mats Ek, Ballet Zurich 2014 |
| | 6. | Juliette Brunner (The Gold Fairy), Galina Mihaylova (The Emerald Fairy), Irmina Kopaczynska (The Silver Fairy) and Giulia Tonelli (The Ruby Fairy), "Sleeping Beauty" by Mats Ek, Ballet Zurich 2014 |
| | 7. | Yen Han (Princess Aurora) and Tigran Mkrtchyan (Suitor), "Sleeping Beauty" by Mats Ek, Ballet Zurich 2014 |
| | 8. | Yen Han (Princess Aurora), "Sleeping Beauty" by Mats Ek, Ballet Zurich 2014 |
| | 9. | Yen Han (Princess Aurora), "Sleeping Beauty" by Mats Ek, Ballet Zurich 2014 |
| | 10. | Yen Han (Princess Aurora) and Arman Grigoryan (Carabosse), "Sleeping Beauty" by Mats Ek, Ballet Zurich 2014 |
| | 11. | Yen Han (Princess Aurora) and Arman Grigoryan (Carabosse), "Sleeping Beauty" by Mats Ek, Ballet Zurich 2014 |
| | 12. | Yen Han (Princess Aurora) and Arman Grigoryan (Carabosse), "Sleeping Beauty" by Mats Ek, Ballet Zurich 2014 |
| | 13. | Manuel Renard (The Cook), "Sleeping Beauty" by Mats Ek, Ballet Zurich 2014 |
| | 14. | Yen Han (Princess Aurora) and Olaf Kollmannsperger (Prince Désiré), "Sleeping Beauty" by Mats Ek, Ballet Zurich 2014 |
| | | all photos © Bettina Stöß 2014 |
| Editing: | | George Jackson, Laurence Smelser |