"Messiah"
Hamburg Ballet – John Neumeier
Hamburg State Opera
Hamburg, Germany
April 18, 2014
by Ilona Landgraf
Copyright © 2014 by Ilona Landgraf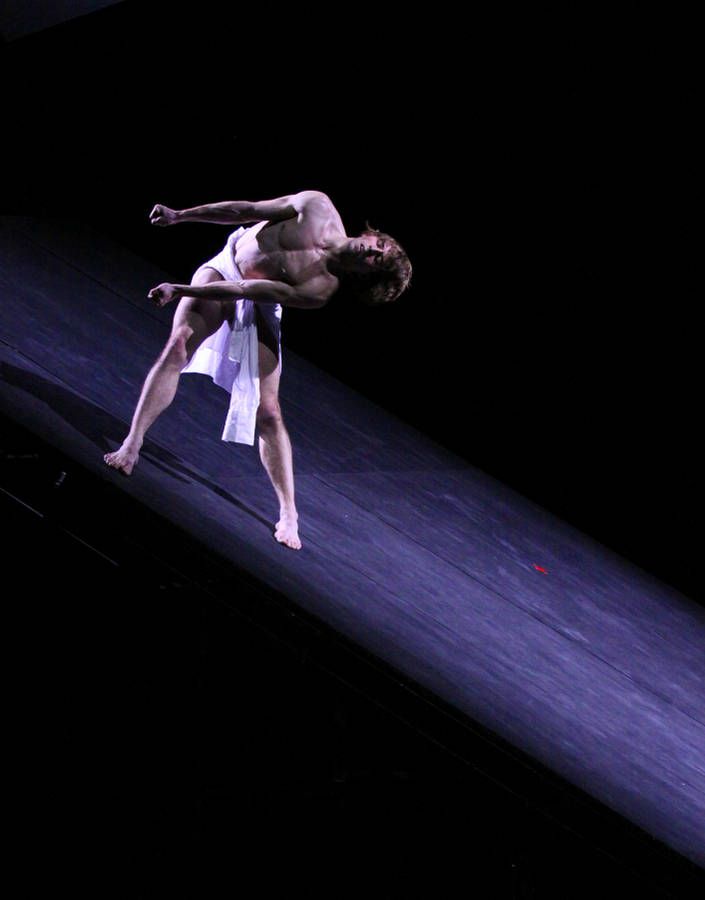 This year Hamburg Ballet broke with its (almost) usual practice of performing John Neumeier's "Saint Matthew Passion". Instead, the company revived Neumeier's "Messiah", a 1999 work to George Frideric Handel's eponymous oratorio.
For Neumeier, Handel's oratorio is more than a depiction of Christ's life of suffering. The oratorio goes back to a time before the Redeemer's appearance, it includes several prophecies and predictions, it tells of Christ's birth, of his ordeal and his Ascension. Moreover, it includes the disciples' spreading the word, the doubters' rejection of the Christian message, their punishment and also the joy of the ones who are of true faith. Thus, for Neumeier, it is the suffering of all mankind, of all humanity that Handel considered his subject matter.
In the context of the 1998/99 war in Kosovo Neumeier focused on people's desire and pleading for peace. This certainly has currency and is as relevant as it was a decade and a half ago. Together with Günter Jena, a church music specialist, Neumeier chose arias, choruses, accompagnati and recitatives mainly from the first part of Handel's threepart "Messiah". Preferring God as the Prince of Peace, Neumeier omitted such arias as "Thou shalt break them with a rod of iron; thou shalt dash them in pieces like a potter's vessel". Recalling a comment by Will Quadflieg (one of Germany's major post-World War II actors) that during happy moments one has to keep the darkest moments in mind, Neumeier chose – following the triumphal Hallelujah Chorus – to close with Arvo Pärt's "Agnus Dei". This put Handel's apotheosis of God's omnipotence into perspective. Similarly, Pärt's "Veni, Sancte Spiritus" as the opening, indicated that a fall was needed to make the subsequent redemption comprehensible.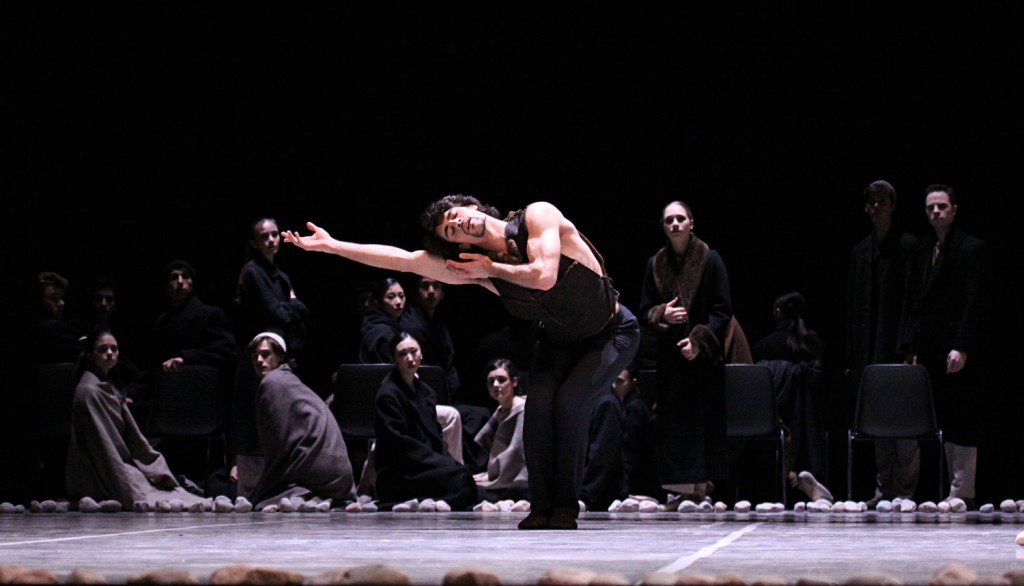 The evening's musical part was rewarding. All the singing was in English. Apart from a few askew tones from the trumpets, Allessandro De Marchi guided the Philharmony Hamburg safely through Handel's score. The choir under Eberhard Friedrich was decent although hardly overwhelming. Excellent were soprano Mélissa Petit and alto Rebecca Jo Loeb. Sensitive interpretations, too, by tenor Rainer Trost and basso Alin Anca. Some of the audience near me enthused about the music. Frankly, though, since little that was captivating happened on stage, it was tempting to lean back and close one's eyes.
Neumeier's choreography and symbolism lacked consistent strength. The two-act ballet is divided into "Exile" (the first half) and "Sacrifice" plus "Resurrection" (the second half). As in Handel's oratorio, which hasn't a clear thread of continuity, Neumeier played with allusions and fused different biblical storylines. To be well-versed in things biblical would have helped viewers.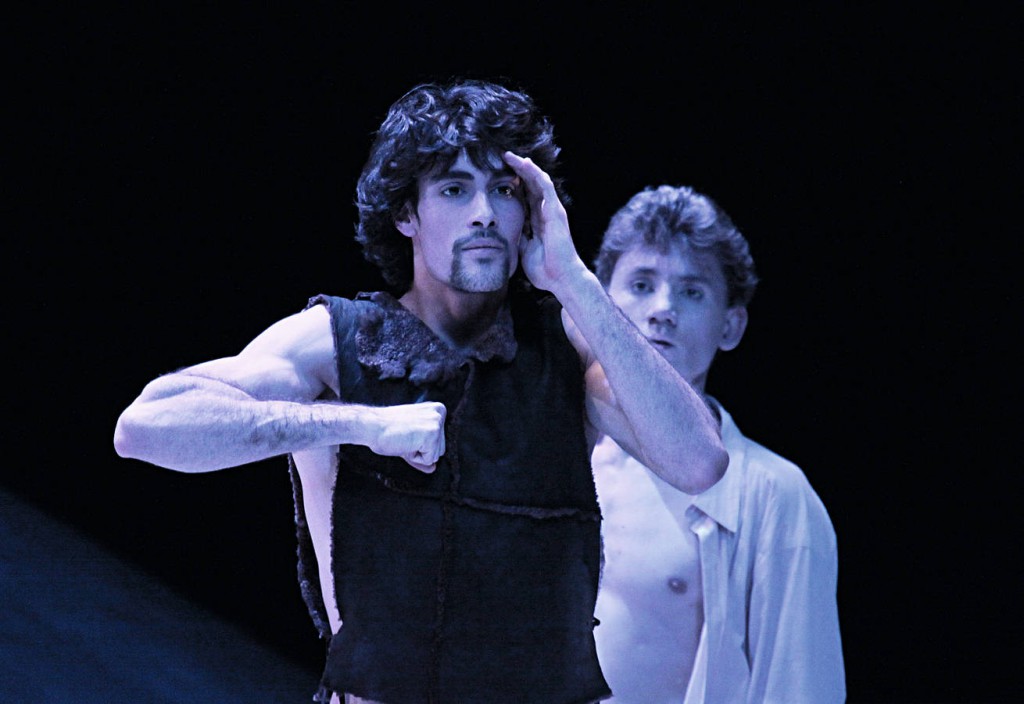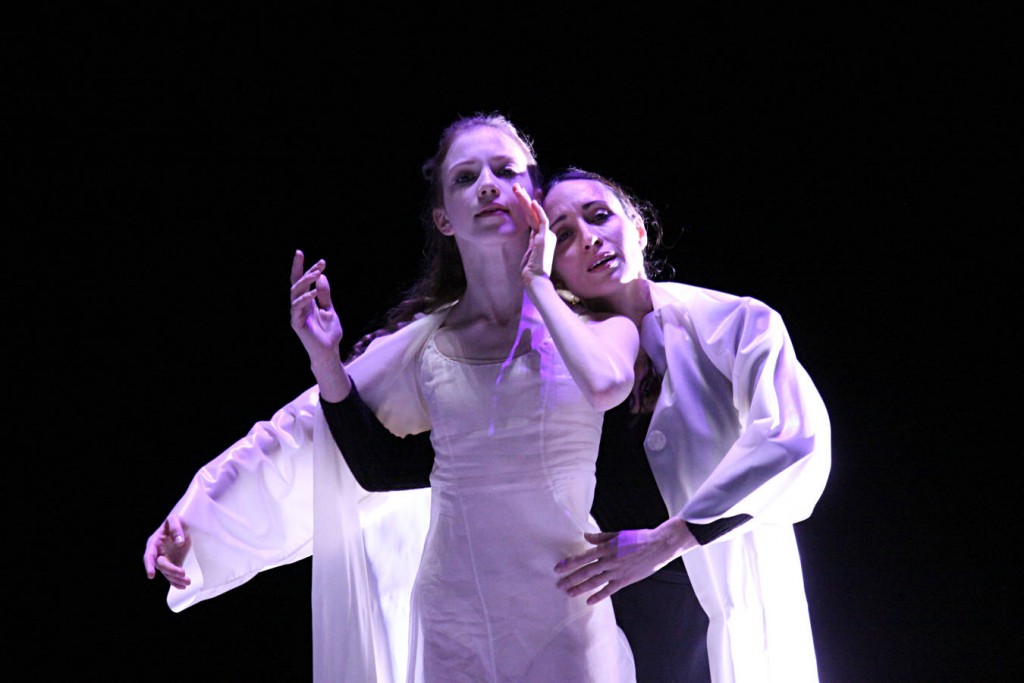 Four central figures, two men and two women, slipped into various roles for different historical periods. This complicated the proceedings' comprehensibility. Not even the playbill threw light on the matter. Hamburg usually provides playbills that are gold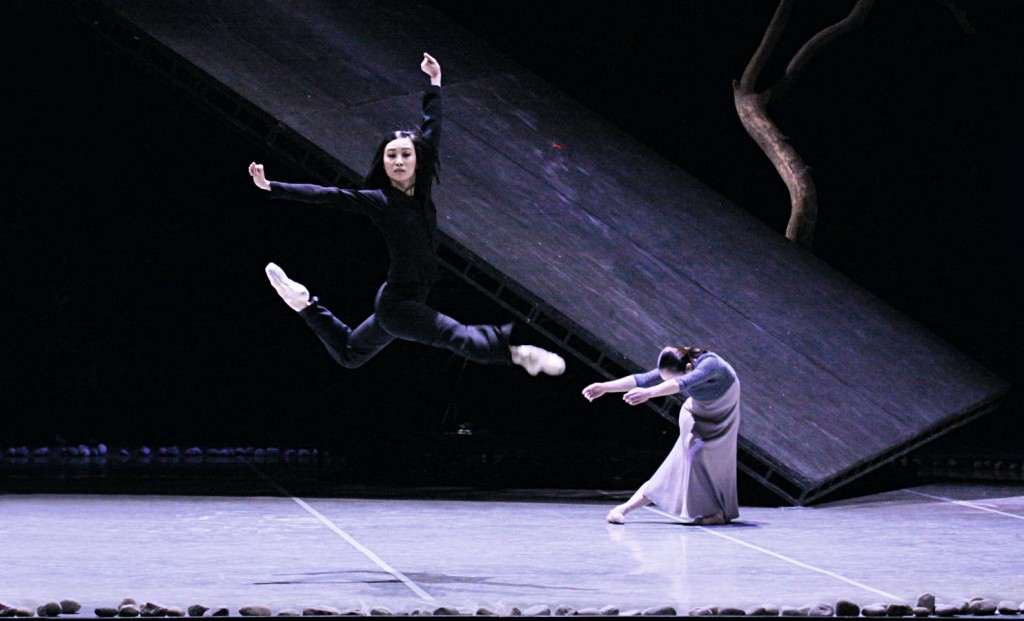 mines of information. This time, the company simply reprinted old texts from 1999 that raised questions about Neumeier's choreographic intentions. Shouldn't these have been answered in the fifteen years between the premiere and now? Didn't the choreographer speak of this revival as being no mere reheating of frozen food but having the status of a premiere?
Aleix Martinez and Carolina Agüero started by depicting the fallen sinners Adam and Eve as naked earthlings. They slogged around like beasts rather than carrying themselves like humans. Later, Agüero became a Mary-like woman in the aria "Rejoice greatly, O daughter of Zion" and had a touchingly simple encounter with an angel. The 22-year-old Martinez transformed from being a sinner and turned into being the Messiah. There were leading roles also for Marc Jubete; he was definitely John the Baptist but perhaps Moses, too, and Saint Peter? Lucia Rios may have been Mary Magdalene. It was hard to tell. The corps de ballet represented 'the people' waiting for salvation. They jumped around happily when facing a leader – whether it was John the Baptist or Christ. Then their joy disappeared and they began to despise the very same leaders.
Symbolism was laid on thickly when a line of people, resembling exiles or refugees, painstakingly walked a stony path (a huge circle of boulders). Subsequently, the same stones were used for the scene 'Let him who is without sin, cast the first stone.'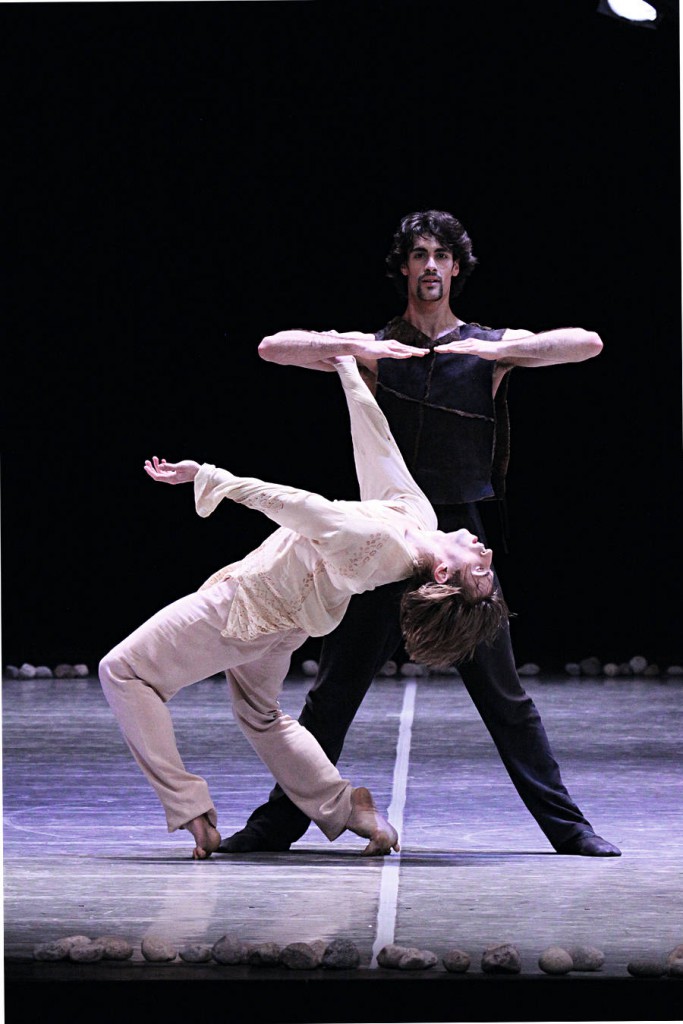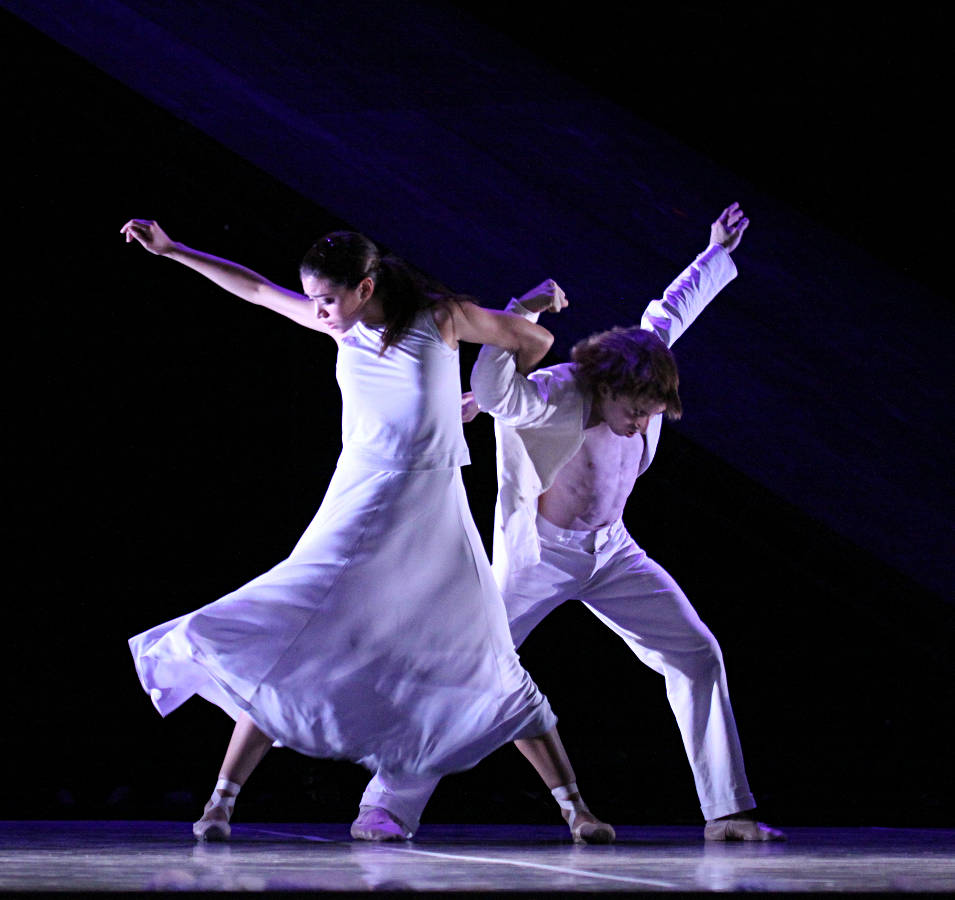 Heavily symbolic, too, was how Ferdinand Wögerbauer's set became integrated into the proceedings. It consisted of a ramp, reduced towards the top to its metal framework ("uncertain is the path"?). At the bottom, it consisted of a withered tree. Of multiple meanings, the ramp was overused – tiresomely – for Agony in the Garden, for Calvary, and for the steep ascent to salvation. A tilted mirror, which was sometimes suspended from the ceiling above the ramp, reminded me of Plato's allegory of the cave: know thyself! Many unsuccessful attempts were made to climb up the ramp by individuals gazing auspiciously into the distance.
Martinez eventually puts on the white shirt, which Neumeier also uses in his "Christmas Oratorio" and "Saint Matthew Passion" to signify Christ. Some dance quotes, too, linked these sacral ballets.
Martinez was strongest after being baptized by John the Baptist (Jubete). I liked how he initially wanted to just turn tail and run before finally accepting his fate. Undoubtedly, he has the potential to become a charismatic stage personality. But, Martinez hasn't yet the power to convey convincingly an inner struggle when facing his character's predetermined destiny. The same applies to Jubete; his beard makes him just superficially mature. However both Martinez and Jubete did well within the limits of their current resources. But Agüero and, particularly, Rios left no impression. Maybe the premiere cast made more out of it or, perhaps, Neumeier's conception of the parts is pallid.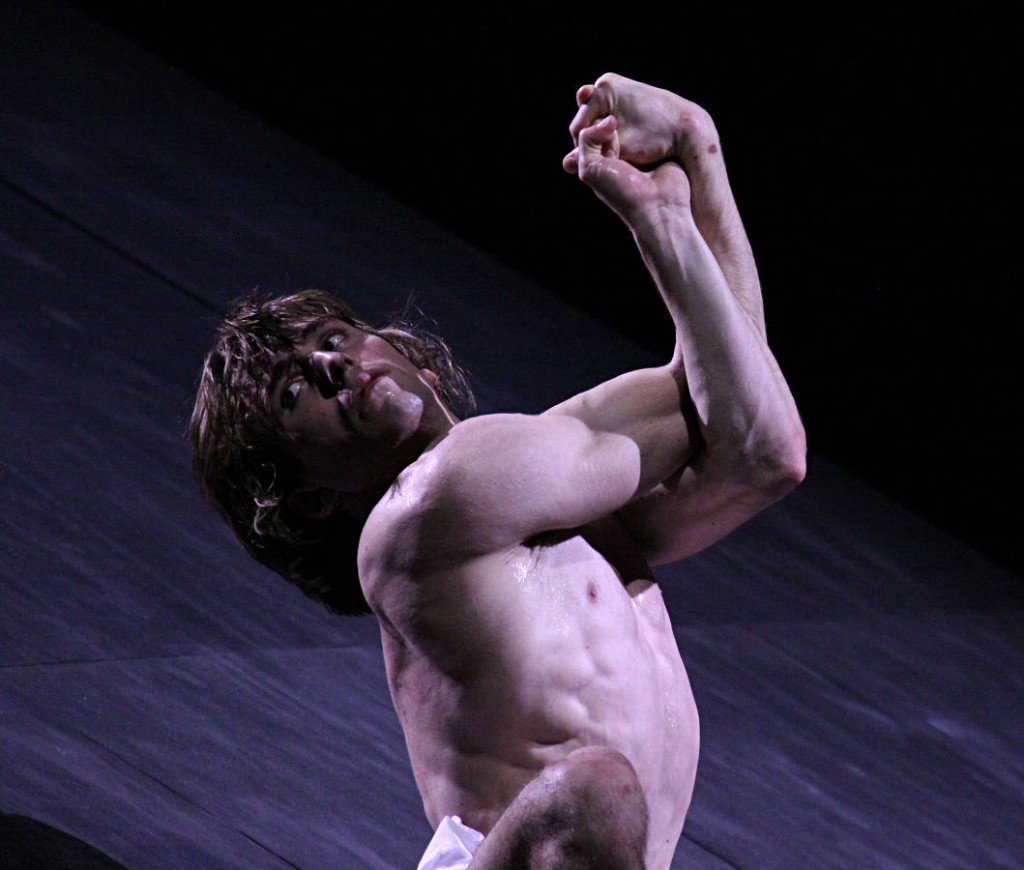 I was most disappointed by the corps the ballet, choreographically as well as in regard to interpretation. Originally considering the tempi of Handel's music as unvarying and inappropriate for dance Neumeier tried to counteract this by accelerating the choreography or by slowing it down. On several occasions the corps sprinted onto the stage and stopped abruptly. Then, hectic chaos broke out. On other occasions the corps sat around on the floor or on chairs, observant and expectant, but unable to generate suspense. When they became aware of a potential leader – John the Baptist or Christ – the dancers had apparently been instructed to look awestruck, as if facing the Holy Spirit. Relieved after having found their new shepherd, the herd became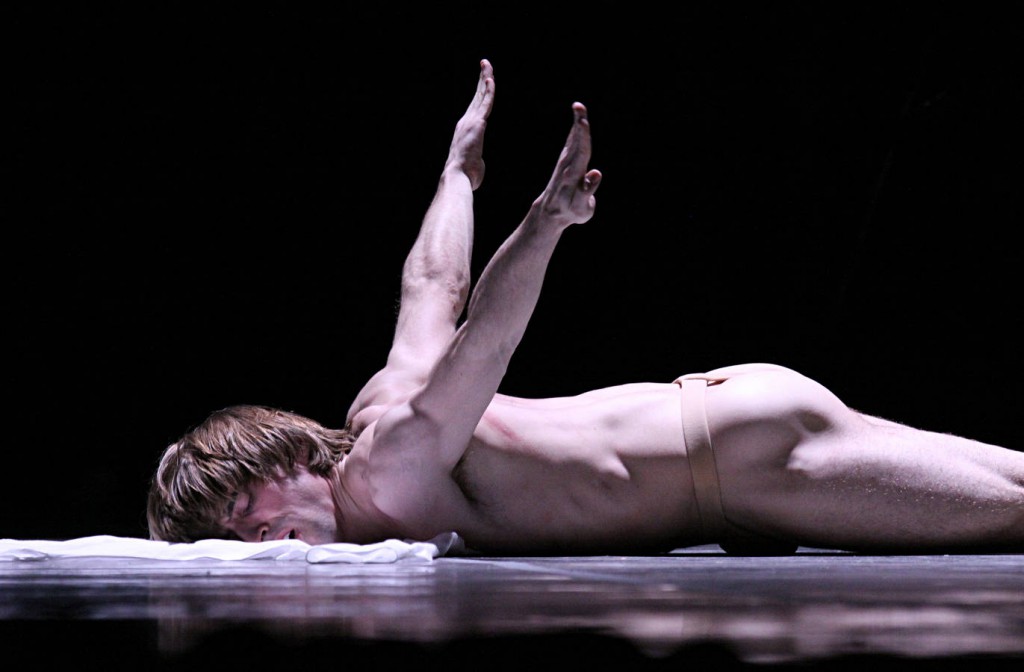 ostensibly cheerful – which lacked conviction and seemed contrived, fake! Even the angels – who had been likeable, lively spirits in the "Christmas Oratorio" – now were narrowed down into mannered and posed figures in stiff, white, oversized raincoats.
In contrast to the "Saint Matthew Passion", which has decided spiritual power, "Messiah" is religiously fussy. Nor was everyone happy with Günter Jena's final remarks in the playbill, in which he likens the audience to churchgoers who say silent prayers before and after listening to the liturgical dogma. This comes close to being pretentious piety. Nevertheless, Neumeier's fans remain faithful. While "Renku", a ballet by two young choreographers from within the Hamburg company's ranks, proved to be a slow seller, people queued up at the box office to get tickets for "Messiah". One woman even held up a handwritten cardboard sign "Searching for one ticket!". The label Neumeier sells. Not surprisingly, the final applause was immense. The moment Neumeier set foot on stage for the curtain calls, the house rose from its seats to pay him homage. The standing ovation seemed like the story of the shepherd and the herd.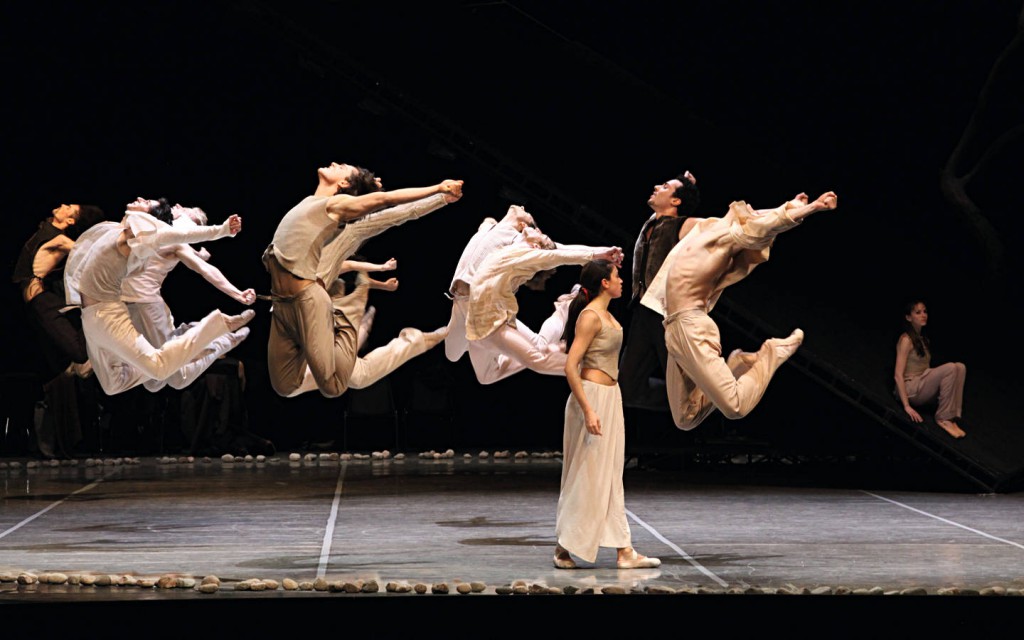 | | | |
| --- | --- | --- |
| | | |
| Links: | | Hamburg Ballet's Homepage |
| Photos: | 1. | Aleix Martinez, "Messiah" by John Neumeier, Hamburg Ballet 2014 |
| | 2. | Marc Jubete and ensemble, "Messiah" by John Neumeier, Hamburg Ballet 2014 |
| | 3. | Marc Jubete and Konstantin Tselikov, "Messiah" by John Neumeier, Hamburg Ballet 2014 |
| | 4. | Emilie Mazoń and Carolina Agüero, "Messiah" by John Neumeier, Hamburg Ballet 2014 |
| | 5. | Yun-Su Park and Carolina Agüero, "Messiah" by John Neumeier, Hamburg Ballet 2014 |
| | 6. | Lucia Rios and Aleix Martinez, "Messiah" by John Neumeier, Hamburg Ballet 2014 |
| | 7. | Aleix Martinez and Marc Jubete, "Messiah" by John Neumeier, Hamburg Ballet 2014 |
| | 8. | Aleix Martinez, "Messiah" by John Neumeier, Hamburg Ballet 2014 |
| | 9. | Aleix Martinez, "Messiah" by John Neumeier, Hamburg Ballet 2014 |
| | 10. | Lucia Rios and ensemble, "Messiah" by John Neumeier, Hamburg Ballet 2014 |
| | | all photos © Holger Badekow 2014 |
| Editing: | | George Jackson, Laurence Smelser |