"Orphée et Euridice"
Stuttgart State Opera and Stuttgart Ballet
Stuttgart State Opera
Stuttgart, Germany
May 08, 2014
by Ilona Landgraf
Copyright © 2014 by Ilona Landgraf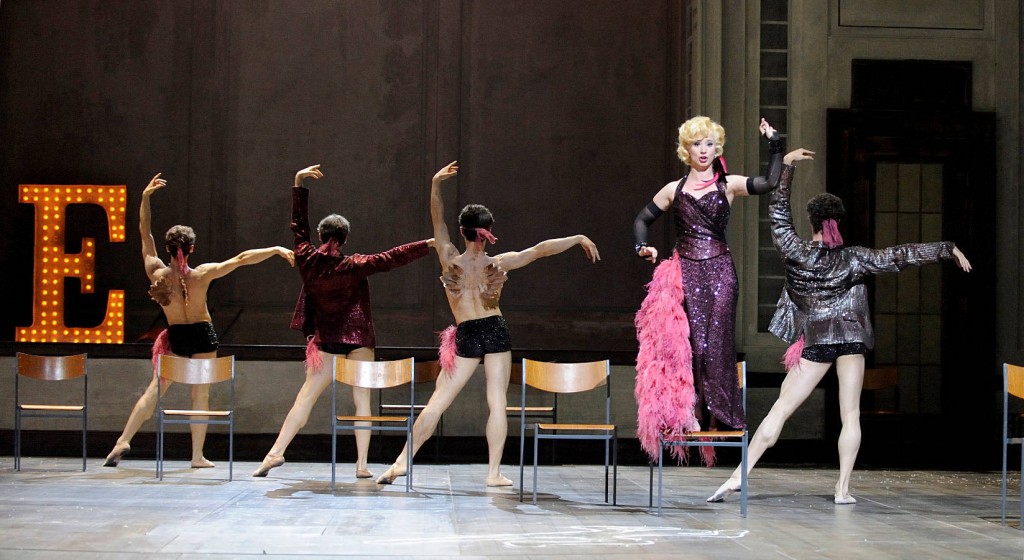 Coproductions of opera and ballet are not the order of the day in Germany. Hence I looked forward to Stuttgart's revival of " Orphée et Euridice", a 2009 production based on Christoph Willibald Gluck's opera, directed and choreographed by Christian Spuck. Then Spuck was Stuttgart Ballet's resident choreographer. Now he heads the Zurich Ballet.
Spuck used Gluck's French version of the opera, a quite radical revision of the initial Viennese "Orfeo ed Euridice" from 1762, tackled in 1774 for Paris. Regarding French opera tradition and Parisien taste, Gluck adapted the original score and reworked the orchestration. As castrati singers weren't established in France, he transposed the part of Orpheus to tenor. Further, the original's ninety minutes were expanded into the dimensions of a full-evening to make room for extended ballet scenes.
In Stuttgart's adaptation four dance couples portrayed the singing protagonists' situation, visualizing their conflicts and emotions. But there was no intention to delve deeply into psychological dimensions. Five swag boys – Brent Parolin, Louis Stiens, Clemens Fröhlich, Jesse Fraser and Özkan Ayik – played Cupids as the dancing entourage of L'Amour, sung by soprano Maria Koryagova. Wearing glittery swim trunks prettified with pink bunches of feathers applied to the left hip and with either glittery jackets or cute, little wings on their backs, costume designer Emma Ryott had made them into sexy eyecatchers. Though all the eyes of the five were masked by pink tulle (fortunately none of them aimed Cupid's arrows) they obeyed each finger snap of L'Amour, a saucy blonde, a diva, who could have sprung from a vaudeville show. One of the Cupids, Brent Parolin, continually escorted Orpheus. Tenor Stanley Jackson sang the desolate widower's role. His Orpheus, however, was a composed character. Rather ponderous, it was unlikely that any emotional turmoil would so stir him up enough that he would actually make the effort to enter hell. In the Elysian Fields he even took a catnap! So much for existential longing for a lost wife.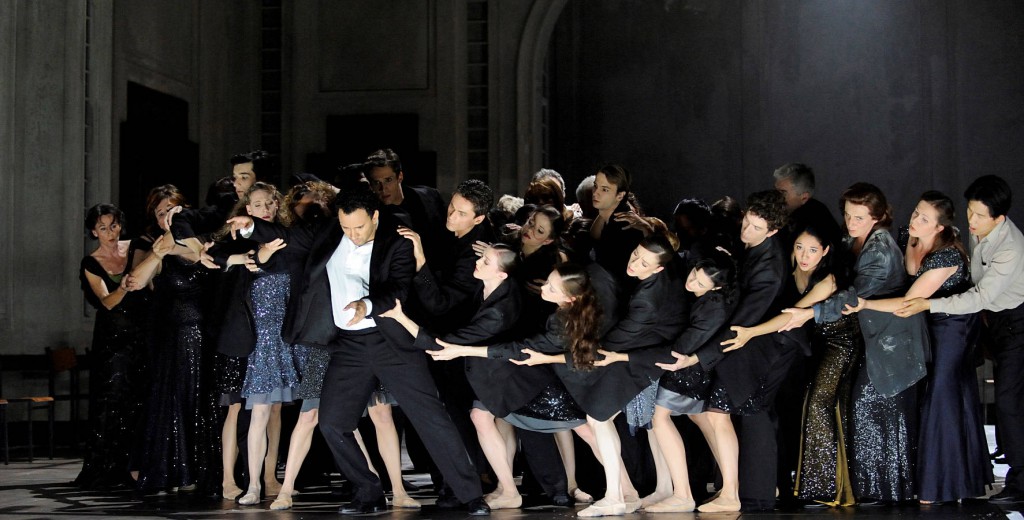 Soprano Irma Mihelič's role as Eurydice was occasionally doubled by Meike Hartmann. Later she even appeared in eightfold form – all redheads – to symbolize that individuality and uniqueness are dissolved in the after-life. A somewhat confusing dramaturgical idea. Shouldn't Eurydice be rather immaterial, a shadow, instead of populating the stage in abundance?
However, the corps de ballet melted nicely with the choir into a dynamic, singing and dancing collective! Something always happened to perk the audience's attention. Gluck's opera is prone to get tedious, but this production certainly wasn't.
Hades, Elysium, Cupid's Temple and the world of the living were transferred into a run-down theater hall or ballroom in Art Deco style, belonging perhaps in a once respectable palace. In the rear a picture-frame stage had been installed (set design by Christian Schmidt). Four chandeliers reminded one of better times. The large skylight windows were partly broken. The atmosphere of a waiting hall exuded from simple, cheap, chairs.
From this starting point, the choir, clad in dark, glittery evening gowns and suits, stood around or lay on the floor, looking rather gloomy. Were they waiting for something or were they absorbed in thought? If one looked closely, one could spot the contours of a body chalked on the floor just as the police do when marking the place a dead person had been found. Thus Spuck actually told the tragedy in retrospect.
Shrouded by clouds of smoke, Hades' ghosts, furies and demons later materialized on the back stage, entering the hall to threaten Orpheus, who was ready to confront the underworld. Instead of holding a lyre, Orpheus swung an old wall lamp, whose solitary light made quite an impression against the surging dark crowd. The lighting by Reinhard Traub was also effective, casting frightening shadows. After sweet-singing the bad bunch, Orpheus and his winged companion descended into Hades. A trap door in the back stage's floor was the gate.
Their trip down into the underworld took only as long as the break. When everyone was back on his or her seat, the two arrived at the Elysian Fields, climbing up through the front stage's trap door.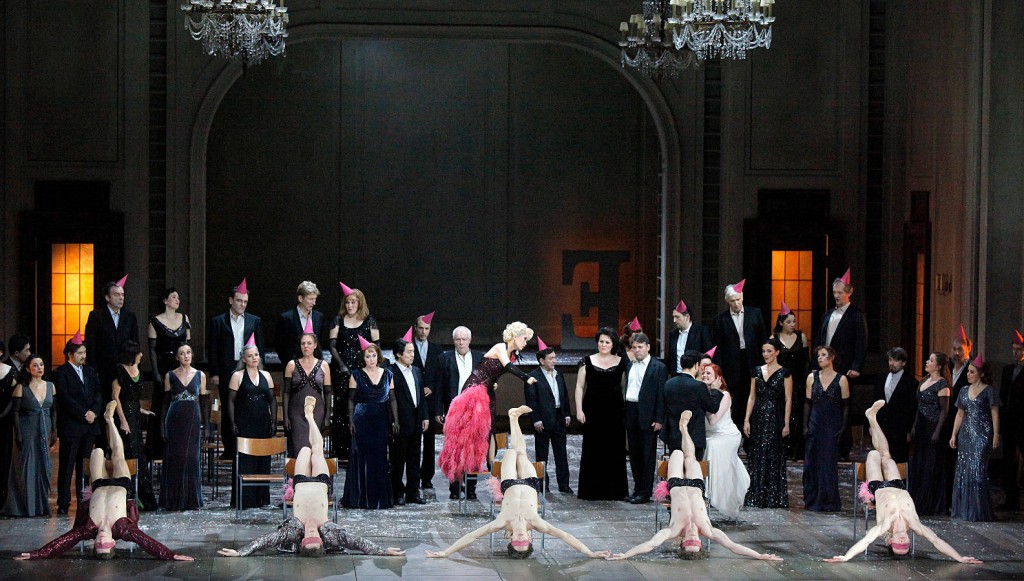 Heaven was brightly illuminated. All 'residents' – choristers as well as dancers – were totally clad in white. I've no clue why white powder fell like snow through the broken skylights, greeted by everyone as if divine manna. Though Orpheus blundered in his venture thanks to L'Amour's intervention, he got Eurydice back. The apotheosis took place under L'Amour's command – a role she obviously relished – as a ceremony reminiscent of a second wedding. The choristers, placed on the rear stage, represented the guests. Orpheus and his beloved sat with their backs to the audience on either sides of the hall and all watched the dances provided in celebration of the lovers' reunion. This was the main moment for the four solo couples – Rachele Buriassi, Alessandra Tognoloni, Angelina Zuccarini, Elizabeth Wisenberg, Alexander Jones, Roland Havlica, Damiano Pettenella and Nikolay Godunov in varying pairing – to present themselves in the most proper light. And so they did! Also L'Amour's five delegates had their moment in a flight stunt, cheerfully hovering above the choristers' heads. The rejoicing, however, was premature. In the thick of the festive mood Eurydice suddenly collapsed and died. Surrounded by the distraught crowd, one of the dancers traced her contour with white chalk. Orpheus crouched in desperation in the other corner and, when walking off, did not even look at the dead Eurydice. Slowly everyone retook their initial position, stood around, waited. The plot had come full circle.
Suffering from a pollen allergy, Stanley Jackson certainly wasn't in top form as Orpheus this evening. But kudos to him for how bravely he kept up! Nicholas Kok at the conductor's podium guided the State Orchestra Stuttgart sensitively through Gluck's score. I liked his variations of the intensity, sounding as if the music could derive from an invisible second orchestra in the background. Irma Mihelič's Eurydice was respectable, Maria Koryagova as L'Amour superb. Her warm, full timbre pampered the ears. Compliments also to Brent Parolin, who likably visualized Orpheus' mood and condition. Being his dance mouthpiece he was also observer and commentator, sometimes ironical but with a wink.
Spuck's "Orpheus" is entertaining. Rich in variety it's like a carefully composed menu, but served blow by blow. No time for a breather. One left the opera rather stuffed than nourished.
I was wondering why the playbill referred to Rainer Maria Rilke's heart-wrenching poem "Orpheus. Eurydice. Hermes", a depth Spuck didn't plumb. Instead he scratched the surface, sometimes slipping into flippancy. Should anyone really believe that a flirty, blonde vamp is the epitome of love? A symbol of a love which prompts Orpheus' descent into hell? Why did Spuck sex up the piece with half-naked young men and underworld furies, topless under their jackets? What has gotten into costume designer Ryott to ridicule the guests in the final celebration with pink party hats? Those hats seem to be her signature feature, emerging in other pieces by Spuck, equally incongruous. The Orpheus mythology, however, is no Mardy Gras event!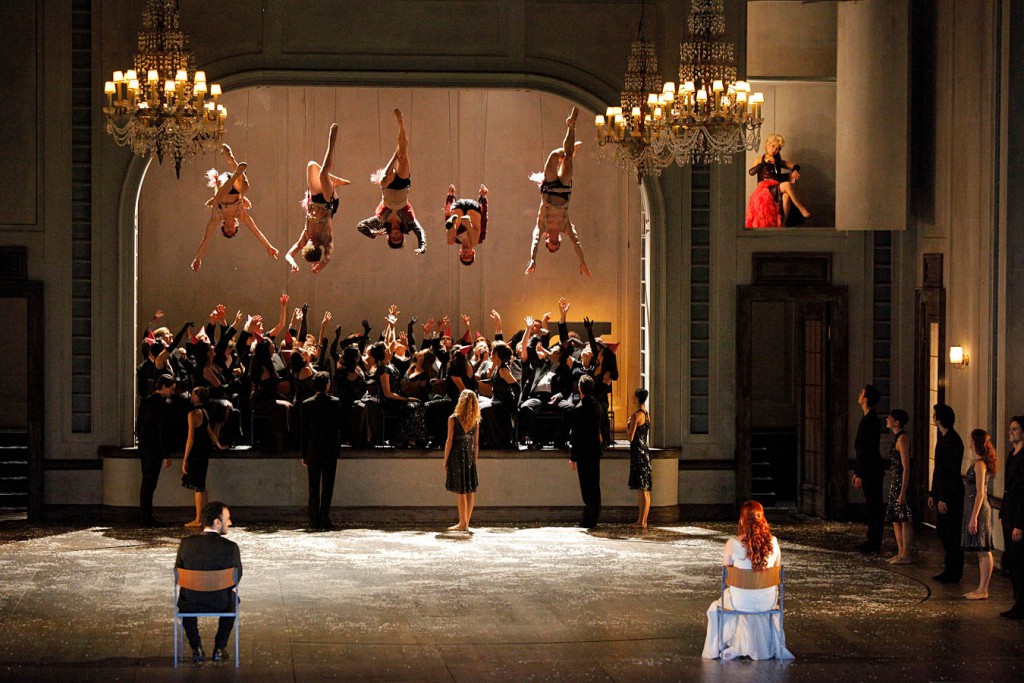 | | | |
| --- | --- | --- |
| | | |
| Links: | | Homepage of Stuttgart State Opera |
| | | Stuttgart Ballet's Homepage |
| Photos: | | Photos of the current cast weren't available. |
| | 1. | Yuka Kakuta (L'Amour) and Stuttgart Ballet's ensemble (Suite de L'Amour) in 2009, "Orphée et Euridice" by Christian Spuck, Stuttgart State Opera and Stuttgart Ballet |
| | 2. | Luciano Botelho (Orpheus) and ensemble in 2009, "Orphée et Euridice" by Christian Spuck, Stuttgart State Opera and Stuttgart Ballet |
| | 3. | Yun-Jeong Lee (L'Amour), Luciano Botelho (Orpheus), Catriona Smith (Euridice) and ensemble in 2011, "Orphée et Euridice" by Christian Spuck, Stuttgart State Opera and Stuttgart Ballet |
| | 4. | Luciano Botelho (Orpheus), Catriona Smith (Euridice), Yun-Jeong Lee (L'Amour, top right) and ensemble in 2011, "Orphée et Euridice" by Christian Spuck, Stuttgart State Opera and Stuttgart Ballet |
| | | all photos © Stuttgart Ballet 2014 |
| Editing: | | Laurence Smelser, George Jackson |