"Young Choreographers"
Noverre Society
Schauspielhaus Stuttgart
Stuttgart, Germany
July 18, 2014
by Ilona Landgraf
Copyright © 2014 by Ilona Landgraf
Each season Stuttgart's Noverre Society offers young choreographers the chance to show new creations. It's a tradition going back to 1958, the year of the Noverre Society's founding. Among those who have taken their first steps at these evenings are such illustrious names as John Neumeier, William Forsythe and Jiří Kylián. Backed wholeheartedly by Reid Anderson, Stuttgart Ballet's artistic director, the Noverre Society provides everything to make creative ideas become real: rehearsal space, a stage, Stuttgart's open-minded audience and, above all, professional dancers. Company members of the Stuttgart Ballet regularly volunteer to be part of the action. Costumes usually come from the Stuttgart Opera's wardrobe department and the financing of set designs is possible – if kept reasonable. Promoted by the project are, first and foremost, ingenuity and intriguing ideas.
Rainer Woihsyk, head of the Noverre Society, has the luxury of being spoilt by options. This time he even had applications from New York and Toronto. Nine aspiring chorographers were finally chosen to put their ideas to the test. Five of them were
from the Stuttgart Ballet's ensemble and four were from abroad; three of the nine were Noverre evening first timers.
The four visitors were Wubkje Kuindersma from the Netherlands, Robbie Bird from London, first soloist Claudio Cangialosi of the Semperoper Ballet Dresden, and New York's Armando Braswell who currently dances for Ballet Basel.
Kuindersma's "Sketched Skin" began intriguingly. Five of its six dancers wore white tutus which they had pulled over their backs like capes. They looked like they had gone thru pupation and were wearing their cocoons' remains. Some lay on their back, folding their lower legs down to the side like tired moths. Others stood scattered about the stage. Wafts of mist hung in the air. A recorded poem informed us that the piece deals with the hope of bringing back a lost person – someone remembered as touching the narrator's skin. Alicia Amatriain, the cast's sixth dancer, and Louis Stiens depicted the couple at the center of
the story. Yet it wasn't clear which of the two had been abandoned and which one had departed. Kuindersma tells the story in three stages. First, Amatriain rejoins the group. This happens to François Coupérin's and Max Richter's yearning melodies for the violin. Electronic sound suddenly destroys the harmony. Was this, maybe, a flashback to the couple's former disagreements? In any case, it proved to be an irritating break! Finally, enveloped in the full timbre of Cecilia Bartoli's voice, Amatriain and Stiens reunite in a pas de deux that radiates intimacy and togetherness. Although nothing about this ballet's style was new, its poetic moments attracted. Annoying was that three dissimilar styles of music were squeezed into one score. Other ballets on the program had the same problem. Shaping a work that lasts ten minutes seems to be a hurdle for new choreographers.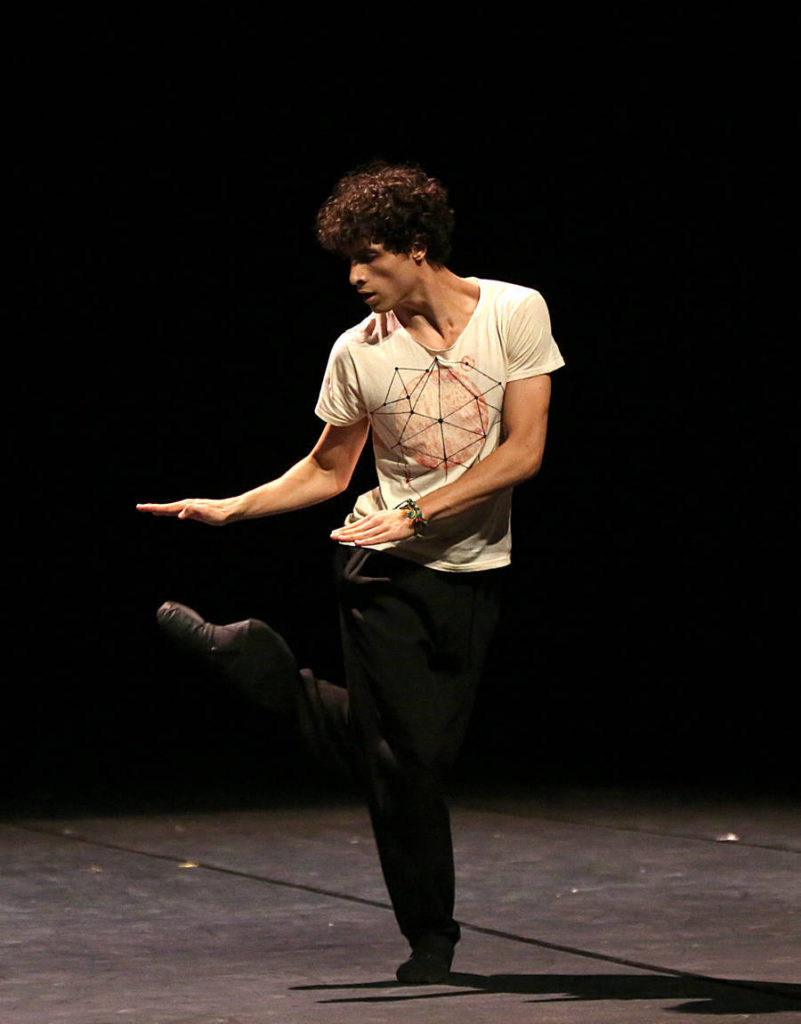 Robbie Bird's "This Could Get Ugly" is about two men (Brent Parolin and Ludovico Pace) making approaches to one another. The choreography is intentionally simple but all the more effective for that. Initially, Parolin and Pace sit opposite each other. Then they stand facing the audience frontally and repeated over and over again a short sequence of rudimentary ballet steps. Reassuringly, things do not get ugly. Hit tunes provided schmaltz and eroticism is kept mild. In conclusion, Parolin, apparently sulking, puts on a deadly serious look whereas Pace beams a big smile. An amusing example of the Brits' dry humor!
Claudio Cangialosi's pas de deux "Light – speed", danced by Courtney Richardson and Laurent Guilbaud, both members of Dresden's Semperoper Ballet, wasn't convincing. Stringing together a series of unrelated movements doesn't generate meaningful or appealing choreography. Cangialosi's work lacked any distinctive feature. Nor did the lightning help: semi-darkness made it impossible at times to see exactly what Richardson and Guilbaud actually danced.
"Pas-varotti" by Armando Braswell revolved around singer Luciano Pavarotti. An audio recording introduced us to his switch from alto to tenor and to his daily voice exercises. Braswell himself danced one of the roles. He wore a dark suit that was meant to go with his dark skin and contrast with the white suit and peroxided hair of his Basel colleague, Jorge Garcia Perez. Both men hopped back and forth on oversized piano keys, but didn't generate true momentum.
Among the remaining five pieces, all created by Stuttgart Ballet's dancers, the consistency of "two or three things", a solo by Özkan Ayik for Pablo von Sternenfels, did impress. To the Adagio in D Minor by Johann Sebastian Bach, von Sternenfels unfolded from gnome size to full height, moving angularly like a Jumping Jack. He seemed to be fighting something and was flung back as if hit by a cannonball. Later, he found himself enclosed by invisible walls. "Two or three things" was reminiscent of Petrushka. This modern incarnation of the lonely puppet evoked sympathy.
Italy's Fabio Andorisio titled his piece for four couples "Ansia". To a feverish compilation of electronic sounds plus pluckings on a violoncello, the couples indulged in rather athletic movement and tried to look awkward by turning in their shoulders and posing as if they had baker legs.
Last year, Roman Novitzky's "Are you as big as me?" had notable success. This year, Novitzky staged "… wie zwei Finger an der Hand" ("…like two fingers of the hand") to Shostakovitch's "Foxtrot" plus music by Max Richter and Thom Hanreich. It started with five dancers sitting in a row as if watching the audience, making faces and squabbling with each other. For a few moments then, they seemed embarrassed. Setting aside their chairs – wooden relics from grandmother's time – they displayed themselves in little solos and pas de deux. One couple indulges in a tender relationship, one woman remains lonely, two other dancers miss coming together. Towards the end, the music turns artificially cheerful, the dancers reassemble and again position themselves on their chairs as if "the show must go on". Were we supposed to gain insights into backstage behavior and relationships? The piece had a melancholy atmosphere despite the music's coffeehouse ambiance. Novitzky's work might seem less static and lengthy if its middle portion were condensed.
"In for the Thrill" was Alexander Mc Gowan's first choreography. This pas de deux is a mix of break dancing and modern ballet. Shouldn't a piece have something to say and be more than just a workout? "Second Self(ie)", Jesse Fraser's second
choreographic attempt, did have meaning and proved to be entertaining. A fun idea and two charismatic, complementary dancers – Özkan Ayik and, especially, Elisa Badenes – added up to a well-rounded whole. Badenes beamed, was full of temperament, radiated the joy of acting and dancing, and flirted with not just her admirer Ayik but also with an array of portraits of herself.
Ayik's role called for him to be slow on the uptake and insensitive to female tactics, but at the end he and Badenes came together happily. During the curtain calls it became apparent how well Fraser, Badenes and Ayik got on together. The three must have had a lot of fun working on "Second Self(ie)". The positive vibes communicated themselves to the audience. Having the right team spirit behind the scenes is important.
The intent of Noverre evenings isn't solely the churning out of tomorrow's top choreographers. They serve as a laboratory to test whether choreographic aspirations are substantial and worth pursuing. Several of the aspirants seem to cling to the examples of choreographers whose works they have to dance – William Forsythe, Marco Goecke, Douglas Lee et al. Striking out on one's own isn't easy, but the past has proved that the Noverre Society is a perfect catalyst. Time and again it has bred leading creators of dance.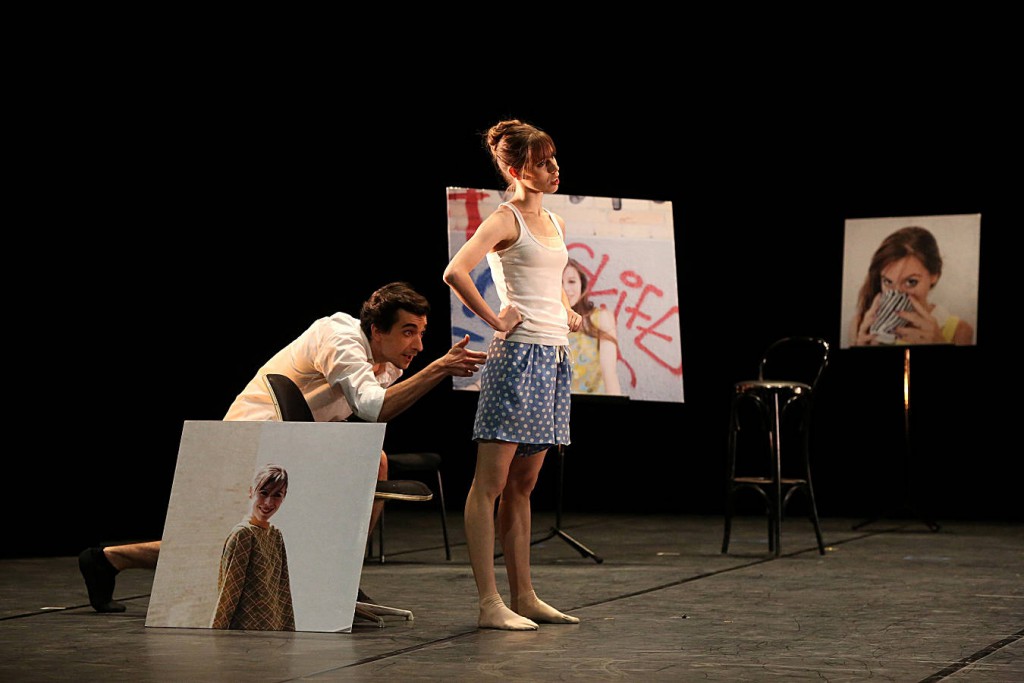 | | | |
| --- | --- | --- |
| Links: | | Stuttgart Ballet's Homepage |
| Photos: | 1. | Alicia Amatriain and ensemble, "Sketched Skin" by Wubkje Kuindersma, Noverre Society: Young Choreographers 2014 |
| | 2. | Ludovico Pace and Brent Parolin, "This Could Get Ugly" by Robbie Bird, Noverre Society: Young Choreographers 2014 |
| | 3. | Jorge Garcia Perez and Armando Braswell, "Pas-varotti" by Armando Braswell, Noverre Society: Young Choreographers 2014 |
| | 4. | Pablo von Sternenfels, "two or three things" by Özkan Ayik, Noverre Society: Young Choreographers 2014 |
| | 5. | Roger Cuadrado and ensemble, "Ansia" by Fabio Adorisio, Noverre Society: Young Choreographers 2014 |
| | 6. | Robert Robinson and Miriam Kacerova, "… wie zwei Finger an der Hand" ("… like two fingers of the hand") by Roman Novitzky, Noverre Society: Young Choreographers 2014 |
| | 7. | Angelina Zuccarini and Nicholas Jones, "In for the Thrill" by Alexander Mc Gowan, Noverre Society: Young Choreographers 2014 |
| | 8. | Özkan Ayik and Elisa Badenes, "Second Self(ie)" by Jesse Fraser, Noverre Society: Young Choreographers 2014 |
| | | all photos © Ulrich Beuttenmüller 2014 |
| Editing: | | George Jackson |