"Romeo and Juliet"
Stuttgart Ballet
Stuttgart State Opera
Stuttgart, Germany
July 19, 2014
by Ilona Landgraf
Copyright © 2014 by Ilona Landgraf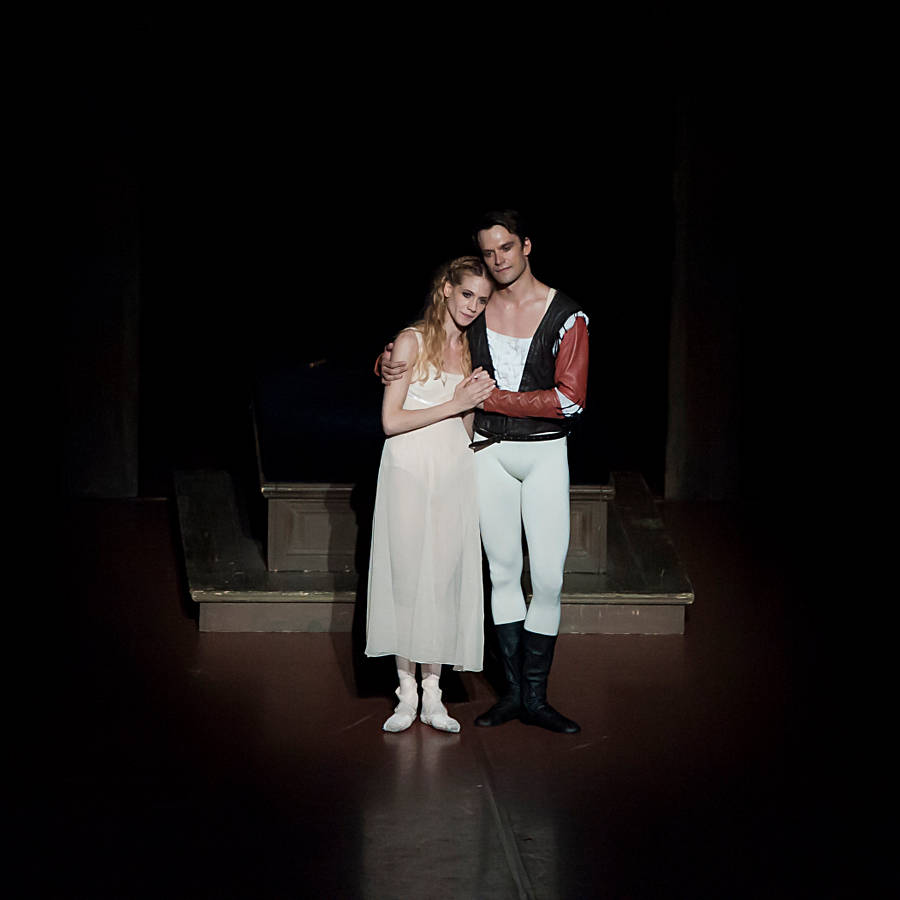 Stuttgart Ballet closed its season with a set of performances of John Cranko's "Romeo and Juliet". Five different couples danced the star-crossed lovers. A remarkable number of these renditions were first rate. Again, the Stuttgart company upheld its high standard. For one of the lead pairs, more precisely for one Romeo, Shakespeare's tragedy was a special event. Filip Barankiewicz bid his farewell to the stage last Saturday.
After studying at the State Ballet School of his home country Poland and, later, with Marika Besobrasova in Monte Carlo, Barankiewicz joined Stuttgart Ballet in 1996. It was at the time when Reid Anderson had assumed the directorship and was assembling a rejuvenated company. Barankiewicz quickly rose through the ranks. In 2002 he was promoted to first soloist. Blessed with irrepressible high spirits, a captivating stage presence and especially a virtuoso talent for jumps – Japanese fans call him 'Mr Jump' – the charming Pole brought down the house on many an occasion. One connoisseur thought he was unforgettable in the "The Flames of Paris" duo. No question but that Barankiewicz was world-class! One of his most striking characteristics, however, is his courtesy. A gentleman, he has been highly regarded by his colleagues and – after eighteen years with Stuttgart Ballet – is a shining example for the ensemble's younger generation. Barankiewicz will certainly be missed.
Rarely seen in the modern repertory, Barankiewicz was at home in Stuttgart Ballet's classics. Onegin in Cranko's eponymous piece and Petrucchio in "The Taming of the Shrew" were his favorite roles. His debut as Romeo happened accidentally. Basically he was dancing his first Benvolio at one performance in the early years of his career. But that evening the Romeo sustained an injury and Barankiewicz had to jump in for the second act, thus making two role debuts on the same occasion!
This last Saturday there were no unforeseen events. Although some rumbling shortly before the balcony scene made me fear that there might be problems with the balcony (once ,during Cranko's time, installing the balcony had been forgotten), a full moon shone gently over Jürgen Rose's decor and everything went smoothly.
Barankiewicz's Juliet was Alicia Amatriain. Shy and demure, yet youthfully coquettish, her lovely smile would have won every man's heart and mind. She seemed weightless in the first act, nestling up to Barankiewicz like a soft feather. Being carried on his shoulder she beamed with the bliss of love. Sitting again on her beloved's shoulders in the third act, Amatriain's love had matured. Spring had blossomed into summer. Loving with abandon, she was close to tears. How touchingly she conveyed her inner struggle before gulping Pater Lorenzo's fateful potion! When, on waking up in the crypt, she embraced Romeo, she was full of such joy that one wished – for a change – that the ending might be happy.
Barankiewicz's Romeo was at first an entirely pleasure-loving lad, not at all averse to females in general – until he met Juliet. Fundamentally chastened after the balcony scene, he sat absorbed in thought amidst Verona's market bustle. He even rejected a proferred goblet of wine. Yet he remained a little rascal, who under Pater Lorenzo's blessing hands couldn't keep his eyes off Juliet. He and Amatriain were an excellent match. Especially their balcony pas de deux and final crypt scene captured one's heart.

Romeo's best friends, Mercutio and Benvolio, were danced by Daniel Camargo and David Moore. These three chums delivered a flawless pas de trois, soaring high in countless tour en l'airs. Camargo, particularly, was brilliant! Whatever role is entrusted to this Brazilian, he comes up with exceptionally assured interpretations based on his phenomenal technique and strong stage presence. Camargo's recent debut as Romeo (to Elisa Badenes' Juliet) swept Stuttgart's esteemed dance critic Angela Reinhardt away.
Tybalt the troublemaker (Nikolay Godunov) was, aptly, a block of disgruntlements and bad moods. One couldn't help feeling sorry for Count Paris (Alexander Jones). Unlike other choreographers, Cranko didn't ridicule Juliet's spurned husband-to-be. Perhaps this Count Paris is overly polished in manner and facial expression, but he's no pansy. When Jones' and Barankiewicz's eyes met over Juliet's deathbed, the two mortally wounded men suddenly seemed ready for the final showdown.
Stuttgart's corps de ballet was in good shape. Market scenes blazed with the vibrant hustle and bustle of feisty gypsy women and dallying duelers. The cheerful carnival dance got spontaneous applause and there was similar approval for the corps' beautiful tableaus. The dance of the lilies was accurately performed but needed more dew and, also, new and less plastic-looking lilies.
All in all, this "Romeo and Juliet" was a well-rounded affair and a worthy farewell for Barankiewicz. After receiving flowers from his two little children, Barankiewicz was accompanied by Amatriain and Reid Anderson for his final curtain calls. He will continue his career as a freelance dancer and as coach, passing his knowledge on to younger generations of dancers.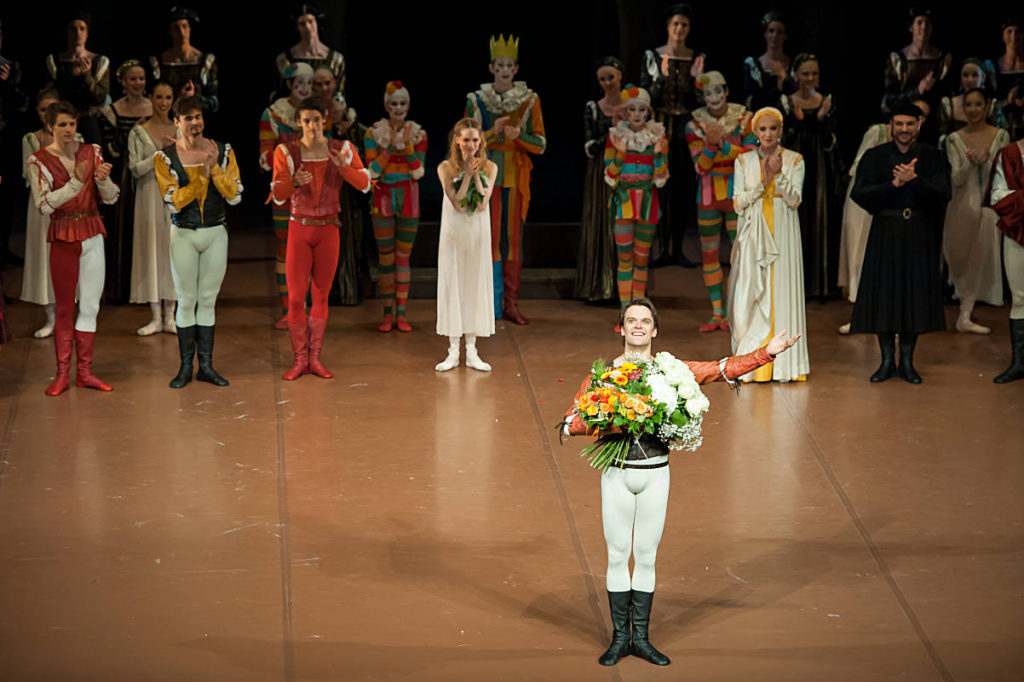 Others, too, are leaving Stuttgart Ballet. Maria Eichwald, for one. She originally danced with the Bavarian State Ballet and joined Anderson's company in 2004. This Russian was famous for her sublime interpretations of characters with deep feelings (Cranko's Juliet and Tatiana in "Onegin", and Neumeier's Marguerite in "Lady of the Camellias"). She was also superb as the prickly Katharina in Cranko's "Shrew". Eichwald bid farewell in the same role in which she made her spectacular Stuttgart debut ten years ago – Giselle. At her side was her longtime stage partner Jason Reilly. Eichwald will guest with other companies and has set out to become a choreologist.
Many fans in Stuttgart are regretting Evan McKie's departure for National Ballet of Canada. This thirty-one-year-old is an elegant dancer and an excellent technician whose strength lies in classical roles. Though bidding goodby wasn't easy for McKie, his career actually seems to be in ascent as he's already been invited to guest with star ballerina Diana Vishneva at the Paris Opera.
Most surprised to receive roses at Saturday's curtain calls was Ludmilla Bogart, who had been Juliet's affectionate nurse. Bogart, a Russian, has been at Stuttgart since Cranko's day. She is an absolutely reliable artist and – because of her detailed knowledge – an indispensable support during rehearsals. Continuing as guest after her 65th birthday, Bogart's character roles – various nurses, Nanina in "Lady of the Camellias", Larina in "Onegin" – were truly her metier. One wishes others the fulfillment of such a long career!
| | | |
| --- | --- | --- |
| | | |
| Links: | | Stuttgart Ballet's Homepage |
| Photos: | | (The selection of photos is limited due to illness of the photographer.) |
| | 1. | Alicia Amatriain (Juliet) and Filip Barankiewicz (Romeo), "Romeo and Juliet" by John Cranko, Stuttgart Ballet 2014 © Roman Novitzky |
| | 2. | Alicia Amatriain (Juliet), "Romeo and Juliet" by John Cranko, Stuttgart Ballet 2014 © Stuttgart Ballet |
| | 3. | Ensemble, "Romeo and Juliet" by John Cranko, Stuttgart Ballet 2014 © Stuttgart Ballet |
| | 4. | Filip Barankiewicz (Romeo), first row: David Moore (Benvolio), Nikolay Godunov (Tybalt), Daniel Camargo (Mercutio), Alicia Amatriain (Juliet), Melinda Witham (Lady Capulet) and Rolando D'Alesio (Lord Capulet), "Romeo and Juliet" by John Cranko, Stuttgart Ballet 2014 © Roman Novitzky |
| | 5. | Filip Barankiewicz, Stuttgart Ballet 2014 © Roman Novitzky |
| | 6. | Maria Eichwald, Stuttgart Ballet 2014 © Roman Novitzky |
| | 7. | Evan McKie, Stuttgart Ballet 2014 © Roman Novitzky |
| | 8. | Ludmilla Bogart, Stuttgart Ballet 2014 © Roman Novitzky |
| Editing: | | Laurence Smelser, George Jackson |