"Leonce & Lena"
Stuttgart Ballet
Stuttgart State Opera
Stuttgart, Germany
October 11, 2014
by Ilona Landgraf
Copyright © 2014 by Ilona Landgraf
Stuttgart Ballet opened its season with a revival of the comedy "Leonce & Lena", a ballet that Stuttgart's former resident choreographer Christian Spuck originally created for the Aalto Ballet Essen in 2008. The piece is based on a short, eponymous comedy written by the German author George Büchner in 1836. It's about the goofy King Peter of the Kingdom Popo aiming to marry his son Leonce, heir to the throne, to Princess Lena of the Kingdom Pipi. "Popo" and "Pipi" are German children's language and mean "Buttock" and "Urine". Leonce, being absolutely uninterested in reigning affairs, is unwilling to marry the unknown bride. Stricken by overwhelming boredom he buries his love for his mistress Rosetta, who departs sadly. On the brink of his bride's arrival, Leonce absconds with his friend Valerio towards beautiful Italy. After half a day's walk through "a dozen Principalities, half a dozen Grand Duchies and several Kingdoms" they rest at an inn. Princess Lena, for her part, likewise deeply disinclined to the marriage, runs up and away with her governess. As chance would have it, they also turn up at the inn. There, Leonce and Lena naturally fall in love not knowing each other's real identity. Disguised as automatons the couple returns to King Peter's court. Monarch Peter, despite lacking his son, is determined to strictly adhere to the original planned wedding. He marries the two automatons as a substitute. Finally Leonce and Lena reveal themselves and become aware of whom they got married to. Deceit, coincidence or providence? Meanwhile Valerio envisions paradise-like conditions in Popo and, above all, a lazy life in the future.
Though termed a comedy, Büchner's text actually is a satire veiled in humor. It zeros in on the complicated situation in Germany resulting from the country's being dissected into many munchkin-sized states towards the end of the political absolutism. Ridiculing the ineffectiveness of court society, which wallows in luxury, it torpedoes the country estate-based society as well.
Taking Georg Büchner's resumé into consideration, "Leonce and Lena" brings up even more interesting references. Büchner (1813 – 1837) was born in the Grand Duchy of Hesse as son of a physician. He studied comparative anatomy in Strasbourg and Giessen. In 1834 Büchner wrote the pamphlet "The Hessian Courier" in which he denounced the social situation in Hesse. Consequently "Wanted" posters were put up of him. Büchner escaped to Strasbourg where he finished his studies and wrote his thesis. The comedy's King Peter is not only a caricature of the Grand Duke of Hesse-Darmstadt, but also of Büchner's father Ernst who highly disapproved of his son's attempts to be a revolutionary. Later, when already reestablished in the family circle, the University of Zurich conferred a doctorate in philosophy on Büchner. Aged only twenty-three, he died from the consequences of typhus in Zurich. "Leonce and Lena" was written during his stay in Strasbourg for a competition for the best comedy sponsored by the publisher Cotta. However, Büchner missed the submission deadline, the text was returned to him and became publicly known only after being performed by a Munich theater company in 1895.
The plot of the comedy is rather plain; it first and foremost lives off Büchner's witty diction. In his protagonists' utterances the world is turned upside down, but what seems pure nonsense sometimes contains quite a few grains of truth. To get down to the foundations of "Leonce and Lena" one has to dig deeper into some autobiographical aspects which influenced the writing. During his student days in Strasbourg, Büchner had secretly become engaged to Wilhelmine Jaeglé, daughter of a pastor. Having promised to marry her, he in in fact feared to lose his freedom. Supposedly he moreover was in love with a fallen woman – represented in the play by Rosetta — whom he abandoned with a heavy-heart for Wilhelmine. Büchner had a romantic idea of love and was horrified to discover the rigidity of conjugal duty instead. His writing is honeycombed with unchaste and indecent wordplays born out of his sparkish erotic fantasies. But that wasn't compatible with Wilhelmine's attitude to morality. Her Christian mindset partly rubbed off on the comedy's Lena, who, though being unorthodox, indulges in world weariness and allusions to the passion of Christ. Prince Leonce and the fool Valerio are basically two aspects of Büchner's inconsistent personality, representing his high ambitions and base motives. While Leonce is a romanticist with timid ideals, still slightly enthusiastic and able to love, Valerio is an anarchic, incorrigible rascal, a materialist only interested in money, fine trousers, beef and wine.
Also Büchner's fear of persecution left its marks. Leonce flees like his author and is likewise sought by the police. Small traces in the comedy reveal a third autobiographical aspect: Büchner's guilty conscience. He had been able to leave the country in time and from then on kept out of revolutionary affairs. One of the conspirators around "The Hessian Courier", however, had been arrested and abused which weighed upon Büchner. By striving for a well-paying career and a bourgeois lifestyle he in fact betrayed his bohemian ambitions expressed in his literary propaganda. "Leonce and Lena" helped him bear his grand delusion. Joking released his inner tensions and finally established Büchner's genius posthumously.
Spuck's choreography takes no account of these autobiographical aspects. He confined himself to the written text. The characters' depth isn't plumbed but rather simplified and some figures are skewed as depicted. Rosetta, for example, danced by Rocio Aleman, is a silly chit of a girl, who, when hopping around in her red dress, pulls her shoulders almost up to her ears with every step. Sulking for some time after being jilted by Leonce, she soon sways her skirt again, engrossed in her narrow mindset. No sign of any religious weltschmerz. Valerio, though a bone-idle chap, has surprisingly much to dance in Spuck's version. Maybe to indicate that Valerio is a real gasbag? Moreover, Spuck characterized his movement vocabulary by making him repeatedly walk backwards. Pablo von Sternenfels is a likeable guy in this role whom one doesn't begrudge his flirtation with Princess Lena's sweet and tidy governess (Rachele Buriassi) at the inn, a dalliance Spuck invented. Prince Leonce, danced by Daniel Camargo, is first and foremost bored and sits sullenly around. Excepting a pas de deux with Valerio, he strolls with nonchalant languor through the first act. When slowly getting romantically infatuated with Lena in the second act, he becomes more alert, but the lovers' pas de deux isn't very rousing either. Much too long they're only lying on the floor or walking around. The Brazilian Camargo is a marvelous dancer; his technique and jumps are fascinating, his acting talent winning. What a waste of talent to make him dawdle around on stage!
The same applies to Elisa Badenes, the ballet's Lena. Badenes' entrances are usually aha moments. The vivacious Spaniard can send out sparks and immediately catch the audience's attention. Lena, the bride-to-be she has to depict, is, however, a shallow young woman, obstinately pursing her lips. Beneath the surface of the stubborn person, Badenes creates a clever girl whose corners of the eyes are charmingly smiling, but Spuck's lame choreography is miles away from what Badenes, what in fact the whole ensemble, is able to do! In the pas de deux the dancers are often placed side by side and perform the same simple combination of steps. If they would at least sing in addition to provide some entertainment! The group dances lack inventiveness too. As idiotic peasants at the inn, the corps awkwardly stomps around, then motionless stare at the audience for what seemed like a little eternity, until their freezed, dumb grimaces earn some laughter. At court the corps' main task is to stand around and pantomime like in a puppet theater. That's Spuck's level of comedy. "Leonce & Lena" quotes, for example, John Cranko's "Romeo and Juliet", his "Onegin", "The Taming of the Shrew" and "Jeu de cartes", but even then it's inappropriate to rank the piece next to comedic highlights like "Shrew" and Ashton's "La fille mal gardée" as it's done in the playbill. Spuck neither established a fluent narrative thread nor an arc of suspense, his gags are predictable, the choreography trite. Maybe "Leonce & Lena" works as a ballet for children up to ten years of age.
Set and costume designer Emma Ryott, Spuck's regular production partner, clad the court society in black tailcoats and wigs leaving clouds of white powder behind. Faces are made up chalk-white with small, pointed red mouths. A rotatable, curved, black wall serves as the central set element, similar to the one she already designed for Spuck's ballet "Woyzeck", also based on a text by Büchner. It alludes to the confined world of the principalities and kingdoms. Like in other of Spuck's ballets, Ryott used silly carnival-like cardboard hats; this time they were put on the celebrating wedding party's heads. I'm wondering if she managed to include this ridiculous trademark also in Spuck's new ballet "Anna Karenina", which had its world premiere recently in Zurich.
Interesting, though, is the assemblage of music ranging from the Strauss family to Alfred Schnittke, Léo Delibes, crystalline sounds by Bernd Alois Zimmermann, Martin Donner's electronic tunes and The Mamas and the Papas, effectfully brought to life by the State Orchestra Stuttgart under the baton of Wolfgang Heinz. Both acts started with dashing overtures by Johann Strauss senior and junior – the "Chinese Gallop" and the "Klipp-Klapp-Gallop", which made one expect breezy and perky dance, but – hard luck!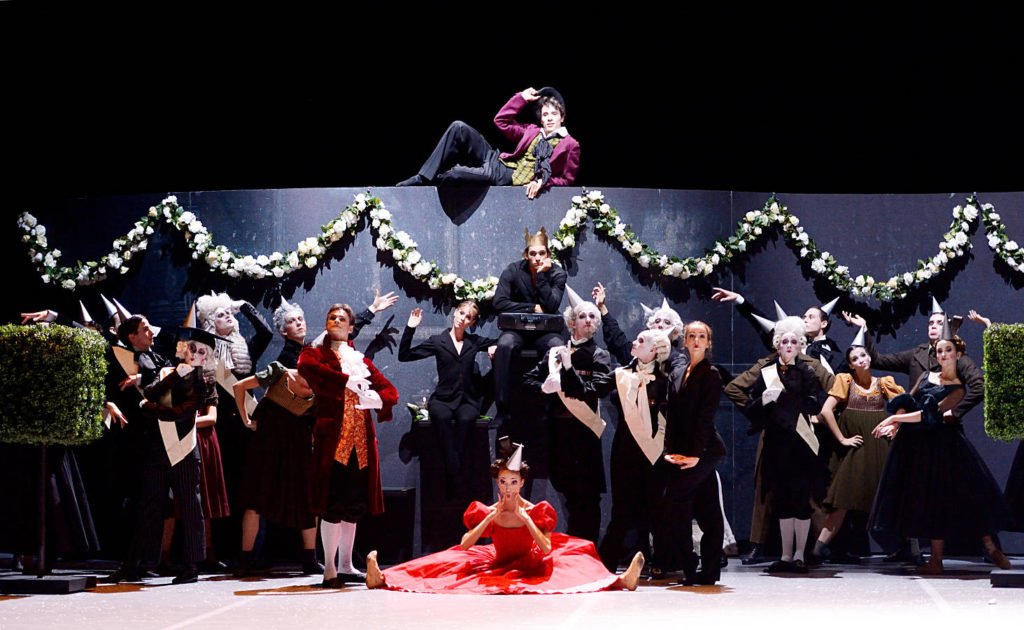 | | | |
| --- | --- | --- |
| Links: | | Stuttgart Ballet's Homepage |
| Photos: | 1. | Daniel Camargo (Prince Leonce) and Elisa Badenes (Princess Lena), "Leonce & Lena" by Christian Spuck, Stuttgart Ballet 2014 |
| | 2. | Daniel Camargo (Prince Leonce) and Pablo von Sternenfels (Valerio), "Leonce & Lena" by Christian Spuck, Stuttgart Ballet 2014 |
| | 3. | Ensemble, "Leonce & Lena" by Christian Spuck, Stuttgart Ballet 2014 |
| | | all photos © Stuttgart Ballet |
| Editing: | | Laurence Smelser |