"Shakespeare Dances"
Hamburg Ballet – John Neumeier
Festspielhaus Baden-Baden
Baden-Baden, Germany
October 04, 2014
by Ilona Landgraf
Copyright © 2014 by Ilona Landgraf
John Neumeier's "Shakespeare Dances" is a triple bill that he assembled in 2013 to celebrate his forty-year jubilee in Hamburg. It consists of short versions of "As You Like It", "Hamlet" and "VIVALDI or What you will", and aims to capture the essences of the respective full versions choreographed in previous years.
Not surprisingly, each piece's unique qualities fade due to strong compression. While some characters could be omitted without much harm, Neumeier has tried to give the two Shakespeare comedies and the tragedy a degree of consistency. Does he tell the stories clearly?
Jacques, the melancholy philosophizing nobleman of "As You Like It", serves as the main connection. Neumeier converts him into a good-natured guy. He dresses in today's casual wear and lacks even a whiff of gloom. Roaming through Arden Forest on his bicycle or strolling around various courts, Jacques observes and comments on what's happening on the world's stage. Although Neumeier states in the playbill that Shakespeare's figures are so complex and deep that the stories can be understood without words and solely thru dance, he wasn't able to manage without Jacques' spoken formulations. Jacques, danced by Carsten Jung, doesn't really belong to that world's stage, but from time to time joins in on what's going on in Shakespeare's plays.
Things start with "As You Like It " – a comedy but interspersed with solemn thoughts and serious events. Neumeier decided to interpret the piece as generally cheerful, as if Shakespeare had declared with childlike defiance that "It's like this and just so".
Accompanied by Mozart music, the confusing story about banishment, disguise, faithful friendships and misguided love unfolds in five scenes or "themes". Jacques' Forest of Arden is symbolized by a row of wooden planks, painted with trees, the horizon is shaded in blue and gray. This decor and the simple Baroque-like costumes are by Klaus Hellenstein. The first theme, "Injustice", is a jumble of events that often happen simultaneously. The close relationship between Rosalind (Silvia Azzoni) and Celia (Leslie Heylmann) is sketched in. So is the quarrel between the two brothers, Duke Frederick and the to-be banned Duke Senior (Luca-Andrea Tessarini). Orlando (Alexandr Riabko) is given a raw deal by his unsympathetic brother Oliver (Silvano Ballone). Later, Orlando comes off as the winner in a boxing match against Charles (Florian Pohl). In addition – and that's the gist of all the babbling – he falls in love with Rosalind. As he's a slightly clumsy fellow, out of sheer rapture he turns into a pillar of salt. Touchstone (Konstantin Tselikov), the court's feisty fool, gets in on the lively goings-on. The final injustice, Rosalind's banishment from Duke Frederick's court, ends with her biting into Frederick's outstretched index finger. One is well-advised to consult the author's original in advance to know what is going on.
The second theme, "Flight and Disguise" is pure slapstick comedy. Touchstone slips into a nun's habit, Orlando tries an Amerindian outfit but then decides for a chic, red officer's jacket, but it's Kiran West as Adam, Orlando's servant, who takes the cake. He ends up in a long, bright yellow dress and a white bonnet. How he bats his eyes to show he is annoyed is hilarious! He's not at all amused when, suddenly, the infatuated Touchstone ends up around his neck.
To label the third theme "Shepherds Idyll" is quite a misrepresentation. There's no semblance of idyllic atmosphere, but rather a crazed crowd of shepherds. Their stare with bulging eyes raises questions about their sanity. Barefoot, they stomp and hop like rams. When the women are lifted, they hang in the air like stiff jumping jacks. Their skirts fly high – very high indeed – but no one seems to care. The peasant girl Audrey falls for Touchstone and sticks to him like wax, but – alas! – he escapes and Audrey turns her blatant advances on Rosalind. Dressed as a young man with sassy short hair, Rosalind alias Ganymede is a really attractive object of desire.
"Confusion of Love", the penultimate theme, starts with a pas de deux for Celia and the disguised Rosalind. Then, Orlando enters. Enthusing over Rosalind, he waves his written hymn of love. Were he to know that Ganymede, with whom he dances a rapturous pas de deux, is in fact his beloved Rosalind, he'd presumably be struck by lightning.
Up to this point the show had entertainment value, but from here on the gags become repetitive. The scenes drag on. In short: the fizz is gone. Can anyone still care that Duke Frederick suddenly has the hots for a shepherdess?
Rosalind and Orlando have a long pas de deux when they finally find each other in the "Happy Ending" theme. Azzoni swirled thru the air with an overjoyed smile and was perfectly partnered by Riabko. It would have been a happy ending if the ballet's atmosphere hadn't run down by then.
The shift to the evening's second piece, "Hamlet", was brought off elegantly. While Jacques ponders aloud about Shakespeare's lovers – Rosalind & Orlando, Othello & Desdemona, Romeo & Juliet and Ophelia & Hamlet – some of those couples show up on the forestage while beyond them, hidden behind the closed curtain, the set is being reconstructed. As in the previous day's Workshop, Anna Laudere and Marc Jubete danced the roles of Ophelia and Hamlet. Their pas de deux to Michael Tippett's "Sellinger's Round", music that tends to get one down, is around ten minutes long. It shows the young Hamlet bidding farewell to Ophelia before departing to study in Wittenberg. The drama, the murder of Hamlet's father, hasn't yet taken place. Jubete portrays an unconcerned, adventurous, euphoric Prince. Though departure can't be quick enough he gets aware of Ophelia's sadness, her emotional numbing about his leavetaking. A playful, tender pas de deux makes both smile before Hamlet finally runs off.
Hamlet's return to Denmark after his father's death should have been shown in a second part of the ballet, after a break. But two days before the performance, the Festspielhaus' press office sent an e-mail announcing that "Hamlet" would be shortened due to the injury of the original dancer cast as Hamlet (Edvin Revazov). As Revazov was being replaced by Jubete at the last moment, it wouldn't be possible for Jubete to learn Hamlet's solo. So, the solo was to be omitted as would the second break. The result would be to shorten the evening by about an hour. This announcement was also published on the Festspielhaus' homepage. It sounds odd. A break usually lasts thirty minutes and there is no such thing as a thirty minute solo for Hamlet in the second act. In fact, much more than a solo and intermission were skipped – the whole drama was missing: the wedding arrangements for Gertrude and Hamlet's uncle, Hamlet's encounter with Gertrude, the ghost of Hamlet's murdered father, Hamlet's vow of revenge, the performance by the comedians, and Ophelia trying to bring Hamlet back down to earth. All that had been part of the 2013 "Hamlet". I think Neumeier should have said in the press conference that last year's "Shakespeare Dances" was too long. Nor do I regret that "Hamlet" was shortened. I remember it as a drab affair. But at least it balanced the two comedies. If the issue was the length of the evening, it would have been a good idea to curtail "As You Like It" and the epilogue rather than radically cutting down "Hamlet". "Shakespeare Dances" is programmed again for June 2015. Let's see if Neumeier keeps this amputated version.
Actually, Revazov's injury didn't come out of the blue and there would have been enough time to rehearse a substitute. Jubete would have definitely deserved the chance! Might the real reason have been that Neumeier was in Moscow, rehearsing his "Tatiana" with Diana Vishneva? Apart from that, why was there no second cast from the start? The Festspielhaus' press office stated that Neumeier wanted high quality and therefor cut the second part. Other ballet companies routinely rehearse two or three high quality casts for each production but Hamburg Ballet has only one. Yet each prop exists in two or more copies backstage. Jacques, for example, bicycles around with two editions of Shakespeare's book in his rucksack, in case one gets damaged while he reads to us. That's to no avail if there isn't another dancer ready to fill the role. Why does Hamburg Ballet skate on such thin ice?
The Festspielhaus did not deem it necessary to apologize to the audience or to ask for our understanding. In the official announcement the talk was rather that Neumeier and the Festspielhaus were making sacrifices. Do they need to be consoled by the audience? What a twisted world!
After the break it was up to Otto Bubeníček as Orsino, Duke of Illyria, to lift our spirits in "VIVALDI or What you will". ("What You Will" is also known as "12th Night".) Draped in his chaise lounge, Bubeníček opened the first scene full of yearning for his beloved Olivia. His intense stage presence and authentic acting – he's a marvelous comedian – recharged the atmosphere every time he stepped on stage. The lady of his heart, the mourning Countess Olivia, was danced by Hélène Bouchet. Blessed with beautiful long legs and perfectly arched feet, she's basically a highly elegant aristocrat. However, her brown doe eyes fell in love with the clown Feste (Carolina Agüero), who is Viola in disguise. Olivia, at any rate, throws all etiquette overboard and behaves like a little girl in love for the first time.
A clever idea of set designer Hans-Martin Scholder were the long, billowing curtains, which in the initial scene in Orsino's room evoke the impression of roiling desire on a balmy night. Later, they symbolize the stormy sea, sweeping Viola and her twin brother Sebastian (Konstantin Tselikov) onto the stage. Though separated by fate, each of them decides to put on a clown costume. Needless to say, since they are twins, the costumes are as alike as two peas in a pod. When they find each other again – also a well-made scene – they stand on opposite sides of a window and gradually realize that the one on the other side isn't a mirror image.
Other scenes were familiar: the group of rowing seamen we know from "The Little Mermaid" and that crazy lovers are carried around piggyback we saw already in "As You Like It". Unlike Shakespeare, Neumeier leaves it vague whether the two couples, Orsino & Viola and Olivia & Sebastian, really come together. In any case Orsino and Olivia are cured of their love delusions and their laughter is a relief for them.
As in the prologue, in which Jacques gathers the protagonists of all three ballets around himself, all come together again in the epilogue. This time they wear top hats and clown's noses, and the corps is either clad in all-black or all-white. Lining up, they raise their arms and shake their hands as if they want to say: Take it easy, the world's a stage and life is merely play-acting.
A short note on the sparse illustration for this and the previous text. Hamburg Ballet's in-house photographer, Holder Badekow, accompanied the company on its visit to Baden-Baden. He's an old hand, part of Hamburg Ballet since Neumeier came more than four decades ago. Is it credible that he took only four publishable photos during the Workshop and three during "Shakespeare Dances"? Getting photos from Hamburg Ballet is often difficult. Allegedly, Neumeier and Badekow are currently in a legal battle about the past years' photos. Those who suffer are the dancers because their work isn't being properly documented for the public. Too bad, too, that the complete artworks – the ballets – seem to have such low priority.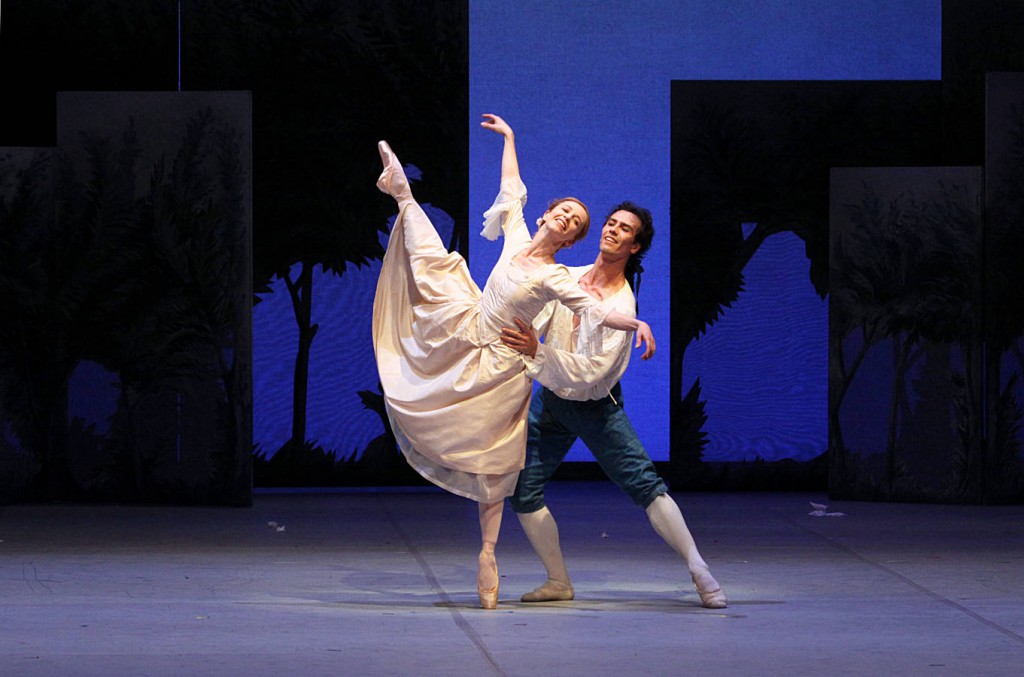 | | | |
| --- | --- | --- |
| | | |
| Links: | | Hamburg Ballet's Homepage |
| | | Festspielhaus Baden-Baden |
| Photos: | 1. | Kiran West (Adam, Orlando's servant) and Konstantin Tselikov (Touchstone), "As You Like It" by John Neumeier, Hamburg Ballet 2014 |
| | 2. | Konstantin Tselikov (Sebastian) and Carolina Agüero (Feste/Viola), "VIVALDI or What you will" by John Neumeier, Hamburg Ballet 2014 |
| | 3. | Silvia Azzoni (Rosalind) and Alexandr Riabko (Orlando), "As You Like It" by John Neumeier, Hamburg Ballet 2014 |
| | | all photos © Holger Badekow 2014 |
| Editing: | | George Jackson, Laurence Smelser |