"b.21" ("Serenade", "Alltag", "Johannes Brahms – Symphony No.2")
Ballett am Rhein
Opera House Düsseldorf
Düsseldorf, Germany
October 25, 2014
by Ilona Landgraf
Copyright © 2014 by Ilona Landgraf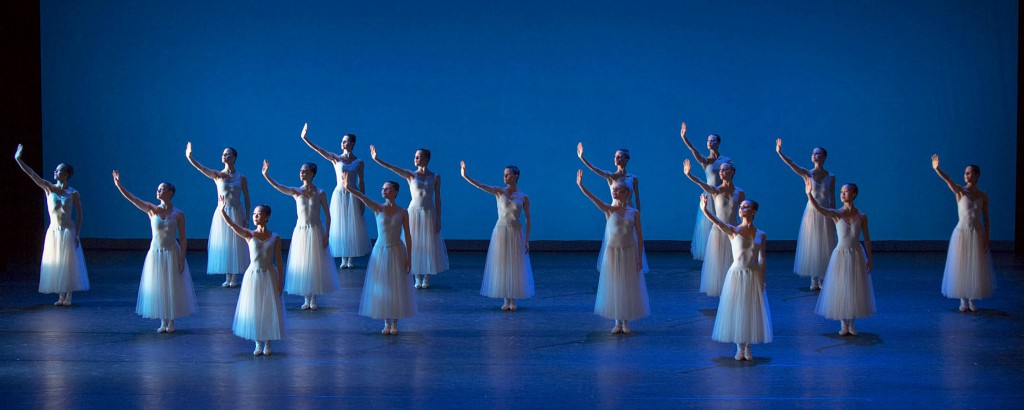 Behind the abstract title "b.21" in the program of the Ballett am Rhein is a ballet evening by Martin Schläpfer, the twenty-first one, since Schläpfer took over as artistic director and resident choreographer at the capital city of North Rhine-Westphalia. The triple bill encompasses George Balanchine's "Serenade", followed by "Alltag" (meaning "Daily Life"), a new piece by Hans van Manen, and closes with Schläpfer's "Johannes Brahms – Symphony No. 2".
"Serenade", the first ballet Balanchine created in the US, grew out of a dance class for the first students of the 1934 newly established "School of American Ballet". Aimed as an exercise in stagecraft for fledgling students the original choreography was strongly bound to the everyday situation in the studio: On one day, for example, only girls showed up in class, the next day, the group was smaller but a few men took part too. From all the occurring incidents Balanchine pieced together a ballet which he honed and adjusted for almost the rest of his life. As music Balanchine chose Tchaikovsky's "Serenade for Strings in C Major", an overall joyous score interspersed with melancholy passages. For the production for the Ballets Russes de Monte Carlo in 1940 Balanchine decided also to include a shortened version of the music's fourth movement, which he initially had omitted.
In "Serenade" twenty women – their softly flowing, light blue tulle skirts and tricots of the same color reminiscent of delicate Wili-like beings – are joined by six men. Though being a neoclassical ballet, "Serenade" unmistakably alludes to the 19th century's image of a romantic ballerina. The corps constantly moves through an abundance of varying formations, ornamental figurations
which are a sheer pleasure to watch. Solos and pas de deux are masterfully intertwined with group dances, the differentiation between soloists and corps de ballet is diluted, sometimes almost dissolved. Actually there's no verified storyline, but Balanchine once stated that putting a man and a girl on stage already creates a story. A man and two girls thus make a plot. The three main female roles were danced by Ann-Kathrin Adam, So-Yeon Kim and Julie Thirault. Adam was the Waltz Girl, who breaks down and at the end is lifted high in the air and carried out by four men. Arching back she reminds one of a sacrificial woman, whom the other women follow as though in a procession. But overly confident, with sharp features, wearing red lipstick which clashed with the shade of her red hair and with a smile certain of success, Adam's dancing had neither subtlety nor femininity. Hence her apotheosis into the venerated leading figure seemed improbable.
As the Dark Angel Julie Thirault clung to Alexandre Simōes, covering his eyes, when approaching the Waltz Girl. So-Yeon Kim was a lively Russian Girl, her dancing well- rounded, while Andriy Boyetskyy as the second male dancer was unimpressive. After some imprecision at the beginning, group dances went like clockwork, growing in
vivacity and fluency. I was wondering, however, about the port de bras and the use of the upper body. Arms were locked in positions or almost swung like fly wheels as if to generate the momentum for jumps. Creating the impression of lightness seemed to challenge the dancers. The female ensemble doesn't resemble the long-legged, slender type of ballerinas Balanchine favored. But being rather muscular and athletic shouldn't hamper the style required by Balanchine's works.
The evening's second piece, "Alltag" by Hans van Manen had its world premiere one week ago. It portrays the choreographer Schläpfer's method. Since 1994 the eighty-two-year old van Manen has – except for one ballet – confined himself to choreographing for his home companies, Dutch National Ballet and Nederlands Dans Theatre. Maybe it's due to both men's long acquaintanceship that van Manen has now returned to the Düsseldorf Opera House's stage where in 1971 he created his first ballet outside the Netherlands.
Around thirty-two-years ago, when Schläpfer was dancing in Heinz Spoerli's company in Basel, van Manen cast him for his piece. The two met again when Schläpfer – already artistic director of the ballet company in Bern/Switzerland – wanted to stage van Manen's "Grosse Fuge". After ten years at the helm of ballettmainz Schläpfer took over the reigns of the Ballett am Rhein in 2009. Van Manen's choreography now forms a substantial component of the company's repertory.
About twenty minutes long, "Alltag" provides insight into Schläpfer's brain, when he was brooding over new choreography. Spanish Baroque music by Manuel Blasco de Nebra serves as the musical foundation which is repeatedly interrupted by excerpts from Franz Schubert's song "Du bist die Ruh", Johann Sebastian Bach's "Partita for Piano No. 6" and, like a tonal thunderstorm, Gustav Mahler's "Symphony No. 7". Schläpfer's trains of thought seemed not to be linear but quite excursive! Keso Dekker designed a minimalistic set, restricted to a wooden chair and a rope hanging like a huge circle in the back. At first crouching on the chair and listening to his inner
voice, Schläpfer soon starts to dance his choreographic ideas – van Manen quotes three solos of Schläpfer's own oeuvre, choreographies on music by Bach and Schubert, which the Dutchman views in a different light. Both men joked in an interview whether van Manen stole his younger colleague's dance material, learned by watching, improved or reshaped. They finally agreed on the statement that existing choreography had been used in a way Schläpfer had overlooked.
Fifty-five-year old Schläpfer doesn't need to play a role. Indulging in his own style he's completely himself. From bent knees, the upper body hunched over he stretches himself, glides on the floor, gets up again, pauses thoughtfully and, trying out another idea, begins anew. Movements are powerful and firmly grounded, their main direction downwards. The impetus seems to derive from the powerhouse of the upper body.
First dancing alone, a ballerina (Marlúcia do Amaral) – maybe Schläpfer's muse – appears in the dark background. She observes him, starts to mark his movements, then copies them until she's finally led by Schläpfer through the entire nascent sequence. A couple (Doris Becker, Alexandre Simões) subsequently replaces do Amaral, dancing a pas de deux which bears the hallmarks of van Manen. Schläpfer, sitting stoop-shouldered on his chair again, merely watches, allowing the new piece of art to arise. In the final scene both dancers are on the floor, Simões lays on top of Becker, depicting a loving couple. Schläpfer, unvaryingly in a serious mood, looks at them, nods with slight resignation as if to acknowledge what he basically had already known, and leaves.
Schläpfer's "Johannes Brahms – Symphony No. 2" which premiered last year finally opened one's eyes about the preceding pieces. Here, Schläpfer's style was in full blossom and the dancers completely in their element. Though I didn't know the three pieces van Manen referred to in "Alltag", the similarities of the choreographic languages were obvious. It also revealed where the weak points of this version of "Serenade" derived from. The Balanchine Trust's repetiteur Patricia Neary hadn't been entirely successful in erasing Schläpfer's strong, earthy style which imprints his ensemble.
In his Brahms piece Schläpfer refers to the grand white acts of the classics – Swan Lake, Giselle, La Bayadère – but adds more strength and vigor. Patterns vary constantly and range from solos to group dances. There are sequences of easygoing dance, but also
grieving ones. Marlúcia do Amaral has a long solo in which she explores movement nuances and slips into different roles – modern dancer, classical ballerina or a hybrid of both. Revealingly do Amaral, dissatisfied with herself, stopped her attempt to make a grand ballerina's entrance after some steps. Being a classical dancer from tip to toe wasn't hers. A few cheap stereotypes of wannabee modernity were also represented. Chidozie Nzerem, for example, and his ballerina stared provocatively at each other in their pas de deux, way cool and tough as if declaring the battle of the sexes. Femininity was generally sidelined. Most times the women distinguished themselves neither by movement nor by their costumes, skintight bodytights in silver-gray, blue-gray and green-gray. One man was singled out by a red-gray outfit, another by a yellow one. The backdrop looked like a close-up of seaweed, painted in brown, gray and white (set and costumes by Keso Dekker). "Brahms Symphony No. 2" is Schläpfer's interpretation of Swan Lake which became apparent when a phalanx of dancers carrying plastic ducks paraded to the forestage and put the little ducks on the floor. In the final scene the dancer in yellow caringly collected the bath toys and as if carrying a baby on his arm brought them back to the circle of his fellow dancers.
The Düsseldorf Symphony Orchestra under the baton of Jochem Hochstenbach gave an adequate rendition of Tchaikovsky's and Brahm's score. "Alltag" was danced to recorded music.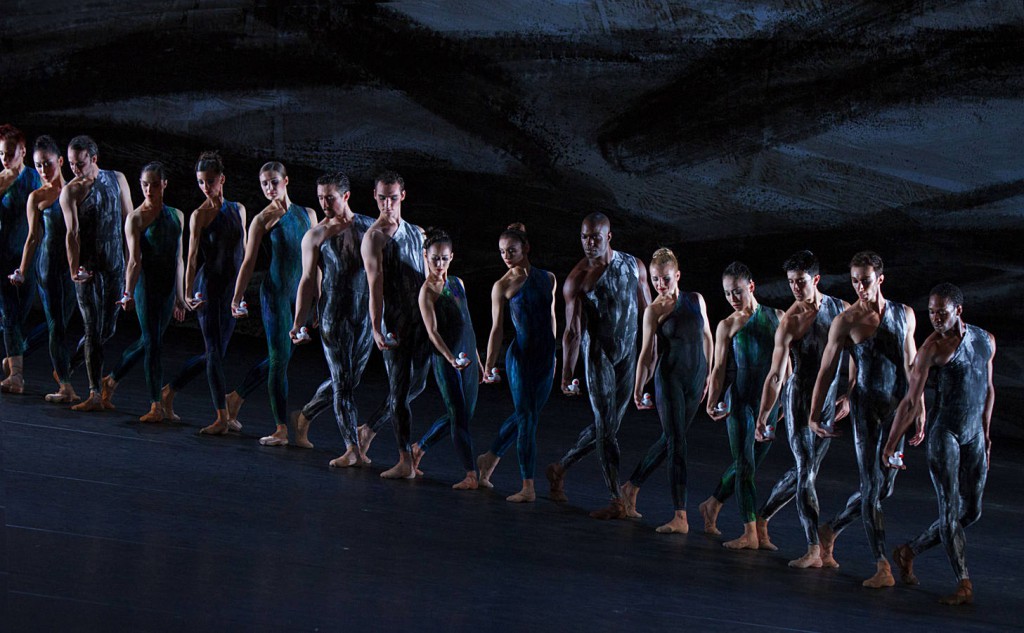 | | | |
| --- | --- | --- |
| | | |
| Links: | | Homepage of the Ballett am Rhein |
| Photos: | | "Serenade" by George Balanchine |
| | 1. | Ensemble, "Serenade" by George Balanchine, © The George Balanchine Trust, Ballett am Rhein 2014 |
| | 2. | Ensemble, "Serenade" by George Balanchine, © The George Balanchine Trust, Ballett am Rhein 2014 |
| | 3. | Julie Thirault, Mariana Dias, Alexandre Simões and Ann-Kathrin Adam, "Serenade" by George Balanchine, © The George Balanchine Trust, Ballett am Rhein 2014 |
| | 4. | Julie Thirault, So-Yeon Kim, Alexandre Simões and Ann-Kathrin Adam, "Serenade" by George Balanchine, © The George Balanchine Trust, Ballett am Rhein 2014 |
| | | "Alltag" by Hans van Manen |
| | 5. | Martin Schläpfer, "Alltag" by Hans van Manen, Ballett am Rhein 2014 |
| | 6. | Martin Schläpfer, "Alltag" by Hans van Manen, Ballett am Rhein 2014 |
| | 7. | Martin Schläpfer, "Alltag" by Hans van Manen, Ballett am Rhein 2014 |
| | 8. | Martin Schläpfer and Marlúcia do Amaral, "Alltag" by Hans van Manen, Ballett am Rhein 2014 |
| | 9. |  Martin Schläpfer and Marlúcia do Amaral, "Alltag" by Hans van Manen, Ballett am Rhein 2014 |
| | 10. | Martin Schläpfer and Marlúcia do Amaral, "Alltag" by Hans van Manen, Ballett am Rhein 2014 |
| | 11. | Alexandre Simões, Doris Becker and Martin Schläpfer, "Alltag" by Hans van Manen, Ballett am Rhein 2014 |
| | 12. | Doris Becker, Alexandre Simōes and Martin Schläpfer, "Alltag" by Hans van Manen, Ballett am Rhein 2014 |
| | | "Johannes Brahms – Symphony No. 2" by Martin Schläpfer |
| | 13. | Ensemble, "Johannes Brahms – Symphony No. 2" by Martin Schläpfer, Ballett am Rhein 2014 |
| | 14. | Ensemble, "Johannes Brahms – Symphony No. 2" by Martin Schläpfer, Ballett am Rhein 2014 |
| | 15. | Chidozie Nzerem and Jackson Carroll, "Johannes Brahms – Symphony No. 2" by Martin Schläpfer, Ballett am Rhein 2014 |
| | 16. | Marcos Menha and Claudine Schoch, "Johannes Brahms – Symphony No. 2" by Martin Schläpfer, Ballett am Rhein 2014 |
| | 17. | Ensemble, "Johannes Brahms – Symphony No. 2" by Martin Schläpfer, Ballett am Rhein 2014 |
| | | all photos © Gert Weigelt 2014 |
| Editing: | | Laurence Smelser |