"Workshop"
Hamburg Ballet – John Neumeier
Festspielhaus Baden-Baden
Baden-Baden, Germany
October 03, 2014
by Ilona Landgraf
Copyright © 2014 by Ilona Landgraf
Workshops have been a regular feature of Hamburg Ballet since John Neumeier's first season there in 1974. Successful from the start, they are so in demand that one can call oneself lucky to get a single seat for just one Workshop per season. One watches the company do barre exercises before Neumeier picks up the microphone. The atmosphere is relaxed and the dancers are in practice clothes, with a bit of costuming showing only here and there.
This autumn Baden-Baden's audience hit the jackpot with a Ballet Workshop that introduced Hamburg Ballet's annual visit to the Black Forest where the stage of the Festpielhaus serves almost as a second home for the ensemble of dancers. The first Workshop there took place in 1998. The topics this time were "Shakespeare Dances" and "Giselle", both of which were shown in their entirety during the company's stay.
Some things haven't changed during Neumeier's four-decades as a lecturer: enthusiastic to the core about his art, he talks and talks and talks some more, adding one dance example after another. If he could hold his audience for the rest of the day, he would in all probability explain even more. Yet he's a charming and entertaining speaker. In fact, he's loved for these qualities. Predictably, Neumeier forgets names. Sometimes it is a dancer's name that slips his mind. This time it was the name of Jules Perrot, one of the choreographers of the original 1841 production of "Giselle". But, as happened in September 1974 when Neumeier completely lost his train of thought during his first Workshop in Hamburg, people accept his lapses with warm generosity. The third constant is Neumeier's spontaneity. He likes to challenge his dancers by changing the order of things or asking for an unscheduled extra.
Facing the task of covering his "Giselle" and "Shakespeare Dances" (the latter bill consists of three ballets based on Shakespeare's writings), Neumeier compared what he was about to do with the Reader's Digest, which used to condense whole texts to essences. With a canny smile, he referred to his workshop on "Othello" and "A Midsummer Night's Dream" a few years ago. Surely, he said, all in the audience have reviewed the notes they took at that time.
"Shakespeare Dances" was created in Neumeier's forty-year jubilee season of 2013, in order to show aspects of how he came to grips with the great writer's works. It contains scenes from "As You Like It", "Hamlet" and "VIVALDI or What You Will". Especially important for Neumeier was the musical link to Shakespeare's words. Thus, "As You Like It" was originally titled "Mozart and Themes of 'As You Like It'" at its premiere in 1985, but that proved too cumbersome a heading. The choice fell on the baroque composer because, for Neumeier, the atmosphere of "Cosi fan tutte" resembles that of "As You Like It". Both pieces deal with basic topics like love, nature and freedom. To tackle Shakespeare's gossipy style, Neumeier divided the play into ten themes, which he then boiled down to five for the short version included in "Shakespeare Dances". These themes are: "Injustice", "Flight and Disguise", "Shepherds Idyll", "Confusion of Love" and "Happy Ending". As a foretaste, he had the corps de ballet dance the shepherds scene – a weird, awkward and frantic stomping around accompanied occasionally by mad bursts of laughter issuing from swain William (Aleix Martínez).
"Hamlet", Neumeier choreographed in four versions. The first one, "Hamlet-Connotations" premiered in January 1976 in New York. It was tailor made for Mikhail Baryshnikov as Hamlet and featured Gelsey Kirkland as Ophelia, Erik Bruhn as Claudius and Marcia Haydée as Hamlet's mother Gertrude. That same year a second version was developed for Stuttgart Ballet. "Amleth" was Neumeier's third approach, created for the Royal Danish Theatre in 1985. There he also drew on the "Story of Amleth" by Danish historian and author Saxo Grammaticus (ca.1150 – ca.1220). The music was by Michael Tippett. The current and fourth ballet, also to the Tippett music, premiered in 1997 and is a synthesis of all preceding versions. Crucial for Neumeier in understanding the storyline is to show Hamlet's background and relationship to Ophelia before the murder of his father. Also, Gertrude's feelings for the two brothers – Hamlet's father and Claudius (initially, according to legend, she had actually lost her heart to the latter). Anna Laudere and Marc Jubete danced a short passage of "Hamlet" – his parting from Ophelia prior to departing for Wittenberg. It was Jubete's first 'Prince of Denmark' and he carried it off with youthful freshness and a winning naturalness. Well done!
For Shakespeare's "What You Will" (or "12th Night"), Neumeier chose music by Vivaldi. A balanced score of less familiar Vivaldi works was assembled for the 1996 premiere by the conductor Max Pommer. Neumeier, who until then had reacted to Vivaldi as to nightmares, found Pommer's arrangement a "healing treatment". Was there a story behind Neumeier's initial reaction? Turns out that during his time at Stuttgart Ballet, Neumeier was cast in John Cranko's "L 'Estro Armonico". It was one of those pieces aiming to turn each note of the score – a Vivaldi composition – into visible dance. Neumeier was one of six men in a group dance. He was kept frantically busy counting steps. Often the six couldn't keep together. So, hearing Vivaldi became sheer stress. But "VIVALDI or 'What You Will'" proves that this has changed fundamentally for him. He even uses Vivaldi to open and close "Shakespeare Dances".
A tidbit of amorous comedy was served by Otto Bubeníček as the lovelorn Orsino, Duke of Illyria. Orsino and three of his attendants are shown at court. Bubeníček first wallows in melancholy and then is turned on by Carolina Agüero as the clown Feste (in fact, the disguised Viola). Agüero's buffoonery was so irresistible that joy replaced Bubeníček's initial gloom.
The Workshop's second part revolved around "Giselle", which I had seen last weekend in Hamburg. Neumeier summarized the piece's checkered history from its premiere at the Paris Opéra in 1841 with a libretto by Théophile Gautier and choreography by Jean Coralli and Jules Perrot; through the revised St. Petersburg version by Perrot for Carlotta Grisi in 1850, in which his assistant Marius Petipa modified the second act. Further reworkings by Petipa took place in 1884, 1886 and finally 1899. According to Neumeier, current "traditional" versions are usually based on Petipa rather than on Coralli and Perrot. Forty-two years later, in 1910, "Giselle" was brought back to Paris by Sergei Diaghlev. In that version, Mikhail Fokine had reintroduced the Wilis' fuge into the second act. Nicholas Sergeyev staged Petipa's "Giselle" in Paris in 1924 and later also in London. In 1932 Agrippina Vaganova created a new version for St. Petersburg. No single, solely valid version of the choreography of "Giselle" exists!
To indicate how many there are, Neumeier compared his version to "traditional" ones that are rather Russian or French tinged. Neumeier's entry for the peasant pas-de-deux, for example, is presumably closer to the French prototype, while the adagio comes closer to Sergeyev's English version. Like last weekend, Madoka Sugai and Kiran West danced the pas de deux. This time, though, they radiated youthful charm and had a rounded sprightliness. Both were far and away superior on this occasion. Especially, West's nimble-footwork and suppleness were a pleasure to watch. (Is it possible that without Yannis Kokkos' sparse, modern décor the first act as a whole looked more animated? Kokkos had never seen "Giselle", only a filmed rehearsal, when he was commissioned to design the décor.) Compared to Neumeier's version, which impressed because of its harmony and the couple's display of tenderness, the Russian version, danced by Leslie Heylmann and Karen Azatyan, seemed posed, less emotional and more formal. Compared to West's swiftness and elegance in his solo, Azatyan looked ponderous.
"Why are peasants so good on point?" This question led Neumeier into a little excursion on ballet history. After the French Revolution (1789 – 1799), ballet was one of the main symbols of aristocracy. "La fille mal gardée" (premiere 1789) reconciled the opposite poles. Playing next door in the chicken yard, it was a peasant ballet which, nevertheless, kept the technique of the aristocratic art form. The peasant world and spiritual world, as in "Giselle", were counterpoles to industrialization's horrors.
Further dance excerpts illustrated other choreographic alterations. Old-school pantomime, like that with which Hilarion reveals Albert's real identity, Neumeier replaced with a motionless face-to-face confrontation. Anna Laudere (Giselle), Lloyd Riggins (Duke Albert) and Carsten Jung (Hilarion) danced the "old" version, Carolina Agüero (Giselle), Christopher Evans (Duke Albert) and Dario Franconi (Hilarion) showed Neumeier's new one. But making the two men only glare at each other with hostility doesn't get the conflict across convincingly..
In the second act of "Giselle", when Albert visits Giselle's grave, Neumeier aimed for a stronger visualization of Albert's deep emotions. In the old version, Albert's walking around reminded Neumeier of a fashion parade. Yet, as performed by the seasoned Llyod Riggins wearing a voluminous cloak and with the typical bunch of white lilies in his arms, I found the scene totally touching. Neumeier's solo for Albert, danced by Alexandr Trusch, has an expressive movement vocabulary. Instead of bringing lilies Albert has a single white flower which he "accidentally" drops. The flower seems to symbolize the love story's whole drama.
Albert's three solos, performed by three different dancers showed the evolution of a figure through dance, but also proved the importance of a dancer's ripening process. The young Christopher Evans danced Albert's solo for Giselle in the first act, Alexandr Trusch repeated his solo at Giselle's grave and senior Alexandr Riabko gave the strongest performance when commanded to dance by the Wilis.
The older generation's power was also apparent when comparing the traditional scene of Giselle going mad with Neumeier's edition. Anna Laudere (Giselle), Lloyd Riggins (Duke Albert) and ballet mistress Laura Cazzaniga (Bathilde) showed the traditional version, in which the peasants witness Giselle's death. I admired most Cazzaniga's acting. She conveyed her role's essence with a very few, crystal clear movements. Like Riggins, she has a magnetic stage personality! Neumeier invented a childish Bathilde with a teddy bear in her arm. I definitely prefer the old version. Neumeier gives the drama a plainer, more intimate setting. Only the three leading characters – Giselle (Carolina Agüero), Albert (Christopher Evans) and Hilarion (Dario Franconi) – are on stage. It's better that way, because otherwise it would have been quite dangerous for the corps de ballet due to the décor crashing down to indicate Giselle's death.
The workshop slowly approached its end with two solos. The first one, the solo Petipa choreographed for Giselle in 1887, contains many little jumps and much movement of the torso, with point work that is very quick. Point shoes, back then, didn't permit long balances on tiptoe. Neumeier reworked this solo into a group dance for six women in which the young Yaiza Call was exemplary. Silvia Azzoni, by contrast, shone in the later developed Act 1 solo for Giselle. She mastered the little, one-legged jumps on point with ease.
The final dance example showed a scene from the second act of "Giselle" which Neumeier deems to be the core of the ballet. When Giselle tries to keep Albert protectively close to the cross, he steps forward towards her and begins to dance. This, for Neumeier, is the moment Albert finally learns what it is to love.
Richard Hoynes was the workshop's distinguished and sensitive accompanist at the piano.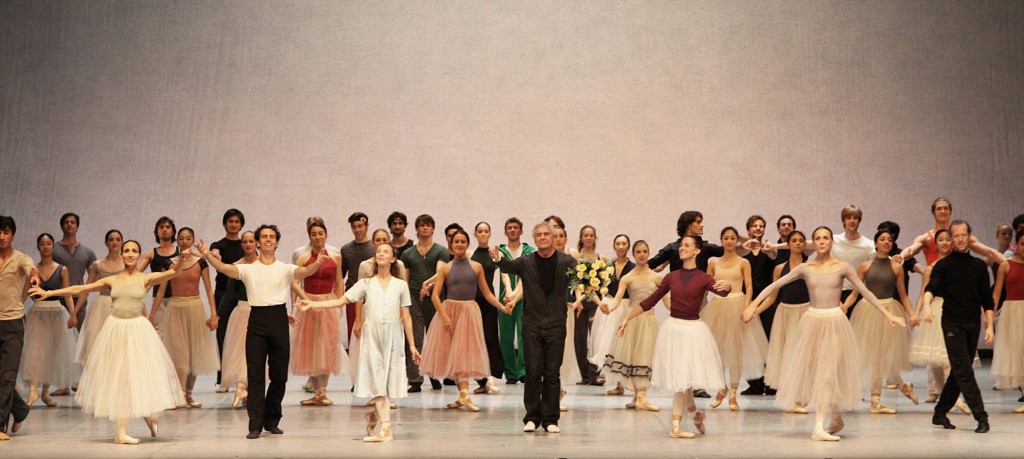 | | | |
| --- | --- | --- |
| | | |
| Links: | | Hamburg Ballet's Homepage |
| | | Festspielhaus Baden-Baden |
| Photos: | 1. | Carolina Agüero (Clown Feste/Viola) and Otto Bubeníček (Orsino), "VIVALDI or What You Will" by John Neumeier, Workshop, Hamburg Ballet 2014 |
| | 2. | Anna Laudere (Ophelia) and Marc Jubete (Hamlet), "Hamlet" by John Neumeier, Workshop, Hamburg Ballet 2014 |
| | 3. | Christopher Evans (Duke Albert), Carolina Agüero (Giselle) and Anna Laudere (Myrtha), "Giselle" by John Neumeier, Workshop, Hamburg Ballet 2014 |
| | 4. | John Neumeier and ensemble, Workshop, Hamburg Ballet 2014 |
| | | all photos © Holger Badekow 2014 |
| Editing: | | George Jackson, Laurence Smelser |