"Gala 2014"
Dance Foundation Birgit Keil
Forum Ludwigsburg
Ludwigsburg, Germany
November 07, 2014
by Ilona Landgraf
Copyright © 2014 by Ilona Landgraf
Birgit Keil, ex-prima ballerina of Stuttgart Ballet, regularly tours nearby Ludwigsburg to present her work to her former home audience. Since 1997 Keil is director and professor of Mannheim's Academy of Dance, six years later she also took over the helm of the Baden State Ballet Karlsruhe.
The gala presented both troupes, the Karlsruhe company as well as talented dancers of the Academy. A huge part of the program was reserved for the usual array of guest artists.
Students of the Academy opened the evening with "Suite Sportive", choreography by Ralf Jaroschinski set to Johannes Brahms' "Hungarian Dances". Satirizing sports – football, cheerleading, the coaching bench, tennis and dance – basically is a nice idea, but Jaroschinski gave the youngsters little to dance. Acting, accompanied by yells and groans (tennis!) dominated; the choreography consisted of running around complemented by bits of contemporary dance. Some scenes were funny but too often the gags seemed labored and laid on too thickly. Why, moreover, were the male dancers clad in silver boxer shorts
and, for the girls, additional silver bikini bras? To intensify the impression of shallow entertainment spiced up with cheap eroticism? Where has a minimum of good taste gone to if a young man has to lick the naked leg of his scantily dressed ballerina? "Suite Sportive" was not a promising start and an inapt choice to present the up-and-coming dancers.
The Baden State Ballet appeared in three pieces: "Sibelius for B." by Thiago Bordin, Reginaldo Oliveira's "Presente" and "Ballet Pathétique" by Jorma Uotinen. Bordin, an ex-student of Keil's dance academy, was Principal of Hamburg Ballet until joining the Nederlands Dans Theatre earlier this year. "Sibelius for B." is dedicated to his former teacher Keil. At the beginning a single ballerina goes over some step combinations, then the curtain closes. When it opens again the stage is crowded with dancers ready to start the action. Bordin interspersed group dances with pas de deux. Except for some interesting light effects, however, his choreography is disappointingly trite and dull.
"Presente" showed off the company much more advantageously. Brazilian percussion music set the tone for harmonious, wave-like movements but also peppery, sassy pas de deux, breathing Brazilian vitality and drive. Interesting also was Oliveira's occasional use of hard frontlight and backlight turning the dancers into black silhouettes.
"Ballet Pathétique" to Tchaikovsky's Symphony No. 6 heavily quotes Matthew Bourne's "Swan Lake" but turns the male swans repeatedly into clumsy fellows displaying the art of stumbling. Some more serious scenes showed the dancers' flexibility, their soft, loose movements. What a pity Uotinen hadn't tapped this resource of talent to a greater extent. Instead he got stuck in unimaginative, repetitive group dances.
Catherine Franco and Denis Piza of the Ballet of the State Opera Hanover brought along two pieces of which Jörg Mannes' choreography "Camille Claudel" to Chopin's Piano Concert No. 1 was the more interesting. It depicts the relationship between Auguste Rodin and his student, later assistant and mistress, Camille Claudel. Their mutual attraction and little power games, Claudel's strong sexual desire, alternated with her wish for independence to live up to her creative drive. At the end Rodin abandons Claudel and how she continues to look after him forebodes that she'll lose inner strength thereby. The second piece, "Strictly Tango", also by Jörg Mannes, radiated little tango fervor but rather resembled a couple's rough clash fittingly accompanied by awful string sounds (music: Alberto Ginastera). Wearing brown shorts, a brown bikini respectively, Piza's and Franco's artistic intertwinings reminded one of wrestlers, albeit the two didn't get violent.
"Becoming", performed by its choreo-graphers Clément Bugnon and Matthias Kass of the Swiss company idem Sainte Croix initially showed the two laying on the floor in an entangled pile of limbs, torsos and trousers. Straining to unravel and to put on their pants they contorted themselves and rolled around for quite some time accompanied by electronic noise. A sequence recalling hip-hop followed until a change of lighting and music indicated that something pregnant with meaning seemed to have happened. Whatsoever that might have been, Bugnon and Kass, stretching one's patience, changed to very slow motion movements and finally ran side by side, increasingly exhausted, until one, though trying hard, fell back.
Krasina Pavlova and Arshak Ghalumyan of the State Ballet Berlin were convincing in "Journey" choreographed by Ghalumyan. It's a poetic pas de deux unfolding like an occasional interlude during a walk through the countryside, though Ghalumyan initially rather dragged Pavlova like a sack. Then their floating, smooth dance had interesting sequences especially for Pavlova. Ghalumyan partnered her finely. Both also danced the Pas d'Esclaves from "Le Corsaire". Unfortunately that was old hat and, worse, due to the backdrop's garish rose color and the inexpert lighting – the spotlight casting dark shadows in the back – degenerated to mere kitsch. Too bad about both's apt dancing!
With "Two Pieces for Het" Marijn Rademaker started his last round of performances as Principal of Stuttgart Ballet. Joining Dutch National Ballet in January 2015 Hans van Manen's choreography gave one a foretaste of a main pillar of Rademaker's future repertory. Wearing black trunks and a black transparent leotard which curiously made him look rather more stripped, Rademaker tried to impress his Stuttgart colleague Anna Osadcenko in a boastful manly solo. Osadcenko, whose black tulle skirt tenderly swirled around her black leather bodice, was, however, a very self-assured and totally cool woman, countering Rademaker with an equally strong solo. In the second half their mutual asperity softened. At the end they leaned towards each other hand in hand. Hard shell, soft core.
Some moments of shock surrounded the pas de deux of the second act of "Swan Lake". First Tchaikovsky's dreamy adagio clashed with van Manen's analytical leather and bondage romance. Wolfgang Heinz, one of Stuttgart Ballet's seasoned conductors, guided the Orchestra of the Schlossfestspiele Ludwigsburg masterfully through the program but slowed the pace for the violin solo too much. Marlon Dino as Prince Siegfried should have kept his Odette – Lucia Lacarra – for a little eternity in the air to stay in time with the music. Both are in the top roster of the Bavarian State Ballet's ensemble. I winced for the
second time when Lacarra, after unfolding her luxurious limbs with utmost delicacy and elegance, fell off pointe. Then in the middle of the curtain call she went off stage leaving her Prince standing alone. The couple recently announced that Lacarra will have a break from stage due to pregnancy. For the time being the Ludwigsburg gala was her last performance.
A stand out from the program's potpourri and my favorite was "Elégie", Liam Scarlett's choreography to Rachmaninoff's melancholy Elegie of "Morceaux de Fantasie". Having the music played live on stage by pianist Angela Yoffe reinforced the concentrated atmosphere that American Ballet Theatre's Hee Soo and Cory Stearns evoked from the very first moment. Superbly attuned to each other and technically impeccable the two absorbed the eyes. Petite Soo, every inch beautiful perfection, danced as if weightless. Stearns, partnering very attentively, seems to be an exceptionally sensitive dancer.
The program was repeated on Saturday and Sunday where reportedly everything went smoothly. Both nights Birgit Keil spared the audience her initial speech of thanks – the seventy-year-old is not a compelling speaker and given her formidable career I'm wondering why she still behaves little-girl-like – and the curtain was closed before the applause died. On Friday Ballet Pathétique's male swans had to remain until the very last claps.
Making a gala to a memorable highlight really isn't easy.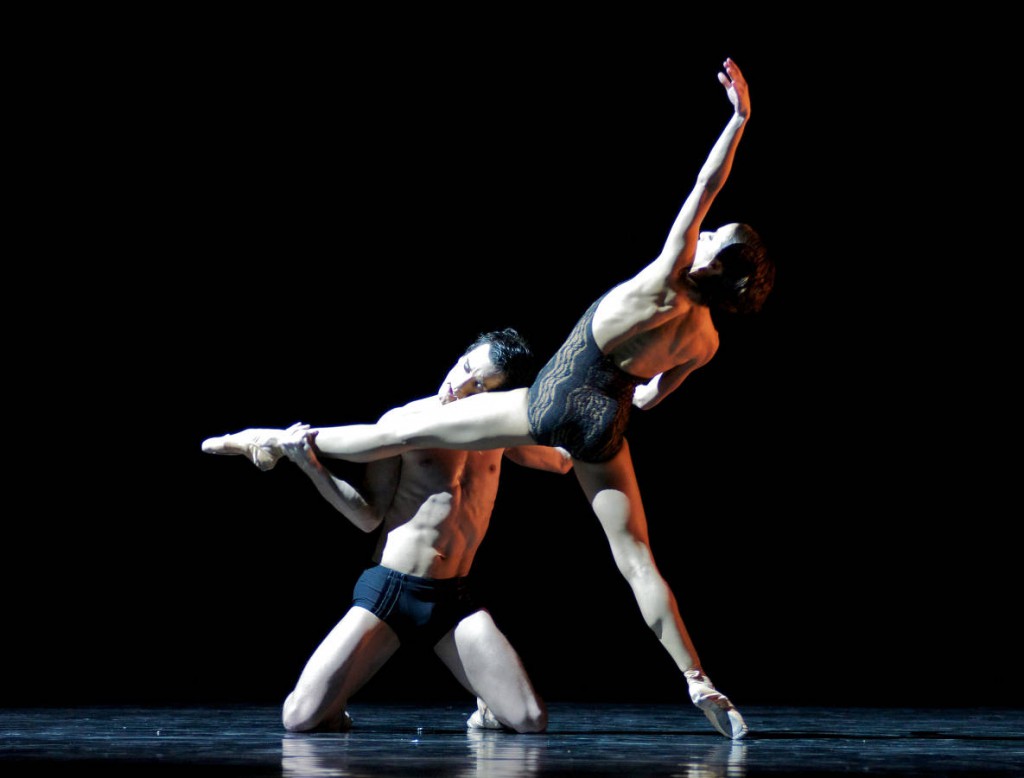 | | | |
| --- | --- | --- |
| | | |
| Links: | | Homepage of the Baden State Ballet Karlsruhe |
| | | Homepage of the Dance Academy Mannheim |
| | | Homepage Forum Ludwigsburg |
| Photos: | 1. | Bruna Andrade, Kt. Flavio Salamanka and ensemble, "Presente" by Reginaldo Oliveira, State Ballet Karlsruhe © Jochen Klenk 2014 |
| | 2. | Bruna Andrade, Kt. Flavio Salamanka and ensemble, "Presente" by Reginaldo Oliveira, State Ballet Karlsruhe © Jochen Klenk 2014 |
| | 3. | Ensemble, "Ballet Pathétique" by Jorma Uotinen, State Ballet Karlsruhe © Jochen Klenk 2014 |
| | 4. | Ensemble, "Ballet Pathétique" by Jorma Uotinen, State Ballet Karlsruhe © Jochen Klenk 2014 |
| | 5. | Rafaelle Queiroz and Admill Kuyler, "Sibelius for B." by Thiago Bordin, State Ballet Karlsruhe © Jochen Klenk 2014 |
| | 6. | Rafaelle Queiroz and Admill Kuyler, "Sibelius for B." by Thiago Bordin, State Ballet Karlsruhe © Jochen Klenk 2014 |
| | 7. | Rafaelle Queiroz and Admill Kuyler, "Sibelius for B." by Thiago Bordin, State Ballet Karlsruhe © Jochen Klenk 2014 |
| Editing: | | Laurence Smelser |