"The Nutcracker"
Semperoper Ballet
Semperoper
Dresden, Germany
November 22, 2014
by Ilona Landgraf
Copyright © 2014 by Ilona Landgraf
While Dresden is just starting to build up the numerous stalls for its famous Christmas markets, Semperoper Ballet has already begun to put audiences in a festive mood with the first of a series of sixteen "Nutcrackers".
Rather restrained in choreographing, Semperoper Ballet's artistic director Aaron S. Watkin replaced John Neumeier's version of the "Nutcracker" which had been in the company's repertory until 2010 by his own new creation in 2011. As with "Coppélia" which also premiered in 2011, Watkin collaborated with Jason Beechey, rector of Dresden's Palucca School for Dance. Putting aside historical records they created completely new choreography yet firmly grounded on classical movement vocabulary. Both two acts of the ballet involve a great number of students of the Palucca School of Dance giving the Christmasy goings-on and the festivities at the Land of Sweets a natural and vivid atmosphere. Almost the whole school participates, around thirty students of different age per cast complemented by eight little children as Polichinelles.
Watkin and Beechey kept Petipa's and Vsevolozhsky's libretto but made minor adjustments. Following E.T.A.Hoffmann's underlying story the puppets Marie stores in the family's glass cabinet become alive in the Land of Sweets. Moreover the plot doesn't end at the Sugar Plum Fairy's court but with Marie, again a little girl, lying on the home sofa and being woken up from her fantastic dream by her mother. However, unlike, for example, Peter Wright in his version for the Royal Ballet, Watkin and Beechey didn't explore the roots of the bitter enmity between the Nutcracker and the Mouse King and how that all is connected with Drosselmeyer. Thus it remains somehow inscrutable why Drosselmeyer arranged the battle at night and what role he destined for Marie.
Roberta Guidi di Bagno's set and costumes evoke the time of the Nutcracker's creation in 1892. But in terms of color, she extensively indulges in a pastel glitter world in the second act. When Dresden's "Nutcracker" was broadcast via the television channel arte in 2011 I found it overly kitschy but after having seen it on-site, from two perspectives, the third balcony's bird's eye view and close-up from the first row behind the pit, I've had to revise my initial impression. Seen live the tale seemed completely rounded, unfolding in a snow globe-like dream world
harmoniously framed by the Semperoper's great architecture. Actually it caught and condensed the city's subtly arising Christmas magic. The camera's perspective, however, hadn't caught this overall picture at all! Albeit no one necessarily notices that Guidi di Bagno had a noble villa from one of Dresden's wealthier districts in mind when creating the Stahlbaum family's elegant salon or that the magic winter forest's tree trunks, which are covered with frost, were inspired by the snowy leaf trees of the little park next to the Opera, the rest of the decor has a strong local flavor. The prologue's evening Christmas fair where Drosselmeyer buys the wooden Nutcracker and the mouse puppet is a time journey back one-hundred years ago to the famous "Striezelmarkt" located in the heart of Dresden. And the Sugar Fairy's court clearly resembles the Dresden Zwinger's Rococo arcades only that they're made of colorful candy sticks, icing and marzipan. A uniquely Dresden "Nutcracker" so to say and much loved by the audience. Hence the house was packed to the roof.
As expected the Christmas party at Stahlbaum's was turbulent. (The photos show a partially different cast from an earlier performance.)
Ralf Arndt as the doddery grandfather plagued with lower back pain created slapstick comedy and Drosselmeyer's oversized presents – the mechanical puppets and the Nutcracker-Mouse King duo – aroused wonder and admiration. As if magically made alive by Drosselmeyer, the puppets (Lea Schäfer and Niklas Jendrics) lost their machine-like jerkiness and, resembling the Sugar Plum Fairy and her cavalier in miniature, danced a simplified excerpt from the second act's Grand Pas de Deux. A clever twist to make the part easier for the youngsters! Christian Bauch as Drosselmeyer was less weird and scary but rather an odd, but good-natured chap who loves children. Without a doubt he was up to something secret. I liked the children's and adolescents' realistic acting and lively dancing. They really seemed to feel comfortable on stage! Marie's older sister Louisa (Esmeralda Vollmer) was a likeable, perfect young lady, her brother Fritz a real rascal and Felicia Friedrich as little Marie touching in her worry for the "wounded" Nutcracker she had taken into her heart. Mice and tin soldiers fought fiercely under the imposing Christmas tree.
Their battleground was all parading and hissing accompanied by the thunder of a cannon and gun smoke. Even soldiers on horseback were mobilized! Bold Marie who, completely exhausted, had fallen asleep, was put to bed on the family's red velvet sofa by Drosselmeyer (a very opulent piece of furniture faintly reminiscent of the benches in the opera's rotunda). In her dream she was nonchalantly escorted to the magical winter forest by the incarnate Nutcracker, now Prince (István Simon). Little Marie turned into a charming young woman on her dream journey, now danced by Sarah Hay. Hay and Simon had a marvelous pas de deux in the winter idyll. Natural and fresh in her acting, Hay was at first tentative but soon lost her shyness and gave way to tender amorousness. Thoroughly gallant and noble as a her young admirer, Simon expressed his joy of being freed from the Nutcracker existence and, above all, his pride in having won such a beautiful woman's heart with powerful leaps and turns. Glittery snowflakes and icicles, the entourage of the Snow Queen, swirled around the stage in gorgeous patterns. As Queen, Sangeun Lee radiated the pristine beauty of a perfect snow crystal, her dancing cutting clear shapes in the winter cold.
Of the second act's divertissements, Francesco Pio Ricci, Craig Davidson and Houston Thomas, all three brimming with verve, stood out in the Russian divertissement. Perfectly made-up for the Chinese divertissement Michael Tucker scampered and jumped with dizzying speed, framed by Anya Kulas and Susanna Santoro who decoratively waved long, white scarves. The Spanish divertissement, lead by Julia Weiss, looked too ballerina-like. It needs more fever and panache. Jenni Schäferhoff demonstrated her pliability in the Oriental dance, her seductive hip swings, however, looked contrived. This wasn't Schäferhoff's fault but rather the fact that oriental sexual stereotyping is passé. Laurels go to the female corps de ballet who shone in the Dance of the Mirlitons and the Waltz of the Flowers. And, naturally, the cute Polichinelles stole the show as they hatched out of Mother Gigogne's (Casey Ouzounis) enormous hoop skirt.
Swetlana Gileva reigned over the Land of Sweets as Sugar Plum Fairy. Jiří Bubeníček was her cavalier. Both infused their noble demeanor with warmth and cordiality. Bubeníček's elegant line and masterful technique was especially impressive.
Conducted by David Coleman the Sächsische Staatskapelle Dresden made Tchaikovsky's score, played at full length, into a delight. A totally entertaining evening!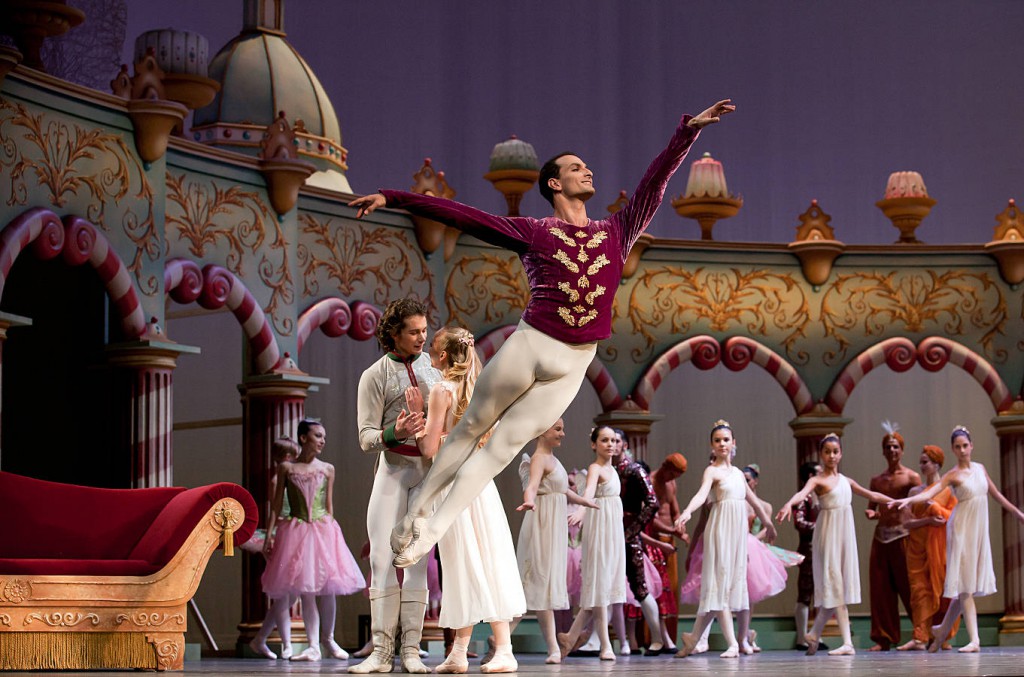 | | | |
| --- | --- | --- |
| | | |
| Links: | | Homepage of Semperoper Ballet |
| Photos: | | (The photos partially show a different cast from an earlier performance.) |
| | 1. | István Simon (Nutcracker), "The Nutcracker" by Aaron S. Watkin and Jason Beechey, Semperoper Ballet 2014 |
| | 2. | Raphaël Coumes-Marquet (Drosselmeyer), ensemble and students of the Palucca School, "The Nutcracker" by Aaron S. Watkin and Jason Beechey, Semperoper Ballet 2014 |
| | 3. | Oleg Klymyuk (Drosselmeyer), Lydia Jahn (Marie, child) and students of the Palucca School, "The Nutcracker" by Aaron S. Watkin and Jason Beechey, Semperoper Ballet 2014 |
| | 4. | Sangeun Lee (Snow Queen) and ensemble, "The Nutcracker" by Aaron S. Watkin and Jason Beechey, Semperoper Ballet 2014 |
| | 5. | Anna Merkulova (Marie, adult), István Simon (Prince) and ensemble, "The Nutcracker" by Aaron S. Watkin and Jason Beechey, Semperoper Ballet 2014 |
| | 6. | Jenni Schäferhoff and Boris Richir (Oriental Divertissement), "The Nutcracker" by Aaron S. Watkin and Jason Beechey, Semperoper Ballet 2014 |
| | 7. | Hannah McDonald, Jón Vallejo, Anisa Sinteral-Scott (Chinese Divertissement), "The Nutcracker" by Aaron S. Watkin and Jason Beechey, Semperopera Ballet 2014 |
| | 8. | Anna Merkulova (Marie, adult), István Simon (Prince) and ensemble, "The Nutcracker" by Aaron S. Watkin and Jason Beechey, Semperoper Ballet 2014 |
| | 9. | Jiří Bubeníček (Consort of the Sugar Plum Fairy), Anna Merkulova (Marie, adult), István Simon (Prince) and ensemble, "The Nutcracker" by Aaron S. Watkin and Jason Beechey, Semperoper Ballet 2014 |
| | | all photos © Costin Radu 2014 |
| Editing: | | Laurence Smelser |