"Napoli"
Hamburg Ballet – John Neumeier
Hamburg State Opera
Hamburg, Germany
December 31, 2014
by Ilona Landgraf
Copyright © 2015 by Ilona Landgraf
Like the Bavarian State Ballet's recent triumph with "Paquita", John Neumeier's Hamburg Ballet revived an old classic, August Bournonville's "Napoli", a buoyant, romantic love story with dramatic sprinklings, transferring the southern Italian joy of life to the Elbe River.
Premiering in 1842 in Copenhagen, "Napoli" is a staple of the Royal Danish Ballet's repertory, so long as Nikolai Hübbe doesn't continue replacing Bournonville's legacy with his own creations, as happened with "La Sylphide" this autumn. Similar to other ballets of the romantic period, the libretto of "Napoli" is lightweight. Bournonville's source of inspiration was a journey to southern Italy. Drawing on myriad impressions – from the quarreling fish traders to different types of street merchants, flirting youth, ragged beggars and monks strolling around – he wrote the libretto on his way back home, more precisely in the stagecoach between Paris and Dunkirk in northern France. Even an episode during an excursion to the fishing village Baiae was worked in: until 1848 Bournonville, still actively dancing in Copenhagen's ensemble and also artistic director and senior choreographer, surprised his fellow travelers when he himself suddenly replaced a dancer of a local dance group in a lightning tarantella.
The sentimental story is as follows: The widow Veronica aims to marry her daughter Teresina off to one of Naples' wealthy merchants, either Peppo or Giacomo. Having a mind of her own, Teresina, however, is determined to marry the penniless fisherman Gennaro. Finally getting the mother's blessing the two lovers sail out for some time alone together, but get into a storm from which only Gennaro returns home. Teresina is lost without a trace. Cursed by Veronica and close to drowning himself, Gennaro eventually recovers due to the moral support of the town monk Fra Ambrosio. Strengthened by his religious belief – the Madonna dell' Arco, the town's patron saint is an important anchoring figure in everyday life – Gennaro searches for his beloved. He finds her in the Blue Grotto, in the clutches of the sea spirit Golfo. With magical powers Golfo has brought the Naiads, drowned girls' souls, under his sway. Teresina has become one of them as well. But Gennaro's fervent prayers and the sight of an amulet he holds showing the Madonna break the spell over her. Both are able to escape from Golfo's Grotto. All's well that ends well: Gennaro and Teresina return to Naples and, despite Peppo and Giacomo stirring up suspicion amongst the crowd, get happily married.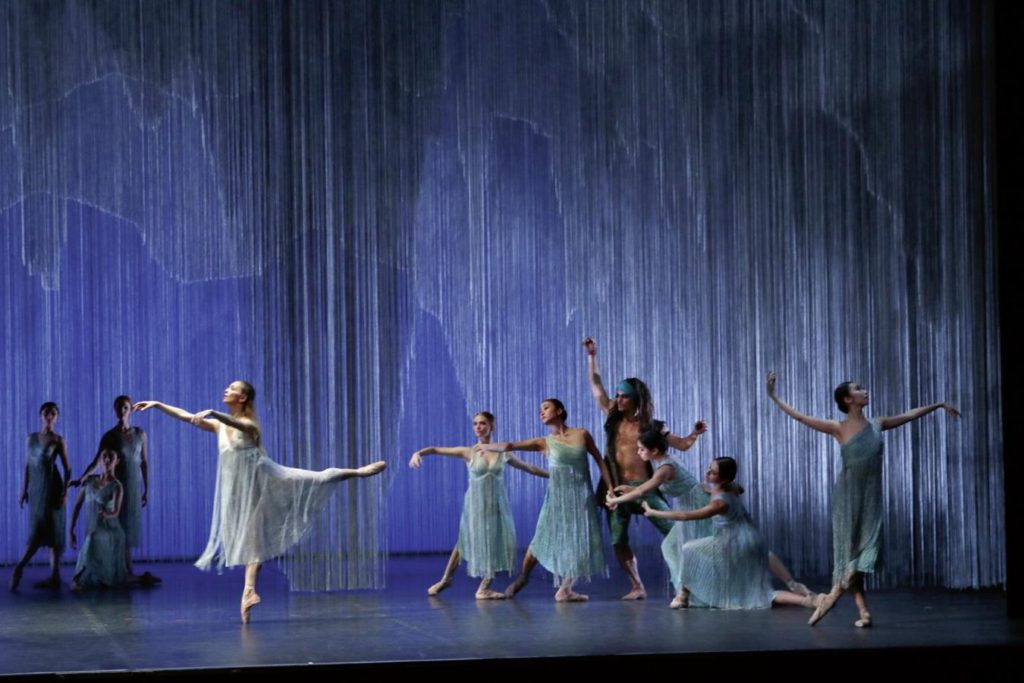 While the first act, a mix of mime scenes and dance, is set at Naples' harbor Santa Lucia, the second takes place in Golfo's water realm. The reunion of mother, daughter and son-in-law and the subsequent wedding festivities unleash exuberant dance. Fittingly the happy ending takes place outside Naples at the Monte Vergine, a place of pilgrimage for the Madonna dell' Arco.
For the first time in Hamburg Lloyd Riggins was in charge for staging and choreographing a new piece that also happens to be a new version of Napoli. The American Riggins, veteran principal dancer and ballet master of the Hamburg company, also being Neumeier's desired candidate to succeed him in 2019, has a special relationship to Danish ballet history. He joined the Royal Danish Ballet in 1987 where he was quickly promoted to principal rank and – what was an honor for a dancer from abroad – was entrusted with solo parts in "Napoli". He danced in the first act's divertissement, the third act's Pas de six, and also as the fisherman Gennaro. Thus Riggins is well acquainted with Bournonville's style and "Napoli" in particular. Since 1995 as a member of Neumeier's company, he said by staging "Napoli" he would have come full circle. Well, at least for the present. If at the helm of Hamburg Ballet and responsible for the company's future course great challenges are in store for Riggins.
While the first and the third act's choreography underwent repeated adaptions either by Bournonville himself or by his successors after his death in 1879, Riggins' main task was to create new choreography for the second act, as this part of the original has been definitely lost. He didn't intend to showcase his own talent with modern choreography but aimed instead for an homage to Bournonville, to his style, to his understanding of what is the core of a romantic ballet. In short the priority was for a middle piece that fit perfectly.
The Dane Rikke Juellund was commissioned to execute set designs and costumes. Her Naples harbor and the pilgrimage site at Monte Vergine are colorful places with a deliberate touch of artificial simplicity. At Monte Vergine a path on top of two archways allows bystanders to watch the festivities from above. It's a construction similar to that in "Paquita", obviously an established element of the mid-19th century scenery. The Blue Grotto's interior is designed with a curtain of threads of different lengths billowing softly in a cold, blue shimmering light. It seems like a crystalline goblet turned upside down.
Riggins' Naiads, clad in blue iridescent dresses resembling the threads of the backdrop, move harmoniously. Like flowing water, they display silent elegance. Unlike Naples' citizens living in the hubbub of the here and now, the Naiads are aloof. Like waves their dance is inherently harmonious and graceful but remains intangible. Floating souls. Their master Golfo (Otto Bubeníček), a modern macho type with dreadlocks, shorts and a frayed vest dances with powerful contemporary movements. Being neither a demonic sorcerer nor the incarnation of the underwater world Eros, he was an unhappy man. Circling around his Naiads like a warden around his prisoners he was unable to establish any fulfilling relationship to them. Still he didn't let the beautiful Teresina escape. Deprived of her memory, she would have become just one additional Naiad – if Gennaro hadn't saved her. Stewing in his own juice Golfo actually lacked any idea how to get down to the root of the trouble, that is his discontent. Hence, when confronted with Gennaro's strong religious belief and the power of the Madonna, Golfo's strength dwindled rapidly.
As Teresina Silvia Azzoni radiated youthful, jaunty charm. Fancied by all and with a free-spirited, natural nature she decidedly knew what she wanted and how to get her way with her mother Veronica (Niurka Moredo), a warmhearted widow. The mother's intention to make her daughter climb the social ladder when marrying was thwarted but – well – that's how daughters are. Azzoni's sparkling dancing, especially her solo in the third act, was a delight. No wonder she had three admirers. I'm still amazed how she could change her costume in what seemed to be milliseconds when turning into a Naiad and later when being freed. Especially as she was standing center stage! Maybe some magic trick of Golfo…
Alexandre Riabko, her heart's favorite, was a likeable Gennaro. His despair and guilty feeling after having lost Teresina would have made a stone cry. I liked most his arrival at the Grotto. Gliding into the cavern his little boat carried the warm light of hope into the blue coldness. Perfectly attuned to each other Azzoni and Riabko formed a unified whole in their pas de deux.
Teresina's spurned suitors were Carsten Jung – as the soda merchant Peppo, who tried to boost his advantage by dangling a pack of money under Veronica's nose – and Konstantin Tselikov as Giacomo, a macaroni merchant. Rather subservient, the latter was in fact a sly old dog. Two hilarious examples of Italian manliness indeed! Both seemed to relish their miming roles. It was a pleasure to watch them! Actually it would be interesting to have a closer look at the differences in the miming styles of Bournonville and Petipa, a topic Riggins touched in the playbill. The third act's Pas de six was also beautiful to watch, though Anna Laudere hasn't yet captured the Bournonville style. She looked tense in her upper body. But I was happy to see that Karen Azatyan, who has joined Hamburg Ballet this season, has settled into the company. He seemed to feel totally at ease and danced with a sprightly manner.
As one of the fishermen Christopher Evans made his mark in several solos. He is a high-voltage jumper with a winning smile. Likewise, Madoka Sugai was a bundle of vitality. Brimming over with life Yuka Oishi and Thomas Stuhrmann had a good romp in the tarantella. Overall, the company responded well to the challenges of a formerly less familiar dance style and was in good spirits.
As two New Year's Eve goodies, Riggins, a superb actor, slipped into the role of the street singer Pascarillo and Neumeier, enthroned on an old hay wagon, was pulled on stage to drink a New Year's toast to the audience at the end.
Also, a little surprise was hidden in the assemblage of music. To accelerate the score's completion, Bournonville commissioned four composers –Edvard Helsted, Holger Simon Paulli, Niels Wilhelm Gade and Hans Christian Lumbye – to make their contributions. On several occasions revolving around the Madonna, Gade blended in "O Sanctissima", a hymn to the blessed virgin Mary, which in Germany today is known everywhere as the Christmas carol "O du fröhliche". Hamburg's Philharmonic Orchestra, guided by Markus Lehtinen, gave a spirited rendition of the score.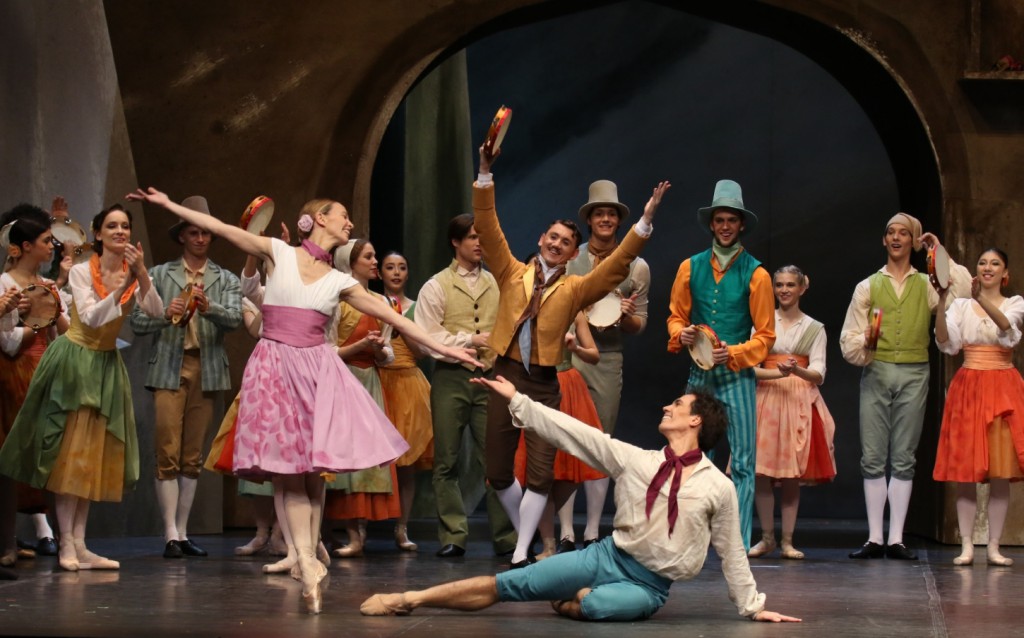 | | | |
| --- | --- | --- |
| | | |
| Links: | | Hamburg Ballet's Homepage |
| Photos: | 1. | Laura Cazzaniga (Veronica, a widow; at New Year's Eve Niurka Moredo danced the role), Alexandre Riabko (Gennaro, a fisherman), Silvia Azzoni (Teresina, Veronica's daughter), Konstantin Tselikov (Giacomo, a macaroni merchant), Marc Jubete (Monk Fra Ambrosio) and ensemble, "Napoli" by August Bournonville and with new choreography by Lloyd Riggins, Hamburg Ballet 2014 |
| | 2. | Silvia Azzoni (Teresina), Otto Bubeníček (Golfo, a sea spirit) and ensemble, "Napoli" by August Bournonville and with new choreography by Lloyd Riggins, Hamburg Ballet 2014 |
| | 3. | Silvia Azzoni (Teresina) and Otto Bubeníček (Golfo), "Napoli" by August Bournonville and with new choreography by Lloyd Riggins, Hamburg Ballet 2014 |
| | 4. | Ensemble, "Napoli" by August Bournonville and with new choreography by Lloyd Riggins, Hamburg Ballet 2014 |
| | 5. | Silvia Azzoni (Teresina), Alexandre Riabko (Gennaro), Konstantin Tselikov (Giacomo) and ensemble, "Napoli" by August Bournonville and with new choreography by Lloyd Riggins, Hamburg Ballet 2014 |
| | | all photos © Holger Badekow 2015 |
| Editing: | | Laurence Smelser |