"Stravinsky TODAY" ("Le Chant du Rossignol","L'Histoire du Soldat", "The Firebird")
Stuttgart Ballet
Stuttgart State Opera
Stuttgart, Germany
March 21, 2015
by Ilona Landgraf
Copyright © 2015 by Ilona Landgraf
Stuttgart Ballet's new triple bill is an all-Stravinsky evening. Three choreographers – Marco Goecke, Demis Volpi and Sidi Larbi Cherkaoui – explored the exceptional composer's music for their works. Two ballets are world premieres: Volpi's "L'Histoire du Soldat" to Stravinsky's suite from 1919 and Cherkaoui's "The Firebird" to the Firebird-suite for orchestra, while Goecke presented a revision of his "Le Chant du Rossignol" originally created for the Leipzig Ballet in 2009.
Around a century ago Stravinsky's unfamiliar, bold compositions set the ballet community abuzz. The scandal the Ballets Russes caused in Paris in 1913 with Nijinsky's choreography of "Le Sacre du Printemps" has no equal. Stravinsky, Diaghilev, the Ballets Russes – an explosive, cross-fertilizing artistic collaboration. What impact has Stravinsky today? A question raised in the program book, which in the same breath mentions that using Stravinsky's music already has a long tradition in Stuttgart: "The Soldier's Tale" was Cranko's first choreography in Cape Town in 1944. Ten additional ballets by Cranko set to Stravinsky followed, among them "The Firebird" (1964, a production for the Deutsche Oper Berlin) and "Le Chant du Rossignol" for Munich (1968).
Goecke, current resident choreographer of Stuttgart Ballet, remained true to the style that he has made into a name for himself: a dark stage overcast by fog, its depths an unfathomable darkness. A pallid light shines through the misty clouds. Minimalistic costumes: All dancers, three women and eight men, wear black trousers, the women additionally wearing simple, skin-colored tops. The men are bare-chested, displaying upper body muscular activity which is a core element in Goecke's pieces. Movements are fast, small steps reminding one of agile insects. When dancers stand, the legs are always tightly closed. Jerky, yet supple arm movements, often swiftly executed, prevail. From time to time the dancers breathe audibly, hiss or whistle. Hands occasionally flutter in a furious manner. Sometimes muscular tension makes whole upper bodies shiver.
Talking about his choreography Goecke referred to holding a nervous bird in his hand, which trembles, which wants to escape, which is bony, yet fragile, and feather-light. Though Stuttgart's male dancers are far from fragile lightweights, rather being perfectly trained musclemen, they precisely convey the piece's inherent sensitivity and subtle vulnerability. Daniel Camargo, with strong stage presence and body control, stands out in his solos. After an initial thunderbolt, he raises his fist angrily towards the sky as if threatening the gods. Later he cautiously shuffles a small box between his feet across the stage out of which a nightingale chirped. The bird itself is never in sight. Suddenly it starts to rain – a shower heralding spring? Is the smiley in the form of a sun painted on one dancer's back a cheeky reminder of lighter days to come?
At the end Camargo stands at the forestage and draws a circle with his arms as if bringing the matter to a conclusion. One needs time to get used to Goecke's odd style. But then its aesthetic and strange beauty are absorbing.
"L'Histoire du Soldat" is based on two Russian tales. It is about a young soldier (Alexander Mc Gowan), a keen violin player whom the devil (Ruiqi Yang), a female creature in Volpi's version, persuades to barter his violin for a book which promises great wealth. But Volpi replaced the book with a suitcase full of golden glitter junk.
The devil moreover demands to be taught how to play the violin within a few days. But, without noticing, many years instead of days pass by until the soldier returns to his girl friend (Elena Bushuyeva). Meanwhile grown old, gray haired and bowed with grief, she falls dead when clasped in his arms. Remorseful and desperate the soldier tries to get his violin back but the devil wouldn't be the devil if she were responsive to such plights. Instead she lets the violin slip into the fire. Unable to rescue what was dearest to him the soldier is killed when running towards the flaming hell-like fire. The devil, highly satisfied with herself, finally slouches down on one of the suitcases the stage is cluttered with and, to Franz Schubert's "Du holde Kunst", smokes a cigarette. The endangerment of creativity and of free artistic expression are topics Volpi addressed earlier in his work "Aftermath". No objections to this. However, Schubert's song takes time and merely watching Yang smoke, as cool as ice, is boring.
The suitcases, actually growing towers made out of old suitcases, were invented by stage designer Katharina Schlipf with whom Volpi has an established collaboration. Some suitcases contain surprises: cannons, pyrotechnics, even the devil emerges from one larger exemplar. Later, in the course of the story an array of six girls wait for their suitors' furloughs. With a beaming smile, each of them sits at a kitchen table in a mini-living room which is squeezed into a large, box-like suitcase. Flowery wallpaper, everything neat and tidy, a 'Home. Sweet Home'-atmosphere. Basically a funny idea but when the young women start to set their tables first for breakfast, then lunch and finally the afternoon coffee – the tableware and the cake are cut out of cardboard – things get tiresome.
Schlipf was also in charge of the costumes, brown uniforms with knickerbockers for the soldiers and trim, calf-length dresses for the six girls. The devil's whole body is white as flour. Most of the time Yang hides her face behind a grotesque demon mask which she holds in her hand on a stick.
Originally "L'Histoire du Soldat" was the result of a collaboration between Stravinsky and the poet Charles-Ferdinand Ramuz during World War I. In need to establish a source of income both searched for possibilities to present their work to the public. A traveling theater with a small ensemble was their solution: one reader, two actors, one
ballerina and seven musicians. The piece premiered in 1918 in Lausanne conducted by Ernest Ansermet. It is a chamber play. Thus it is hard to transfer it into the dimensions of an opera stage. Regardless of the quantities of suitcases used it doesn't work out sufficiently well in Stuttgart. As he did with the cardboard tableware Volpi occasionally simplifies the acting of some characters which makes them seem blatantly artificial: the waiting girls' demeanor, for example, or the soldier's desperation when facing the death of his girl-friend – Mc Gowan's gestures, mainly formulaic arm movements pretending emotional turmoil, are lame and vacuous. Dance is sparsely represented. Yang's wriggling doesn't fill the stage, Mc Gowan's role is rather pale, the soldiers march – partly in slow motion – and hop as if on a hiking tour. Adding a prologue without musical accompaniment, in which the stage is being filled with suitcases while soldiers are getting dressed adds to the overall sensation of a dull piece.
"L'Histoire du Soldat" is the fourth creation that Stuttgart Ballet has commissioned from its resident choreographer. Probably not a good choice; different Stravinsky music might have suited Volpi better. The company is known for risking experiments and trying something new. But one should distinguish between successful experiments and failures, evidently looming ahead. Strangely, no one from the supporting team around Volpi seemed to have recognized the current project's weaknesses and intervened in time.
Cherkaoui, much sought after in the contemporary dance scene, had free choice of the topic when charged to create new choreography for Stuttgart Ballet. Opting for "The Firebird" actually entailed that the focus was set on Stravinsky's music. Stuttgart's audience looked forward on the premiere. It was deemed as one of this season's highlights.
But Cherkaoui didn't retell the Russian tale of Prince Ivan, Kashchei and the thirteen princesses. Instead he aimed to transform associations – flickering flames, a volcanic eruption, the burning of creatures, the phoenix emerging from the ashes – into movement. He kept, however, the figure of the Firebird. Rachele Buriassi in a brightly orange costume with a tail made out of large panels of fabric (costumes by Tim Van Steenbergen) is the first Firebird, in the course of the piece another ballerina slips into the role. Another special figure is a man, maybe a wanderer (Jason Reilly). At the beginning Reilly comes across what looks like a giant egg (Cherkaoui's volcano?) made out of several huge, dark blocks which are mirrored on one side. When a crack opens the egg, the orange fabric bursting out heralds the hatching, or, according to the perspective, the ascent of the Firebird. Watched by Reilly the blocks close again at the end, hiding, saving or maybe even capturing the other dancers. In between Cherkaoui invented complex choreography rather classical in style.
There are plenty of virtuoso lifts, and patterns with dance partners changing constantly. Though everything is in a state of flux, inherent order shines through. Many scenes allow various interpretations: Are the men standing in a circle around the dancing women keeping them under guard? Or do they protect them? Cherkaoui aimed to allude to a sea of flames when the dancers are mirrored manifold times in the block elements. But flames didn't come at all to my mind, I rather thought of the stage being overpopulated! The flickering video projections on the floor (by Philipp Contag-Lada) were much more effective in creating the impression of fire. The dancers' tops, resembling ribcages made of ribbons doesn't evoke the idea of skeletons as intended by Cherkaoui. The dancers, thoroughly fit, look much too vital, no one fell into such decline.
I liked most the final group dance, airing feathery lightness and joie de vivre, in which the Stuttgart dancers seem to be especially in their own element. The entire cast was top-notch (among others: Miriam Kacerova, Anna Osadcenko, Elisa Badenes, Friedemann Vogel and Daniel Camargo) but on no one is there any special focus. The overall impression is crucial and here the ensemble makes its mark.
Although Cherkaoui delivered no stunning new sensation, "The Firebird" is an interesting, multi-faceted piece with beautiful dances for the company.
James Tuggle and the State Orchestra Stuttgart – playing in reduced size for "L'Histoire du Soldat" and in full size for the other ballets – truly excelled. A special bouquet to them!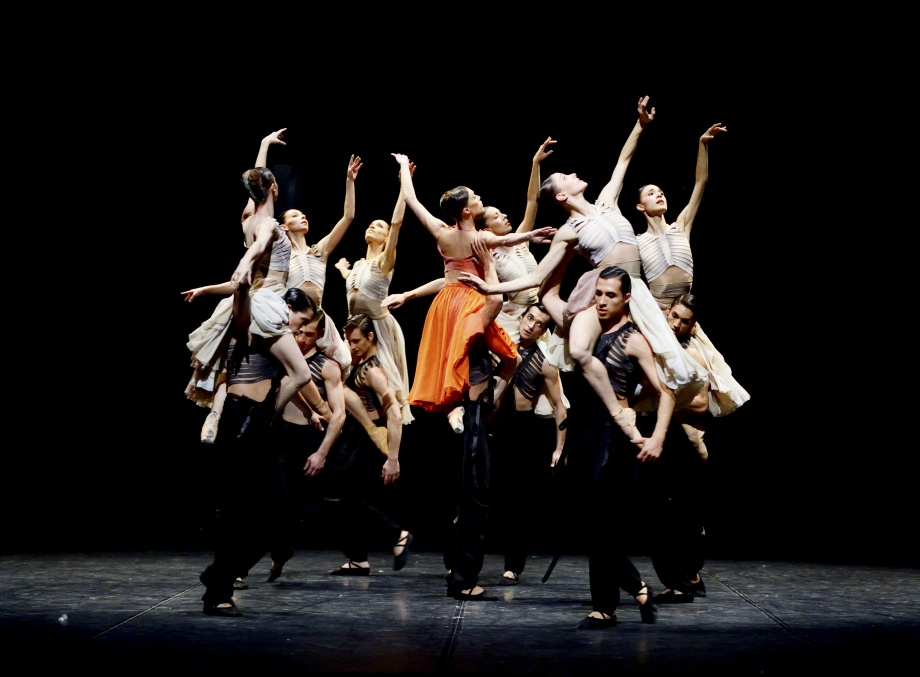 | | | |
| --- | --- | --- |
| | | |
| Links: | | Stuttgart Ballet's Homepage |
| Photos: | 1. | Daniel Camargo, "Le Chant du Rossignol" by Marco Goecke, Stuttgart Ballet 2015 |
| | 2. | Roland Havlica, Heather MacIsaak, "Le Chant du Rossignol" by Marco Goecke, Stuttgart Ballet 2015 |
| | 3. | Daniel Camargo, "Le Chant du Rossignol" by Marco Goecke, Stuttgart Ballet 2015 |
| | 4. | Ensemble, "L'Histoire du Soldat" by Demis Volpi, Stuttgart Ballet 2015 |
| | 5. | Ruiqi Yang (The Devil), "L'Histoire du Soldat" by Demis Volpi, Stuttgart Ballet 2015 |
| | 6. | Ruiqi Yang (The Devil), Alexander Mc Gowan (The Soldier) and ensemble, "L'Histoire du Soldat" by Demis Volpi, Stuttgart Ballet 2015 |
| | 7. | Jason Reilly and Rachele Buriassi, "The Firebird" by Sidi Larbi Cherkaoui, Stuttgart Ballet 2015 |
| | 8. | Rachele Buriassi and Jason Reilly, "The Firebird" by Sidi Larbi Cherkaoui, Stuttgart Ballet 2015 |
| | 9. | Ensemble, "The Firebird" by Sidi Larbi Cherkaoui, Stuttgart Ballet 2015 |
| | | all photos © Stuttgart Ballet 2015 |
| Editing: | | Laurence Smelser |