"Winterreise" ("Winter Journey")
Hamburg Ballet – John Neumeier
Hamburg State Opera
Hamburg, Germany
March 29, 2015
by Ilona Landgraf
Copyright © 2015 by Ilona Landgraf
Reviving John Neumeier's "Winterreise" in early spring seems odd programming. The ballet is based on Franz Schubert's somber song cycle of 1828 as rendered musically by German conductor and composer Hans Zender. The twenty-four songs' verses seem simple at first glance, almost folk-like, but plumb deeply into existential states of mind. Center stage are a young wayfarer's experiences – encounters he has had with others along his life's passionate path. Even if spring moods must be left aside "Winterreise" was a good opener the week before Easter.
Schubert had based "Winterreise" on poems by Wilhelm Müller (1794 – 1827), and he set them without informing the poet. Some attribute Müller's death, which was untimely, to complete exhaustion; others speculate that he committed suicide due to unbearable depression. His verses exude gloom. He died in September and Schubert began composing in October. The two never met. Allegedly, Schubert secluded himself while composing. Eventually, when visiting friends he seemed to be unhinged. Zender suspects that the first concert performances of the piece must have caused fright rather than delight. Schubert died only one year later, in 1828. He was just thirty-one years old.
Several recent publications have suggested that an additional level of meaning can be found in the music. At the time (the Restoration and Biedermeier period, 1815 – 1830, 1815 – 1848 respectively), Klemens von Metternich was Europe's leading politician. He enforced monarchism while fighting for nationalistic and independent aspirations in Germany and Italy. Schubert, who like Metternich lived in Vienna, was in close touch with the political opposition there. It could be that "Winter" is a metaphor for Metternich's reactionary Restoration. Lines like "Dogs are barking,
their chains are rattling," in the song "In the village" might be code for a political raid Schubert almost had to face in 1826.
However, Neumeier's ballet doesn't support political interpretations. Though 9/11 in 2001 – the year "Winterreise" received its premiere with Hamburg Ballet – might have made the piece politically relevant if it had been referred to, and the wanderings, forced migration, etc., are factual events. "Winter Journey", Neumeier said in the program book, "expresses a form of extreme exile – an exile from oneself in a strange – familiar world." Neumeier's focus is on the individual. Society in general or political structures do not take center stage.
Aiming to bring "Winterreise" as close to the present time as possible, Neumeier scrapped his initial idea of a set design in the style of Caspar David Friedrich's paintings depicting serene people amid beautiful scenery. Instead, Yannis Kokkos, with whom Neumeier has collaborated on other ballets, designed a backdrop using many black and white photos: older portrayals of dancers, childhood photos, photos of their relatives. His sources of inspiration were installations by the French artist Christian Boltanski, dealing with identity, humanity and persons being forgotten. Additional set elements are a plexiglass chair, a three-step staircase, some dirty gray snow, a young tree with a fresh green crown hanging upside down ("By the fountain at the gate there stands a lime tree") and a bare street lamp throwing a pallid light.
A video from the 70s shows people exchanging welcome kisses, presumably at a family celebration accompanied by the song verses "They dream of much that they have not,…". Later, a plexiglass wall represents "The Inn", which is actually a graveyard. Crammed with people, there is no space left for the wayfarer. He has to postpone dying and continue his journey: "Pitiless landlord, do you turn me away? Then onward, lead me onward,…" From time to time a small horizontal or vertical band of light sheds blue light on the backdrop. Blue light also occasionally highlights the contours of either a small or large house on the backdrop.

Hans Zender's music entitled "Schuberts Winterreise" is crucial in turning the "Winterreise" into a contemporary journey. Zender changed tempos and keys, added repetitions, invented additional sounds (the raging storm, the brittle sound of beats on hollow wood and so on) and included moments of silence. Hence, instead of merely piano accompaniment, the involvement of the Philharmonic Orchestra Hamburg was necessary. Seasoned conductor Simon Hewett sensitively blended the singing with the orchestra. Compared to Schubert's original tenor, Rainer Trost had to master a more expressive part, richer in variety. "Dear love, good night!", for example, partially turns into aggressive shouts. Zender intensified the music's immanent fractures, sharpened the contrasts and – for today's listeners – rescued "Winterreise" successfully from the dust.
Schubert's wayfarer of the first song, bids "Good Night" to his girl friend but in fact abandons her quietly and secretly. "A stranger I arrived, a stranger I depart again". For Neumeier he is a man fleeing the traditional, socially accepted idea of love and matrimony. "The girl spoke of love, the mother even of marriage…" – cut and run! Aleix Martínez is perfect in this role.
Short in height, an expressive bundle of energy, yet a sensitive actor, strong character roles are his metier. In Neumeier's "Messiah", for example, Martínez dances the leading part. In one of the first scenes of "Winterreise" he opens a door in the backdrop, stands in the doorway and – wearing only black, short trousers – gazes out at the snowy, cold world. He disappears and, coming back a few seconds later, has put on an additional baggy, oversized, gray pullover (costumes also by Yannis Kokkos). Carrying many suitcases he is too bulky to pass through the door but, totally stubborn, repeatedly bumps against the door frame as if to force it to make way for him. Finally succeeding Martínez flaps about in his pullover's long sleeves when striding "into the world gaily", flails about like a windmill, embraces himself, pulls his pullover over his knees and moves duck-like, stretches his arm yearningly towards the lime tree without ever reaching it. Then sitting exhausted on Hayley Page's lap beyond the lime tree, he's no longer left alone. Page pulls him up like a marionette. Alas, Martinez lacks gumption and slumps down again. He wraps himself up warmly again but soon impatiently pulls off the clothes. Angular and rebellious he fights against the course of events that is his life but he also witnesses the struggles of other people.
One of them is Hélène Bouchet. In her solo she first places her feet elegantly but then stamps them like a furious sewing machine. Anna Laudere imitates her movements but "Vainly I search in the snow for the footprint she left…". Laudere, numbed with grief, is comforted by Bouchet. Later, the pas de deux of both with Otto Bubeníček and Carsten Jung lead into fleeting relationships.
"How differently did you welcome me…" Jung seems to realize in the song "Retrospect". He is not turned down by Schubert's "town of inconstancy" but by Leslie Heylmann who, determined yet not cold hearted, ditches him. Alexandre Riabko, dressed in a black leather outfit and carrying a wanderer's bundle over his shoulders, stumbles and tumbles, then pulls himself together and boasts with some pirouettes. He is made to "leap up so" by the arrival of the post chaise which hasn't any letter for the regretful Heylmann. In "A Dream of Springtime" Silvia Azzoni is the "fair maiden" in a blue dress. Radiating warmth and soulfulness Martínez and Konstantin Tselikov lift her carefully, admiring her as something especially precious. Tselikov, donned with a hat and a coat, seems to be an unapproachable man at first. Buffeted by the wind which is trapped in his umbrella and shoved by Martínez, he is sent back into the storm – "used to going astray. Every path leads to its destination." Shortly afterwards he puts his coat around the shoulders of the tired Martínez as he rests. Lucia Rios, her red beret reminding one of Little Red Riding Hood, is the girl abandoned by Martínez at the beginning of the ballet. She slips on the ice (or from one crisis to the other), falls down and desperately tears her diary apart. Maybe she regained a close touch with life after Riabko had pulled off her disposable plastic gloves?
Such are the events that the corps de ballet is harmoniously integrated into. The corps rushes on stage carrying suitcases, sways in a slow group couples' dance, marches in unison or clusters inside the Inn, "occupying all the rooms".
A clever psychologist and blessed with ideas, Neumeier invented fresh, trenchant movements! If daring to tackle "Winterreise", others might have depicted a life soaked in misery, with Schubert's "how far still to the funeral bier" constantly at the back of their minds, not so Neumeier. Stripping human behavior down to its essence yet transforming it into something clearer is one of his signature features. This allows one to resonate with even the most miserable situations (the rape in "A Streetcar named Desire" for example) instead of protectively closing one's inner shutters.
This time, however, after an hour of episode following episode – the ballet lasts around one hundred minutes, danced without a break – like in a midlife crisis a low point is reached. But soon Bubeníček and Heylmann restore the focus. Bubeníček, with highly empathetic sensitivity, supports Heylmann who is paralyzed by grief, "tired enough to drop sick unto death". Watching him pick up the flowers which had slipped from her hand and moments later preventing her from screaming out loud tugged at my heartstrings. Especially Heylmann, whom I mostly got to know as a ballerina with a beaming smile outgrows herself in dramatic intensity.
The last song, "The Organ Grinder" is reserved for Lloyd Riggins – formerly Neumeier took over this part himself. Not an organ grinder here but a drummer, Riggins is a strange, old fellow, bare footed and in ragged clothes, his pullover sleeves like those of Martínez are much too long. Is he Martínez's doppelganger, a projection of the young wayfarer now grown old? Are life's journeys laid down as unchangeable? In any case Neumeier allows a dawn of hope: Riggins stays on stage, kneels next to his drum, strokes its membrane with his sleeves while Martínez slowly walks off stage towards an unsure future.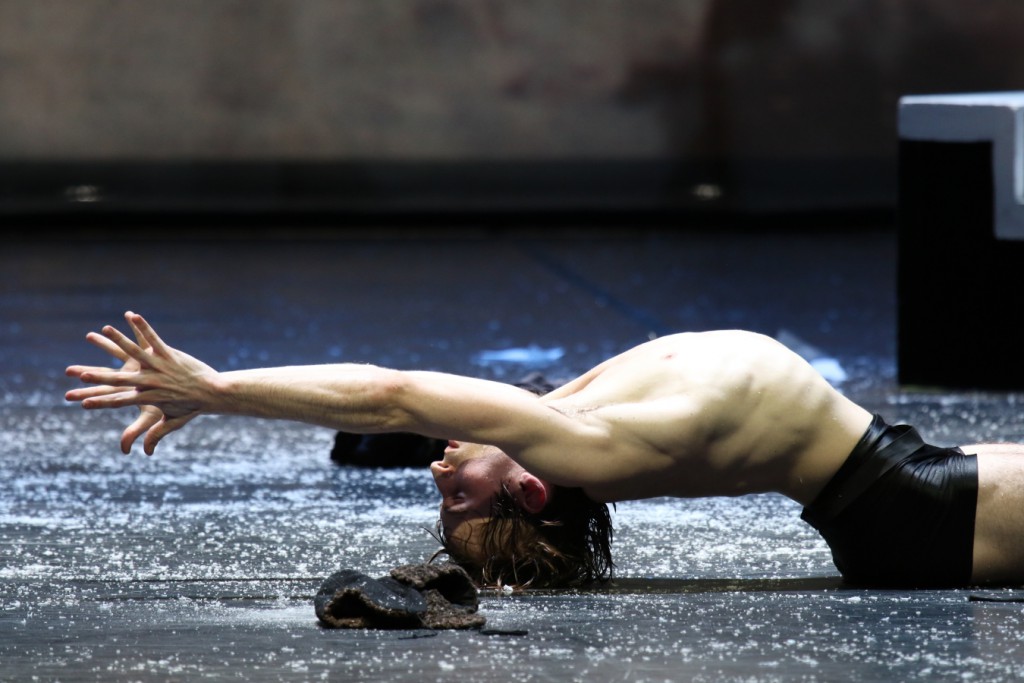 | | | |
| --- | --- | --- |
| | | |
| Links: | | Hamburg Ballet's Homepage |
| Photos: | 1. | Aleix Martínez, "Winterreise" by John Neumeier, Hamburg Ballet 2015 |
| | 2. | Leslie Heylmann, Carsten Jung and Aleix Martínez, "Winterreise" by John Neumeier, Hamburg Ballet 2015 |
| | 3. | Silvia Azzoni, Konstantin Tselikov and Aleix Martínez, "Winterreise" by John Neumeier, Hamburg Ballet 2015 |
| | 4. | Aleix Martínez and Otto Bubeníček, "Winterreise" by John Neumeier, Hamburg Ballet 2015 |
| | 5. | Otto Bubeníček, "Winterreise" by John Neumeier, Hamburg Ballet 2015 |
| | 6. | Carsten Jung, "Winterreise" by John Neumeier, Hamburg Ballet 2015 |
| | 7. | Ensemble, "Winterreise" by John Neumeier, Hamburg Ballet 2015 |
| | 8. | Aleix Martínez and Lloyd Riggins, "Winterreise" by John Neumeier, Hamburg Ballet 2015 |
| | 9. | Aleix Martínez, "Winterreise" by John Neumeier, Hamburg Ballet 2015 |
| | | all photos © Holger Badekow 2015 |
| Editing: | | Laurence Smelser, George Jackson |