"Giselle"
Semperoper Ballet
Semperoper
Dresden, Germany
April 18, 2015
by Ilona Landgraf
Copyright © 2015 by Ilona Landgraf
Earlier this year, Courtney Richardson and Fabien Voranger enthralled Semperoper Dresden's audience in the leading roles of David Dawson's "Tristan + Isolde". In April both had their debut in Dawson's "Giselle". I was curious as to how the two would tackle this quite different love story. The performance on April 18 – the second for Richardson and Voranger – was the last of this season's run of "Giselle".
For the specifics of Dawson's version I would like to refer to what I wrote almost exactly one year ago (Landgraf on Dance: Last Dance). In short, Dawson's reading of the classic is timeless yet modern. The roles of Berthe (Giselle's mother) and the Duke of Courland are dropped; the first act's hunting party is replaced by a wedding party; the miming scene foreboding disaster takes place in the course of the wedding festivities. The second act depicts Abrecht's memories, his mental state, his process in coping with what had happened. Neither Hilarion appears again nor is there a grave. Nor are the Wilis avenging spirits. Rather, they remind one of impartial beings.
How to assess Albrecht's character when he enters the stage in the first scene? He seems to have a dark side, an impression enhanced by his all black costume and the large black tattoo on his chest, the latter indicating his relationship with Bathilde. However, when looking into his eyes he seems to be basically a good sort. The moment Albrecht takes off his belt with the long knife and swaps his black coat for a light blue jersey, all ambiguities are gone. Now he is a charismatic, handsome charmer who not only flirts with Giselle but gives free reign to his enchantment. He can look at no one else. At every opportunity he clasps her waist, pulls her close and caresses her. Yet being in love doesn't make him behave like a fool; he doesn't lose his head. Instead Albrecht rather knows his own mind. He wants Giselle! At one point he sits with her on a cornice watching the dancing of the wedding party. Albrecht looks happy that he won her, that she belongs to him. But really doesn't her posture reveal an independent young woman? She responds readily to his endearments but mostly it is Albrecht who takes the initiative.
When being unmasked as one of Bathilde's entourage of lovers, Albrecht internally mulls over the disaster he had created. His brow is puckered, his gaze one of total introversion. Head bowed, he grimly reflects about this, as the cornerstone of his self-image totters.
Remembering Richardson's strong Isolde, a woman having both feet solidly on the ground, it was interesting to see how she would master Giselle. However, the Giselle Dawson depicts is not fragile or shy but full of joie de vivre. Self-assured, she engages Albrecht's approaches without allowing him to dominate. She firmly ends her relationship with Hilarion (István Simon). With a determined face, her chin pushed forward, she gives back to him his present, a flower. Protest is pointless, Hilarion hasn't a chance. He stands stoop-shouldered as if cold water has been poured on his hopes. One feels sorry for him.
Confronted with Albrecht's true identity, Richardson stands for some time aghast, covering her face with her hands. When looking up again, she knows the rug has been pulled out from under her. But stumbling from Albrecht to Hilarion with Albrecht's knife threateningly in her hands, she doesn't seem irreparably or ultimately shattered inside. Maybe she would have recovered over time. But accidentally she collides with Albrecht, the knife bearing into her abdomen. She has no way out anymore. Large, dark-red petals fall from her hands which she presses against her wound, symbolic of her life's blood streaming out. It is also symbolic where the knife has pierced her body. Not in the heart, not anywhere at random in the belly but in the womb, the core part of womanhood.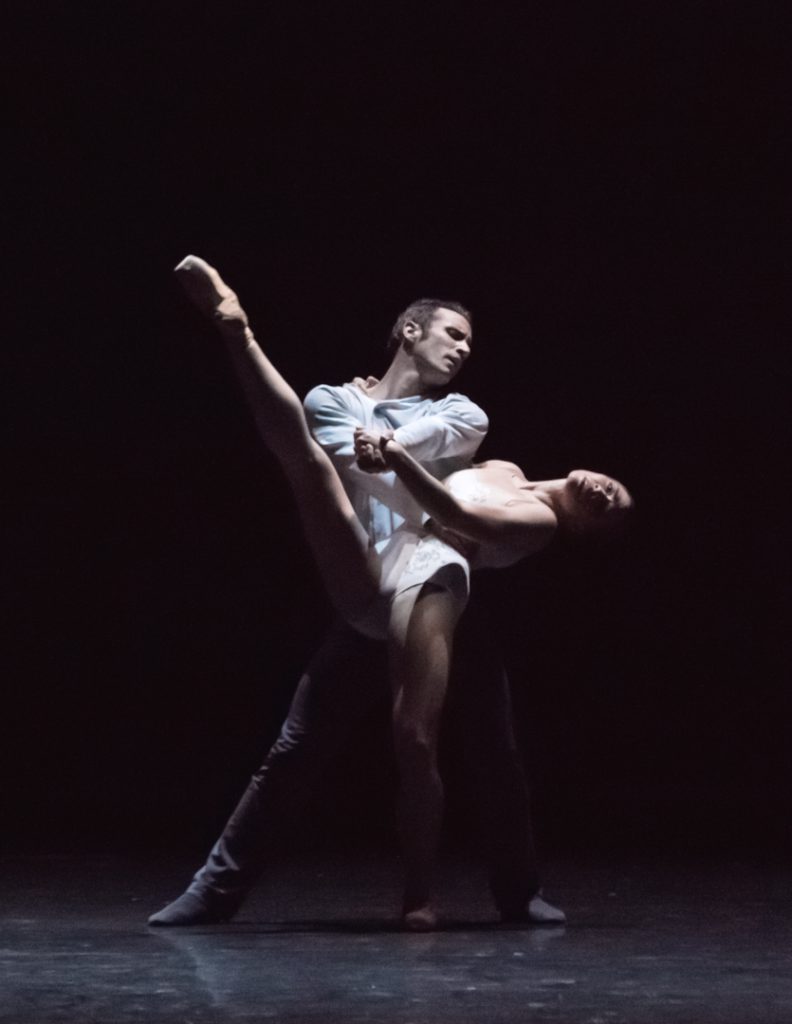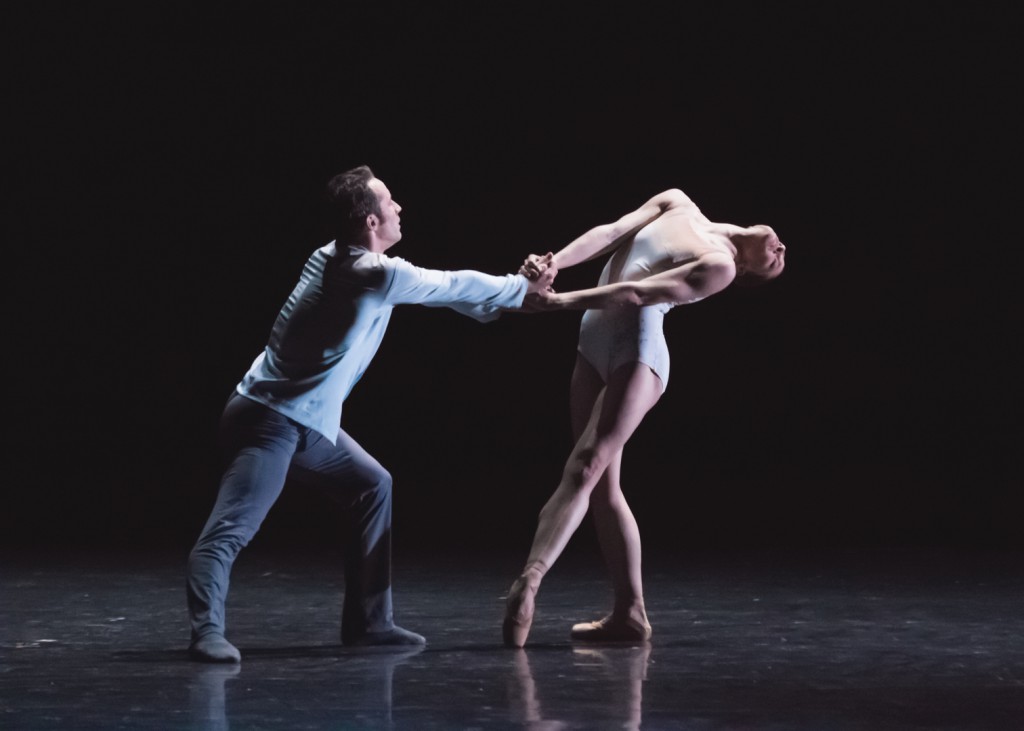 The wedding party not only serves as the foil for Giselle's and Albrecht's love affair and witness to its tragic end but is also essential in conveying a bright, cheerful atmosphere. All the more as Arne Walther's minimal set design – geometrical white wall elements – focuses the spotlight entirely onto the stage action. The party is, indeed, nice but not infectiously buoyant. Alice Mariani as the bride does well but her dancing needs to be more crisp. Julian Amir Lacey as bridegroom and Francesco Pio Ricci as his best man spur each other on in their solos. If they could put spark into their pas de deux with the cockiness of two good buddies it would be perfect. Two bridesmaids, Chiara Scarrone and Yuki Ogasawara, complete the wedding Pas de Cinq. The mostly new cast would have been better if they had been supported by a few old hands – for example, Anna Merkulova and Jón Vallejo as the bride and her groom – in projecting the appropriate wedding atmosphere.
Simon's Hilarion was a kind, likeable guy, yet bland compared to Albrecht and certainly not an irresistible lover! However he works up enough strength to wrest the dead Giselle out of Albrecht's arms. Albrecht runs off, Hilarion, heavily mourning, stays.
It is hard to have any sympathy for Bathilde. She is conceited, haughty, a noblewoman whose wiles are scarcely hidden behind her false eyelashes. Aidan Gibson depicts her aptly but spoils her performance by looking at the audience several times as if she were presenting a gala number. Though foolish enough to cling to Bathilde, her three suitors – Emanuele Corsini, Milán Madar and Casey Ouzoumis – become somewhat sympathetic as they witness with shock mixed with empathy Giselle's descent into madness.
The second act is, compared to the first, stronger, due in great part to the female corps de ballet's fine dancing. Yumiko Takeshima clads them in white tricots, the legs are bare, the upper bodies veiled with white tulle creating the impression of wafting gossamer in dim moonlight – an apt depiction of Albrecht's thoughts, memories, his inscrutable lack of consciousness. Dawson has created floating transitions between solos, smaller and larger groups.
Most effective are the arm movements. Many different port de bras make the veils float and blur the patterns. One cannot catch hold of the Wilis, they come and go unpredictably. Myrtha (Sangeun Lee) isn't seen as a commanding Queen. She leads rather subtly through her presence. Graced with long legs, Lee gradually raises the energy level, first in her solo, then together with her Wilis. Richardson and Voranger thus had a vibrant basis for their last encounter.
At first Giselle, veiled like the others, can't be clearly identified, let alone grasped, by Albrecht. But soon she takes off the veils and, wearing just her tricot, is exposed. Her
extended pas de deux with Albrecht that follows is the evening's heart. Tenderness, melancholy and longing cries out from every movement, especially from Albrecht. He has understood what he had lost. Then, suddenly, a muted happiness breaks through. Movement phrases of the first act return like memories of halcyon days. Albrecht's brooding sadness gradually dissolves. Completely exhausted he breaks down, just as a huge full moon is illuminated from behind. Things seem to become serious for him. Would the Wilis take this moment to force him to dance himself to death? But no, the Wilis vanish. Again, Albrecht is alone with Giselle. He seeks to embrace her, but she slips out of his arms. Sinking into inconceivable depths, she is finally beyond reach.
Richardson's dancing again impressed one. It flows naturally out of her core. Movements form a unified whole. She doesn't need extra adornments or calculated effects. She seems a strong, independent personality. Actually one slightly wonders why a man's deceit should cause her Giselle to go mad. Voranger is a sublime partner. His strength is in pas de deux. He seamlessly complements his ballerina. Lifts, no matter how venturous, come out fluently. Thinking back to Voranger's Tristan, the force of his emotions was what pierced one to the heart. Then he had plunged into feelings unreservedly. But this time he seems hesitant to risk it all. Even if it is against all reason, I wish he would go for broke again. His performance would be unequaled. It would be haunting!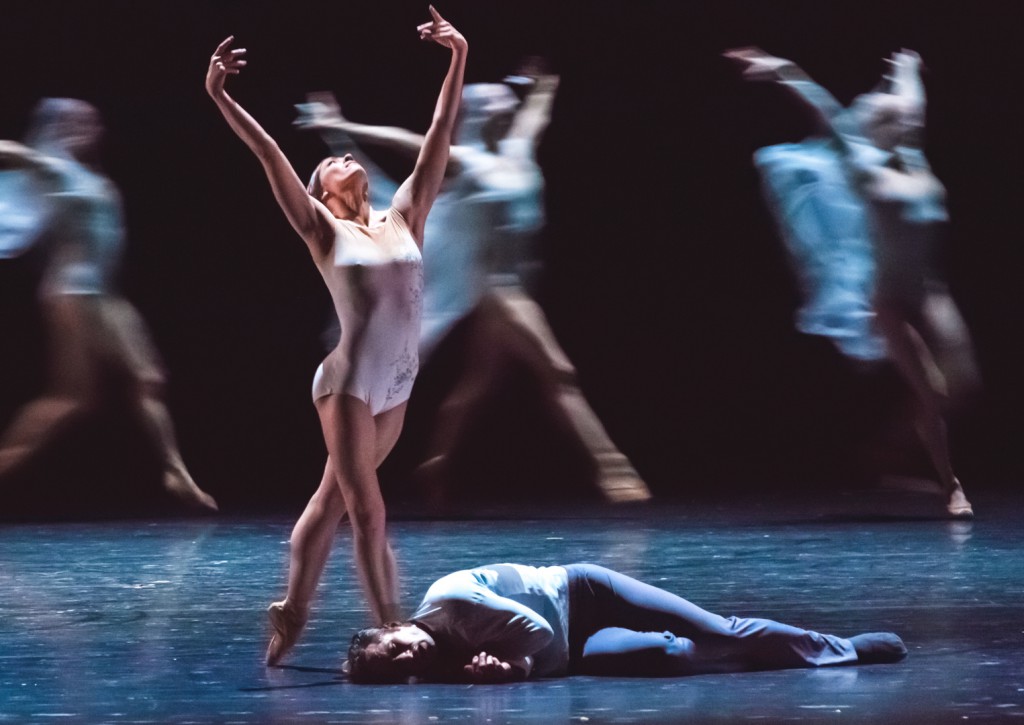 | | | |
| --- | --- | --- |
| | | |
| Links: | | Homepage of Semperoper Ballet |
| Photos: | 1. | Courtney Richardson (Giselle) and Fabien Voranger (Albrecht), "Giselle" by David Dawson, Semperoper Ballet Dresden 2015 |
| | 2. | Courtney Richardson (Giselle), Fabien Voranger (Albrecht) and ensemble, "Giselle" by David Dawson, Semperoper Ballet Dresden 2015 |
| | 3. | Courtney Richardson (Giselle), "Giselle" by David Dawson, Semperoper Ballet Dresden 2015 |
| | 4. | Courtney Richardson (Giselle), "Giselle" by David Dawson, Semperoper Ballet Dresden 2015 |
| | 5. | Fabien Voranger (Albrecht) and Courtney Richardson (Giselle), "Giselle" by David Dawson, Semperoper Ballet Dresden 2015 |
| | 6. | Fabien Voranger (Albrecht) and Courtney Richardson (Giselle), "Giselle" by David Dawson, Semperoper Ballet Dresden 2015 |
| | 7. | Courtney Richardson (Giselle) and Fabien Voranger (Albrecht), "Giselle" by David Dawson, Semperoper Ballet Dresden 2015 |
| | 8. | Fabien Voranger (Albrecht), "Giselle" by David Dawson, Semperoper Ballet Dresden 2015 |
| | 9. | Fabien Voranger (Albrecht), "Giselle" by David Dawson, Semperoper Ballet Dresden 2015 |
| | 10. | Courtney Richardson (Giselle), Fabien Voranger (Albrecht) and ensemble, "Giselle" by David Dawson, Semperoper Ballet Dresden 2015 |
| | | all photos © Ian Whalen 2015 |
| Editing: | | Laurence Smelser |