Semperoper Ballet
Dresden, Germany
April/May 2015
by Ilona Landgraf
Copyright © 2015 by Ilona Landgraf
In 2006 the winds of change were blowing through the Semperoper Ballet Dresden. After twelve years under Vladimir Derevianko's directorship the Canadian Aaron S. Watkin took over the reigns. He thoroughly revitalized the company and adopted a new course for the repertory. The classics, already the company's linchpin, were kept, but modern pieces were now strongly fostered. As a result, after almost a decade of constant work, the company receives much international attention. Ballets by William Forsythe, David Dawson, Stijn Celis and Aaron S. Watkin are its signature features. Recently I spoke with five leading dancers about their backgrounds and how they experienced the company's development.
A splendid dancer with a charming personality, Raphaël Coumes-Marquet stands out from the ensemble in the truest sense of the word: he is 6 feet, 3,6 inches (1,92 m) tall. Seasoned, a refined technician and accom- plished actor, he is a treasured dance part- ner not only for tall ballerinas. As the forty-year-old will retire from stage at the end of this season, it was a good opportunity to look back on his career.
Coumes-Marquet was born in Besąncon in France. Music was a core element in his family: Raphaël's grandfather was a professional saxophonist, his mother played the clarinet in the city band and his father plays the guitar. As a little boy, Raphaël started to take clarinet lessons at the conservatory but quit when he lost his baby teeth. Might he have become a musician otherwise? In any case music appealed to him and made him jump around and dance.
At age eleven, he was admitted to the School of the Paris Opera Ballet. Three years later knee injuries forced a rest of six months. The fourteen-year-old had grown over 8,3 inches (21cm) within two years and looked "like a spaghetti". Lacking muscles it was difficult for him to make his lanky limbs do what he wanted them to do. "The other boys' jumps grew in power and agility" Coumes-Marquet remembers, "and though I was quick in my mind and knew exactly what to do the music was already finished before the information reached my feet." His knees couldn't sustain the strain.
But when he resumed training Coumes-Marquet was way below the level of his class and had to catch up. Nevertheless, Claude Bessy, then director of the Paris Opera Ballet School, noticed the boy's potential, allowing him to finish his education, but he had lost the option to enter the opera ballet's company later. A hard lesson for the teenager, but, in retrospect, fortunate. Although he needed time to gain self-confidence, to feel good with himself, his mind opened up, developing in directions towards other companies outside the orbit of the Paris Opera. He learned to work harder, to focus, to fight his way. "Compared to a shorter dancer I need more training to built up muscles. I go to the gym, work on my fitness – that's not given to my body by nature. Other male dancers might have to stretch more to be able to split. That's by comparison easy for me."
After graduation Coumes-Marquet's parents saw an announcement in a ballet magazine for an audition at the Ballet Nice Méditerranée. Actually going to Nice wasn't Coumes-Marquet's ambi- tion – his dream desti-nation was John Neumeier's company in Hamburg – but he wanted to have a job and training. At the time the audition in Nice took place, Jean-Christophe Maillot was also holding one at Les Ballets de Monte Carlo. Coumes-Marquet took the opportunity and was fortunate.
He stayed four years with Les Ballets de Monte Carlo, worked with Maillot and other choreographers and danced many Balanchine ballets. At age twenty he was already a soloist. But he felt himself too young to stay in one place. Being adventurous he wanted to explore the world. Also returning to a grander opera house, to the classical repertory he had grown up with in Paris, tempted him. Thus Coumes-Marquet joined the State Ballet Vienna. Its repertory – the big classics by Nureyev, "Swan Lake" and "Romeo and Juliet" – was what he had dreamed of. Once there, the Russian training polished his technique. But, recognizing that the company's strict hierarchy would prevent him from being cast in leading roles within a reasonable time, Coumes-Marquet left to join Dutch National Ballet after one season.
"There I felt one hundred percent in tune with what I danced. I found myself as an artist. It was the company I grew in most" he continues. "One hundred and fifty shows per year – I was virtually on stage the whole time. It was wonderful!" Above all, he met the choreographer David Dawson. Thus began a creative collaboration which Coumes-Marquet describes as a "long term highlight". Eight years later, in 2006, Watkin invited him to join the new company of Semperoper Dresden. As Dawson had already gone to Dresden to become resident choreographer, Coumes-Marquet didn't have to think twice.
Watkin brought thirty-five new dancers in along with himself when he took over as artistic director, meaning more than fifty percent of the company was new. Coming from all over the world they didn't know each other. "It was not competitive but there was a certain tension in everyday work. We all had to prove ourselves. Each of us had to find his or her position within the group. At the same time we were busy preparing the first program. The ground
was actually on fire! All those amazing dancers: Jiří Bubeníček, Natalia Sologub, Yumiko Takeshima, Dimitry Semionov, Bridget Breiner – I have certainly forgotten some. Now, after almost ten years the company has found its rhythm.
Though going to Hamburg Ballet never came off, Coumes-Marquet danced leading roles in all three Neumeier ballets which for some years were kept in the Semperoper's repertory. He was Drosselmeier in "The Nutcracker", Oberon/Theseus in "A Midsummer Night's Dream" and, as one of his most fulfilling experiences, the King in "Illusions – like Swan Lake". Many turning points have marked his career. Yet Coumes-Marquet rather considers that he has followed a somewhat predetermined path. He tries to look at his roles with a fresh eye, to take class anew every day, even if it isn't easy every morning after twenty-five years. He will give his farewell as King Marke in Dawson's "Tristan + Isolde". "A mature role, symbolically significant, which fits my age and my situation."
Afterwards, Coumes-Marquet will join the team behind the scenes of the Semperoper Ballet.
I was impressed when meeting Sangeun Lee. Not only because of her height – a remarkable 5 feet,11 inches (1,82 m) – but especially because of the South Korean's outspokenness. Traditionally restraint and acquiescence are her culture's attributes. Lee, however, got her own way. Born in Seoul, she was encouraged by her mother to try various leisure activities: painting, skating, lots of sports in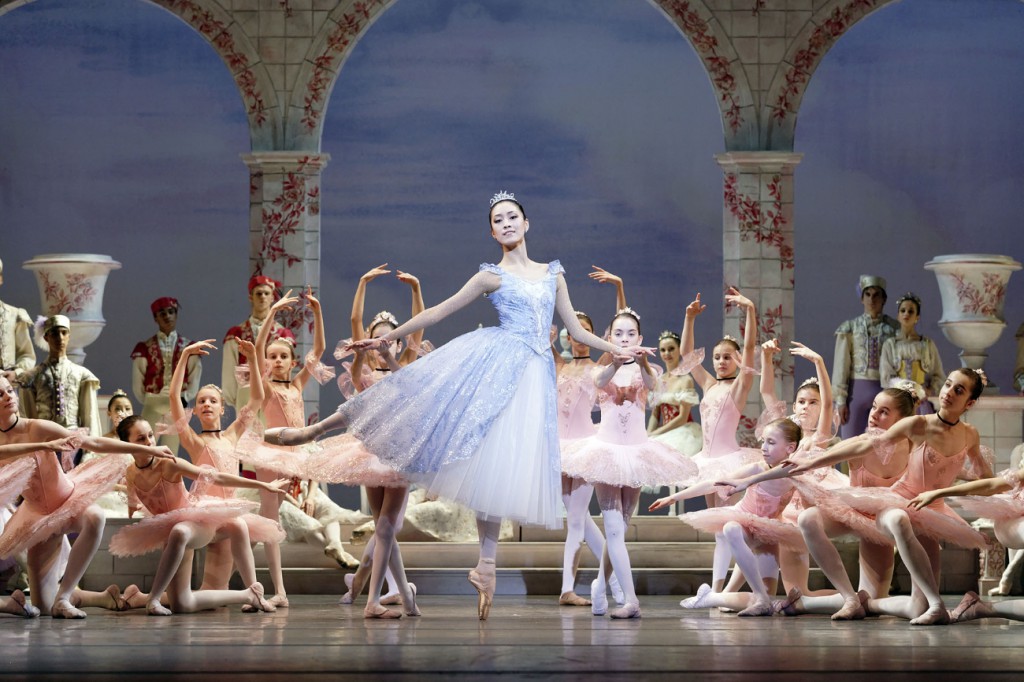 general and also ballet. Ten-year-old Lee soon found pleasure in the ballet classes. "I was never bored, instead I always easily stayed focused", she tells. "Dancing just felt great!" No one in her family has a connection to dance; her one year younger brother became a pilot in the army.
Lee was enrolled at the Sunhwa Art Middle School. Then later, she attended the Sunhwa Art High School for another three years. (The Sunhwa School is one of the most prominent for visual arts, music and dance in South Korea.) There she received a solid training in the Vaganova method. Usually students are expected to enroll at the university after graduation, for example for a degree course in pedagogy as well as keeping up with dancing. Not so Lee. "The career of a dancer is short and I thought instead of wasting four years at university I would go entirely for ballet." That caused some fights with her parents who wanted to provide her with a second education for the time when her career as an active dancer would end. But Lee finally got her way. She joined the Universal Ballet Seoul, one of the four professional ballet companies in South Korea.
The idea of going to Europe had arisen earlier when her school sent her to compete at the Prix de Lausanne, an event which again proved Lee's stamina and resilience. In 2003, after months of preparation, she was denied entrance into the competition when she arrived in Switzerland because of her thinness. She already had her adult height but lacked muscles. One year later and having put on weight, Lee tried again and made it all the way to the final. Although she slipped and fell in her last performance, she remembers the competition fondly. She had received much applause in the quarter final and semi final, but for her the most striking experience was that people came round afterwards to thank her. "Well done! or Good job! is how people in Korea usually comment on a well-made show but no one says Thank you! It feels so good! I felt respected as an artist! Actually since then I wanted to come to Europe." Lee concludes. Among her array of awards are the gold medal in the Korean Ballet Competition (2004) and the Grand Prix in the International Ballet Competition in Seoul (2005). In the Ballet Competition in Varna she took third place in 2008.
Yet Lee had made up her mind. Not only because of her experience in Lausanne but finally because of the repertory. Universal Ballet Seoul first and foremost fosters full-length, classical story ballets like "Swan Lake" and "Sleeping Beauty". Contemporary pieces were comparably rare during Lee's time. But every year there was one big contemporary evening and when Laura Graham came to Seoul to stage Forsythe's "In the Middle, Somewhat Elevated" Lee was smitten. Forsythe's style felt great to her! Staying in touch with Graham, who was ballet mistress and choreographic assistant of Semper- oper Dresden, she made her first connection with Saxony's capital.
Watching videos of various European ballet companies and putting out feelers to various companies such as the Dutch National Ballet and Les Ballets de Monte Carlo, Lee kept her eyes open for a new venue. She auditioned at several other companies, but being tall complicated matters. In Seoul it had already been difficult to find her appropriate dance partners. Generally many companies look for ballerinas at under 5 feet, 6 inches (around 1,67m) maximum height. However, Watkin chose her immediately. After five years with Universal Ballet Seoul, Lee, already a first soloist, made her move. Thinking back to her start in Dresden in 2010, she admits it had been a difficult time. First she had to learn English, yet English isn't a surefire tool for everyday communication in town! Dresden's population mainly speaks German tinged with an Saxon accent. But after Lee had mastered working in the company's large repertory she started to learn German. Being able to place an order at a local cafe in flawless German makes her happy. Half a year ago Lee's parents came to Germany for the first time to see her in "Swan Lake". She made them very proud.
Catching up with the modern repertory and different styles was one thing, but it was quite another matter to overcome her reserve. "In Korea you simply do what you are told to. You are not expected to question or to even start a discussion. But
here ballet masters ask, for example, how certain movements feel to me. That was completely new! I began listening to my inner voice which opened a much wider spectrum to interpret a role." In addition, when cast in a piece yet to originate, she is now actively involved in the creative process which was hard at first. In Korea she had been confined to fixed roles. Though still a bit shy, the twenty-eight-year old tackles the challenges boldly and laughs a lot.
Seeing herself in a growing process she is grateful for the many opportunities that have been given to her so far. In 2013 she was promoted to first soloist. She has mastered the technique required for Balanchine ballets, enjoys pieces by Forsythe very much and currently rehearses for her debut as Myrtha in Dawson's "Giselle". (It took place in mid April and Lee did well!). "Giselle" is one of her favorites: "In the second act we dance in a dark space, only dimly lit by a huge, full moon. All Wilis are veiled. There has to be a special atmosphere. As Queen of the spiritual beings I want to establish this certain mood. Technically I have to be grounded rather than airy, because being covered by a veil makes it difficult to orient myself and the spotlights can be dazzling as well."
Anna Merkulova is a petite, blond woman exuding calmness and thoughtfulness. Born in Donetsk, we broach the current political situation in the Ukraine. Merkulova's family still lives there. Though fortunately her family's house was spared from bombing, the food supply currently is highly problematic as relief supplies are not coming through. A burdensome situation for the ballerina who can hardly do anything from the outside.
Merkulova has danced in the company since 2006, Semperoper Ballet becoming her artistic home. The path leading to Dresden was an interesting one: An active child but unfamiliar with ballet, seven-year-old Merkulova was taken by her mother to a governmental ballet school offering ballet classes, gymnastics and musical education. The children had to undergo a small audition in advance, their musicality and flexibility were tested and they were asked some questions, for example, Do you like eating cakes? When little Anna told afterwards that she had answered "Yes, of course I like cakes!" her mother was almost convinced that the school would reject her. After some time they came back to check the list with the names of the youngsters who had been admitted which had been posted on the school's door. However Anna's mother couldn't find her daughter's name. She became really upset and the two started walking to the bus stop but after one block of houses stopped, turned round and checked again. Lo and behold, Anna's name was on the list but her mother had overlooked it! If they hadn't returned, no one would have called and informed them about her being approved.
Two years later Vadim Pisarev, a famous Ukrainian dancer, and his wife, prima ballerina Inna Dorofeeva, established the Choreographic School in Donetsk, also known as the Vadim Pisarev Ballet School, the first private, educational institution of
its kind in the Ukraine. Associated with the local Opera and Ballet Theatre, its goal was to train professional dancers. Anna's teachers intended for her to enroll there but Anna's mother refused. No way! But begged by the teachers, Anna's parents took a look at the new school's opening. Arriving there Anna was supposed to participate in an audition class but had brought along no proper training wear. While Anna's teacher distracted her parents in a talk,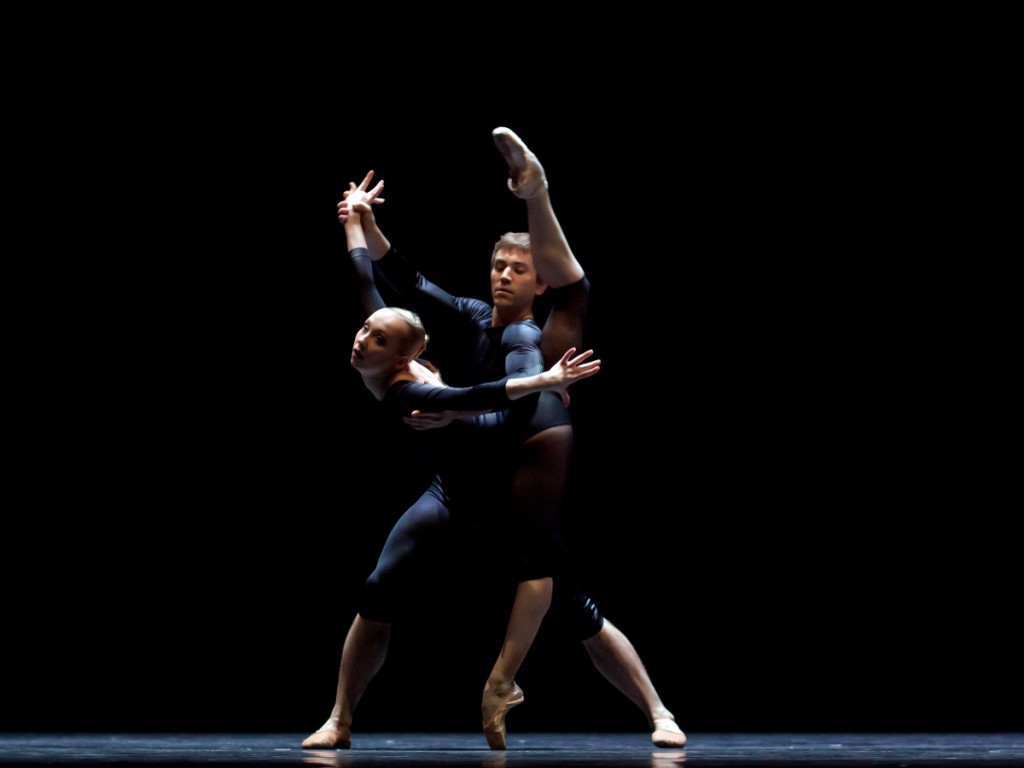 she was outfitted in a tricot and put into class. By the time her parents finished talking, Anna was already happily running out declaring "Mum, they took me!" Her mother wasn't pleased but Anna threatened with "If you don't let me go I won't ever come out of my room again!" prompting her mother to relent. Her sister who was six years younger later followed in Anna's footsteps. She also became a dancer, performing in musicals in Donetsk's opera.
During her education Merkuluva had already appeared with the Ballet Theatre's ensemble. After graduation she continued dancing with the company for one year before setting off "trying to find her place on earth": She danced as soloist in the Fouette Youth Ballet in Estonia, then with smaller companies in Florida and Houston. Watkin spotted her in early 2006 during her one-year engagement at Copenhagen's Tivoli Pantomime Theatre. He offered her a contract with the Dresden company and upon hearing about Watkin's plans for the first season she immediately accepted. Watkin had scheduled the very same ballet she had been fascinated by when first seeing it as a little girl in the ballet school at the annual dance festival in Donetsk: "In the Middle, Somewhat Elevated". Although Forsythe was largely unknown in the Ukraine, this ballet stuck in Merkulova's memory. The opportunity to dance it herself was irresistible!
Merkulova loves both classical as well as modern works. She excels in story ballets like "Sleeping Beauty" choreographed by Aaron S.Watkin after Marius Petipa, "Cinderella" and "Romeo and Juliet" by Stijn Celis that allow her to develop a character. (Jón Vallejo had been her Romeo). In Dawson's "Tristan + Isolde" she danced Isolde (with István Simon as Tristan) and Brangäne, Isolde's best friend. "It is like living a separate life for one or two hours. Afterwards, when the curtain goes down, I'm in between two worlds for some time and need to come back to earth again."
In the Dawson and Forsythe pieces Merkulova feels especially at home. If she had been born earlier she might have ended in Forsythe's Frankfurt Ballet company (which was dissolved in 2004). Luckily there's a close connection to the subsequently founded Forsythe Company, which has its second home at the Festspielhaus Hellerau close to Dresden. Its staff comes regularly around to rehearse pieces with the Semperoper company.
Ascending the ranks from corps de ballet to first soloist in 2013 allowed her to get to know some of the productions' various roles inside and out. In Celis' "Sleeping Beauty" Merkulova was initially cast as a little girl doing some pantomime. She went from that to Aurora.
Asked about how she would cope with difficult times, how she would keep her motivation high, Merkulova explains that anger would be a psychologically useful tool to keep her alert. If she has to dance "In the Middle, Somewhat Elevated" while being upset, it would be perfect. "Even if the role demands that I smile it helps me if I'm a bit annoyed." Regardless of the character she has to portray it is easier for her to express different facades of her personality when she is on stage. Entering the stage vaults her into another world. Watching performances, by comparison, makes her feel awkward. "My place is up there on stage not in the audience"
Merkulova is not a party-goer, huge groups and loud music weary her. She rather likes to be with close friends, enjoys reading or biking along the Elbe in summer. Sitting around soon makes her moody and grumpy; she needs frequent physical workouts. Constantly searching for new experiences Merkulova highly values the Semperoper Ballet's varied repertory. Different styles of movement attract her; being challenged keeps her interest. That is exactly the case in Dresden. She is looking forward to MacMillan's "Manon", scheduled for the next season. Maybe the leading role in "Giselle" awaits her as well.
Short Jón Vallejo is magnetic on stage. Attributing this to his technical prowess, his panache or acting talent would miss the mark. When asked, he couldn't state particular reasons nor seemed to have wasted much time thinking about that before. Having a special aura seems to be his natural condition. "I guess it is because I'm honest when performing. I never pretend anything. What you see comes from inside. When on stage I forget everything around me. It is just this moment, this music, this feeling. I try to let my emotions through without adding or holding back anything. They are pure." When tackling a new role, for example for a story ballet, his initial approach is of course more rational than emotional until his ideas merge with the choreographer's. But analyzing a role in detail and converting his thoughts into movement isn't Vallejo's main focus. Cognitive examination is part of the daily class in front of the mirror. In terms of the artistry of passing emotions to the audience he relies entirely on his intuition.
Vallejo was born in San Sebastián in northern Spain. As a little boy he was intensely active and participated in all different kinds of sport. His mother, who was passionate about taking ballet classes as a hobby, enrolled him, aged four or five, and his two siblings at the local dance studio Thalia Mentxu Medel. He enjoyed dancing and when his talent became apparent things became more serious. In 2000, after participating in some competitions, he was invited to train with Carmen Roche at the Conservatory for Professional Dancers in Madrid. When Roche founded a small company, Vallejo was in. A thrilling
period in his early career ensued. The group toured Spain by bus and worked with a number of choreographers, among whom was Goyo Montero, who is now artistic director of the Nuremberg State Theater's ballet. Although only sixteen or seventeen years old, Vallejo had leading roles created on him: Othello in "Desde Otello" or Romeo. He felt incredibly fortunate!
In 2005 he embarked on Nacho Duato's Compañía Nacional de Danza 2 in Madrid for one year, got to know the mechanics of a much bigger company and immersed himself in a totally new repertory. He also worked with Tony Fabre. "An excellent teacher, ex-dancer of Béjart's Ballet of the XXth Century, the Béjart Ballet Lausanne and subsequently Duato's assistant."
In 2006, after Watkin saw some performances of Duato's troupe, he offered Vallejo an engagement in Dresden. As he does when dancing Vallejo trusts his gut instincts when having to make a decision. At the time he felt instantly attracted. Again, he plunged into a project which was about to get started. Already set works never tempted him. Thinking back to his beginnings in Dresden the multitude of different characters in the group struck him most. Watkin had picked strong personalities. Bringing them together resulted in something extraordinary but it could have been a bomb as well. Luckily, ruinous explosions didn't take place, instead the melting pot of dancers began to emit more and more sparks. "Sometimes we sit together and recall the different impressions we had of each other at first." Vallejo laughs, "it was a beautiful time!"
The Spaniard soon ascended the ranks from coryphée to first soloist. A versatile dancer, he is at home in the classical as well as in the contemporary style. He concedes, though, that doing the classics is harder. Yet restricting oneself to one style would be anachronistic these days.
Usually, Vallejo dances good or even funny guys in story ballets that fit his personality: The Prince in "The Nutcracker, Romeo, the Bride's Groom in "Giselle", Mercutio or Gremio in Cranko's "Shrew". But recently he had to depict a negative character for the first time: Melot in Dawson's "Tristan + Isolde", the jealous man revealing Isolde's love affair with Tristan to King Marke. "Being Melot was especially interesting, actually a challenge, because Fabien (Voranger), who usually is cast as the bad guy, this time was Tristan. Things were a bit the other way round. I had to first unearth some dark emotions which I could work out."
Returning to his drive to participate in new projects, Vallejo states Dresden would unvaryingly be the right place for him, but he objects to my phrasing of "feeling comfortable". "If I start to feel comfortable in terms of settling back it would definitely be time to leave. There has to be a challenge, a personal or a private one." Having opportunities to guest abroad is important for him. Getting to know people, introducing oneself to other companies and also representing his home company is enriching. Recently he guested with Anna Merkulova in Madrid. One weekend later he shone during a gala in Nuremberg with Fabien Voranger and Jiří Bubeníček. When Jiří and his brother Otto perform elsewhere Vallejo is regularly in on it. The trio is well-attuned to each other. Accompanying the Bubeníčeks to Japan several times has especially stuck in his mind.
Over the years he has developed a proper balance between his professional and private life. Thus folding up his tent in Dresden is not an issue for Vallejo. He likes to spend time with friends, to have a good talk, to socialize, to reunite with his
family during the summer break. Cooking is a pleasure for him, as is playing the piano and composing music. Cur- rently he is working on creating a table game about the Semperoper together with a friend which might be available for sale in the opera's shop at some point.
In any case, regardless of what he sets about, he seems to be centered and at peace with himself. Realistic and grounded, he finds ups and downs are natural. "Before climbing another peak one has to touch the low-point. It is helpful to set a personal floor and ceiling and try to oscillate in between. If you go below and fall into a sort of limbo then it is hard to climb out." Some weeks ago Vallejo suffered an injury during a performance. Although still forced to rest he radiates confidence. The rehab-training is already scheduled, recovery is certain, the next performances loom on the horizon. One wished him good luck!
Elena Vostrotina laughs heartily when I tell her that she had shocked me as Lady Capulet in Stijn Celis' "Romeo and Juliet". She had worn an ultrashort pink dress, pumps and a large, purple hat. Purple, on top of red hair! "A beautiful costume! I loved it!" she states. A tall woman, she was absolutely unmissable on stage.
Born in St. Petersburg, Vostrotina is a single child. Her mother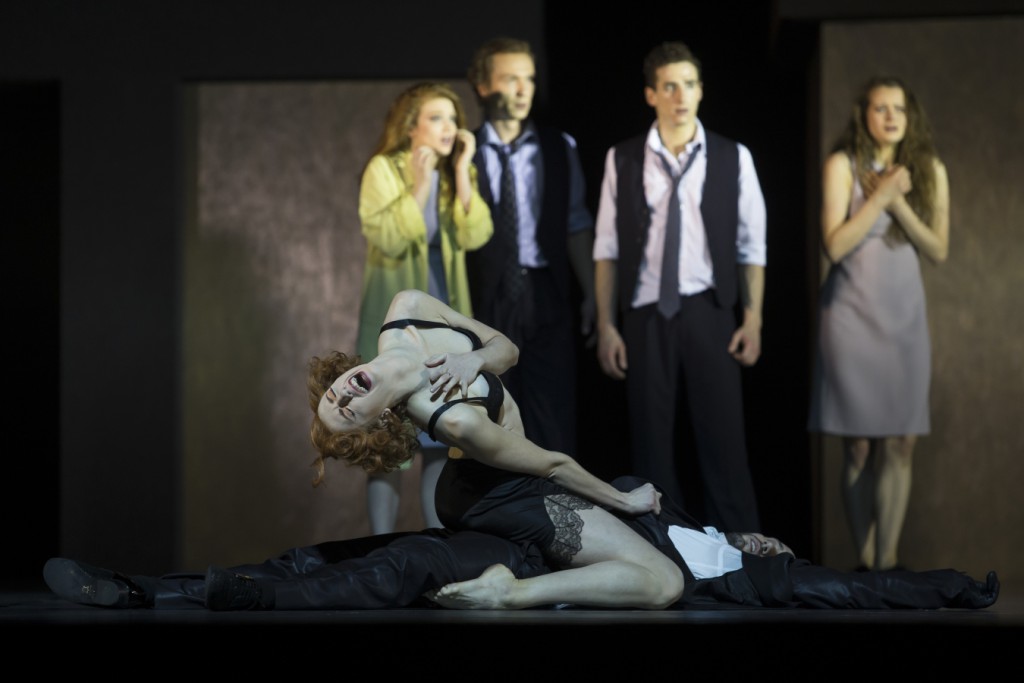 danced in the corps de ballet of the Kirov Ballet, today's Maryinsky Ballet. Elena grew up in the theater. Dancing and moving the whole time, she started ballet lessons aged five; entering the Vaganove Ballet Academy was the natural consequence. Nineteen-years-old and in her first year with the Maryinsky company, she had her debut as Odette/Odile partnered by Danil Korsuntsev. Around that time, in early 2005, Watkin, then choreographic assistant to William Forsythe, set "Steptext" at the Maryinsky which was part of its first Forsythe evening. Vostrotina wasn't cast but she had attracted Watkin's attention when performing another piece. Thus he asked her to participate in the rehearsals.
Vostrotina, eager to explore a wider repertory, already had a clear idea of going abroad one day. Contemporary and modern pieces interested her. An offer of a position in Watkin's company arrived opportunely. In hindsight leaving Russia was also important to start her standing on her own feet. "I'm very close to my parents, a real home chick. I turned twenty-one when coming to Germany and suddenly had to organize my life by myself. I felt super young, like a baby. It really happened that I called my mum, asking her how she would boil the pasta!" – "At least I know how to cook now" she adds with a laugh. "I didn't really speak English, let alone German. I learned them from the people in the company."
Arriving in Dresden in 2006 she had three weeks left to prepare for the opening bill: "Symphony No. 2" by Uwe Scholz, "In the Middle, Somewhat Elevated" by Forsythe and Kylián's "Petit mort". Her pioneering spirit was an advantage: "It was crazy! We worked from 9.00 am to 10.00 pm. Basically it felt as if settling in the opera. The shops were always closed when we
finished rehearsal. Often the fridge at home was empty – given there was a fridge at all in the new apartment. When one day was free, everyone was hurrying to go shopping. Actually it had been a fantastic time! It bound us together! Sometimes we jokingly count who of the first group, the dinosaurs, still is in the company."
Like her colleagues Vostrotina highly appreciates the chance of working with different choreographers. "To me Forsythe is a genius! We were somehow spoilt as his company used to perform here twice per year. Plenty of his ballets are in our repertory, we have been really privileged to have worked so often with him. Sometimes, other choreographers come round for only a few days but he worked intensely with us. That was great! I'm very grateful to dance in his ballets. The same applies to David (Dawson). He created several pieces with us, "Giselle" and recently "Tristan + Isolde". One becomes familiar with the respective style and acquainted with the personality." Nevertheless guesting with other companies attracts Vostrotina. "For some time now we have had more individual guest appearances. Touring the company has also come into focus. It took some time but now we start to make our mark out there. Yet it is a pity that many good shows weren't noticed appropriately in earlier times." Asked if the audience changed with the company's evolvement, Vostrotina says Dresden's audience had been and would be an educated one, always responsive and easily enthusiastic about a good show. However some years ago the opera had undergone a crisis, although the company was offering a fantastic program. Maybe a side effect of the global economic crisis? Many seats in the orchestra stalls stayed empty yet the small audience applauded like mad. "It is a bit like it happened a few times when still at school. When only a handful of students showed up in class – presumably to the teacher's disappointment – we worked even more intensely and got so much attention that we went home, exhausted, but profoundly happy."
The Russian likes the classical as well as the modern repertory. Dawson created the role of Myrtha on her – a less malicious one compared to other classical versions, with Stijn Celis she worked amongst others on the part of Lady Capulet mentioned
above. Asked about roles still on her wish list Vostrotina bursts out with "Everything! There is so much left to do!" Juliet would be a dream, next to a tall Romeo. The female parts in Forsythe's "Quintett" and "Bolero" from Béjart. "Béjart isn't in our repertory but who knows…"
Interested in looking beyond the horizon Vostrotina loves to act, though she is scared by the idea of having to speak on stage. "We are trained to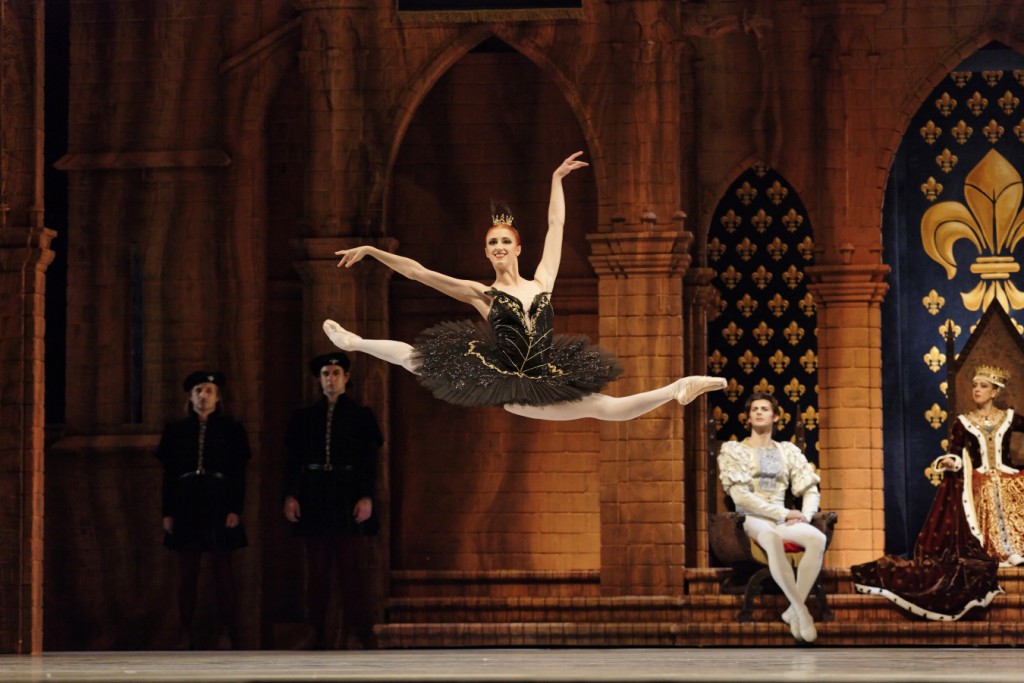 express everything without words. Ohad Naharin made us sing and shout in "Minus 16", but we were shy in the beginning." She enjoys biking along the river, watching movies or doing things with her hands, like sewing little creations which she gives away to friends as presents. Design in general attracts her: costumes, fashion or furniture. Vostrotina also experimented with teaching. Two years ago she taught a summer course at the Palucca School nearby for a fortnight. "An amazing experience! I started to reflect upon how I do things, to reevaluate. I suppose I learned more from the kids – psychological issues, for example – than they from me. We had a little performance afterwards and I remember two girls, who didn't train professionally but rather participated for their own pleasure. They were the ones really dancing with their hearts. Their dance was so clear and they were absolutely present on stage! Witnessing that was the most rewarding! Some months ago I watched a ballet master class for other teachers in Dortmund. They, too, worked hard. Incredibly dedicated! Two pirouettes and even went one better! Their passion and respect for the art inspired me immensely. Regardless what you do it is utmost important to love it! To give your best even if you are not immediately turning into a high flyer. One needs discipline, basic everyday discipline."
A portrait of Jiří Bubeníček, principal dancer of the company since 2006, will follow in autumn this year.
(All interviews have been edited for clarity.)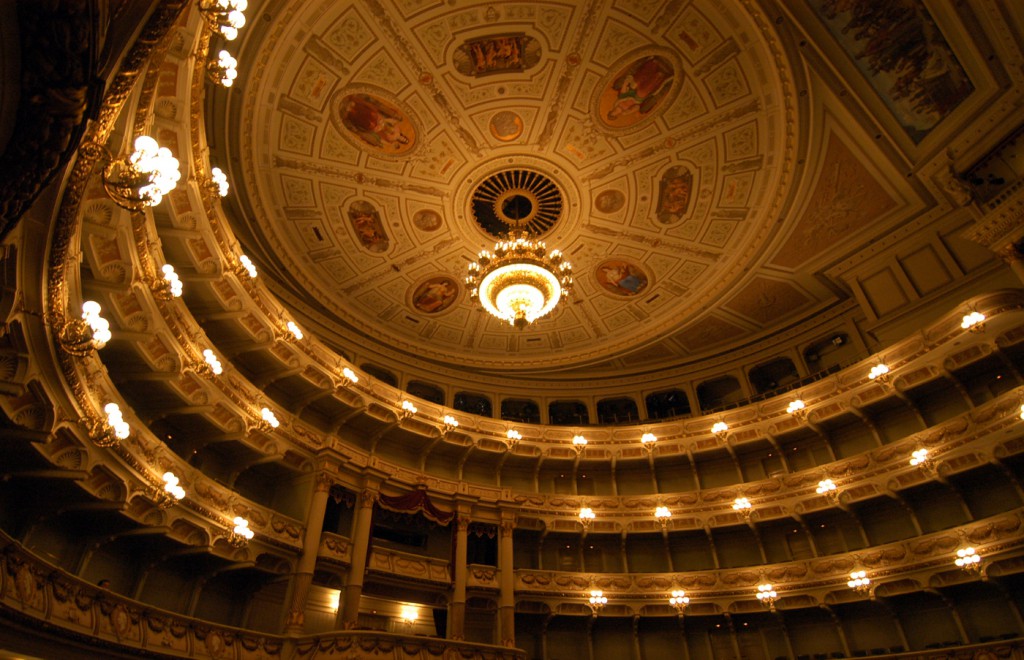 | | | |
| --- | --- | --- |
| | | |
| Links: | | Homepage of Semperoper Ballet |
| | | Homepage of Nikolai Schmidt (Photographer) |
| Photos: | 1. | Semperoper Dresden © Matthias Creutziger 2015 |
| | | Raphaël Coumes-Marquet |
| | 2. | Raphaël Coumes-Marquet (King Marke), Courtney Richardson (Isolde) and ensemble, "Tristan & Isolde" by David Dawson, Semperoper Ballet © Nikolai Schmidt |
| | 3. | Raphaël Coumes-Marquet (Albrecht), "Giselle" by David Dawson, Semperoper Ballet © Costin Radu 2015 |
| | 4. | Raphaël Coumes-Marquet and ensemble, "The Second Detail" by William Forsythe, Semperoper Ballet © Costin Radu 2015 |
| | 5. | Raphaël Coumes-Marquet (The King), "Illusions – like Swan Lake" by John Neumeier, Semperoper Ballet © Costin Radu 2015 |
| | 6. | Yumiko Takeshima (Titania) and Raphaël Coumes-Marquet (Oberon), "A Midsummer Night's Dream" by John Neumeier, Semperoper Ballet © Matthias Creutziger 2015 |
| | | Sangeun Lee |
| | 7. | Sangeun Lee (Snow Queen) and ensemble, "The Nutcracker" by Aaron S.Watkin and Jason Beechey, Semperoper Ballet © Costin Radu 2015 |
| | 8. | Sangeun Lee (3. Act, Wedding ceremonies) and students of the Palucca School, "Coppélia" by George Balanchine and Alexandra Danilova after Marius Petipa, Semperoper Ballet © Costin Radu 2015 |
| | | Sangeun Lee and Raphaël Coumes-Marquet |
| | 9. | Sangeun Lee and Raphaël Coumes-Marquet, "In the Middle, Somewhat Elevated" by William Forsythe, Semperoper Ballet © Ian Whalen 2015 |
| | 10. | Raphaël Coumes-Marquet and Sangeun Lee, "Slingerland" by William Forsythe, Semperoper Ballet © Ian Whalen 2015 |
| | | Anna Merkulova |
| | 11 | Anna Merkulova (Marie), "The Nutcracker" by Aaron S.Watkin and Jason Beechey, Semperoper Ballet © Costin Radu 2015 |
| | 12. | Anna Merkulova and Johannes Schmidt, "In the Middle, Somewhat Elevated" by William Forsythe (Paris), Semperoper Ballet © Ian Whalen 2015 |
| | 13. | Anna Merkulova and Jón Vallejo, "New Sleep" pas de deux of "New Suite" by William Forsythe, Semperoper Ballet © Costin Radu 2015 |
| | 14. | Anna Merkulova (Aurora) and Jiří Bubeníček (Prince Florimund), "Sleeping Beauty" by Aaron S.Watkin after Marius Petipa, Semperoper Ballet © Ian Whalen 2015 |
| | | Anna Merkulova and Jón Vallejo |
| | 15. | Anna Merkulova (Juliet) and Jón Vallejo (Romeo), rehearsal of "Romeo and Juliet" by Stijn Celis, Semperoper Ballet © Ian Whalen 2015 |
| | 16. | Anna Merkulova (Juliet) and Jón Vallejo (Romeo), rehearsal of "Romeo and Juliet" by Stijn Celis, Semperoper Ballet © Ian Whalen 2015 |
| | | Jón Vallejo |
| | 17. | Jón Vallejo, "Vertigo Maze" by Stijn Celis, Semperoper Ballet © Costin Radu 2015 |
| | 18. | Jón Vallejo (Melot), "Tristan & Isolde" by David Dawson, Semperoper Ballet © Ian Whalen 2015 |
| | 19. | Elena Vostrotina and Jón Vallejo, "Im Anderen Raum" ("In Another Sort of Room") by Pontus Lidberg, Semperoper Ballet © Ian Whalen 2015 |
| | | Elena Vostrotina |
| | 20. | Elena Vostrotina (Lady Capulet) and ensemble, "Romeo and Juliet" by Stijn Celis, Semperoper Ballet © Costin Radu 2015 |
| | 21. | Elena Vostrotina (Lady Capulet), Fabien Voranger (Tybalt) and ensemble, "Romeo and Juliet" by Stijn Celis, Semperoper Ballet © Costin Radu 2015 |
| | 22. | Elena Vostrotina (Myrtha), "Giselle" by David Dawson, Semperoper Ballet © Costin Radu 2015 |
| | 23. | Elena Vostrotina (Odette) and Vladimir Shishov (Prince Siegfried), "Swan Lake" by Aaron S.Watkin, Semperoper Ballet © Costin Radu 2015 |
| | 24. | Elena Vostrotina (Odile) and ensemble, "Swan Lake" by Aaron S.Watkin, Semperoper Ballet © Costin Radu 2015 |
| | | |
| | 25. | Semperoper Dresden © Matthias Creutziger 2015 |
| Editing: | | Laurence Smelser |