"Les Ballets Bubeníček" ("L'Heure Bleue", "The Piano")
Nové Divadlo/ J.K. Tyl-Theater
Pilsen, Czech Republic
July 18, 2015
by Ilona Landgraf
Copyright © 2015 by Ilona Landgraf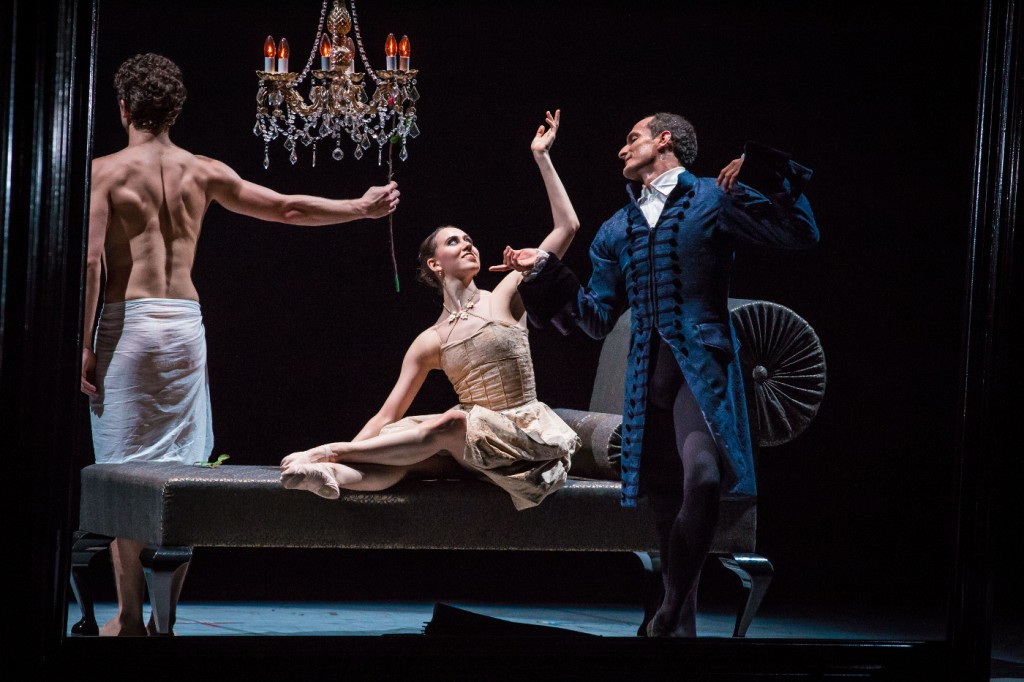 Pilsen, the Czech Republic's fourth biggest town, is located in Bohemia between Prague and Germany's Nuremberg. First and foremost it is known for its pils, a type of pale lager beer produced there since 1842. This year Pilsen is making headlines for another reason: in addition to Belgium's Mons, it is one of Europe's Cultural Capitals. More than six hundred cultural events, ranging from theater performances to concerts, art exhibitions and other events are offered. The project which started in January is more than a short-lived affair, promising instead to boost the town's popularity and fuel local cultural life for a long time to come.
That the Czechs' much beloved dancers, Otto and Jiří Bubeníček, became involved in the cultural programming was no surprise. They presented two ballets – "L'Heure Bleue" and "The Piano" , both choreographed by Jiří Bubeníček, on three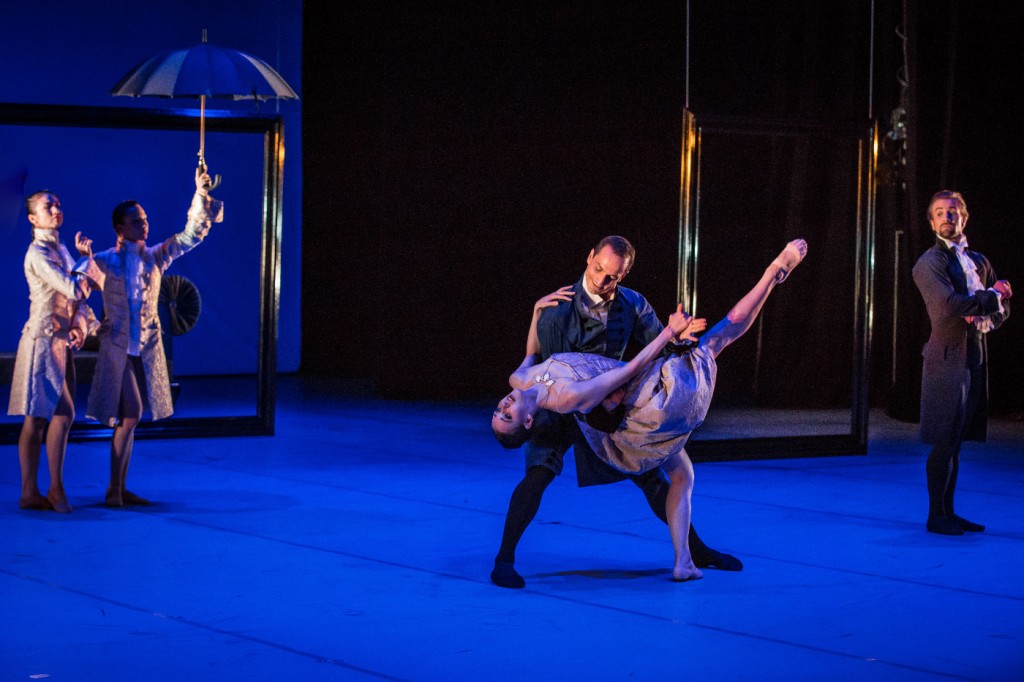 consecutive evenings in the newly built J.K. Tyl-Theater. As usual, when performances by the twins are announced in their native country, the house quickly sold out. This time dancers from Ballet Dortmund and the Semperoper Ballet, plus the Royal Swedish Ballet's principal Arsen Mehrabyan, formed "Les Ballets Bubeníček". Sadly, Otto Bubeníček, just having retired from his long career with Hamburg Ballet the weekend before, was injured during rehearsals. He was replaced by the Semperoper Ballet's Jón Vallejo on short notice. Otto was also in charge of set and costumes for "L'Heure Bleue" as well as set and video design for "The Piano".
"L'Heure Bleue" premiered with North Carolina Dance Theater in Charlotte in 2013. The idea behind it originated after a guest performance in Paris when Jiří Bubeníček was walking home to his apartment at Montmartre. Night hadn't fully finished and morning was about to arrive. The pallid blue light of this hour spurred an idea Jiří was suddenly drawn to. He invented a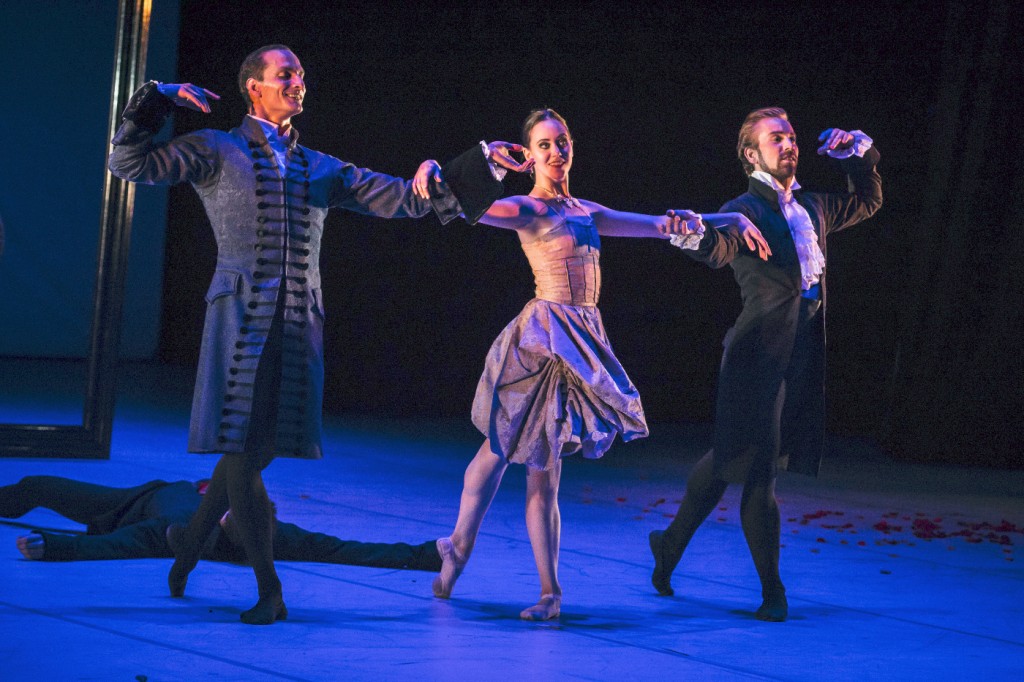 humorous story about portraits from the Baroque period coming to life, among them two noblemen who compete for the same woman. The ballet's music is by Johann Sebastian Bach. The two men were Jiří Bubeníček and Jón Vallejo, with the lady of their hearts being Sonia Vinograd. At first, not seeing her, both men exchanged courtesies from one picture frame to the other. Respectful bows were made, a handkerchief changed hands, but soon modern moves from today's era crept into their genteel and quite eccentric etiquette. Bubeníček, for example, once shook his upper body intensely as if he wanted all affectations to disappear.
By stepping out of the frames, the two noblemen indeed seemed to be partly giving up their aristocratic, antique demeanor. Later, the two amorous swains dueled one another for her favors. Bubeníček, aided by a third handsome man swinging his sword (Claudio Cangialosi), was ultimately the victor. At first, poor Vallejo, a bit of a coward, sought shelter behind Vinograd before regaining his courage. More romantically inclined, he tried to entice her with a long-stemmed red rose. He had almost succeeded when a fourth man ventured onto the scene: Andrei Morariu, bare-footed and wearing only a white waistcloth. Vinograd found his radiance and appeal irresistible. Finally, though, she responded to the pleas of her two suitors, who hadn't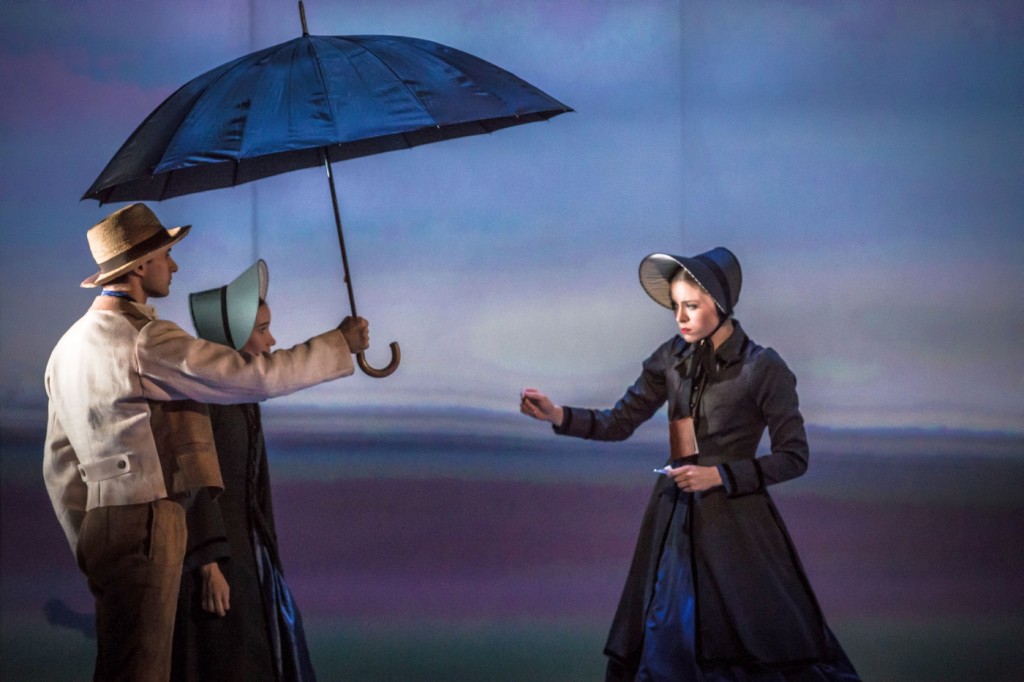 stopped competing with each other. All smiling like winners, even Vallejo, they resumed courtly behavior in a pas de trois centered around Vinograd. After the pas de trois, she chose Bubeníček. All's well that ends well, everyone finally got his partner – or almost everyone. While Bubeníček danced with Vinograd, Vallejo and Cangialosi developed a fancy for her two court ladies (Duosi Zhu and Jelena-Ana Stupar). Only Morariu found no lady to continue flirting with, but at least he was allowed to enter the tableau at the end of the blue hour's twilight when all returned into their frames once again as portraits. There he stood at the foot of the chaise lounge Vinograd had draped herself onto.
Jiří Bubeníček's choreography was light and entertaining, having just the right quotient of humor. He never laid it on thickly or slipped into slapstick comedy. Steps and gestures were well paced and varied, creating an airily effervescent atmosphere.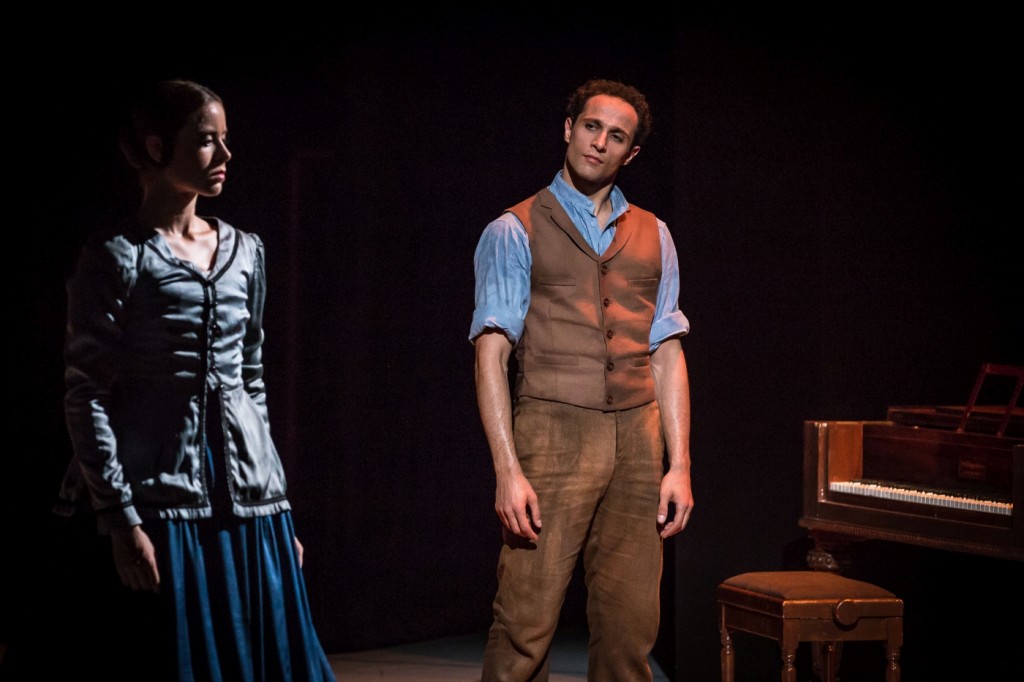 Several times the dancers froze in group formations that alluded to their existence as portraits.
Each of the three noblemen had an opportunity to shine in a solo. Bubeníček, having clear-cut facial features and using a condescending look that fit perfectly, was a truly suave aristocrat. Despite having been pushed flat on his face in the quarrel with Vallejo, he nonchalantly brushed fluff from his shoulder as if nothing had happened. Vallejo, short but a bundle of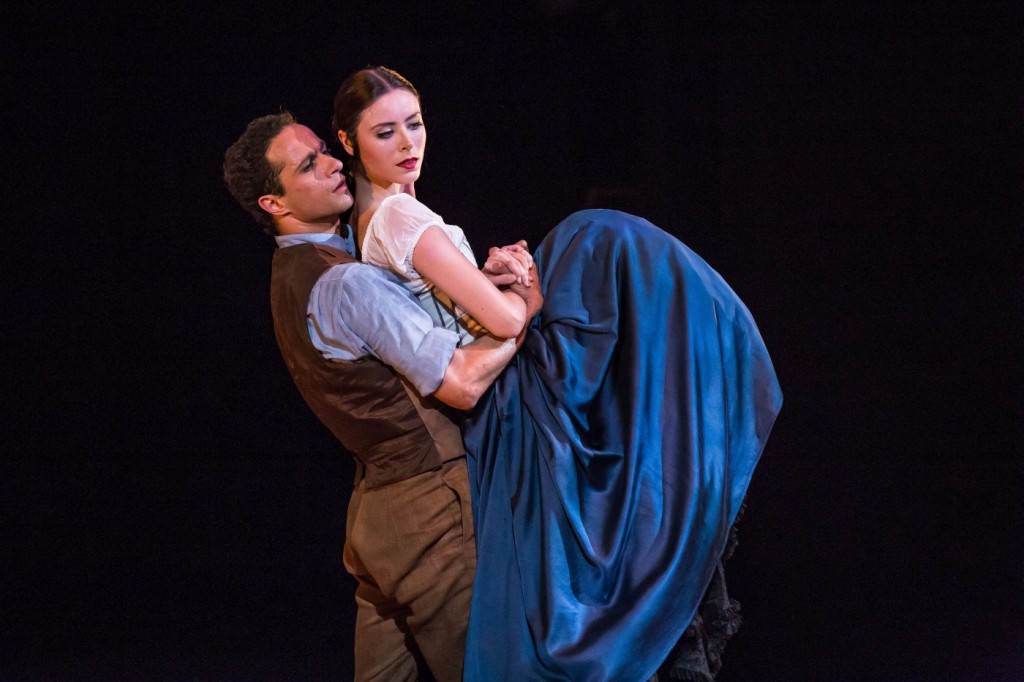 energy, shone with virtuosic turns and leaps. It was good to see him back on stage after a long absence due to injury. Finally, Cangialosi displayed Don Juan-like charm, showing his long, elegant limbs to advantage.
"L'Heure Bleue" fizzed like sparkling Prosecco wine on opening night. It might easily have become champagne in the following performances.
"The Piano" is based on Jane Campion's movie of the same title. It tells the story of the Scotswoman Ada McGrath, who is forced into marriage with a New Zealand plantation owner named Alistair Stewart. Ada is mute and restrained in expressing emotions. She communicates by sign language, by writing short comments on notepads and, above all, by playing the piano. Sometimes her illegitimate daughter Flora acts as her interpreter.
But there is no chemistry between Ada and Alistair from their first encounter. Matters worsen when Alistair refuses to transport Ada's piano from the beach to his house. Soon Alistair's neighbor, George Baines, falls in love with Ada. Fascinated by her when he sees her playing the piano, he is able to lure Ada out of her shell. Their romance is discovered by Alistair. He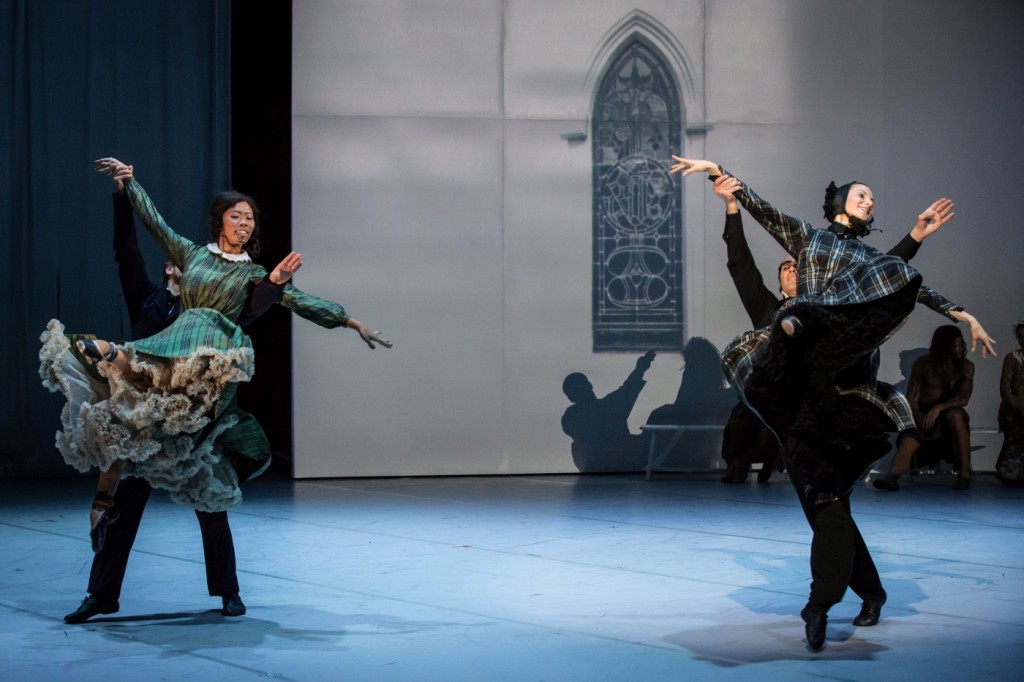 confines Ada to the house, but learning that she secretly has sent a message to George, he goes crazy and chops off one of her fingers. At the ballet's end Ada, George, Flora and the piano leave the New Zealand settlement by boat.
After having seen "The Piano" in Dortmund shortly after its premiere earlier this year, it was interesting to see how the piece has since developed. Except for a few minor parts and the role of Ada being danced by Jaqueline Báby in Pilsen, the cast remained unchanged. Small adaptions were made to fit the piece onto the smaller stage. The group of Maoris was, for example, smaller. But the video close-ups of New Zealand's imposing surf were even more impressive. Actually one felt as if one was standing on the beach. Only the smell of salt water was missing.
While Campion's film repeatedly depicts the inhospitable living conditions in the New Zealand settlement – downpours and a soaked, muddy ground which people traverse on small planks – Otto Bubeníček's videos instead highlight the island's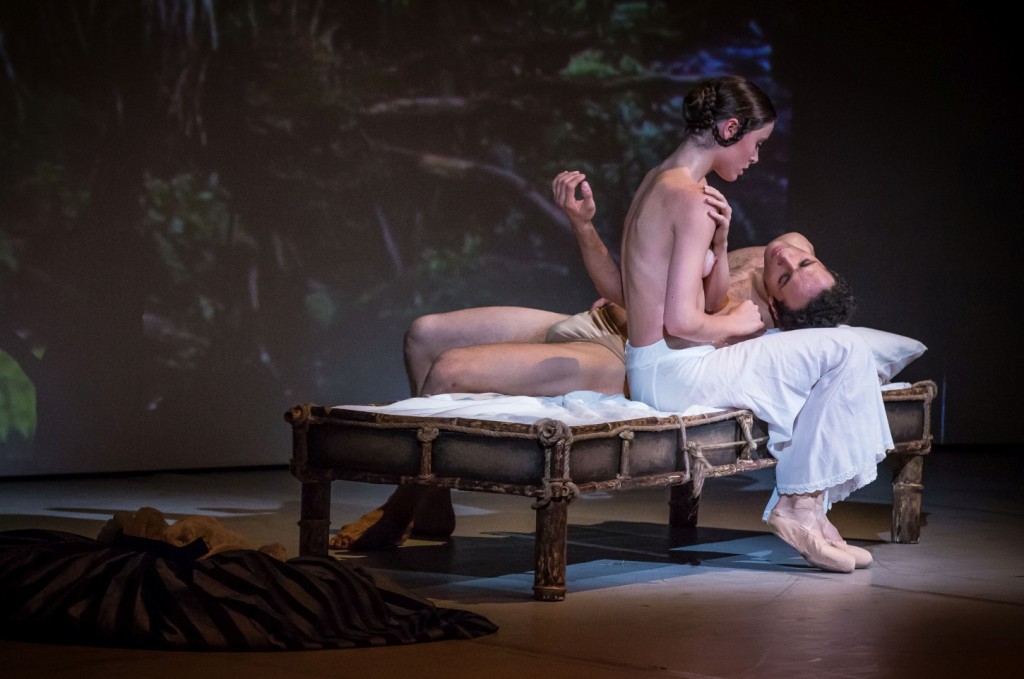 beautiful nature, its lush green rainforest, its waterfalls and endless beaches.
In Dortmund, Emilie Nguyen had characterized Ada as a withdrawn woman, strong willed, composed, but full of repressed emotions which gradually push up to the surface. Jaqueline Báby also gave a fine interpretation here in Pilsen, but her Ada was less nuanced. Báby's facial expression and her eyes gave few clues as to what she actually felt and thought. When disembarking on New Zealand's shore she seemed, for example, not at all apprehensive but rather quite self-assured, appraising Alistair and the Maori from the corner of her eye. George's advances disconcert her, but how deeply? When finally taking the initiative and standing up for her love for him, she smiles like a woman does when aware of a man's passionate, unselfish love. But unlike George she seemed less involved, less absorbed by emotions.
Arsen Mehrabyan gave his whole heart to the role of George this time and was even more poignant than he had been in Dortmund. He was torn between shyness and his strong arousing desire for Ada. On the one hand he was confused, not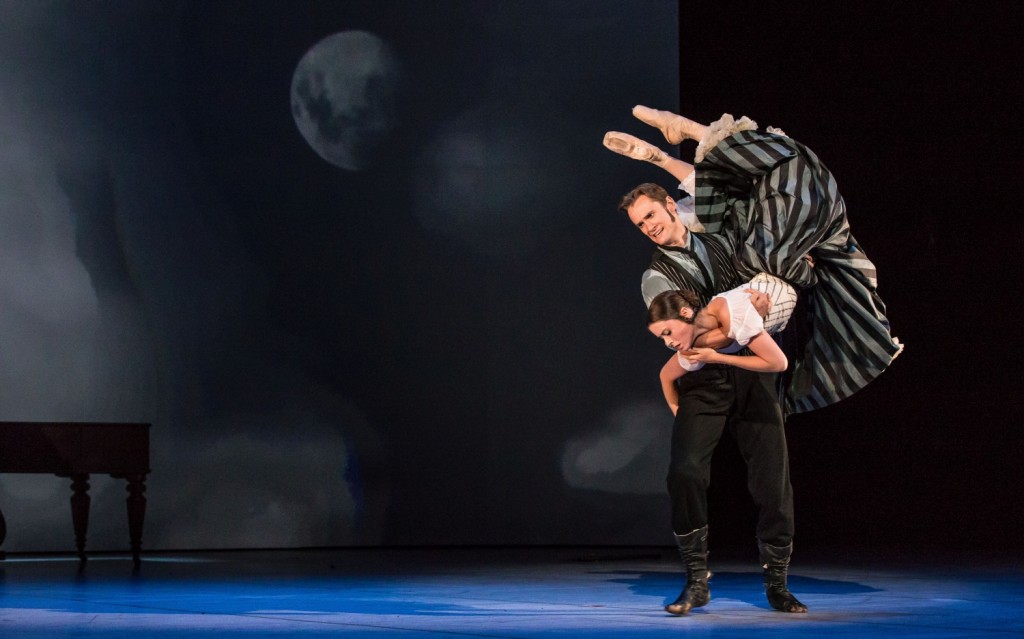 daring to touch her, on the other he immediately asked for more when she occasionally stroked his hair. Basically, Mehrabyan looked emotionally shuttered – which contrasted with the strong, pure emotions and sensuality erupting out of him. His eyes were hungry, demanding, pleading, full of love – or sad, as when he was at first rejected by Ada. George, meanwhile owning the piano, offered her to give it back if she allowed him to touch her. Bargaining about the extent of intimacy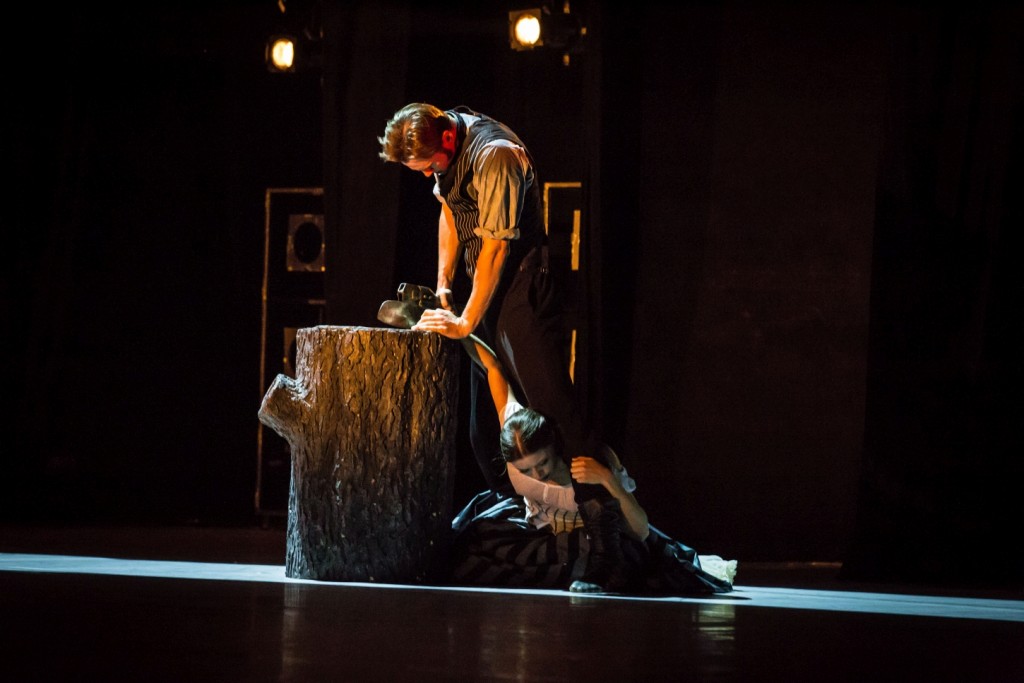 admitted in exchange for two, five or ten piano keys George intuitively kept a balance between urging Ada and inviting her to get involved with him.
Though pushing the envelope, Mehrabyan's George never went too far. At one point after having gotten her to lie next to him, he could have had his way with her, but instead was extremely sensitive. Physically close, both shuddered, seeing each other undressed. Mehrabyan is a very talented actor, his partnering is skillful and elegant, his dance expressive. Compliments to him for this utterly touching performance!
Dmitry Semionov, a tall man, had already danced Alistair Stewart in Dortmund. This time, initially, he was a bit too slick and neat for someone chopping wood. Later he allows us a glimpse into his soul. When holding Ada's hand after having confined her to the house, it was clear that he was hurt, that he didn't want to lose her, that he asked himself why she didn't love him as she loved George. Alistair's rage in discovering Ada's betrayal was so convincing this time that one froze in shock the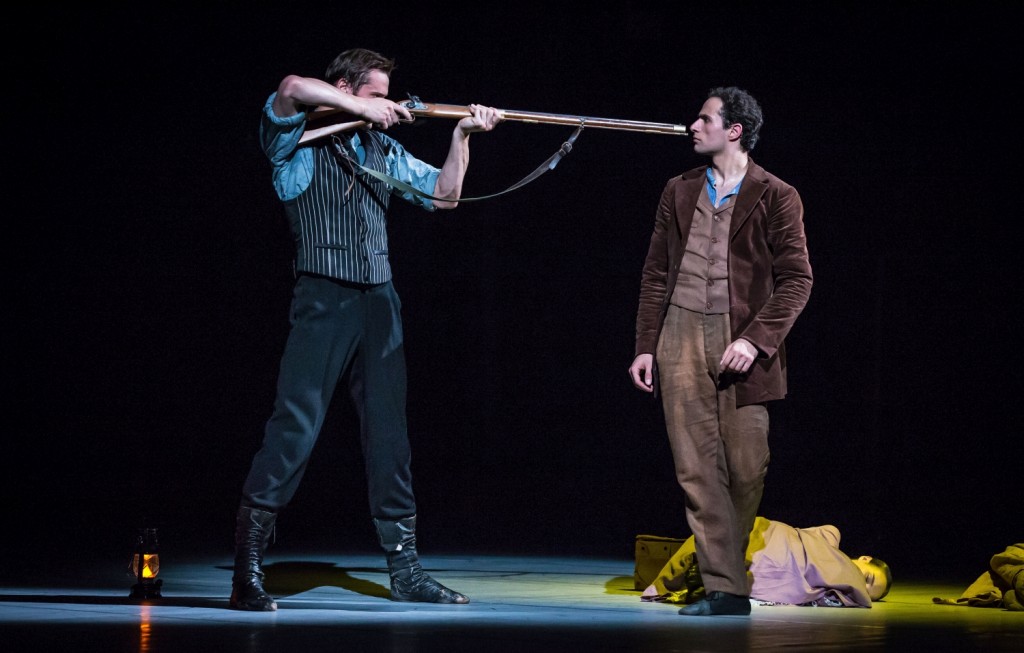 closer he dragged her to the chopping block. Staring vacantly into space with bulging eyes, he was someone that one certainly didn't want to encounter.
The settlement's Reverend (Arsen Azatyan), a short man, was pompous, overexcited, full of himself but oh so assiduous. Aunt Morag (Jelene-Ana Stupar) and her companion Nessie (Sayo Yoshida), eager to please this man of God, zealously scurried around on pointe, putting Ada more quickly into her wedding dress than she knew what was happening. They completely lived up to the cliché of bigoted spinsters, whose sexuality expressed itself in pecks on the cheeks they excitedly exchanged with the Reverend.
Young Casey Hoskins, as the girl Flora, has gained stage experience since the premiere in a way that seems to have begun to slightly blur her naturalness as a child. For the scene of the villagers' Christmas festivity in the church, five children from a dance school in Pilsen joined the company. They performed a dance as Christmas angels. The corps danced with zest either as sailor, Maori or village folk.
"The Piano"is visually stunning and packed with haunting emotions one cannot evade. A gripping story! The Bubeníčeks simply know how to tell it.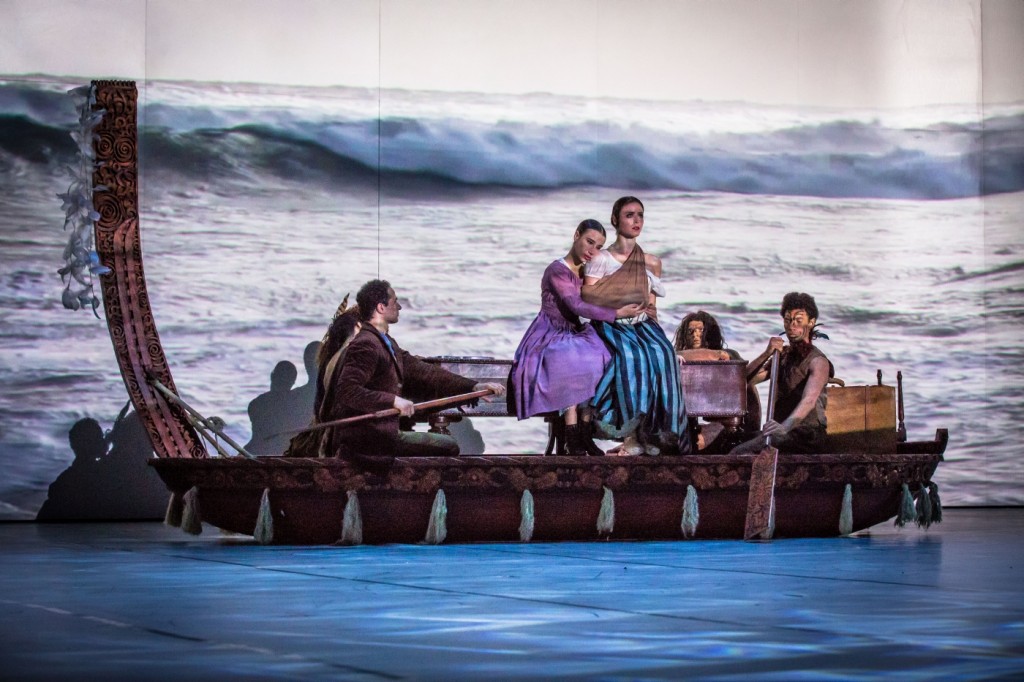 | | | |
| --- | --- | --- |
| | | |
| Links: | | Homepage of Les Ballets Bubeníček |
| | | Homepage of the J.K. Tyl-Theater Pilsen |
| | | Homepage of Silvano Ballone (photographer) |
| Photos: | | "L'Heure Bleue" |
| | 1. | Andrei Morariu, Sonia Vinograd and Jiří Bubeníček, "L'Heure Bleue" by Jiří Bubeníček, Les Ballets Bubeníček 2015 |
| | 2. | Duosi Zhu, Jelena-Ana Stupar, Jiří Bubeníček, Sonia Vinograd and Jón Vallejo, "L'Heure Bleue" by Jiří Bubeníček, Les Ballets Bubeníček 2015 |
| | 3. | Jiří Bubeníček, Sonia Vinograd and Jón Vallejo, "L'Heure Bleue" by Jiří Bubeníček, Les Ballets Bubeníček 2015 |
| | | "The Piano" |
| | 4. | Arsen Mehrabyan (George Baines), Casey Hoskins (Flora McGrath) nd Jaqueline Báby (Ada McGrath), "The Piano" by Jiří Bubeníček, Les Ballets Bubeníček 2015 |
| | 5. | Jaqueline Báby (Ada McGrath) and Arsen Mehrabyan (George Baines), "The Piano" by Jiří Bubeníček, Les Ballets Bubeníček 2015 |
| | 6. | Jaqueline Báby (Ada McGrath) and Arsen Mehrabyan (George Baines), "The Piano" by Jiří Bubeníček, Les Ballets Bubeníček 2015 |
| | 7. | Jón Vallejo and Sae Tamura (Villagers), Jelena-Ana Stupar (Aunt Morag) and Arsen Azatyan (Reverend), "The Piano" by Jiří Bubeníček, Les Ballets Bubeníček 2015 |
| | 8. | Jaqueline Báby (Ada McGrath) and Arsen Mehrabyan (George Baines), "The Piano" by Jiří Bubeníček, Les Ballets Bubeníček 2015 |
| | 9. | Dmitry Semionov (Alistair Stewart) and Jaqueline Báby (Ada McGrath), "The Piano" by Jiří Bubeníček, Les Ballets Bubeníček 2015 |
| | 10. | Dmitry Semionov (Alistair Stewart) and Jaqueline Báby (Ada McGrath), "The Piano" by Jiří Bubeníček, Les Ballets Bubeníček 2015 |
| | 11. | Dmitry Semionov (Alistair Stewart) and Arsen Mehrabyan (George Baines), "The Piano" by Jiří Bubeníček, Les Ballets Bubeníček 2015 |
| | 12. | Arsen Mehrabyan (George Baines), Casey Hoskins (Flora McGrath), Jaqueline Báby (Ada McGrath) and ensemble, "The Piano" by Jiří Bubeníček, Les Ballets Bubeníček 2015 |
| | | all photos © Silvano Ballone 2015 |
| Editing: | | Laurence Smelser, George Jackson |