"Nijinsky-Gala XLI"
Hamburg Ballet – John Neumeier
Hamburg State Opera
Hamburg, Germany
July 12, 2015
by Ilona Landgraf
Copyright © 2015 by Ilona Landgraf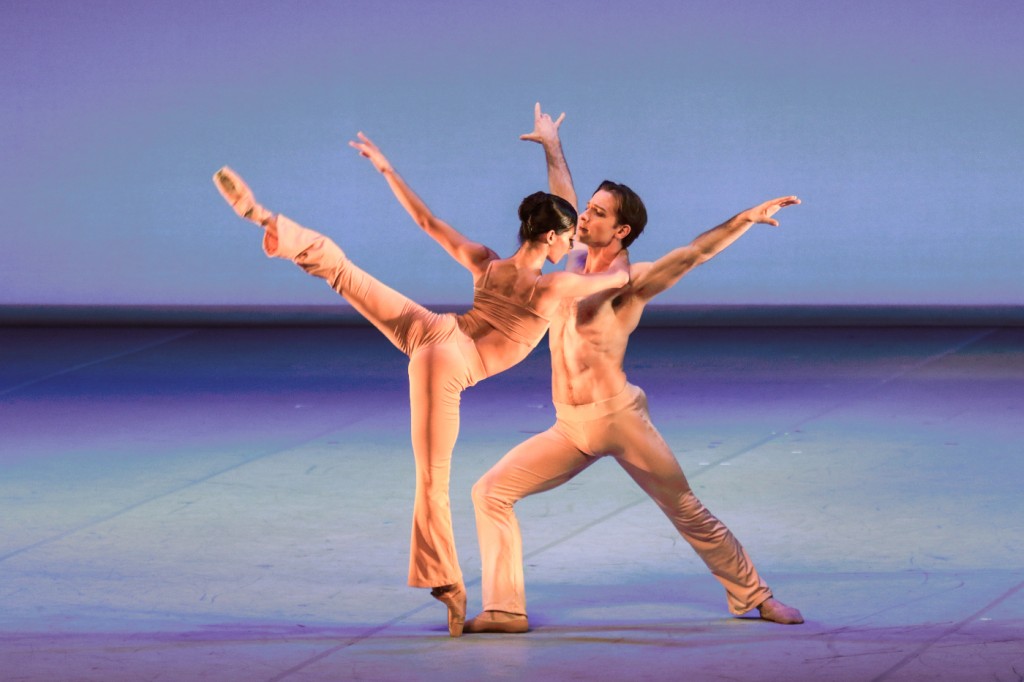 Traditionally Hamburg Ballet's "Ballet Days" end with a Nijinsky-Gala and traditionally John Neumeier presents an extra large format, that is five hours or more. The programs of past galas did not necessarily refer directly to Nijinsky, but this year's prominently did. Otto Bubeníček bid his farewell as Vaslav Nijinsky in an excerpt from Neumeier's "'Le Pavillon d'Armide" which was the center piece of the three-part evening. It was in the "Spirit of the Romantic Period", which was the common theme of the season's repertory. The first part offered insights into eight different ballets, the final third part was made up of excerpts from five other ballets. Neumeier never presents small snippets, instead he tends to add another pas de deux rather than cutting one. Dancers from the Houston Ballet and the National Ballet of China broadened the spectrum. Other guests were the Bolshoi Ballet's Svetlana Zakharova and Johan Kobborg who danced with Alina Cojocaru, a permanent guest of Hamburg Ballet. As usual Neumeier in person guided the audience through the program.
As so happens, the opening number was reserved for the junior dancers. This year the National Youth Ballet danced to four French chansons – sometimes sentimental, suggestive and deliberately corny – accompanied by live music and soprano Estelle Béréau. Chansons are naturally imbued with a romantic spirit. Maša Kolar's modern expressive choreography made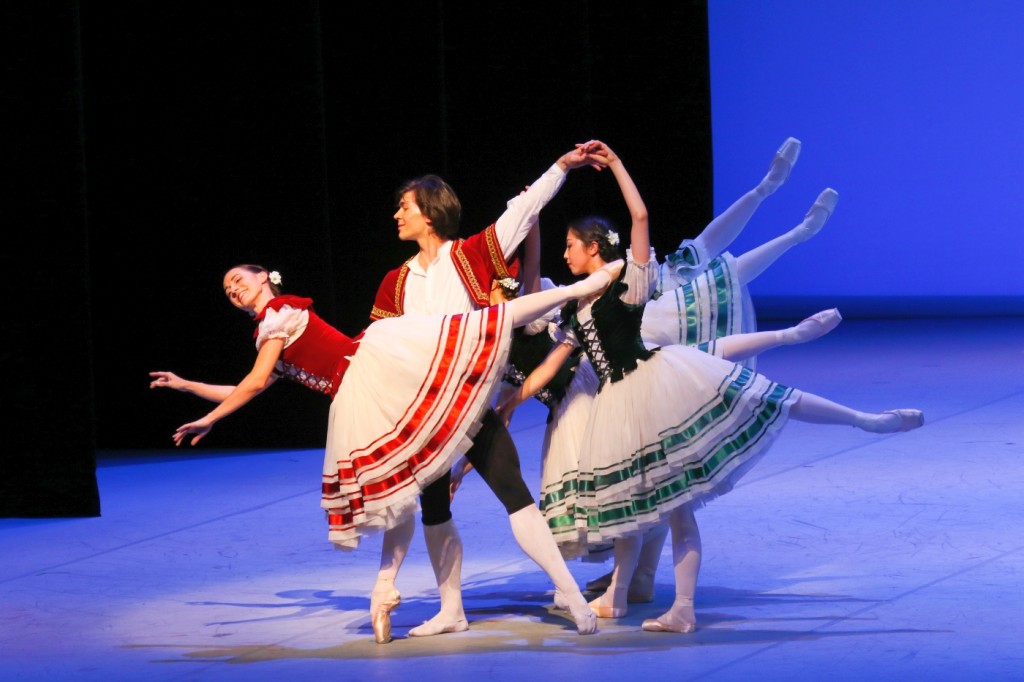 the right contrast. The eight dancers relished presenting refreshing romantic encounters, showing off and evoking a rustic kermis atmosphere. They wore remarkably beautiful tops, skin-tight and printed with ornaments and flowers.
The second piece, "Verklungene Feste", was connected to the romantic period in several aspects. Composer Richard Strauss based his score on the rather classical music by the French François Couperin but added quite a whiff of romantic feeling to it. Ballets from this music were tackled by others before. Neumeier chose a modern approach in 2008. He interpreted the title, roughly meaning 'the party is over', in an historical manner, to depict how a decadent society awakens in the midst of World War II, shattering romantic feelings. In the first pas de deux, in which a woman's man has to part for military service, Anna Laudere's unvarnished emotionality was convincing. Later, Edvin Revazov was the man who, when coming home, seemed realistically haggard in his military jacket. Silvia Azzoni and Alexandre Riabko presented a second pas de deux playfully interpreted by petite Azzoni before external events overshadowed them. Riabko preceded this with a solo.
Pierre Lacotte's "La Vivandìere", choreography after Arthur Saint-Léon, truly derives from the romantic era. It dates back to 1844. Leslie Heylmann and Alexandre Trusch, together with Mayo Arii, Futaba Ishizaki, Aurore Lissitzky and Lucia Rios, mastered it in spite of its being exceptionally difficult: A pas de six with jumps and leaps in every direction, requiring nimble footwork and self-confidence. The group dance needed some polish, but the solos and pas de deux were finely drawn.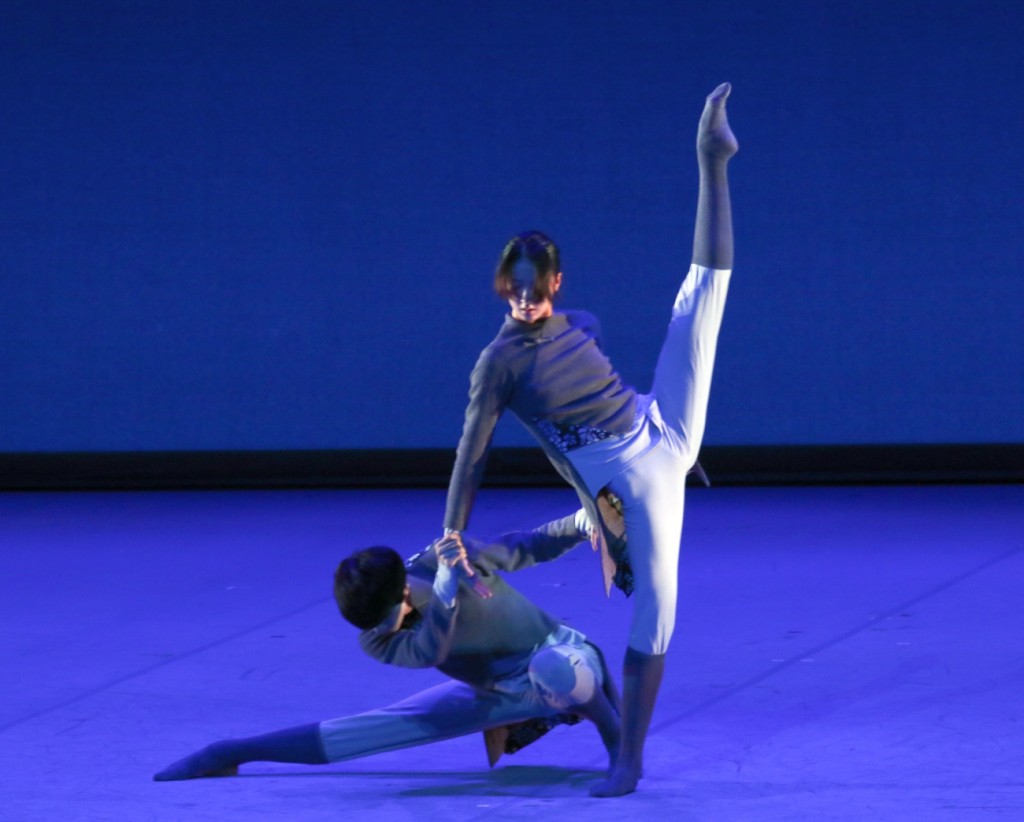 Heylmann, elegant, quicksilvery and with charming smiles throughout, at one point looked winningly at the audience as if she wanted to say: "Look, isn't that pretty?" She was right. Trusch, smiling all the while, was modest in demeanor. His gentle and reliable partnering, combined with an ability to excel in solos, is exceptional. He tackled the tour en l'air, alternating to the left and the right bravely. The lightness and joie de vivre of "La Vivandìere" dazzled the audience.
Fanny Elssler and Marie Taglioni, celebrated ballerinas in the romantic era, were rivals. This was completely unreasonable, Neumeier said, because they excelled in different roles. While Elssler, called the "pagan" ballerina, shone in the Andalusian "La Cachucha", a solo dance similar to Bolero, Taglioni, the "Christian" ballerina, seemed to hover over the stage in supernatural roles, having little wings attached to her back. Both dancers came back to life in solos. Yaiza Coll danced "La Cachucha". Although courageously clapping her castanets, she should risk more passion. As the winged sylph Alina Cojocaru enticed her James (Johan Kobborg) to stay with her in the forest even on his wedding day. They danced the pas de deux using the version Kobborg had choreographed after Bournonville's "La Sylphide" of 1836. A beautiful couple,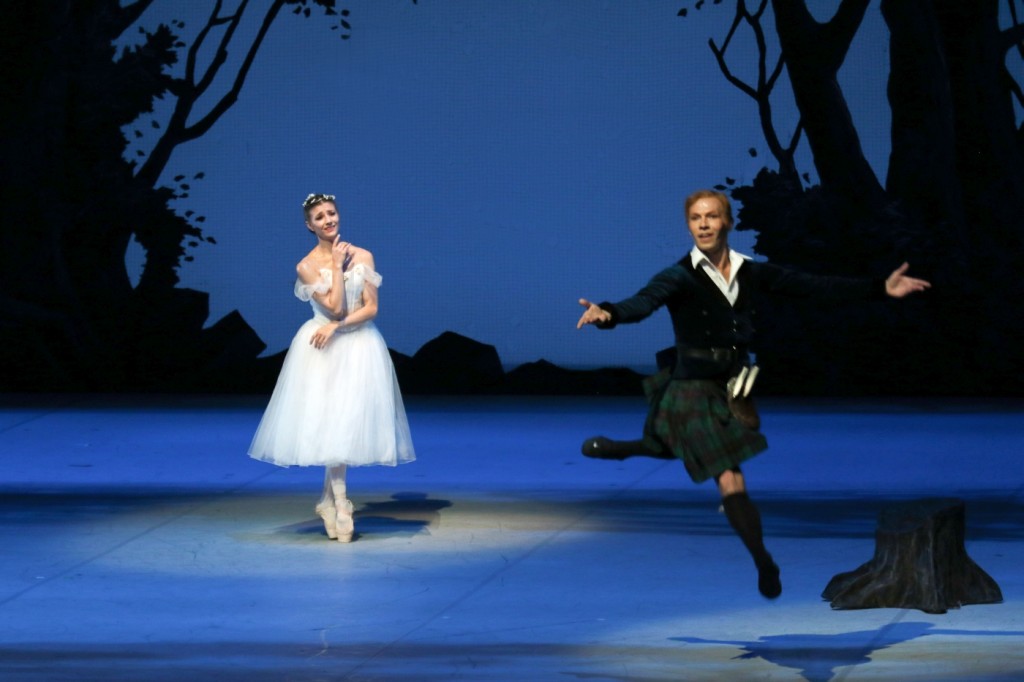 ideally attuned to each other, they made one lean back and enjoy every second. For Cojocaru it seemed to have been a heartfelt wish to introduce her real life's love to the audience. In any case both radiated intense warmth at their curtain call.
The Houston Ballet, this season's guest company during the Ballet Days, contributed two pieces to the gala: a pas de trois from "Clear" to concerts by Bach and three pas de deux from "Sons de l'áme" to music by Chopin. Both were choreographed by the troupe's artistic director, Stanton Welch.
"Clear" originated as a reaction to the terror attack on the World Trade Center on September 11, 2001, which, however, was less of an issue in the pas de trois presented by Jessica Collado, Aaron Robison and Chun Wai Chan. Simple costumes by Michael Kors – beige pants, the men bare chested, Collado having a top of the same color – directed the focus entirely towards the movements. Welch matched the clarity of Bach's music with equally clear choreography. Its elegance is not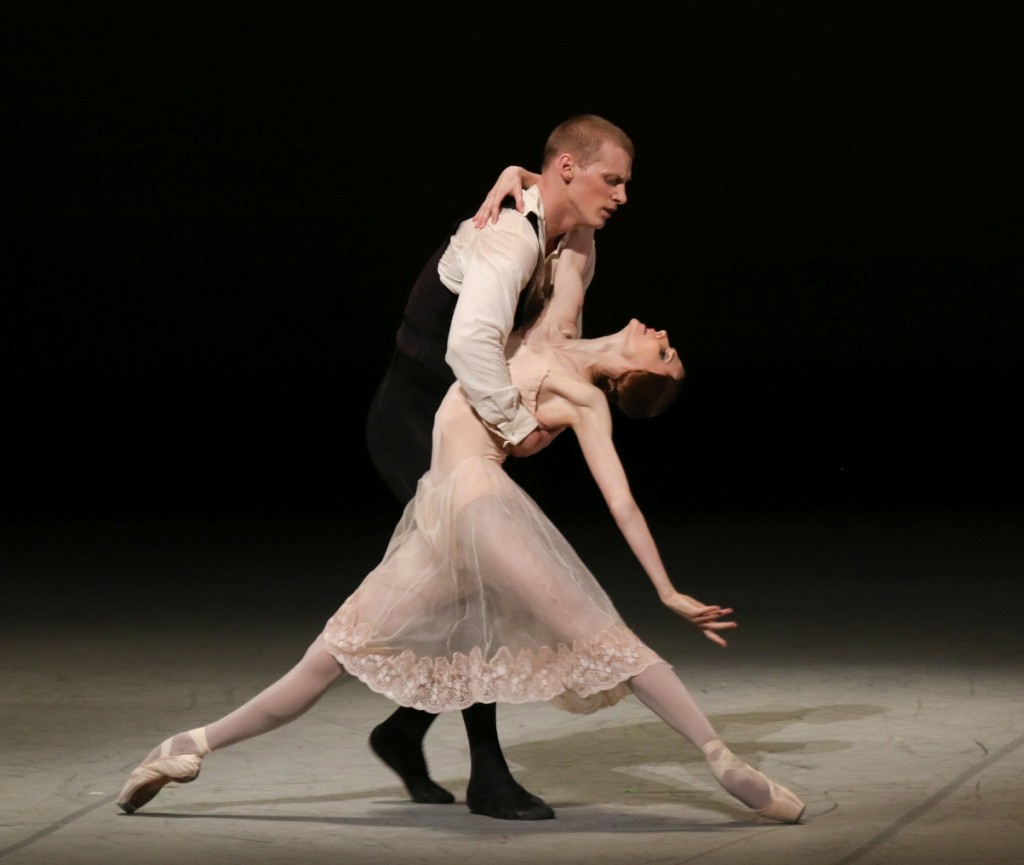 varnish but grows out of the beauty inherent in complete, unpretentious movements. The same applies to the three pas de deux of which Karina Gonzalez and Connor Walsh danced two while Jessica Collado and Ian Casady interpreted one. Michal Bialk accompanied them at the piano. The first, a very harmonious pas de deux, caught one's attention by slow phrases reminiscent of deep breaths made visible. Executing them seemed to be fulfilling per se. The second pas de deux fizzed like its piano score. Lifts were effortless, extinguishing any idea of weight and gravity. Also turns looked unaffected by any forces related to mass. The overall impression, however, wasn't airy. Instead the dancers seemed to naturally express what inner strength enabled them to do. The third pas de deux had more vigor and pace, but maintained the supple movement quality. Compliments to Houston Ballet's dancers for their compelling performance!
Qiu Yunting and Wu Sicong of the National Ballet of China presented two pieces by Zhang Disha: "Linen Braids" and, in the third part of the evening, ""How Beautiful is Heaven". "Linen Braids" displayed chopped up, robot-like movements and manipulations to monotonous electronic music involving sounds of rushing water. A rather gloomy affair. I liked "How Beautiful is Heaven" more. It was about caring and finally letting go of a terminally ill woman (Yunting). Yunting and Sicong brought poignant emotionality to the piece. A recorded female voice, verbalizing the story, could have easily been omitted. It weakened what was already expressed by dance.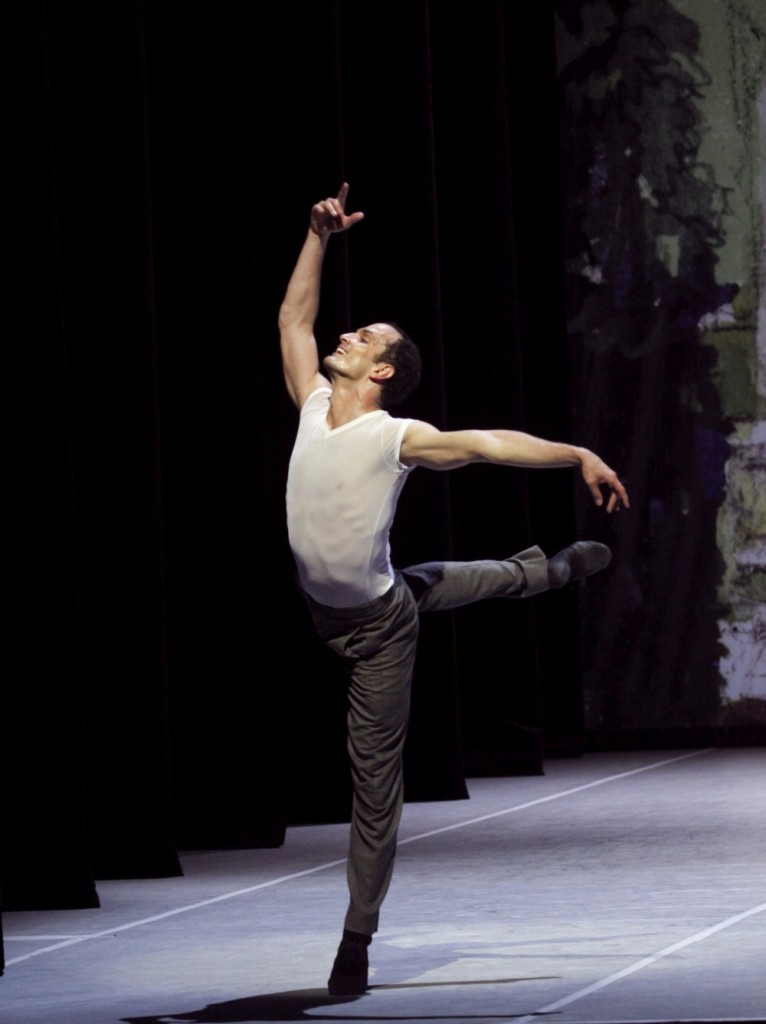 The gala reached its emotional peak in the second half when Otto Bubeníček gave his farewell in "Le Pavillon d'Armide". Bubeníček leaves the company after twenty-two years, eighteen of them as principal dancer. Versatile and blessed with great sensitivity and charisma he shaped many leading roles in Neumeier's oeuvre. His eccentric Drosselmeier, the androgynous erotism of his Faun or the sensuality of his panther-like Golden Slave are unforgettable. He was the failing Orpheus as well as the devious Iago, the lonely and misunderstood King in "Illusions – like Swan Lake" and the scary Sea Witch in "The Little Mermaid".
Vaslav Nijinsky in "Le Pavillon d'Armide" is one of his most touching roles. The piece, which premiered in 2009, draws on Michel Fokine's one-act ballet of the same title. It was the first work presented by Diaghilev's Ballets Russes in Paris in 1909. A sweeping success in large part due to three dancers: Vaslav Nijinsky, Tamara Karsavina and Alexandra Baldina. Neumeier, however, created a different framework for the story. He portrays Nijinsky as being committed to the mental asylum in Kreuzlingen after having suffered a mental breakdown. There, medically attended by Ludwig Binswanger, a Swiss psychiatrist, Nijinsky relived significant experiences from his training and had flashbacks of his former roles. Sometimes these occur in the sanatorium's park which resembles Alexandre Benois's original backdrop for the garden of Armide. In it,
Bubeníček danced an excerpt from the garden scene. A good choice, giving him the chance to indulge in his own memories, taking long looks at the audience as if they were remote, touching on other former roles like the Faun or the Golden Slave. Sharing the stage with many longstanding colleagues, he ran amidst the corps, arms widely stretched to the side, visibly savoring the atmosphere which seemed to encompass every moment of a fulfilled career. Here and there he participated in the dance, lifted a girl, turned or leaped. His two solos were even more expressive as he seemed to let loose all bonds. Bubeníček's aura is magnetic still.
Of his colleagues, Hélène Bouchet danced Armide, Carolina Agüero, Leslie Heylmann and Alexandre Riabko brought Fokine's reconstructed pas de trois for Nijinsky, Karsavina and Baldina to life, Ivan Urban portrayed Binswanger and, in what turned out to be the crucial pas de deux, Sergei Diaghilev to Bubeníček's Nijinsky. An ambiguous, deeply rooted relationship. From the first moment they met on a park bank the atmosphere became more dense and energy arose.
Bubeníček, choking back his tears at the curtain call, was overcome by heartfelt applause. The house rose with a standing ovation within seconds. His brother Jiří began the tributes from colleagues and friends who presented Otto with flowers. Their appreciation for him is profound. The twins have a packed schedule, planning to increasingly stage their own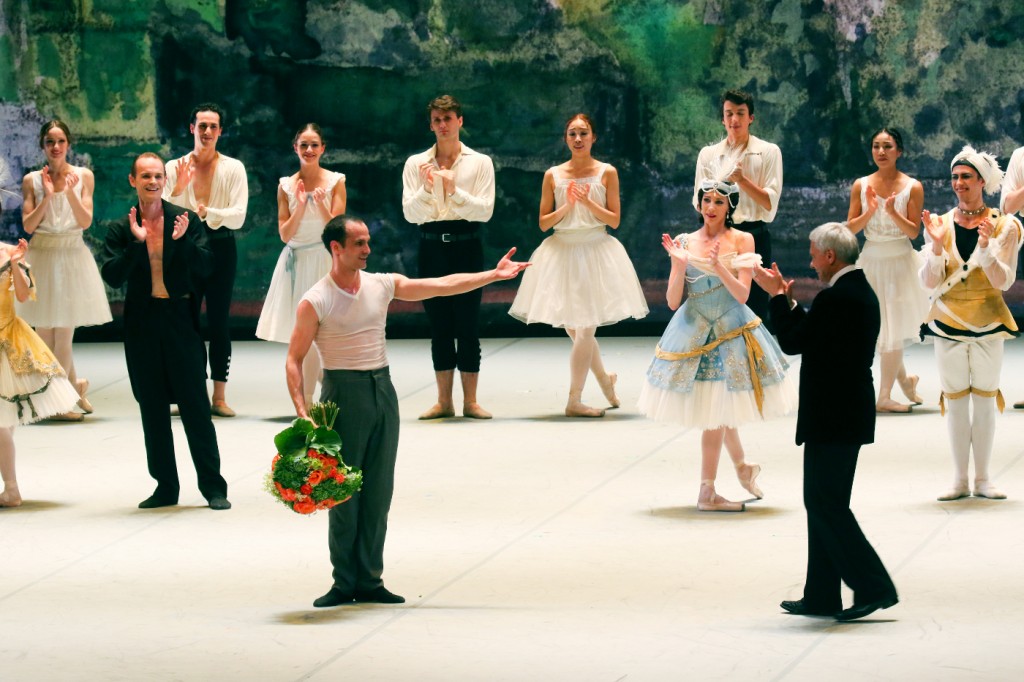 productions with other companies and also with their own troupe "Les Ballets Bubeníček". Otto will be back on stage on these occasions. Hamburg's audience will certainly miss him.
Given the emotionally charged farewell, the succeeding pieces of the evening's third part faced a hard task.
"Winterreise" ("Winter Journey") danced to Franz Schubert's song cycle of the same title is based on late-romantic poems by Wilhelm Müller. Neumeier commissioned the composer Hans Zender with a contemporary version of the original. Silvia Azzoni, Hayley Page, Aleix Martínez and Lloyd Riggins sensitively depicted the life events that four of the twenty-four songs in total tell. Tenor Rainer Trost sang flawlessly. However the austere and somber atmosphere of "Winterreise" was too drastic a mood swing. Also the pas de deux of the recently premiered "Peer Gynt", the scene in which Solveig comes to Peer after having left her parents, didn't draw on all its substance. That wasn't at all due to Alina Cojocaru and Carsten Jung. Both did well. But to really understand the scene's meaning in "Peer Gynt" and to make the story come alive one has to better know the characters and what happened before.
The black pas de deux of "Lady of the Camellias" was by contrast a reliable gala treat. The Bolshoi Ballet's Svetlana Zakharova and Hamburg Ballet's Edvin Revazov in the roles of Marguerite Gautier and Armand Duval started one scene earlier, when the protagonists accidentally meet in the park. Here Armand mortifies Marguerite by ostentatiously flirting with Olympia (Carolina Agüero). Numerous pairs have danced the black pas de deux. Each interpretation is different. Revazov, happily back on stage after being injured, has gained expressive strength and depth since his interpretation of Onegin in Neumeier's "Tatiana". It would have been interesting to see how he had developed Armand's character in the course of the ballet in his performance with Zakharova at the Bolshoi Theatre last year. Zakharova is an elegant, perfectly developed ballerina. However, in the black pas de deux she seemed agitated fidgeting at times,making too much use of the torso and the arms to express her emotional turmoil instead of allowing credible emotions to pour out naturally.
The gala ended on a happy note with an excerpt from the third act of August Bournonville's and Lloyd Riggins's "Napoli". Though the evening had long advanced, the company still bubbled with vivacity. Christopher Evans, a strong jumper, shone in his solo, Yuka Oishi and Thomas Stuhrmann served up a peppery Tarantella. Karen Azatyan had completely absorbed the role of the likeable Gennaro being full of joy about having won his girl, Teresina. The latter was danced by Silvia Azzoni. Again she was simply captivating.
The Philharmonic Orchestra Hamburg, playing with its usual aplomb, was under the baton of Simon Hewett.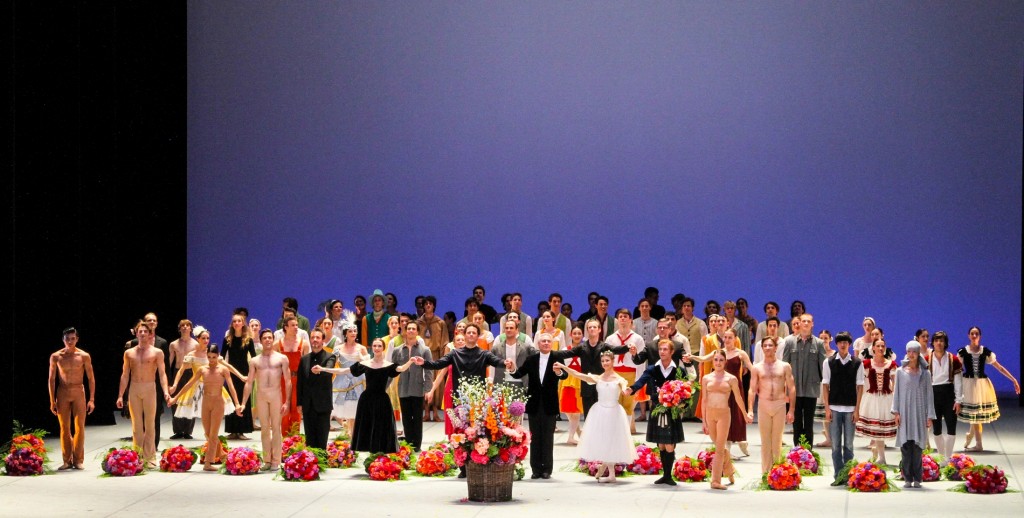 | | | |
| --- | --- | --- |
| | | |
| Links: | | Hamburg Ballet's Homepage |
| Photos: | 1. | Jessica Collado and Aaron Robinson, "Clear" by Stanton Welch, Houston Ballet 2015 |
| | 2. | Leslie Heylmann, Alexandre Trusch, Mayo Arii, Futaba Izhizaki, Aurore Lissitzky and Lucia Rios, "La Vivandière" by Pierre Lacotte after Arthur Saint-Léon, Hamburg Ballet 2015 |
| | 3. | Wu Sicong and Qiu Yunting, "Linen Braids" by Zhang Disha, National Ballet of China 2015 |
| | 4. | Alina Cojocaru (La Sylphide) and Johan Kobborg (James), "La Sylphide" by August Bournonville / Johann Kobborg |
| | 5. | Edvin Revazov (Armand Duval) and Svetlana Zakharova (Marguerite Gautier), "Lady of the Camellias" by John Neumeier, Hamburg Ballet/Bolshoi Ballet 2015 |
| | 6. | Otto Bubeníček (Vaslav Nijinsky), "Le Pavillon d'Armide" by Michel Fokine / Alexandra Danilova / John Neumeier, Hamburg Ballet 2015 |
| | 7. | Otto Bubeníček, John Neumeier and ensemble, Nijinsky-Gala XLI, Hamburg Ballet 2015 |
| | 8. | Ensemble, Nijinsky-Gala XLI, Hamburg Ballet 2015 |
| | | all photos © Holger Badekow 2015 |
| Editing: | | Laurence Smelser |