"Greyhounds"
Theaterhaus Stuttgart
Stuttgart, Germany
November 04, 2015
by Ilona Landgraf
Copyright © 2015 by Ilona Landgraf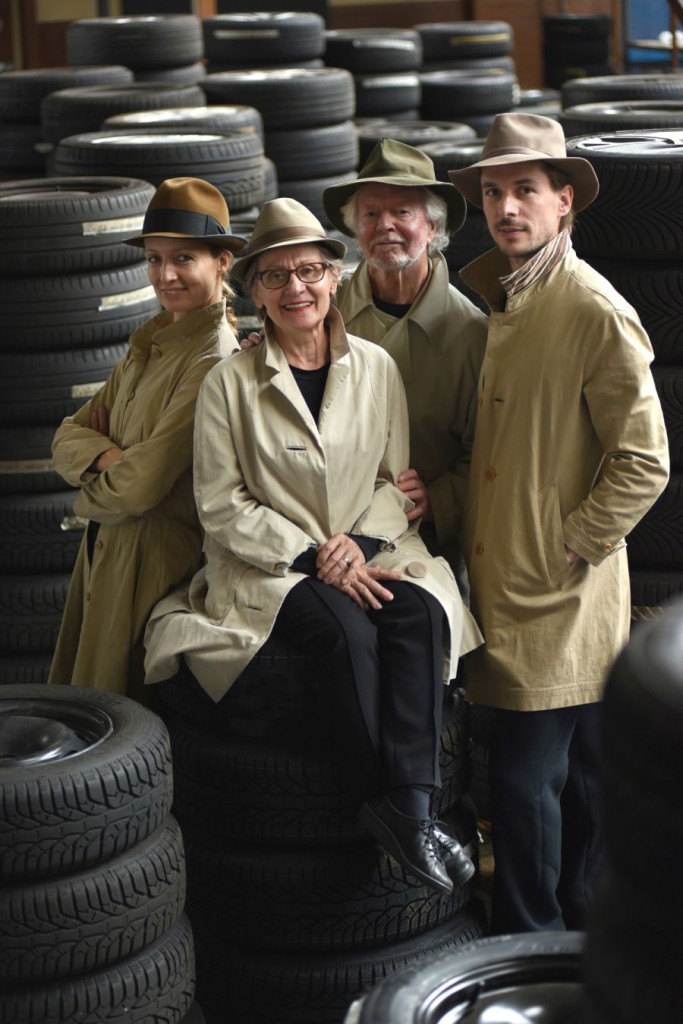 The four dancers of Egon Madsen's "Greyhounds" compare their careers to long-distance journeys with various stopovers. Although this is not quite correct. Only two protagonists are indeed gray-haired veterans of the dance floor, Marianne Kruuse and Madsen himself. Both are in their seventies. The quartet's other two, Julia Krämer and Thomas Lempertz, bid their farewell to Stuttgart Ballet's stage only around ten years ago: Krämer was principal, Lempertz first soloist. The current get-together of the four at the Theaterhaus Stuttgart was initiated by Madsen, a formative dancer of Stuttgart Ballet under Cranko's reign.
From 1981 on, he was director of Frankfurt Ballet followed by directorships in Stockholm, Florence, and at the Nederlands Dans Theater III (NDT III). Madsen's affinity to dance never stopped. He is closely connected with Stuttgart's Gauthier Dance Company and a respected figure in the city's dance scene.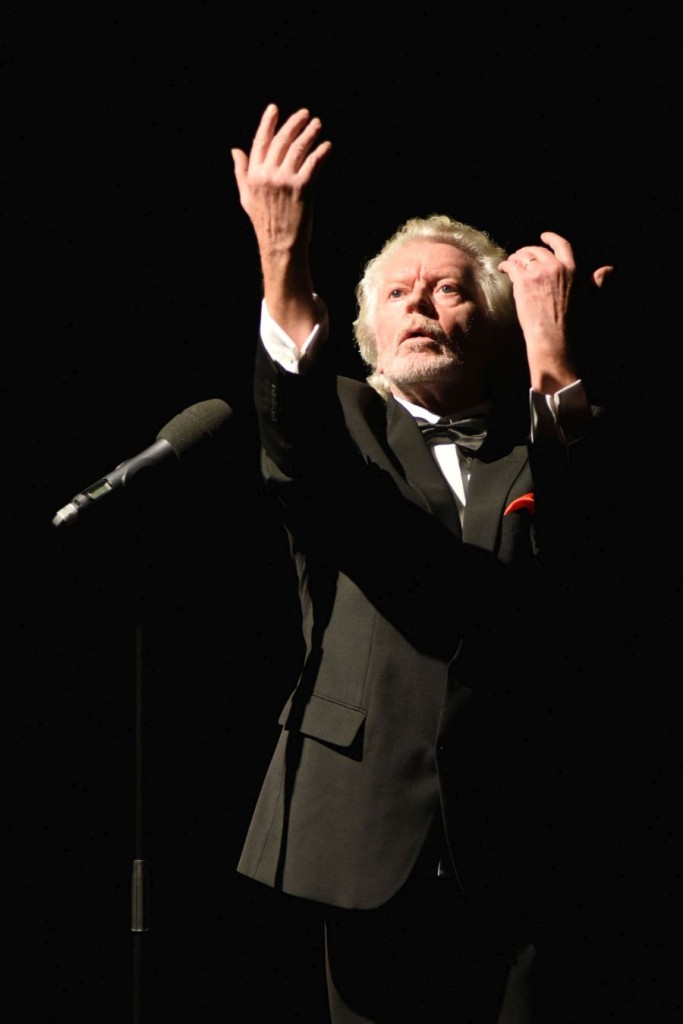 In "Greyhounds" each dancer reflects on his or her career. Madsen, like a master of ceremonies as well as performer, opened the evening with central questions: "Why does one go to all this trouble? After all those performances, the sweat, the pain, the applause and the disappointment? Why don't we simply stop? What brings us together on this evening?" His speech seemed to gain momentum, but technical "interferences" – a defunct microphone pitch control and a malfunctioning audiotape cause him to stop talking. Instead he peels out of his dark suit jacket and lets movement speak for itself.
Accompanied by the Tiger Lillies' schmaltzy "Danced all Night" the dancers' journey begins. Dressed in trench coats and hats, all four arrive at a dance studio as though they've just taken a bus. Once there petite Kruuse sits on a chair, a bit disoriented by her companions sudden activity – they roll out a pristine white dance floor – but then she is the first to share some thoughts about her career.
Kruuse started dancing under Cranko in the Stuttgart company. She later followed John Neumeier, first to Frankfurt, then to Hamburg. Neumeier created numerous roles on her. In 1985 Kruuse ended her active career and worked as a teacher at the School of the Hamburg Ballet. From 1993 on she was the school's Pedagogical Principal and Deputy Director. In 2013 she resigned from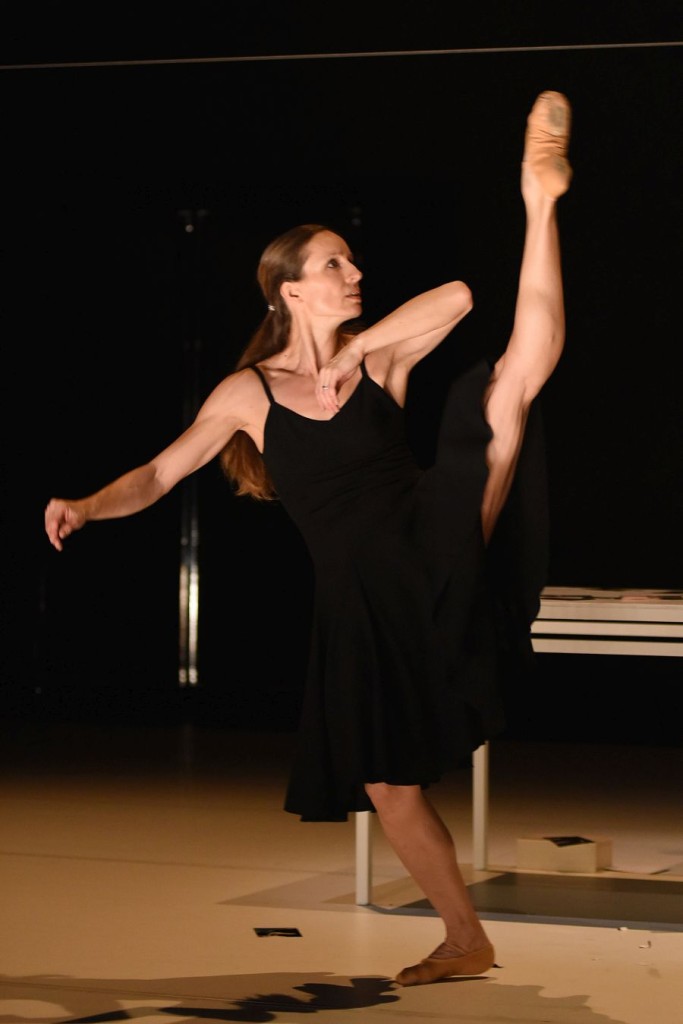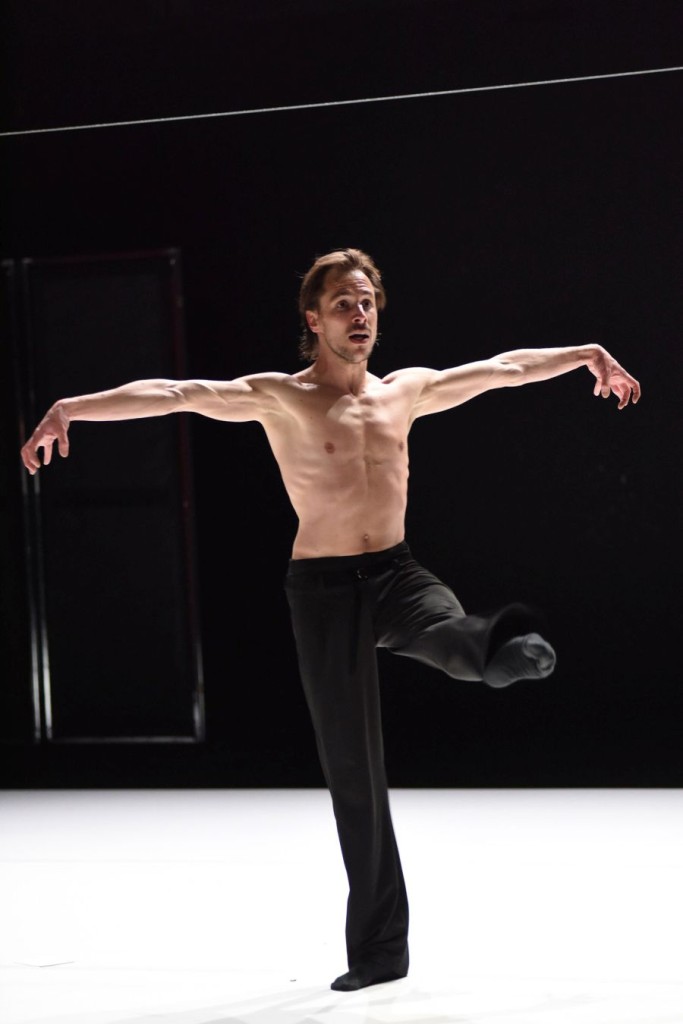 all duties with Hamburg Ballet. Via a recording which is played we learn what had tipped the balance for her to stop dancing in 1985. It was the birth of her son. And while we continue to listen to her taped memories she illustrates them with some small moves, a few ballet steps, a port de bras.
Each of the four has a similar solo, all following the same pattern, recorded comments plus dance. We get to know that Lempertz stopped dancing because he felt like he was confined in a corset and wanted to savor freedom again. Krämer admits that she feared every performance and always hoped something would prevent her from dancing. Madsen, by contrast, wanted to explore new ground to keep himself on his toes. "Once a dancer, always a dancer," he said. Instead of so much talk, more dance would have been welcome.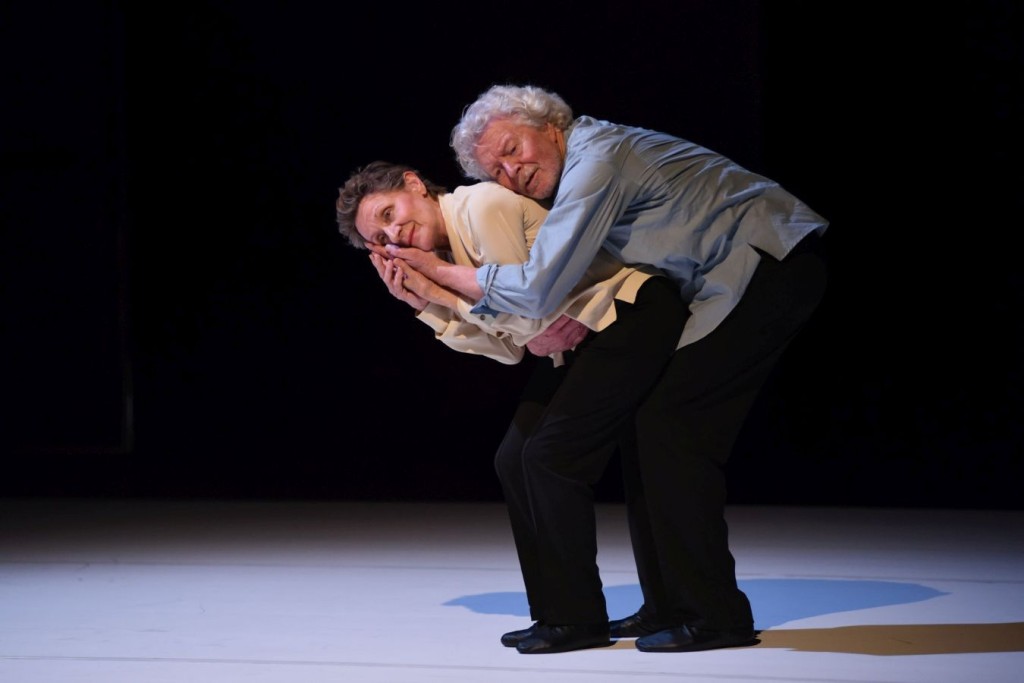 Krämer's solo was choreographed by Mauro Bigonzetti, who created angular movements and sharp gestures on her. She confronts her past by looking at old photos. Some of them she holds dear; one she tears apart, but, picking up the snippets and piling them to a small heap, rescues this memory from the dustbin. At the end, Krämer's head sinks wearily onto the table. When she looks up again, we see one photo sticking to her forehead. She flicks it away with a look of contempt.
Lempertz's piece was more refreshing. Marco Goecke created a "typical Goecke" for him, a speedy tour de force of muscle power combined with smoothness. I remember one of his first rehearsals in May of this year where Lempertz, determined to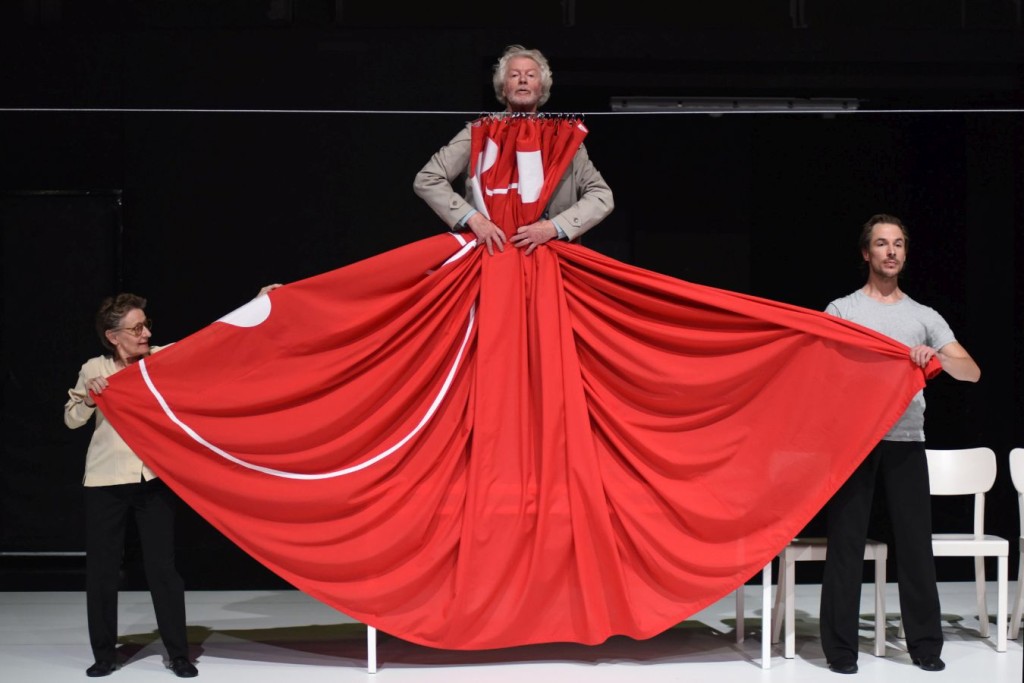 pull off a "Goecke", was struggling to maintain his stamina. Now he is in splendid shape, feline-like yet bursting with vigor, abrupt, but the next moment floating like seaweed. Compared with Bigonzetti, Goecke never repeats sequences, but keeps our attention with a seamless succession of fresh, surprising movements. Well done!
John Neumeier's pas de deux for Kruuse and Madsen – an excerpt from "Separate Journeys" created in 1968 – looked by comparison all too tame. In one strong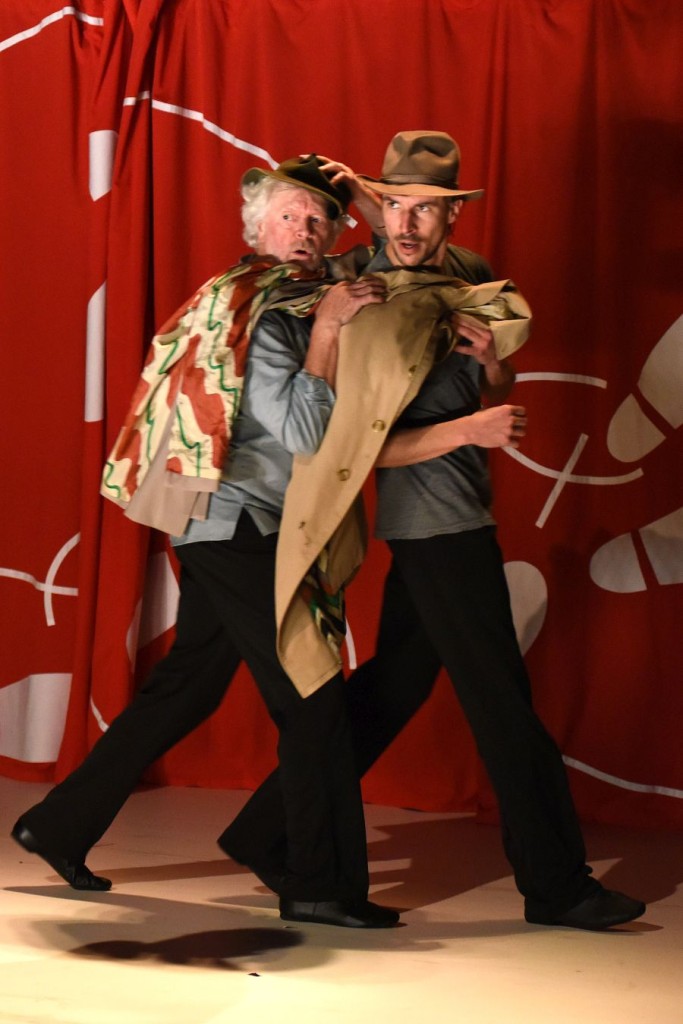 moment Kruuse leaned against Madsen, smiling, dreaming – of an old stage romance maybe? She seemed to turn into a little girl again while he became her protective teddy bear. Nevertheless Neumeier's choreography wasn't the best match. It neither fitted into the evening nor featured the two dancers' talents. They proved during the rest of the program that they still have much more wit, pepper, and charisma in general.
"Greyhounds" ended on a zappy, cheeky note with choreography by Eric Gauthier. Lempertz tap danced; Krämer now wearing a tutu circled around the stage on a rollable office chair with crazy speed; Madsen smoked a cigar. Coming back to the initial "Why?" their tongue-in-cheek conclusion was "We are not here to shine. We play hide and seek with the time." And, what comes closest to this easily-digestible one-hour entertainment: "We are the best freak show in town."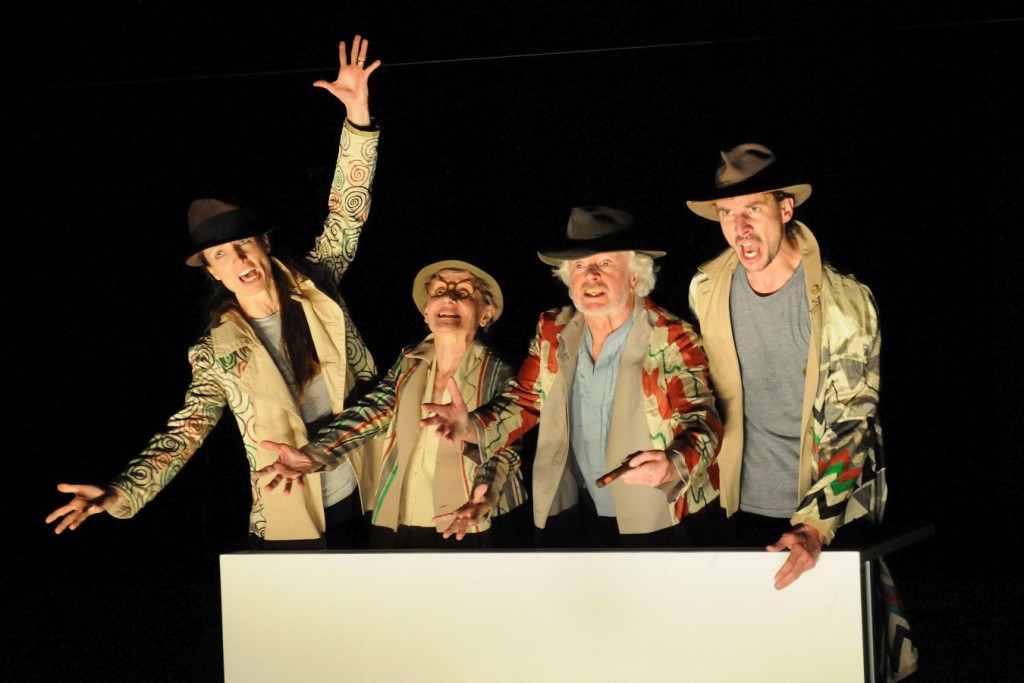 | | | |
| --- | --- | --- |
| | | |
| Links: | | Homepage of the Theaterhaus Stuttgart |
| Photos: | 1. | Julia Krämer, Marianne Kruuse, Egon Madsen and Thomas Lempertz, "Greyhounds" by Egon Madsen, Theaterhaus Stuttgart 2015 |
| | 2. | Egon Madsen, "Greyhounds" by Egon Madsen, Theaterhaus Stuttgart 2015 |
| | 3. | Julia Krämer, Solo by Mauro Bigonzetti, "Greyhounds" by Egon Madsen, Theaterhaus Stuttgart 2015 |
| | 4. | Thomas Lempertz, Solo by Marco Goecke, "Greyhounds" by Egon Madsen, Theaterhaus Stuttgart 2015 |
| | 5. | Marianne Kruuse and Egon Madsen, Pas de deux of "Separate Journeys" by John Neumeier, "Greyhounds" by Egon Madsen, Theaterhaus Stuttgart 2015 |
| | 6. | Marianne Kruuse, Egon Madsen and Thomas Lempertz, Finale by Eric Gauthier, "Greyhounds" by Egon Madsen, Theaterhaus Stuttgart 2015 |
| | 7. | Egon Madsen and Thomas Lempertz, Finale by Eric Gauthier, "Greyhounds" by Egon Madsen, Theaterhaus Stuttgart 2015 |
| | 8. | Julia Krämer, Marianne Kruuse, Egon Madsen and Thomas Lempertz, Finale by Eric Gauthier, "Greyhounds" by Egon Madsen, Theaterhaus Stuttgart 2015 |
| | | all photos © Regina Brocke 2015 |
| Editing: | | Laurence Smelser |