"Manon"
Semperoper Ballet
Semperoper
Dresden, Germany
November 11, 2015
by Ilona Landgraf
Copyright © 2015 by Ilona Landgraf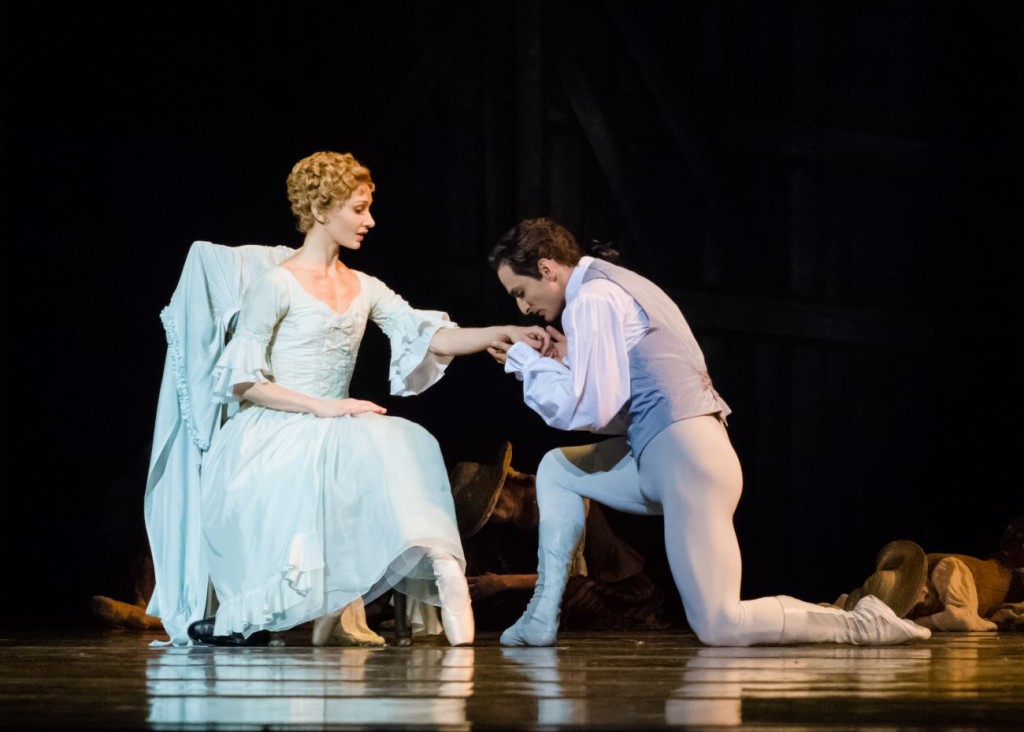 One could make things easier when it comes to the end of a dance career. A favorite piece which the audience likes should make for a decent leave-taking. Jiří Bubeníček is of another caliber. After nine years with Semperoper Ballet Dresden he tackled a debut for his farewell, Des Grieux in Kenneth MacMillan's "Manon". Moreover, he asked a ballerina, with whom he had never danced before, to be his Manon: Royal Ballet's principal Melissa Hamilton, who will stay with the Semperoper company for the whole season.
"Go for it!" is one of Bubeníček's principles. Exactly this is what he did. In fact, what the whole company did. Aaron S.Watkin, the company's artistic director, aimed to use "Manon" to explore yet another style with his already versatile company. It was enthusiastically received. No wonder. All ingredients merged splendidly presenting "Manon" as a gripping narrative.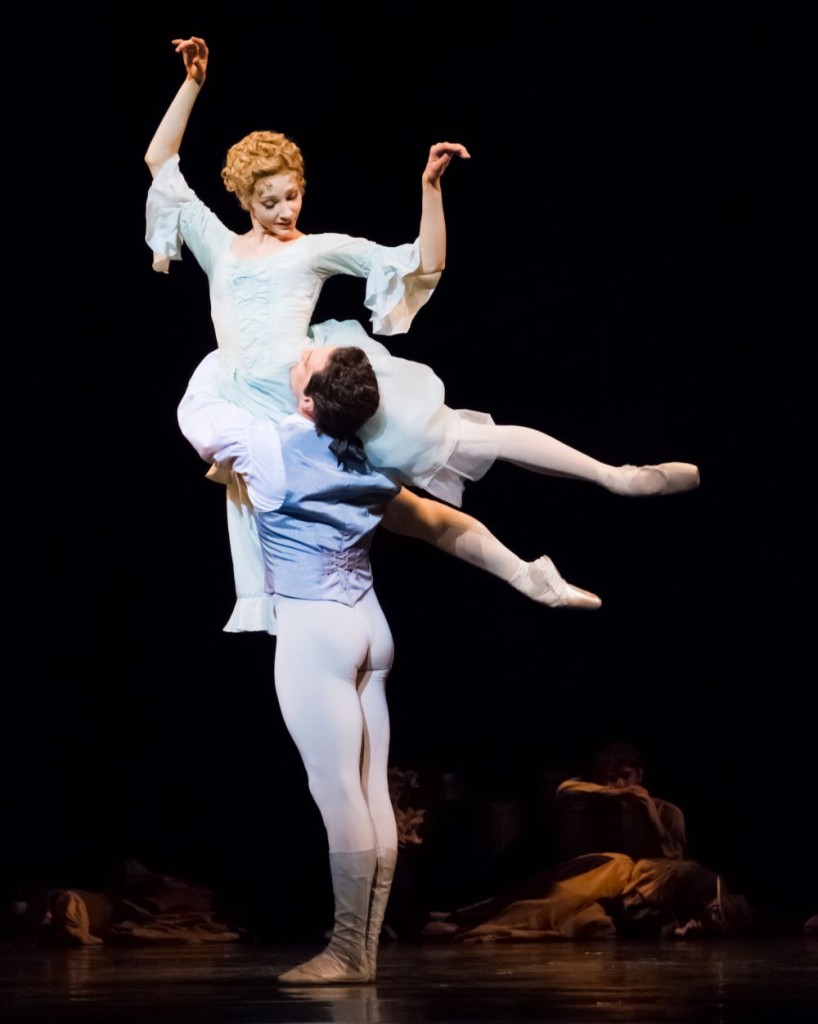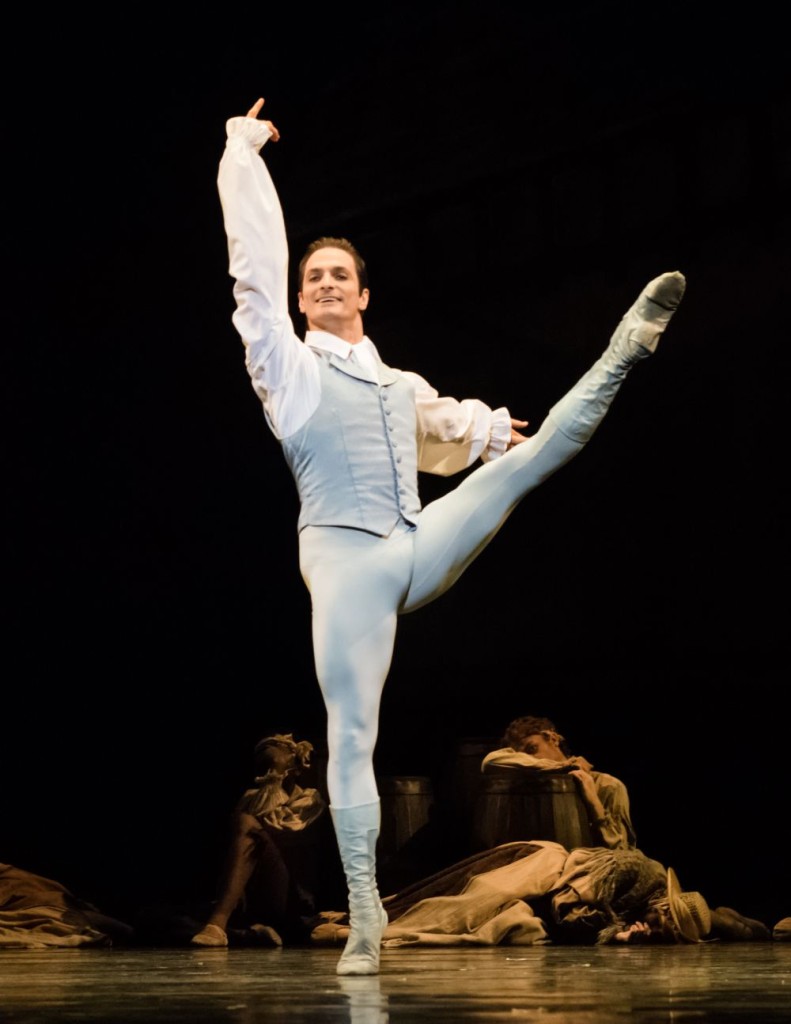 The ballet is based on Abbé Prévost's 1731 novel "L'Histoire du Chevalier des Grieux et de Manon Lescaut". It is about the tragic love between the unsteady, egocentric Manon, who, instead of joining a convent, falls in love with the young, upright student Des Grieux and runs away with him. But her older brother Lescaut, a shrewd con man, convinces her that a romance with the wealthy and quite lecherous Monsieur G.M. would be much more profitable.
Des Grieux, desperate to win Manon back, goes astray. Through card-sharking he comes into some wealth. As money, jewelry and dresses have become Manon's main concern, a woman's surety to socially survive, she again tries to run away with him, but Monsieur G.M. prevents their flight. He shoots her brother Lescaut to death and orders Manon to be deported as a prostitute to New Orleans. Des Grieux manages to accompany her but is powerless to defend her against the sexual assaults of the penal colony's governor. Beside himself with desperate rage Des Grieux finally stabs the governor and
escapes with Manon into the swamps of Louisiana. There, worried by memories and with her health fading away, Manon dies.
The piece's spectrum stretches between opulence and bitter poverty, adoring love and cold-hearted calculation. "Manon" is set in a time in which a woman was a man's trophy, his sex object and also a use-and-throw away thing. Long term interest by men in women assured their survival, hence Manon played along and sometimes was able to manipulate matters to her own advantage.
Society's inherent discrepancy portrayed in "Manon" shocks us now. Kudos to MacMillan. By avoiding any moralizing he made the story even more gripping.
All parts of the Semperoper Ballet's production coalesced smoothly. Peter Farmer's set and costumes successfully evoked the style of the period. Excellent moody lighting added to the scenes' dense atmosphere. Paul Connelly and the Sächsische Staatskapelle Dresden spoilt the audience with musical moments of happiness. Every beat of their interpretation of an arrangement of music by Jules Massenet, newly orchestrated by Martin Yates in 2011, was charged with emotions. It was full of suspense even in the slowest adagios, never pushing itself to the fore, instead amalgamating itself with the dance.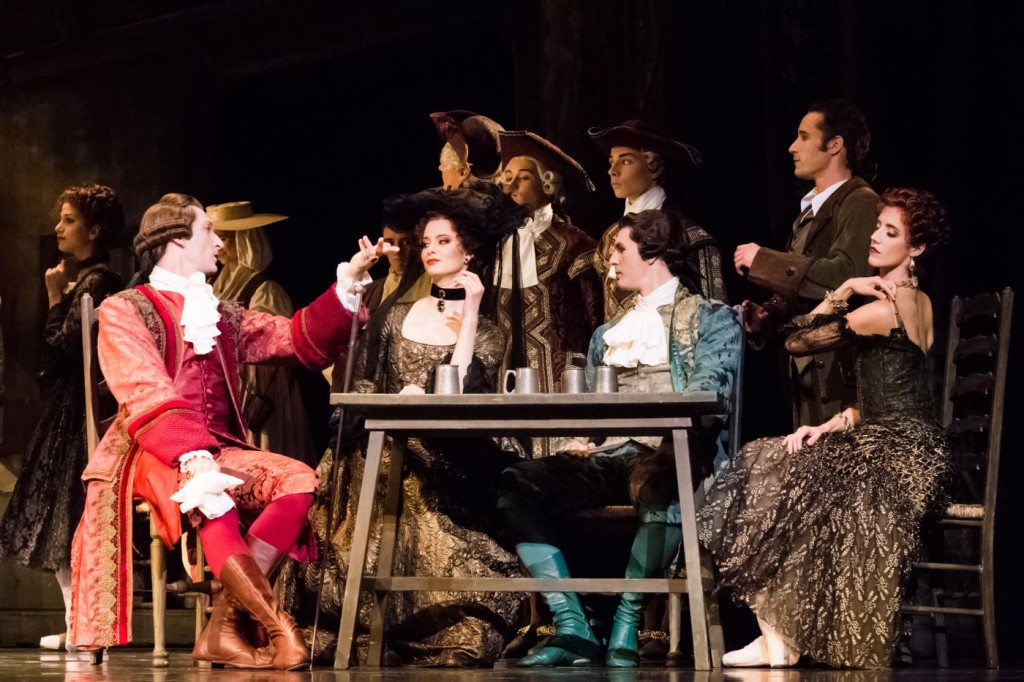 Hamilton, already familiar with the role of Manon from earlier performances with the Royal ballet, shone with technical immaculateness. Her Manon, though shy at the beginning, quickly learned how to kindle men's attention. A flighty, unsettled being, she was easily susceptible to her brother's bad influence. She seldom seemed to have an idea of what it meant to be loved by Des Grieux. Basically her true emotions were unfathomable, presumably even also to herself.
Not exactly a person of deep reflection, life's events swept her away. At the party at Madame X's "hôtel particulier", a lively house of pleasure and place of amusement, Manon was passed from one man to another like an adored ritual object, an idol. An aura of luxury, promise and erotism surrounded her. Still she was unattainable. Soon Monsieur G.M. ordered her to dance for the guests and rewarded her performance with another glittering bracelet. The scene reminded me of a thoroughbred horse being paraded around by his owner and earning his oats. At the end, when Manon lay feebly in the swamps of Louisiana, close to death and tormented by fragments of memories, she struggled and stumbled back up onto her feet, her eyes wide open. Still she was searching for something. But for what?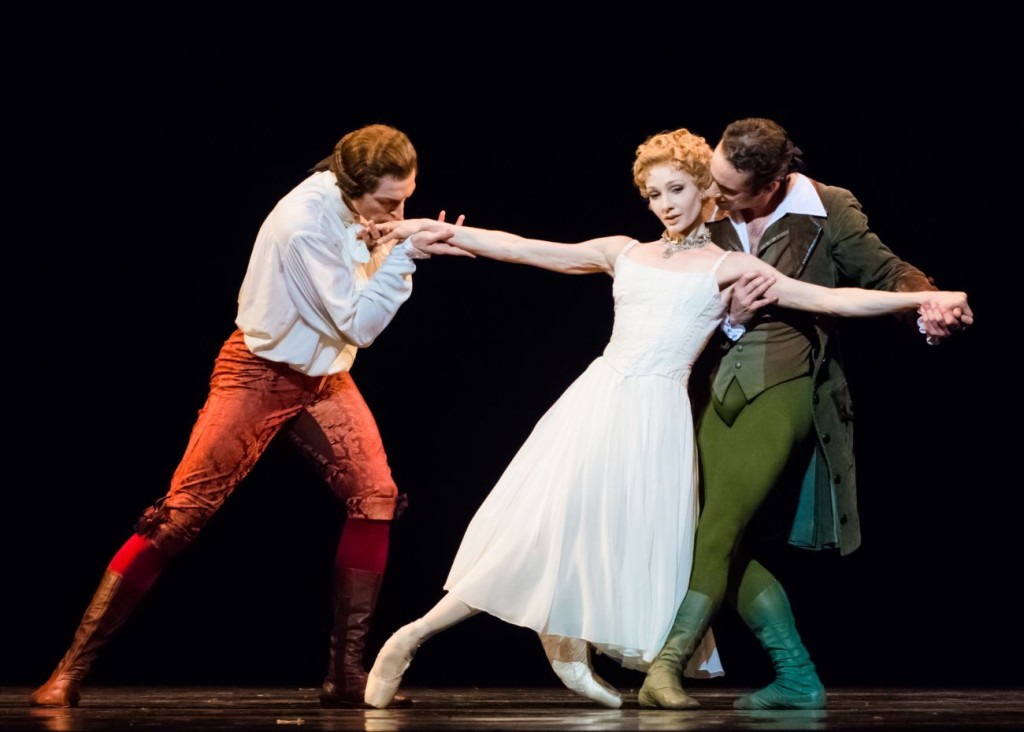 Bubeníček depicted Des Grieux as a well-behaved, reserved young man, for whom the loose lifestyle of people like Lescaut was alien. Des Grieux, a man of pristine moral conduct, declined women's approaches but with graciousness. Yet Manon shook his foundation. He knew immediately that this was HIS girl! Emphatically but at the same time with the calmness of one secure in himself, he revealed his feelings towards Manon in his first solo.
I saw Bubeníček dance quite often before but this time he surpassed himself. The emotions he conveyed made the atmosphere increasingly dense. His smile after having won Manon came from the heart. Their pas de deux at Des Grieux's lodgings in Paris was full of an unburdened love affair's warmth and happiness. His fury about her running off with Monsieur G.M. was genuine and his desperate attempts to get her back gave one a lump in the throat. Again and again Des Grieux deployed his strength of character trying to disabuse Manon of her obsession with tangibles. Having become a murderer to save Manon horrified him but he would have never betrayed his love for her. Caressing her until her death, his final soundless scream ripped painfully into one's heart.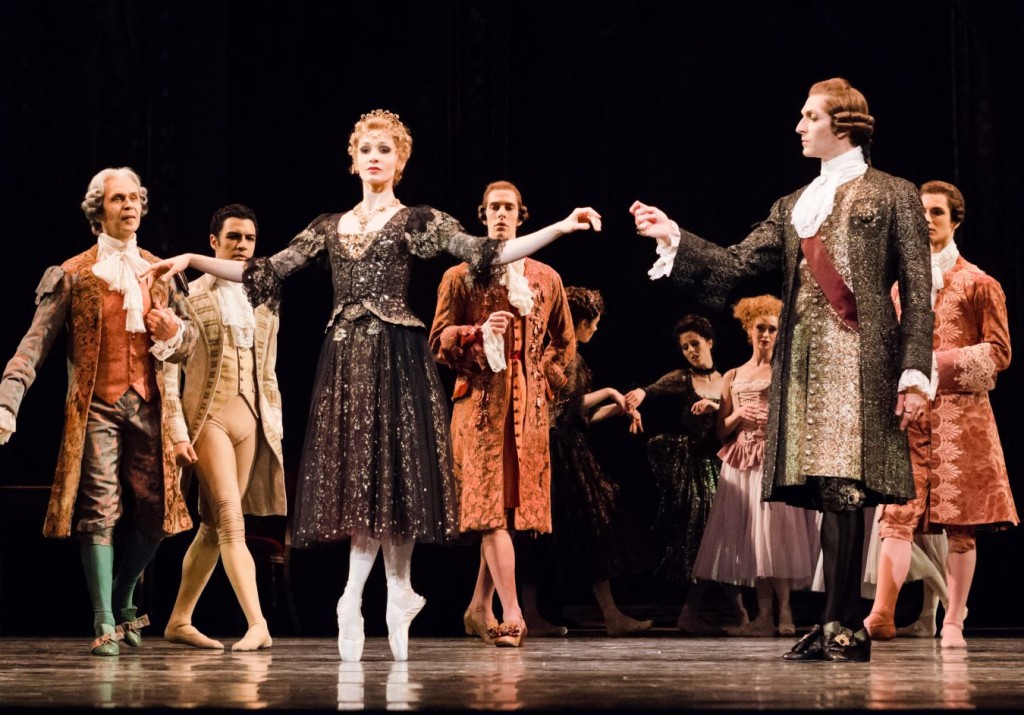 Hamilton and Bubeníček were a perfect match. Partnering went so smoothly as if both were used to dancing with one another for years. Actually it was hard to believe that this splendid dancer, one who had shaped the character of the company, was performing his last role. Bubeníček is stopping at the height of his artistic powers. A curtsy to him, he really gave it his all!
Denis Veginy who replaced the injured Fabien Voranger as Lescaut was a cunning manipulator, trying to become a friend of everyone he thought he could milk cash out of. Bartering away his younger sister caused him no scruples. A lothario he let no chance pass to snatch a kiss or grope the girls. But, not averse to alcohol and consequently often dead drunk, he didn't always cast himself as a proper figure. Hence his venture with his mistress (Svetlana Gileva) onto the dance floor at Madame's party made both an embarrassing laughing stock.
Although Gileva portrayed a self-assertive woman – her dress, neckband and the ear rings revealed that she had slept her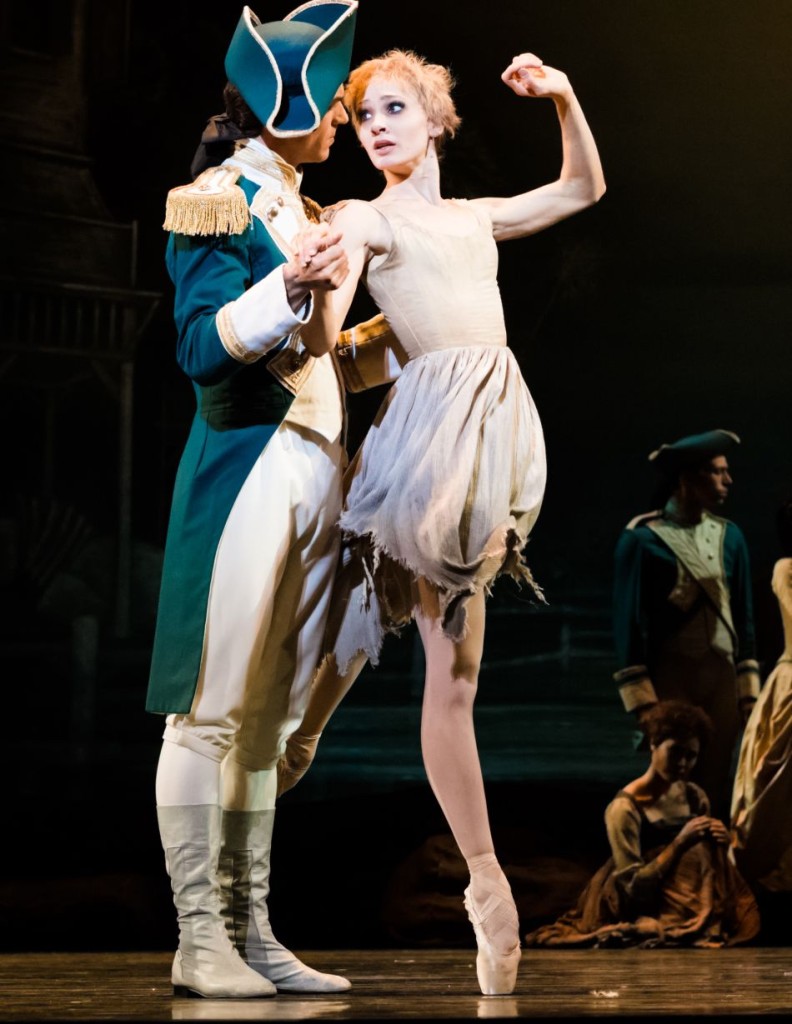 way up the social ladder – her actual relationship to Lescaut more probably corresponded to one pose in the pas de deux: accidentally being dumped by him, she kneels, her arms stretched towards him. Basically a slap in the face would have been the best treatment for Lescaut, but his lady seemed used to his misbehavior.
Lescaut's killing by Monsieur G.M. was gruesomely realistic. A bright red blood spot spread over his shirt, blood trickled out of his mouth. The make-up department did a good job indeed.
To dance Monsieur G.M. tall Raphaël Coumes-Marquet made a welcome return to the stage. Since the beginning of this season he has been one of the company's ballet masters. Except for his deep pockets, Monsieur had nothing likeable about him. He used furs and jewelry to promote his sleazy advances to Manon, but his sardonic laughter after having killed Lescaut revealed his true nature.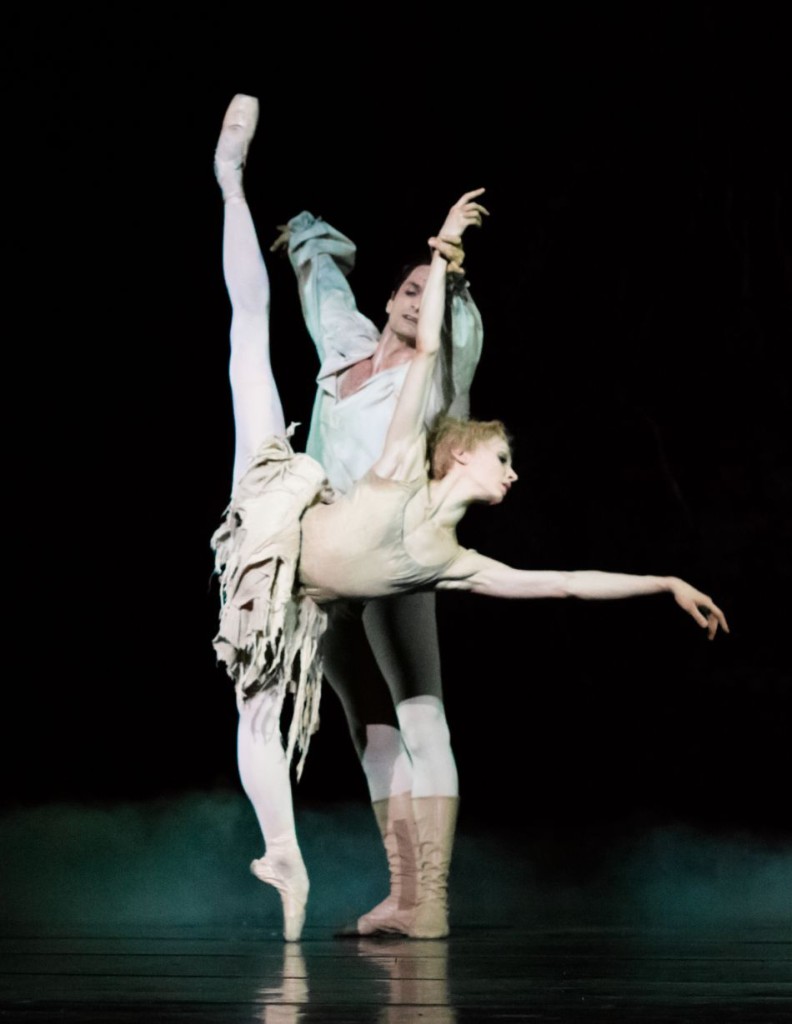 Jenni Schäferhoff as Madame buzzed around allocating her girls according to her clients' wishes. Ostensibly in a party mood, her pursed red lips screwed up enviously when chic Manon arrived.
Craig Davidson was the brazen leader of the beggars taking a liking to Lescaut's mistress in the first scene. Laurent Guilbaud as governor of the prostitutes in New Orleans played the role in stone-cold macho fashion, contemptuously regarding his captives. He took what he wanted.
Courtesans, actresses, whores, beggars and other folk framed the core story and provided a vivid social context. In the third act at the port of New Orleans the ragged, broken prostitutes were left hopeless. In the background a shabby man with a headband caught my attention. He begged on his knees and I wouldn't have been able to pass him by without giving him some money. The whole company acted with similar full commitment and depth of talent and seemed at ease with MacMillan's style.
Bubeníček took his final curtain call under a rainbow of glittering golden ribbons. He was wildly applauded by an audience whose hearts he had won.
Good luck to you, Jiří!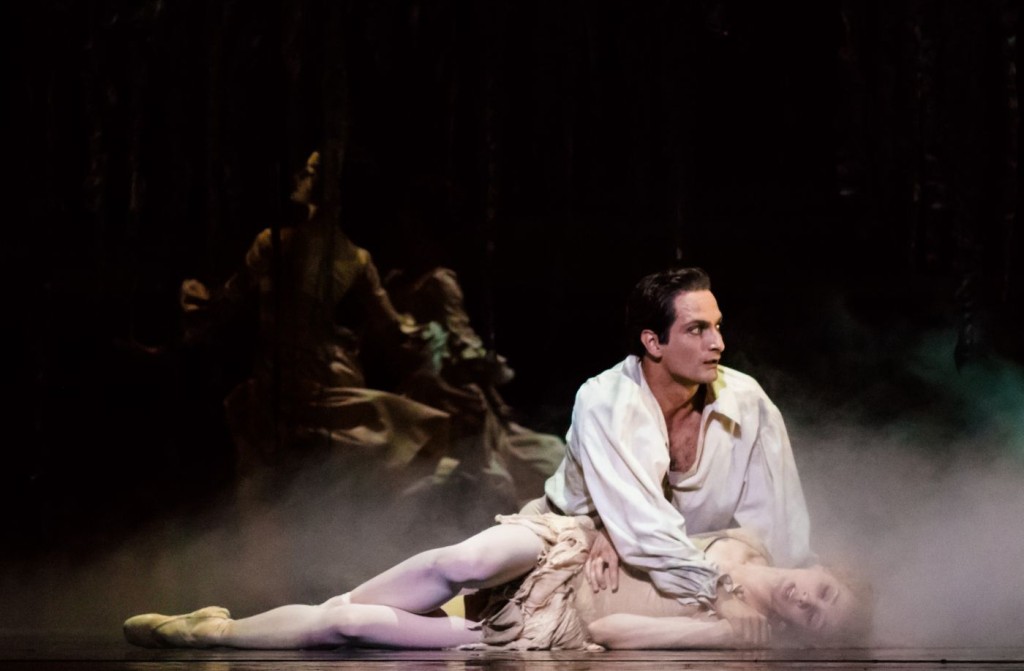 | | | |
| --- | --- | --- |
| | | |
| Links: | | Homepage of Semperoper Ballet |
| Photos: | | (The photos show Fabien Voranger instead of Denis Veginy as Lescaut) |
| | 1. | Melissa Hamilton (Manon) and Jiří Bubeniček (Des Grieux), "Manon" by Kenneth MacMillan, Semperoper Ballet Dresden 2015 |
| | 2. | Jiří Bubeniček (Des Grieux), "Manon" by Kenneth MacMillan, Semperoper Ballet Dresden 2015 |
| | 3. | Melissa Hamilton (Manon) and Jiří Bubeniček (Des Grieux), "Manon" by Kenneth MacMillan, Semperoper Ballet Dresden 2015 |
| | 4. | Hannes-Detlef Vogel (An Old Patron), Raphaël Coumes-Marquet (Monsieur G.M.), Melissa Hamilton (Manon), Fabien Voranger (Lescaut) and Jenni Schäferhoff (Madame X), "Manon" by Kenneth MacMillan, Semperoper Ballet Dresden 2015 |
| | 5. | Raphaël Coumes-Marquet (Monsieur G.M.), Jenni Schäferhoff (Madame X), Milan Madar (Patron), Fabien Voranger (Lescaut), Svetlana Gileva (Lescaut's Mistress) and ensemble, "Manon" by Kenneth MacMillan, Semperoper Ballet Dresden 2015 |
| | 6. | Raphaël Coumes-Marquet (Monsieur G.M.), Melissa Hamilton (Manon) and Fabien Voranger (Lescaut), "Manon" by Kenneth MacMillan, Semperoper Ballet Dresden 2015 |
| | 7 | Melissa Hamilton (Manon), Raphaël Coumes-Marquet (Monsieur G.M.) and ensemble, "Manon" by Kenneth MacMillan, Semperoper Ballet Dresden 2015 |
| | 8. | Laurent Guilbaud (Governor) and Melissa Hamilton (Manon), "Manon" by Kenneth MacMillan, Semperoper Ballet Dresden 2015 |
| | 9. | Melissa Hamilton (Manon) and Jiří Bubeniček (Des Grieux), "Manon" by Kenneth MacMillan, Semperoper Ballet Dresden 2015 |
| | 10. | Melissa Hamilton (Manon) and Jiří Bubeniček (Des Grieux), "Manon" by Kenneth MacMillan, Semperoper Ballet Dresden 2015 |
| | | all photos © Ian Whalen 2015 |
| Editing: | | Laurence Smelser |