"Duse"
Hamburg Ballet – John Neumeier
Hamburg State Opera
Hamburg, Germany
December 11, 2015
by Ilona Landgraf
Copyright © 2015 by Ilona Landgraf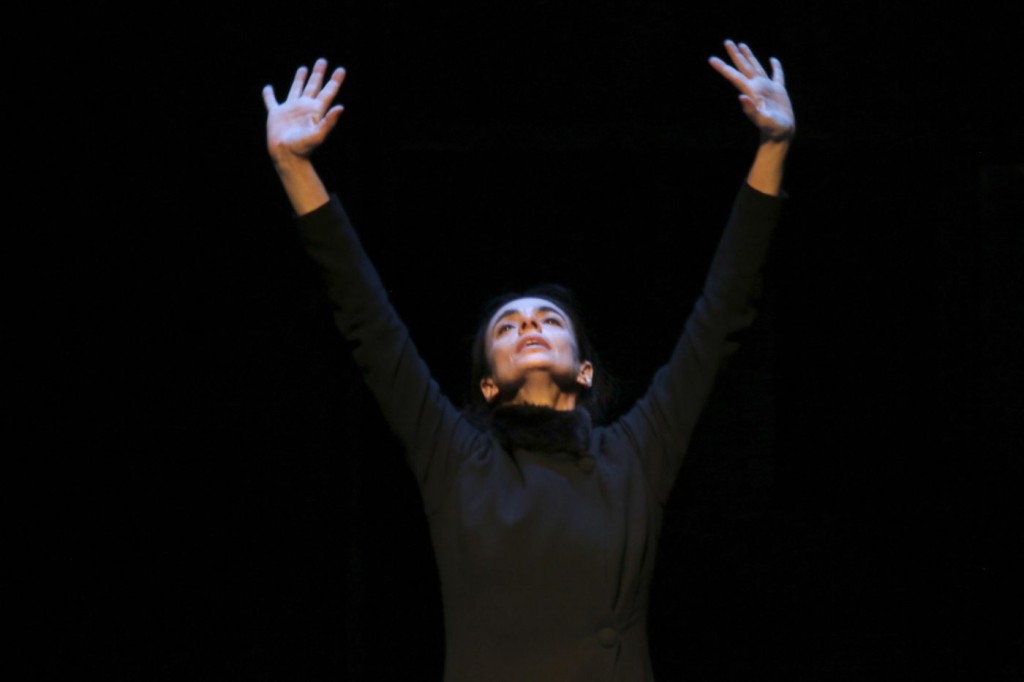 In his latest creation, "Duse", John Neumeier explores the life of the famous Italian actress Eleonora Duse (1858 – 1924). The ballet received its world premiere earlier in December with Hamburg Ballet. Alessandra Ferri, guesting with the company, is dancing the leading role.
Duse rose to international stardom at a time when the reputation of acting had considerably improved in bourgeois society. At the end of the 19th century Henrik Ibsen's dramas were the first to offer major character roles for women. As a result, more and more actresses left their mark on stage, motivated by a previously unparalleled enthusiasm for the theater.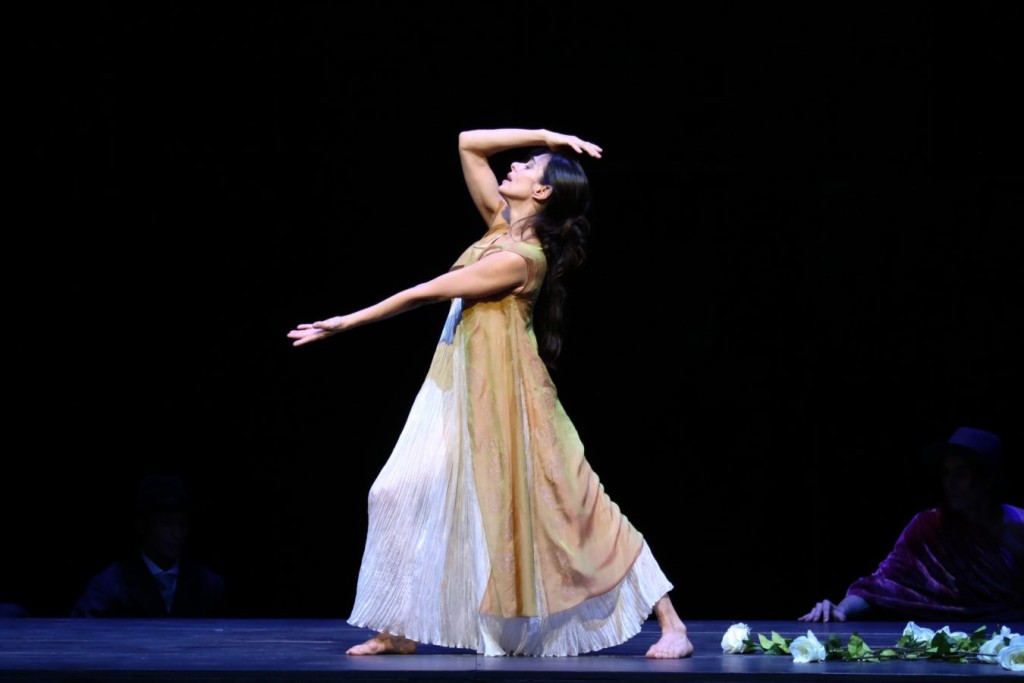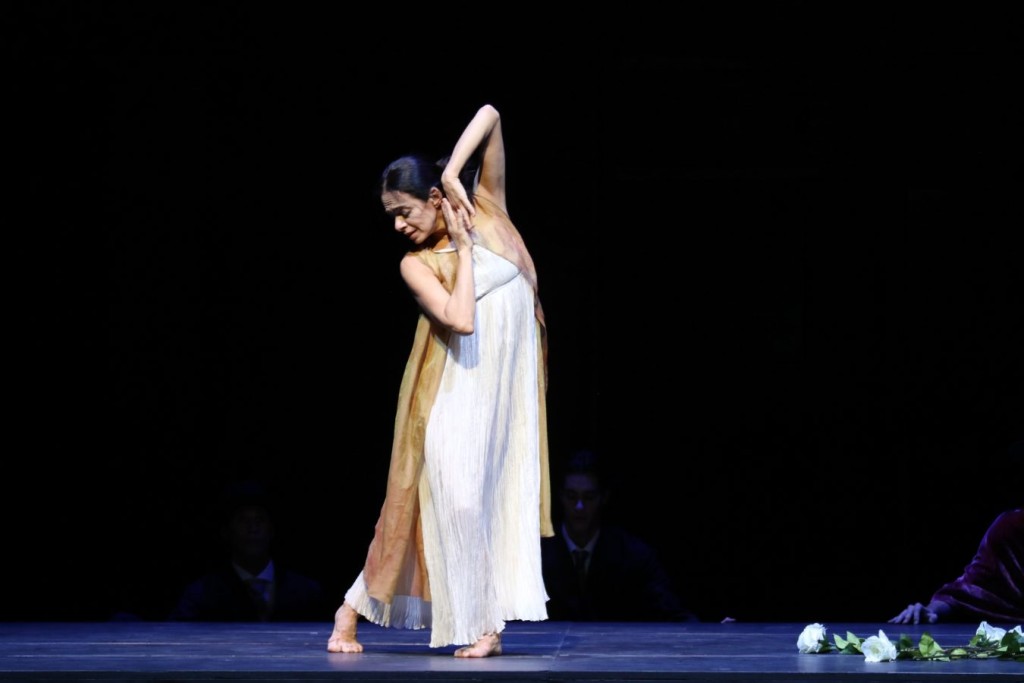 France's Sarah Bernhardt (1844 – 1923), at first an inspiring example for Duse, later became her rival. Bernhardt loved theatricality. Rather than plumbing the depths a character, her acting was expressed through effusive declamations and great gestures. Duse, by comparison, thoroughly explored and internalized the emotions of her roles. Her acting came from within. It poured out of her like a natural outcome. Intuitively she invented "Method Acting", a technique later associated with Stanislavski's teachings. Critics said Duse had the power of the truth.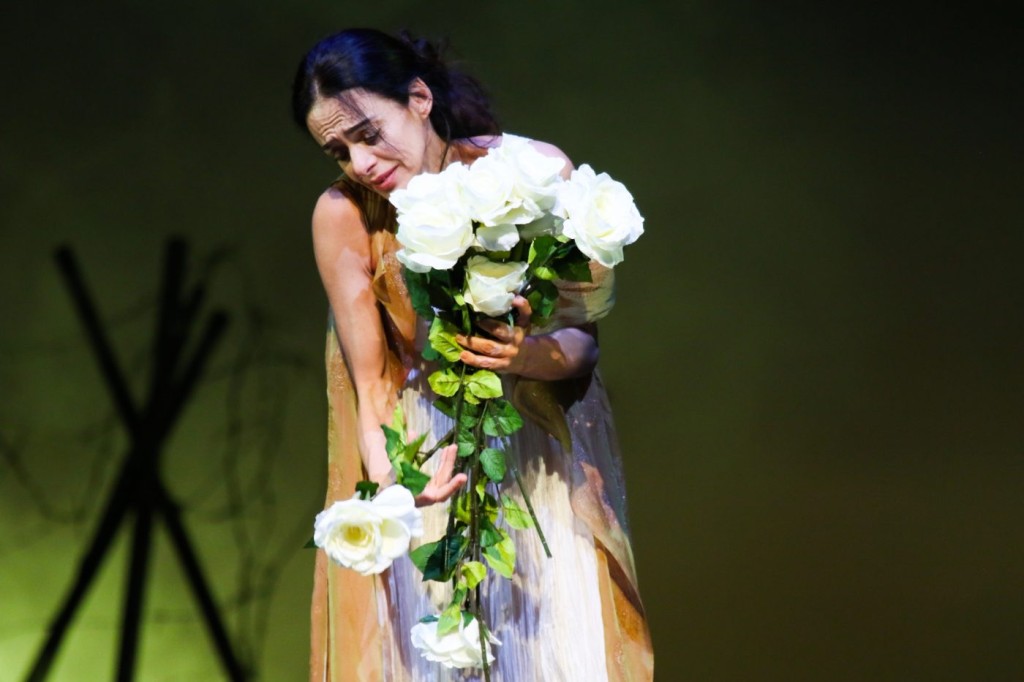 Over the course of her life she had several love affairs but, being a strong and independent woman, followed her own path. Her marriage with actor colleague Tebaldo Marchetti, with whom she had a daughter, failed. A long-lasting but complicated romance connected her to Arrigo Boito, a playwright, composer and theater critic. Boito was sixteen years older than Duse. Like her he was married, but despite her other affairs he remained a faithful supporter and companion.
An intense, erotically charged affair bound Duse to the poet and author Gabriele D'Annunzio. For years she dedicated herself – her energy as well as her money – to almost exclusively promoting and performing his pieces. But D'Annunzio, narcissistic and macho, was a lothario. He betrayed and compromised Duse, deepening her developing depression.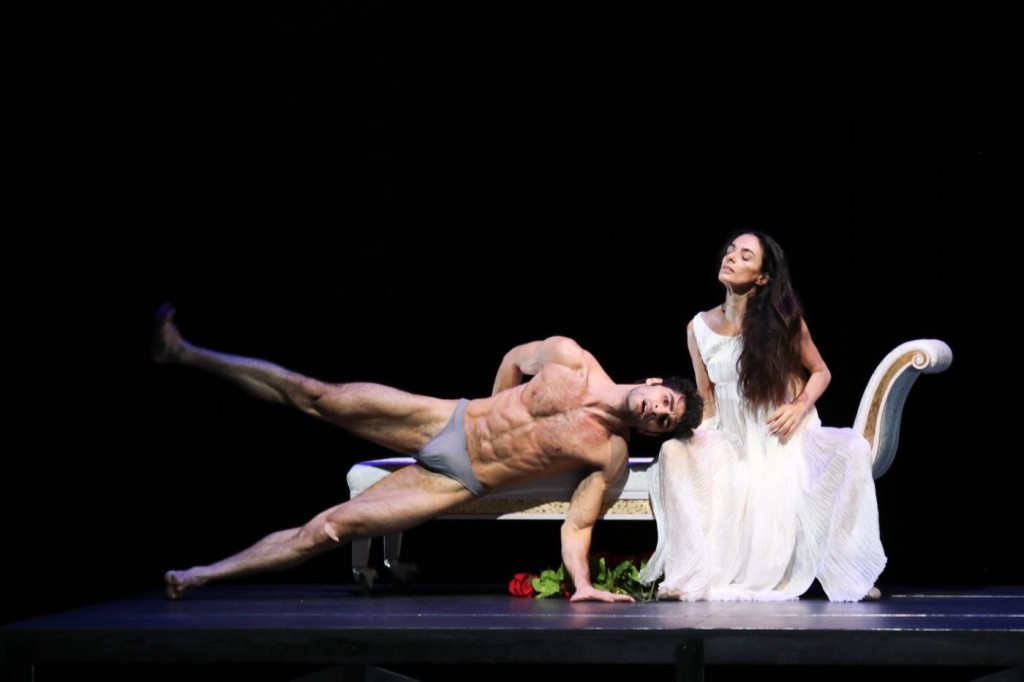 Duse, immersing herself in her work, toured worldwide. She became an admired diva. The modern dancer Isadora Duncan was a close friend. In 1909 Duse gave her farewell from the stage, but financial problems forced a comeback despite frail health. In 1924 suffering from severe pneumonia while touring the USA, she died in Pittsburgh. Her body's return to Italy prompted broad national mourning.
Neumeier never merely retells life stories. As in many previous works he interlaced his own associations and reflections into Duse's real biographic events without adhering to any chronological order. Consequently "Duse" is subtitled "Choreographic Fantasies inspired by Eleonora Duse".
As music he chose pieces by Benjamin Britten and Arvo Pärt. Included are Britten's "Frank Bridge Variations" and "Sinfonia da Requiem, Dies irae". From Pärt he took "Fratres" and "Cantus in Memory of Benjamin Britten". The musical collage creates a brittle, somber, and, on a few occasions, an elated atmosphere. This conveyed a sense of existential immediacy.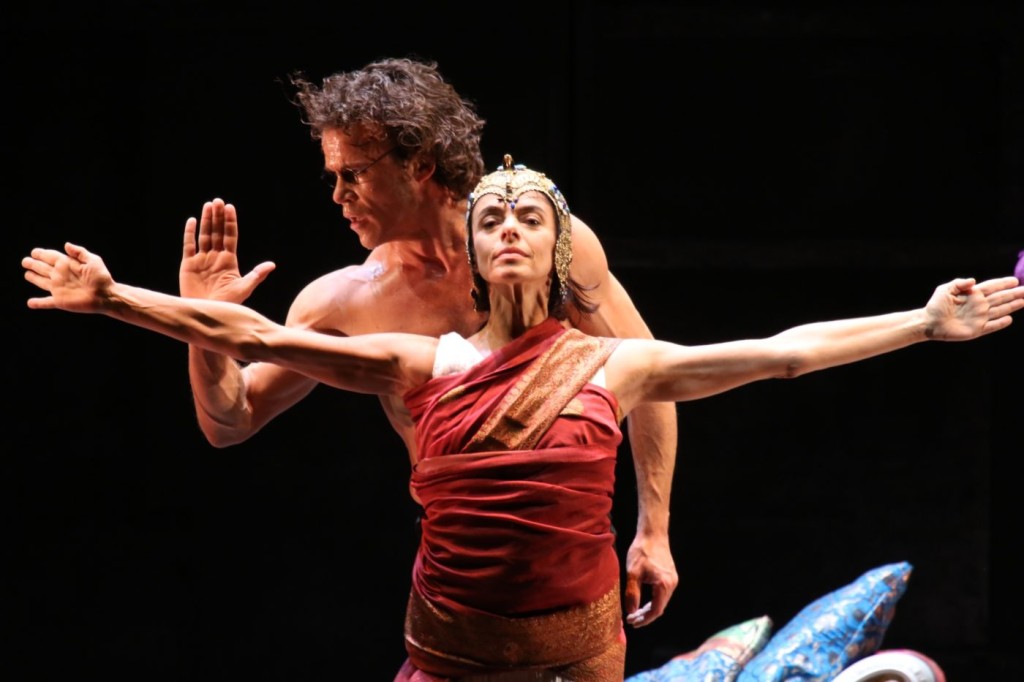 Pärt's "Fratres", which vacillates between the edge of the material world and the higher spheres, accompanies the final, second part of "Duse". It is captioned "In another world" in the program notes. Conductor Nathan Brock ensured a reputable rendition of the score by the Philharmonic Orchestra Hamburg.
In addition to the choreography Neumeier was also in charge of set design, costumes and lighting. The latter is dim in the first act, brightened by some spotlights. The second act is lit in a brighter, mild light. Elements of the decor are a brick-built wall in the back, a small stage upon the stage, some rows of seats for the audience and a movie screen. White and red roses play a major role. They are a reference to Duse's first performance of Juliet in "Romeo and Juliet" in Verona when Duse herself was just fourteen-years old. She had used the flowers as main props.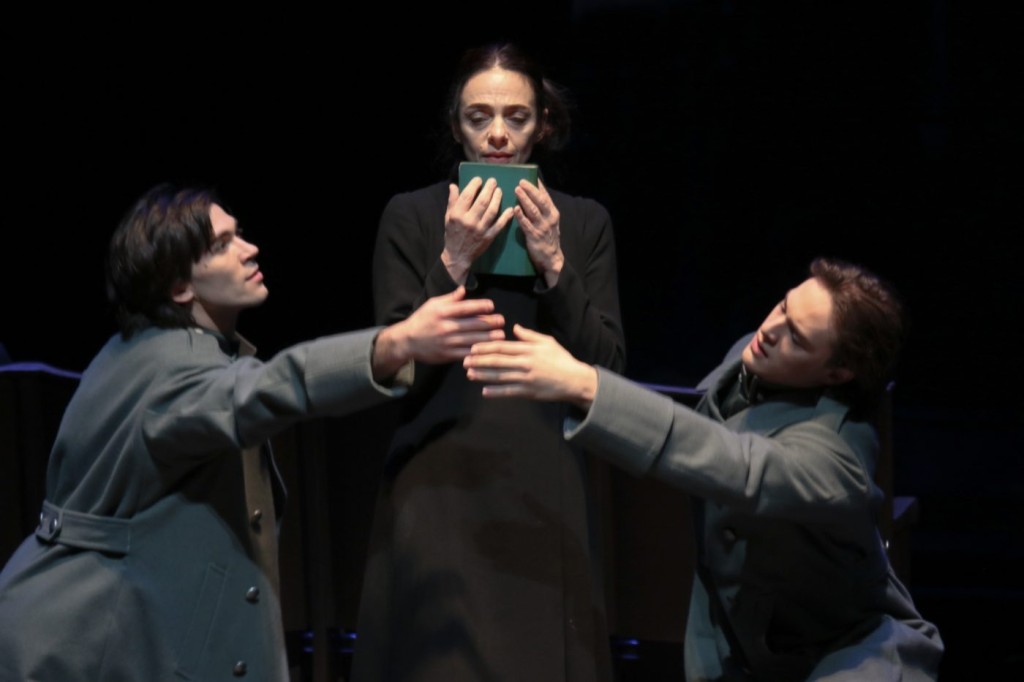 Neumeier is skillful in intertwining all the many details that his thorough research brought to light into a dense net of allusions and cross-references. Moreover, to depict Duse's acting, he tapped into his own oeuvre substituting plays with ballets.
When the curtain rises we see a half-dark cinema hall. Duse (Alessandra Ferri), sitting in the front row, is watching "Cenere", a silent movie in black and white dealing with a mother-son-relationship. It is the only film that the real Duse had ever participated in, made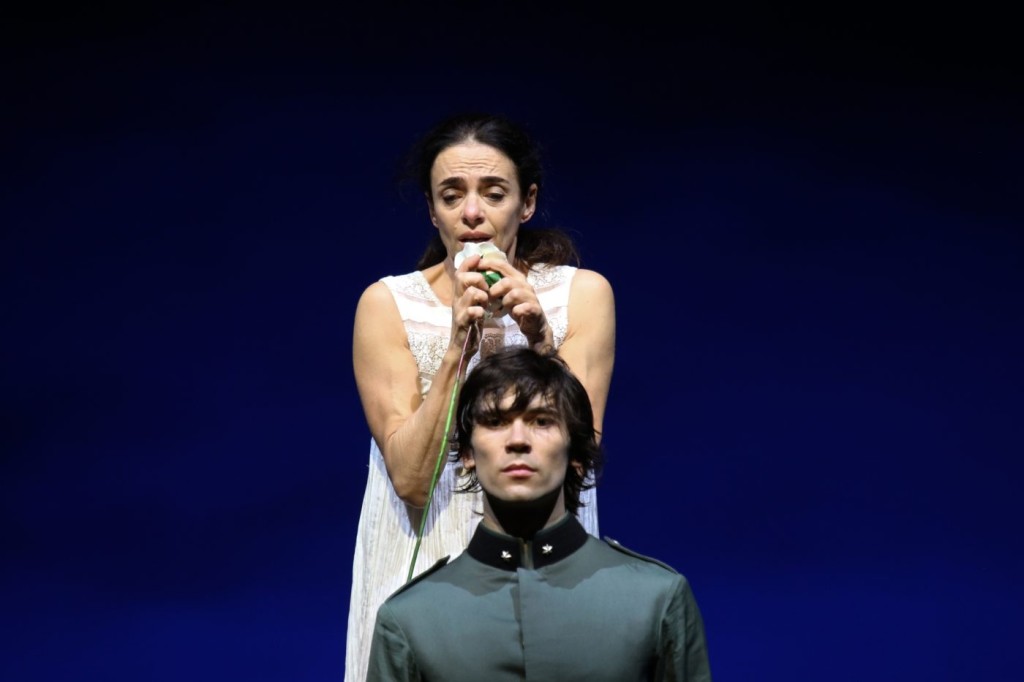 towards the end of her career. A little boy (Gabriel Alain) standing apart observes her. He symbolizes Duse's son, who had died shortly after his birth. In the cinema Duse encounters a young soldier (Alexandr Trusch) who, fascinated by her, presents her with a bouquet of white roses causing Duse to remember her past.
The soldier is Luciano Nicastro, with whom the real Duse had a vivid though platonic correspondence.
In the following excerpt of "Romeo and Juliet" we see snippets of Neumeier's own ballet "Romeo and Juliet". Nicastro acts as Duse's Romeo – play and reality start to intermingle. In the death scene the brick wall in the back suddenly parts, revealing a battlefield. Dying happens inside and outside the theater on stage. The outer world of war descends upon the theater, even though it seems a protected world when the brick wall closes again. Later, no longer in the role of Romeo, but again the soldier, Nicastro dies. Duse mourns him as if he were her dead son.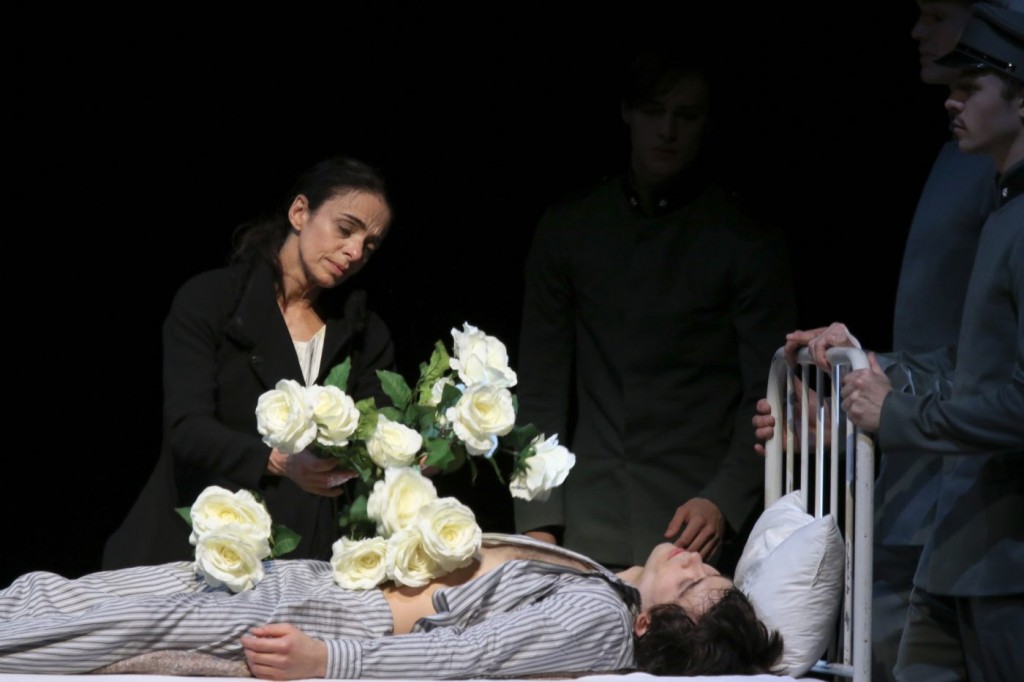 Karen Azatyan is the virile and passionate Gabriele D'Annunzio. An egotist, D'Annunzio loves to be the center of attention. His infidelity becomes an all the more painful twist as Neumeier makes him the lover of Sarah Bernhardt (Silvia Azzoni) as well. D'Annunzio had, indeed, given a role in one of his tragedies to Bernhardt in 1899, but there is no evidence of a romance with her. Neumeier's D'Annunzio also partners Bernhardt as Armand in "Lady of the Camellias" the piece she was famous for. Again an opportunity to echo existing choreography. Azatyan gave a remarkably intense interpretation. He perfectly conveyed D'Annunzio's strong personality which equaled Duse's. Azzoni as the exalted Bernhardt was also convincing. Well done!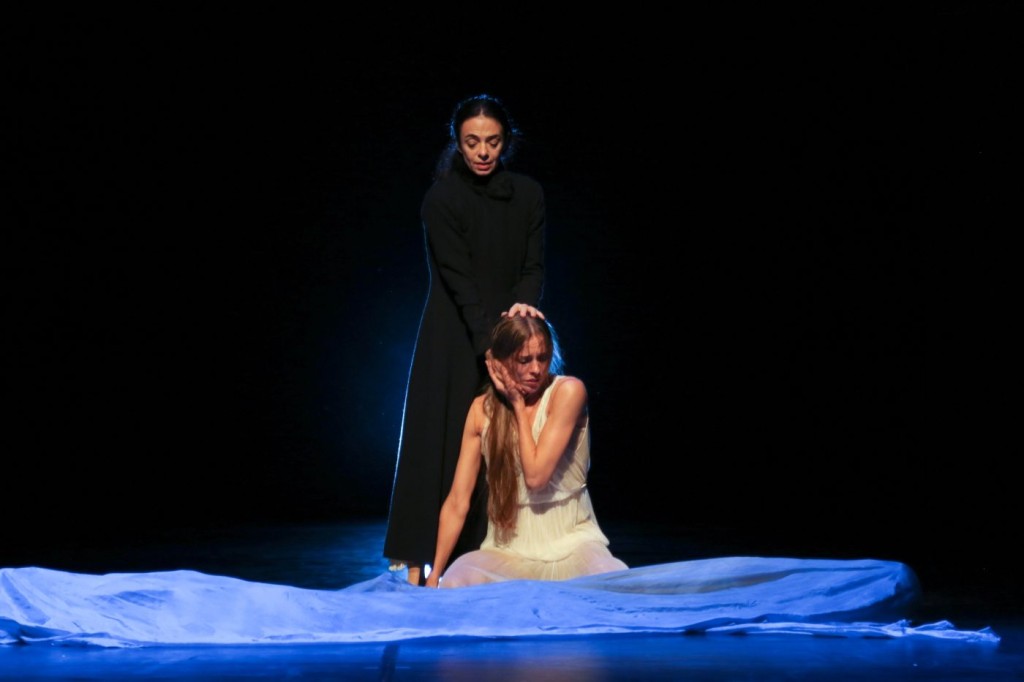 Anna Laudere portrays Isadora Duncan in an expressive, bare-footed solo. After the tragic death of her two children (Darcie Ridder and Gabriel Alain) she is inwardly broken and unable to dance any more. The long scarf, which in reality caused Duncan's own death (she was strangled by it while driving in an open car), in Neumeier's version is instead draped around the neck of Arrigo Boito (Carsten Jung). Jung tackled the role of Duse's mature admirer and zealous mentor neatly.
Hélène Bouchet, Christopher Evans and Marc Jubete dance in supporting roles. Bouchet is Duse's maidservant Désirée von Wertheimsein. Reserved and clad in gray, she emerges from her shadowy existence only in a desperate solo after Duse's death. Evans portrays Flavio Andò, Duse's stage partner, for whom she had left her husband. Neumeier gives him a lively solo but places his appearance later in Duse's life. Jubete personifies Duse's audience.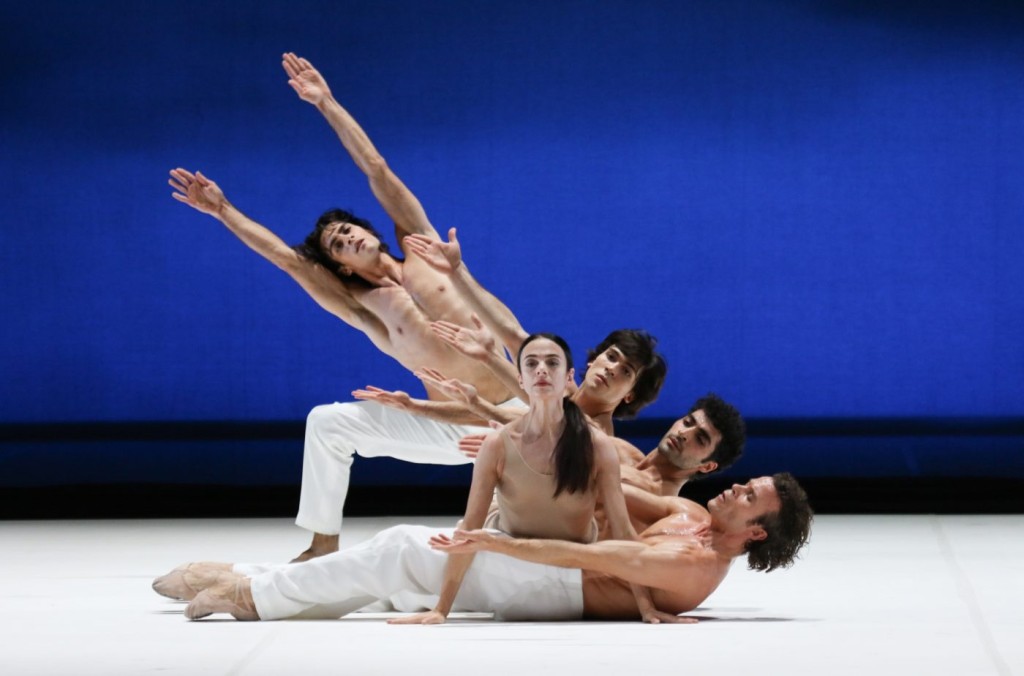 The corps has little opportunity to dance. As stage audience it watches Duse's or Bernhardt's performances, as soldiers it marches and crawls across the battlefield. Some dancers moreover depict a theatrical company.
Ferri's Duse is a straightforward and unpretentious woman. She is open and sensitive and hence vulnerable. Her strength and confidence result from her trust in her emotions – genuine, undiluted emotions which ground her firmly. Ferri, now age fifty-two, is an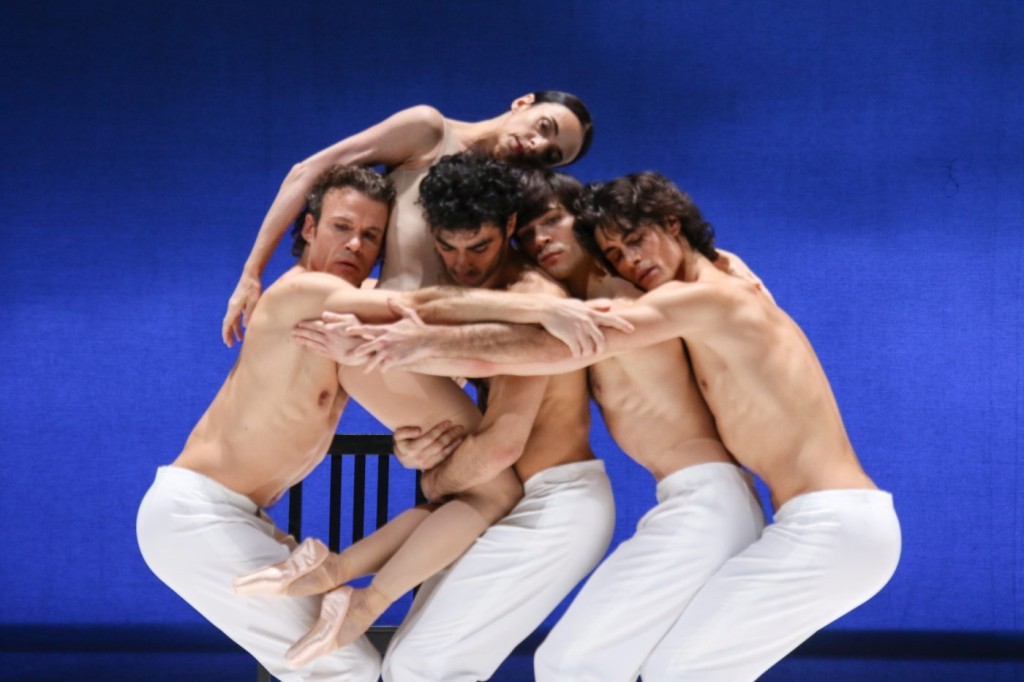 exceptional ballerina, a seasoned actress who knows how to be expressive with every fiber of her being. But that didn't hide the fact that she struggled with filling out her role from inside herself. I missed the touching charisma, the special aura that results from an amalgamation of artist and role. Exactly what Duse is famous for didn't happen. Ferri's gestures, meant to be imbued with meaning – maybe Neumeier intended all too weighty meaning – sometimes look affected.
The choreography alone couldn't balance this. Movements at times are very slow, rather celebrated than danced out freely. At another point over-accelerating dance is contrasted with slow tunes. Sometimes the dance resembles a succession of mini-moves instead of flowing. Maybe it's an allusion to old movies whose frame rate seems jerky to today's watchers?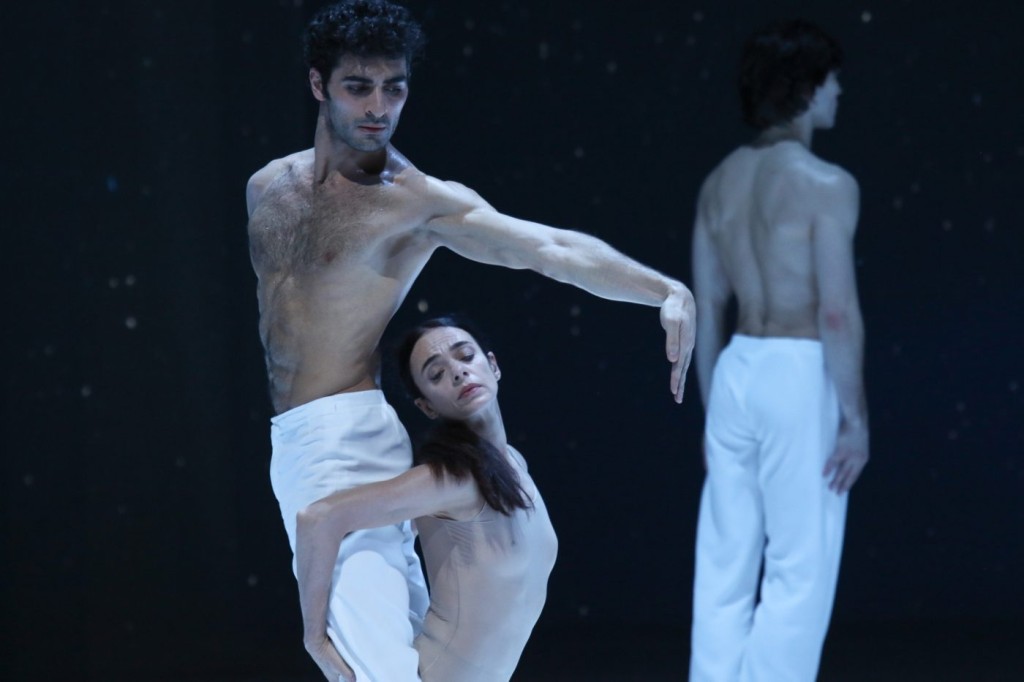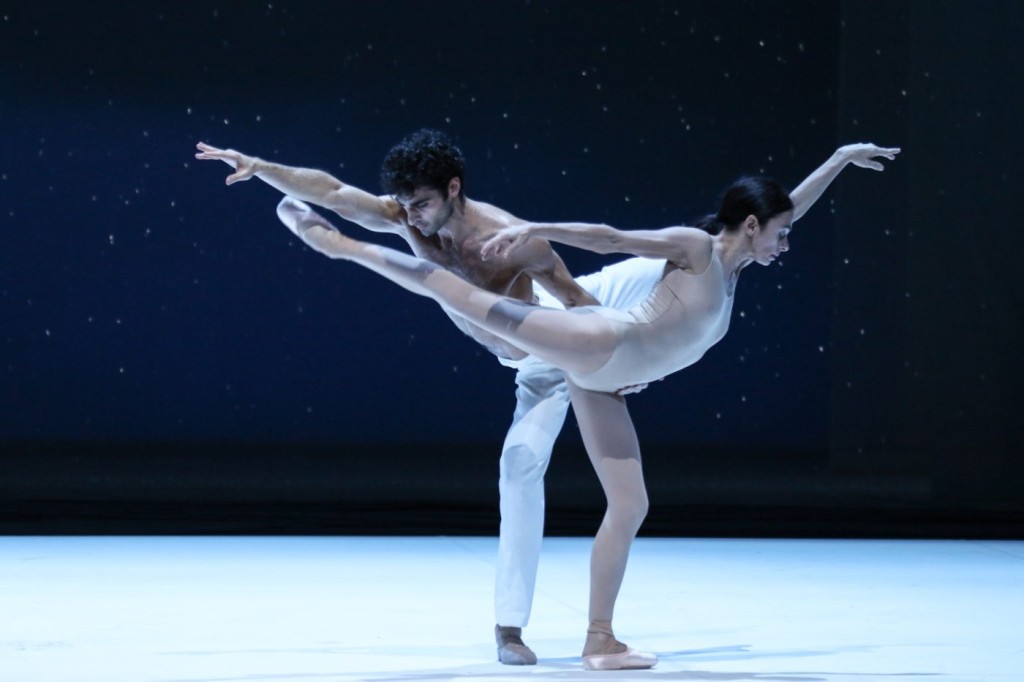 Neumeier, a skilled narrator, this time failed or deliberately didn't establish an arc of suspense. The first act of "Duse" lasts around one and a half hours, trickling evenly along like sand in an hour glass. As not much energy radiates from the stage into the audience the effect was slightly soporific.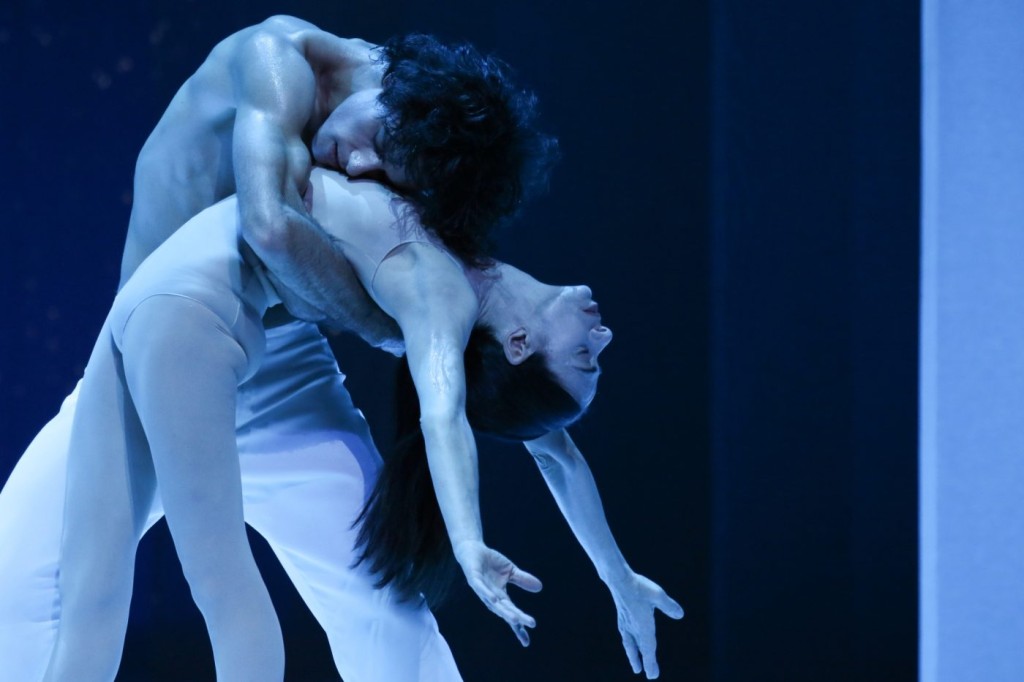 Ending with Duse's death, funeral procession and, again, black and white movies of the repatriation of her remains, "Duse" could have properly ended after the first act. But Neumeier felt something was missing, adding a second, much shorter act. For this he readapted his "Fratres", choreography created in 1986 for the Stuttgart Ballet. The piece was created on Marcia Haydée and four male dancers. Now it is reinterpreted as Duse's apotheosis. In a sphere beyond the normal world she again encounters the most important men in her life, D'Annunzio, Boito and Nicastro. The fourth man is Jubete, personifying her audience. But things do not come full circle. Act II remains an add-on.
A press release before the premiere stated that Neumeier would put the mythic aspects of Duse's spiritual development at the center of his ballet. He would aim to make the core of Duse's personality transparent. Ambitious aspirations. This time they are not achieved.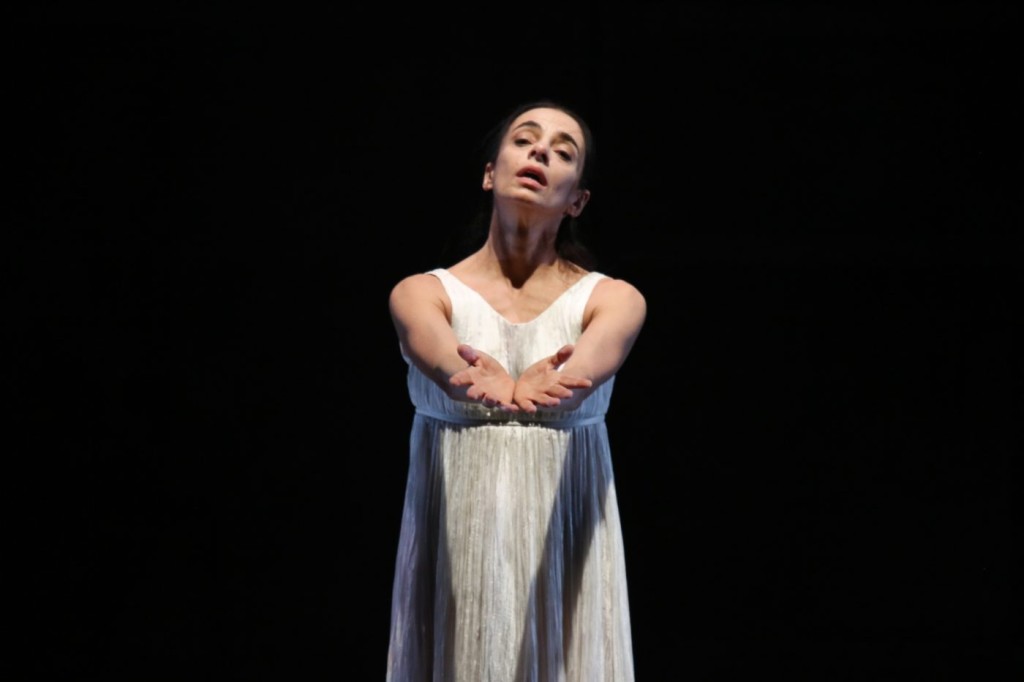 | | | |
| --- | --- | --- |
| | | |
| Links: | | Hamburg Ballet's Homepage |
| Photos: | 1. | Alessandra Ferri (Eleonora Duse), "Duse" by John Neumeier, Hamburg Ballet 2015 |
| | 2. | Alessandra Ferri (Eleonora Duse), "Duse" by John Neumeier, Hamburg Ballet 2015 |
| | 3. | Alessandra Ferri (Eleonora Duse), "Duse" by John Neumeier, Hamburg Ballet 2015 |
| | 4. | Alessandra Ferri (Eleonora Duse), "Duse" by John Neumeier, Hamburg Ballet 2015 |
| | 5. | Karen Azatyan (The Seducer/Gabriele D'Annunzio) and Alessandra Ferri (Eleonora Duse), "Duse" by John Neumeier, Hamburg Ballet 2015 |
| | 6. | Alessandra Ferri (Eleonora Duse) and Carsten Jung (The Mentor/Arrigo Boito), "Duse" by John Neumeier, Hamburg Ballet 2015 |
| | 7. | Alexandr Trusch (The Soldier/Luciano Nicastro), Alessandra Ferri (Eleonora Duse) and Jacopo Bellussi (His Friend, Annunzio Cervi), "Duse" by John Neumeier, Hamburg Ballet 2015 |
| | 8 | Alexandr Trusch (The Soldier/Luciano Nicastro) and Alessandra Ferri (Eleonora Duse), "Duse" by John Neumeier, Hamburg Ballet 2015 |
| | 9. | Alessandra Ferri (Eleonora Duse), Alexandr Trusch (The Soldier/Luciano Nicastro) and ensemble, "Duse" by John Neumeier, Hamburg Ballet 2015 |
| | 10. | Alessandra Ferri (Eleonora Duse) and Anna Laudere (The Friend/Isadora Duncan), "Duse" by John Neumeier, Hamburg Ballet 2015 |
| | 11. | Alessandra Ferri (Eleonora Duse), Marc Jubete (Her Audience), Alexandr Trusch (The Soldier/Luciano Nicastro), Karen Azatyan (The Seducer/Gabriele D'Annunzio) and Carsten Jung (The Mentor/Arrigo Boito), "Duse" by John Neumeier, Hamburg Ballet 2015 |
| | 12. | Carsten Jung (The Mentor/Arrigo Boito), Alessandra Ferri (Eleonora Duse), Karen Azatyan (The Seducer/Gabriele D'Annunzio), Alexandr Trusch (The Soldier/Luciano Nicastro) and Marc Jubete (Her Audience), "Duse" by John Neumeier, Hamburg Ballet 2015 |
| | 13. | Karen Azatyan (The Seducer/Gabriele D'Annunzio) and Alessandra Ferri (Eleonora Duse), "Duse" by John Neumeier, Hamburg Ballet 2015 |
| | 14. | Karen Azatyan (The Seducer/Gabriele D'Annunzio), Alessandra Ferri (Eleonora Duse) and Alexandr Trusch (The Soldier/Luciano Nicastro), "Duse" by John Neumeier, Hamburg Ballet 2015 |
| | 15. | Marc Jubete (Her Audience) and Alessandra Ferri (Eleonora Duse), "Duse" by John Neumeier, Hamburg Ballet 2015 |
| | 16. | Alessandra Ferri (Eleonora Duse), "Duse" by John Neumeier, Hamburg Ballet 2015 |
| | | all photos © Holger Badekow 2015 |
| Editing: | | Laurence Smelser |