"b.27" ("Duo Concertant", "Variations and Partitas", "The Green Table")
Ballett am Rhein
Opera House Düsseldorf
Düsseldorf, Germany
March 18, 2016
by Ilona Landgraf
Copyright © 2016 by Ilona Landgraf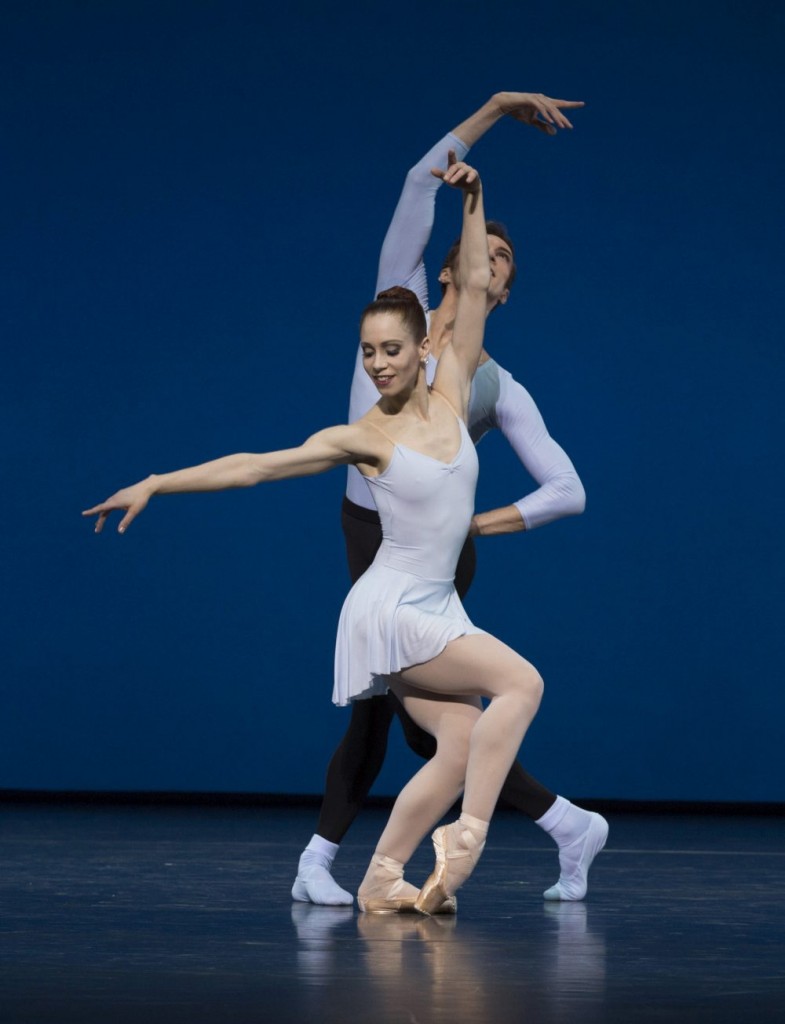 Much credit is due to Martin Schläpfer for his repertory policy. Since he has taken over the Ballet am Rhein as director and chief choreographer in 2009, he has fostered variety, even though his own creations dominate the schedule. Unlike Hamburg Ballet, for example, with its excessively one-sided Neumeier-diet, Schläpfer keeps ballet's historical legacy alive – this season with ballets by Bournonville, Tudor and Ashton – while also offering up-to-date choreographers a platform. Schläpfer has Swiss roots and a close relationship to nature. A recent documentary about him ("Feuer bewahren") shows him on vacation at his solitary mountain lodge in Tessin. He is likable, unpretentious and down-to earth.
Though Ballet am Rhein's ensemble might not be as versatile as Stuttgart Ballet's in adopting different styles – Schläpfer, training them himself, has imprinted his own style on them – it benefits and grows with each challenge. "b.27", which received its premiere last weekend, is such a case. The triple bill has "Variations and Partitas", new choreography by Schläpfer at its center, framed by George Balanchine's "Duo Concertant" and "The Green Table" by Kurt Jooss.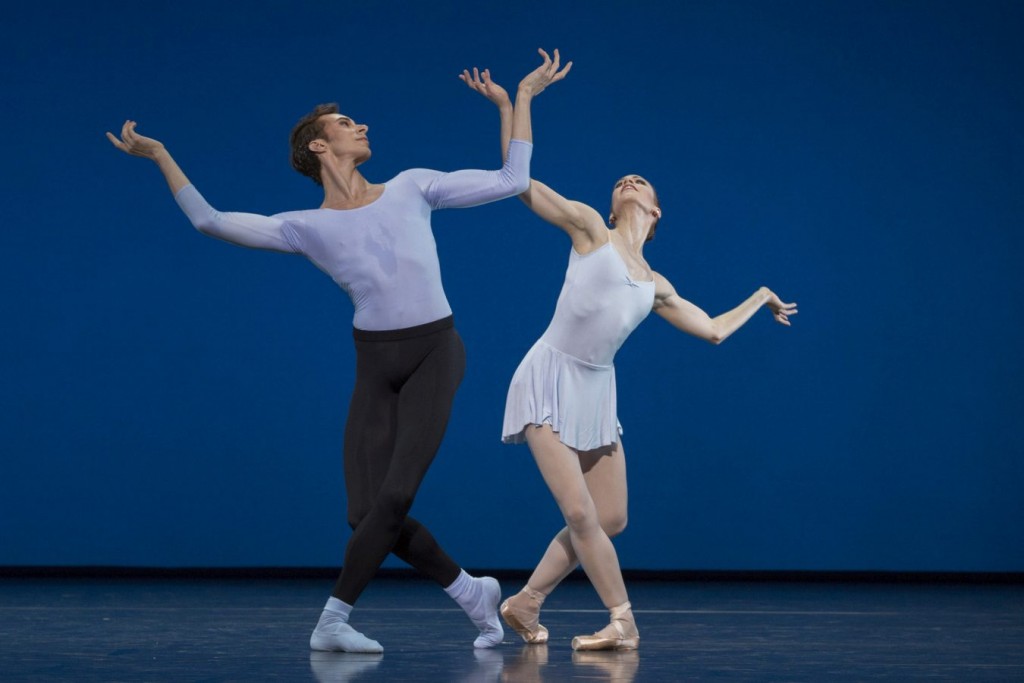 "Duo Concertant" is a fascinating contrast of intimacy and showcase, of youthful ease and a sudden surge of passion, of light and darkness. Clearly Stravinsky's composition for piano and violin of the same title is the stimulus, giving the dance its raison d'être. Alina Bercu at the piano and violinist Dragos Manza occupy the left third of the stage. The dancers, Ann-Kathrin Adam and Marcos Menha, stand next to the piano and listen. Inspired by the music they walk center stage, face the audience and start to dance. At first very technical, they soon become high-spirited and nimbly playful. Later in a slower passage, movements have a consummately soft tension. Both dancers also deliver quicksilver solos rich in jumps. Adam's part is more extroverted compared to tall Menha's who concentrates on experimenting with the steps. The joy and high spirits both project are infectious. In between each dance Adam and Menha return to the musicians, stand and listen again.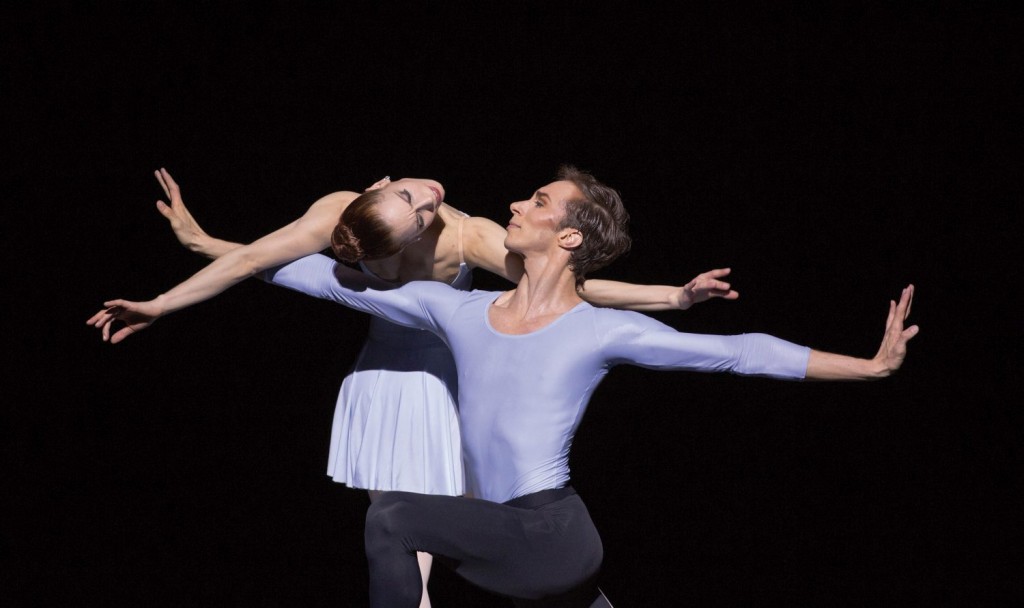 In the second part the stage is dark except for one spotlight. First Adam arm reaches up in the beam, as though holding the light in her hand like in a jar. When her face becomes illuminated she seems downcast. Has she lost something? Is she driven by longing? Maybe both? Then Adam's and Menha's hands tenderly touch each other in the spotlight. Eventually the spotlight expands over their bodies and we witness a short romantic encounter. Yet Adam runs away, leaving Menha abandoned. In the final scene her arm appears in the spotlight again. Menha kisses her hand, gently shapes her fingers open towards the light and withdraws.
Earlier this month Menha was awarded the German Dance Prize "Future" 2016. "Duo Concertant" proved his talent. Adam matched him perfectly.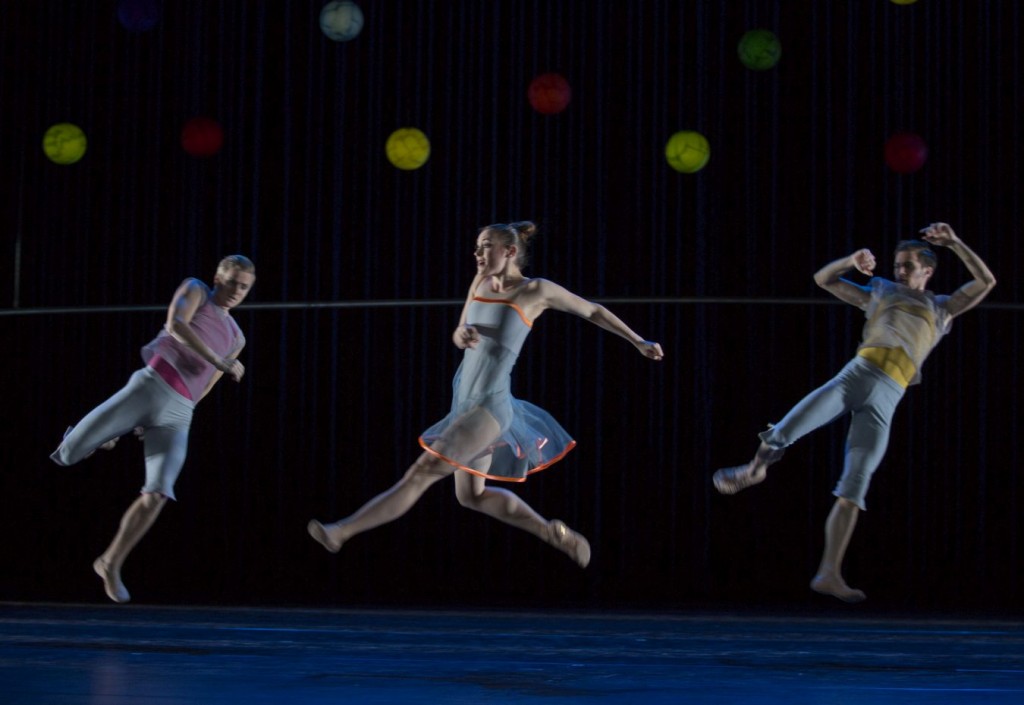 "Variations and Partitas" is pure dance set to Ludwig van Beethoven's "12 Variations on Menuet à la Vigano" and Johann Sebastian Bach's "Partita No. 6", both music for solo piano. Schläpfer had already tackled Bach's Partita in 2003. Looking for a piece to complement this new program and knowing that a full orchestra wouldn't be available for "b.27", he decided to revise his old work. In the program booklet Schläpfer said that he kept only twenty-five percent of the existing material. The main part fell victim to his evaluation. He further explained that with "Variations and Partitas" he searched for a certain freedom which wouldn't exist in Balanchine's piece and which wouldn't have mattered for Jooss. He deems himself more rebellious than the two and compared himself as the "bubbling lava" in between. He definitely doesn't want to be plain and overly well-behaved. Considering how open-hearted and modestly he took the curtain calls, one found it hard to believe him to be a daring maverick.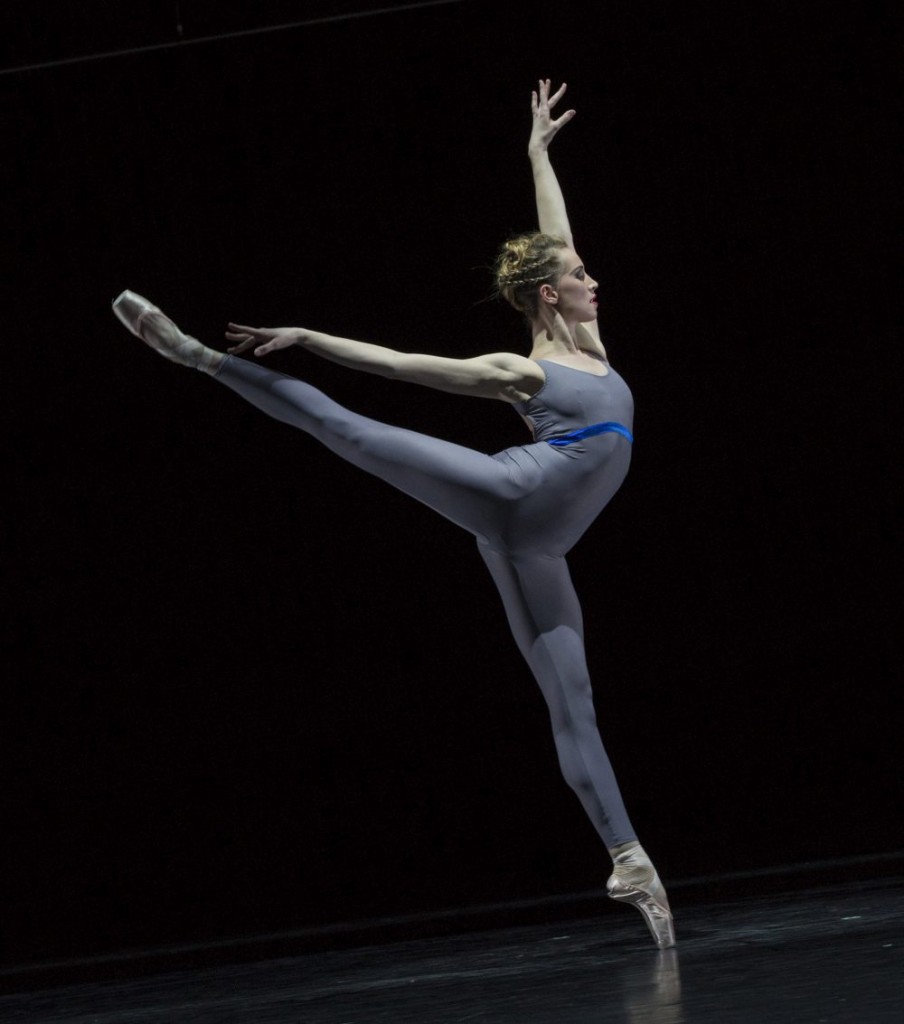 In the opening scene, Yuko Kato stands stiffly center stage, her arms raised – a window mannequin during a redecoration maybe? She wears a gray-blue, strapless dress with velvet borders at the top and at the bottom of the delicate skirt. Other costumes (design: Nelly van de Velden) include gray-blue leotards for the women and three quarter pants of the same color plus transparent tops for the men. Behind Kato, colored balls hang on strings, a backdrop decoration of big dots. They are slowly raised out of sight in the course of the first variations, leaving the stage nearly empty except for a thin metallic framework and, later on, a back curtain made of strings.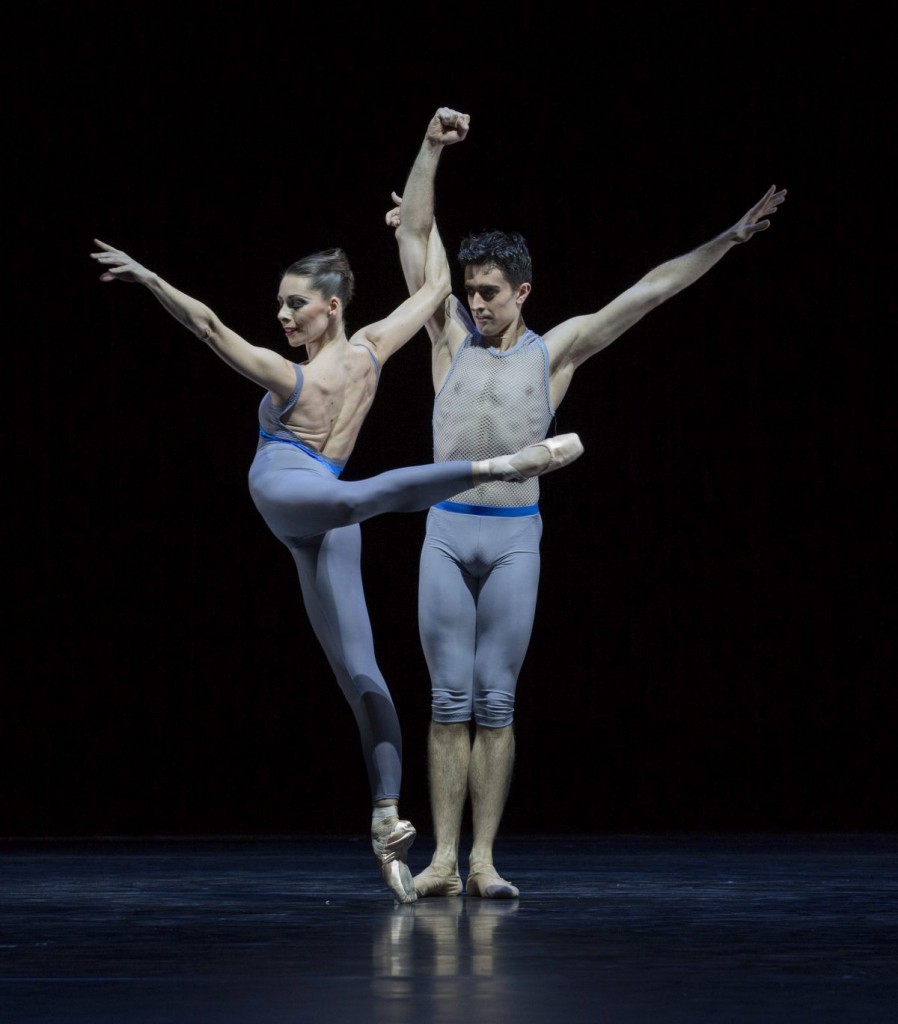 Soon Kato begins to move and is joined by a male dancer for a pas de deux. A varying succession of solos, pas de deux, pas de trois and larger groupings follows which hold one's rapt attention. That in Beethoven's "Variations" mainly groups of three appear, while two or four dancers and multiples of these numbers dominate in Bach's "Partitas", isn't apparent on first viewing. One's attention is rather held by Schläpfer's distinctive handwriting than by counting dancers. He seamlessly blends classical vocabulary with modern language into an integral style. In some sequences one sees the ballerinas on pointe; in others the dancers shuffle across the floor or walk in casual street manner.
Transitions sometimes happen with surprising abruptness yet never break the overall flow. In one scene three dancers enter and, facing away from the audience, line up in the background. Their sagging shoulders add to their powerless and despondent appearance. But when turning round they cheerfully unleash a series of brisk jumps as if a button inside has been switched from "downbeat" to "upbeat"! Unlike in classical ballet gravity is never denied but is used to gain a counterforce which runs through the bodies and determines the next motion. Even soft movements are energetic and expressive, fed from inside by the flux of energy. Once, dancers squat down with legs apart, then suddenly jump up like taut bows releasing arrows.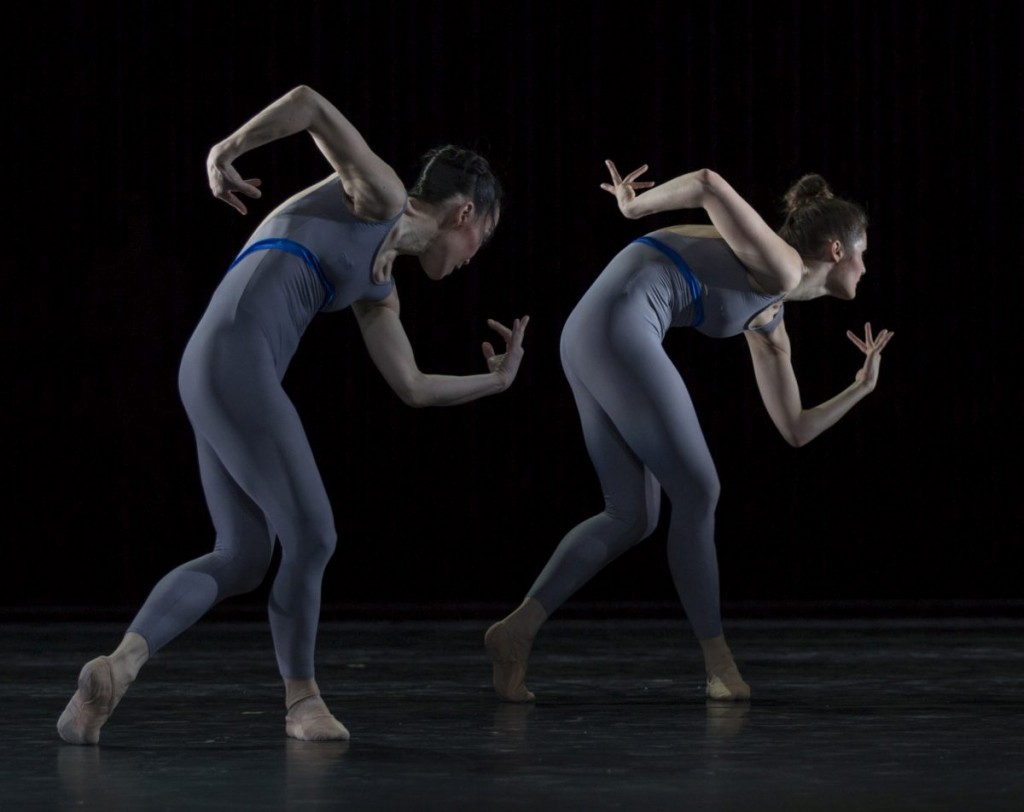 Some moments are refreshingly humorous. Beethoven's "Variations" are about a topic of a ballet titled "Le nozze disturbate" (A wedding out of order) which prompted Schläpfer to include a short love affair of a young couple; she (Anne Marchand) self-assured, he (Boris Randzio) a novice youth. Their dalliance is just sending them into seventh heaven when a very tall, bulky woman in black (Barbara Stute) arrives on the scene (a dominant mother figure?) taking the young man under her wing. In no time he shrinks into a mama's boy and follows her offstage. Luckily Marchand doesn't mourn for him too long.
Maybe as a reference to the single spotlight in Balanchine's piece, Schläpfer used beams of light too. At one point a small group hurries from one beam of light to the next and the next, always searching the sky (for what?), but apparently to no avail. When a fourth spotlight is lightened they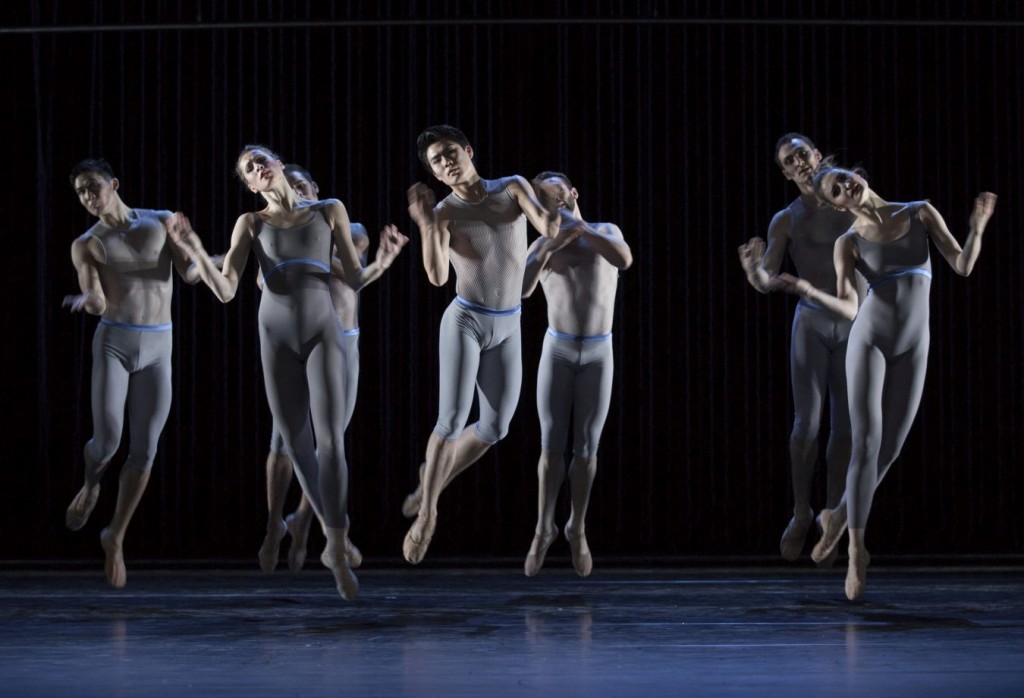 examine its spot on the floor as if looking down into a deep shaft. They must have found what they were waiting for because they leave. The following scene starts in silence.
Schläpfer stated himself that compared to past times his choreography currently is less burdened, less gloomy. He is right. "Variations and Partitas" is feistier and lighter than the creations I saw in "b.22" last year. Though at fifty minutes the piece is too long – some five minutes less would be perfect – it is replete with resourcefully made dance. Denys Proshayev's vibrant yet sensitive rendition at the piano equaled the dancers remarkable performance.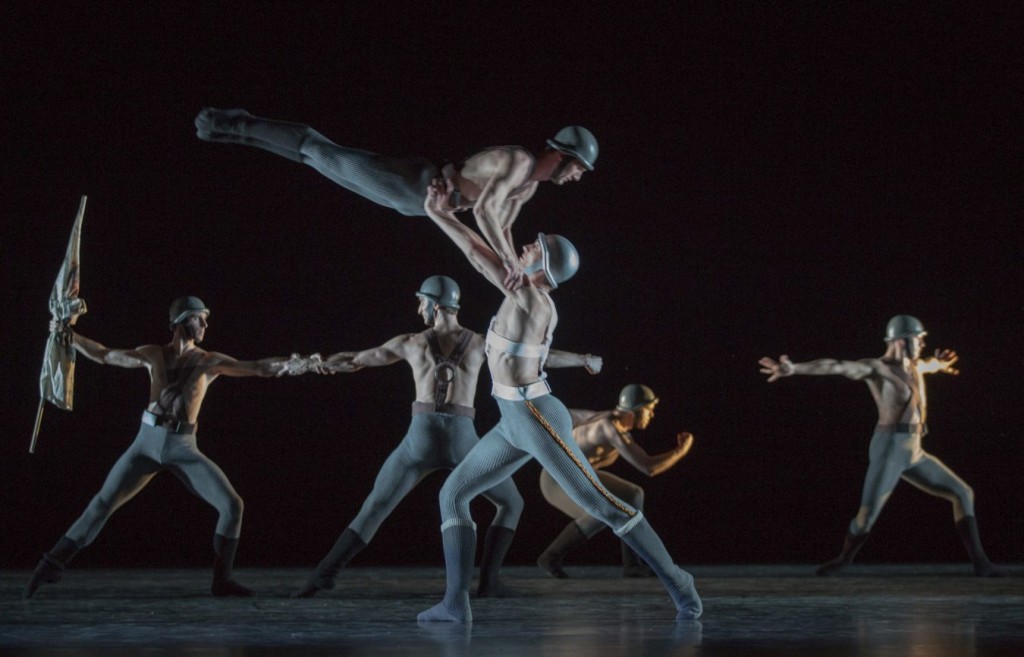 Despite being as topical as ever, Jooss's "The Green Table" is rarely performed on German stages. Let alone other choreography by a trailblazer of German Dance Theater. This season, besides the Ballett am Rhein, the Opera Ballet Vlaanderen also took "The Green Table" into its repertory. It is a dance of war and death in eight scenes. Ten gentlemen in black, diplomats or rather the string pullers of world affairs, bargain around a green table. It is within their power to decide about peace or war but not on a rational basis. Instead they seem to follow inscrutable agendas. A playful tango accompanies their negotiations, underscoring their indifference towards the consequences of their actions. Finally war is declared. In the six following scenes, presided over by the looming figure of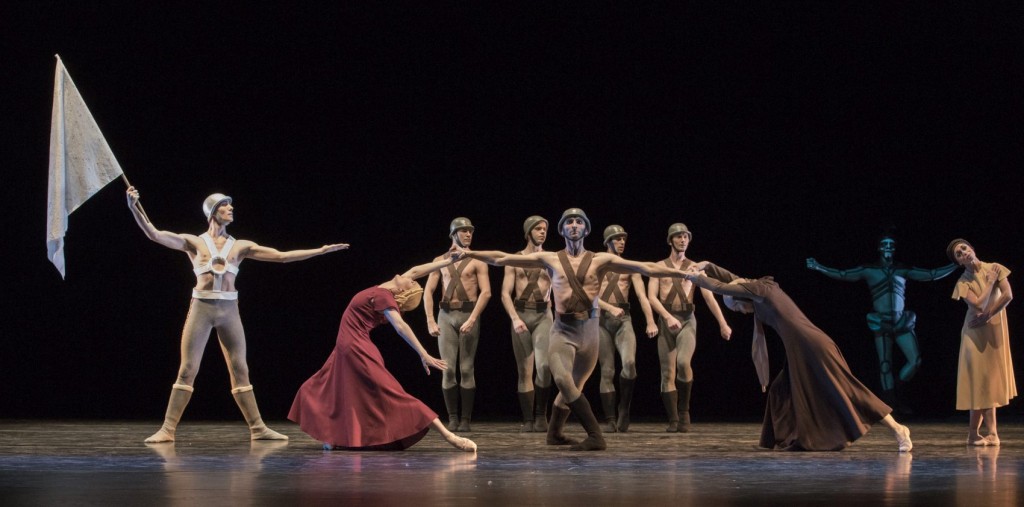 Death, men are called to arms and bid farewell to their beloved ones. Soldiers march. Women flee, bemoaning death. Wives without hope entertain soldiers in a brothel. One even becomes a partisan. Ever-present, Death brings in the harvest of them all.
In the main roles were Friedrich Pohl as an eager Standard Bearer. His banner became ugly bloody and tattered in the course of the war. Sonny Locsin was a sleek, cunning Profiteer of war, a slimy opportunist. Watching a Young Girl (Marlúcia do Amaral) being bartered away to the soldiers by the Profiteer was disgusting. Yuka Kato as an old mother made an especially strong impression. Her headscarf framed a face lined by the hardship of life. She was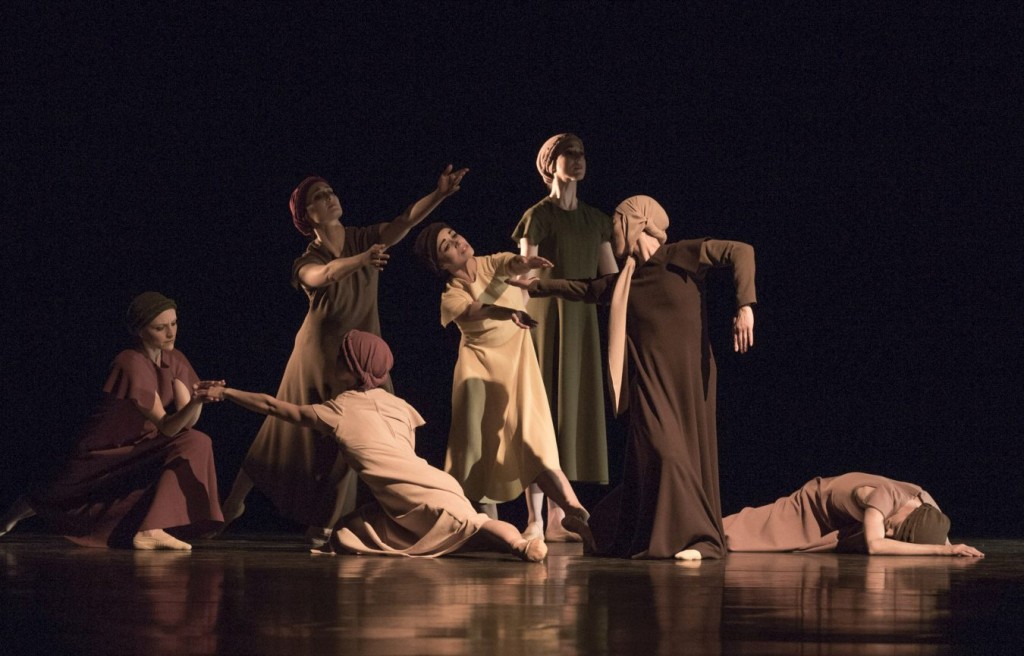 taken by Death as was the bold woman strangling a soldier with her scarf (Camille Andriot). Interestingly Andriot's movements reminded me of Schläpfer's style. Congenial rebels, both Jooss and Schläpfer?
Chidozie Nzerem depicted Death, a strong, emotionless figure, with arms swinging like sharp scythes. His straight and almost mechanical moves left no doubt that he neither would vanish nor feel pity for anyone. Where he stood he stood, an inescapable barrier. And when the time had come there was no pardon.
Created in 1932, in the same year that Stravinsky composed "Duo Concertant", "The Green Table" reflects many artists'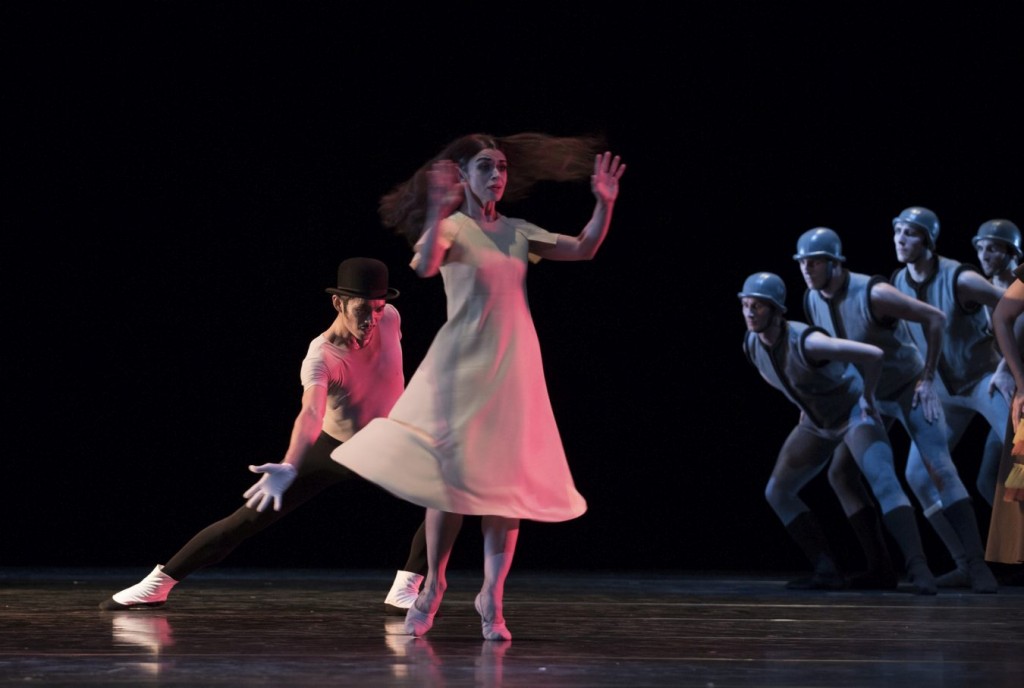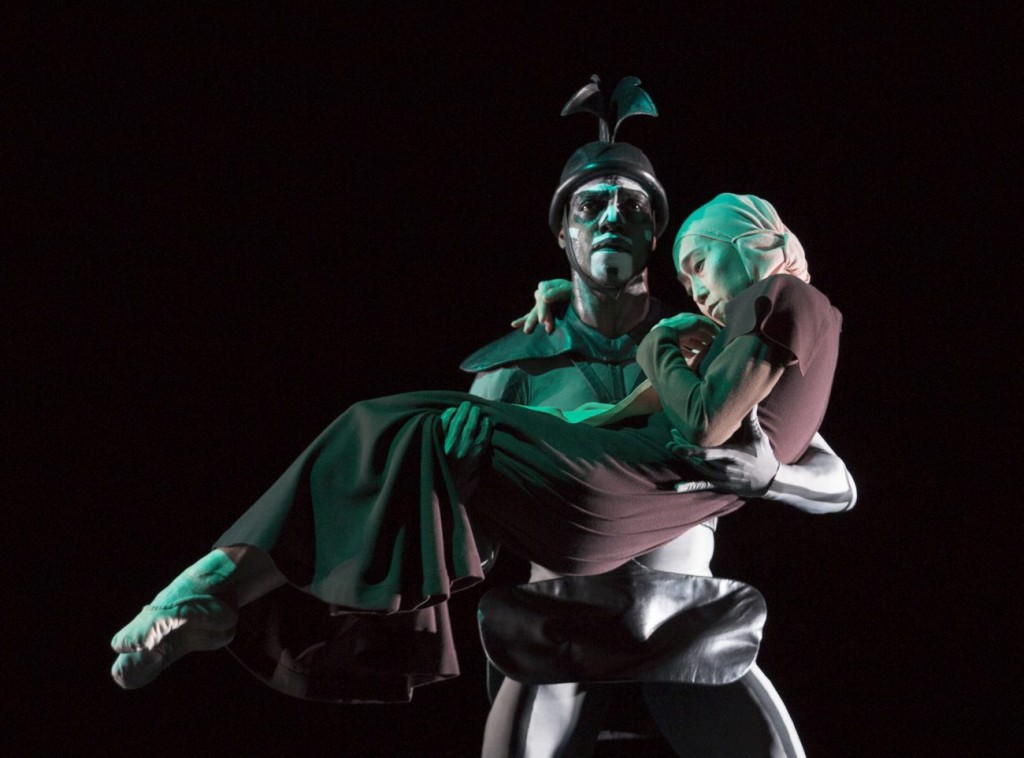 concerns about social issues and militaristic policies during the Weimar Republic. But allegedly Jooss denied the piece was a political ballet. He created it together with the composer Fritz A. Cohen within six weeks. Cohen delivered a score for two pianos (played by Christian Grifa and Wolfgang Wiechert). "It was an exceptional time, we were in a trance-like state", Jooss said. Maybe only afterwards when observed from outside the piece's politically explosive material became obvious.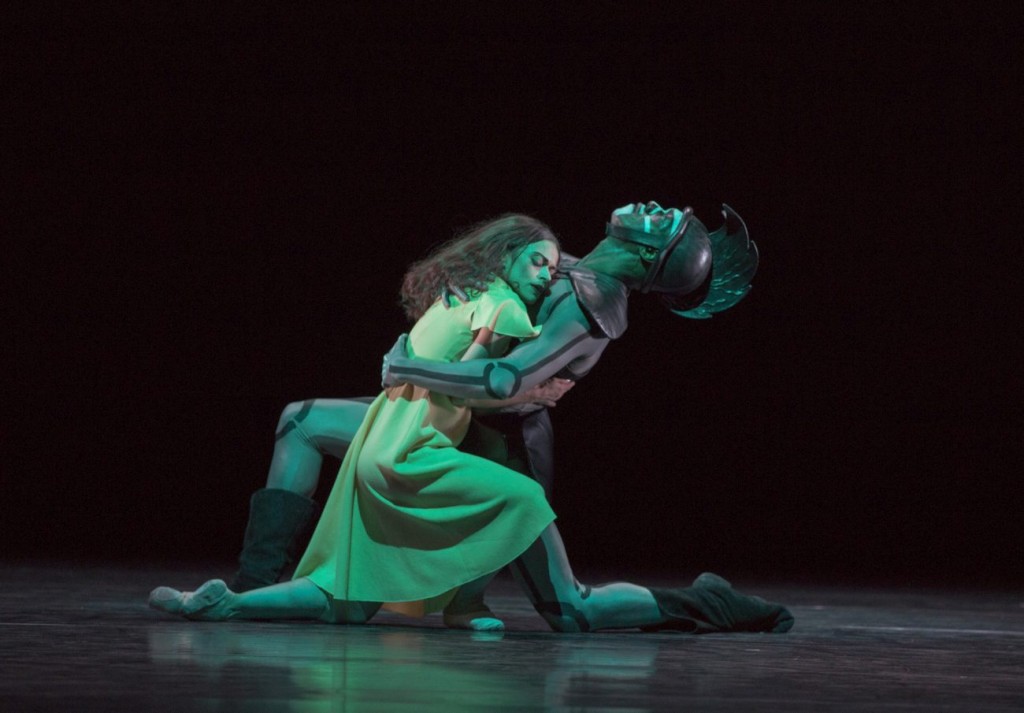 Isn't it cutting that the ten gentlemen wear hideous masks, while in reality exactly the opposite is common practice? Aren't ugly heads usually hidden beneath sleek facades? The sarcasm is intensified in that the same dancers alternatingly depict the ten gentlemen and the main part of the soldiers and women folk. In the last scene, the irony is that they have just experienced the horror of war first-hand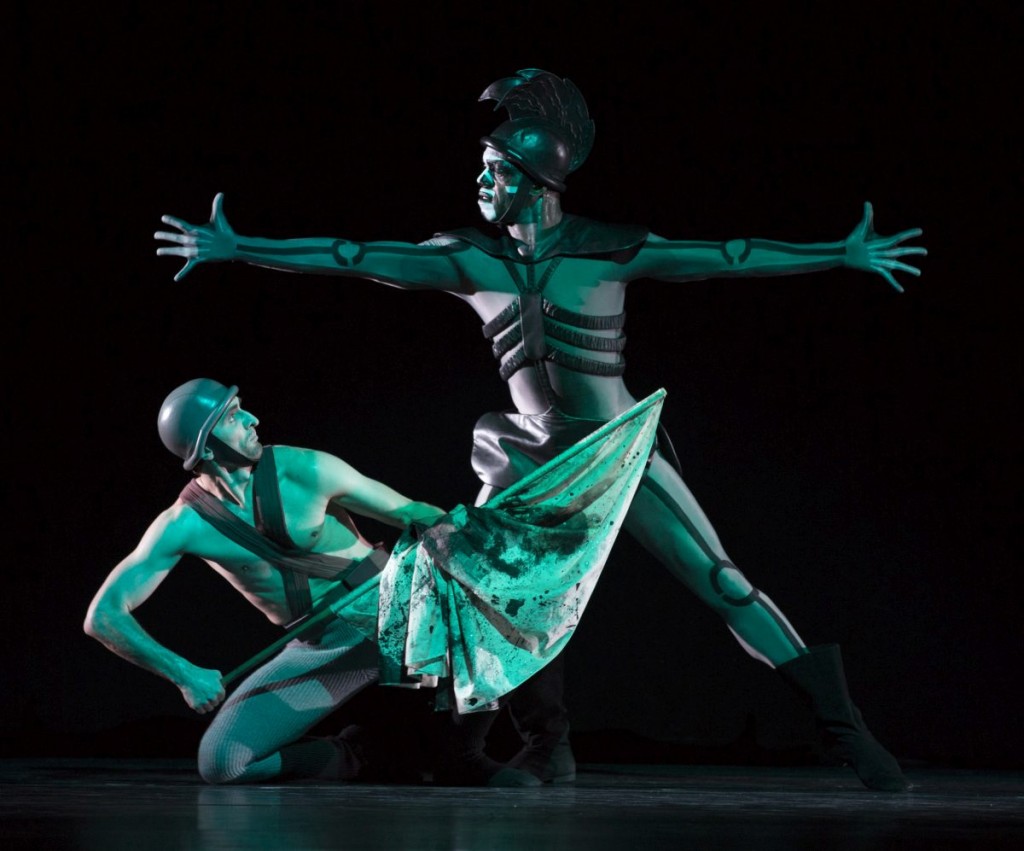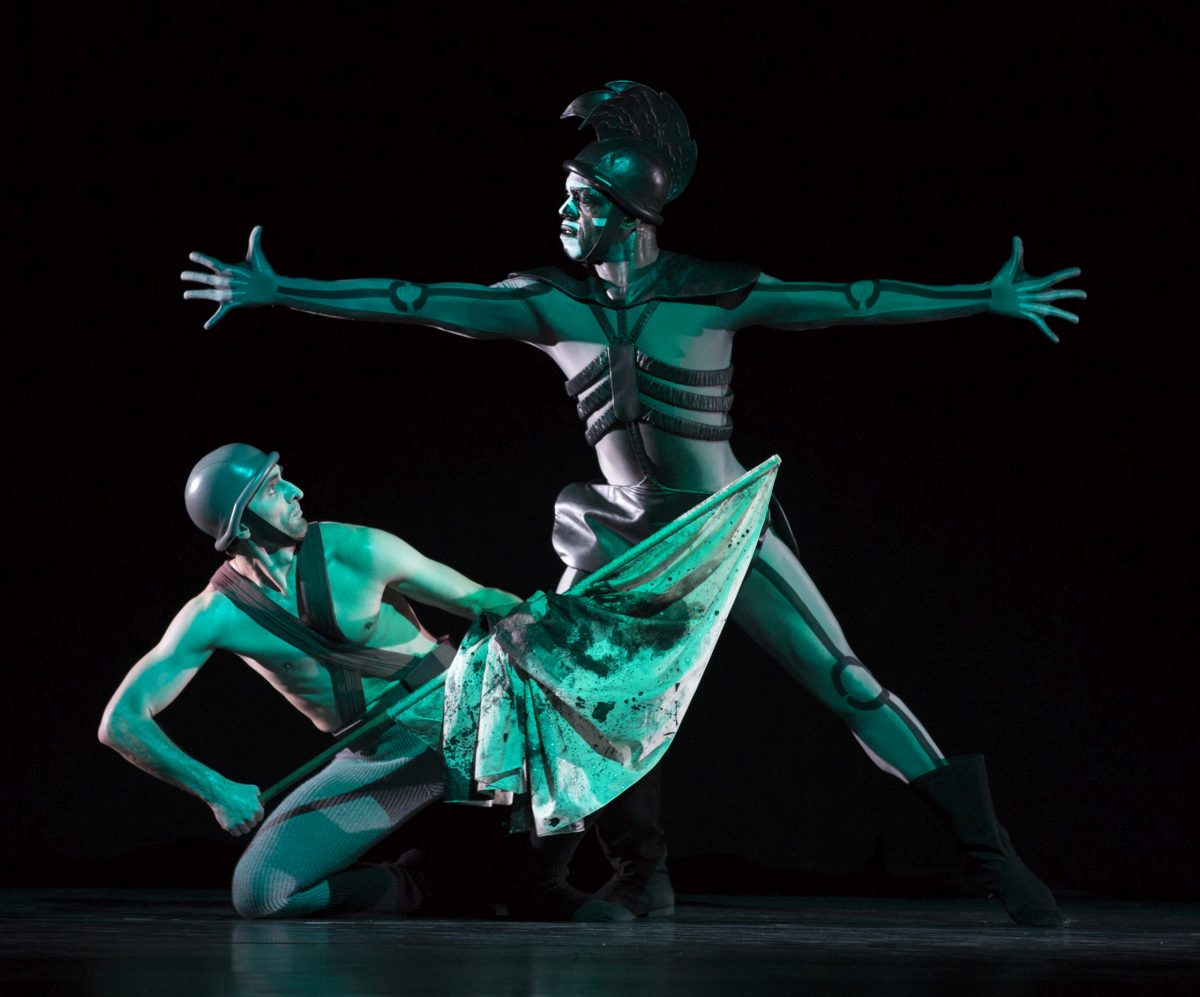 but nevertheless sit down at their table again getting the next war on. An everlasting cycle which leaves no dawn of hope for change.
For the curtain call the gentlemen put off their masks and lined them on the table. In former times, such heads would have ended on top of a pole.
The company was in splendid form at opening night. Schläpfer, who will vacate his administrative duties within the Ballett am Rhein at the end of this season to concentrate on artistic matters, looked cheerful and relaxed. Ballett am Rhein is well on the way.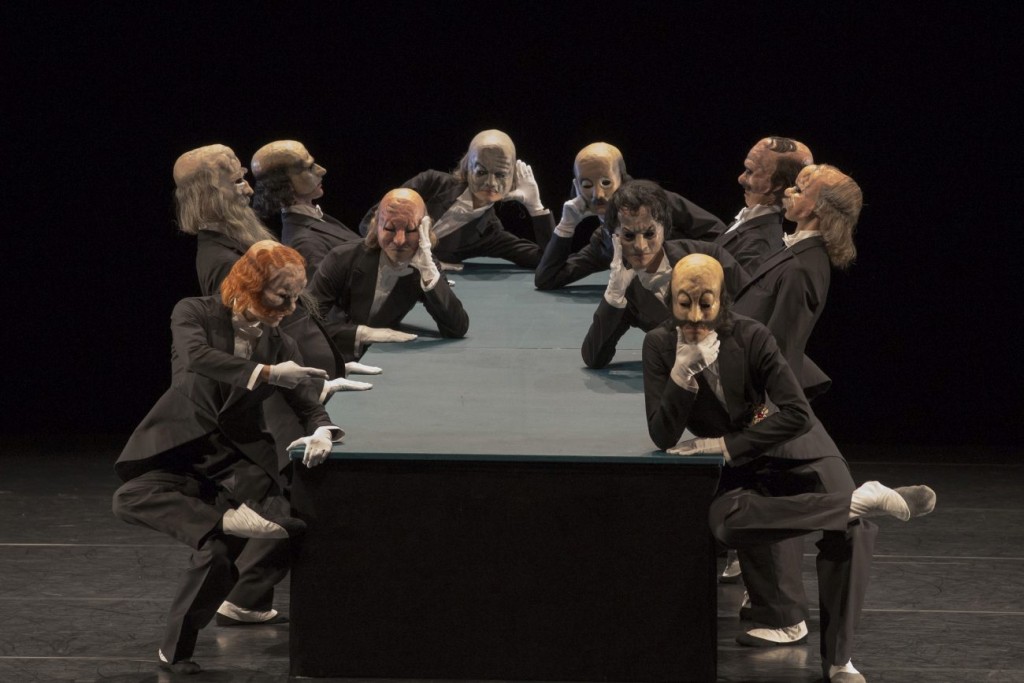 Links:

Homepage of the Ballett am Rhein

Photos:

"Duo Concertant" (George Balanchine)

 1.

Ann-Kathrin Adam and Marcos Menha, "Duo Concertant" by George Balanchine © The George Balanchine Trust, Ballett am Rhein 2016

 2.

Ann-Kathrin Adam and Marcos Menha, "Duo Concertant" by George Balanchine © The George Balanchine Trust, Ballett am Rhein 2016

 3.

Ann-Kathrin Adam and Marcos Menha, "Duo Concertant" by George Balanchine © The George Balanchine Trust, Ballett am Rhein 2016


"

Variations and Partitas" (Martin Schläpfer)

 4.

Vincent Hoffmann, Sonia Dvorak and Brice Asnar, "Variations and Partitas" by Martin Schläpfer, Ballett am Rhein 2016

 5.

Alexandra Inculet, "Variations and Partitas" by Martin Schläpfer, Ballett am Rhein 2016

 6.

Julie Thirault and Alexandre Simões, "Variations and Partitas" by Martin Schläpfer, Ballett am Rhein 2016

 7.

Yuko Kato and Felina van Dijken, "Variations and Partitas" by Martin Schläpfer, Ballett am Rhein 2016

 8.

Ensemble, "Variations and Partitas" by Martin Schläpfer, Ballett am Rhein 2016


"

The Green Table" (Kurt Jooss)

 9.

Ensemble (The Soldiers), "The Green Table" by Kurt Jooss © The Jooss Estate, Ballett am Rhein 2016

10.

Ensemble, "The Green Table" by Kurt Jooss © The Jooss Estate, Ballett am Rhein 2016

11.

Ensemble (The Refugees), "The Green Table" by Kurt Jooss © The Jooss Estate, Ballett am Rhein 2016

12.

Chidozie Nzerem (Death) and Yuko Kato (The Old Mother), "The Green Table" by Kurt Jooss © The Jooss Estate, Ballett am Rhein 2016

13.

Sonny Locsin (The Profiteer), Marlúcia do Amaral (The Young Girl) and ensemble, "The Green Table" by Kurt Jooss © The Jooss Estate, Ballett am Rhein 2016

14.

Marlúcia do Amaral (The Young Girl) and Chidozie Nzerem (Death), "The Green Table" by Kurt Jooss © The Jooss Estate, Ballett am Rhein 2016

15.

Andriy Boyetskyy (The Old Soldier) and Chidozie Nzerem (Death), "The Green Table" by Kurt Jooss © The Jooss Estate, Ballett am Rhein 2016

16.

Ensemble (Gentlemen in Black), "The Green Table" by Kurt Jooss © The Jooss Estate, Ballett am Rhein 2016

all photos © Gert Weigelt 2016




Editing:

Laurence Smelser