"Transatlantic"
Dutch National Ballet
Dutch National Opera & Ballet
Amsterdam, Netherlands
June 25, 2016
by Ilona Landgraf
Copyright © 2016 by Ilona Landgraf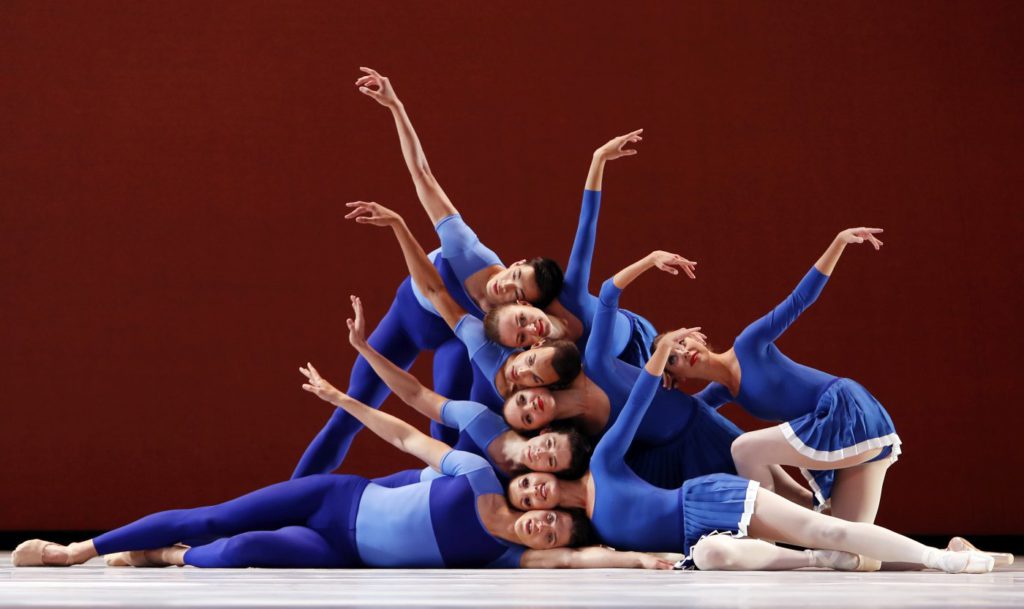 The program of "Transatlantic", recently premiered by Dutch National Ballet, is a teaser. The mixed bill has four pieces: two world premieres by George Williamson and Ernst Meisner, a Dutch premiere by Justin Peck and "Overture", choreography by David Dawson from 2013. A kaleidoscope of up-to-date ballet! Strangely, large parts of the auditorium were empty at, the sixth and second to last performance on Saturday, June 25th. Maybe the round of 16 matches of the European Football Championship kept many glued to the TV screens. They missed a lot.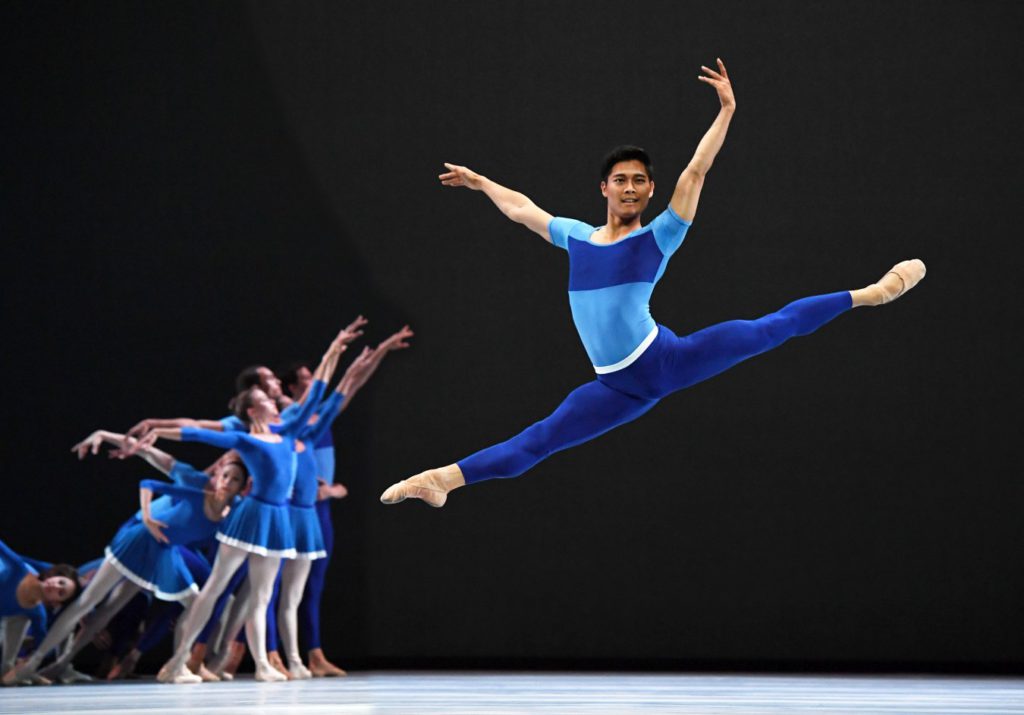 California-born Justin Peck stirs a buzz in his home country. Just twenty-eight years old, he manages the balancing act between dancing and choreographing. A soloist of New York City Ballet, he was appointed the company's resident choreographer in 2014. His output is considerable, his talent highly promising. New pieces by him are fervently discussed. "Year of the Rabbit", choreography from 2012 for N.Y.C.B. was enthusiastically received. The music is by Sufjan Stevens.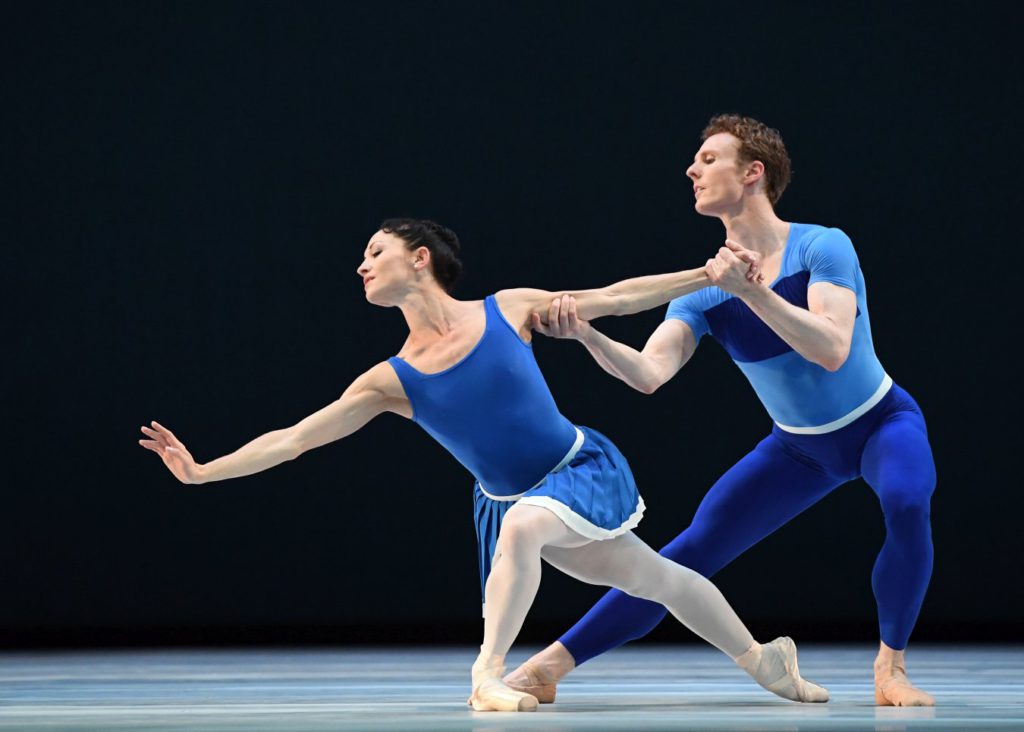 Now the piece has arrived at Amsterdam's canals. Like a refreshing wave it swept across the National Opera's stage leaving one wide awake and in high spirits. Peck playfully contrasts solos with group dances of amazing resourcefulness and dazzling speed. Geometric patterns vary constantly, lines fan out, surge, open like a blossom or zig-zag into each other. The eighteen dancers gather, split into smaller groups; one separates for a solo and merges with the others again. Unexpectedly another one steps out. Optics change seamlessly. Peck made me think of Marius Petipa, spoiling us with his new ideas for tableaux.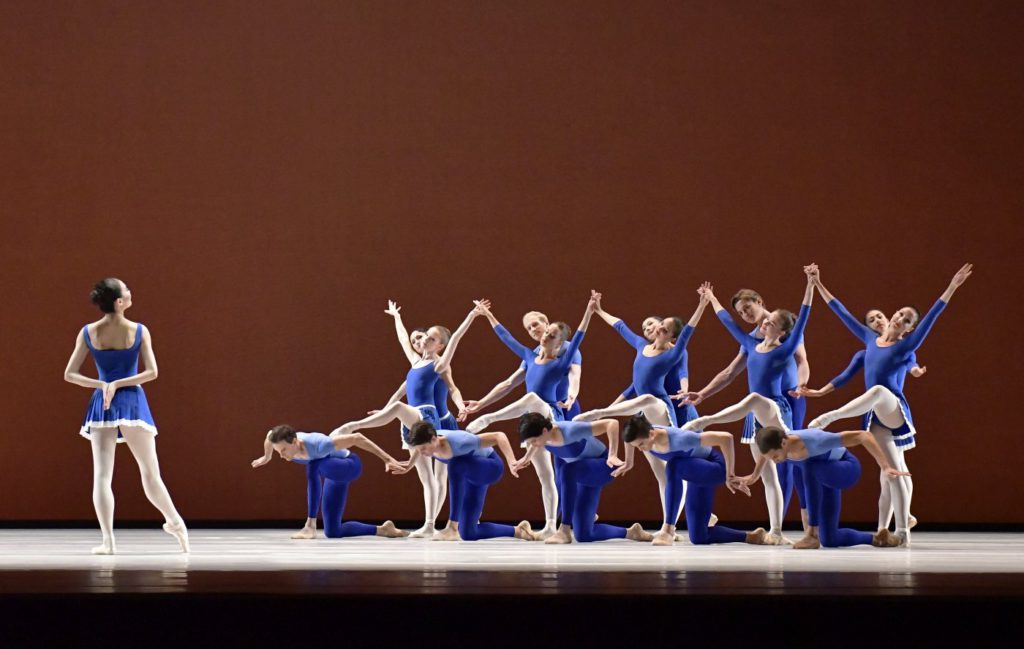 One of the piece's seven movements is a pas de deux, danced by Sasha Mukhamedov and Nathan Brhane. Earlier this year, Joan Acocella wrote in The New Yorker, Peck's pas de deux would be boring. I couldn't witness this. Mukhamedov and Brhane conveyed a melancholic intimacy. They seemed to herald a realm beyond reality where everything will turn out fine. Then, five men and a women swirled off in a wild, witches-like dance, bringing one's thoughts down to earth again.
Peck seems to come up with exceptional choreography just like that. "Year of the Rabbit" fizzles like champagne;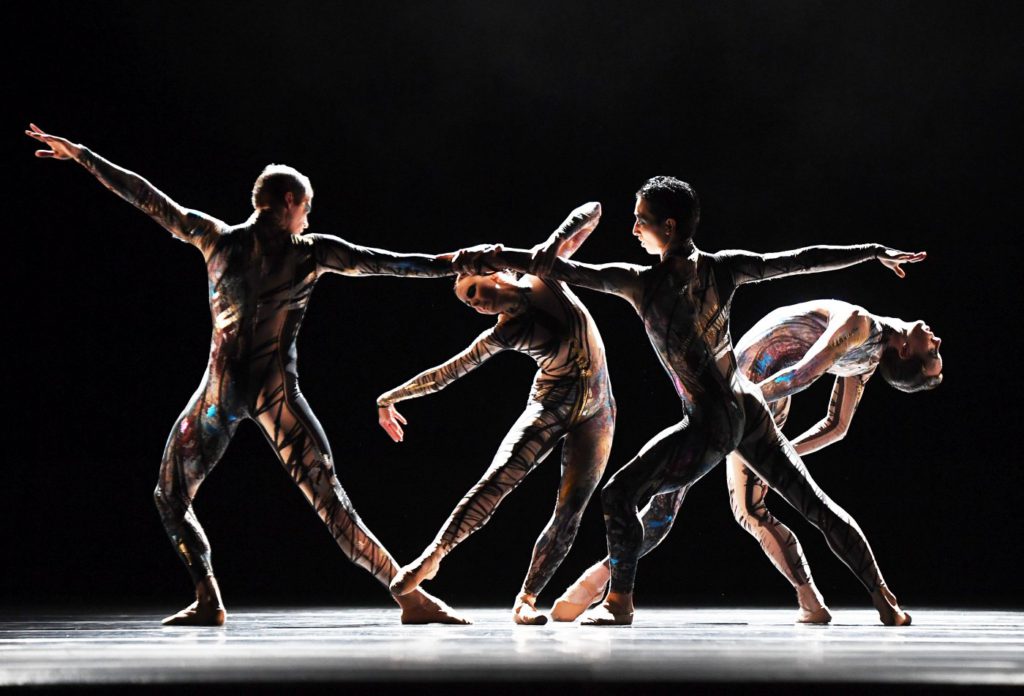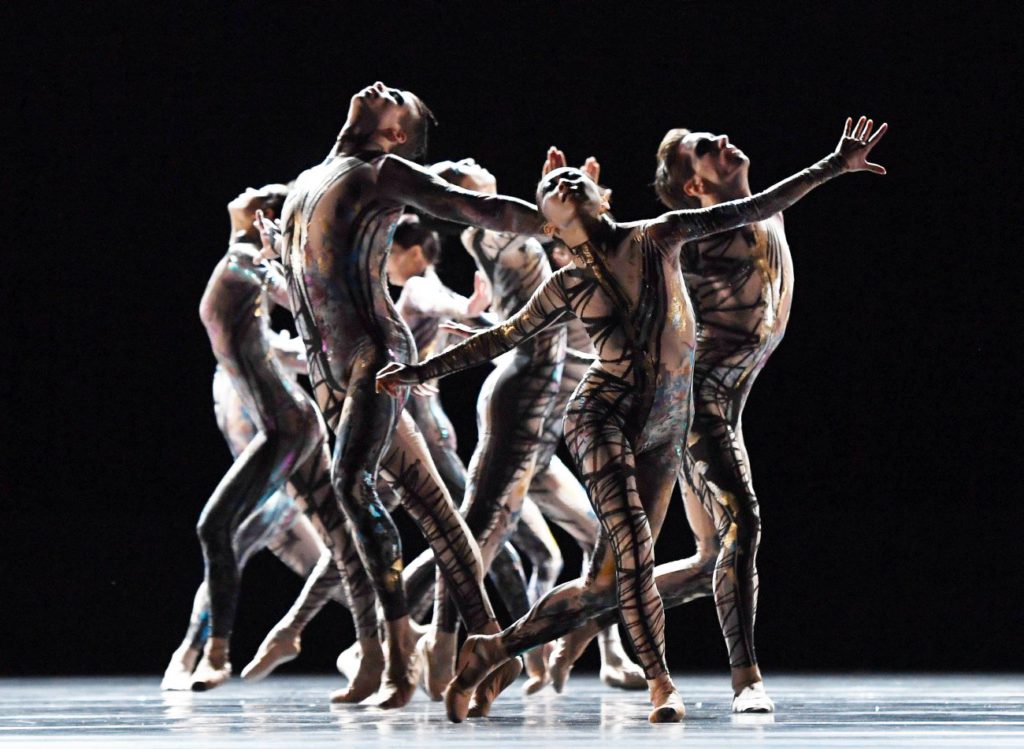 George Williamson's "CRANE" is, by comparison, conventional fare. Instead of spontaneous flow, it has a contrived structure. This matches Williamson's topic. "CRANE" is intended as an apocalyptic trip set in an industrial environment. Donnacha Dennehy's music stomps forward like a steam engine draped with little tinkling bells. It once lightens up, conveying spring atmosphere, before returning to humdrum rhythms and a slumberous finale.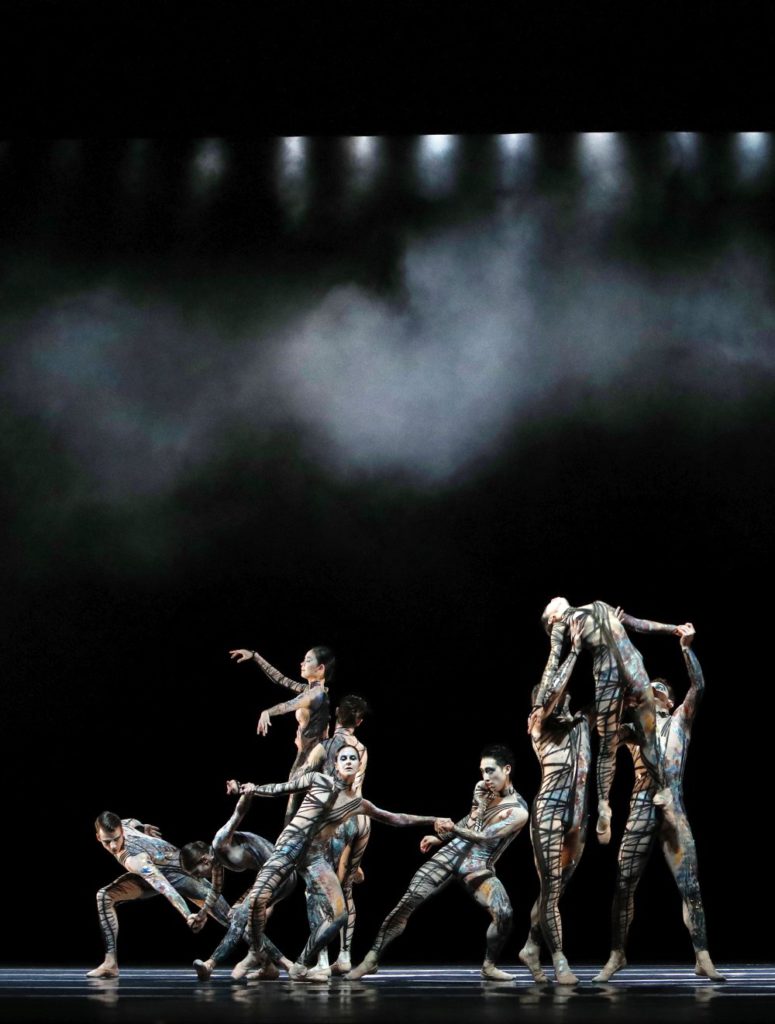 David Bamber's skin-tight costumes are made of crossed-over metal strips with some insertions in quiet colors. The stage seems an underground hall lit through a barred opening from above. Wafts of mist refract the light beams. Nine dancers move through various group formations, duets and solo parts. The choreography given to them works like a properly oiled machine but is neither witty nor surprising. It rather reflects the seamless interlocking of industrial working processes.
"Merge", Ernst Meisner's ten-minute pas de deux, shifts the focus back to human relationships. Meisner, a former dancer of the company, is since 2013 artistic coordinator of Dutch National Ballet's Junior Company. He tailored "Merge" for Igone de Jongh, a principal of the company since almost two decades, and Martin ten Kortenaar, a coryphée. A worldly-wise woman – a young, inexperienced man. First they match each other, but only on the surface. He is curious about life, open for new experiences, ready to hurl himself into life; she has had her experiences, knows life – at least she believes to – and doesn't want to be ruffled by a handsome young man.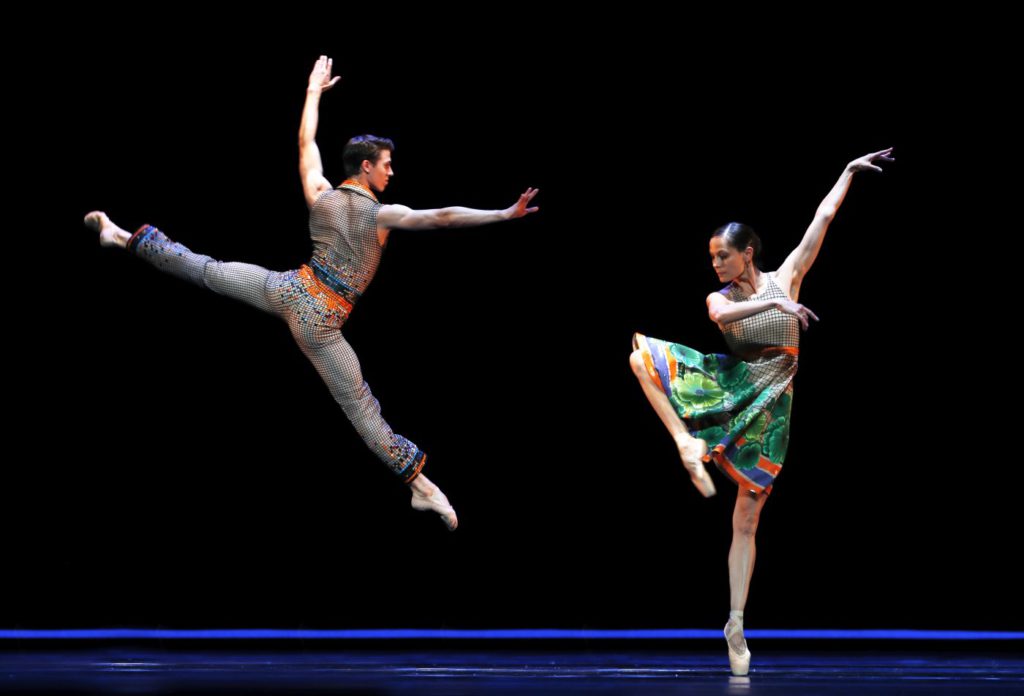 Whether because of being annoyed or to secure her independence De Jongh soon ditches ten Kortenaar. Yet, having a single person's freedom seems not as brilliant as she had expected. Nevertheless ten Kortenaar still mars her sense of well-being. She does not even have to face him, merely noticing his presence makes her reserved. Both evade each other and enjoy themselves in solos. At the end they indeed come together. De Jongh, leaving behind her conceptions of how to live, leans her head on ten Kortennar's chest and simply allows her emotions to live.
Meisner portrays the couple's relationship sensitively, adding apt accents, effective repetitions and the right dose of humor. Hans van Manen, his fellow-countryman and a constant in the company's repertory, has a more trenchant view on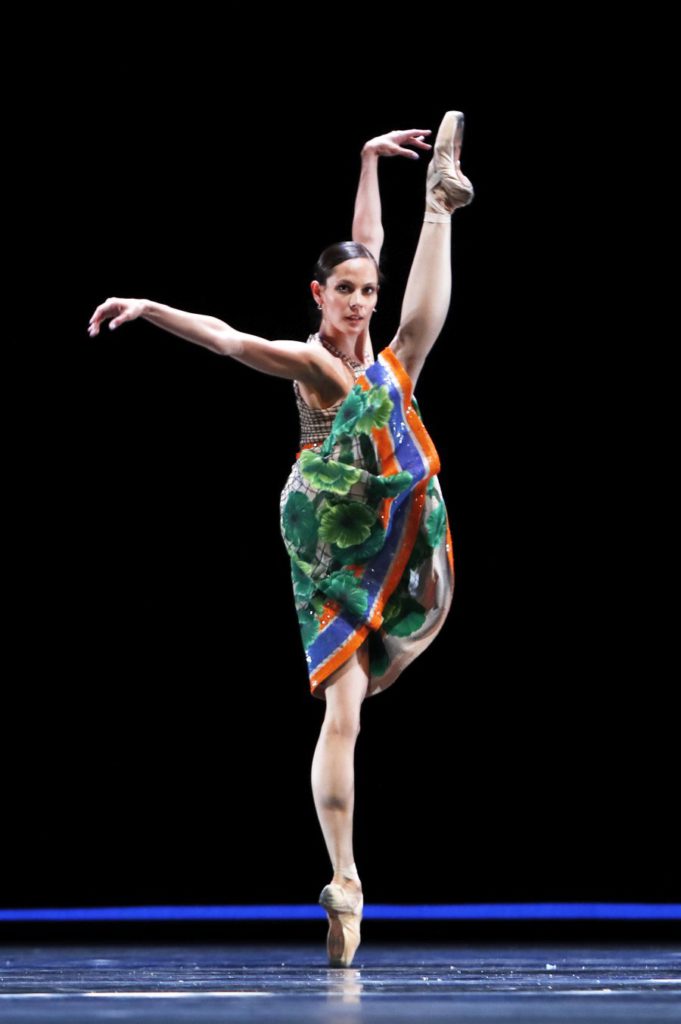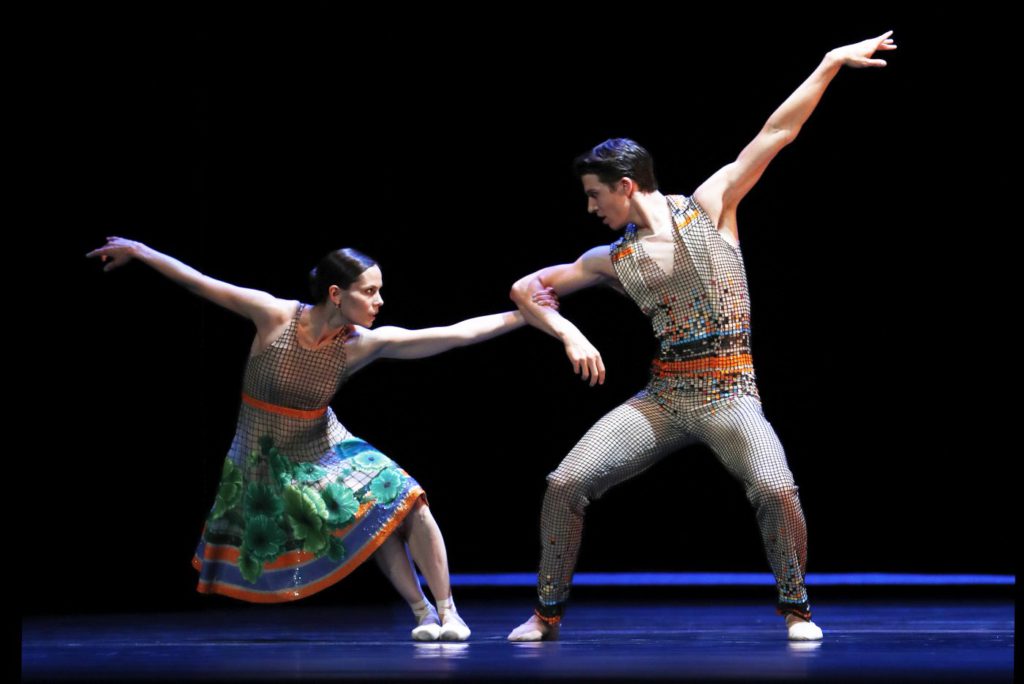 relationships. Meisner doesn't copy him. He equivalently depicts the whole rather than examining it under the the burning lens.
The music, a gentle solo for piano by Lowell Liebermann, is played by Ryoko Kondo.
Jan Taminiau's costumes are made of b/w, small squared fabric. De Jongh's dress additionally is printed with a large, green floral pattern. Ten Kortanaar's pants and vest have some orange and blue.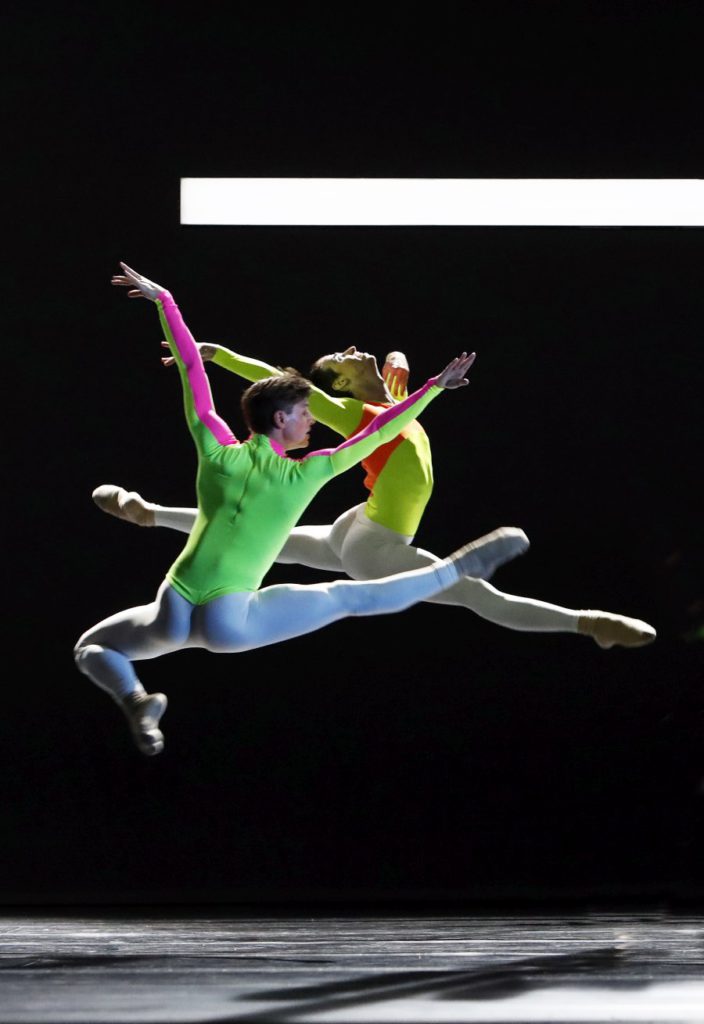 For "Overture", Dawson gathered the same artistic team he had worked with on former productions. The music is by Polish composer Szymon Brzóska. Its first tunes call Dawson's "Tristan + Isolde" to mind, but soon the music changes its shading. Rhythms push energetically forward interrupted by phases of melancholically tinged longing. Brzóska's music oscillates between being grounded and rising towards a spiritual realm. Sometimes his violins seem to sound from another sphere. Yumiko Takeshima's sporty tops in bright neon colors are, by contrast, very much of this world. The set and lighting design is Eno Henze's. He again used slender light objects, which several times change their position and formation. Different shades of gray for the backcloth and the side wings subtly direct the atmosphere and broaden or confine the space.
Dawson created "Overture" three years ago in the light of the centennial of Stravinsky's "Le Sacre du Printemps" and Vaslav Nijinsky's related choreography. "Overture" depicts the preparation for the spring ritual. The main source of inspiration was T.S. Eliot's cycle of poems "The Four Quartets", addressing themes such as the universe, the divine and man's relationship with time.
 It is not clear who of the cast of twenty-one will be the chosen one. It could be anyone. Hence everyone goes flat out. Competition and a certain degree of aggression determines the atmosphere. One couple (Igone de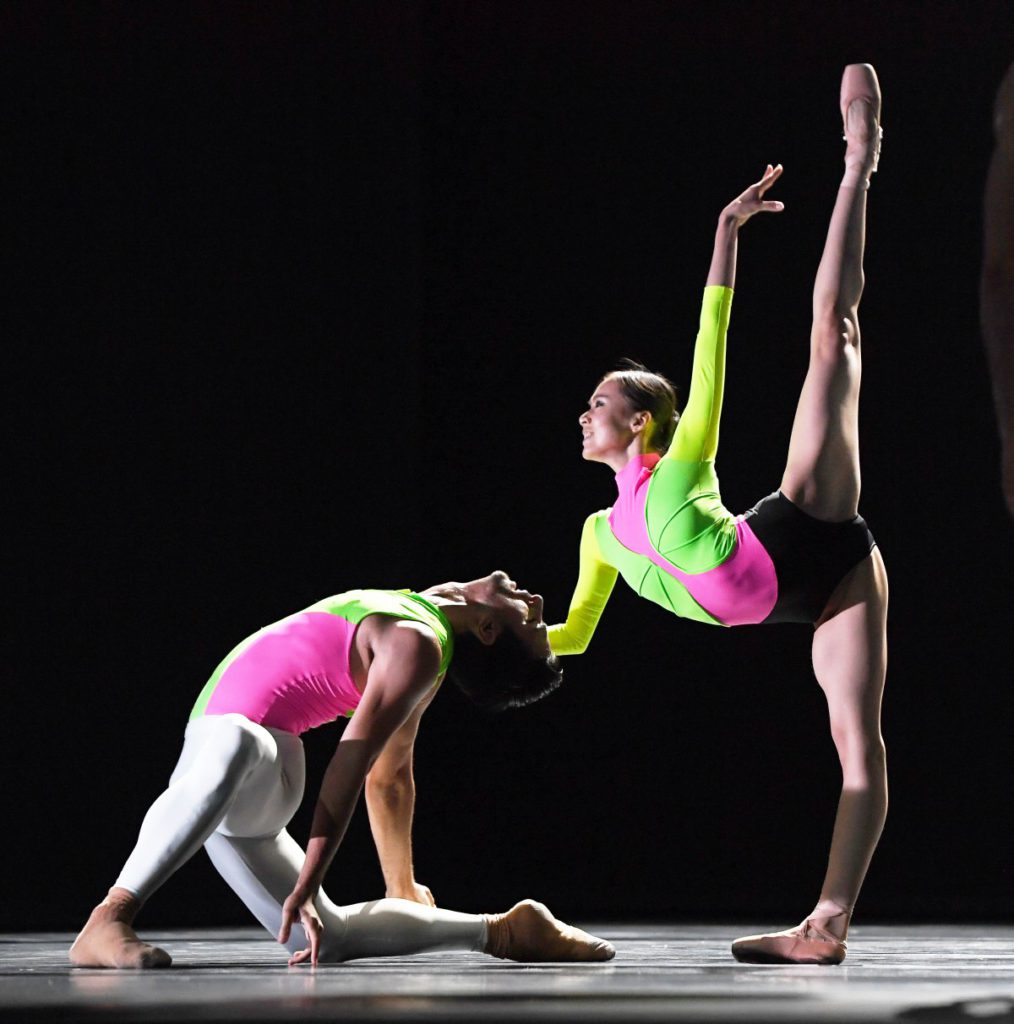 Jongh and Nathan Brhane), newly enamored, builds the tender core amidst a group charged with pulsating energy. At one point, eight women kneel along the front of the stage, implying peace and calmness with their soft gestures.
Order and confusion alternate within the piece's fifty minutes. The dancers line up and move in unison but also scatter across the stage each one immersed in a different solo. Sometimes one or two of them are singled out for a solo or a pas de deux. The light objects are first arranged into four horizontal lines visually confining the space upwards. Later they become separating columns or, when again raised, form squares in the air. Does their regrouping mirror the dance? Or do the lights initiate the action? Maybe both?
Dawson blends speedy with melting moves, by this creating a fascinating dynamic. Dancers dart through the air like arrows, purposeful and firm. But they also reach out yearningly for something unachievable. The line of the classical vocabulary is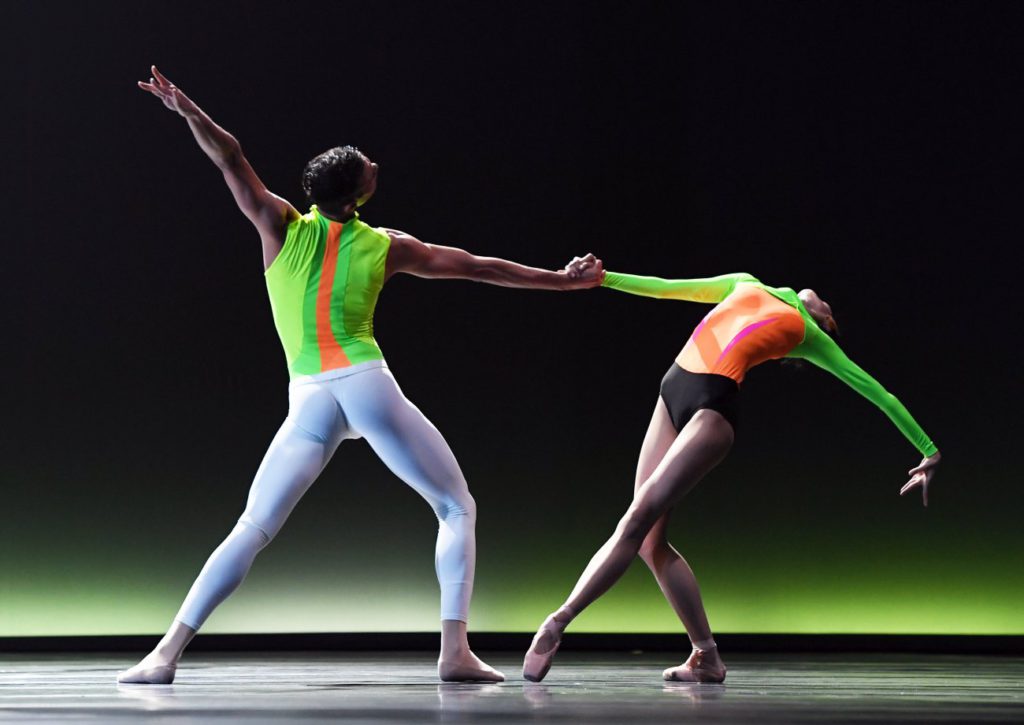 pushed but never broken. Dawson's choreographic handwriting is space-consuming, generously arched, daring.
The final scene reverts to the first one where the dancers stood in four lines, only that now one by one they are replaced by the light objects. Only one man, who has guided the substitution, remains on stage. Various interpretations are possible. I was reminded of the steles of the Holocaust Memorial in Berlin.
The pizzazz and commitment of the ensemble were a delight. Matthew Rowe and the Dutch Ballet Orchestra accompanied them skillfully. "Transatlantic" made the audience rise to standing ovation. I only wished a full house would have acknowledged the artists.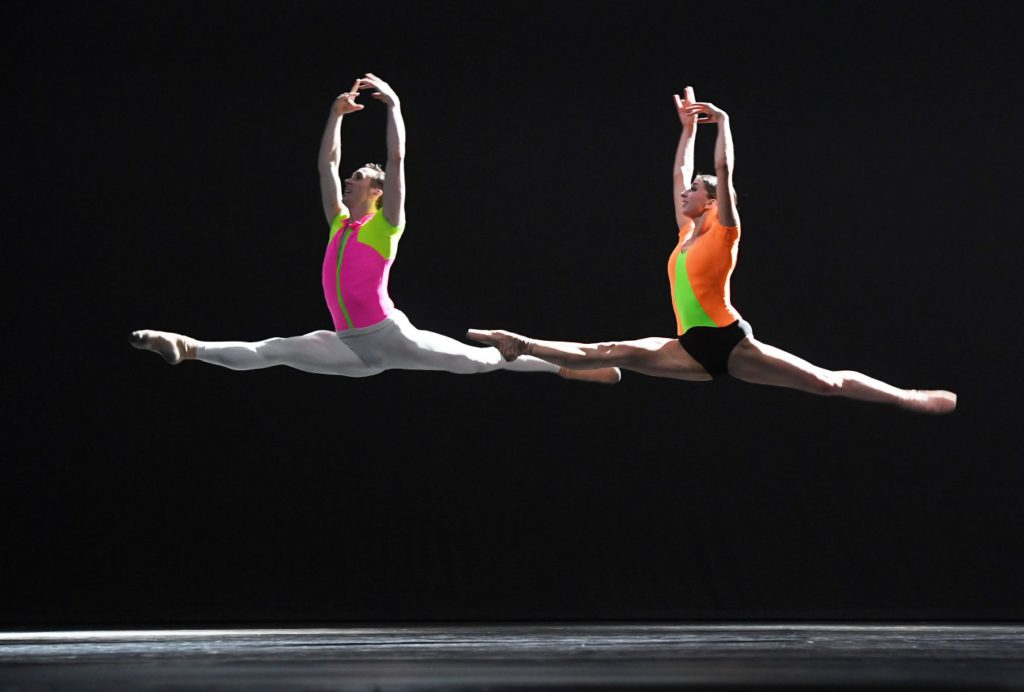 | | | |
| --- | --- | --- |
| | | |
|  Link: | |  Homepage of Dutch National Ballet |
| Photos: | | (The photos show a partially different cast from an earlier performance.) |
| | |  "Year of the Rabbit" (Justin Peck) |
| |  1. | Ensemble, "Year of the Rabbit" by Justin Peck, Dutch National Ballet 2016 |
| |  2. | Young Gyu Choi and ensemble, "Year of the Rabbit" by Justin Peck, Dutch National Ballet 2016 |
| |  3. | Anna Tsygankova and Remi Wörtmeyer, "Year of the Rabbit" by Justin Peck, Dutch National Ballet 2016 |
| |  4. | Qian Liu and ensemble, "Year of the Rabbit" by Justin Peck, Dutch National Ballet 2016 |
| | |  "CRANE" (George Williamson) |
| |  5. | Sem Sjouke, Emanouela Merdjanova, Sho Yamada and James Stout, "CRANE" by George Williamson, Dutch National Ballet 2016 |
| |  6. | Ensemble, "CRANE" by George Williamson, Dutch National Ballet 2016 |
| |  7. | Ensemble, "CRANE" by George Williamson, Dutch National Ballet 2016 |
| | | "Merge" (Ernst Meisner) |
| |  8. | Martin ten Kortenaar and Igone de Jongh, "Merge" by Ernst Meisner, Dutch National Ballet 2016 |
| |  9. | Igone de Jongh and Martin ten Kortenaar, "Merge" by Ernst Meisner, Dutch National Ballet 2016 |
| | 10. | Igone de Jongh, "Merge" by Ernst Meisner, Dutch National Ballet 2016 |
| | | "Overture" (David Dawson) |
| | 11. | Edo Wijnen and Jared Wright, "Overture" by David Dawson, Dutch National Ballet 2016 |
| | 12. | Sebastien Galtier and Yuanyuan Zhang, "Overture" by David Dawson, Dutch National Ballet 2016 |
| | 13. | Vito Mazzeo and Jingjing Mao, "Overture" by David Dawson, Dutch National Ballet 2016 |
| | 14. | James Stout and Sasha Mukhamedov, "Overture" by David Dawson, Dutch National Ballet 2016 |
| | | all photos © Hans Gerritsen 2016 |
| Editing: | | Agnes Farkas |