"Nijinski"
Gauthier Dance
Theaterhaus Stuttgart
Stuttgart, Germany
June 22, 2016
by Ilona Landgraf
Copyright © 2016 by Ilona Landgraf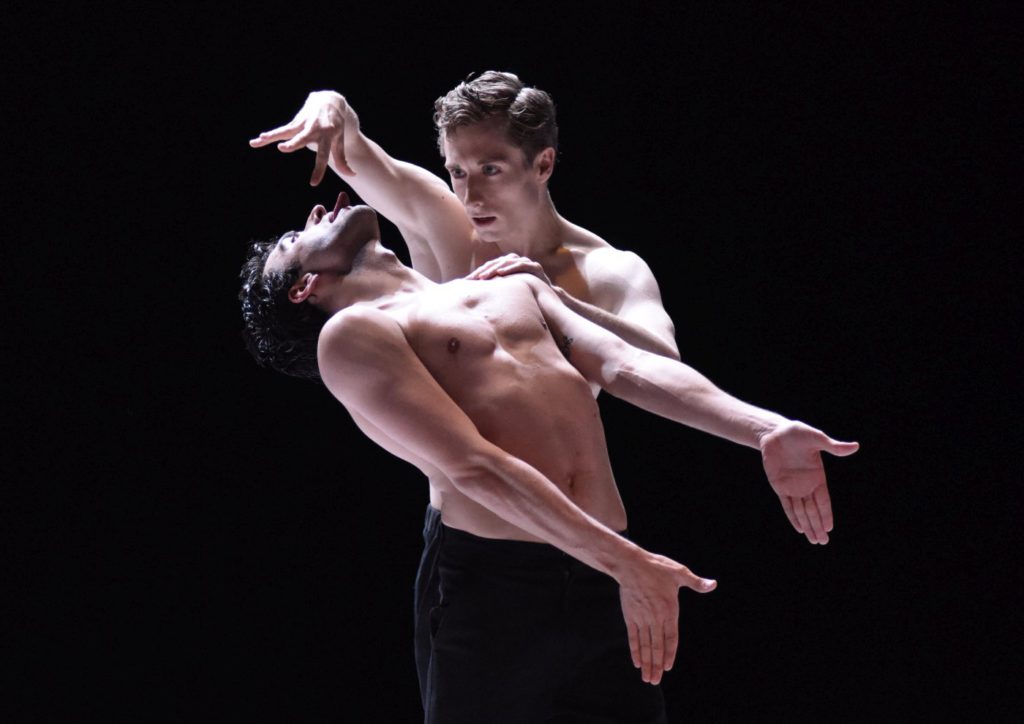 Stuttgart's Gauthier Dance is known for entertaining programs. Commissioning Marco Goecke, Stuttgart Ballet's resident choreographer, with a ballet about Vaslav Nijinsky heralds a change of course towards the serious.
Nijinsky is a legend. He was the star dancer of Sergei Diaghilev's Ballets Russes (1909 – 1921) and as a choreographer ahead of his time. But tragically mental illness struck him in the middle of his life. How did Goecke approach him?
One thing was clear from the beginning. Goecke and Nijinsky have things in common. Nijinsky's choreographies, especially "L'Après-midi d'un faune" (1912) and "Le Sacre du printemps" (1913), sent shock waves through the cultural world. Goecke's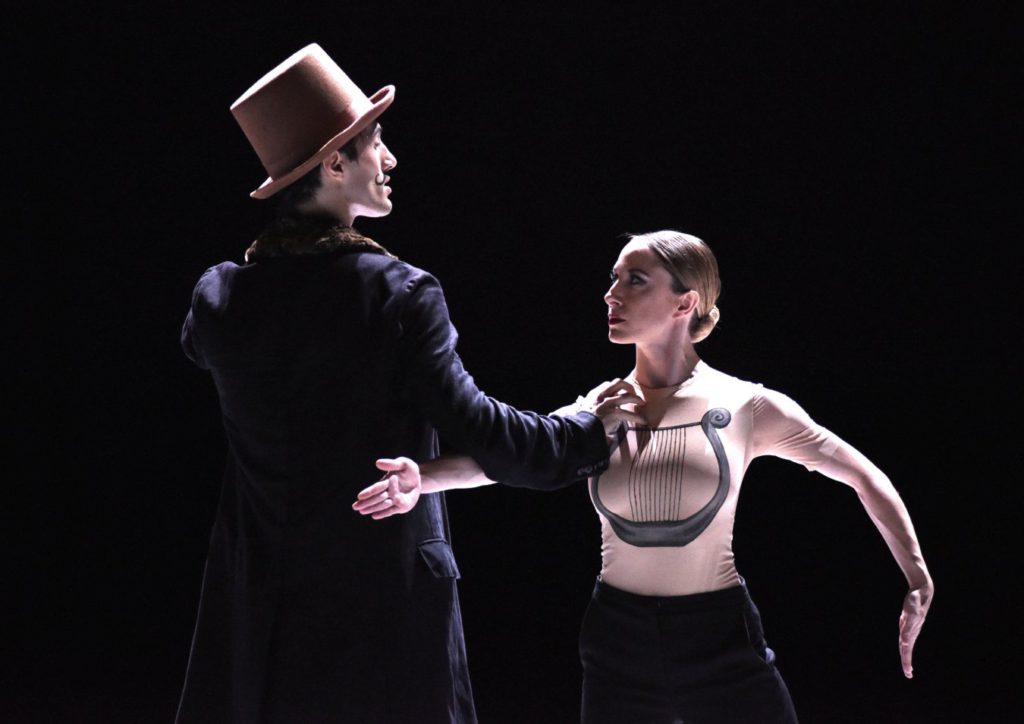 choreographic language is unique and likewise requires getting used to. Jerky moves, fluttering or rowing arms, straining muscles, a minimalistic decor and a dimly lit stage pervaded by mist are his signature features. Goecke's dancers move with machine-like precision. Beneath the tough physicality hides a tender softness, but if reachable at all, then only by the dancers' sheer effort.
Another parallel between Goecke and Nijinsky is that they share a familiarity with mentally dark times. Goecke makes no secret out of having struggled with panic and fear for years. Choreography became an attempt at coping. His aesthetic mirrors his experiences. Nijinsky had a different fate. Ten years of childhood, ten years training, ten years a star. Then, in 1919, he suffered a mental breakdown and was diagnosed as a schizophrenic. Mistreatment worsened his condition. Nijinsky died in 1950 having spent most of the remaining twenty-nine years in mental asylums.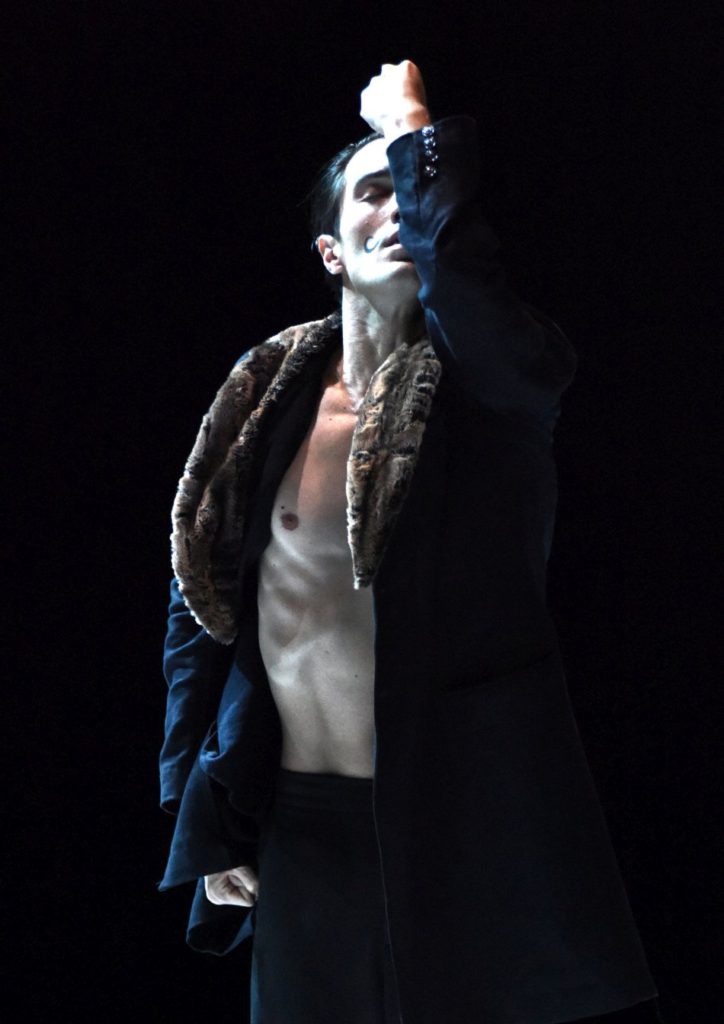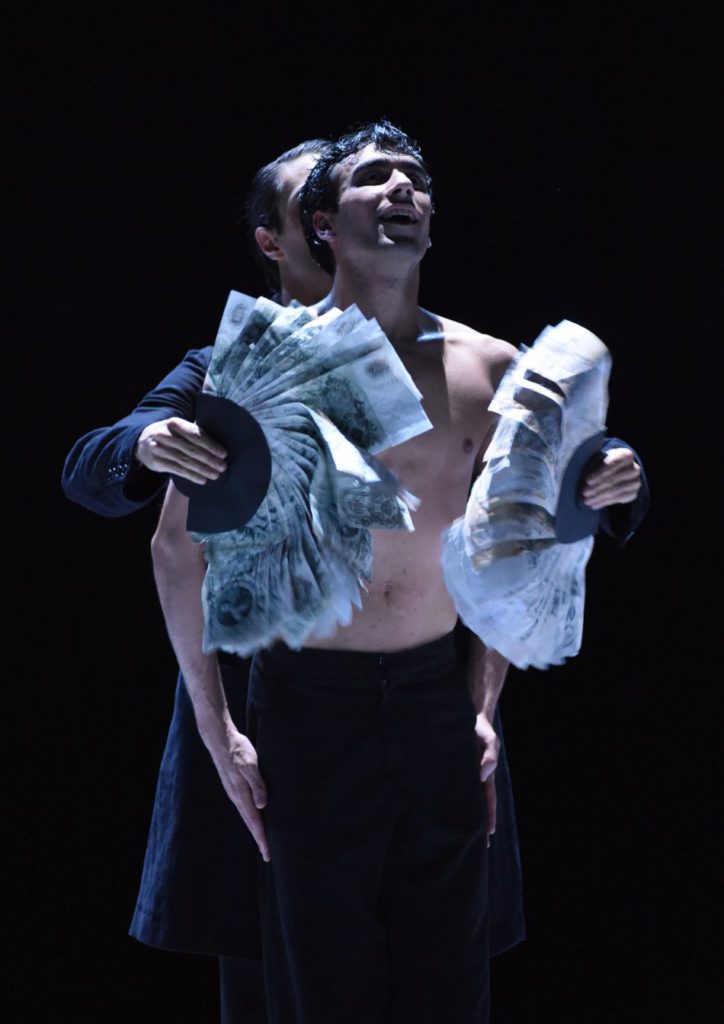 Nijinsky was Russian but of Polish decent. Maybe that is why the ballet's title "Nijinski" uses the Polish spelling of the family name. Goecke's one-act piece has ten scenes which sketch out some of the main issues of Nijinsky's life and the times he was born into. The first three scenes outline the spirit of optimism bubbling in the Russian dance scene at the turn of the century. Sergei Diaghilev becomes a core figure in the cultural scene. Having been bestowed with divine power in an encounter with Terpsichore, he becomes the impresario of the Ballets Russes.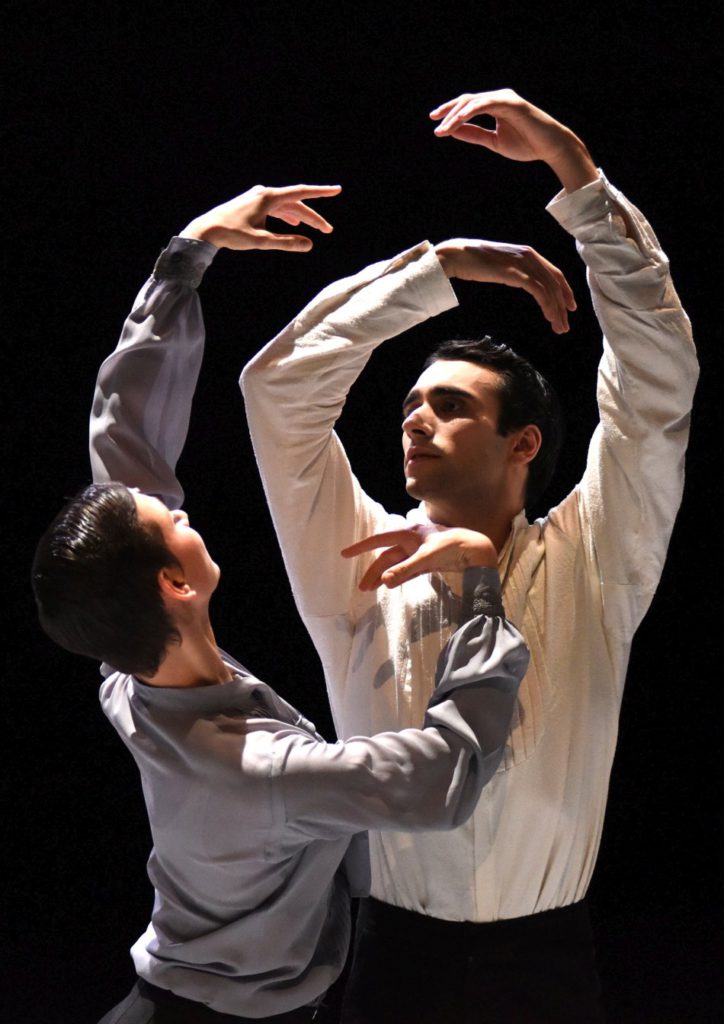 The following scenes are a flashback to Nijinski's childhood and his relationship to his mother. They also touch on his training at St. Petersburg's Imperial Ballet School where his extraordinary talent becomes apparent. Nijinski joins the Ballets Russes and, in a dream-scene, becomes a star overnight. The next scenes refer to three of Nijinski's famous roles: the Faun of "L'Après-midi d'un faune", which Goecke connects with Nijinski's own sexual awakening, Petrushka, the poignant puppet in Michel Fokine's ballet of the same title, and the Spirit in "Le Spectre de la rose", also by Fokine.
Nijinski then meets his future wife Romola de Pulszky which causes a furious Diaghilev to break with him. After this, the change of his personality begins to loom. An encounter with a physician occurs. Nijinski's mind decays. In the final scene, we see him kneeling on the floor, obsessively drawing circles (John Neumeier holds the main collection of Nijinsky's abstract paintings). After a formal bow towards the audience the light is switched off.
So much content to cover! Yet within eighty minutes Goecke only scratches the surface of Nijinsky's life rather than plumbs his psychological cosmos. John Neumeier's earlier pieces, mainly "Nijinsky" and "Le Pavillon d'Armide", dig considerably deeper.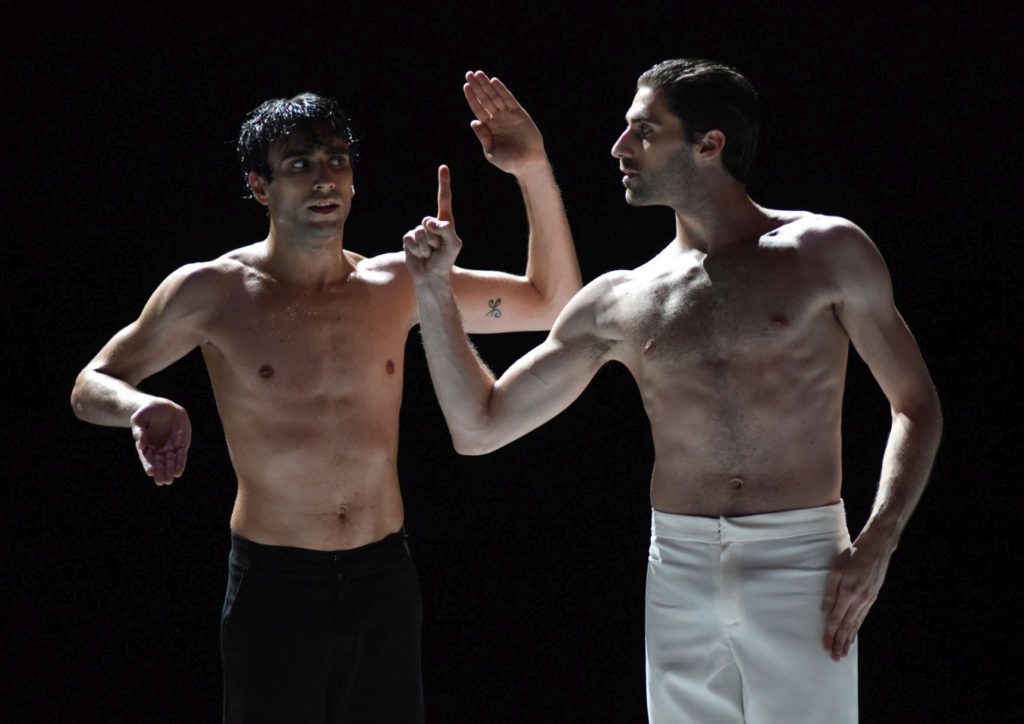 But here is the rub. Goecke's style, a set frame, limits his scope of nuanced characterizations. Everyone moves similarly. Vaslav's mother Matka (Alessandra La Bella), for example, strokes her son's cheek, but her movements remain angular. It is hard to imagine her as a warm, affectionate woman. Romola (Maria Prat Balasch) puts Nijinski's hands decisively around her hips, but that is all that is revealed about her. Why is Nijinski (Rosario Guerra) attracted to her? Why does she suddenly disappear? Many things remain in the dark.
"Nijinski" has more lyrical moments than Goecke's earlier pieces. He has also included slow passages unfamiliar up to now such as the meeting between the rose spirit and the sleeping girl. Yet his language is cryptic. Hints of events in Nijinski's life or of the nature of relationships are in part too vague to be generally understandable.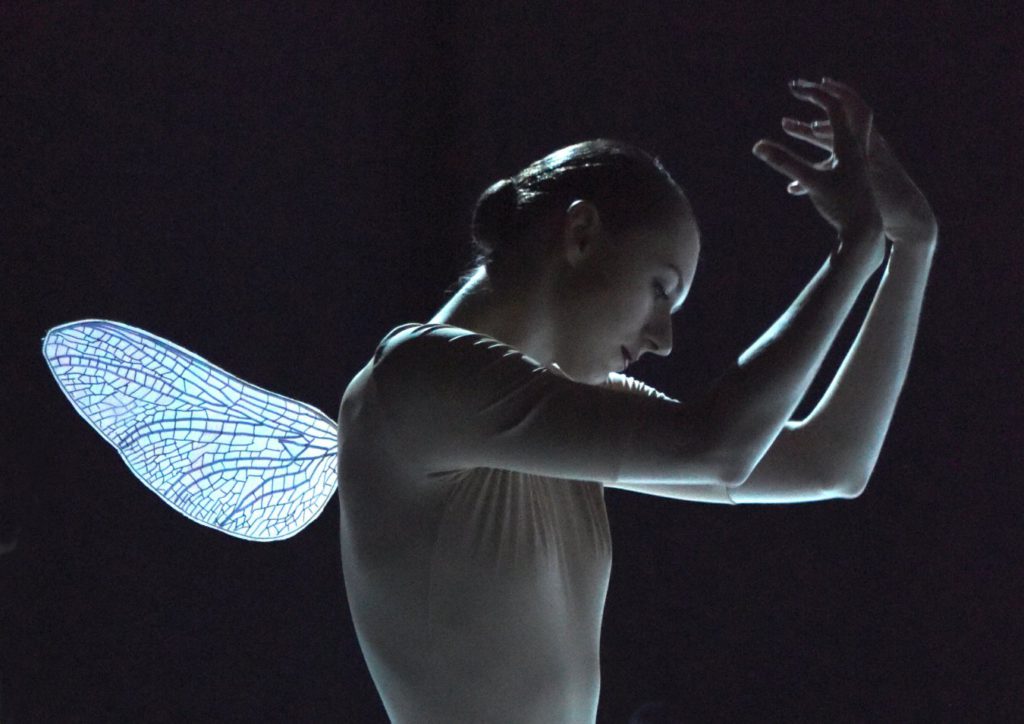 Maybe that is why Eric Gauthier, the director of Gauthier Dance, stepped on stage at the beginning to give the audience an overview over the plot. In the first scene of the piece a dancer also rattles off a summary of Nijinski's life in a microphone at the back of the stage. His hastily whispered keywords are easily forgotten.
Similarly, single gestures or short sequences are meant to convey deeper meaning. Some of them are catchy like Diaghilev (David Rodríguez) embracing Nijinski from behind and fanning him with a fan made of bank notes. The erotic encounter between Nijinski and Diaghilev is also unambiguous. Several times Nijinski's mother seems to remind him to keep his chin up, to carry himself upright and to dress properly. I'm wondering if everybody knows why he later stomps desperately along the side of the stage, screaming and shouting with a choking voice. He couldn't bear the war. Also a citation of Nijinski about God, again spoken by a dancer, lacks context.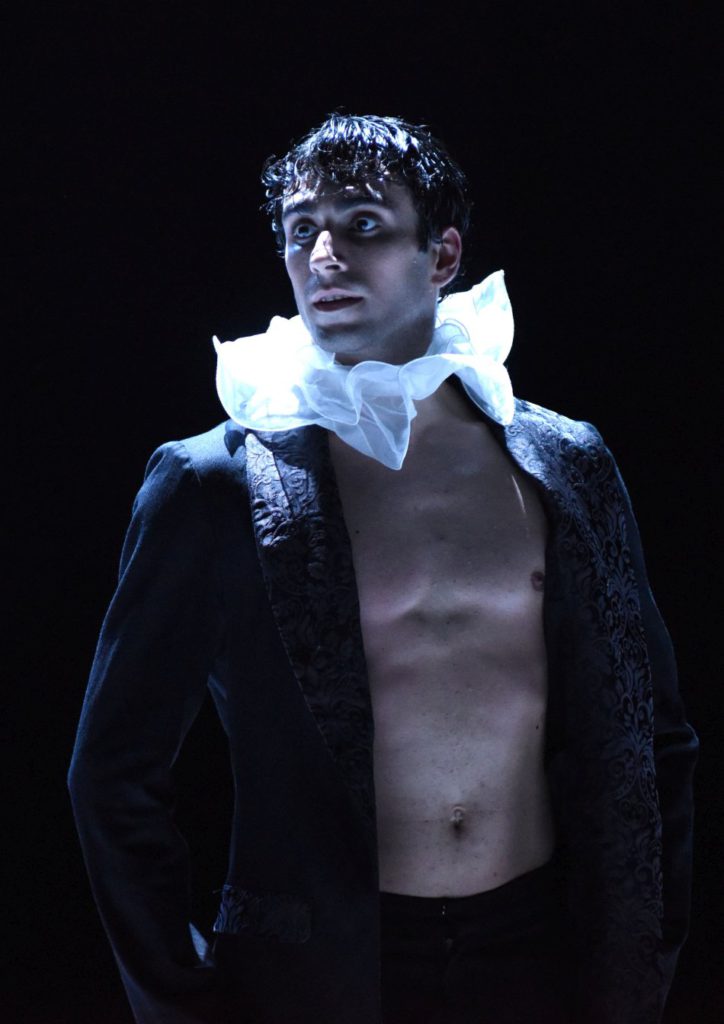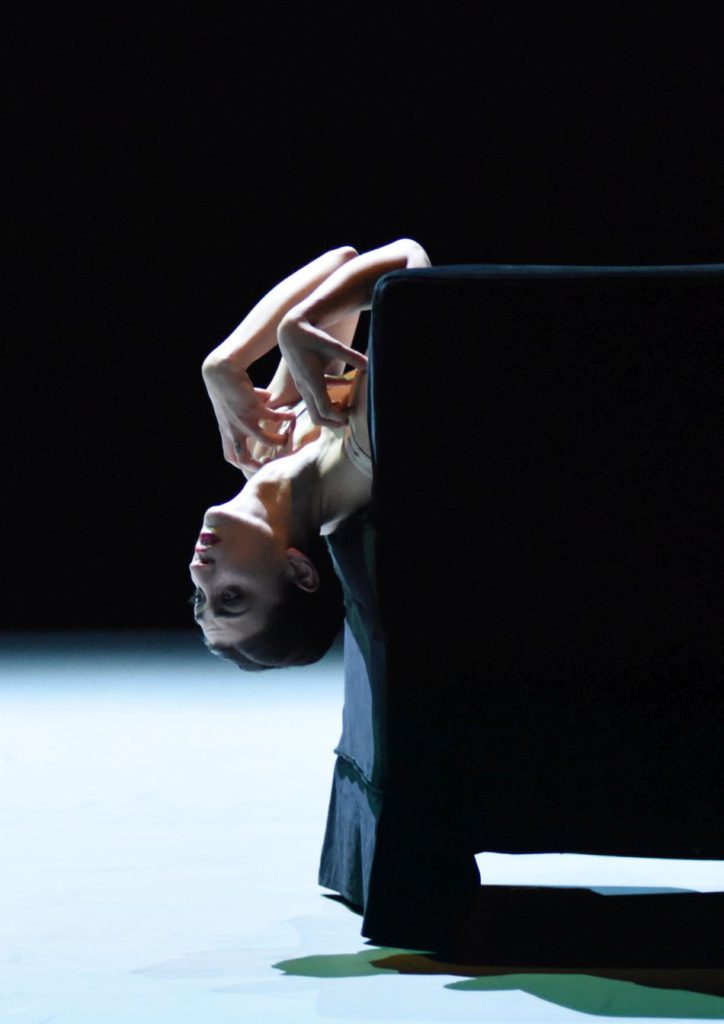 Other scenes, supported by Michaela Springer's costumes and props with dance quotes by Goecke of typical moves from Nijinski's original roles are easier to grasp. A furred coat identifies Rodríguez as Diaghilev. Petrushka has a white clown's collar, his knees are bent and turned in. As the Spirit of the Rose, Guerra wears wristlets of rose petals and jumps a few times. As Faun he poses with the characteristically recognizable stretched arms and hands, his thumbs pointing upwards. The top that Terpsichore (Garazi Perez Oloriz) is wearing is printed with a lyre. But whom do the two dancers with insects wings depict?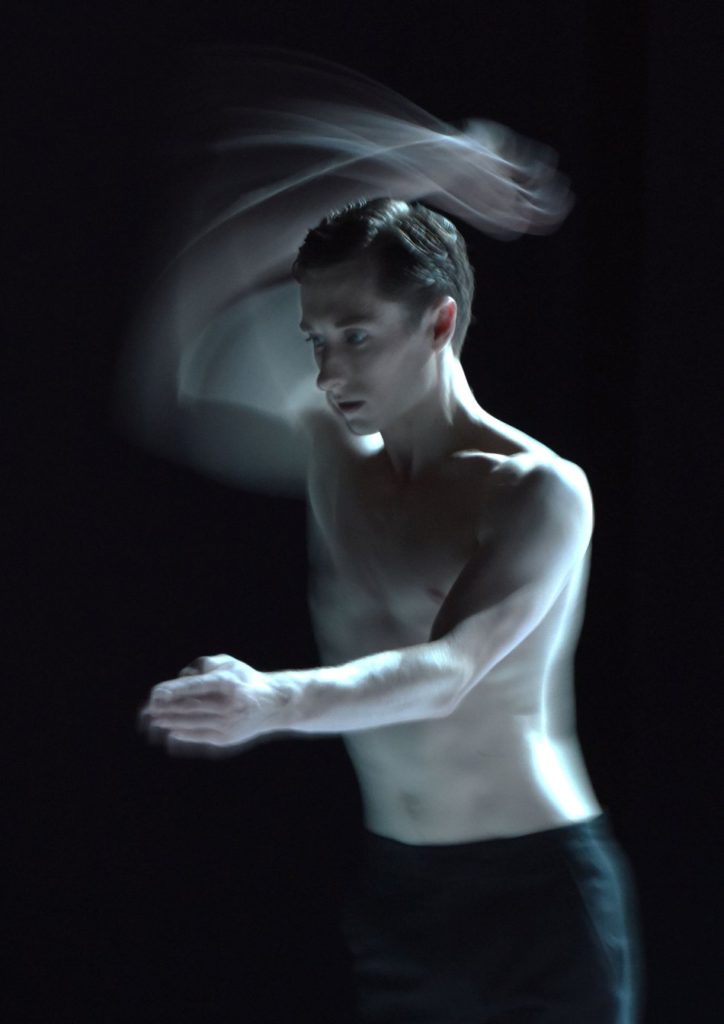 Springer designed a minimalistic set for Goecke: a white rectangle on the floor defines the space of action. A large b/w photo of the young Nijinsky from 1902 is projected on the backcloth. It disappears the moment the ballet begins. Then the backcloth and the side wings are plainly dark. No wafts of mist this time.
Goecke chose music by Frédérik Chopin and the first half of Claude Debussy's "Prélude à l'après-midi d'un faune". It contrasts pleasantly with the dance. At one moment I had the impression of sitting in a comfortable salon watching the goings-on through a window. In an interview with the Stuttgarter Nachrichten, Goecke said he expects the music will remind some of the audience of Neumeier's "Lady of the Camellias". Indeed, it happened.
The dancers, above all Guerra, worked hard and with admirable dedication. Goecke rightly spoke in high terms of their talent. Next season he will tackle Franz Kafka for Stuttgart Ballet amongst others. Certainly a fitting choice for his style.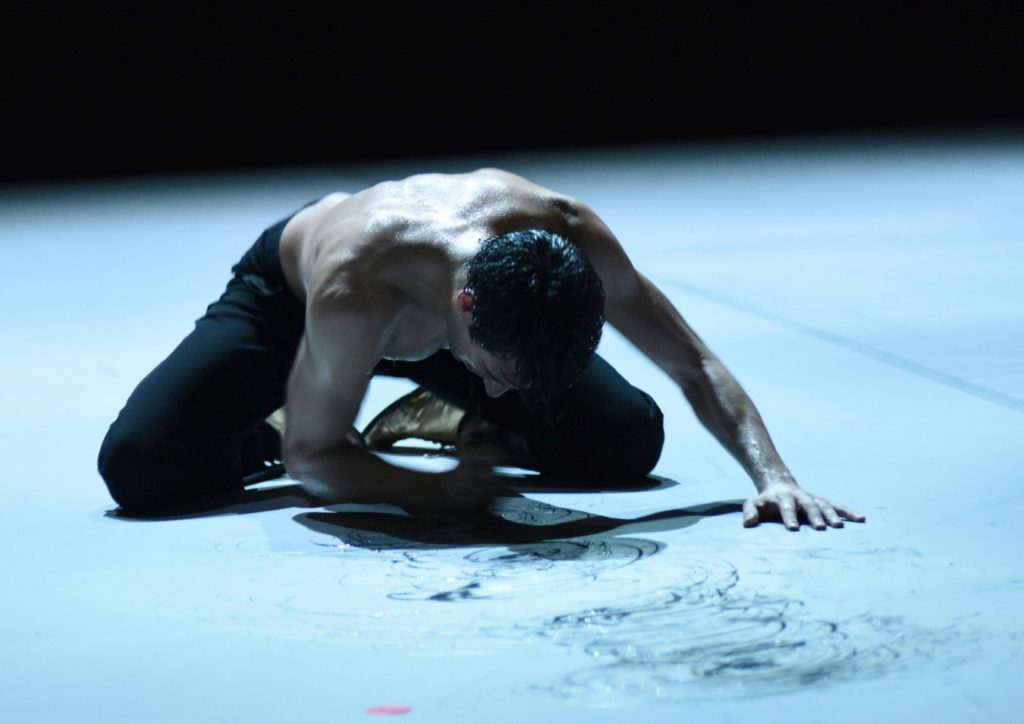 Links:
 Homepage of Gauthier Dance
 Photos:
 1.

Rosario Guerra (Nijinski) and Luke Prunty (Friend Isajef), "Nijinski" by Marco Goecke, Gauthier Dance, Stuttgart 2016

 2.

David Rodríguez (Diaghilev) and Garazi Perez Oloriz (Terpsichore), "Nijinski" by Marco Goecke, Gauthier Dance, Stuttgart 2016

 3.
 

David Rodríguez (Diaghilev), "Nijinski" by Marco Goecke, Gauthier Dance, Stuttgart 2016

 4.

Rosario Guerra (Nijinski) and David Rodríguez (Diaghilev), "Nijinski" by Marco Goecke, Gauthier Dance, Stuttgart 2016

 5.

Alessandra La Bella (Matka) and Rosario Guerra (Nijinski), "Nijinski" by Marco Goecke, Gauthier Dance, Stuttgart 2016

 6.

Rosario Guerra (Nijinski) and Alessio Marchini (Physician), "Nijinski" by Marco Goecke, Gauthier Dance, Stuttgart 2016

 7.

Annaleen Dedroog, "Nijinski" by Marco Goecke, Gauthier Dance, Stuttgart 2016

 8.

Rosario Guerra (Nijinski), "Nijinski" by Marco Goecke, Gauthier Dance, Stuttgart 2016

 9.

Francesca Ciaffoni, "Nijinski" by Marco Goecke, Gauthier Dance, Stuttgart 2016

10.

Luke Prunty (Friend Isajef), "Nijinski" by Marco Goecke, Gauthier Dance, Stuttgart 2016

11.

Rosario Guerra (Nijinski), "Nijinski" by Marco Goecke, Gauthier Dance, Stuttgart 2016

all photos

© Regina Brocke 2016



Editing:
Laurence Smelser