"Turangalȋla"
Hamburg Ballet – John Neumeier
Hamburg State Opera
Hamburg, Germany
July 05, 2016
by Ilona Landgraf
Copyright © 2016 by Ilona Landgraf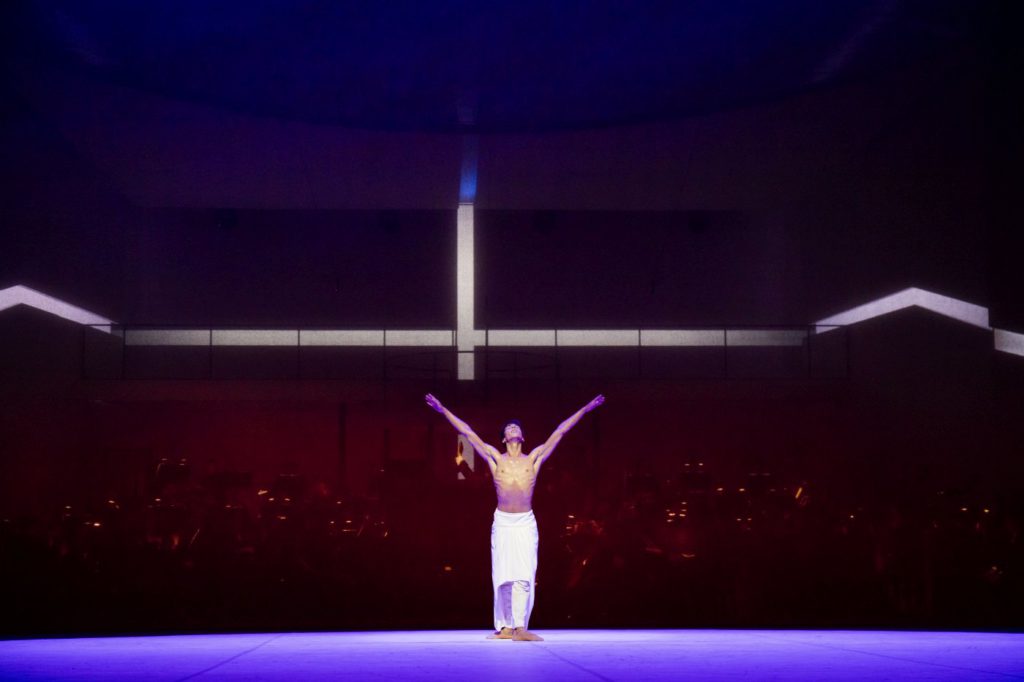 Traditionally Hamburg Ballet opens its annual Ballet Days with the season's second premiere. This July John Neumeier's "Turangalȋla" saw the light of day. It is set to Olivier Messiaen's symphony of the same title, composed in 1948. "Turangalȋla" is derived from the Sanskrit words "turanga" and "lila" roughly meaning a "love song and hymn of joy, rhythm, life and death". I saw the second performance after the premiere. Unfortunately, one found little to delight in.
Choreographing to Messiaen's symphony has been on Neumeier's wish list since the 1960s. But Messiaen persistently refused to give his approval. He deemed the composition a sacral work not meant to be danced to. Neumeier tried to change Messiaen's mind by inviting him to a performance of his "Saint Matthew Passion", but to no avail.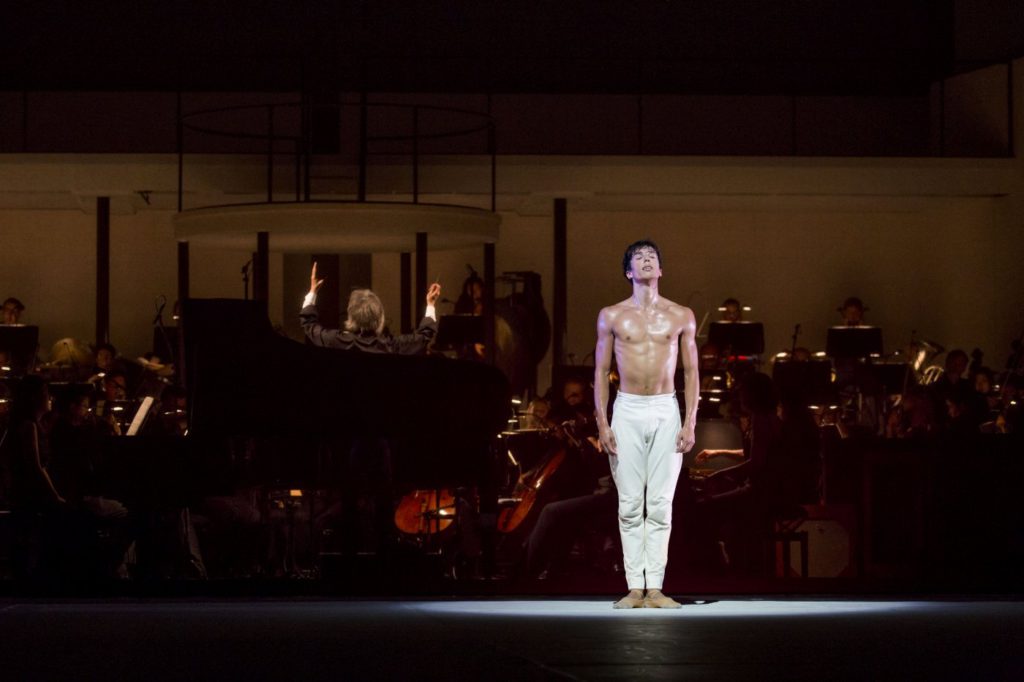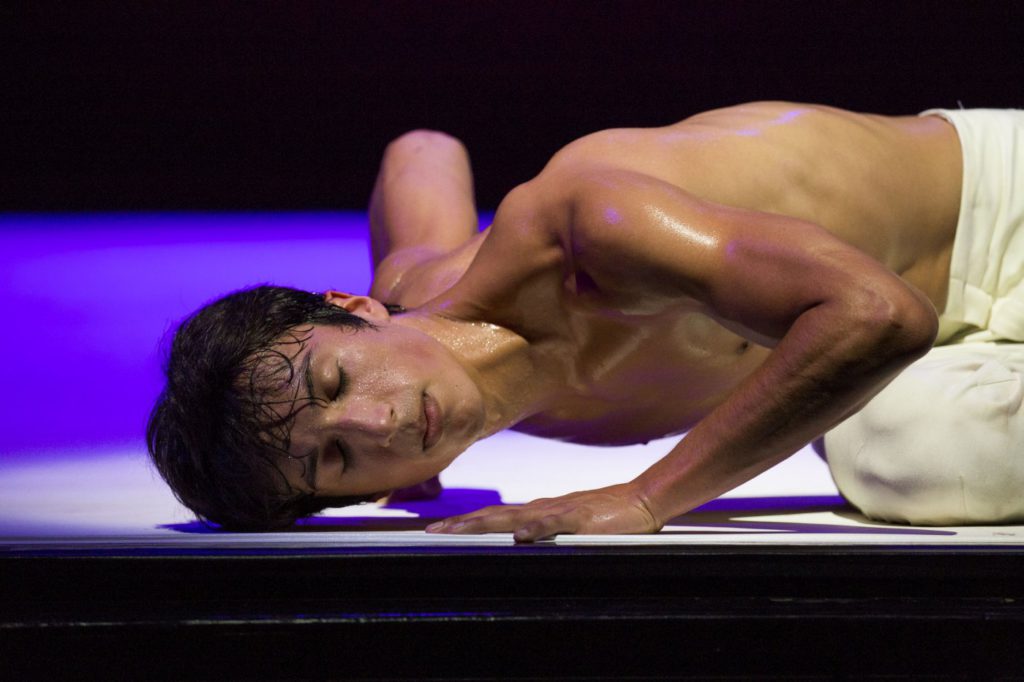 Only in 2015, when Kent Nagano was appointed General Music Director and chief conductor of the Hamburg State Opera, did the tide turn. Nagano admires and champions Messianen's music. Reportedly he regards Messiaen and his wife as his "European parents". After the composer's death in 1992, Nagano has remained closely connected with Messiaen's family. His influence at last brought about permission to do the ballet. Of course, Nagano felt obliged to take over the baton himself for all performances. The collaboration between Neumeier and Nagano marks the first between ballet and opera directors in Hamburg ever.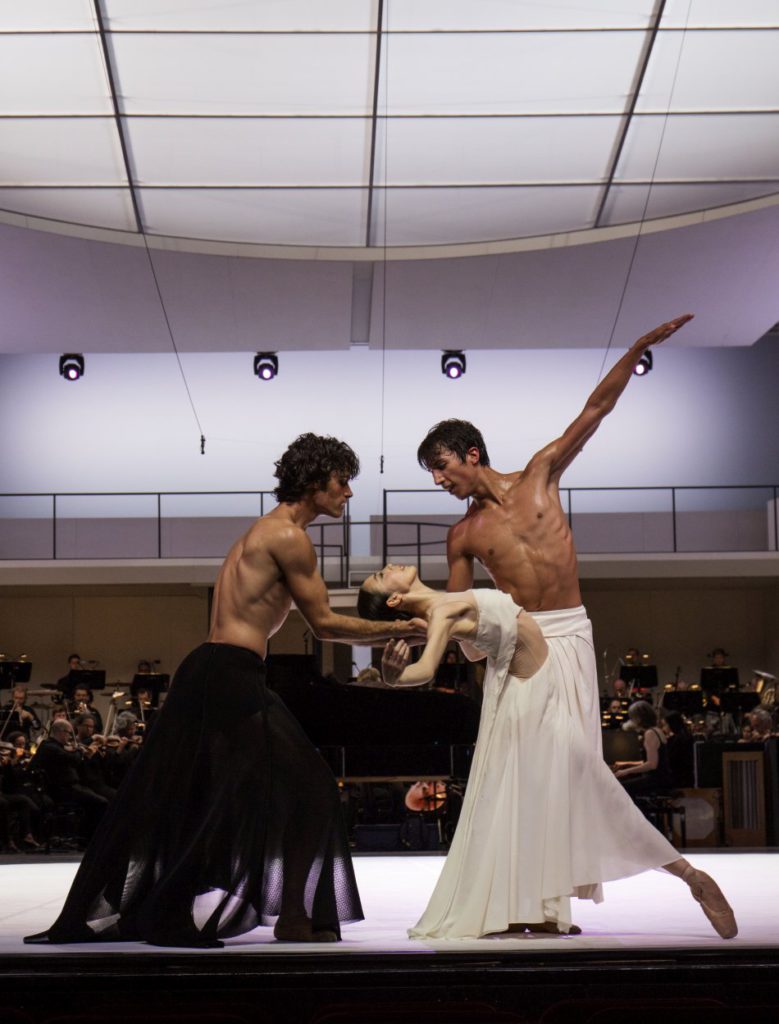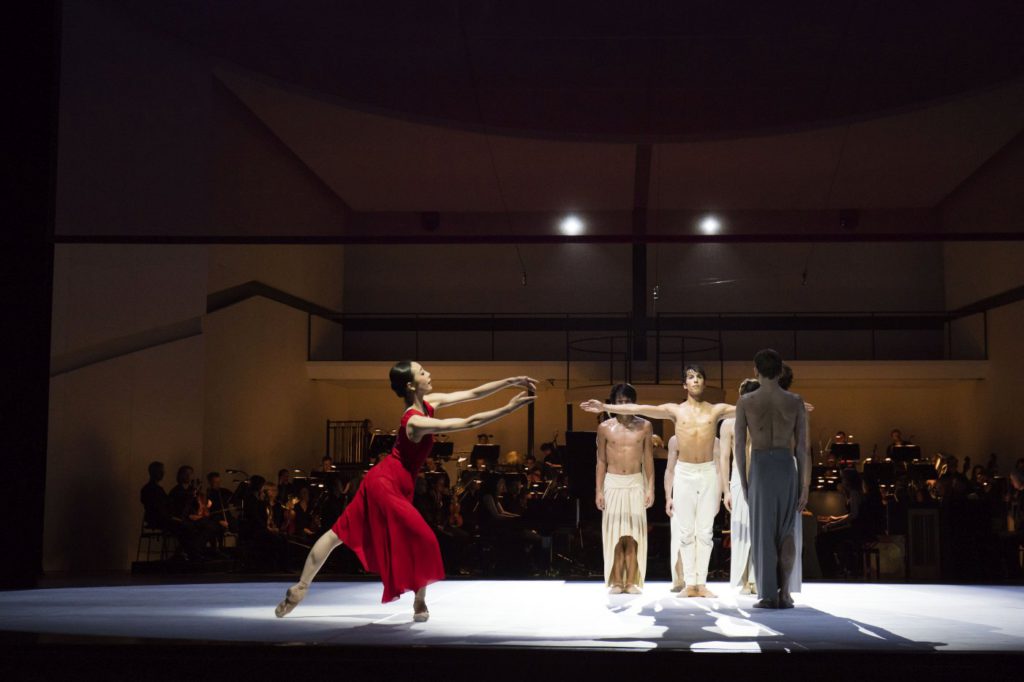 All this would be a nice background story were it not underscored by both of them with airs of self-importance. Neumeier is no paragon of modest restraint. He has been put on a pedestal but also furthers its elevation. Press releases sententiously emphasize his merits. Last weekend, during a talk on the occasion of Stuttgart Ballet's Festival Weeks, Reid Anderson touched on the topic of humility. The higher the rank the more important it is to be humble, he said. A principle which seems to be an uncommon practice in Hamburg.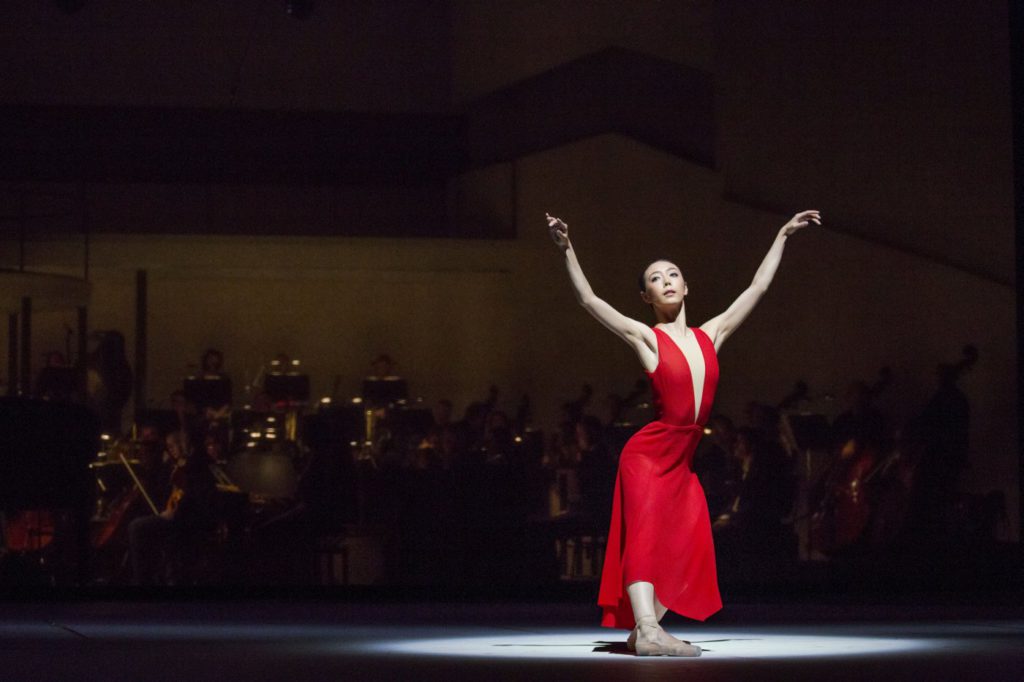 Messiaen's eighty-minute symphony has ten movements. Five of those deal with love relationships. Except for a few harmonious sequences, constant abrupt tempo changes, rhythmic variations and a volume vacillating between softly trickling tunes and roaring noise characterize the composition. Dissonance follows dissonance. It is a mystery to me in what way it describes love.
Neumeier drew parallels to how unfamiliar aesthetic love would be depicted in a painting by Picasso. He recognized the most important elements of love in the music: extreme nervousness, dedication, passion, fear and desire. To me, neither nervousness and fear are part of love, nor does Messiaen's weird style bear "a perspective of salvation beyond human reason" as stated in the program book. Here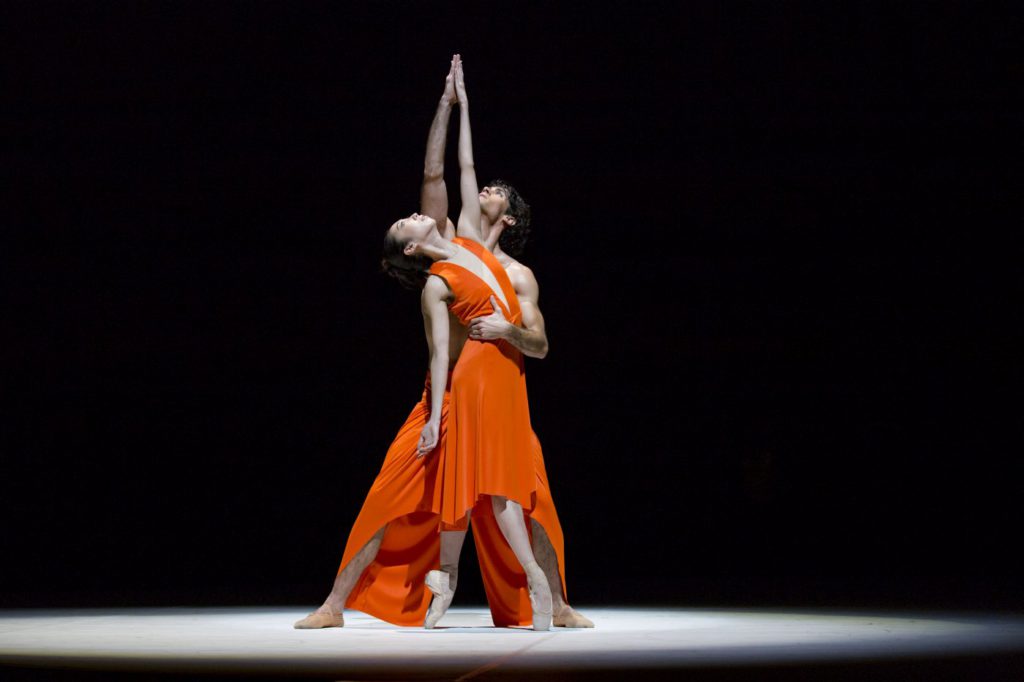 is also written that Messiaen's Christian faith "influenced all of his artistic expressions". I doubt whether this is sufficient to term the piece sacral. Messiaen hasn't the caliber of Bach. But on Neumeier, who has a disposition for religious and spiritual topics, "Turangalȋla" had an "overwhelming effect".
Heinrich Tröger's set design addresses the religious aspect. As the pit was too small for the size of an orchestra required by "Turangalȋla", the musicians are placed on stage, filling about half of its area. The stage has been extended towards the first row. A white circle in front of the orchestra marks the main space for the dance. A small, round platform above the orchestra allows single dancers or couples some movements in the background.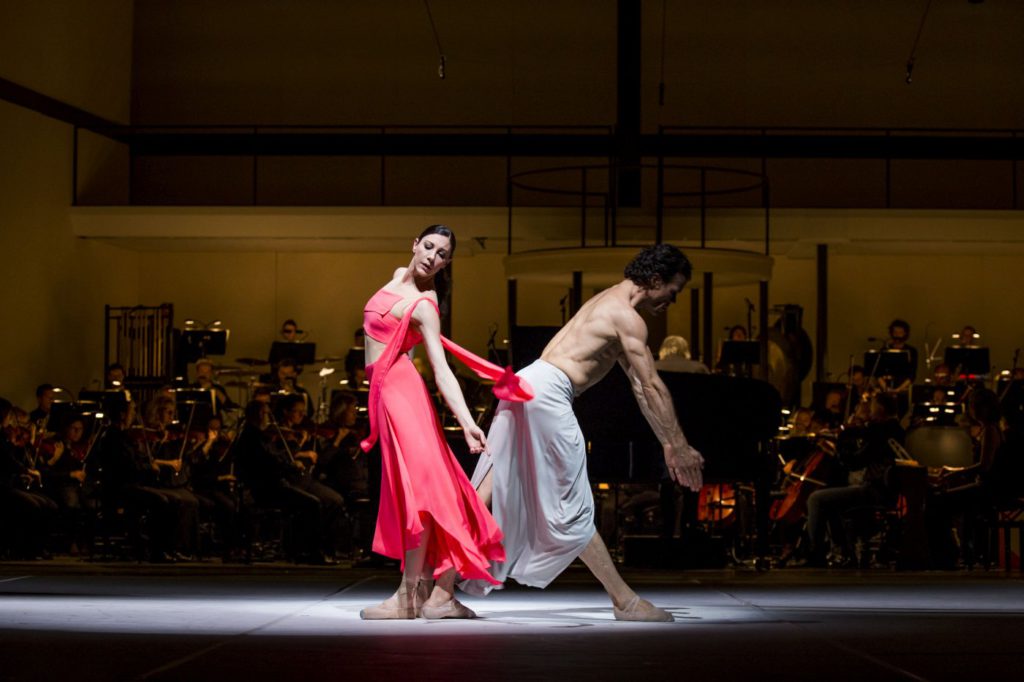 Other dancers slowly pace along a balustrade at the rear wall. Several times semi-transparent curtains are moved up and down to frame or shield the orchestra. The wide-spanning cross made of white light on the backdrop and on the side walls intensifies the impression of a modern sanctuary.
Costumes are by Albert Kriemler, creative director of the fashion label AKRIS, who collaborated for the third time with Neumeier. AKRIS is renowned for plain and nifty cuts omitting any frippery. Not surprisingly Kriemler designed highly elegant clothing in red, pink, black, white and gray-brown hues – a fashion statement rather than mere costumes. In fact, a couple of times one was reminded of a fashion show in the disguise of a ballet.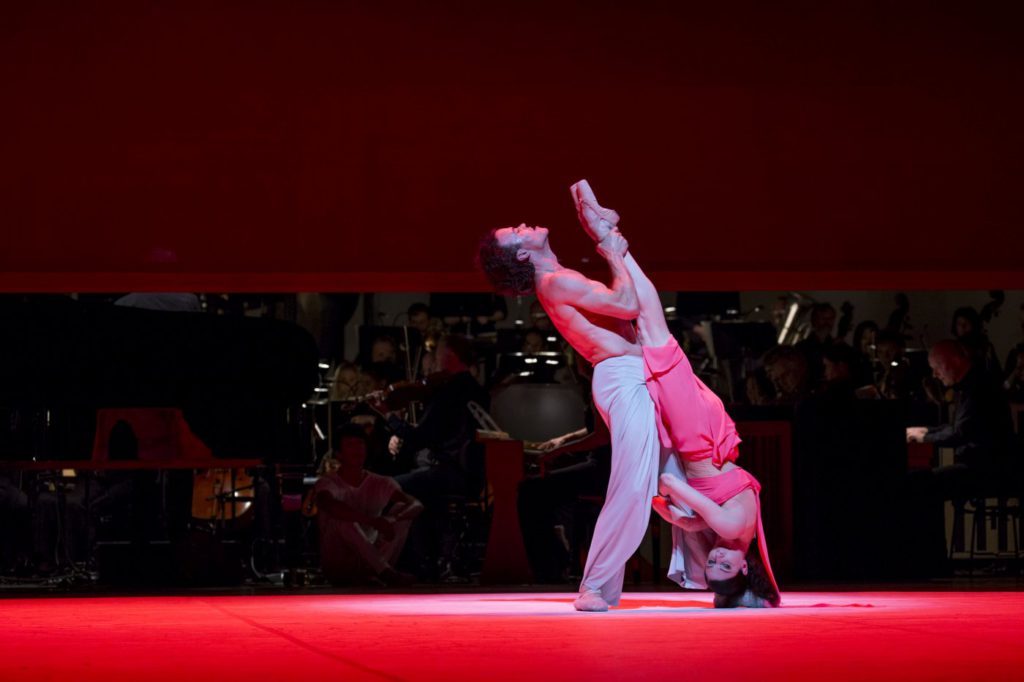 Besides, the program notes "Costumes: Albert Kriemler for AKRIS". Hence the "Turangalȋla"-designs either have already entered the fashion collection of AKRIS or will do so. The entanglement of art and the commercial fashion industry seems to have reached a new level. The back cover of this season's Yearbook of Hamburg Ballet shows an AKRIS advertisement: four dancers pose in their AKRIS costumes in the staircase of the Ballettzentrum Hamburg. AKRIS is not a sponsor of Hamburg Ballet. I wonder if they have been paid to work as models.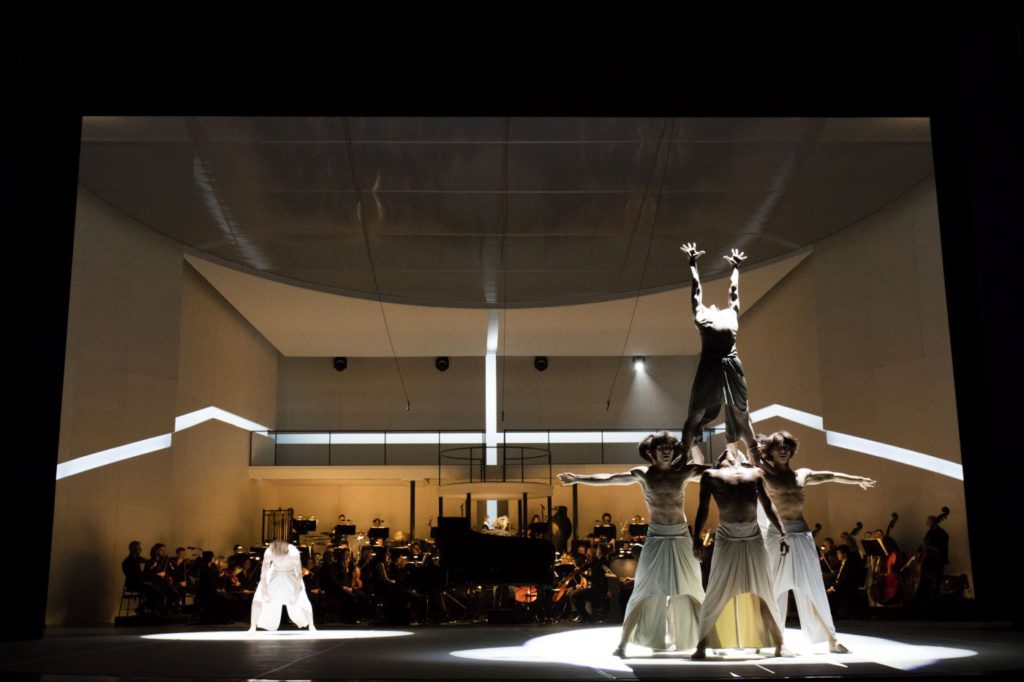 Lighting design is by Neumeier. He created constant changes of the light, some of them gradual, some sudden, which vie for the audience's attention with Tröger's curtains, Kriemler's dresses, Messiaen's idiosyncratic music and his own choreography .
Like Neumeier's earlier symphonic ballets, the new piece has no libretto. The choreography arises from the music. Energetic group scenes alter with solos and pas de deux, some of them surprise, a few amuse, some respond to the music, some seem to happen independently of it. Several use familiar Neumeier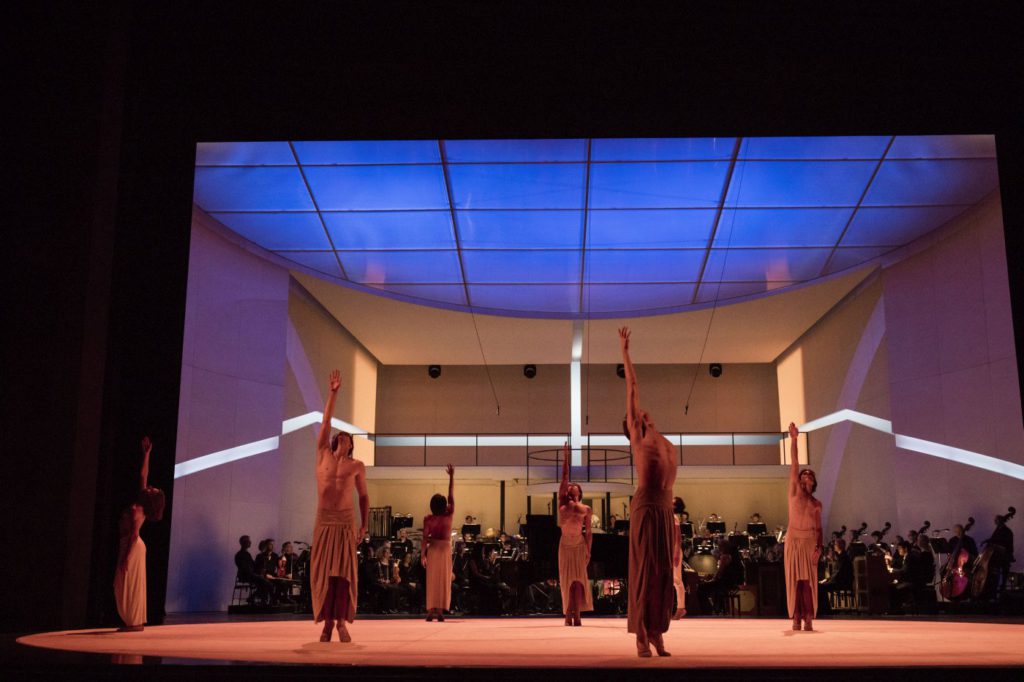 vocabulary. Silent phases during which dancers move in slow motion separate the ten movements. Regardless of how vibrant the dance had been before, these interludes are put-on and mar the effect. After one hour one longs for a break.
Though Mayo Arii and Florencia Chinellato dance with Alexandr Trusch and Edvin Revazov, and Hélène Bouchet has several pas de deux with Carsten Jung, the focus of the choreography is on the men. Just as it is customary in the Catholic Church. That Neumeier has a few couples walk along the back balustrade, the men holding the women upside-down, gives one the impression of women turned into objects.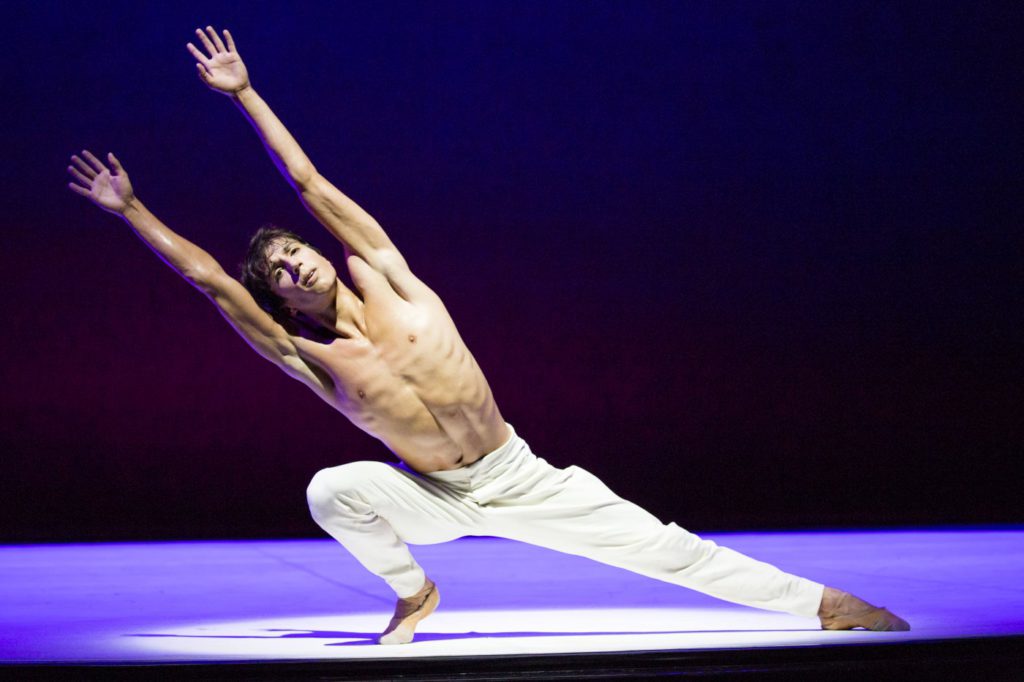 The main male part is danced by Christopher Evans. His solo, performed in silence, opens the ballet. Hartmut Regitz describes its atmosphere in the Stuttgarter Zeitung: "…Hesitant he approaches the magic circle. Tentatively he touches the sacred ground and brings his closed hand to his mouth as if he wanted to taste the water of eternal life: a slow clunk awaiting his epiphany…." Similar pseudo-religious scenes run through the whole ballet.
Neumeier, indeed, has had a fascination with spiritual topics. One only need to think of his "Saint Matthew Passion" or the first three parts of "Christmas Oratorio". Meanwhile, his personal priestly behavior has become unbearably affected.
Neumeier's claim to exclusiveness in Hamburg has allowed the company to do only one piece by another choreographer this season: "Napoli" by August Bournonville. Next season is solely Neumeier's. His audience – a quite aged one at the performance I saw – keeps faith with him. Most of them hardly know the work of others. Neumeier's dancers are to be pitied most. No artistic variety is in sight.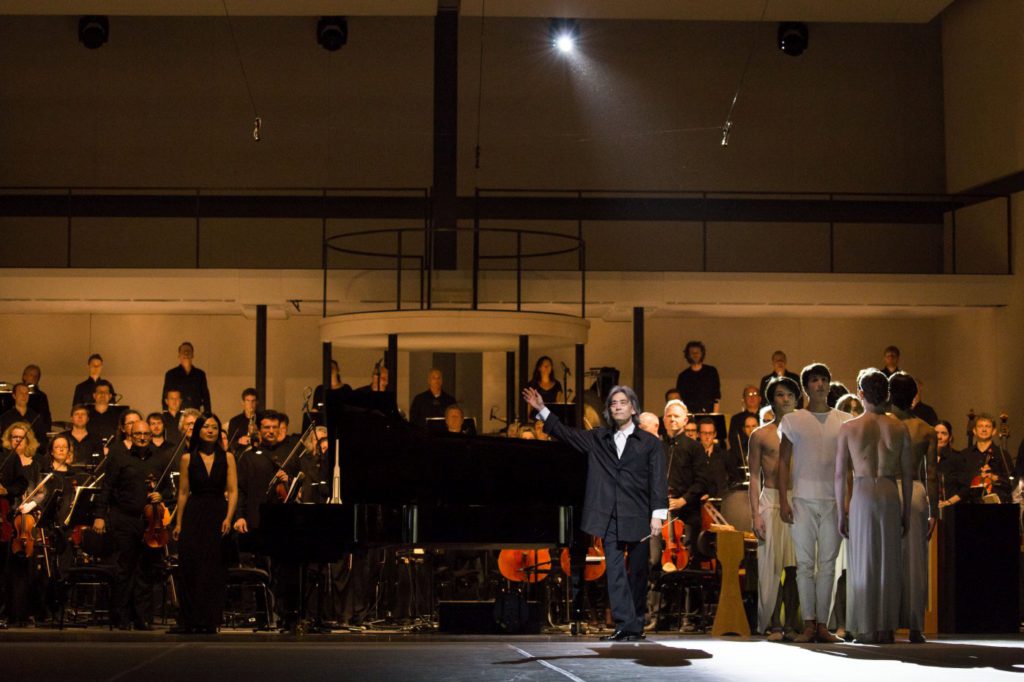 | | | |
| --- | --- | --- |
| | | |
|  Links: | |  Hamburg Ballet's Homepage |
|  Photos: |  1. | Christopher Evans, "Turangalȋla" by John Neumeier, Hamburg Ballet 2016 |
| |  2. | Christopher Evans, "Turangalȋla" by John Neumeier, Hamburg Ballet 2016 |
| |  3. | Christopher Evans, "Turangalȋla" by John Neumeier, Hamburg Ballet 2016 |
| |  4. | Marc Jubete, Christopher Evans, Xue Lin and ensemble, "Turangalȋla" by John Neumeier, Hamburg Ballet 2016 |
| |  5. | Xue Lin, Christopher Evans and ensemble, "Turangalȋla" by John Neumeier, Hamburg Ballet 2016 |
| |  6. | Xue Lin, "Turangalȋla" by John Neumeier, Hamburg Ballet 2016 |
| |  7. | Mayo Arii and Marc Jubete, "Turangalȋla" by John Neumeier, Hamburg Ballet 2016 |
| |  8. | Hélène Bouchet and Carsten Jung, "Turangalȋla" by John Neumeier, Hamburg Ballet 2016 |
| |  9. | Carsten Jung and Hélène Bouchet, "Turangalȋla" by John Neumeier, Hamburg Ballet 2016 |
| | 10. | Ensemble, "Turangalȋla" by John Neumeier, Hamburg Ballet 2016 |
| | 11. | Ensemble, "Turangalȋla" by John Neumeier, Hamburg Ballet 2016 |
| | 12. | Christopher Evans, "Turangalȋla" by John Neumeier, Hamburg Ballet 2016 |
| | 13. | Kent Nagano and ensemble, "Turangalȋla" by John Neumeier, Hamburg Ballet 2016 |
| | | all photos © Kiran West 2016 |
| Editing: | | Laurence Smelser |